22 DIY Clothes Racks in 2023 – Organize Your Closet
A simple pipe clothing rack can cost more than $100 from a trendy retailer, or it can cost a fraction of that if you do it yourself at home.
Whether you need storage for your laundry room, closet, or in a guest room, making an aesthetically pleasing clothing rack is incredibly easy.
Even better, you don't need to be highly skilled in wood or metal working to accomplish a sleek and stylish look.
Kids Clothes Rack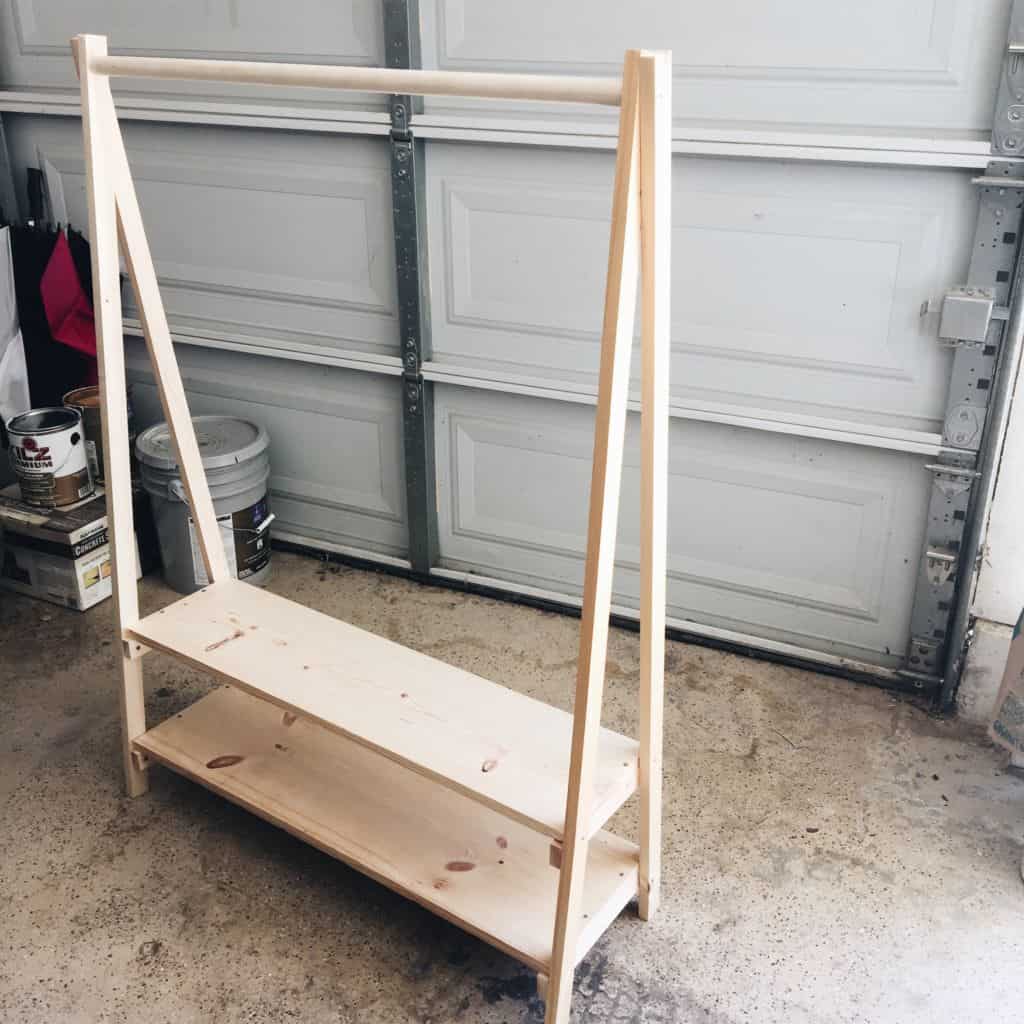 This kid-sized clothing rack is equal parts adorable and functional.
If you don't need a pint-sized clothing rack for your home, you can always use this tutorial as inspiration for an adult version (disclaimer: it won't be nearly as adorable).
DIY: Kids Wood Clothing Rack by This Bliss Life
Rolling Clothes Rack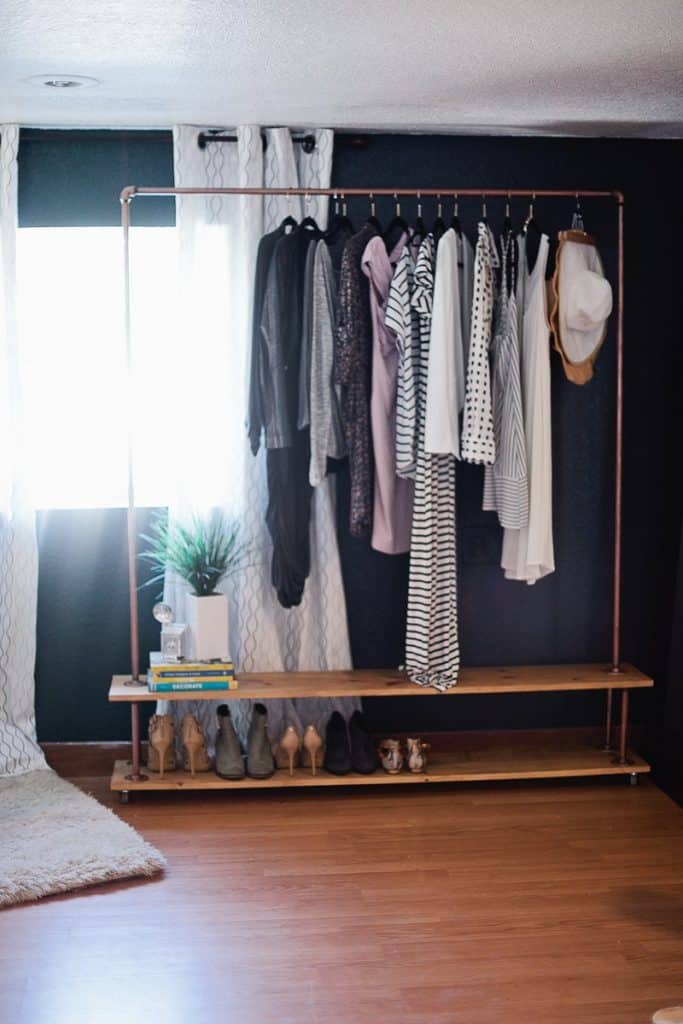 It's hard to believe this is seriously a DIY project!
The professional-looking rack can be moved from room to room thanks to the wheels and the combination of wood and metal piping is simply gorgeous.
Rolling DIY Garment Rack by Fresh Mommy Blog
Minimalist Rack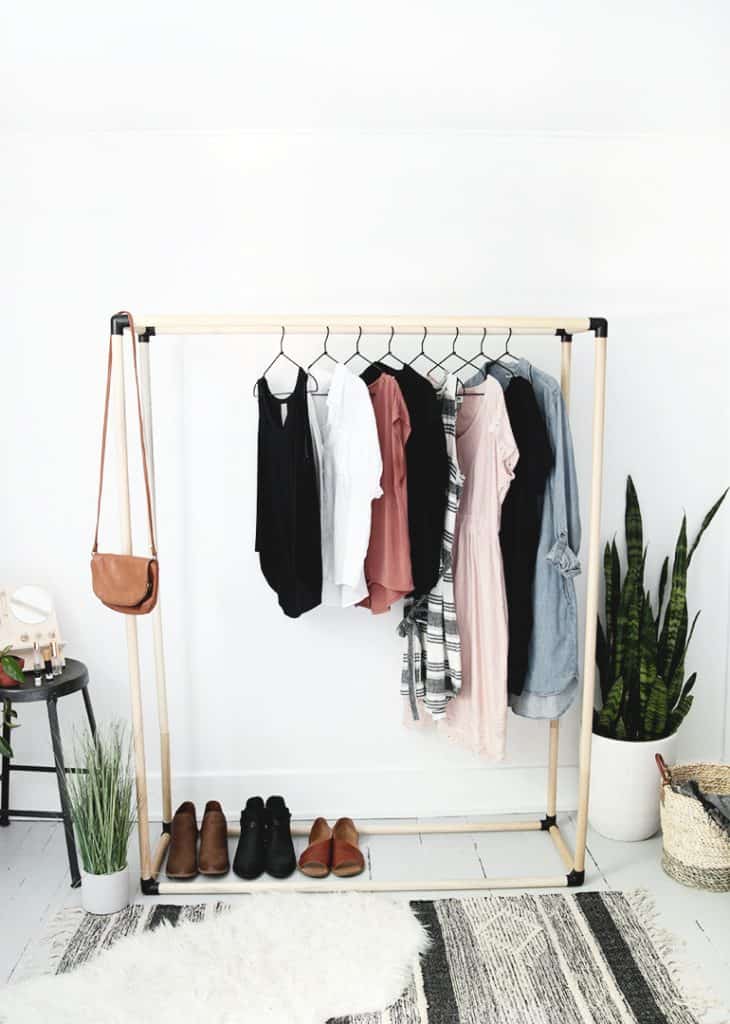 If you're looking for something that simply does the job – this is it.
It's simple, inexpensive, and delivers all the functionality a clothing rack should. To make it a little more aesthetically pleasing, add some metallic spray paint.
DIY Clothing Rack by The Merry Thought
Garage Sale Clothing Rack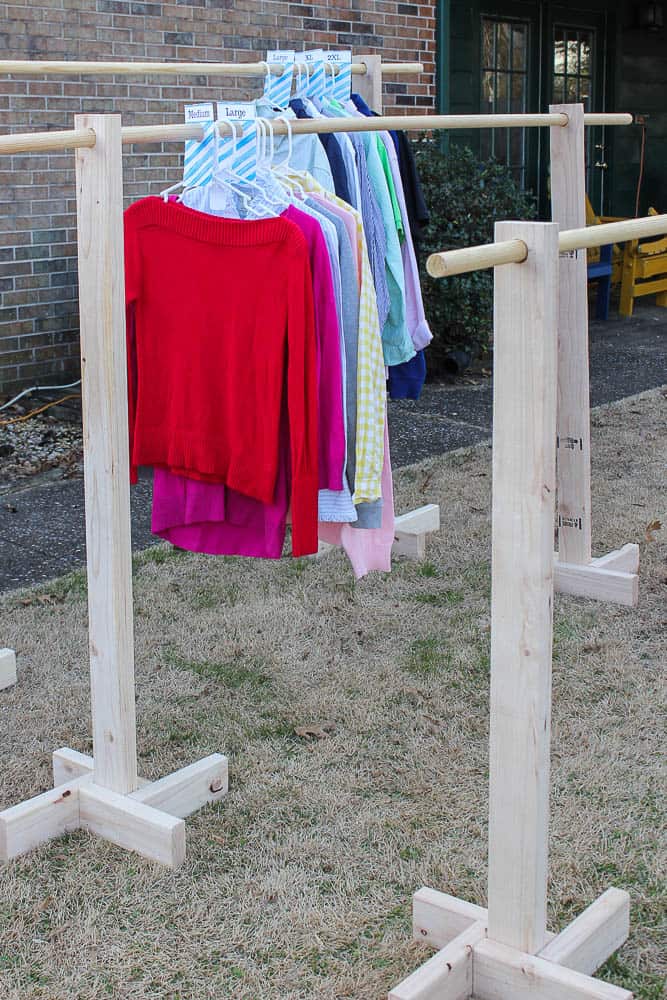 This blogger says the clothing rack is made for garage sales, but there are plenty of other times to use this – like for dress-up clothes, or for guests who need to hang something up temporarily.
DIY Clothes Rack for Garage Sales by Rain on a Tin Roof
PVC Pipe Rack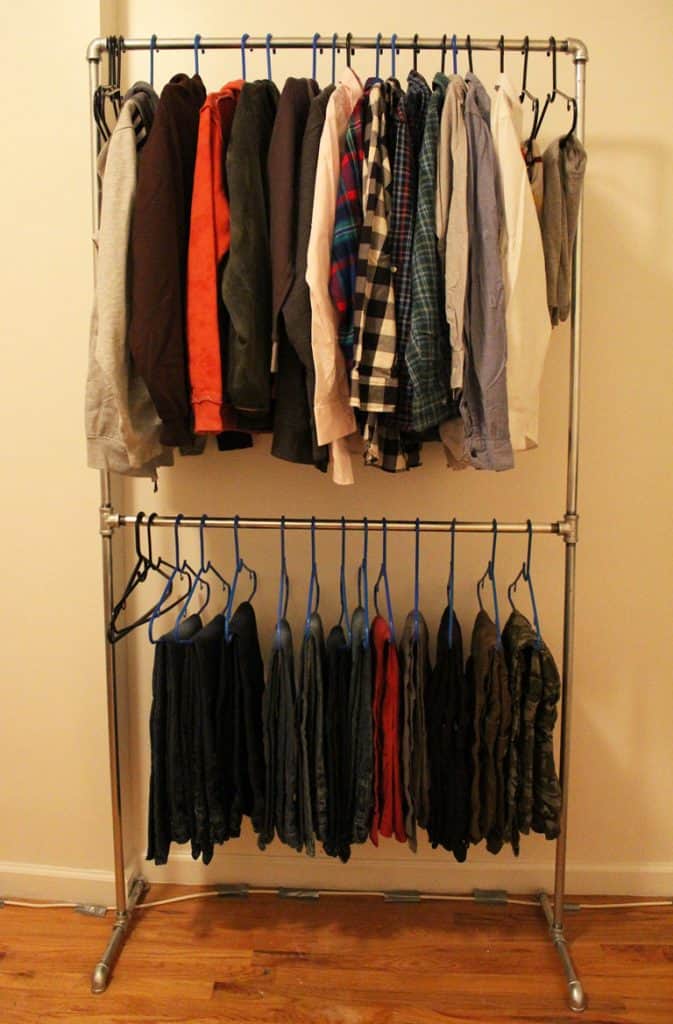 This PVC pipe rack looks like it came straight out of the Anthropologie sale room.
It's hard to believe this is such a simple project because it looks so well made and will definitely hold up over time.
DIY Pipe Clothing Rack by The Glamorous Gleam
Ten-Minute Clothing Rack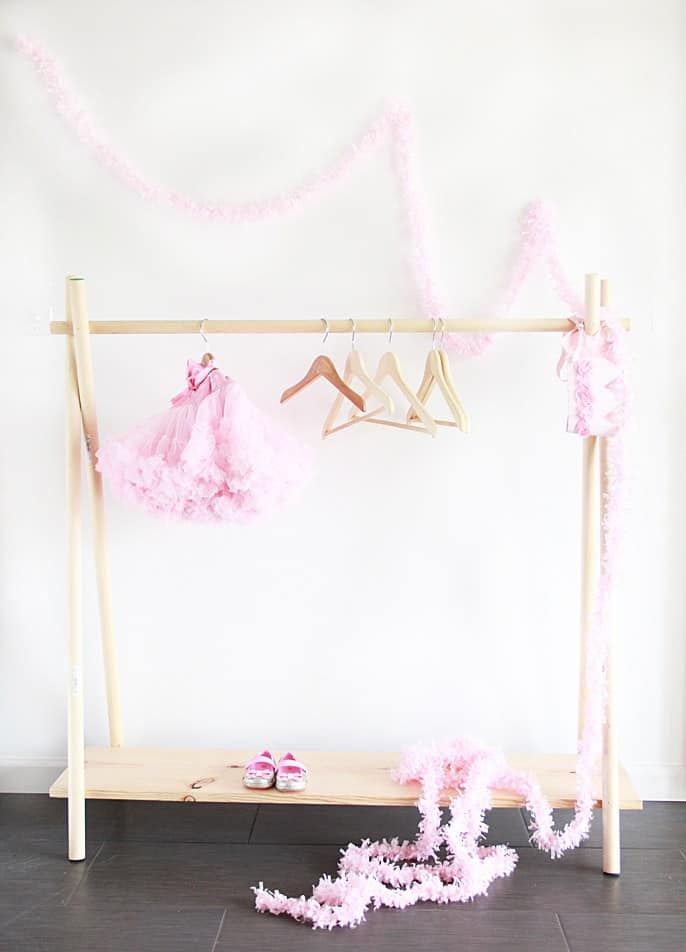 Ten minutes. This can be made in ten minutes!
You don't need very much skill at all to accomplish this project – even the worst-case scenario is it taking you (gasp!) twenty minutes.
DIY Wooden Clothing Rack by A Bubbly Life
Industrial Rustic DIY Clothing Rack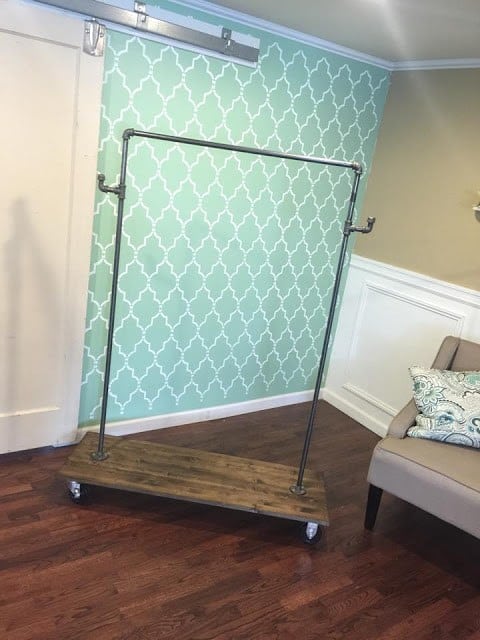 Who says something as utilitarian as a clothing rack has to be boring?
This industrial/rustic clothing rack is proof that something can be beautiful and functional. You may have a hard time storing this one away in the closet.
DIY Clothing Rack by One Thrifty Chick
Old School Drying Rack
If you don't have clothes that need to be line dried, consider yourself very lucky.
For everyone else, this is a great, easy way to have a drying rack in the laundry room. Plus it doesn't take up much space, leaving your floor clear for piles of laundry.
Clothes Drying Rack by Instructables
Laundry Room Rack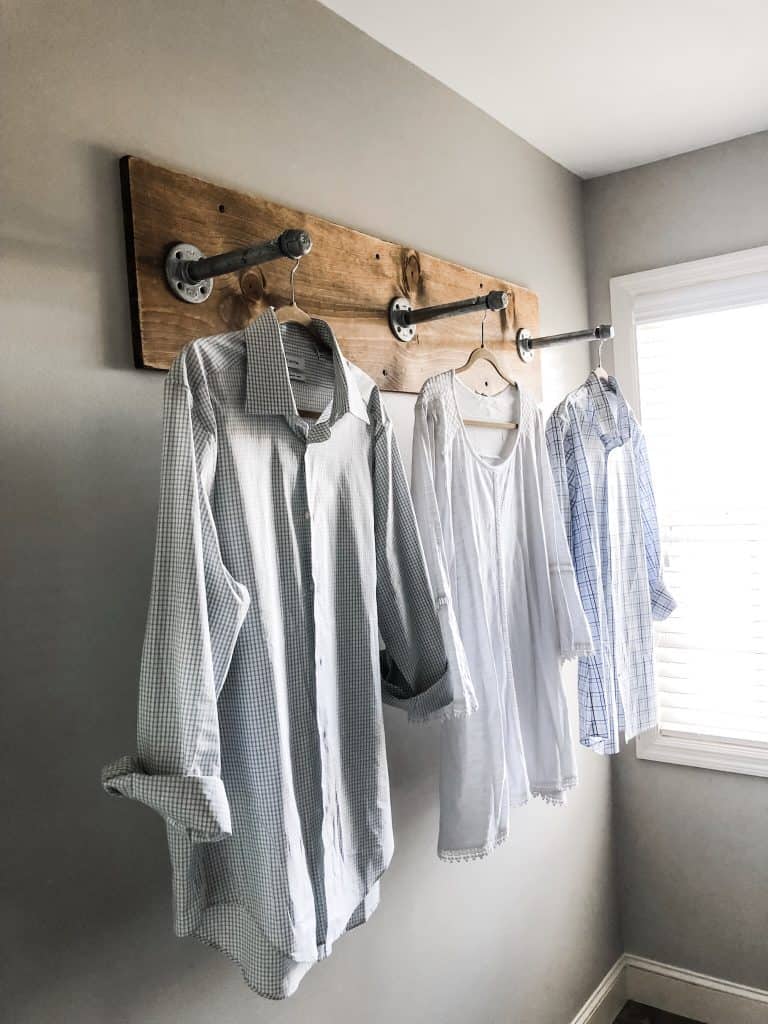 Does anyone really like those builder-grade white wire shelves that seem to be in every single home?
This DIY project to replace the wire rack is not only beautiful but brilliant! It's a great use of space and looks so much prettier than the original.
DIY Clothing Rack by Wilshire Collections
Copper Clothing Rack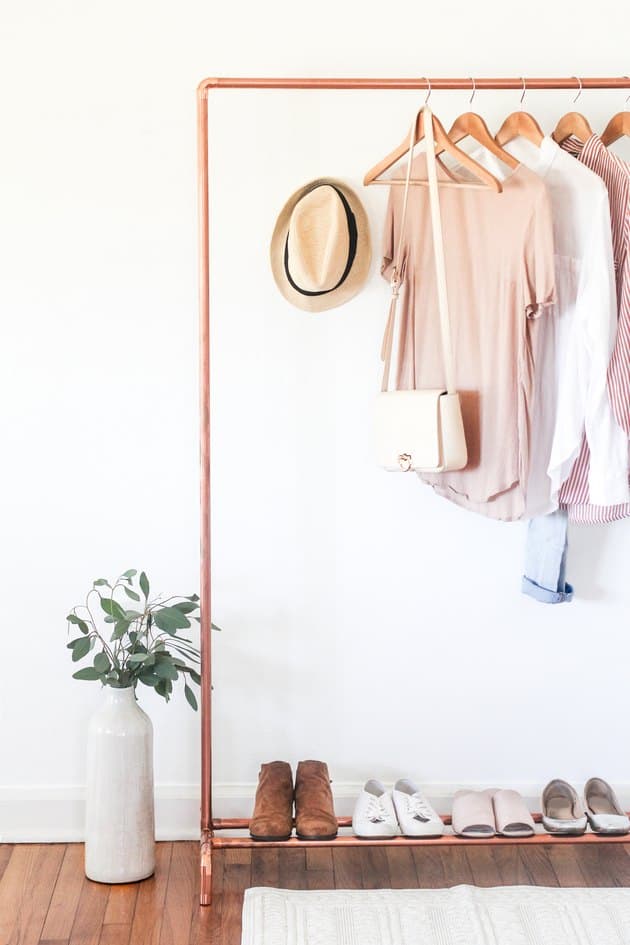 How does something so simple turn out to be so beautiful?
This copper pipe rack is trendy, functional, and easy to make! It has everything you need to hang some clothes – and a shoe rack for good measure.
DIY Copper Clothing Stand by Hunker
Wall Mounted Rack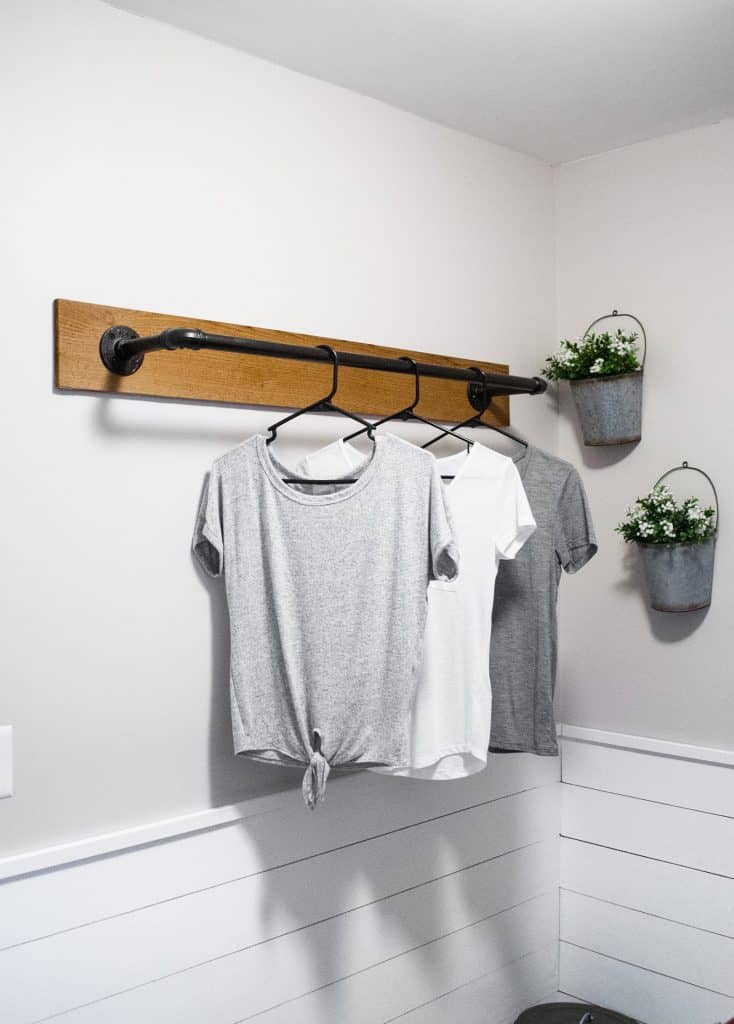 This rack is perfect for a laundry room, coat closet, bedroom closet, or basically anywhere you want some clothing storage.
The DIY project will leave you with a sturdy, trendy place to hang your clothes – plus it's so sleek you won't mind if it's out in the open for guests to see.
DIY Wall Mounted Clothing Rack by Sammy on State
Kids Rack With Shelf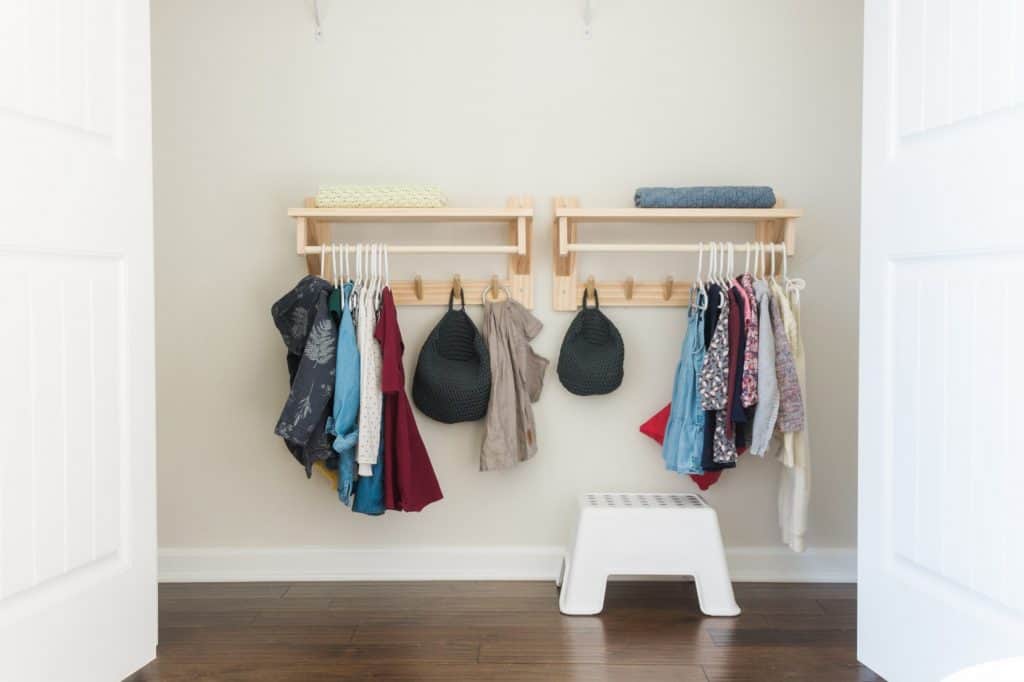 This blogger created this clothing rack for their kids, and while that's certainly a great idea, it will also work for adults.
This rack packs a lot of storage in a small space with a spot to hang clothes with a hanger, toss coats on a hook, and a shelf to store shoes or accessories.
DIY Clothing Rack With Shelf by Free and Unfettered
Copper and Leather Rack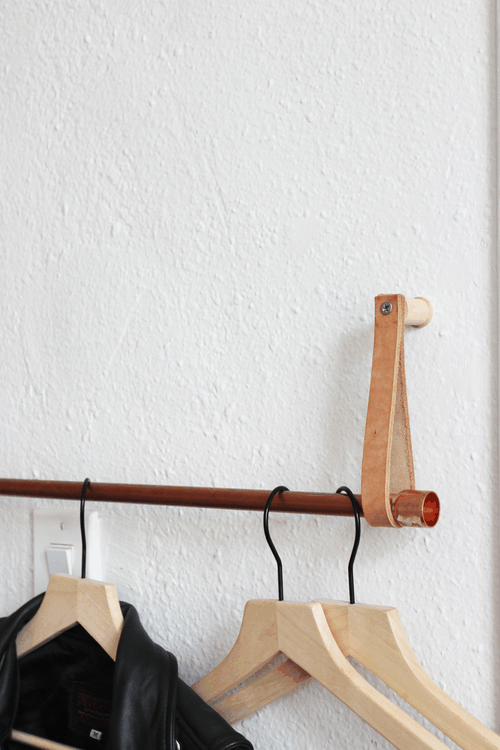 Mixing a little leather into your decor is a huge trend right now. Mixing it with copper is just adding extra magic to an already gorgeous idea.
This rack is unbelievably easy to make, and will definitely be a conversation starter in your home!
DIY Copper and Leather Hanging Rack by Home To Hem
Wood Clothing Rack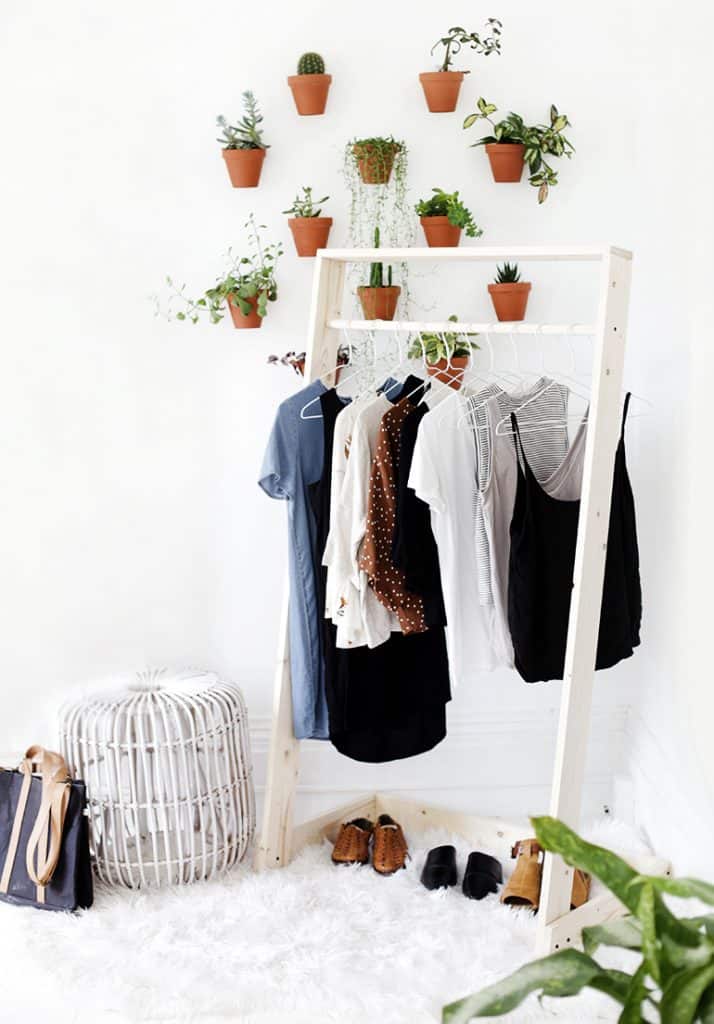 The design of this clothing rack is so simple, but also unique.
There are no bells and whistles with this wooden rack, but there don't need to be because it's beautiful on its own (even unstained!).
DIY Wooden Clothing Rack by The Merry Thought
Fold-Out Clothes Drying Rack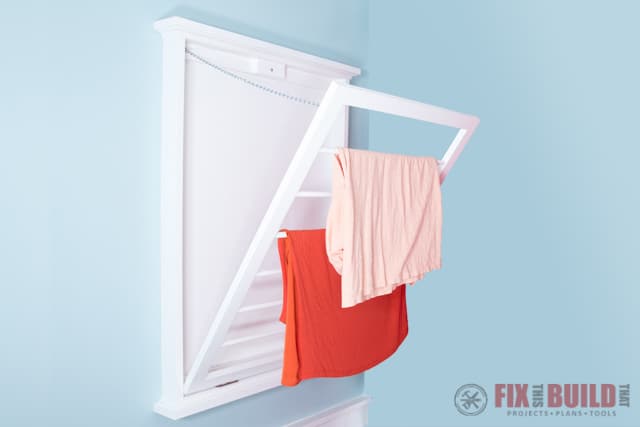 This is another great way to get a drying rack into your laundry room without taking up space.
Pull this out when you need it, and stow it away when you don't. It's super easy to make and will dry your sweaters beautifully (unlike hangers that leave a pointy mark on the shoulders).
DIY Clothes Drying Rack by Fix This Build That
Simple and Chic Clothing Rack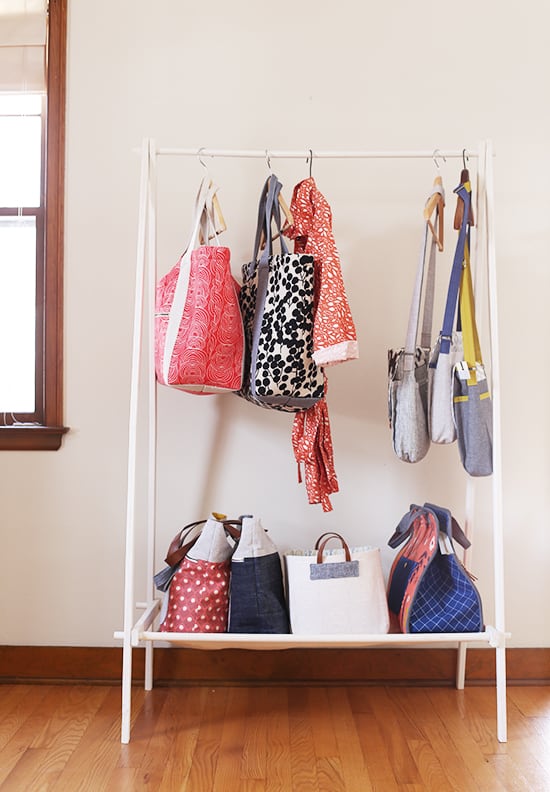 This clothing rack is a bit bulky, but for good reason – look at all that shoe storage!
This is another DIY project that doesn't require a lot of know-how but still delivers a gorgeous end product. If you're dipping your toes into the DIY world, start here.
DIY Garment Rack by Noodle Head
Unique & Trendy DIY Rack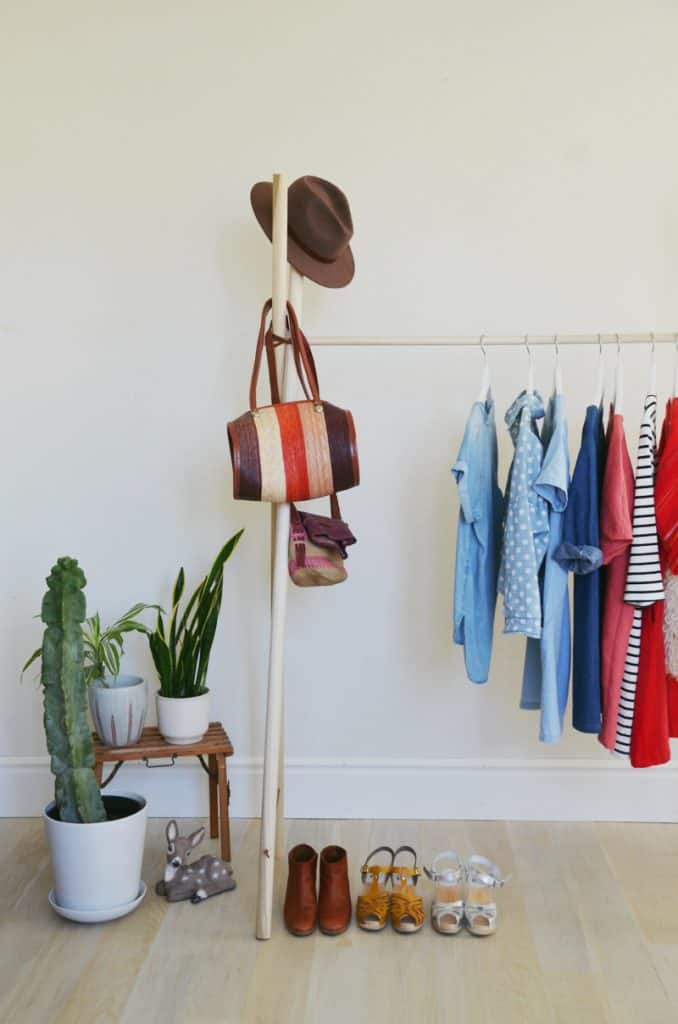 This clothing rack is similar to a lot of others you'll find online, but the addition of the leather strings gives it some character the others lack.
The project requires very few materials, and will be complete in no time!
DIY Clothing Rack by A Beautiful Mess
Kids Teepee Clothing Rack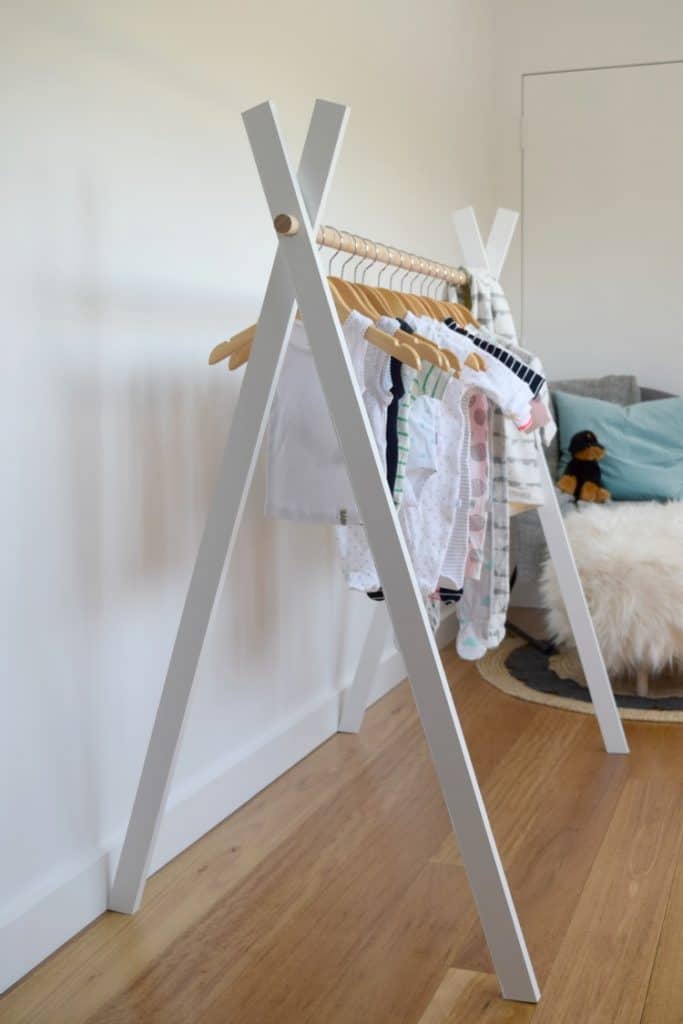 This is another clothing rack that is designed for kids, but would definitely work in adult-size as well.
The mixture of white and unstained wood gives this rack a little something different from others. Plus, how cute would some princess dresses look hanging on it?!
DIY Kids Teepee Clothing Rack by Style Curator
Wood Rack With Shoe Shelf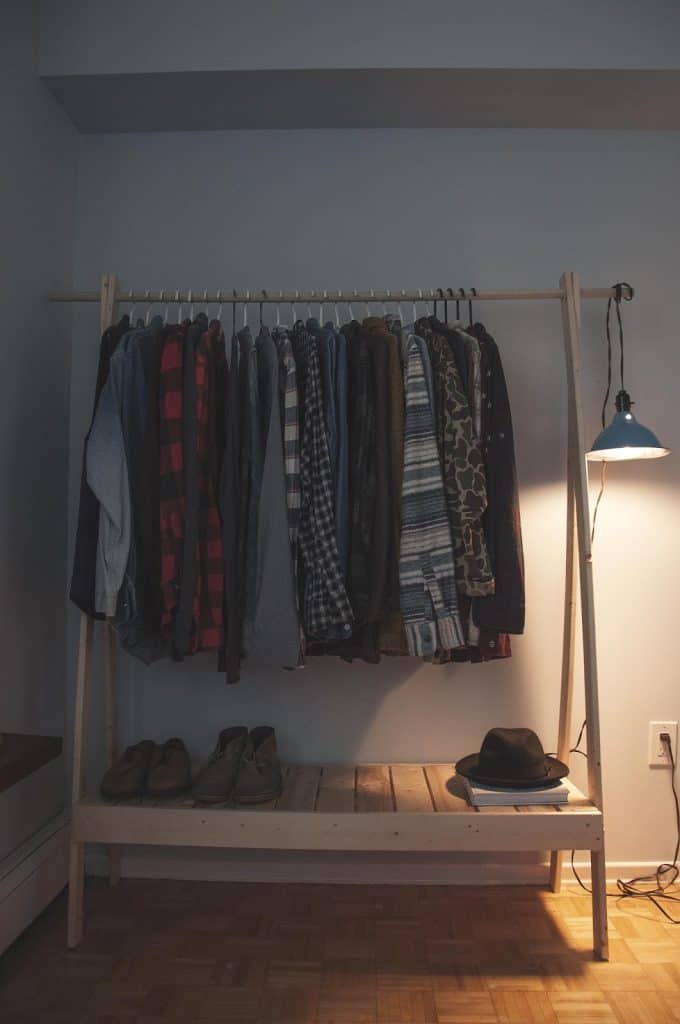 This rack looks so good you'd think it was purchased at some high-price store.
It has ample room for storing shoes and accessories and is large but not overly bulky.
DIY Wooden Clothes Rack by ten zero nine
Minimalist Rack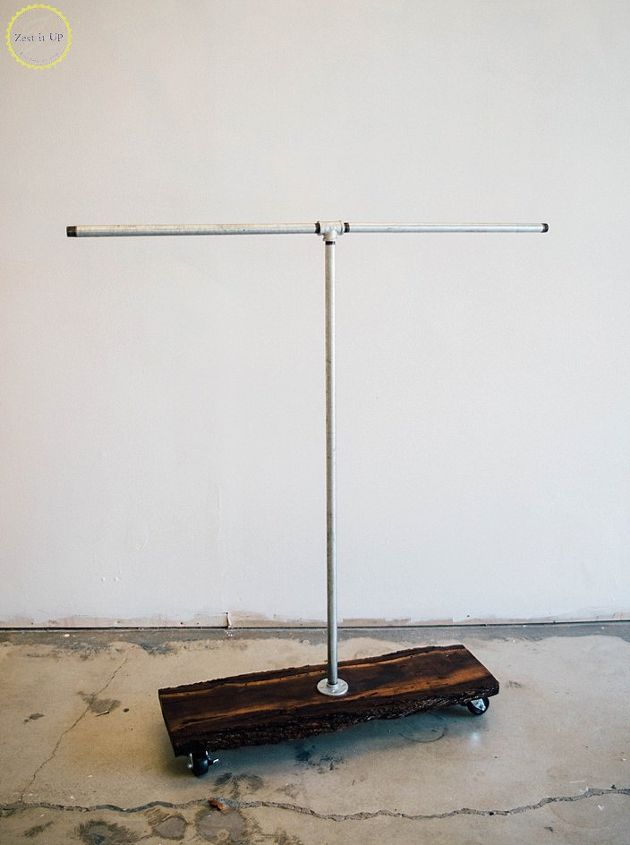 There are no frills to this rack, but it does the job and does it well.
This is the kind of DIY project that pretty much anyone can do, no matter their skill level.
DIY Pipe Clothing Rack by Hometalk
Hanging Rack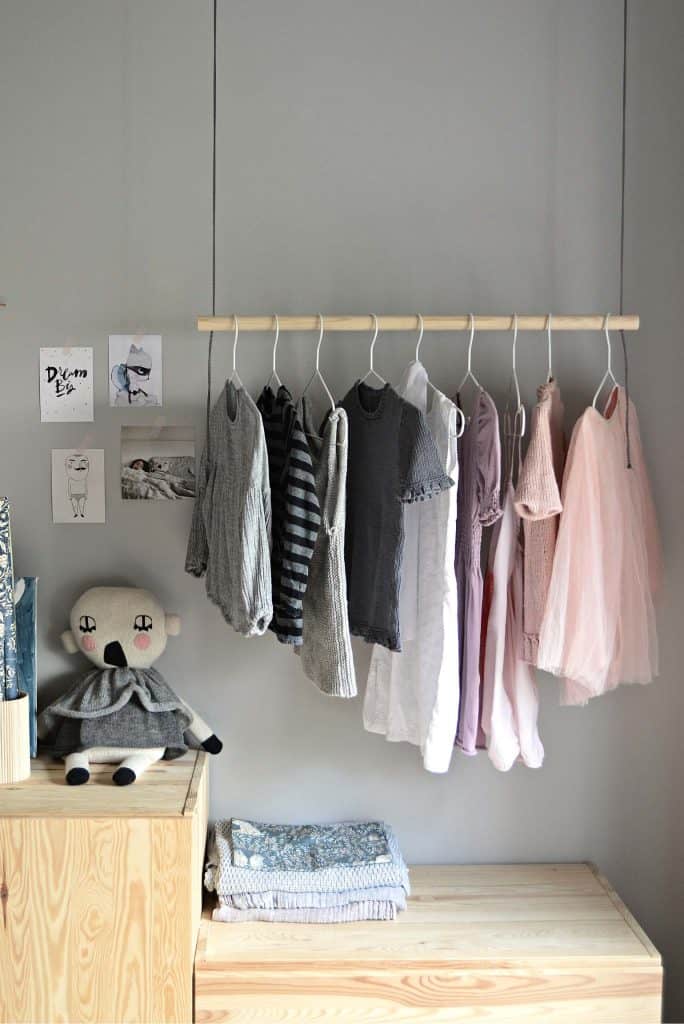 This is a great DIY idea for a room that needs storage space, and doesn't have a closet.
All you need to accomplish this is a wooden dowel, strong rope, and some ceiling hooks. Easy and functional!
DIY Hanging Clothes Rack by Your DIY Family
Capsule Closet Rack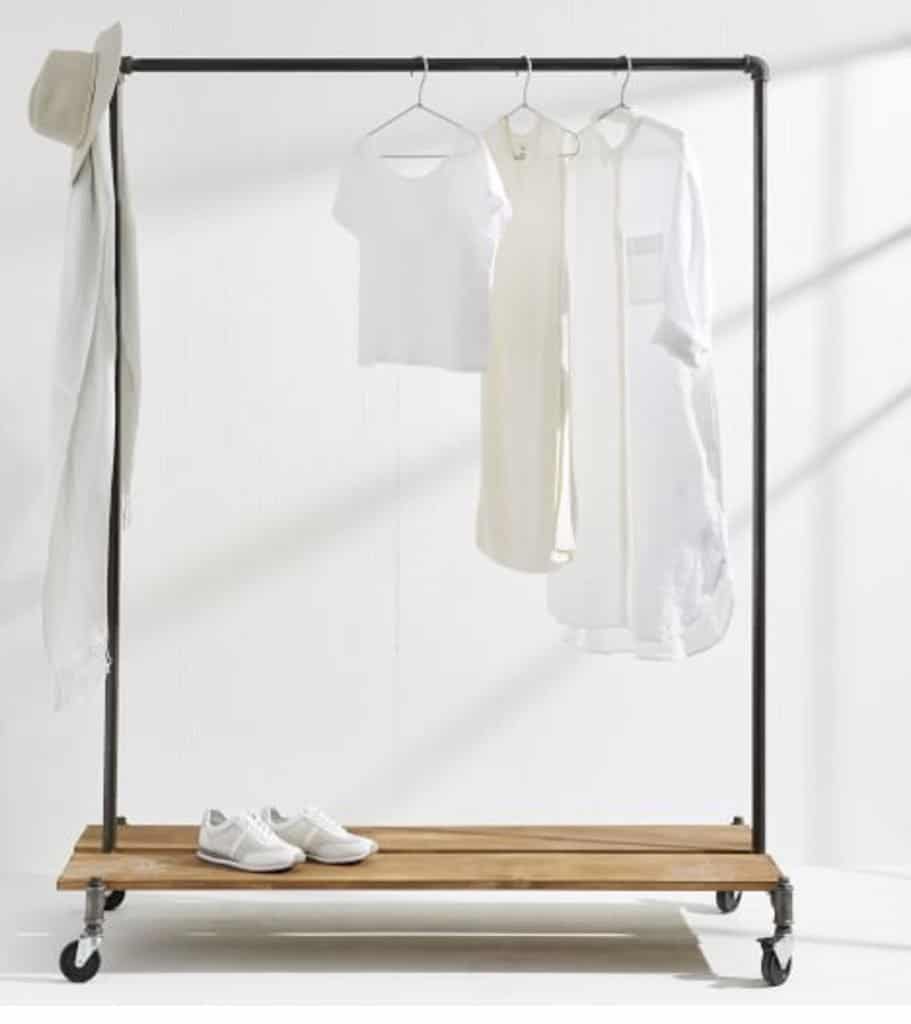 This rack was inspired by a similar rack at West Elm that was marked at over $300 (yikes!).
The DIY version looks just as pretty, and can easily be customized to fit your own space and style.
DIY Clothing Rack by Start at Home Decor
Conclusion
The best part about a DIY clothing rack is that you can pick your material of choice to get the look, durability, and functionality you need.
You can also customize a rack in a number of ways like making it shorter for kids, adding shelving for shoes, hats, or bags, or picking a material that can be spray painted your favorite metallic shade (if you can't pick – always go for gold!).
These DIY projects are proof that organization doesn't have to be pricy or an eyesore to be functional.