35 DIY Bed Frame Ideas For a Customized Place To Rest Your Head
If there is any room in your home where you should invest a little more, it's your bedroom. It should be a space you are able to truly let go of your worries.
Your bed is an important part of that relaxation. But a good bed is more than a good mattress and sheets, it's a bed frame, too. Even better, you can get the look, and functionality, you want by making your own.
Simple Chic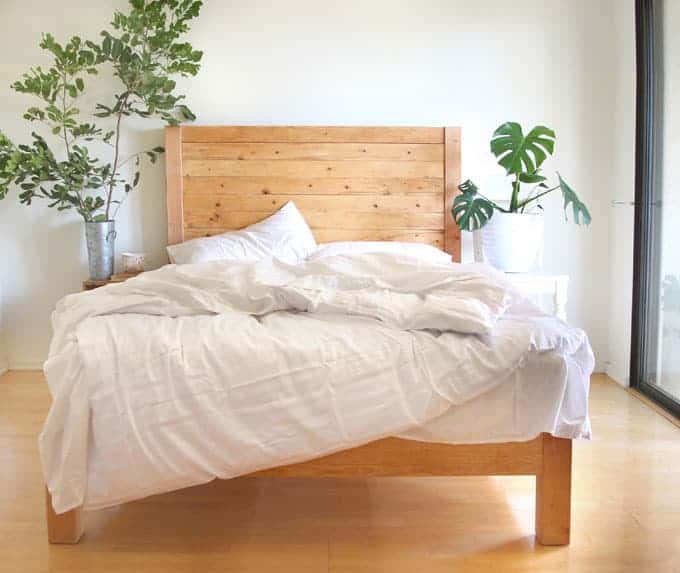 If you're into the minimalist aesthetic, check out this bed!
You can build every part of it, including the frame and headboard.
DIY Bed Frame & Wood Headboard by A Piece Of Rainbow
Frame & Plank Headboard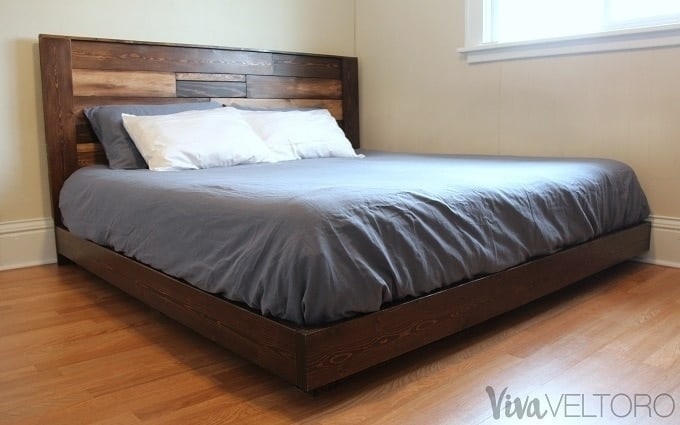 It's hard to believe that this bed was made by hand, and not at a factory.
It's easy to recreate, too! You'll love jumping into this beauty at the end of the day.
Easy DIY Platform Bed Frame by Viva Veltoro
Budget-Friendly Frame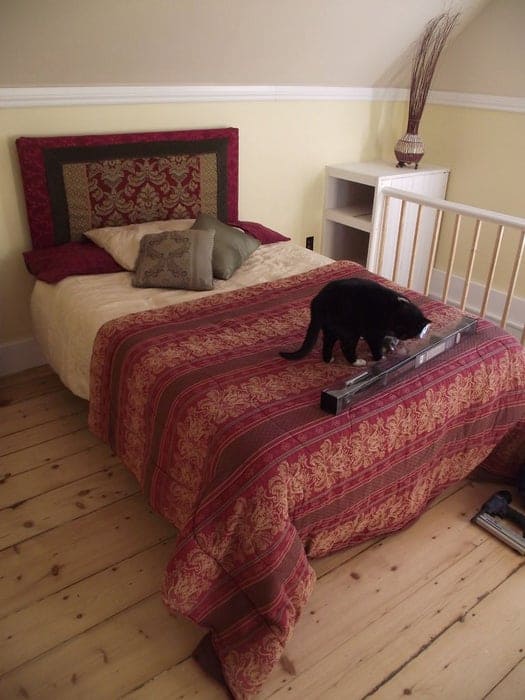 If you don't need a headboard or footboard, it doesn't get much more simple than this frame.
Plus, it will only cost you around $15. You can't beat that kind of deal.
$15 Bed Frame by Instructables
Kids Loft Bed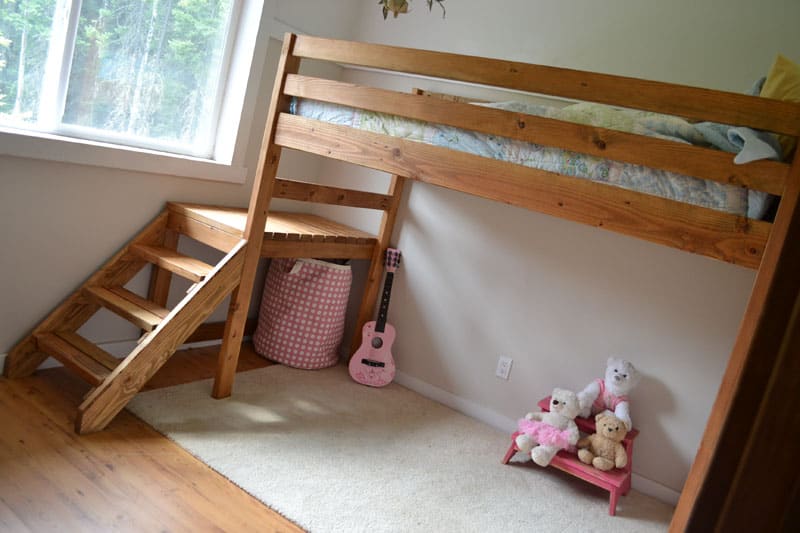 Kids love to climb up on to a top bunk, but if you don't want to take up precious floor space for an unnecessary bottom bunk, this loft bed is a great solution.
It will take a little work, but you can get step-by-step instructions on the Ana White website.
Camp Loft Bed with Stairs by Ana White
Modern Bed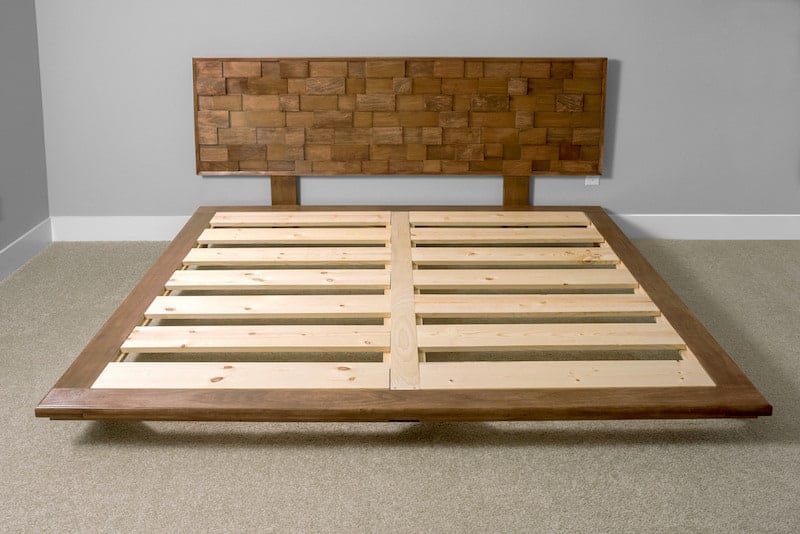 Shockingly, this bed did not come from a high-end retailer, it was a DIY project!
Check out the creator's blog to learn how she made it.
DIY Platform Bed Frame by DIY Candy
Sleek DIY Bed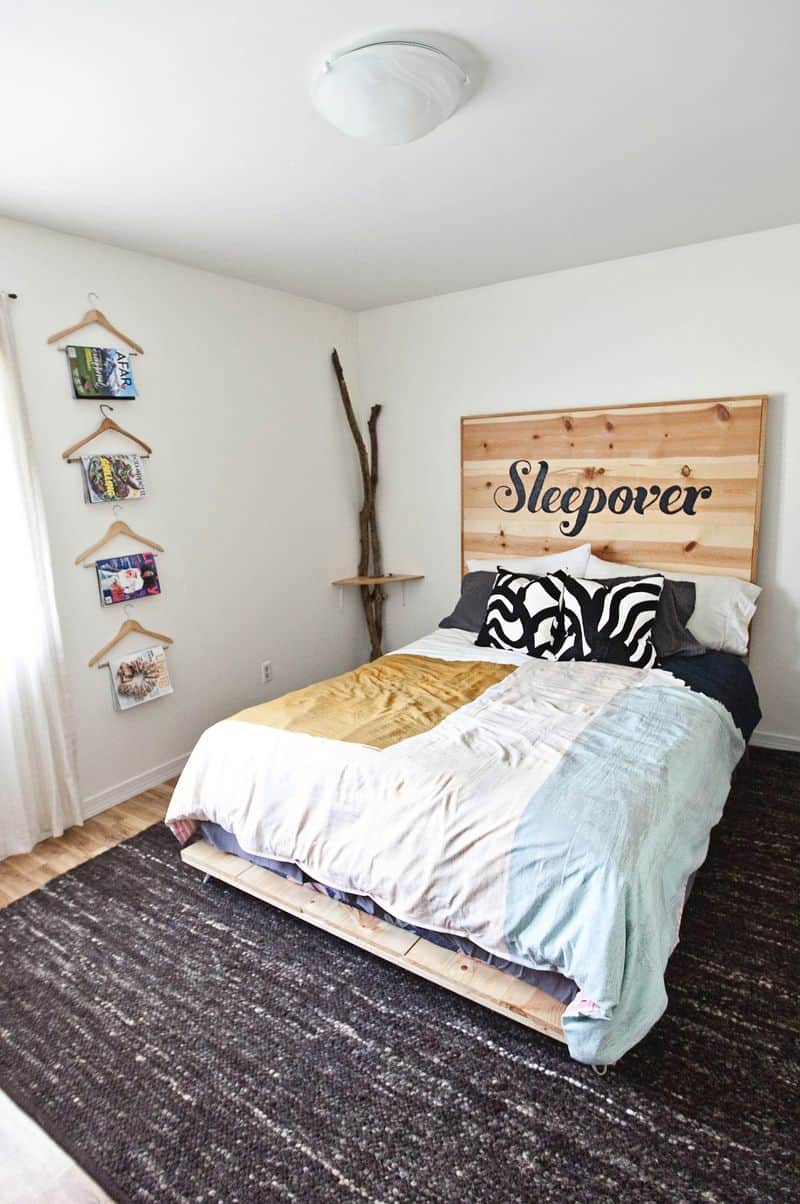 This is another great example of how you can make a DIY bed that is simple but still stylish.
You don't need a ton of experience to make this frame and headboard, just a few cuts with the saw and you'll be able to recreate it.
DIY Simple Bed Frame by A Beautiful Mess
Easy & Classic Frame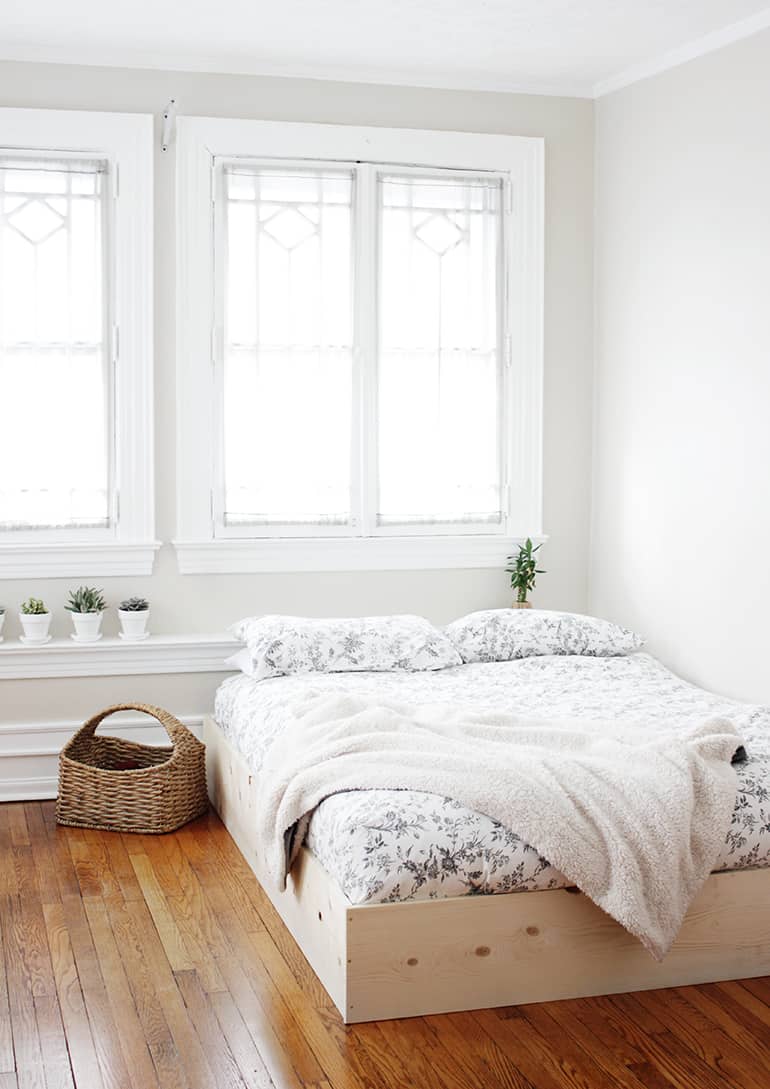 If you have a room with a lot of windows that you don't want blocked by a big headboard, you can make a simple frame that still looks stylish.
This frame by The Merry Thought has an unfinished look that actually adds to the room's airy aesthetic.
DIY Simple Bed Frame by The Merry Thought
Faux Bed Frame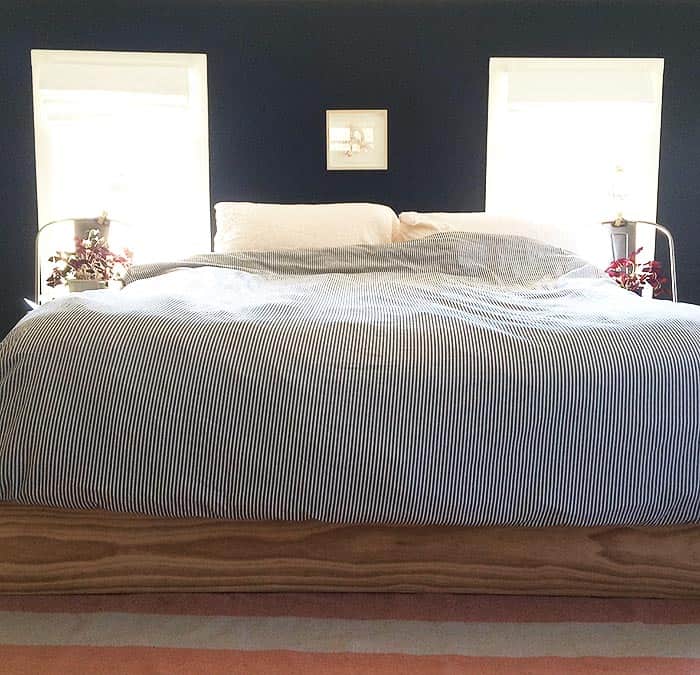 Here is a similar bedframe, but just done in a different way.
Basically, you can use the same frame plan for any size bed by changing up the measurements. Then, you can customize it to your liking using whatever stain fits with your style.
DIY Faux Bed Frame by Design Sponge
Canopy Bed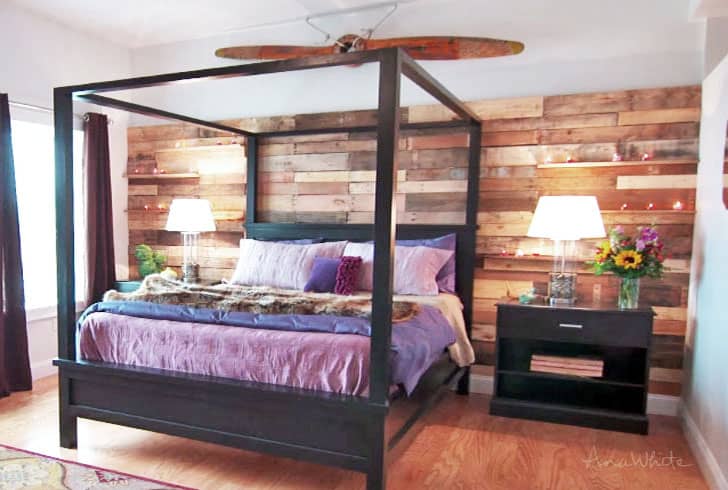 Canopy beds are basically the epitome of luxury.
You can make your own using the tutorial found on the Ana White webpage. It won't be a quick project, but it will definitely be worth it.
Farmhouse Canopy Bed by Ana White
Modern Frame With Hairpin Legs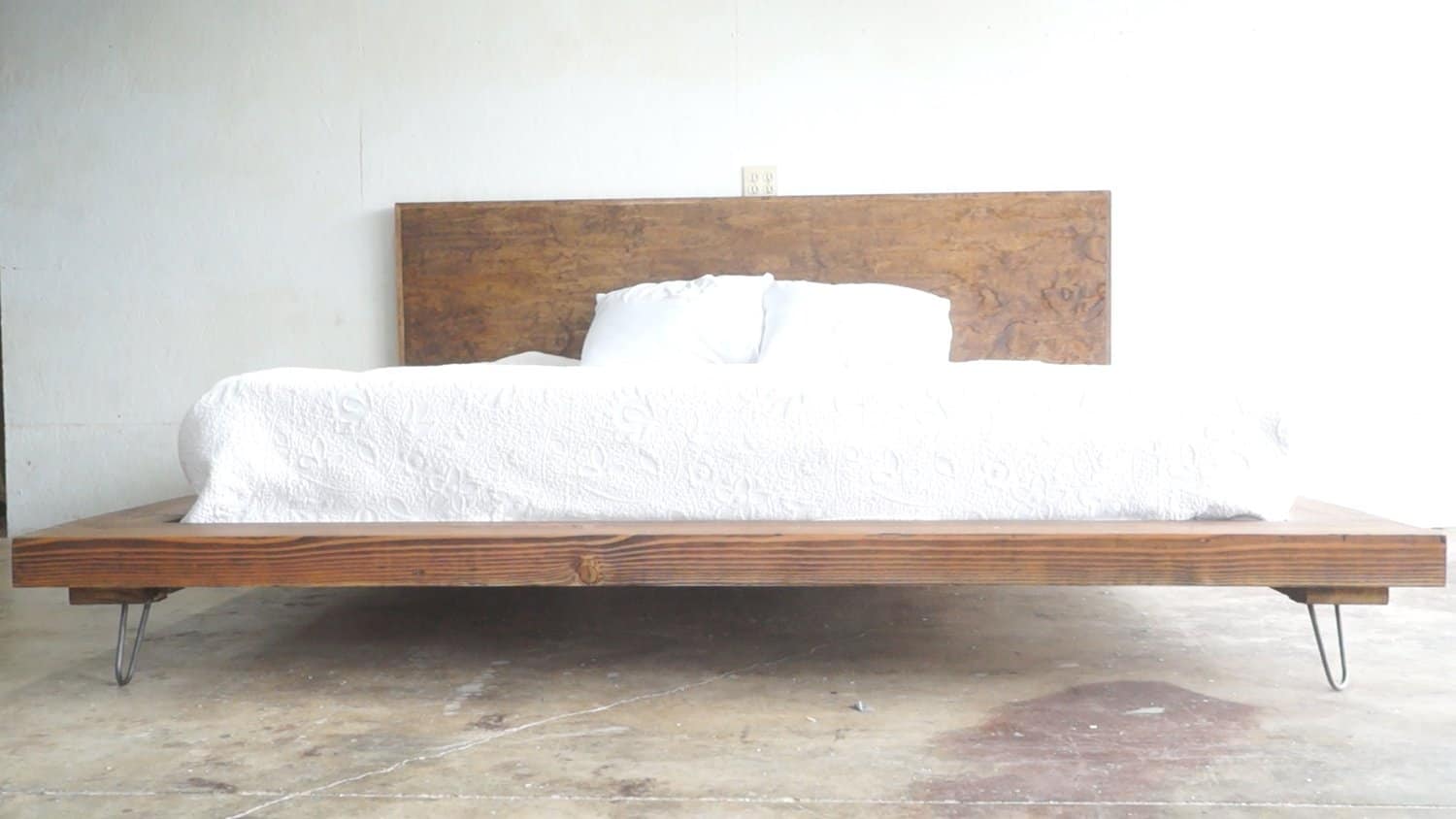 Adding hairpin legs to just about anything instantly adds a little style.
This blogger added some small hairpin legs to a bedframe to elevate it and give it a little touch of detail.
DIY Modern Platform Bed by Modern Builds
Pallet Bed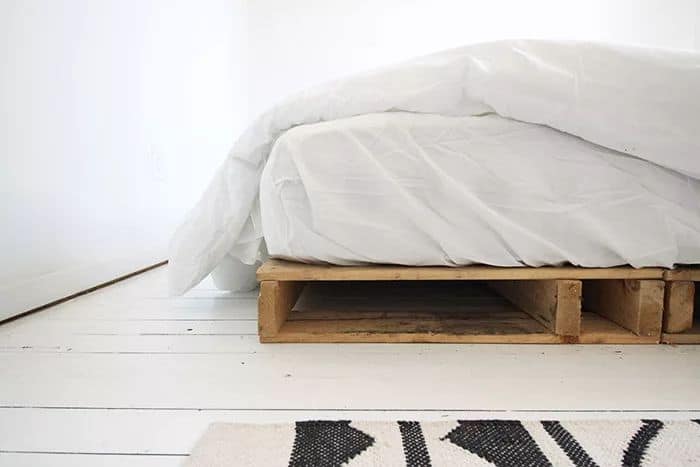 If you can't make it out of a pallet, then it is not a proper DIY project, right?
Even better, you don't even have to do much with the pallets to make this frame. Just line them up under your mattress and you're done!
DIY Easy Wood Pallet Bed Frame by Wonder Forest
Basic & Classic Frame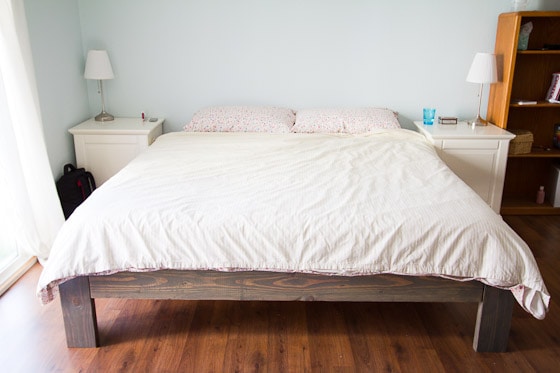 If you like the idea of a simple bed frame, but don't want it to be basically floor level, check this one out!
It's still really easy to make, but it has legs to raise it up higher so you don't have to hear your knees crack as you crawl in and get out every day.
DIY Bed Frame by Something Is Done
Sliding Barn Door Loft Bed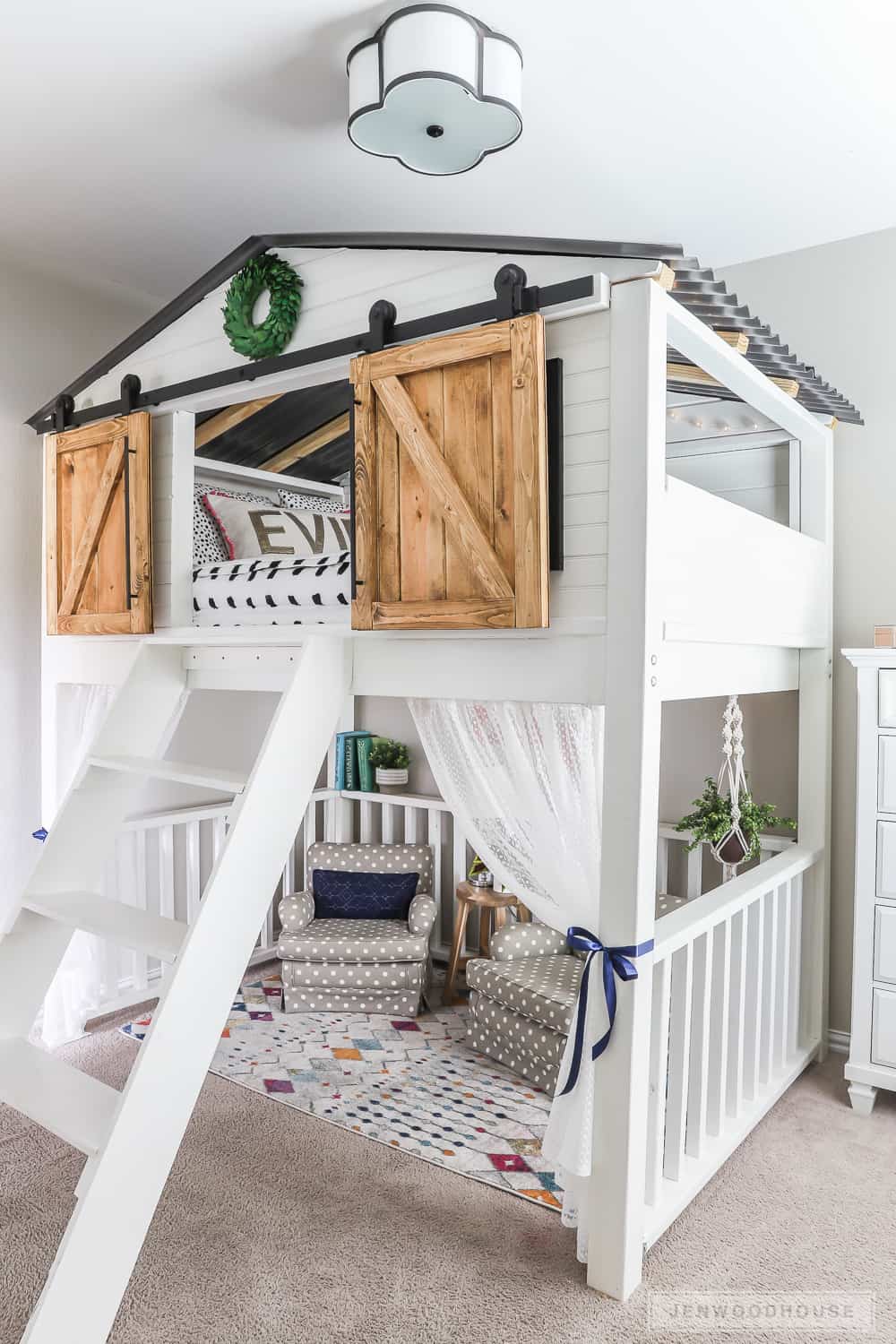 This looks like something Joanna Gaines would put in a kid's room – its so great!
You definitely want to have some DIY skill to pull this piece off, but man it's worth it! Any kid would love going to bed in this every night.
DIY Sliding Barn Door Loft Bed – Full Size by Jen Woodhouse
Log Cabin Bed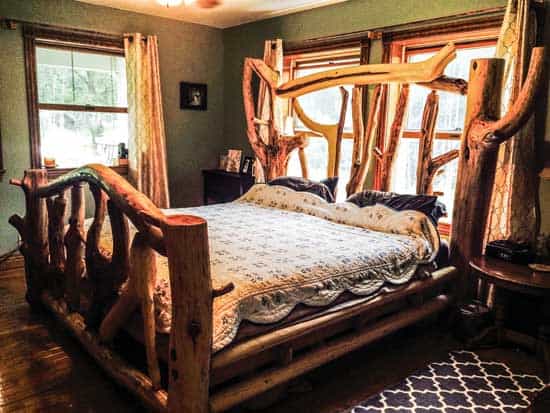 This piece is very, very personalized, but if you like that log cabin look you should give it a whirl!
You're going to have the best luck making this if you live nearby a wooded area where it's easy to get the pieces necessary to make this bed.
DIY Bed Frame from Timbers by Grit
Bed With Storage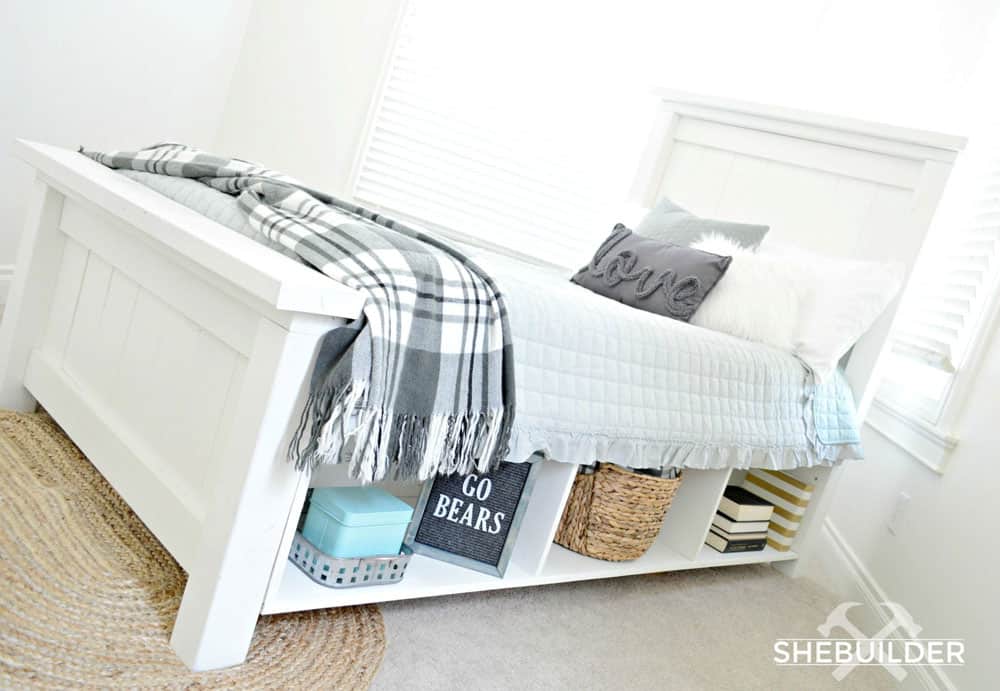 A lot of bed frames don't allow for under-the-bed storage, which leaves you with just your closet to store things away.
This bed by Ana White takes care of that, and does it in a polished way.
Farmhouse Storage Bed by Ana White
Ikea Hack Twin Bed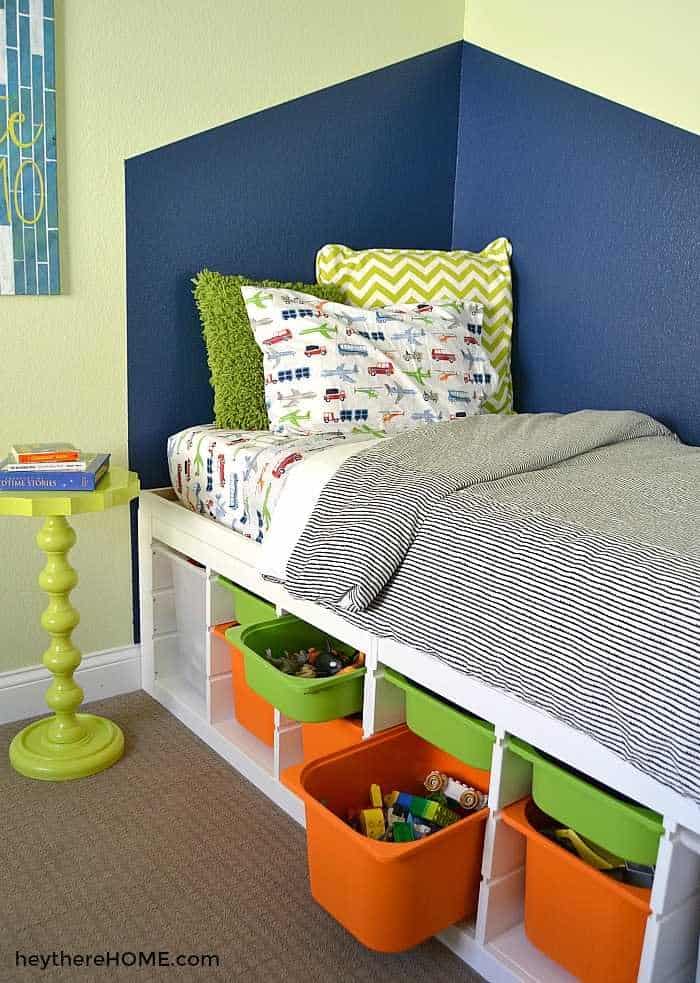 Ikea hacks are always fun, because you know you're going to get the furniture for a steal, and have the creativity to make it look a lot more fun than how it came.
You can create this fun twin bed with storage using the hack in the Hey There Home blog.
DIY Twin Platform Bed With Storage by Hey There Home
Upholstered Bed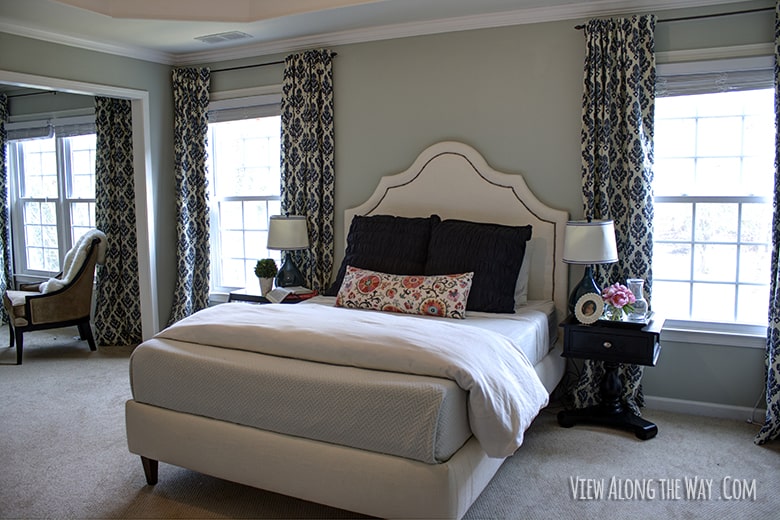 You don't have to go to a fancy store to get an upholstered bed frame and headboard, just DIY!
Learn how to recreate this frame using the tutorial from the blogger who made it!
How To Build an Upholstered Bed by View Along The Way
Metal Pipe Bed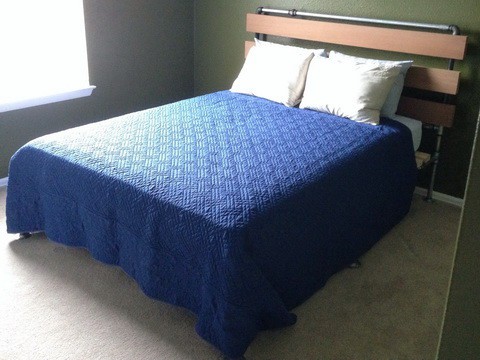 Using metal pipes mixed with wood creates a unique aesthetic with a lot of potential.
The wood and metal balance each other out well, giving a warm/cold vibe and creating a polished end product.
DIY Bed Frame Out Of Metal Pipe by Remove and Replace
Polished Platform Bed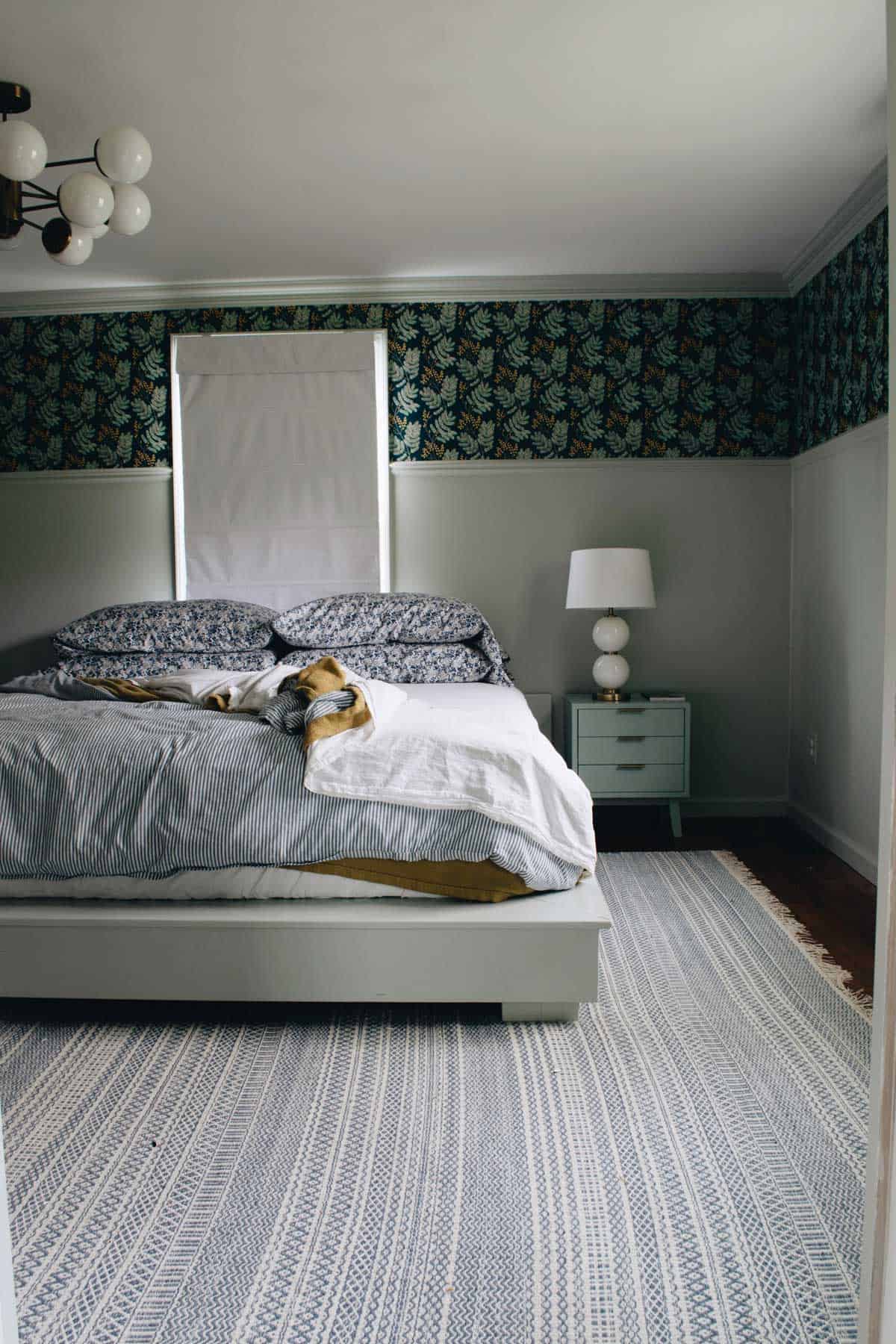 Platform beds are easy to make, and they look fantastic once they're done!
This DIY frame by Rachel Schultz looks like it came from Pottery Barn because it has a beautiful, finished look.
Platform Bed DIY by Rachel Schultz
Rustic Bed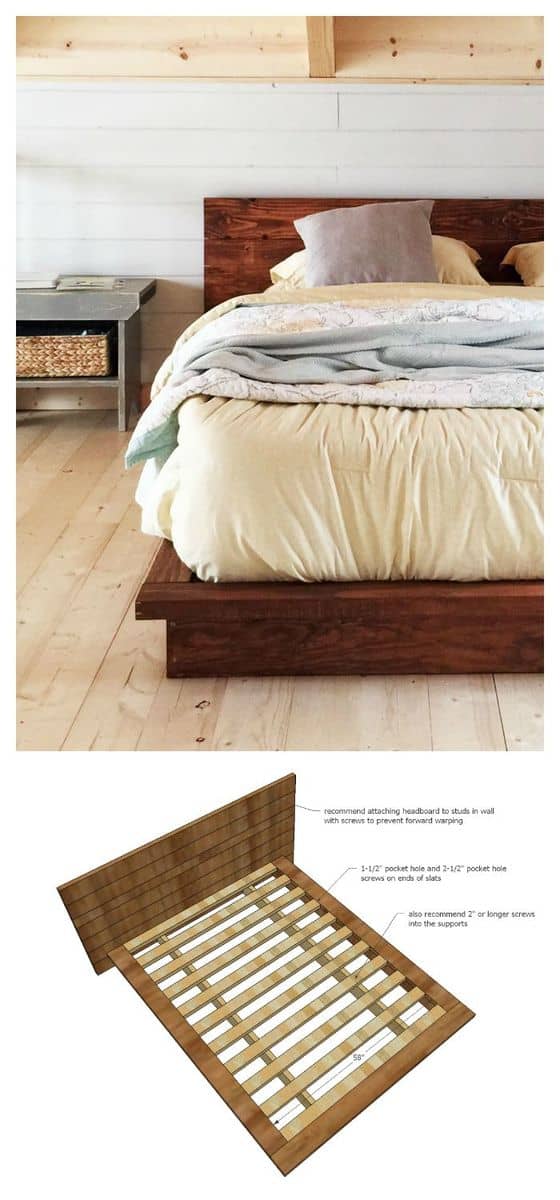 If you like your furniture to look less polished and more worn-in, this may be the one for you.
You can recreate this platform bed using the step-by-step guide on the Ana White web page.
Rustic Modern 2×6 Platform Bed by Ana White
Kids Twin Trundle Bed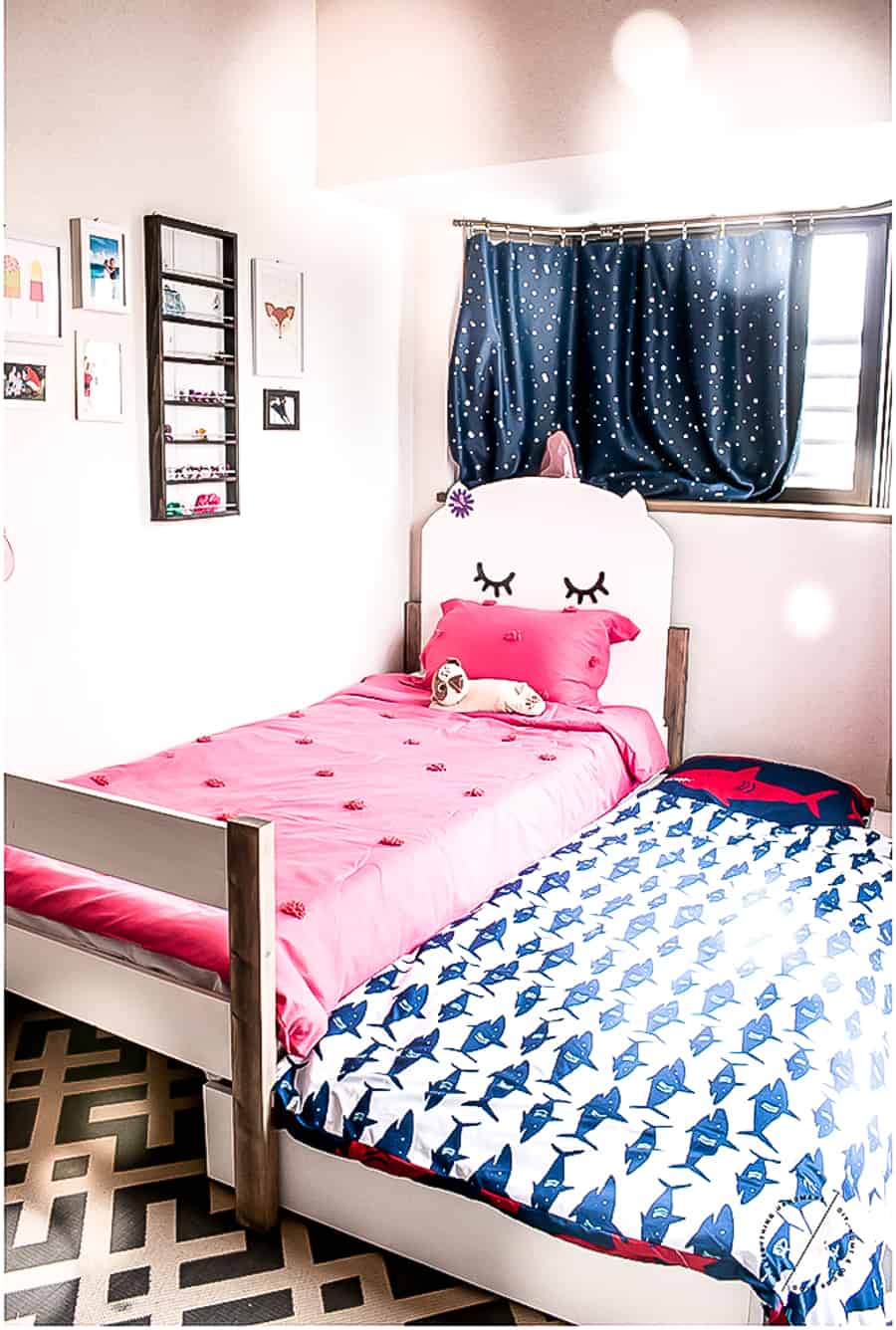 If you have a kiddo who loves sleepovers and slumber parties, then they definitely need a fun bed, with another bed tucked under it!
Either use this Kitty bed as inspiration or recreate it for your kiddo – whatever you do, don't forget the trundle bed!
DIY Twin Kitty Trundle Bed by Jen Woodhouse
Eclectic Wood Frame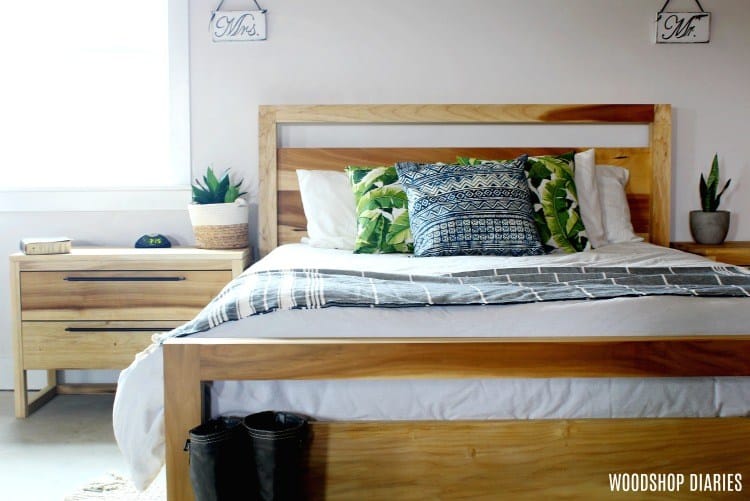 This bed frame is basic, beautiful, and easy to make.
There's something to be said for simplicity, and you can easily remake this bed thanks to its simple design.
How to Build Your own DIY Modern Bed Frame by Wood Shop Diaries
Mixed Media Bed
Can't decide between an upholstered or wood bed frame/headboard? Do both!
The Idea Room created a bed frame and headboard using both and it turned out fantastic. Even if you don't want to recreate it, it's good inspiration for you to get a little creative with your own DIY projects.
DIY Headboard and Bed Frame by The Idea Room
Three-Step Bed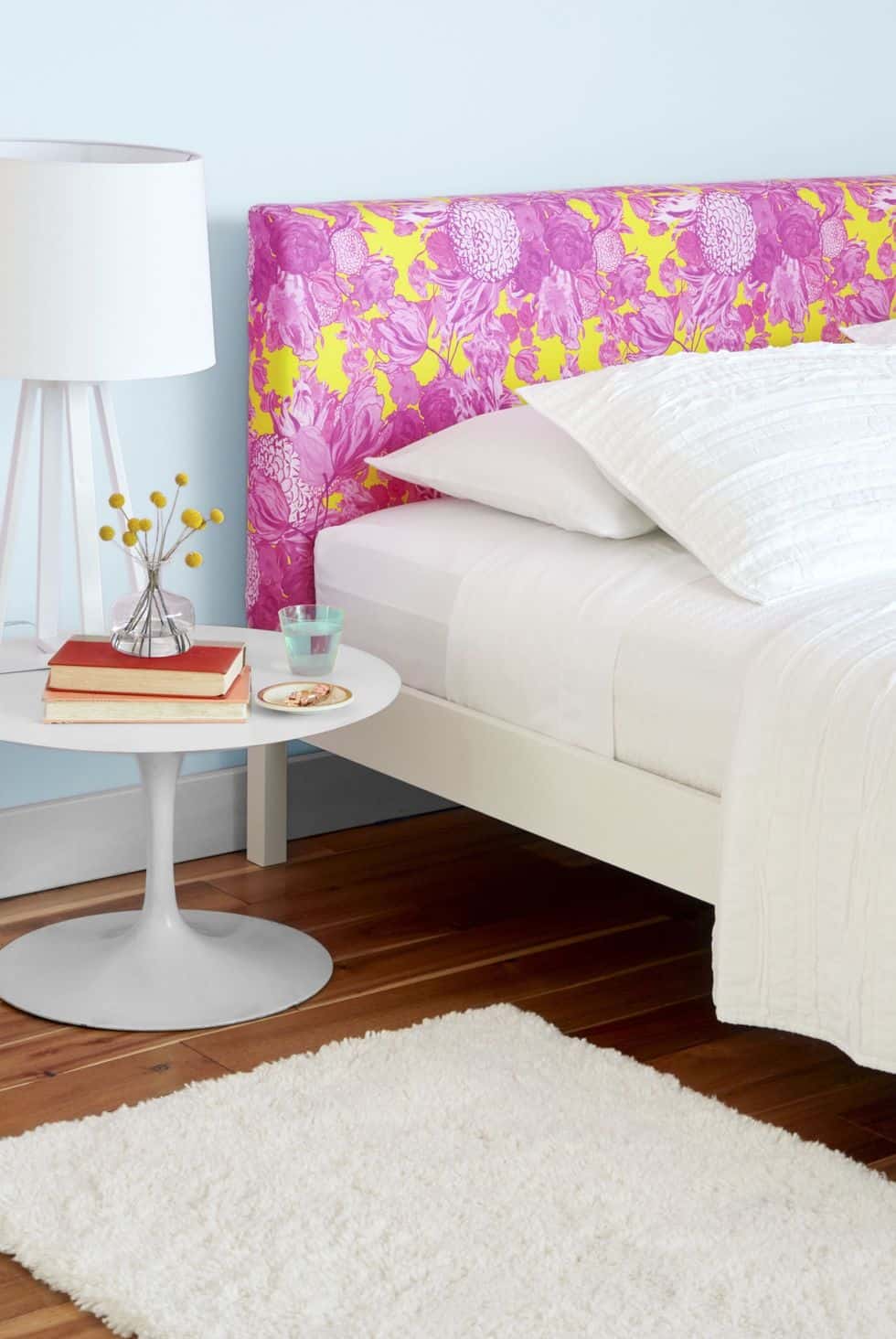 Want a bed frame that is functional and easy?
You can create this one in only three steps, which Redbook Maganize has listed out for you.
DIY A Cute Frame in 3 Easy Steps by Redbook Magazine
Kids Playhouse Bed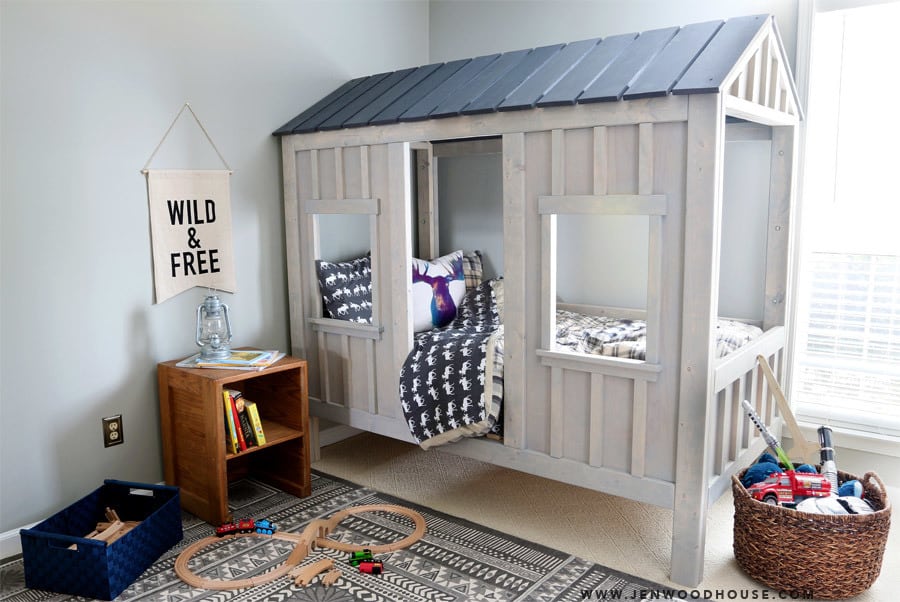 How awesome would it have been to have this bed as a kid?!
You can learn how to recreate this awesome piece of furniture using the tutorial on the Ana White website.
Cabin Bed by Jen Woodhouse by Ana White
Chevron Headboard Bed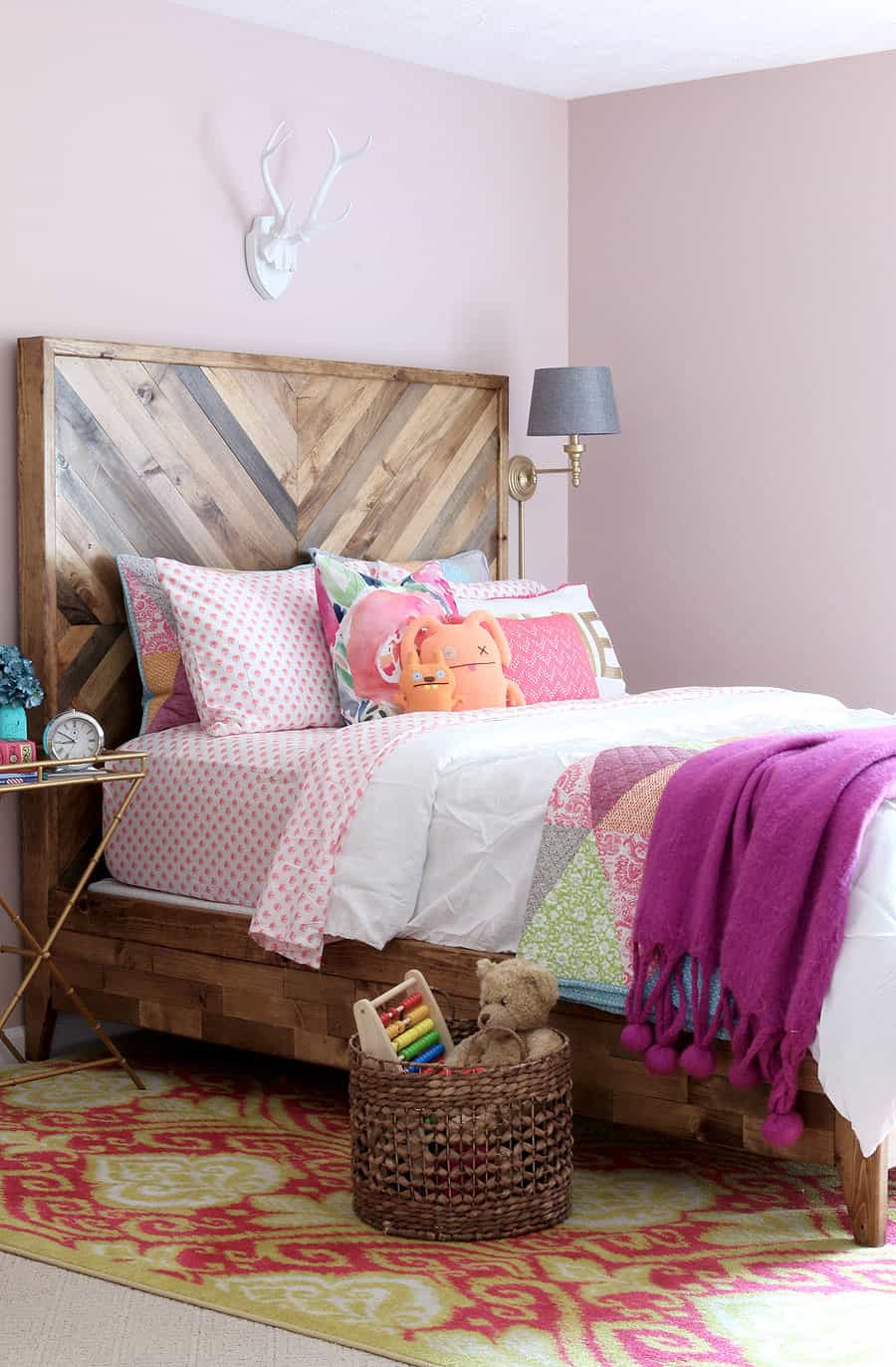 The blogger who created this headboard was inspired by a lookalike she found at West Elm.
It definitely has some fun detailing and may take a little bit to get the cuts just right, but it's worth it to get to come home to this beauty every day!
DIY West Elm Alexa Chevron Bed by Jen Woodhouse
Pipe Bed Frame
If you're not one for fancy or complex, your bedroom should reflect that.
This DIY bed frame made from pipes will do just that. It's simple, sleek, and easy to make.
DIY Pipe Bed Frame by Remodelista
Beadboard Bed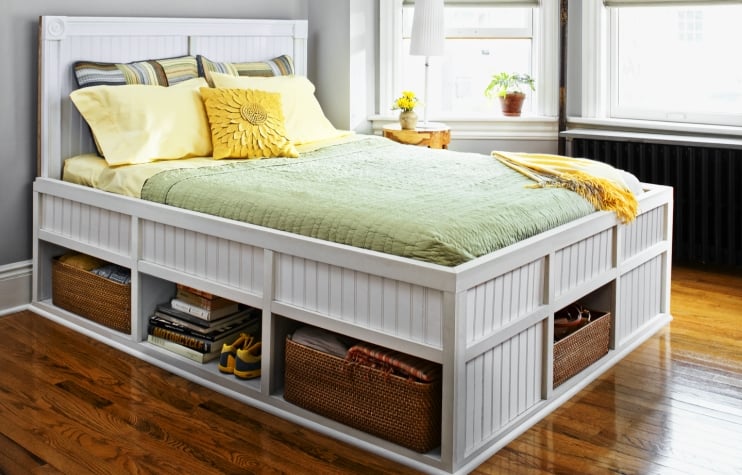 It's hard to pick the best feature of this bed frame because everything about it is so great!
It has a lot of storage space, has a nice, polished look, and has beadboard in it!
How to Build a Storage Bed by This Old House
Reclaimed Wood Bed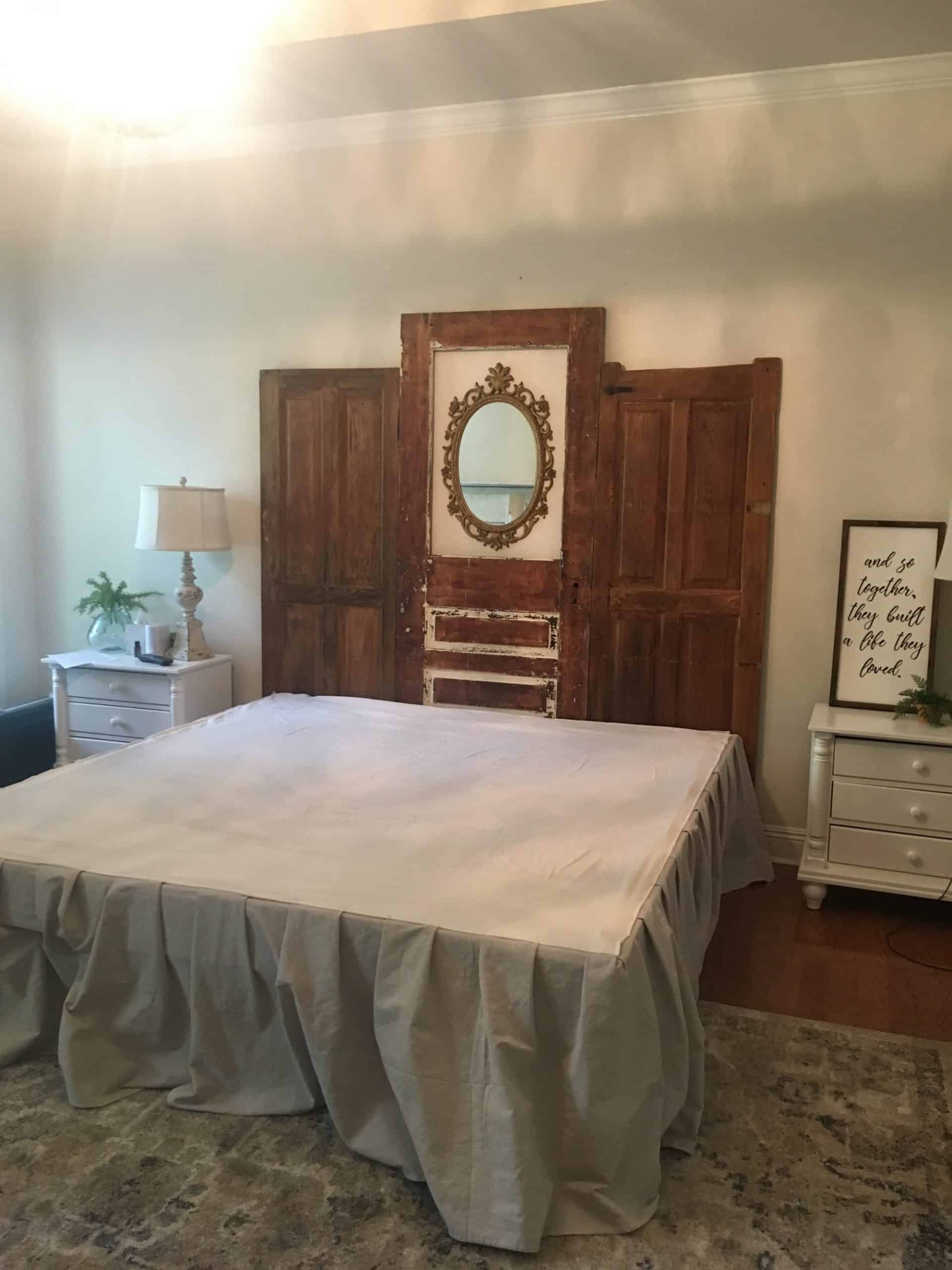 Making old things new again is one of the best parts of being a DIYer.
This blogger built a bed frame and then used old doors to create a gorgeous, unique headboard.
How to Make a DIY Headboard and Bed Frame by Beauty for Ashes
Classic Bed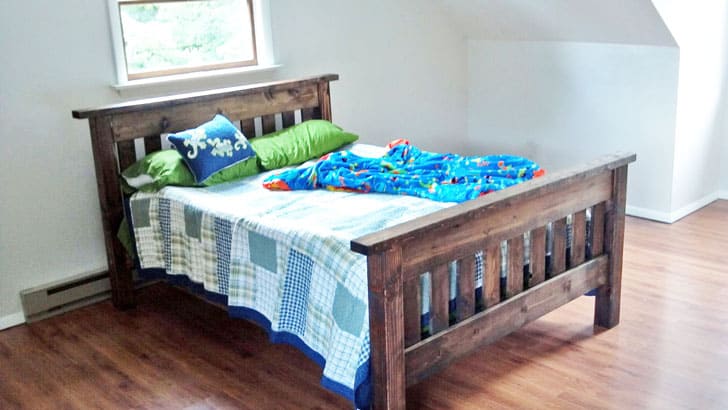 This bed is simple, classic, and will stand the test of time in your home.
You can customize this to fit your needs, whether its a different size mattress, or a different color stain.
Simple Bed by Ana White
Toddler Bed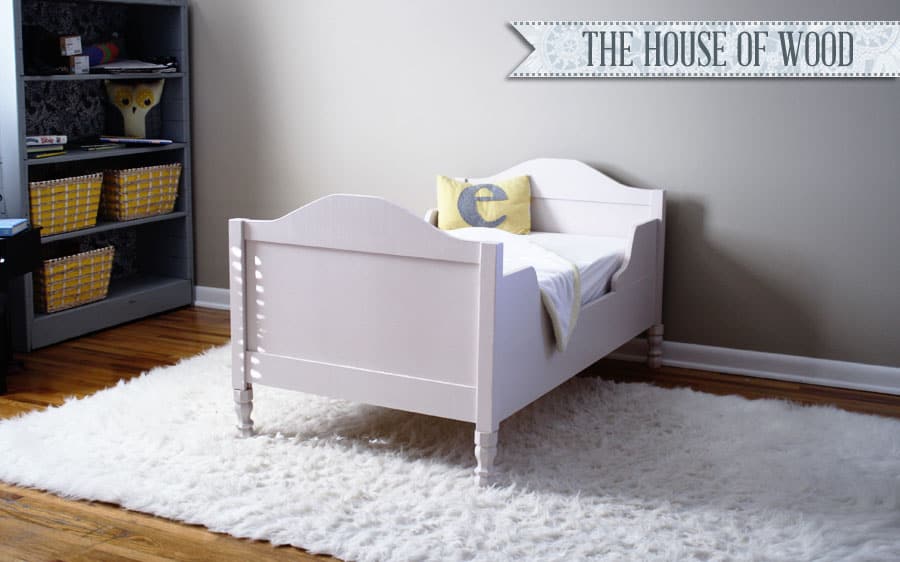 If you didn't invest in a convertible crib, no worries, you can make a toddler bed by yourself!
Jen Woodhouse created this one using one from Restoration Hardware as her inspiration. You can replicate it yourself, too, by following her instructions.
DIY Restoration Hardware-inspired Toddler Bed by Jen Woodhouse
Plywood Bed With Welded Legs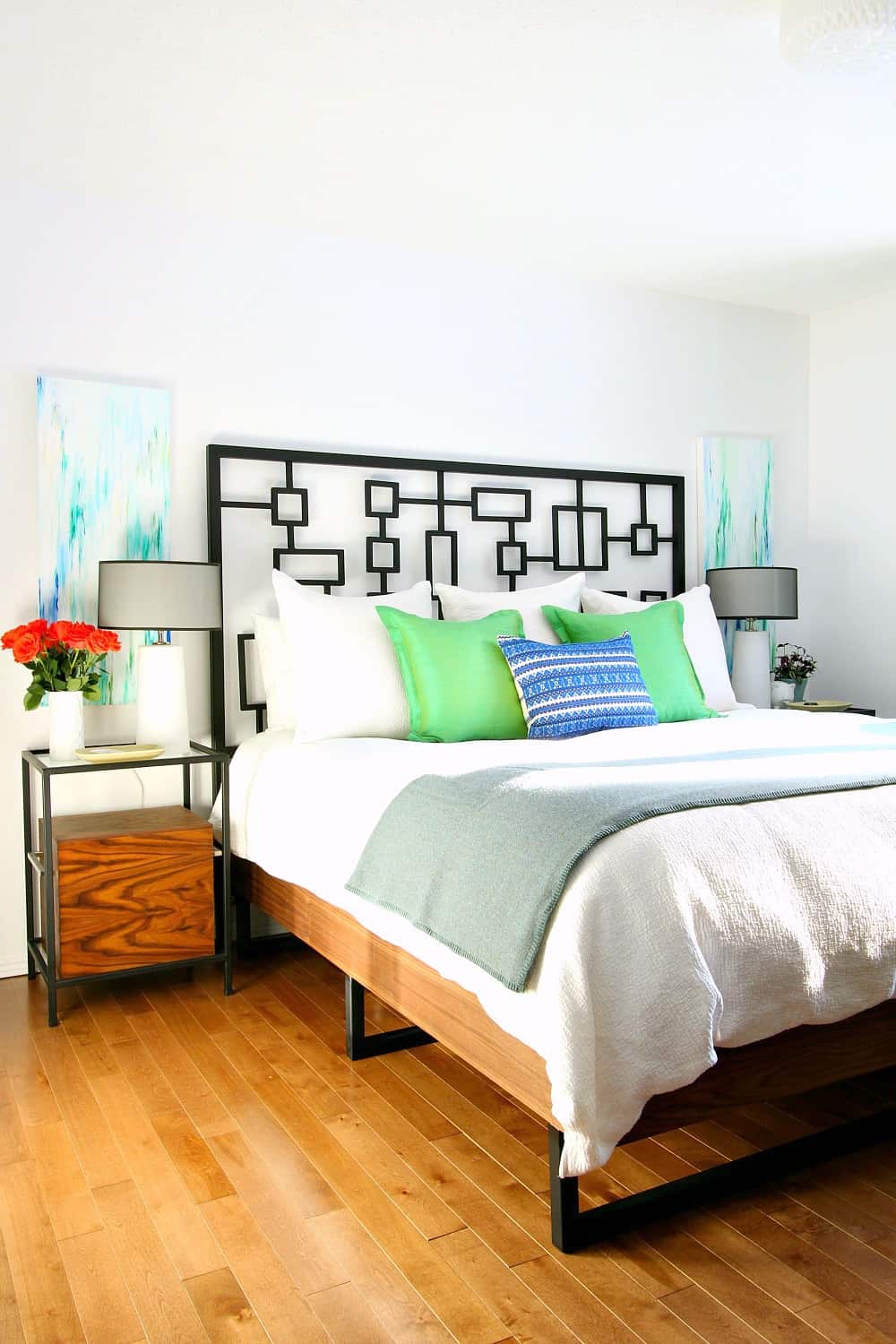 This is a perfect example of what you can create if you have an idea in your head and a little DIY know-how.
If you find yourself practically drooling over a piece of furniture at a store, chances are good you can create something similar at home as a DIY project.
Walnut DIY Plywood Bed Frame by Dans le Lakehouse
Bed Frame With Hidden Lights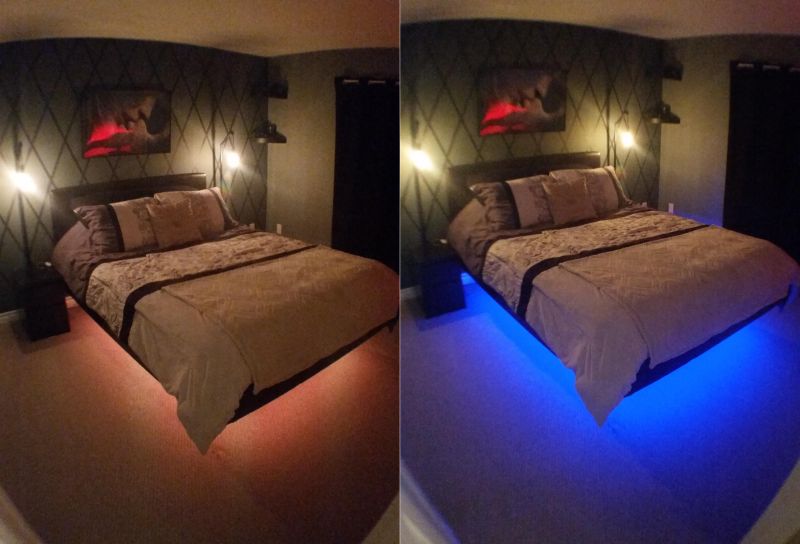 Your bedroom should feel warm, inviting, and cozy to promote maximum relaxation.
This blogger built their own bed frame and added some lighting around it to really bring in that cozy feeling. Even better, this is something you can do to your existing bed, too!
DIY Bed Frame with Hidden Ambient Lighting Underneath by Home Crux
Concrete Block Bed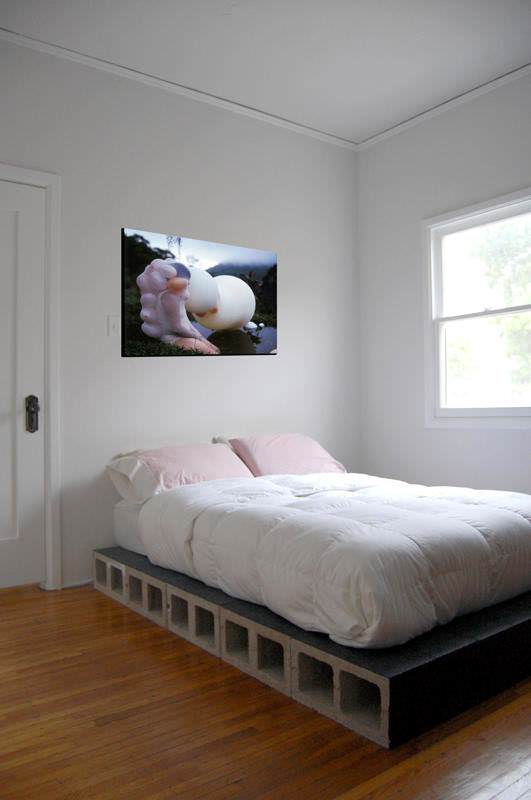 Who knew concrete could be so chic?!
Those inexpensive cinder blocks are great for designing a unique bed frame for your room that is both functional and funky.
DIY Concrete Block Bed Frame by Recyclart
Easy Bunk Beds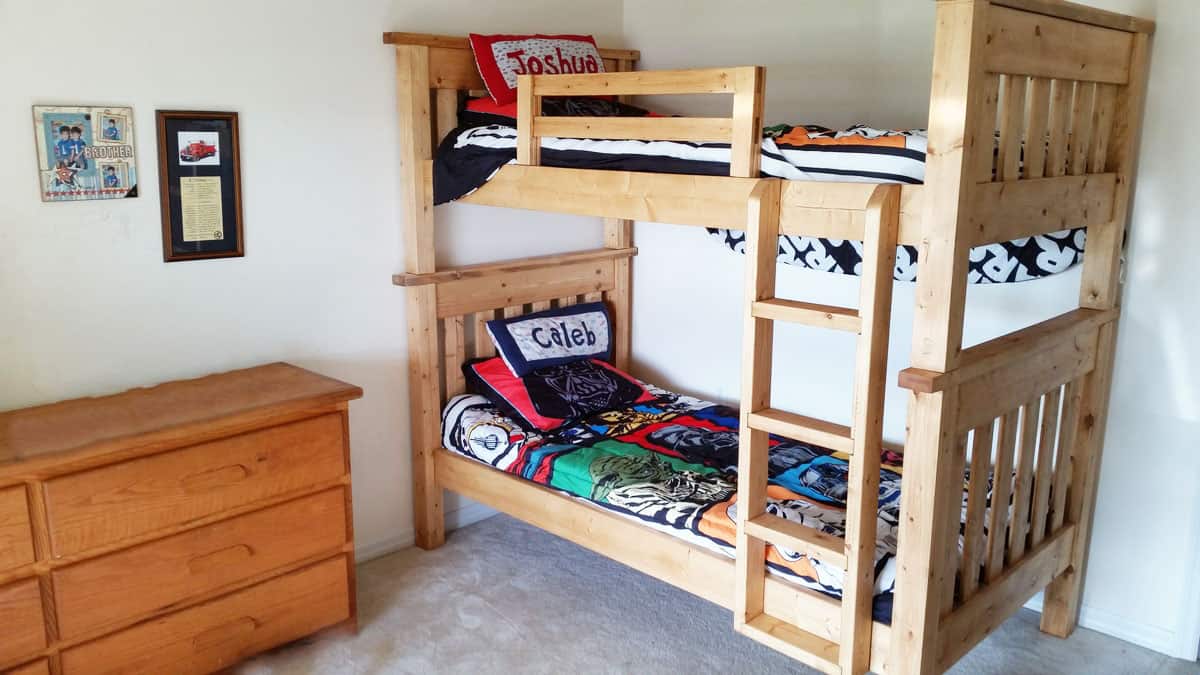 Is there anything more classic than a set of bunk beds?
If your little one has a lot of slumber parties or is bunking with their sibling, consider using the tutorial on Ana White's website to create a set of bunk beds for them.
Simple Bunk Beds by Ana White
Conclusion
Whether you just need a bed frame itself or want a frame, headboard, or more, a DIY project is a fun, cost-efficient, and creative way to get exactly the look you want for your place of total relaxation. There is no shortage of design options that you can make, including even the most novice DIYer.
Walking into your bedroom and seeing something you made with your own two hands will give you a sense of pride – right before you fall into your bed for a very, very good night's sleep.