28 Easy DIY Platform Bed Ideas
One of the absolute most important things in our lives, for our health, our sanity, our everything, is getting a good night's sleep.
And that means having not just the right mattress, but the right bed frame. And I don't know about you, but sometimes, I'm just not that impressed with those $2000 bed frames that aren't that special.
So, if you're in need and happen to have some woodworking skills – or the desire to gain them – making your own platform bed frame is a great solution. You'll save loads of money and feel pretty darn accomplished, too, with any of these platform bed designs.
$75 Double Toddler Beds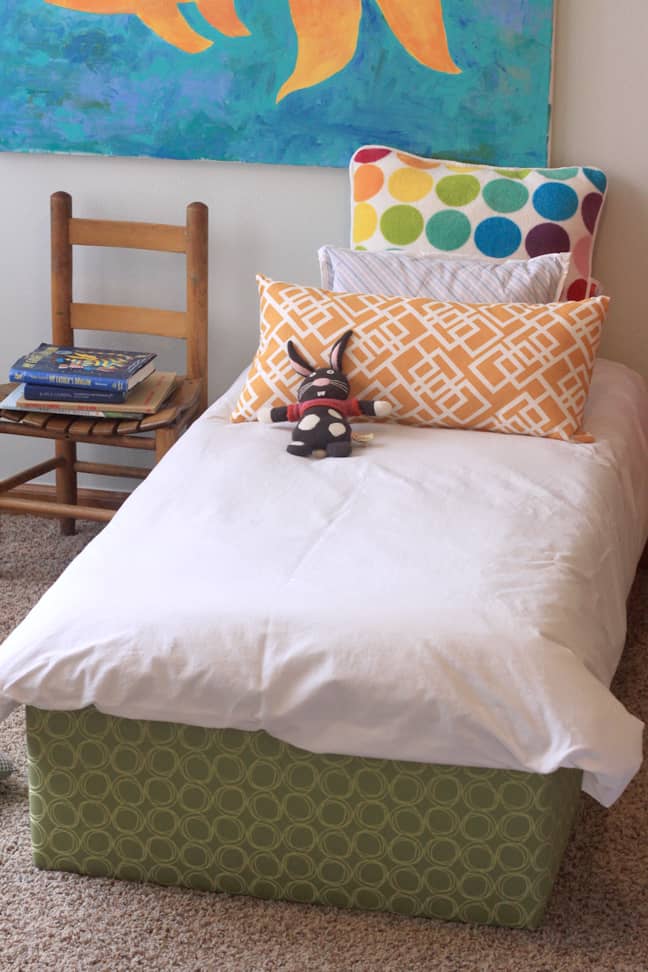 If you happen to be in need of two toddler beds – or even just one – this is a great option for you. The two beds are absolutely adorable and really reasonably priced. They're upholstered and platform-ish, work great side-by-side and are designed specifically for little kids to be able to get in and out of.
The instructions are for both beds, but you should be able to adjust everything by simply halving the supply list.
Via Design Mom
Customizable Platform Bed with Storage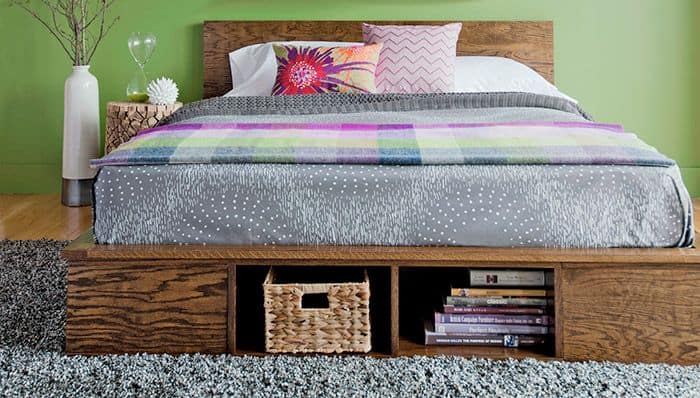 This design is super great because not only is it pretty easy, but it's completely customizable for any bed size, from twin to king size. Plus, it provides you with loads of added storage and eliminates the need for an expensive box spring.
You do need some intermediate skills to put this together and a bit of time. It will take you a solid weekend or several hours spread out over a week or so.
Via Lowes
Rustic Wood Platform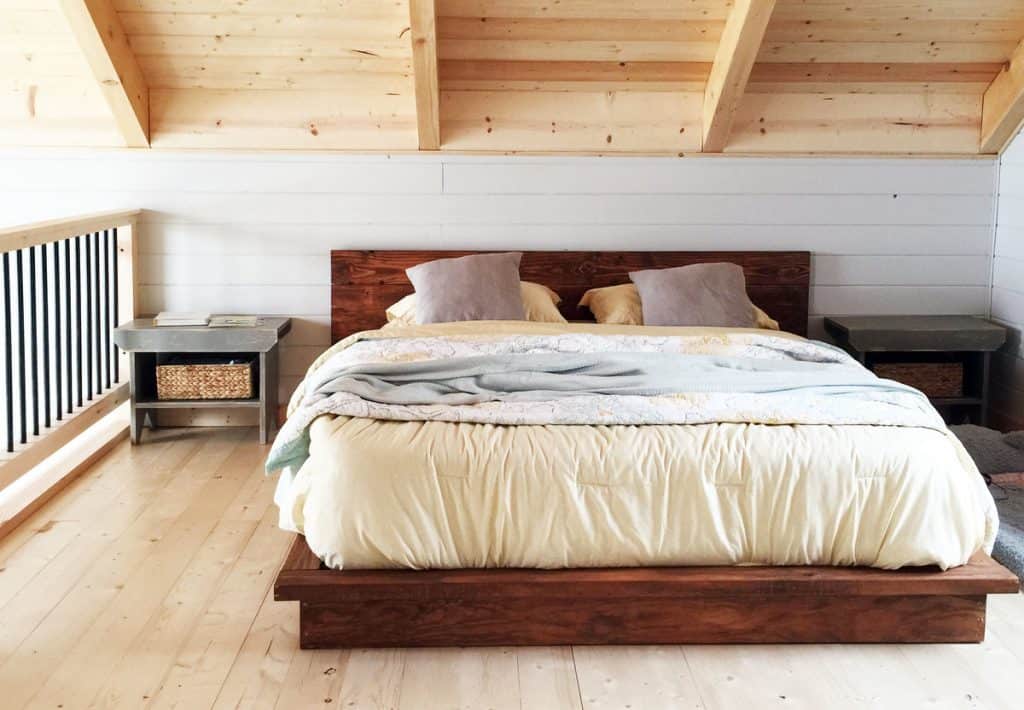 This particular platform bed is specifically designed for use in a low ceiling space, like that of a cabin or attic bedroom type situation. The bed is high enough to make it easy for most folks to get in and out of without raising it enough to interfere with lower ceiling profiles.
You'll need some 2×6 studs, 2x4s, and a 1×3 or 1×4. You'll also need some basic supplies like screws, pocket hole screws and some wood glue.
Via Ana-White
Floating Platform Frame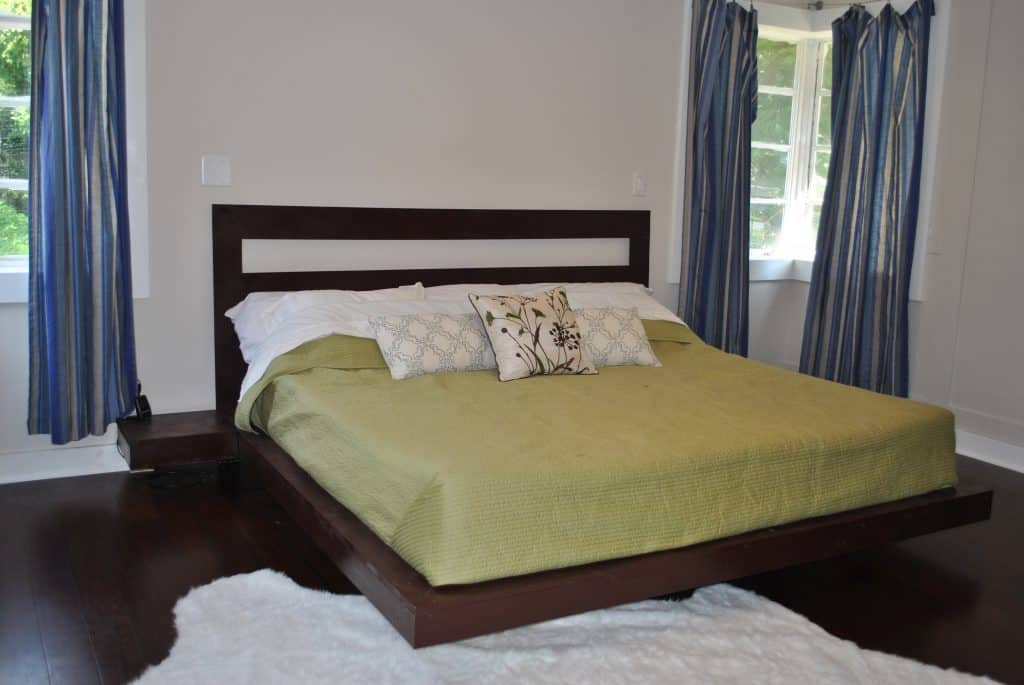 This floating platform bed frame is a unique option for those looking to go King sized in the bed department. It's a low platform that's perfect for accommodating pets, children, or anyone else who might want to crawl in for some comfort while providing some unique storage on the sides.
You'll need a miter saw – though you can adjust slightly if you don't have one – scrap plywood, hidden legs, and some other basic supplies and tools to build this beautifully unique option.
Via My DIY Home
Sturdy Farmhouse Style Platform Frame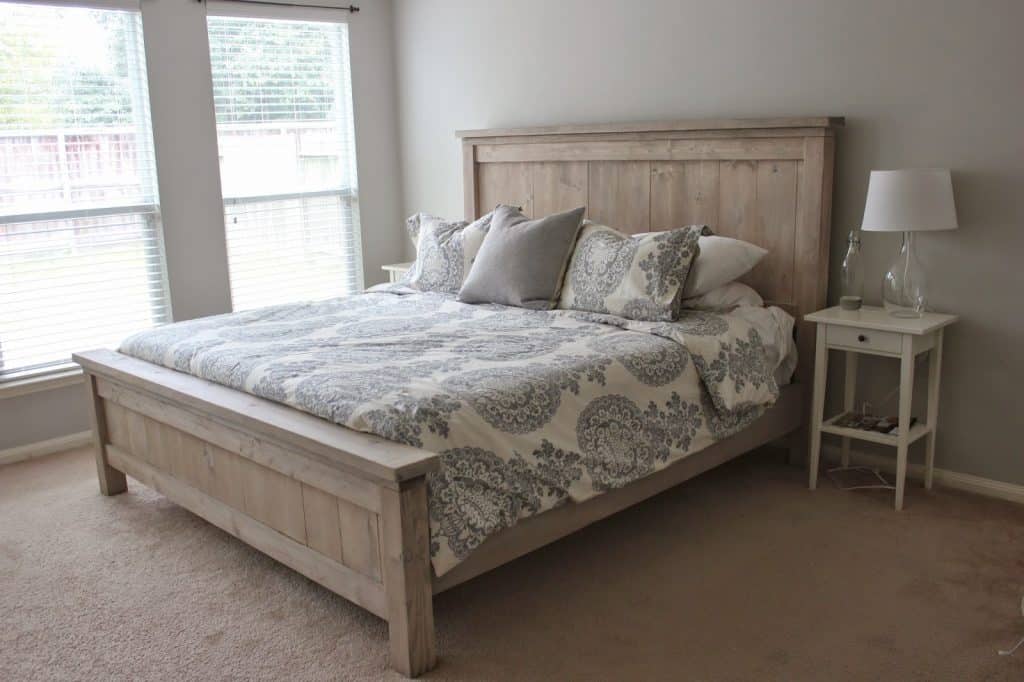 Farmhouse style furniture and décor has been around for a while and will continue its staying power, simply because it's beautiful, elegant, comfortable, and absolutely sturdy. And this platform frame is no exception to those rules.
The plans for this one are easy enough that folks with just a hint of experience can put it together – so need to be DIY pros at all. The original plans came from Ana-White, but the posters for this one made some changes to make it fit their Queen bed and add some sturdiness.
Via A City Born Love
Simple Wood Twin Frame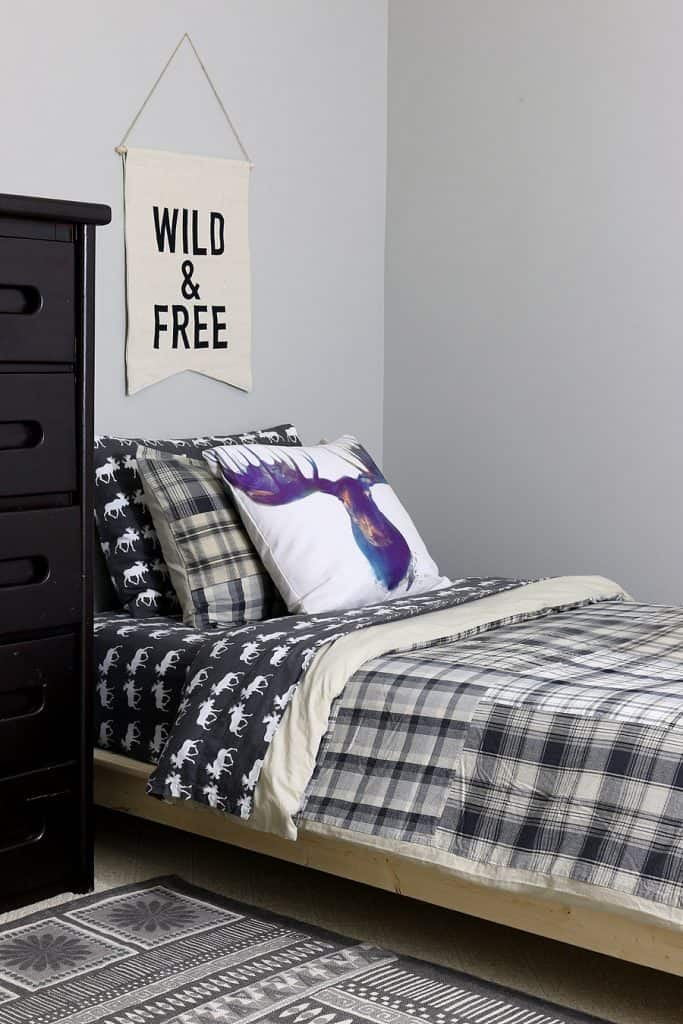 Need a new twin bed and don't have much time or money? Then this one's for you. Seriously, it's simple and easy, and fast. The designer built it for under $30 in about an hour. It's based on an Ana-White plan and just as easy as you can get.
You'll need some 2x4s for the box, screws, basic tools, and simple supplies to craft the whole thing. So, you don't even have to invest in anything crazy to get started. It's the perfect starter project.
Via Jen Woodhouse
Super Easy Basic Tall Platform Bed Frame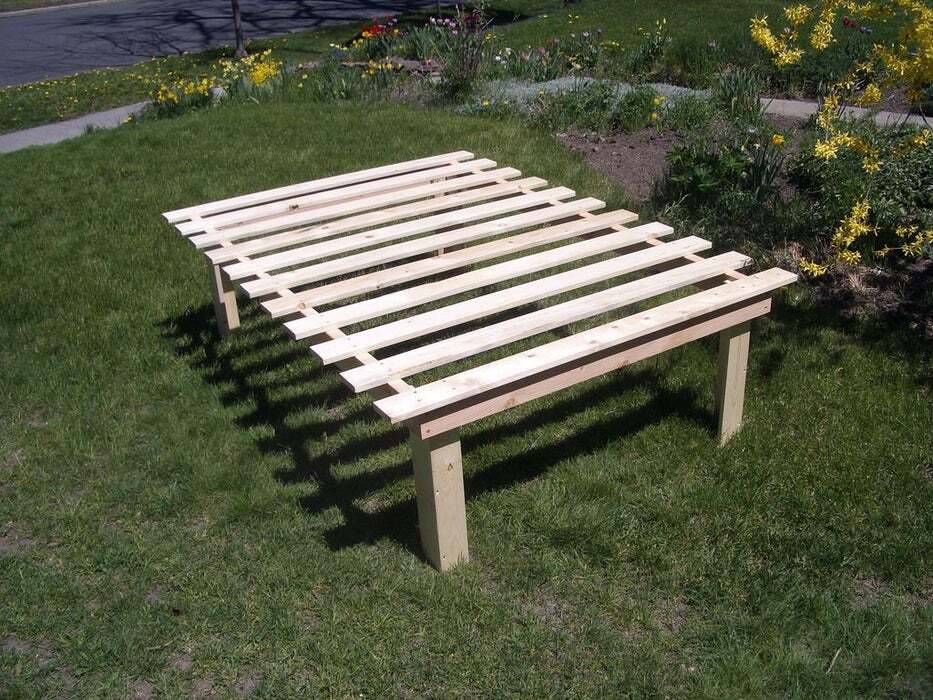 If you're looking for a tall, easy-build homemade platform bed frame, you've found the one right here. It's incredibly inexpensive to build, super easy to build, and gives you more height and storage space underneath than pretty much any other plan out there.
The design is for a Queen size platform at less than $30. Which, if you're shopping in the right lumber yard, you can absolutely do it. And it will only take a couple of hours to boot.
Via Instructables
Reclaimed Wood Platform Frame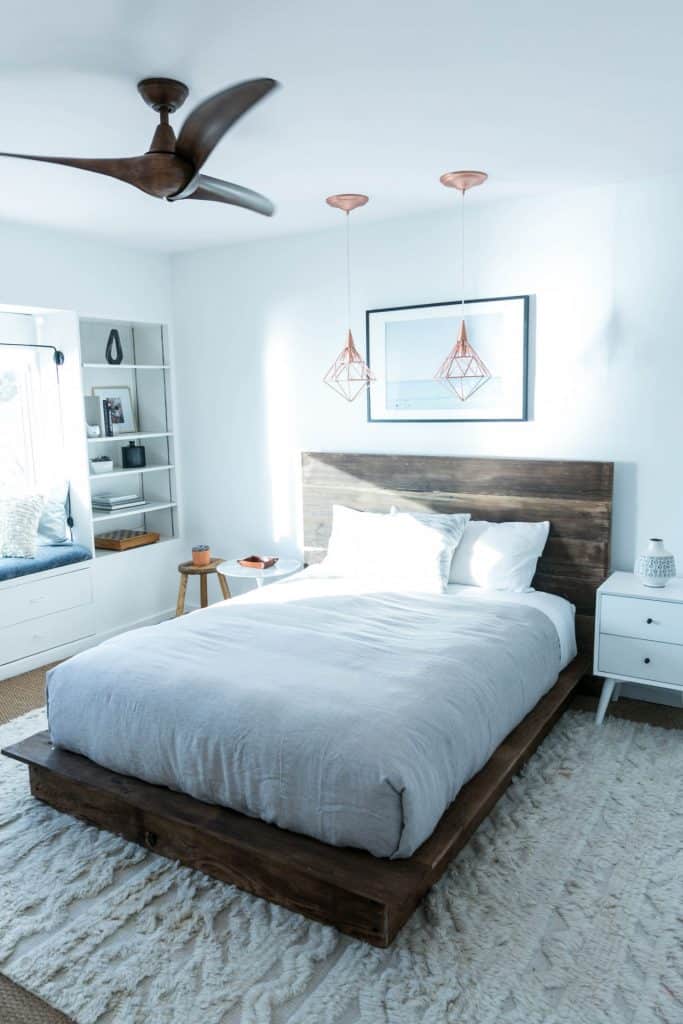 For those who love a reclaimed wood project, you've got it right here. This stunning low-profile platform bed is just absolutely delightful if you can find some beautiful old wood to use. Plus, if you're primarily using reclaimed wood, you'll save a bundle building it, too.
You'll find plans for the headboard, headrail, foot rail, and platform itself, and you'll just need some basic boards, screws, fastener screws, nails, and a drill to do it all.
Via MR Kate
Modern Frame with Chunky Feet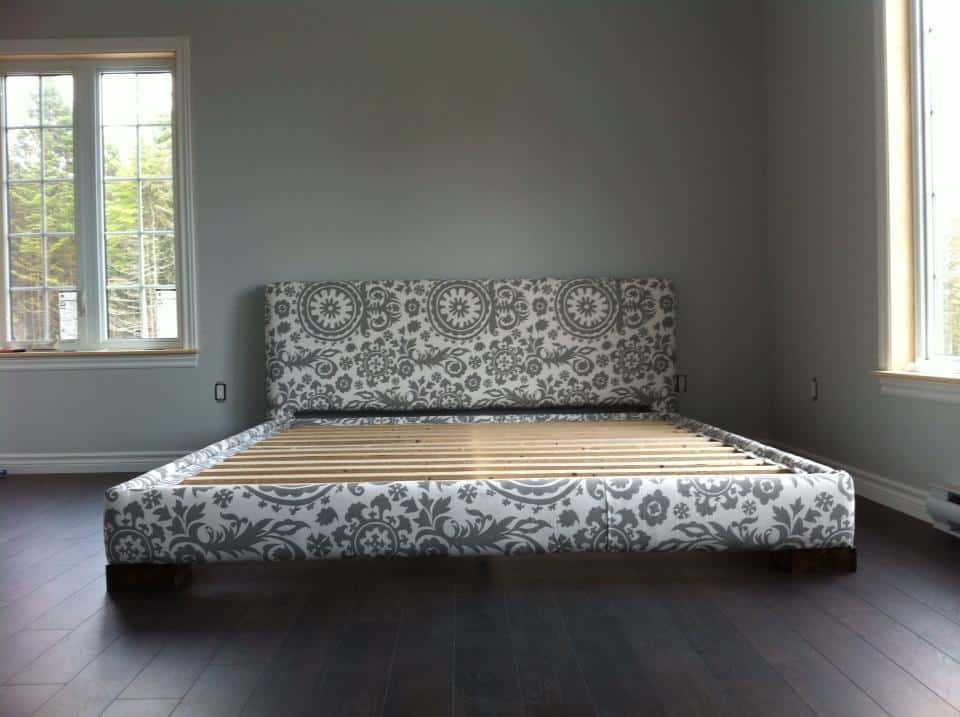 Upholstered frames add such a unique touch to any sleeping space. There's something incredibly elegant and beautiful about them. And the fact that you can make one for yourself with just some wood, screws, glue, and wood filler says loads. Especially because you can choose the exact fabric you want to use.
You'll need some basic power tools – a drill, a saw – and common tools and supplies most of us have lying around already.
Via Ana-White
Modern Platform Frame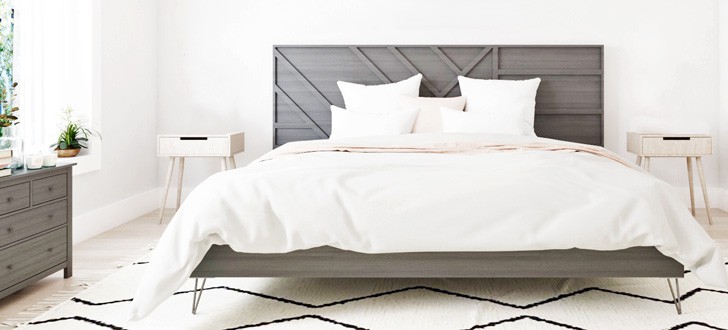 This absolutely gorgeous modern platform bed uses a slatted system, meaning you don't need a box spring. And the plans show you everything you need for whatever size bed you're needing to frame, whether it's a twin or California King, or anything in between.
You'll need a circular saw with an all-purpose or wood blade, wood screws, and other basic supplies. Follow along with the thorough instructions for the beautiful bed in just a few hours time.
Via Ana-White
Platform Frame with Large Drawers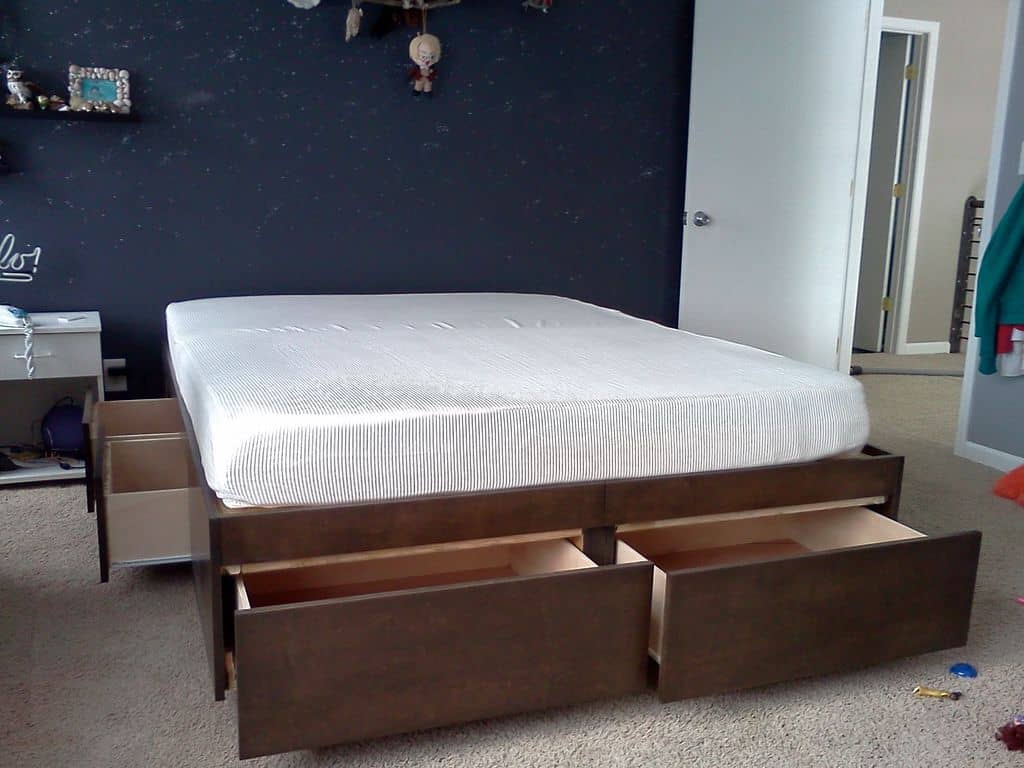 This beautiful platform bed has a truly sleek, modern look with its flush paneled sides and invisible drawer pulls. And because it has huge amounts of storage space underneath – wonderful drawers! – you've got everything you need in one place.
The bed was a "made as you go" design project, so if you know something about woodworking and can figure out tweaks to improve the frame, the original poster even notes that, well, you should go for it!
Via Instructables
Massive Timber Bed
If you love a rustic, natural wood look, you'll love this timber bed. It's definitely not a light and breezy option, so it's perfect for folks looking for something really solid and woodsy. The best part is that it's actually a very easy project that's only hindered by the literal weight of the wood.
So, if you've got some hands ready to help move and build, you'll find this is a beautiful option you can make in a weekend.
Via Instructables
Elevated Platform Bed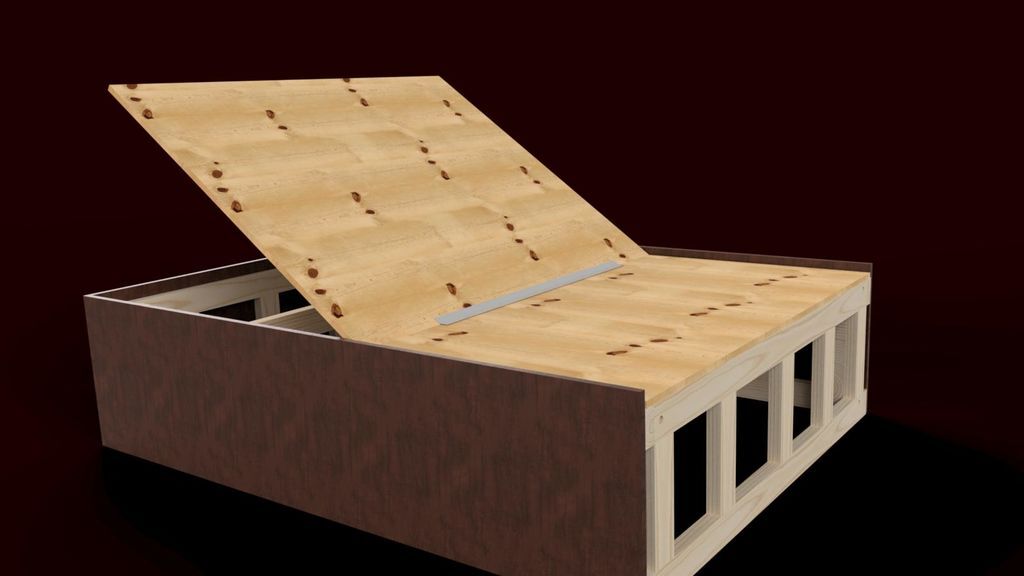 This elevated platform bed is perfect for those wanting something really solid, tall, and with flush walls down to avoid things getting lost under the bed. The original design is for a Queen bed, but you should be able to easily adjust for a King bed or other size, as mentioned in the tutorial introduction.
The bed is reasonably easy to build and can have a headboard attached to it, though it certainly doesn't need one.
Via Instructables
Dresser Platform Bed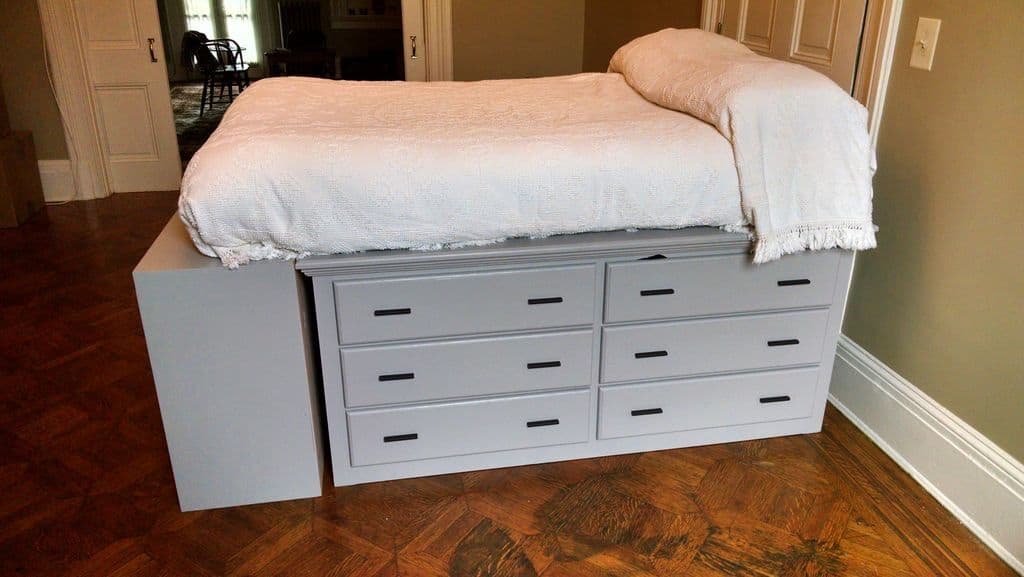 This design was created for a couple that needed a lot of storage ins a small apartment with no closets. So, if that sounds familiar, you'll want to check it out.
They built the dressers from scratch – not really a beginner's project – and went from there. If you happen to have two dressers long enough for a bed, then you're golden. Otherwise, follow their tutorial and plans and you'll soon have loads of storage and a bed with some height.
Via Instructables
Framed Platform Bed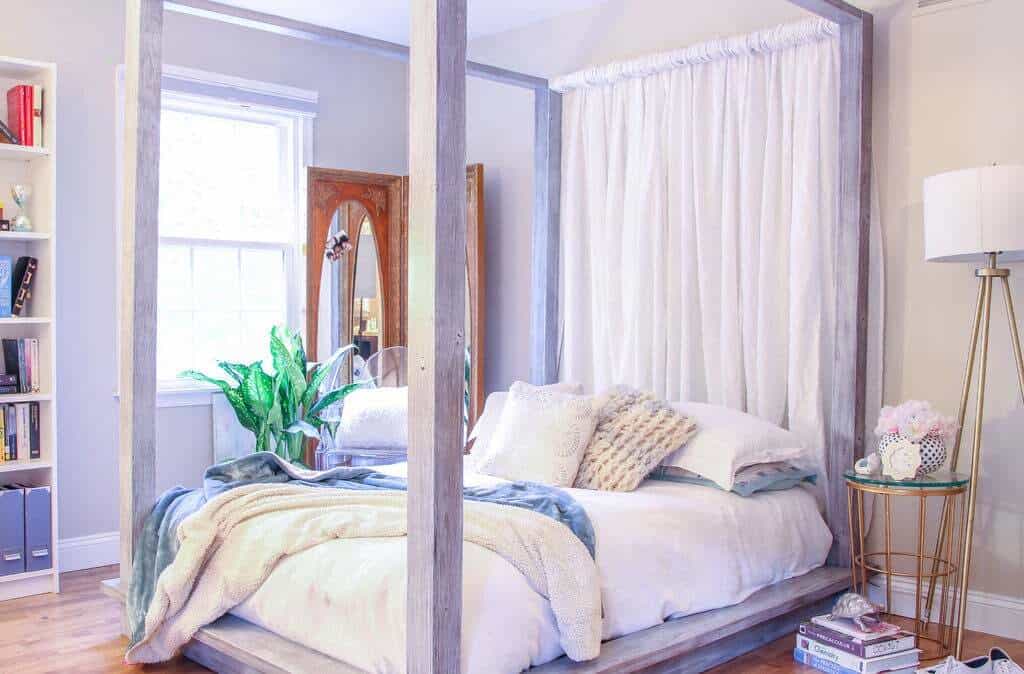 This bed is one of the most beautiful options you'll find out there for a DIY platform frame. It's just incredible – and happens to be inexpensive and not that hard to build. Amazing. The tutorial provides you with a two-part video to watch the process all along the way.
They also provide some Sketchup diagrams, photos of the process, and detailed build instructions. You'll need some 2x6s, 4x4s, 2x4s, 1x2s, 1x4s, corner braces, lag bolts, pocket screws, wood screws, and some power tools to make this amazing design.
Via Instructables
Mid-Century Style Platform Bed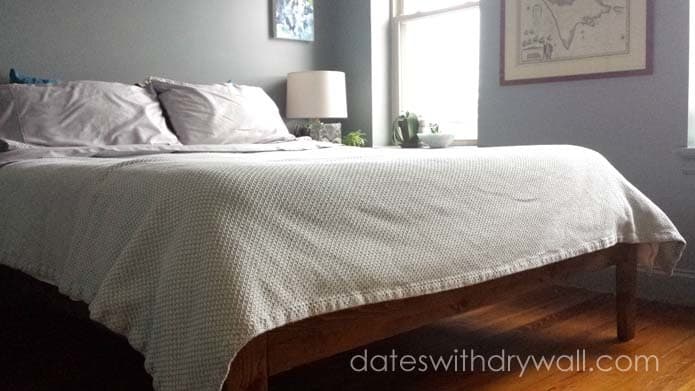 For those looking for a simple but elegant, mid-century style platform bed, you'll be pleased with this inexpensive lumber option. You'll just need some basic supplies – like screws and pocket hole screws – some basic lumber pieces, and a little patience.
It will take you several hours to build, but once you're done, this beautiful bed will elevate your mattress, and give you a little bit of storage room. If you love simple and classic, this really is your go-to.
Via Ana-White
Inexpensive Low-Profile Platform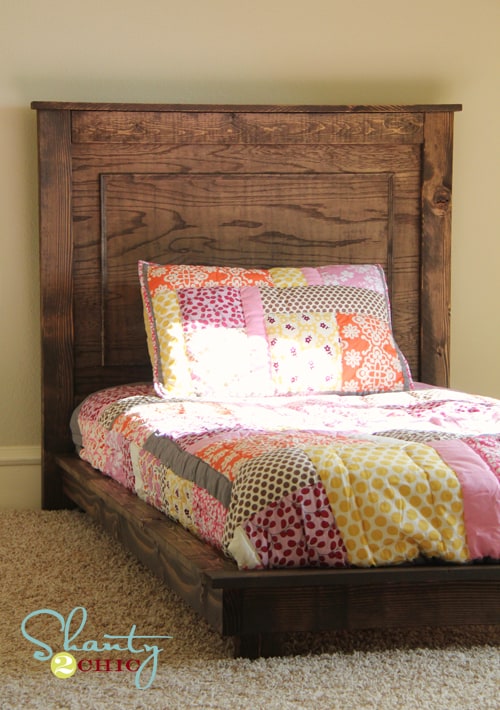 This very basic, low-profile platform bed with a gorgeous headboard is a solid winner for the inexpensive DIYer list. The whole thing should cost around $30, take a weekend or less, and generally be pretty easy to put together.
You'll need some basic lumber supplies – 2x4s, 2x3s, 2x2s, 1x3s, 1x2s – and some screws. You'll also need an afternoon or two and a little wood stain to get the exact shade you want.
Via Shanty 2 Chic
Modern Chic Farmhouse Bed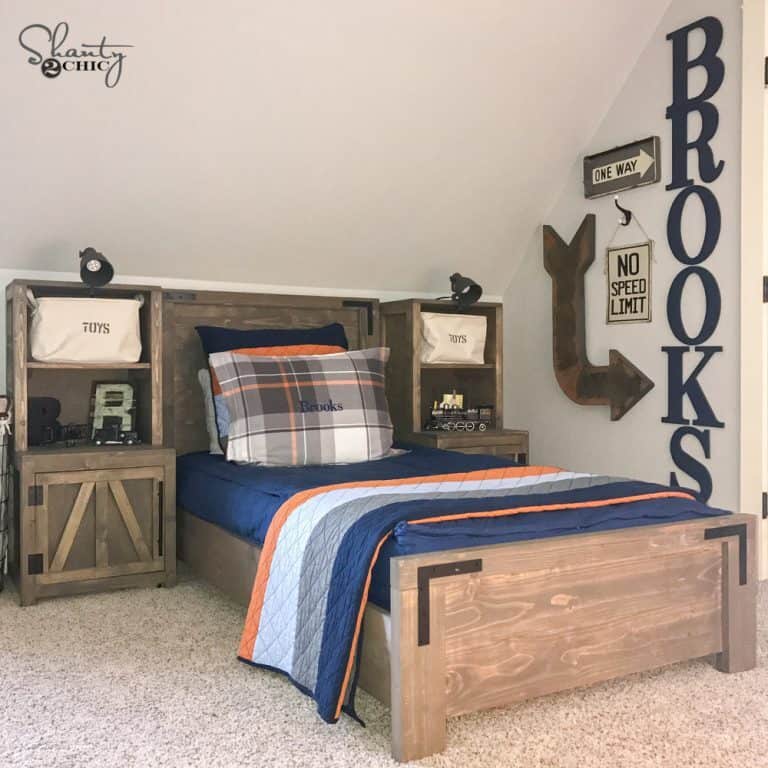 This fantastic design from Shanty 2 Chic is a simple, but super fun modern farmhouse-style platform bed that works in just about any room. It's great for a kids' bedroom, a single's bed, or a guestroom, providing a kind of masculine flair with the visible connectors.
You can watch the video, follow the instructions, diagrams, and basic instructions for each step of the way. If you know anything at all about woodworking, you'll be set.
Via Shanty 2 Chic
Elevated Modern Platform Bed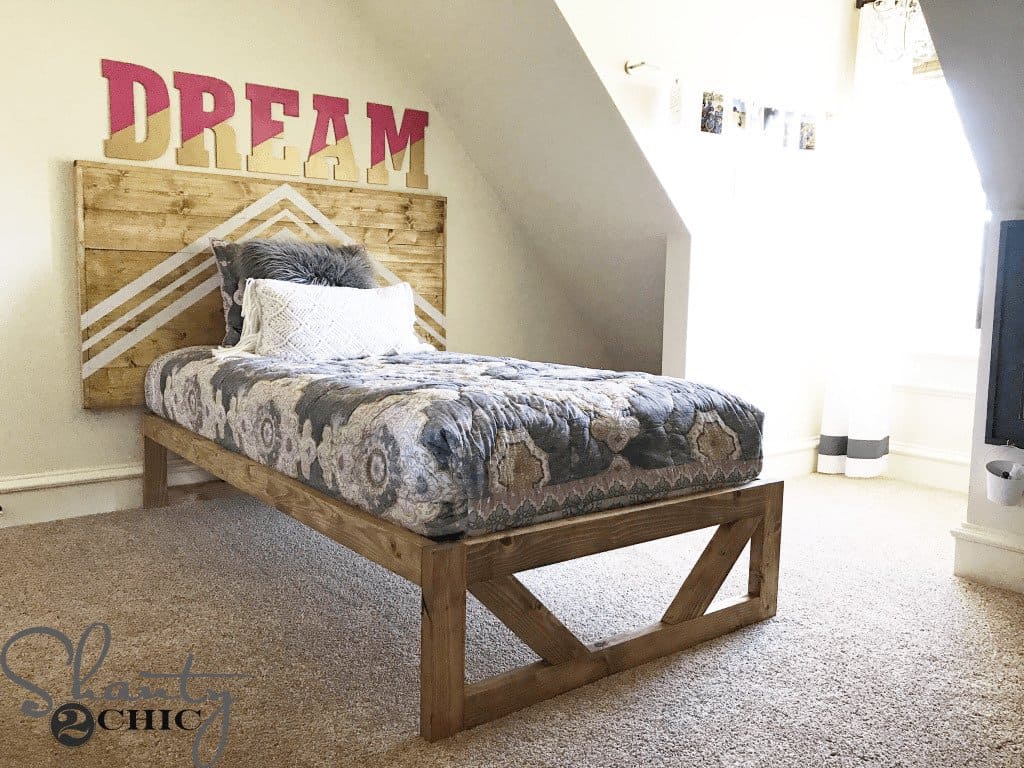 Another beautiful, unique, and rustic beauty is this elevated modern platform bed from Shanty 2 Chic. The design was created for the daughter of the house, which means the bed has a kind of fun, airy, carefree feeling to it.
You can follow the video tutorials for both the headboard and the bed frame itself and read through the plans and designs easily. Pictures, diagrams, and more are provided to make this an even easier build.
Via Shanty 2 Chic
Chic All-in-One Dresser Bed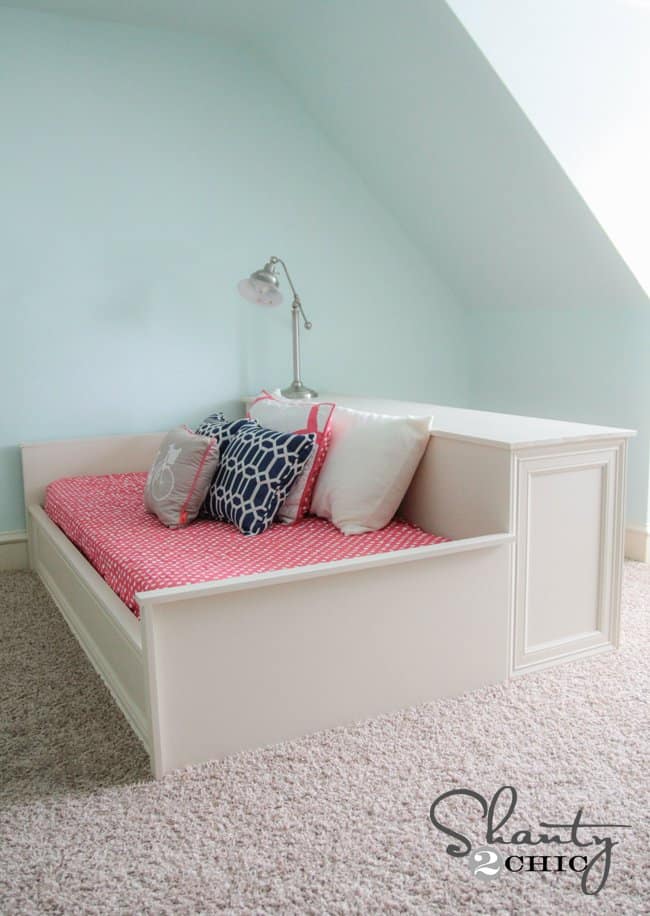 This beautiful all-in-one dresser bed is perfect for a daybed type situation for any teenage girl – or boy – with the right details tweaked to match taste and style. Specifically, choose the right paint or stain and you'll have the ultimate look for any bedroom.
This platform bed has built-in storage in the form of a dresser on the backside of it, creating that daybed feel with a back for cushions. And, because of the design, it's perfect for a small or large room, either with the bed as the center of attention or tucked away.
Via Shanty 2 Chic
Easy Storage Bed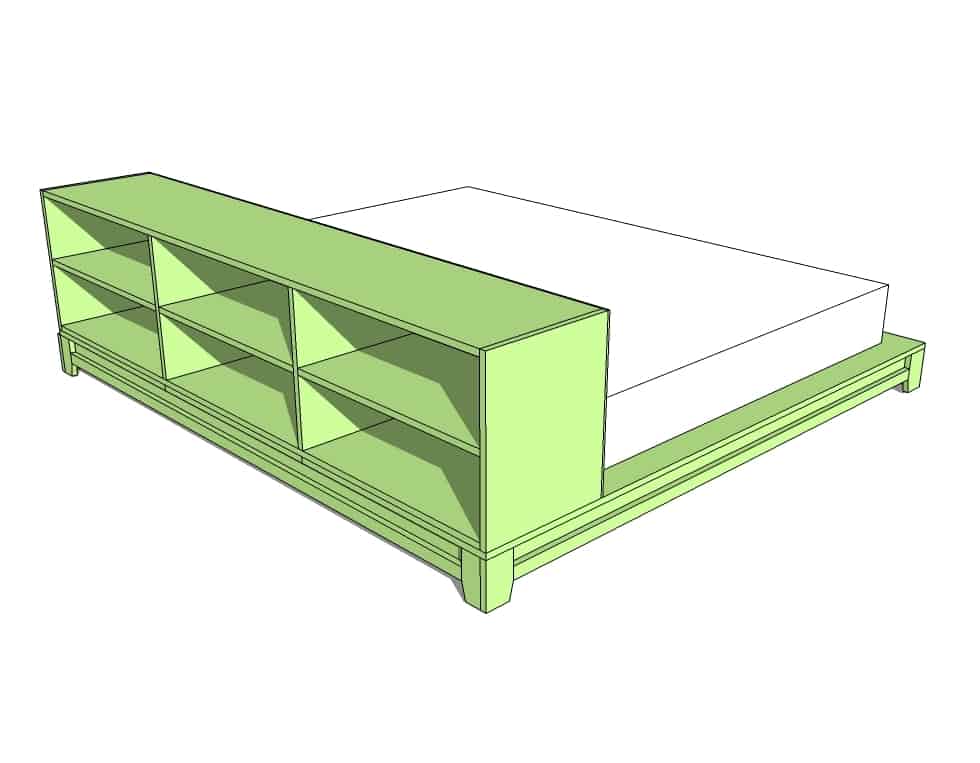 Here's another even easier to build storage bed. It's got a simple platform for the mattress to rest on while providing loads of space for storage where the headboard would be. That makes it perfect for use in a small room that needs some storage but doesn't have extra space for room between furniture.
You'll need some plywood or MDF, some 2x4s, 1x2s, 1x4s, 2x2s, and some basic supplies like screws and finishing nails to complete the project.
Via Ana-White
Beautiful Basic Wooden Bed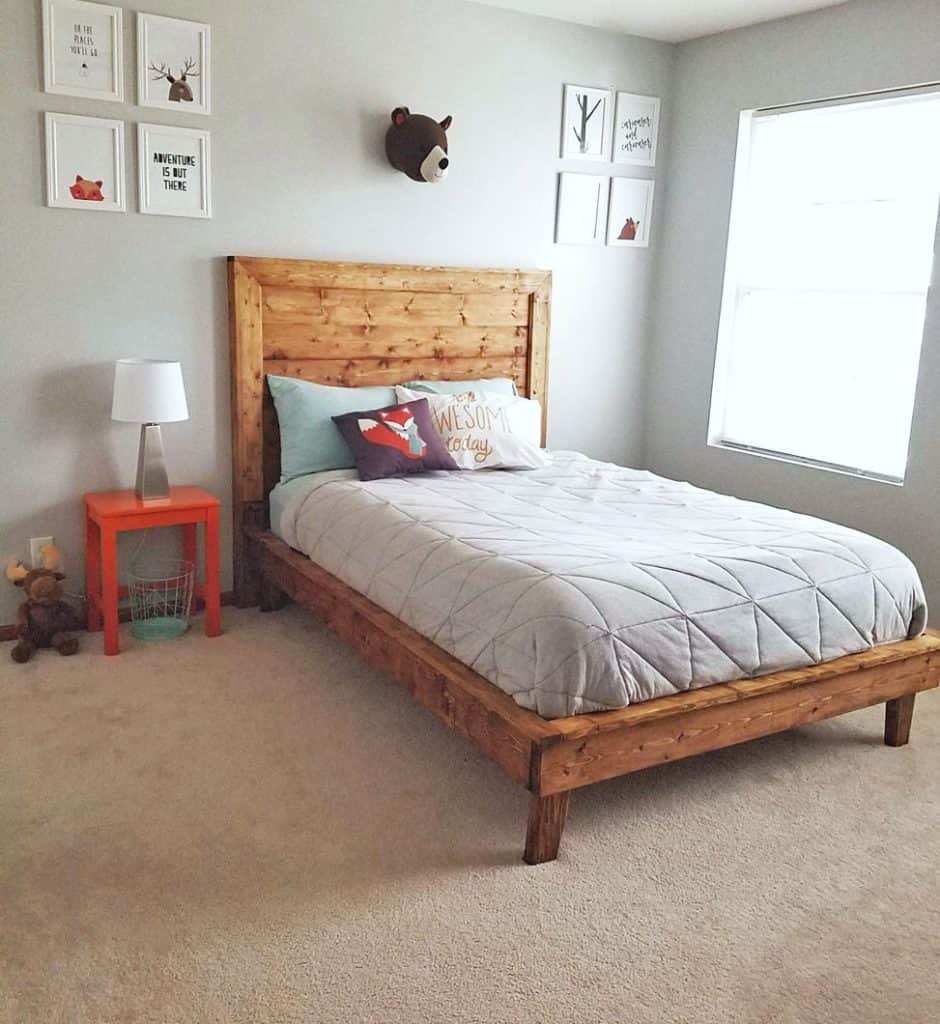 This beautiful bed was built as a partnership project between Ana-White and Shanty 2 Chic, two ladies who really know how to design some easy-to-build but gorgeous to look at stuff. This bed is no exception.
To build this one, you'll need some basic wood supplies and tools, a circular saw, sander and drill, and, of course, the right lumber. The project should take a few hours, plus drying time for the wood stain.
Via Ana-White
Floating Bed with LED Lights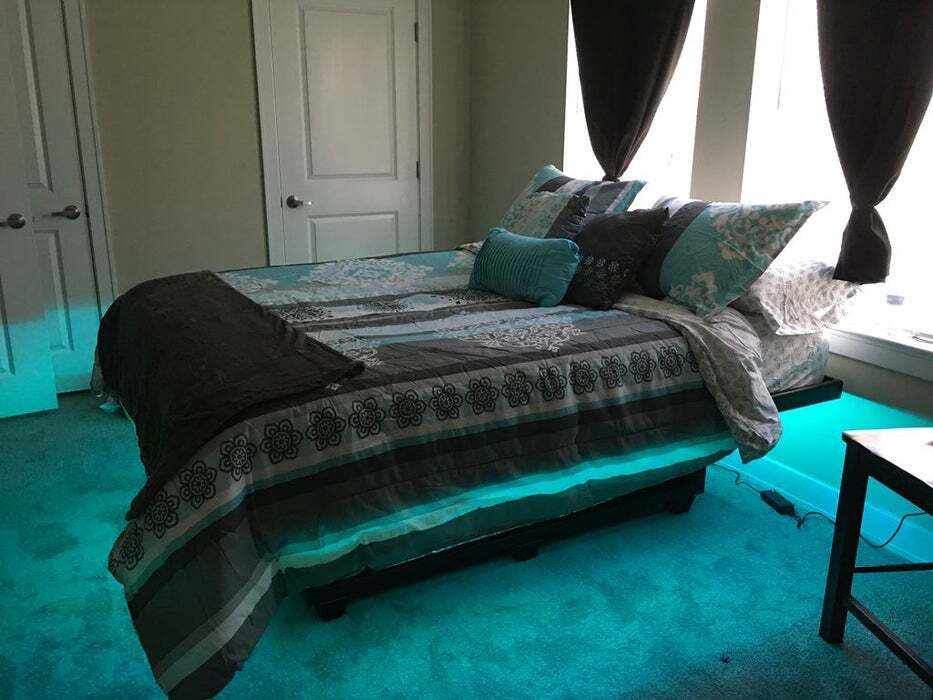 Now, if you like some clever and fun furniture that adds some real flair to the bedroom, you'll adore this one. It's a floating style bed that has built-in LED lights to add some pop and fun to the night. Plus, the bed frame provides you with some storage and can be assembled and disassembled without tools. Win-win-win.
You'll need to get some of the Kallax shelving units from Ikea (or similar) and assemble them. From there, you'll need some feet (if desired), and some other basic supplies, plus a string of LED lights in your choice of color.
Via Instructables
Inexpensive Basic Loft Bed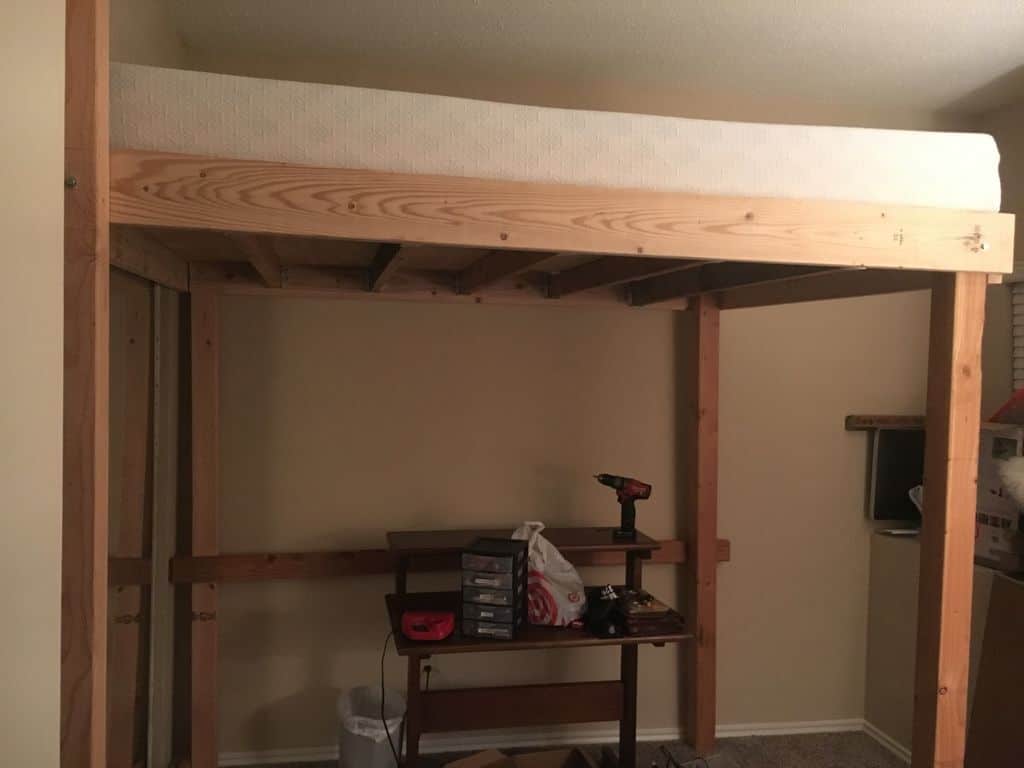 Have a kid heading off to college? Live in a tiny apartment with a higher ceiling? Just plain want some more room? This easy, loft platform bed is a great option then. Especially because it's actually tall enough to stand under for most folks, as it raises the bed up six feet from the floor.
The basic plans are pretty easy to follow, allow for adjustments – like if you need a shorter height, for example – and generally works for any bed size.
Via Instructables
Easy to Move Lift Storage Bed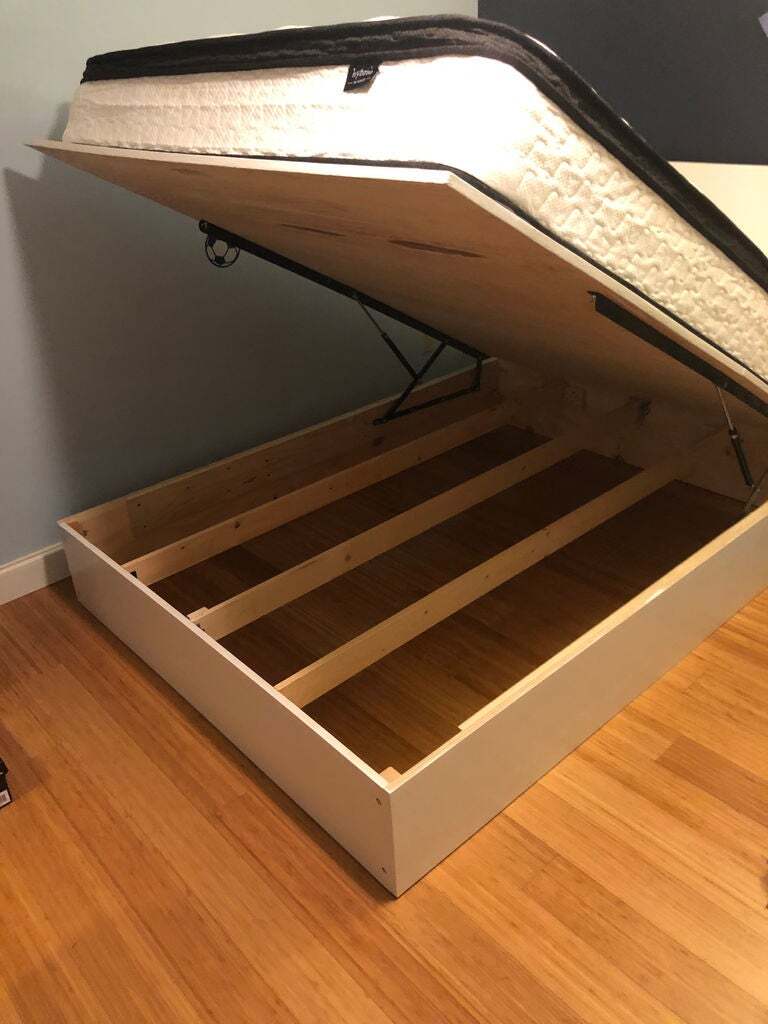 This bed is an easy to move, lift-storage bed option that's perfect for just about anyone looking to save some space. It's a low-profile bed in the original design, but you can easily modify to add some height or storage space, as desired.
The project is an intermediate skill-level project and requires some specific power tools like a Kreg Jig, but otherwise, it's pretty basic supplies and tools needed. You'll need a pneumatic storage bed lift mechanism, plywood, hardwood board, and some wing nuts, screws, etc.
Via Instructables
Chestwick Queen Platform Bed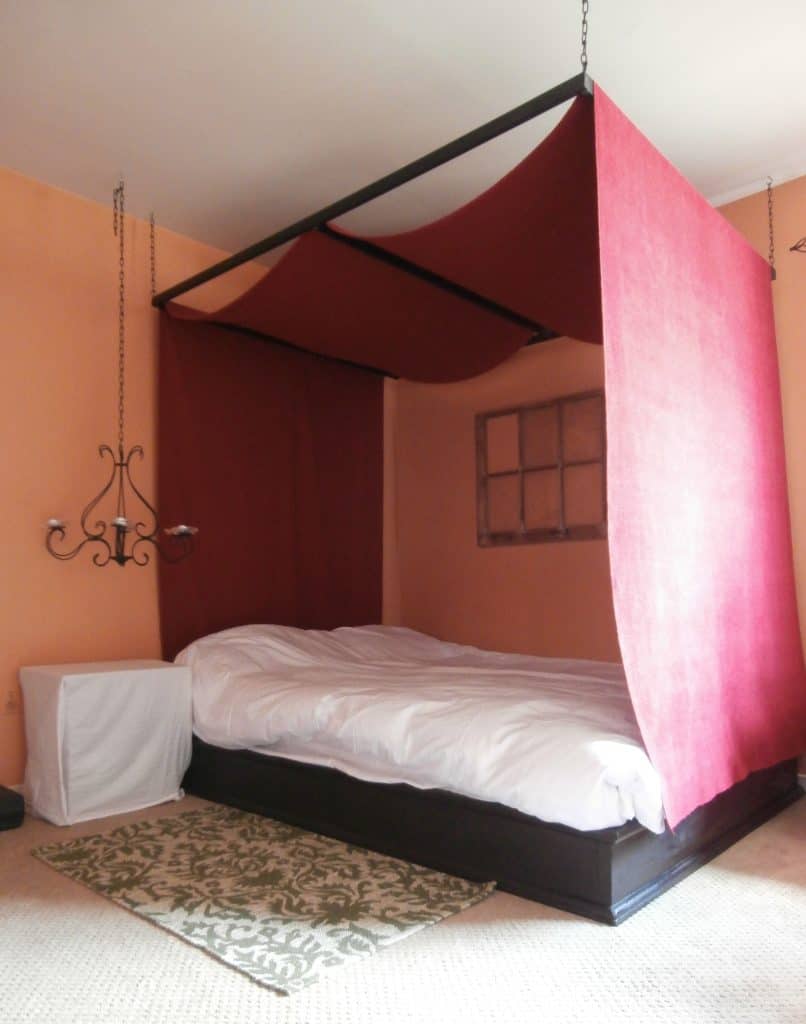 This fun platform bed is perfect for any room you'd like to add a little creativity and romance to. It is best suited for beds against a wall, admittedly, but you can probably make some adjustments on the drapes to make it suitable for any space.
The best part is, this unique bed is a beginner skill project, so anyone can make it. In fact, it was the first building project of the poster on the project site.
Via Ana-White
DIY Storage Daybed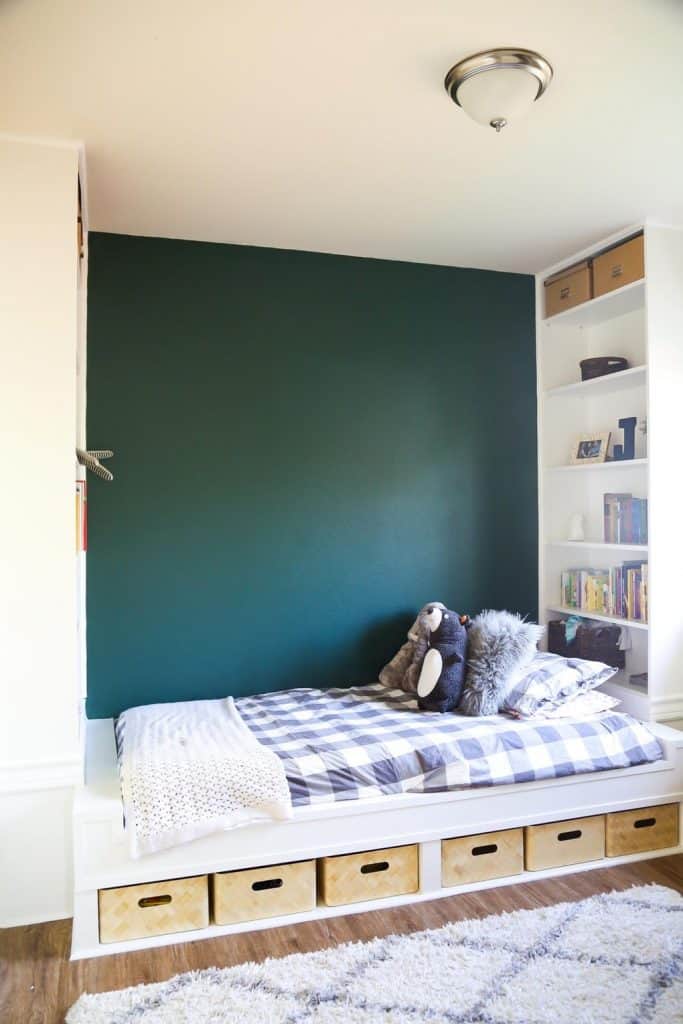 This creative built-in storage daybed is a great option for any kids' room. And though it may look a little complicated, it's actually very simple and uses some pre-built elements that make it all the easier. You can, of course, build your own shelves if you can't find the right fit, though.
You'll need the bookshelves – they recommend Ikea Billy bookcases – some plywood, 2x4s, a Kreg Jig, wood glue, a nail gun, trim pieces, wood putty, caulk, a paint sprayer, and some paint, to follow their exact plans.
King Sized Wood Flooring Platform Bed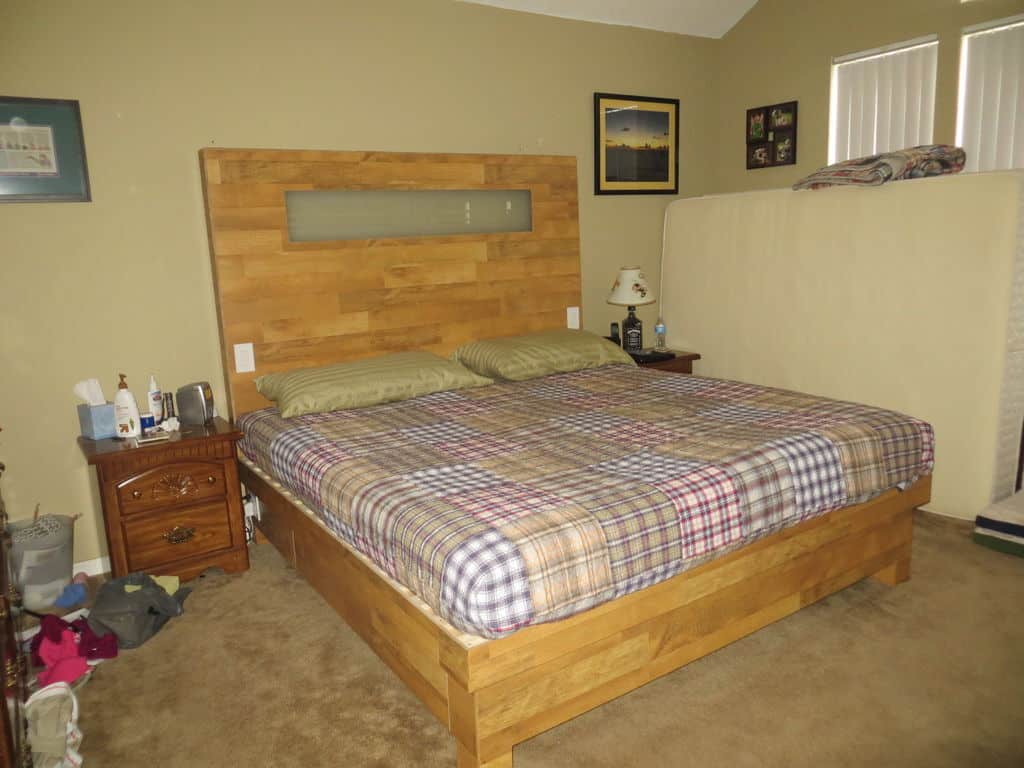 This beautiful but simple DIY platform bed with storage is perfect for the sleepers looking for a King bed design that provides them with some extra space for keeping that room in order.
The bed has drawers on the sides for that storage, plus it's got some extras you'll love, like a lighted headboard and electrical outlets for charging the phone or tablet. The design is pretty easy to follow, too and has thorough instructions and photos for each step of the process.
Via Instructables
Platform Beds for Anyone
If you've been looking for the info on how to build a platform bed, I think you've had your questions answered. These amazing platform bed plans are all uniquely designed and tailored to different needs, skill levels, and interests.
Just be sure to read through each tutorial a few times before starting any one of them, gather up supplies ahead of time, set aside a chunk of time to build and don't forget to include time for drying stains, glues, and paints. It's always best to wait an extra day for everything to completely set.