35 DIY Bench Ideas To Add Character To Your Home
When it comes to home decor, adding a bench can do a lot for your overall look and style. It can provide extra seating for guests, serve as a storage spot, or give you somewhere to hide your shoes.
You can certainly buy a bench to add to your home, but a DIY option will save you money and allow you to customize the look. Plus, most of them are really easy to make!
Outdoor Bench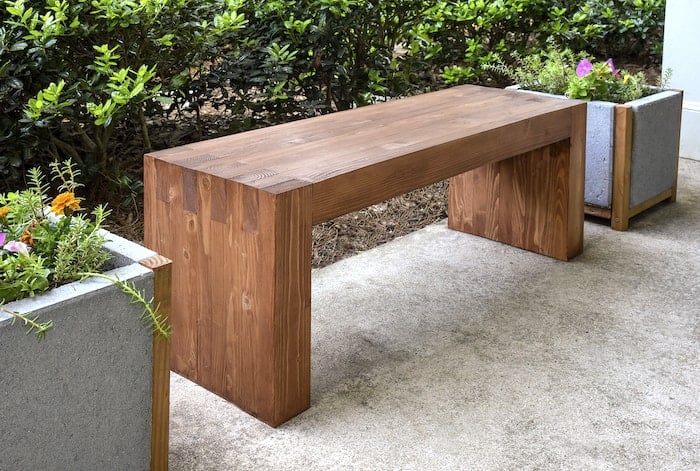 A good bench doesn't need to have intricate details to be gorgeous, as proven by this outdoor beauty!
You can create this same look with some weatherproof wood, a few simple cuts, and a stain you love.
DIY Outdoor Bench Inspired by Williams Sonoma by DIY Candy
Rustic Bench
Any time you embark on a DIY project you know you'll save some money, but this one only costs around $15 to make! It's a steal!
If you like the weathered, farmhouse style, this is definitely the bench for you.
Rustic $15 DIY Bench by The Happier Homemaker
Easy Slated Bench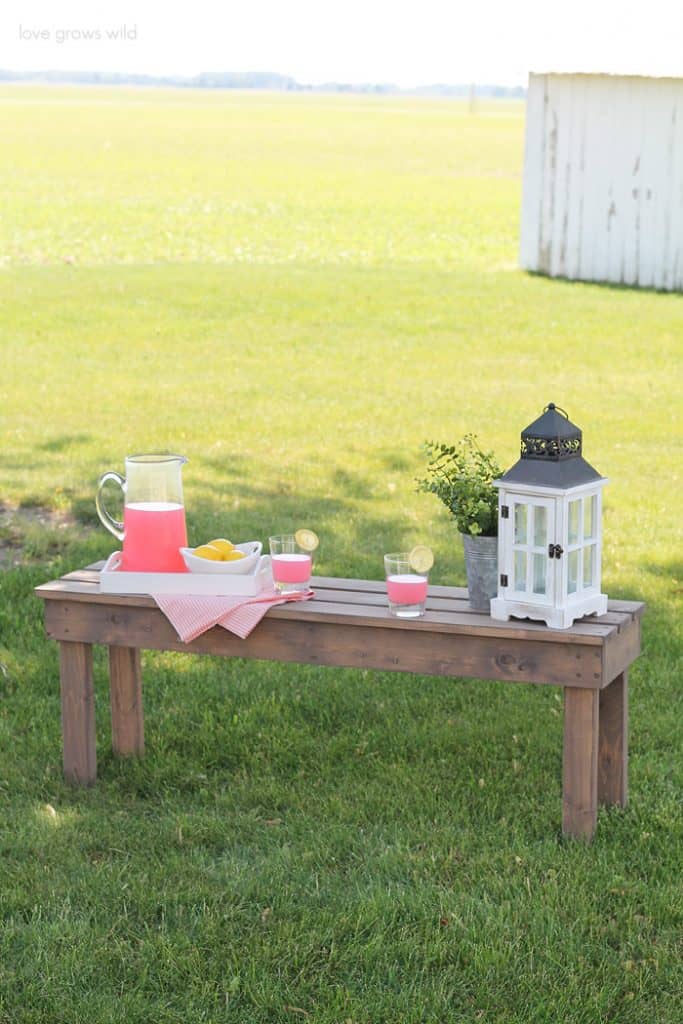 When you think of a bright, airy garden, this is exactly the kind of bench you want in it.
The simple, classic design makes it the perfect addition to an outdoor space. Not to mention, it's an easy project for a beginner.
Easy DIY Outdoor Bench by Love Grows Wild
Simple & Chic Bench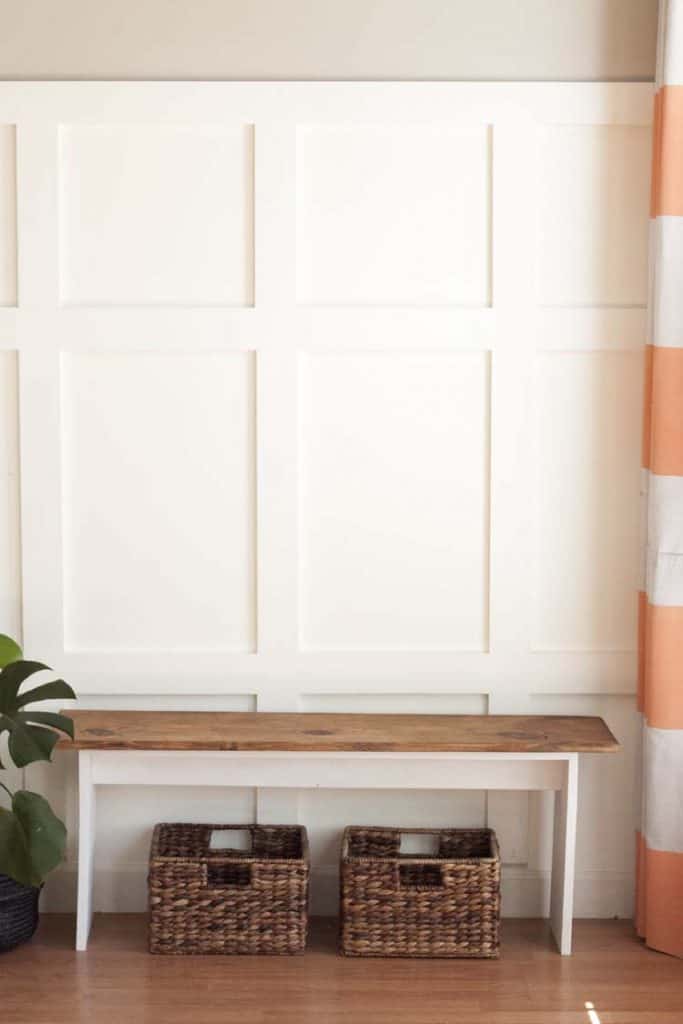 You can make this bench look more modern, or more farmhouse with the simple addition (or subtraction) of the dark stained wood top.
Creating a bench like this will give you versatility in case you change your mind on style at some point down the road.
Easy DIY Bench – Modern or Farmhouse by Southern Revivals
Block Style Bench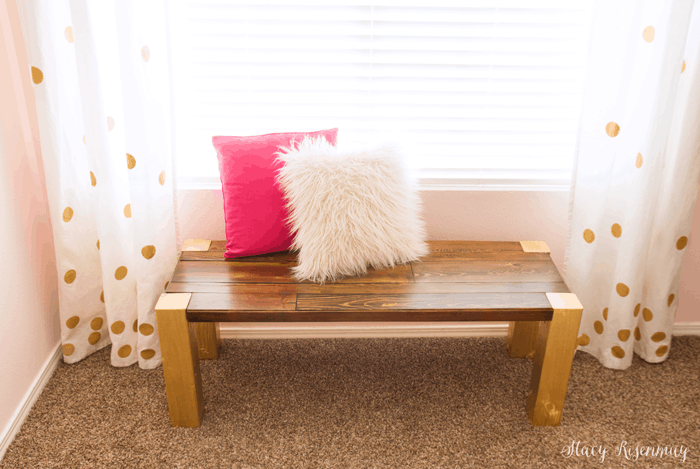 This bench has a gorgeous design, including its clunky, block-like legs. It has a lot of great character and style.
As beautiful as it looks, it's equally as easy. It's a great project for someone who is just getting into woodworking.
Easy DIY Bench by Stacy Risenmay
Budget-Friendly Bench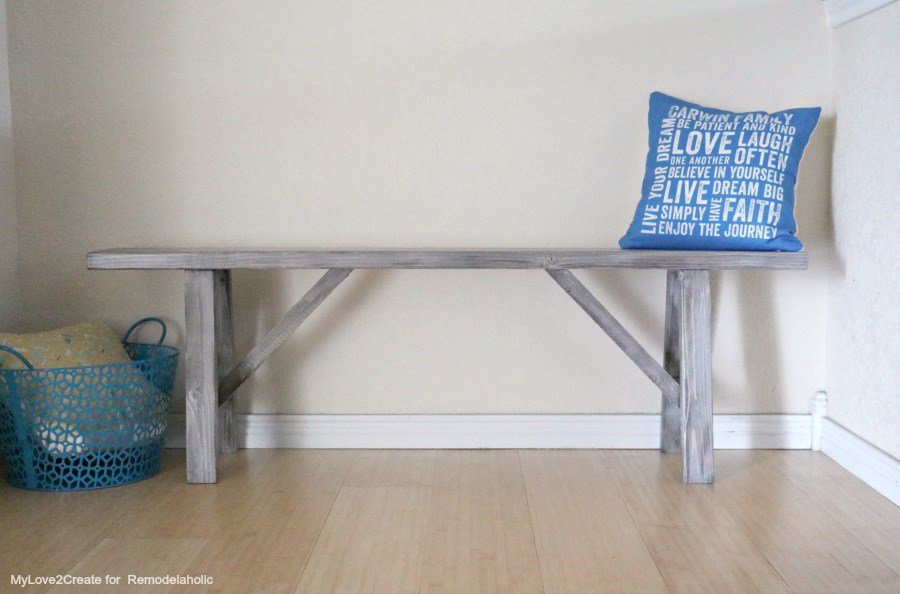 You can get a little more of the modern-rustic style with this bench, that only cost the blogger $25 to make!
She painted her bench grey, but you can stain it however you want to make it work with your space and style.
How to Build an Easy DIY Bench for Just $25 by Remodelaholic
2×4 Bench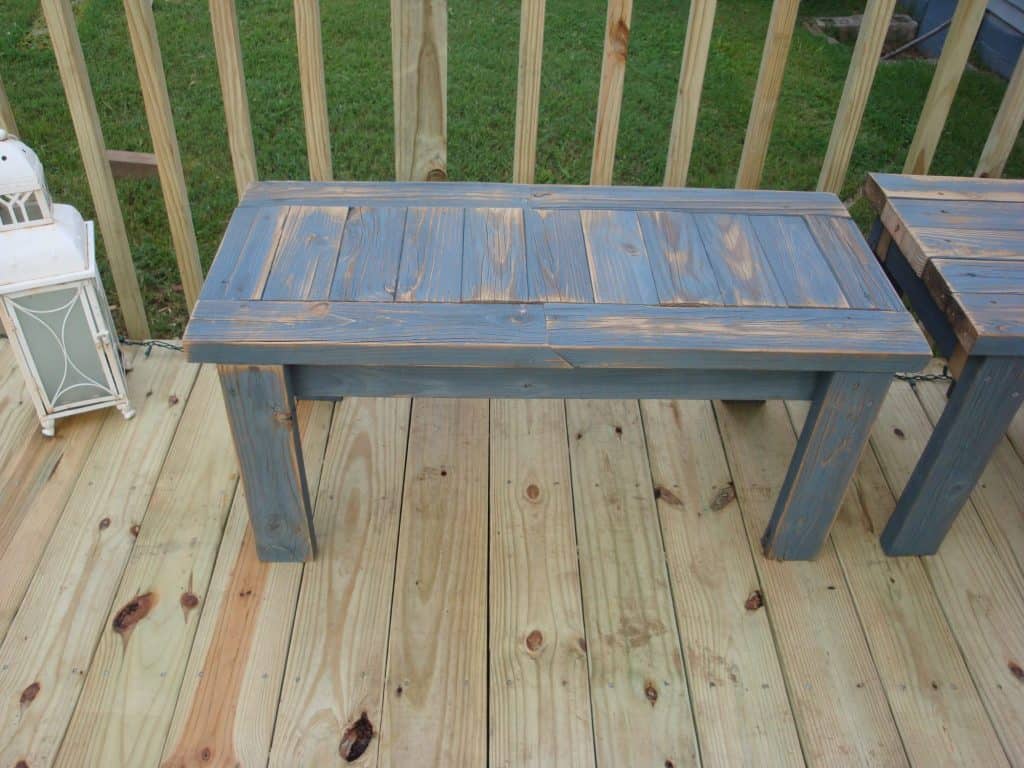 If you have something you're tearing down already, keep the scrap wood.
This blogger used 2x4s from her deck to create a gorgeous, rustic bench.
Simple Bench Made From 2×4's by My Repurposed Life
Built-In Storage Bench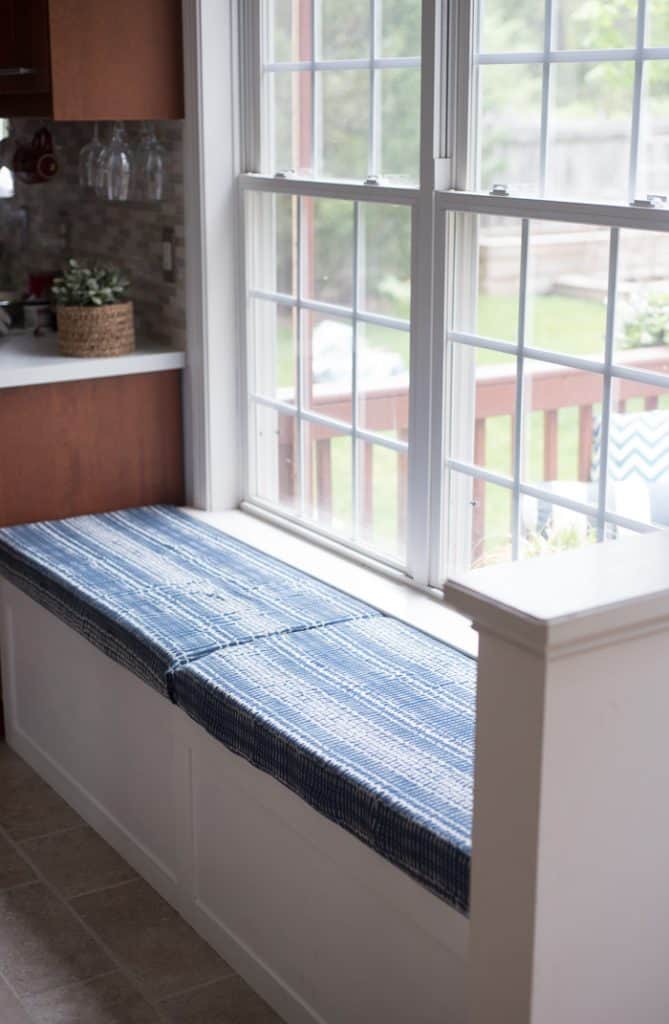 It's like a window seat, but where you can store blankets, board games, or anything else you don't want guests to see.
You can also build one of these to serve as seating for a dining table in a small space. No matter what, it's a great way to get two purposes out of one piece of furniture.
DIY Built-In Storage Bench by Place of My Taste
Black & 'White' Backed Bench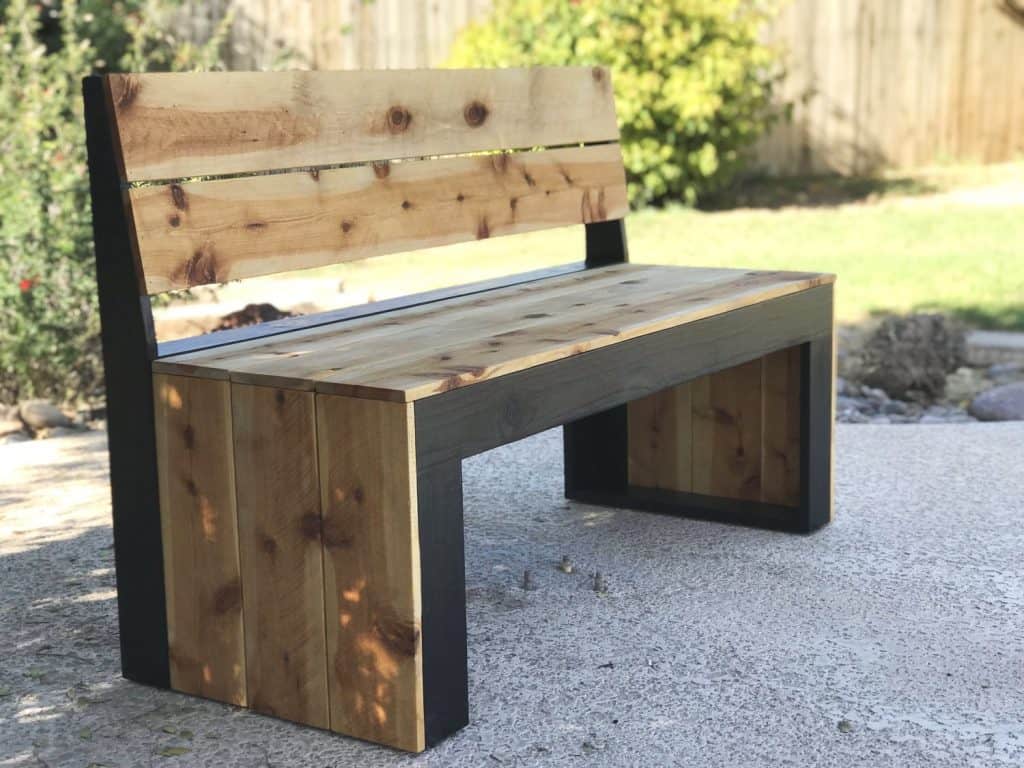 Not only is this bench design beautiful, but it has a great twist thanks to its color scheme.
The touch of black adds a little bit of a modern look to an otherwise rustic piece, making it more versatile for your space.
DIY Modern Bench with Back by The Awesome Orange
Sturdy Garden Bench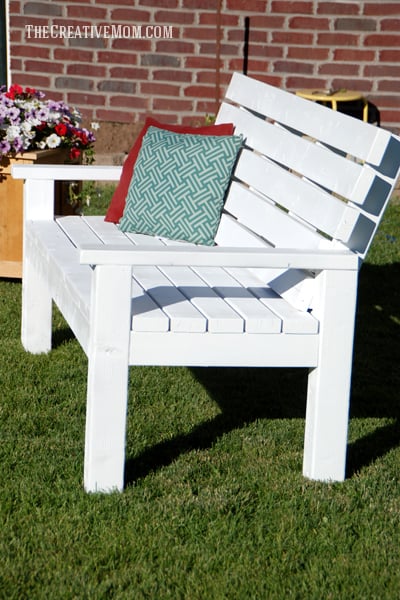 It's simple, clean, and basically the perfect bench for an outdoor space.
You can create this same look relatively simply, and end up with a gorgeous and comfortable piece for your home or garden.
DIY Sturdy Garden Bench by The Creative Mom
Rustic 'X' Bench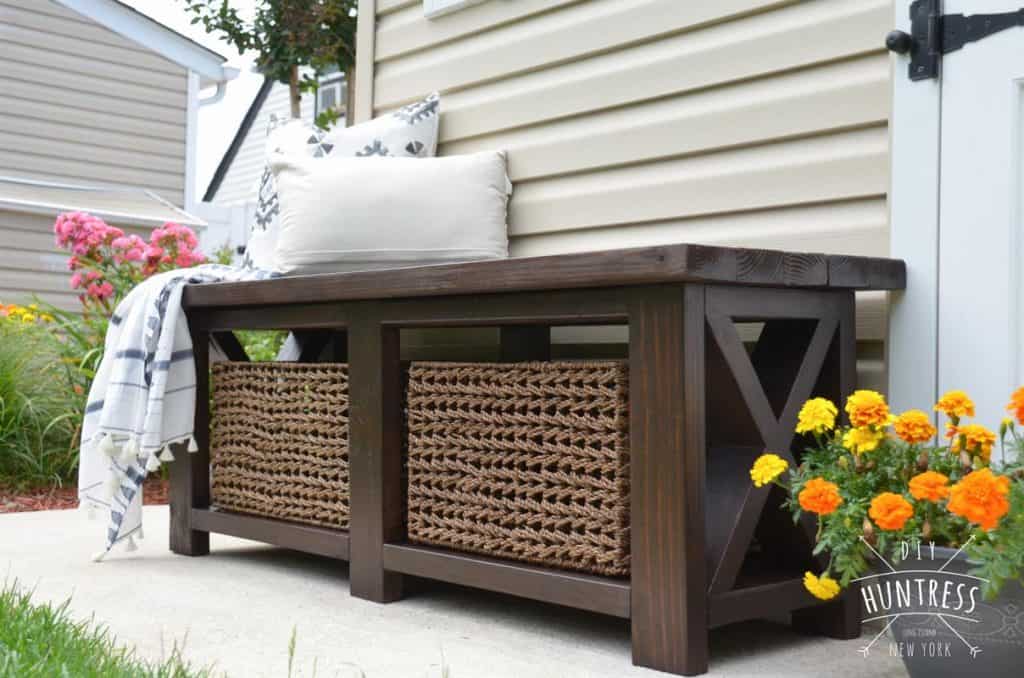 This bench is perfect for a mudroom, entryway, or anywhere really.
The extra shelf for storage (with baskets) gives this bench a little something extra and increases its functionality.
DIY Rustic X Bench With Shelf by Build Something
Small & Simple Bench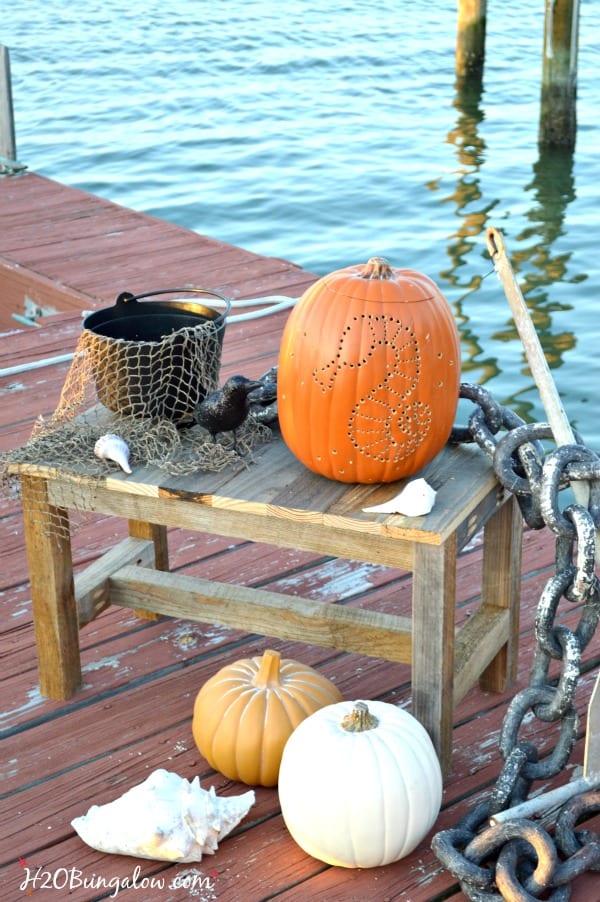 If you're trying to fill up a small space, this is the bench you need!
It's easy to make and requires very little material. You can put this just about anywhere in the house to add some decor or a place to sit.
Simple DIY Bench by H20 Bungalow
Stylish Backed Bench
This bench is designed for total relaxation (just look at the blogger showing off his handiwork!).
It has a little bit more of a design than some of the more simple benches, but can still be easily made by someone comfortable with a saw.
How To Build A Bench by Family Handyman
Simple & Chic Entryway Bench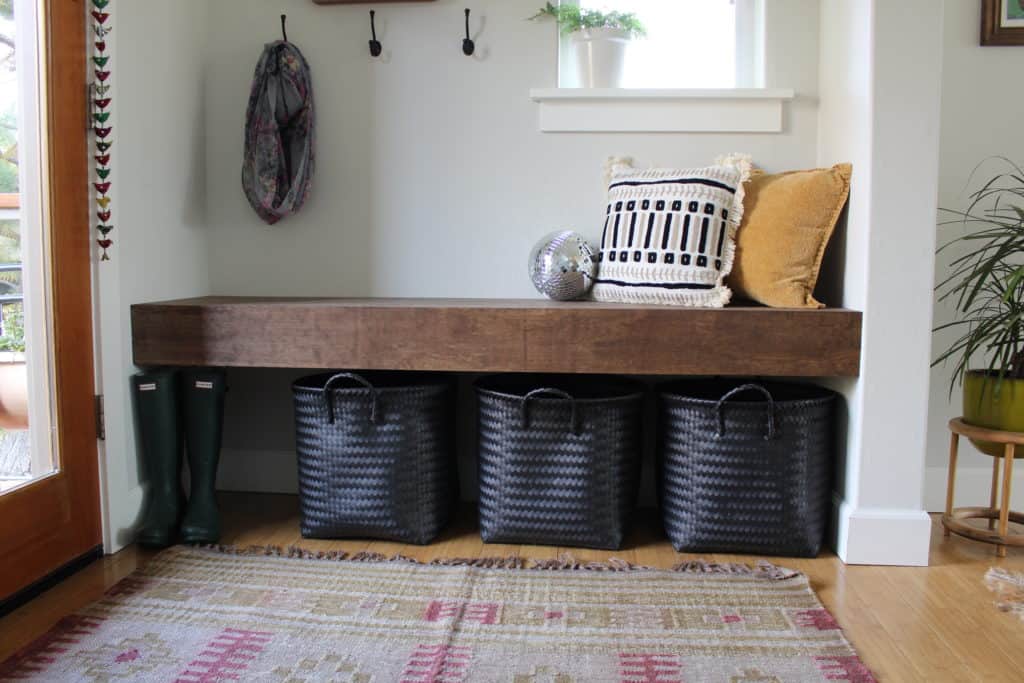 If you have two walls close together, you can use them as bench ends.
This blogger created a custom look with a large piece of wood to serve as a bench and made storage space where there previously wasn't any.
Our DIY Entryway Bench by Girl and Grey
Three Board Bench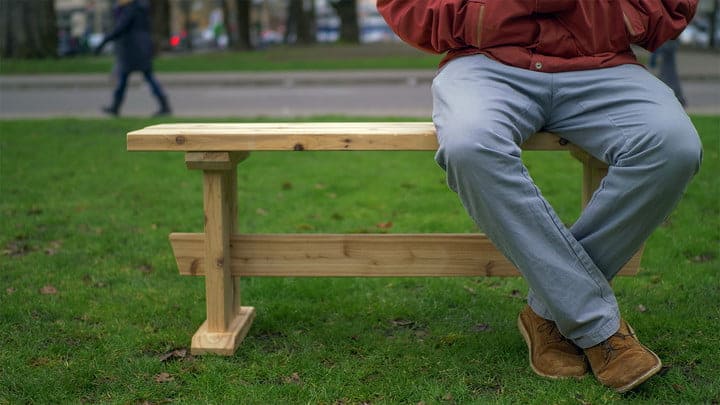 All you need to recreate this bench is three boards. That's it!
It's on the smaller/skinnier side, but it has a beautiful look and will serve its purpose for seating.
How to Build a DIY Japanese-Style Bench by Digital Trends
Dining Table Bench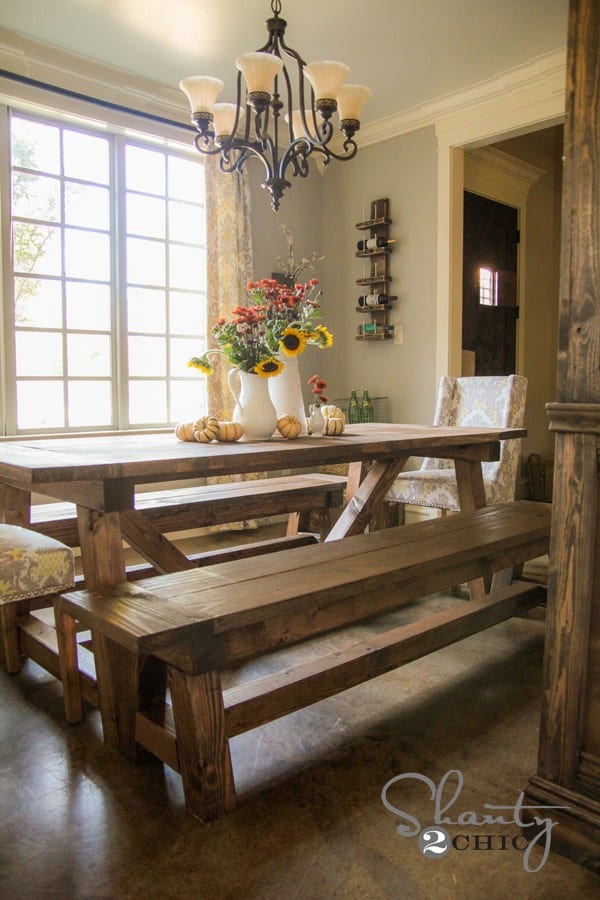 Farmhouse style dining tables are still very much in style when it comes to home decor, and with them come bench seating.
You can create your own bench for only $40 – which beats the price tag of most retailers' benches!
DIY $40 Bench for the Dining Table by Shanty 2 Chic
Curved Fire Pit Bench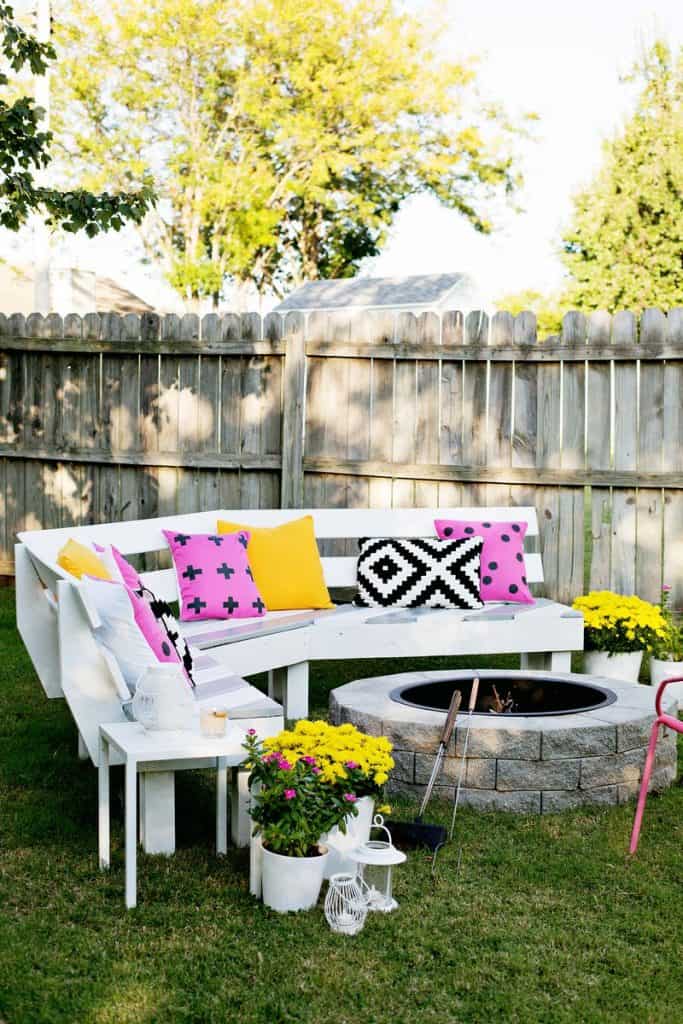 Just take a minute to look at how gorgeous this fire pit bench is!
You'll need a little bit of skill (and some fun throw pillows) to accomplish this look, but it will be worth it for those cool nights by the fire!
Build Your Own Curved Fire Pit Bench by A Beautiful Mess
Upholstered Built-In Bench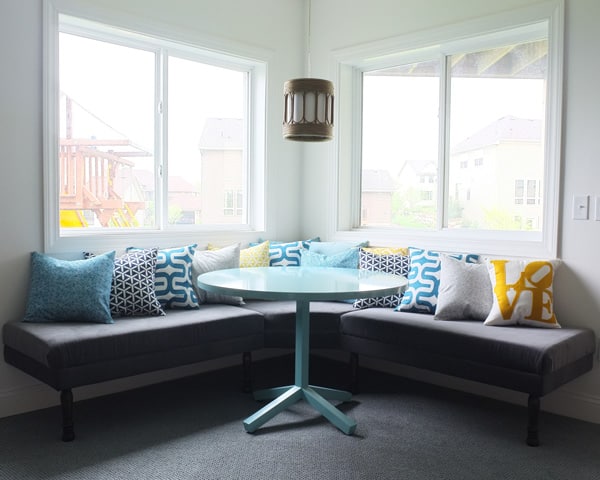 This corner bench is a perfect solution to a small dining space.
You can enhance the look of a built-in bench by adding some upholstery like this blogger. It adds texture, color, and makes the space more inviting.
DIY Upholstered Built-In Bench by School of Decorating
Farmhouse Bench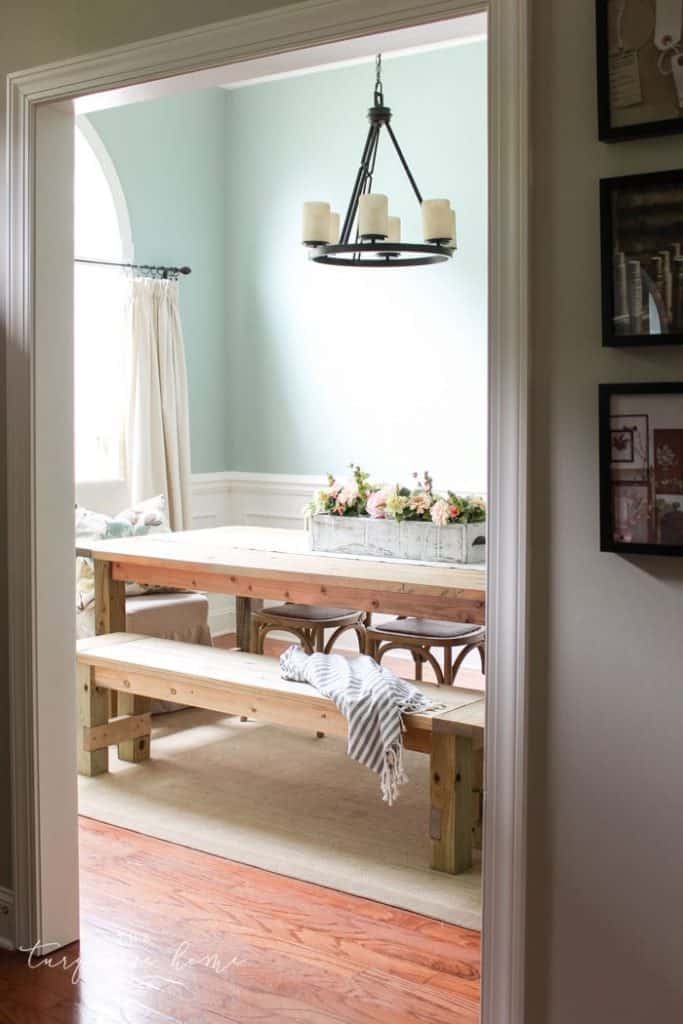 The best part about the farmhouse style is that everything looks a little rustic, so you don't have to worry about making DIY projects perfect – as shown by this imperfect but beautiful bench.
This blogger left their bench unstained, but you can make it your own by adding a little espresso stain to it.
DIY Farmhouse Bench for Less Than $40 by The Turquoise Home
Rolling Storage Bench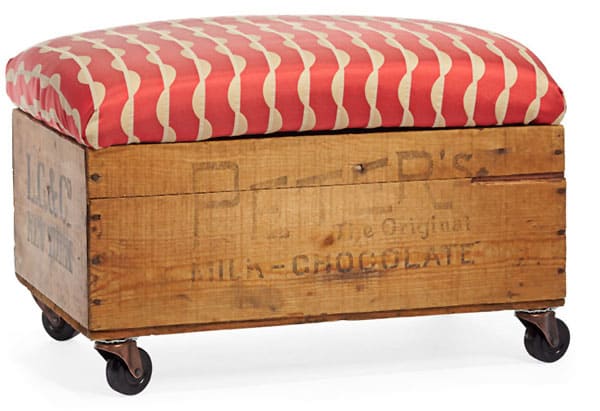 You can easily move this bench around thanks to its attached wheels.
It's basically like a toy chest, only better. You can recreate this style or use it as inspiration to make your own.
How to Build a Rolling Storage Bench by Oprah
Easy DIY Bench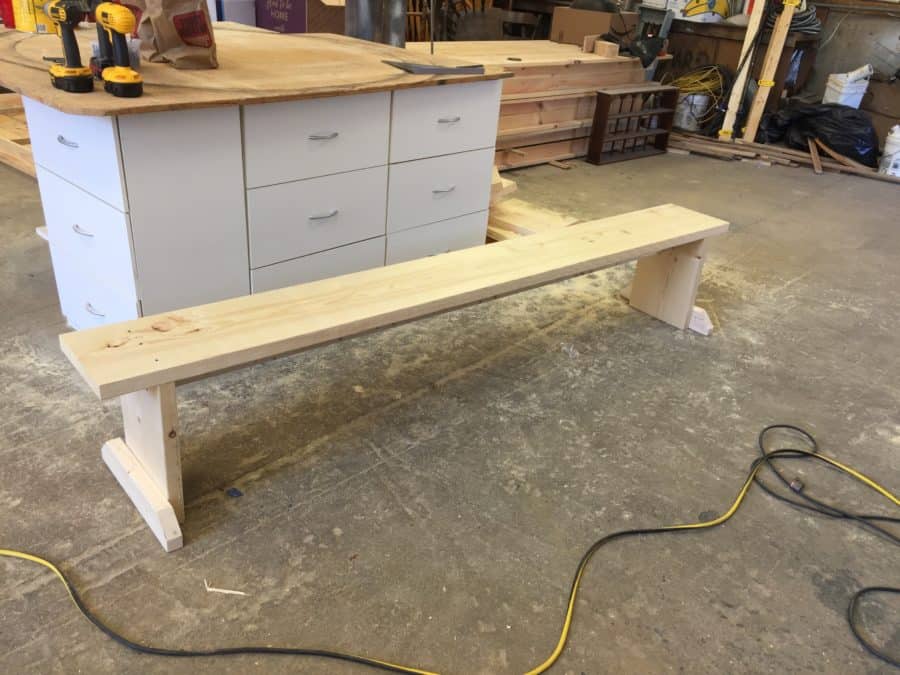 Even the most novice woodworker can create this bench because it's only a few cuts and needs very little materials.
In fact, it's so easy that this blogger made 40 of them for wedding seating!
DIY Bench Tutorial by Meadow Ridge Farm
Abstract Modern Bench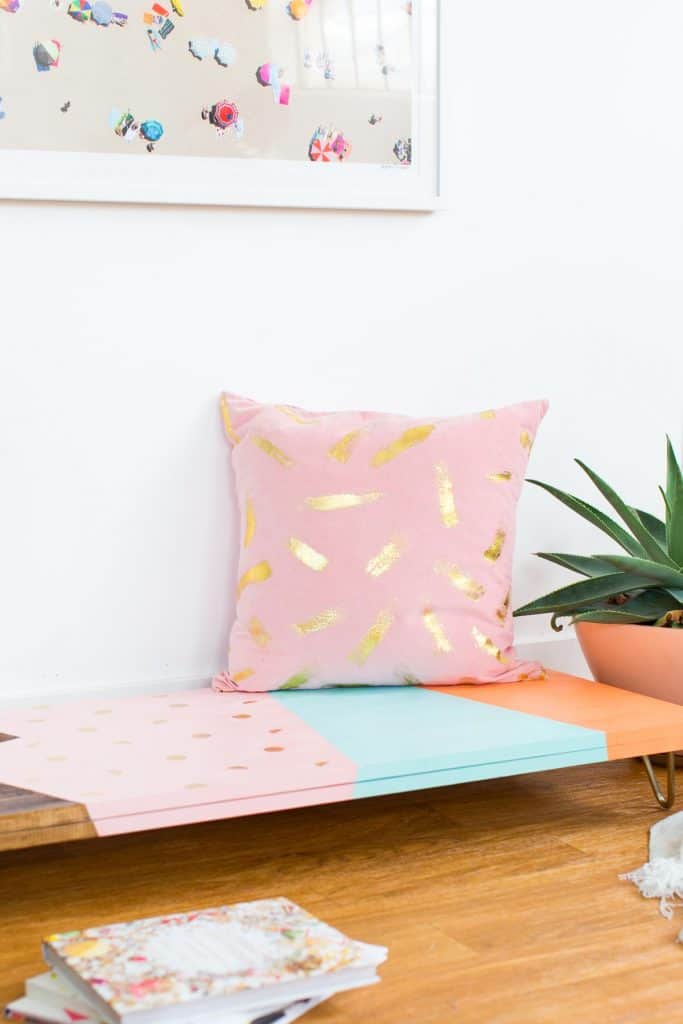 If you have a creative streak and love some color, this is the bench for you.
It sits low to the ground, has a touch of gold, and is overall gorgeous to look at! Who knew a bench could be so pretty?
Abstract DIY Modern Low Bench by Sugar and Cloth
Outdoor Storage Bench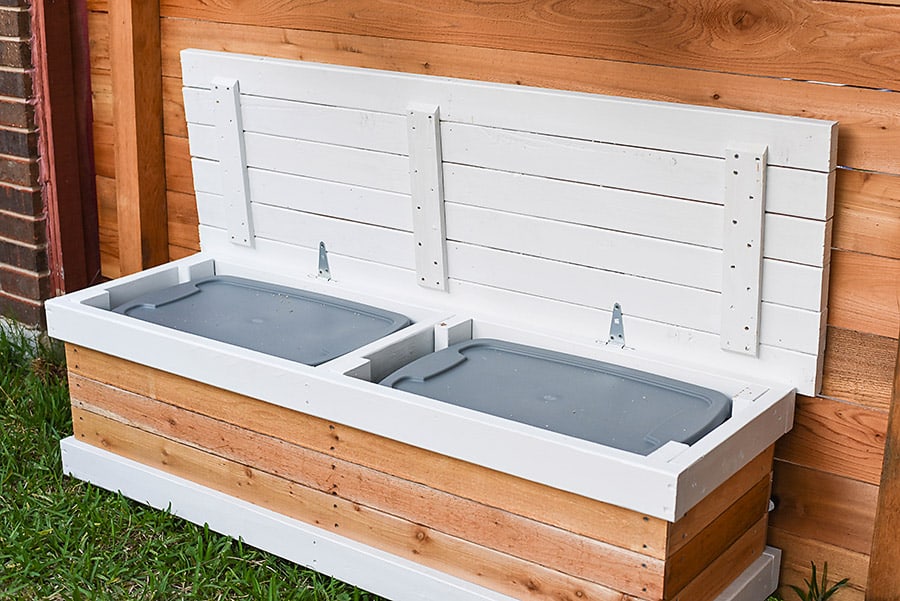 Much like the indoor storage benches, this one lifts at the top so you can store outdoor cushions and pillows when they're not in use.
The verticle slits around the base of it give it a little bit of an outdoor-beachy vibe and give it some extra character.
Outdoor Storage Bench by Our Hand Crafted Life
Minimalist Bench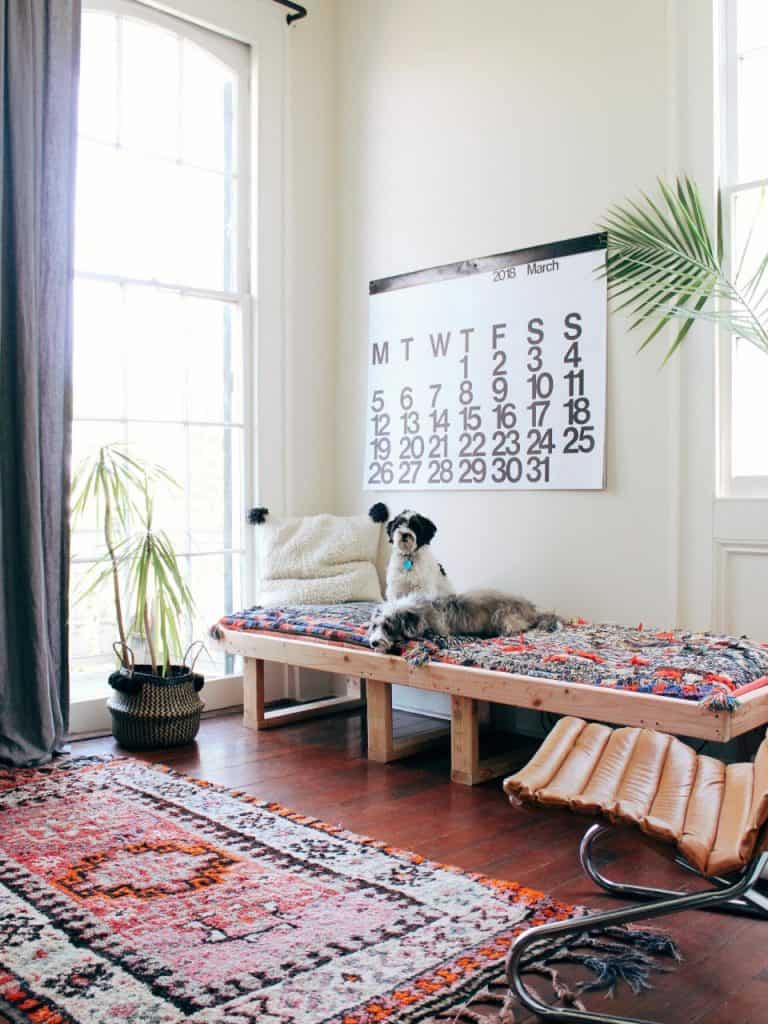 For anyone who loves clean, straight, simple lines, this bench is perfect.
This blogger made the bench fit her space by building it extra long. You can do something similar with very little extra wood.
DIY Bench by Liz Kamarul
Upholstered X Bench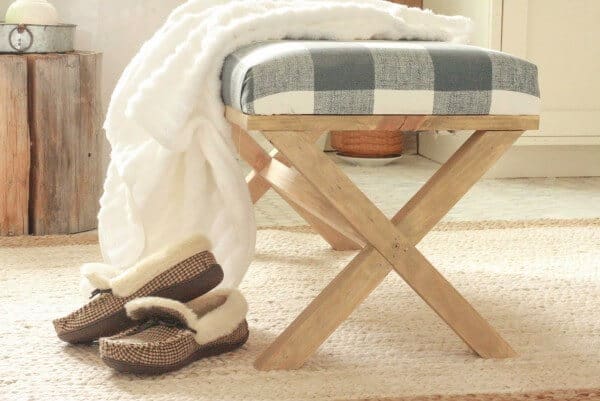 If you're new to upholstering, this bench is a great way to get started.
You can pick whatever fabric and stain works best with your space and end up with a totally custom bench that works for you.
DIY Upholstered X Bench by Twelve On Main
Front Porch Bench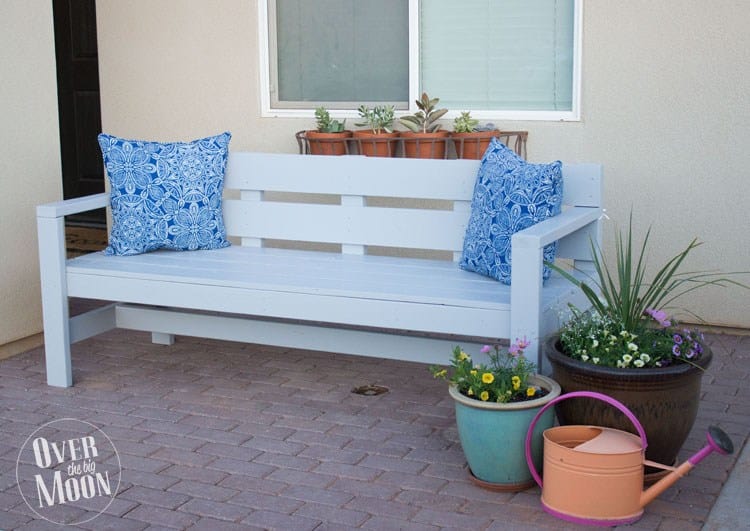 Is there anything prettier than a bright white bench for a front porch?
This bench has clean lines, an airy design, and looks cozy! It's a great way to make your home inviting to guests from the moment they walk up to the door.
DIY Front Porch Bench by Over the Big Moon
Crate Bench
Who knew those crates from any craft store had so many uses?
You hardly have to do anything to make this bench, and the finished product will still be stylish and functional. You can't beat something that looks this good and is this easy to create.
Easy Crate DIY Bench on Wheels by Hometalk
Modern Outdoor Bench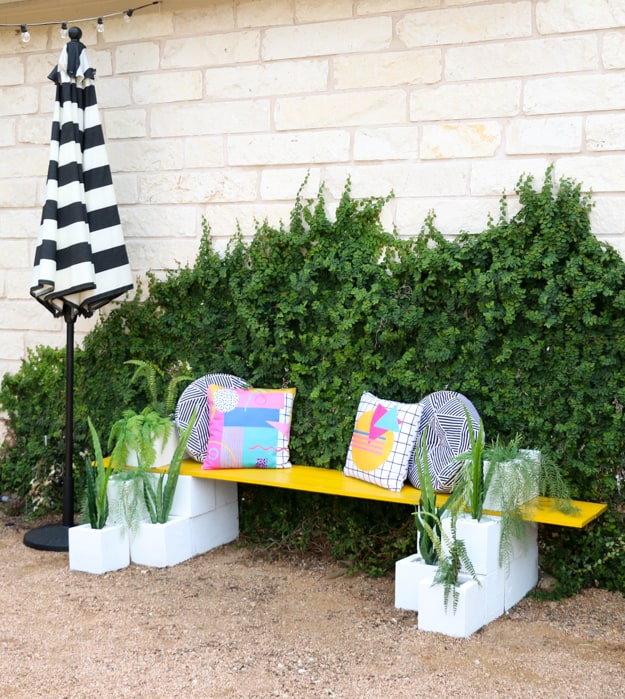 This blogger's mix of color and cement makes for a unique and gorgeous outdoor bench.
You can follow her directions or use it as inspiration, but whatever you do, definitely try to incorporate the built-in planters because they add so much to the look!
DIY Modern Outdoor Bench by A Kailo Chic Life
West Elm Knock-Off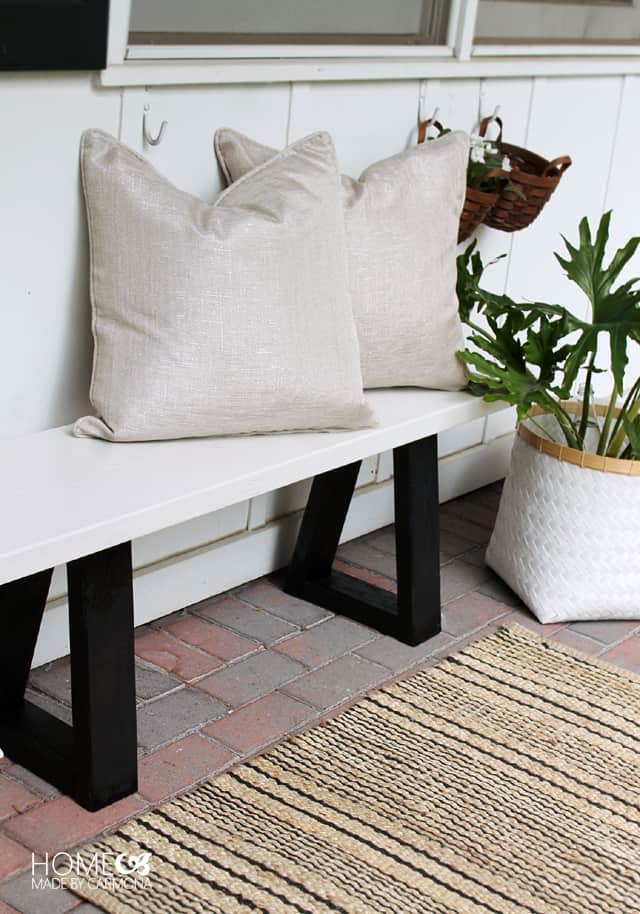 Why drop a ton of money on a retail version of something you can make yourself?
This blogger created a West Elm lookalike that turned out beautifully and cost a fraction of the price.
West Elm Bench Knock-Off by Home Made by Carmona
Double-Chair Bench With Table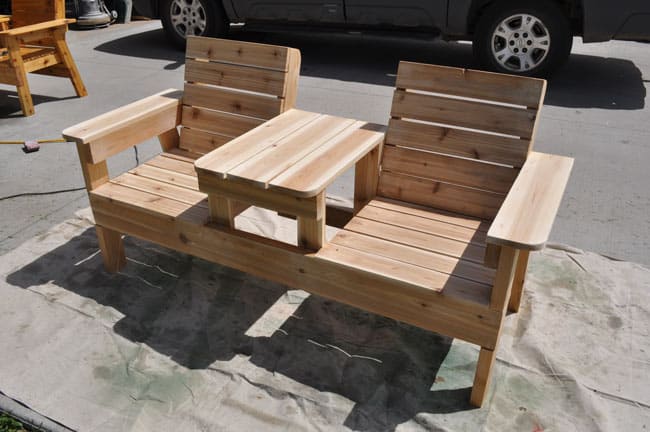 Whether you want to put this on the beach, your front porch, or somewhere in your home is totally up to you. All that matters is that you make it because it's a great piece of furniture.
You may need to read up on how to make this, but it will be worth it to have a cozy and relaxing "bench".
Double Chair Bench With Table by DIY Pete
Bench With Storage Baskets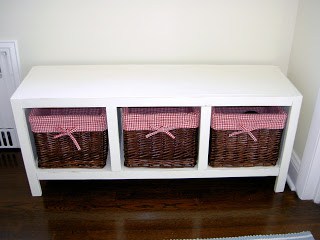 This blogger created a custom bench that worked for her space and had the specific dimensions she wanted for her storage baskets.
You can do something similar by finding your own storage containers and going from there.
DIY Bench with Storage Baskets by Jaime Costiglio
Tree Bench
If you have a big tree in your yard, you have the perfect spot for some outdoor seating!
This blogger gives a tutorial on how to make this (gorgeous) round bench that surrounds a large tree. It's fun, functional, and a great conversation starter.
How to Build a Tree Bench by This Old House
Rustic Log Bench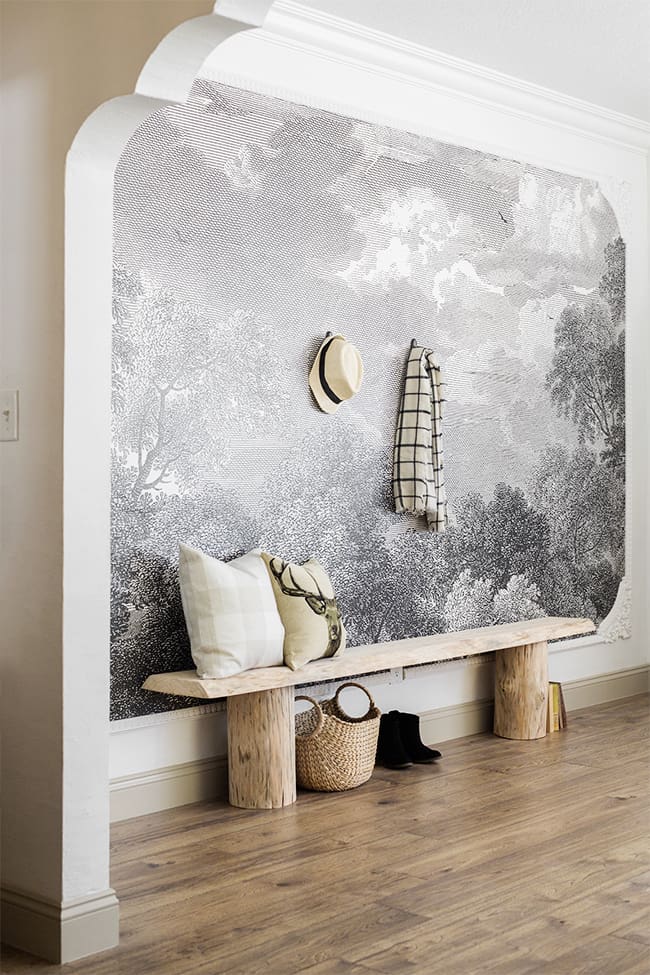 If you live somewhere you can easily get access to logs, definitely consider this bench!
You don't need too much to create this look and you'll create a statement piece that will definitely add some style to your home.
DIY Simple Rustic Log Bench by Jenna Sue Design Blog
Bench With Metal Legs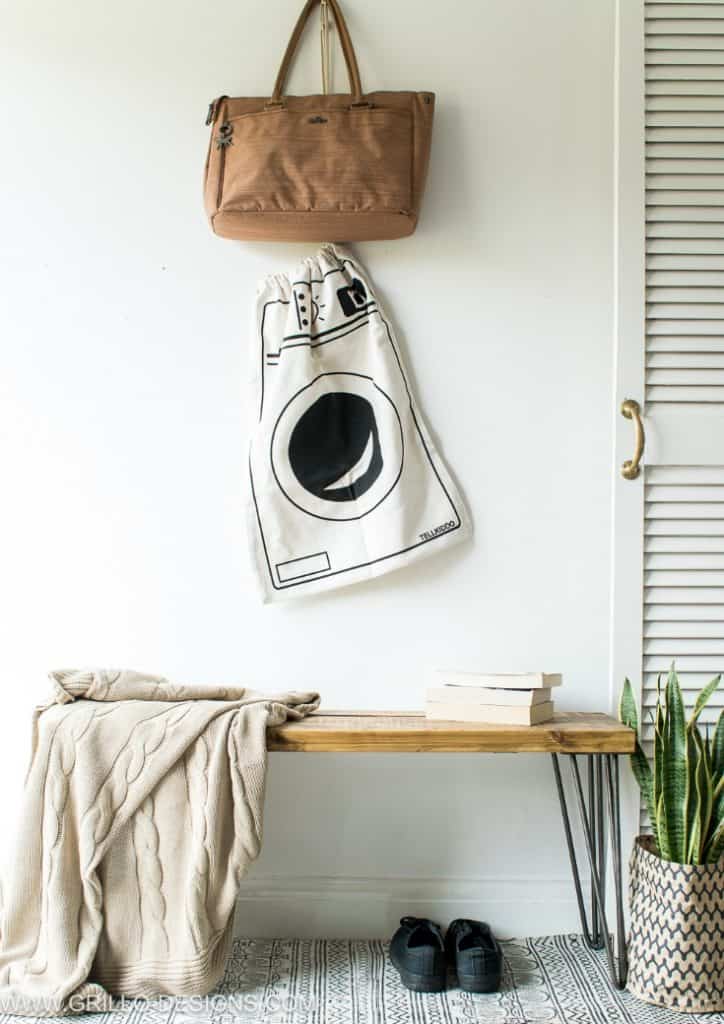 Mixing wood with metal is still trendy, which makes this (super easy) DIY bench all the better.
All you need are some hairpin legs, a little wood, and a place to put it! It's beautiful and will definitely enhance your aesthetic.
Build A Bench The Super Easy Way by Grillo Designs
Upcycled Tailgate Bench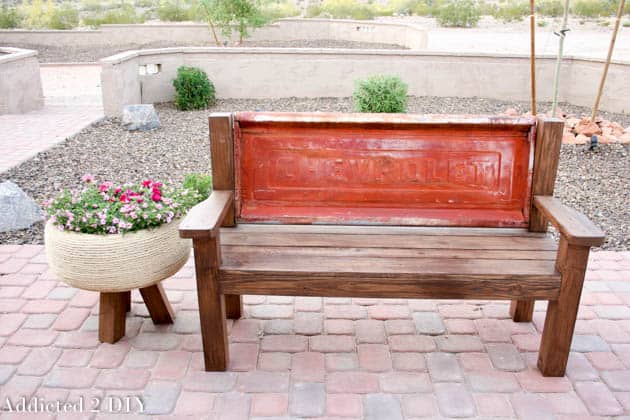 If you have access to old trucks, or have one of your own, grab the tailgate off the back to make this bench!
If you don't have access to a tailgate (which, is most of us), you can use this bench as inspiration to add some metal design/detail to give your own a unique twist.
How to Build a Bench From an Old Tailgate by Addicted 2 DIY
Conclusion
Whether you want to use it for entertaining, a place to cozy up outside, or simply to fill up some space in your entryway, making your own bench will not only give you just the right look that you're after, but it will also give you a sense of satisfaction.
There are no shortage of plans and tutorials to help you make the bench of your dreams. And, if you really want to get fancy, you can make your own cushion and throw pillows to make it an extra cozy and welcoming spot.