30 Easy DIY Bookends Ideas in 2023
If you're a book lover, then you know that bookends are a must-have for any library.
But finding ones that you like – or choose to actually spend that kind of money on – can be rare. The right color, the right texture, the right style – they can all be so elusive.
So instead of spending hours scouring online catalogs, you could just make your own from any of the simple to follow tutorials below.
Invisible Bookends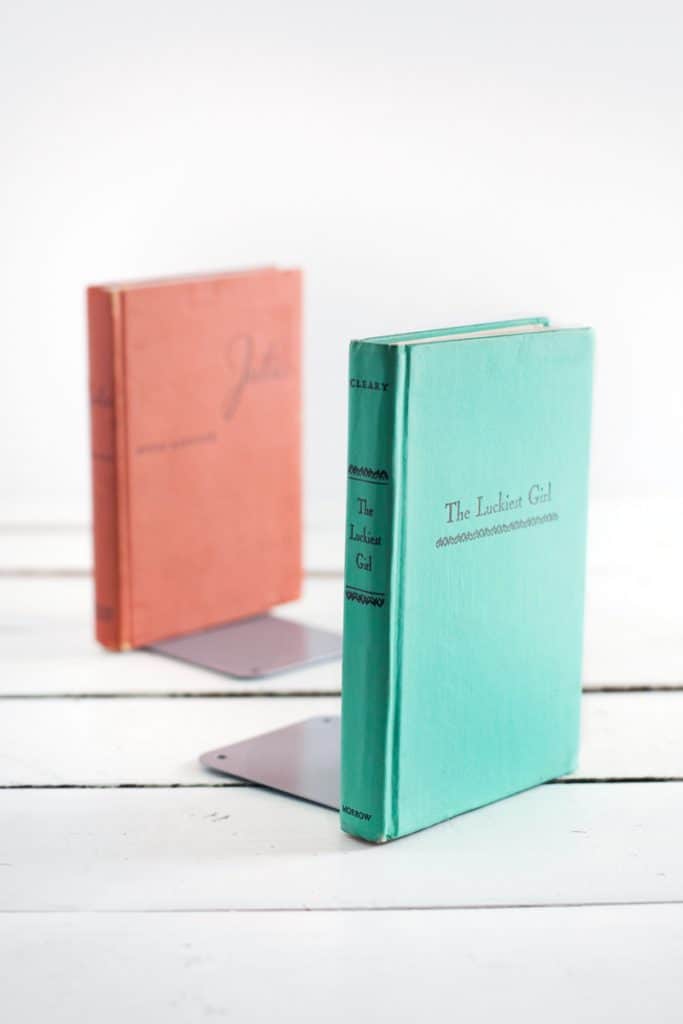 There are a ton of different ways of getting your books to stay in place. You can grab a rock from the garden and shove it onto the shelf. You can stack a pile of heavy books at one end to keep the others from falling down.
Or, you could follow a simple tutorial and create theses invisible bookends from old discarded books instead. You just need a few things, including pretty books you won't be reading (thrift stores are great for this).
Via A Beautiful Mess
Faux Gold Pipes Bookends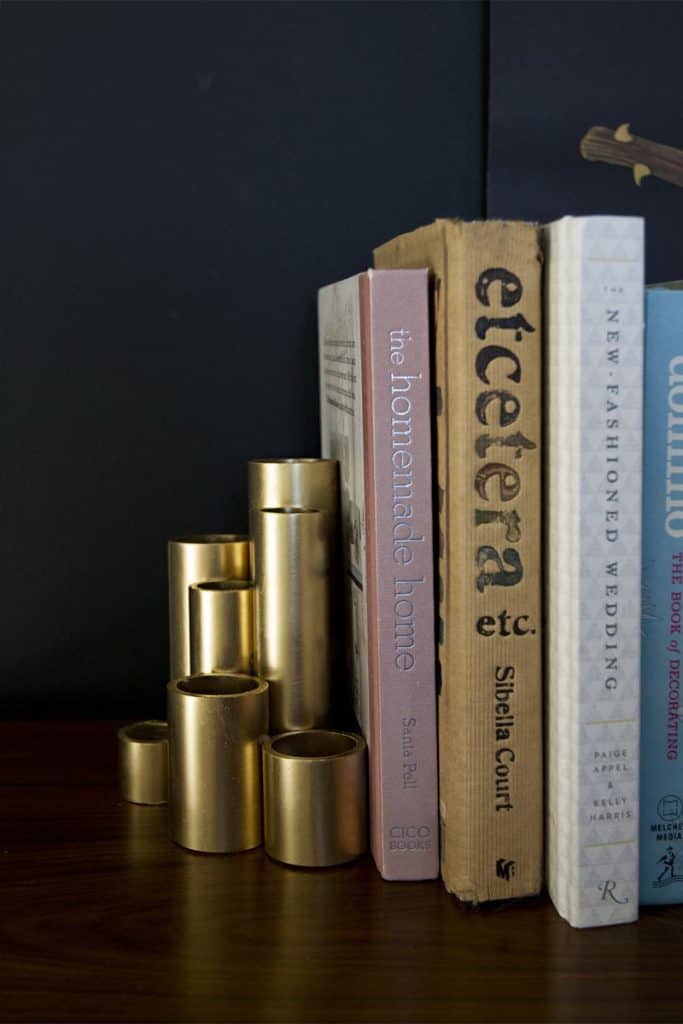 If you want a unique bookend set that will stand out from the rest, while still being inexpensive and easy, then you just might love this faux gold pipe bookends set. It was originally inspired by a penholder, so even more useful, if you happen to keep those books in the office.
You just need a few inexpensive supplies from the hardware store, a handsaw, and a little bit of time for this fun, quick, and easy project that will make that bookshelf pop.
Via A Beautiful Mess
Telephone Bookends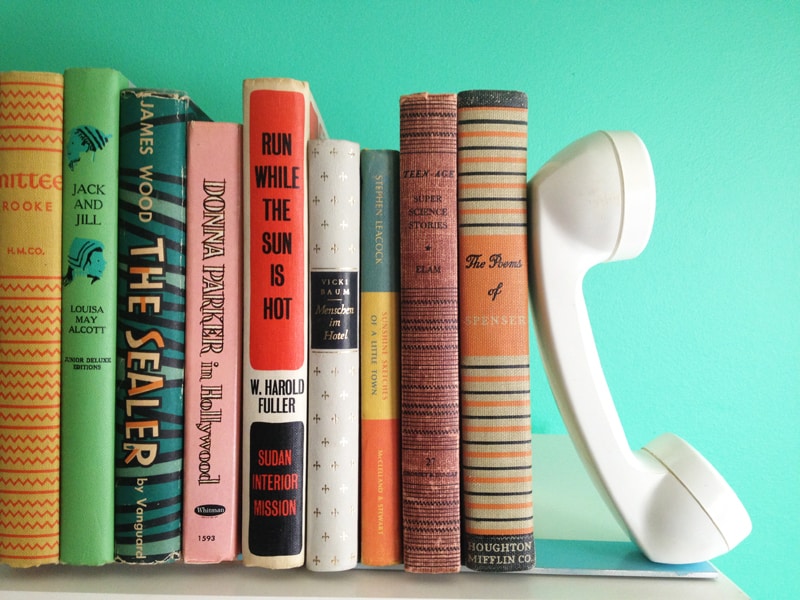 If you've got some old phones lying around in the attic, know a good thrift store that always has some on hand, or just love decorating with something just a little different, then you'll love this telephone bookend set.
When I see this one, I always picture that fun scene from the musical "Bye, Bye, Birdie!" But it's a great option for anyone who loves vintage things – especially the good ol' days of landlines.
Via A Beautiful Mess
Color Block Bookends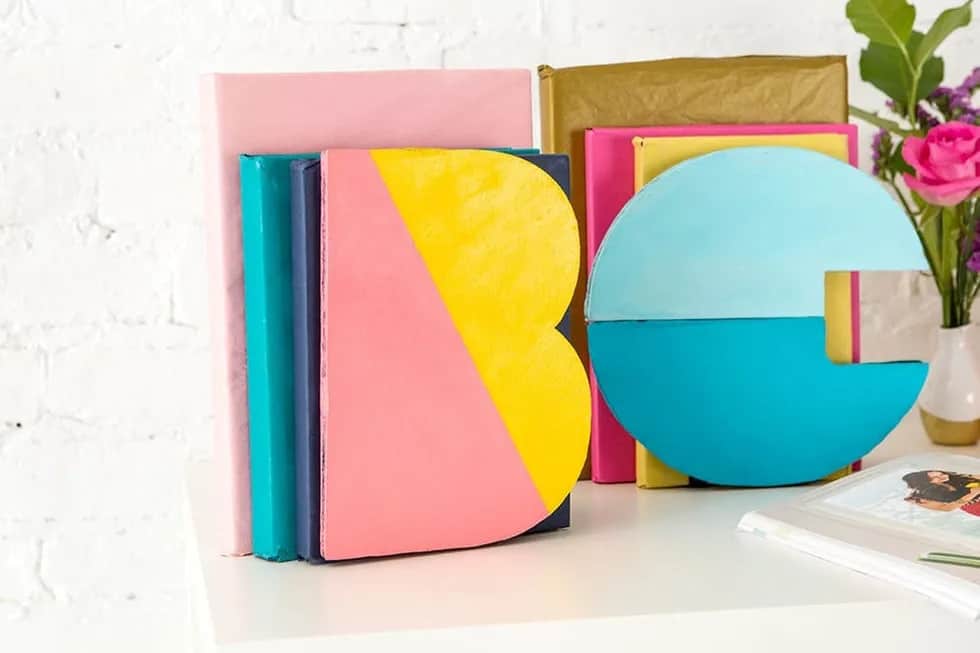 If you've got a thing for color and want to try something a little different, these color block bookends are a great place to start. You'll need to do a Google search for someplace that offers laser cutter services, though, so be sure you've got a little time to get the project done.
After you get the letters cut, you can follow the easy tutorial to craft the perfect color block set for your library.
Via Brit+ Co
Striped Bookends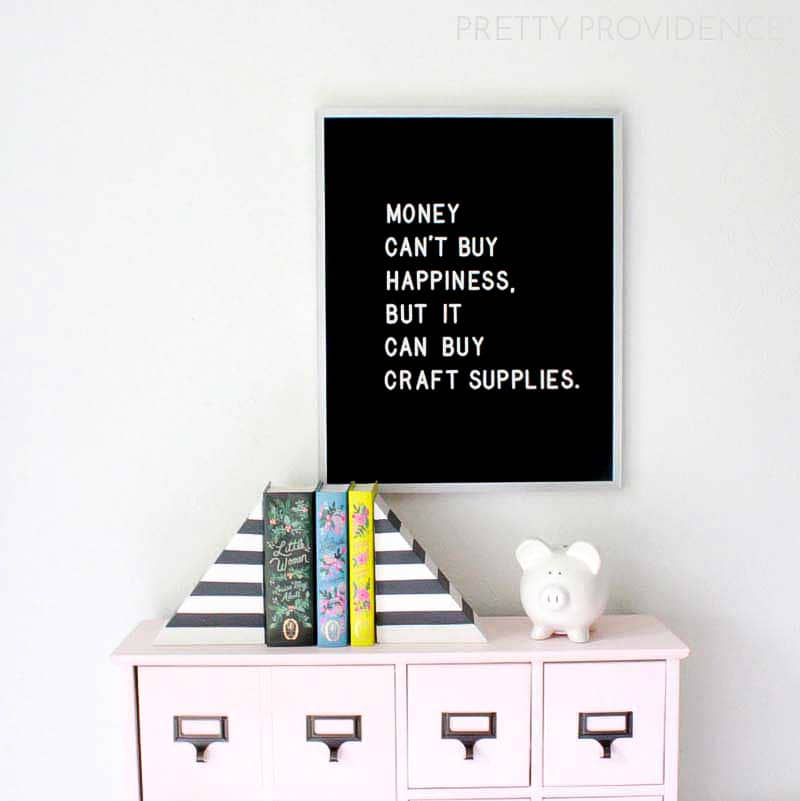 If you're obsessed with stripes, then you'll love this design for a simple, West Elm inspired set of DIY bookends. You just need some scrap wood, some Bondo, and painter's tape to get the project going. Just apply your basic crafting skills, and you're all set.
The how-to is totally easy to follow, too, so you'll save loads of money instead of buying the fancy, expensive set that probably isn't even available anymore anyhow.
Dinosaur Bookends
For the dinosaur-obsessed book lovers, these adorable bookends will complete the office or bedroom shelf. Seriously, they're so cute and super easy to make.
You'll just need to snatch up some dinosaurs from Michaels or Target, grab some scrap wood, some wood stain – if you want – wood glue, Gorilla glue, and paint whatever color you want those dinos sporting on your shelf. Folks with basic skill levels – or none at all – can make them.
Superhero Bookends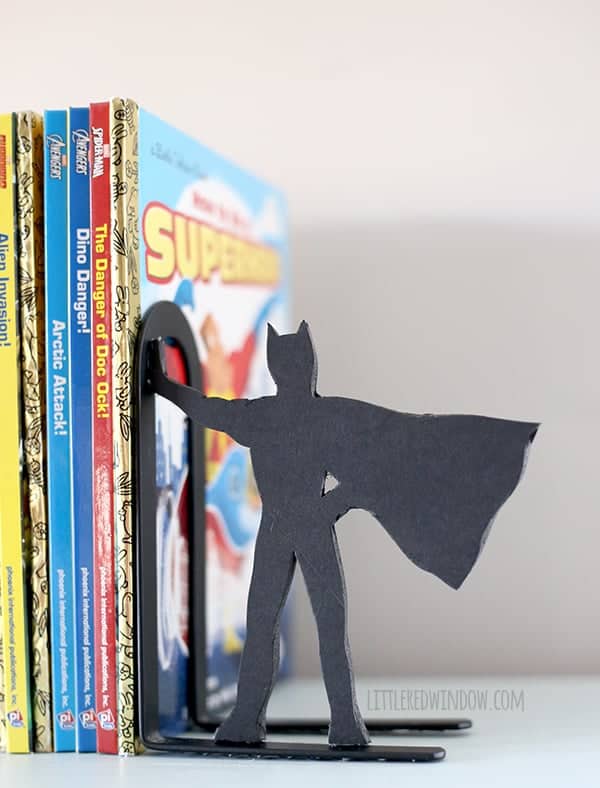 If you're into the Marvel Cinematic Universe, DC comics, or generally just love a good superhero, you'll want to make these Superhero bookends. They're inexpensive and pretty easy to make. You need a little drawing skill or at least the ability to Google printable designs for your superhero cutouts.
Grab some foam core, those boring bookends, a hot glue gun, an Exacto knife, and your imagination. It won't take long to make these.
Brick Book Bookends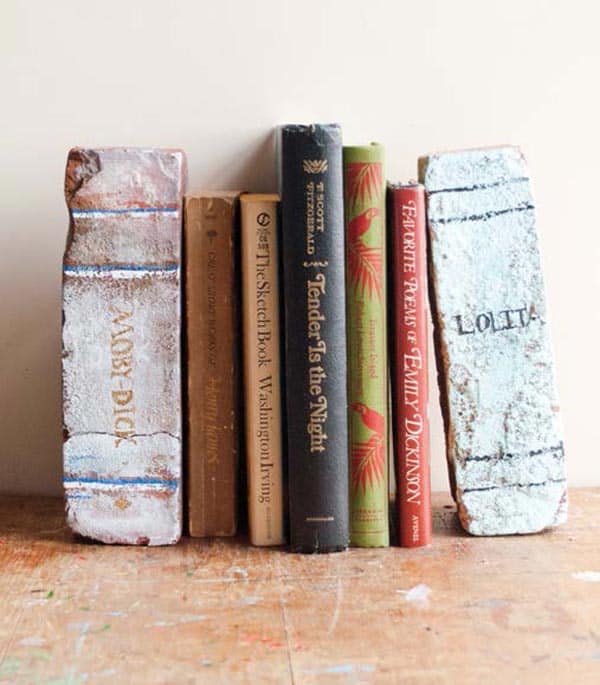 For classic book lovers who vibe with the Invisible bookend idea above, but don't want to use actual books to make your bookends, you'll love these ones. They're basically painted bricks with book titles etched on with a fine point brush.
They're super easy, very effective for keeping your books in place and add a unique charm that few other bookends could. Plus, they're inexpensive to make.
Note: These would be awesome to make together at a crafting party.
Arrow Bookends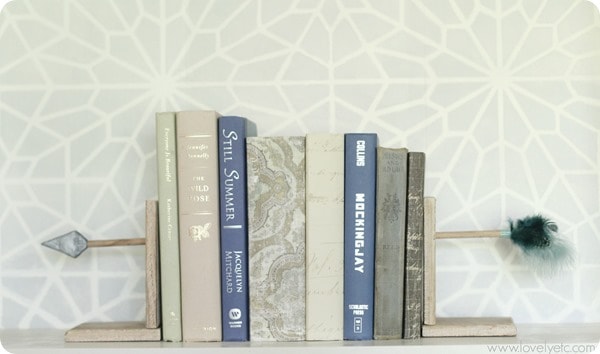 These fun little bookends are a unique twist on some of the current decorating trends. And they won't cost you a fortune like buying something like this from a retailer might. Instead, they're simple and fun to make and don't cost a load.
Grab some scrap wood, wood glue, a small dowel, feathers in your choice of color, some colored tape, and some silver clay. The tutorial tells you how to do everything, including making the clay arrowhead.
Via Lovely, Etc.
Spotted Horse Bookends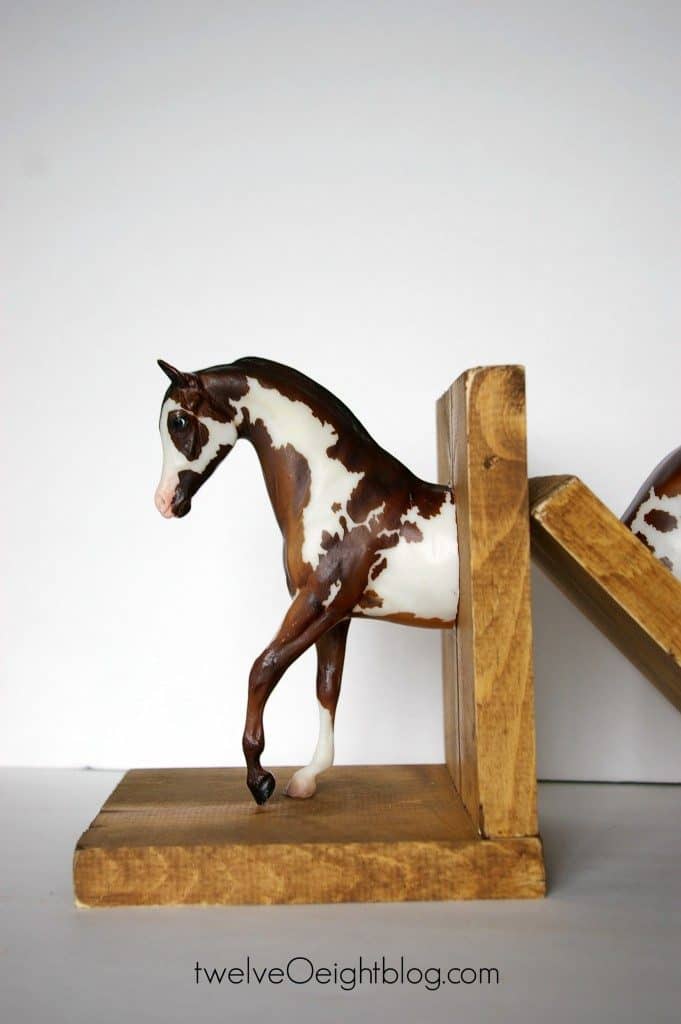 Horse lovers will love these Spotted Horse bookends. They add a real flavor from the equine world without being tacky. They're especially perfect for rooms with a horse, Western, or farm theme. Or just for anybody who loves unique, pretty animals.
You'll need four pieces of wood, some wood stain, a plastic horse, a saw, glue, and fine sandpaper to create this super easy set of bookends. The instructions are easy to follow for anyone with basic woodworking skills.
Painted Animal Bookends
These painted animal bookends combine elements of multiple other bookends on this list for a unique twist you'll love. They're simple to make, add some fun texture to a room, and supplies are pretty inexpensive and easy to locate.
You'll a single brick cut in half, some matching toy animals, a strong adhesive – Liquid Nails are great – some sandpaper, and self-stick felt pads. Follow the simple tutorial to learn how to make these simple, but fun, bookends.
Via HGTV
Lava Rock Bookends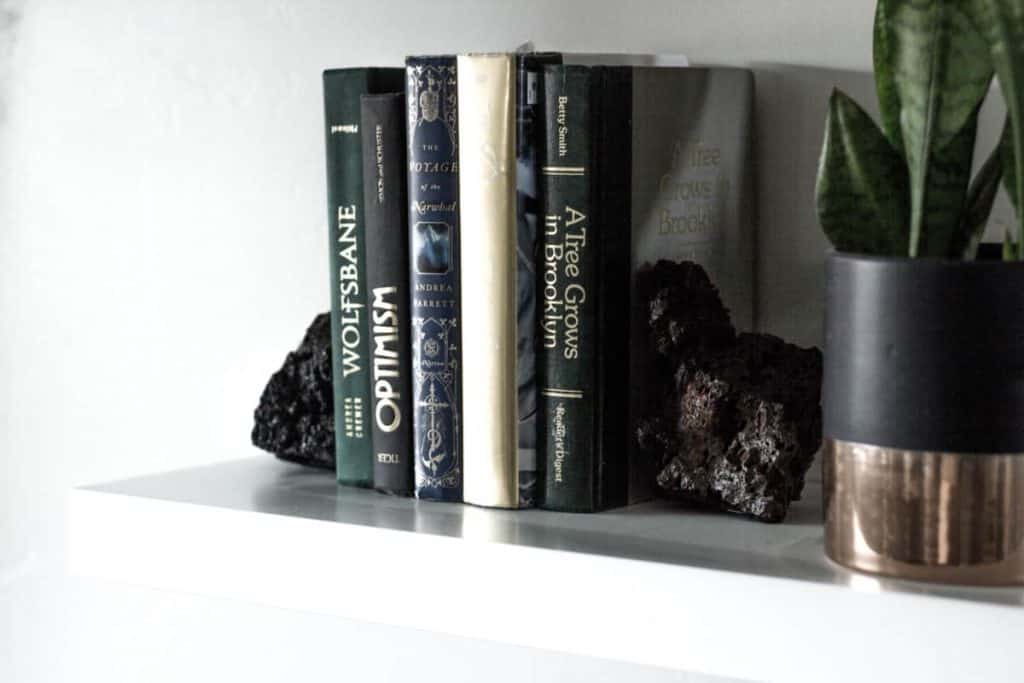 These Lava Rock bookends are perfect for any home with a wide range of themes. Hawaiian home? Check. Geologist's study? Check. Kids' room? Check. Dark color scheme? Check.
They're super easy to make, inexpensive, and super-fast and easy. You just need some lava rock – or really, any rock you like better – some felt, a hot glue gun, and some glossy acrylic sealant. You can find the supplies easily outside and at a craft store like Michaels.
Cement Bookends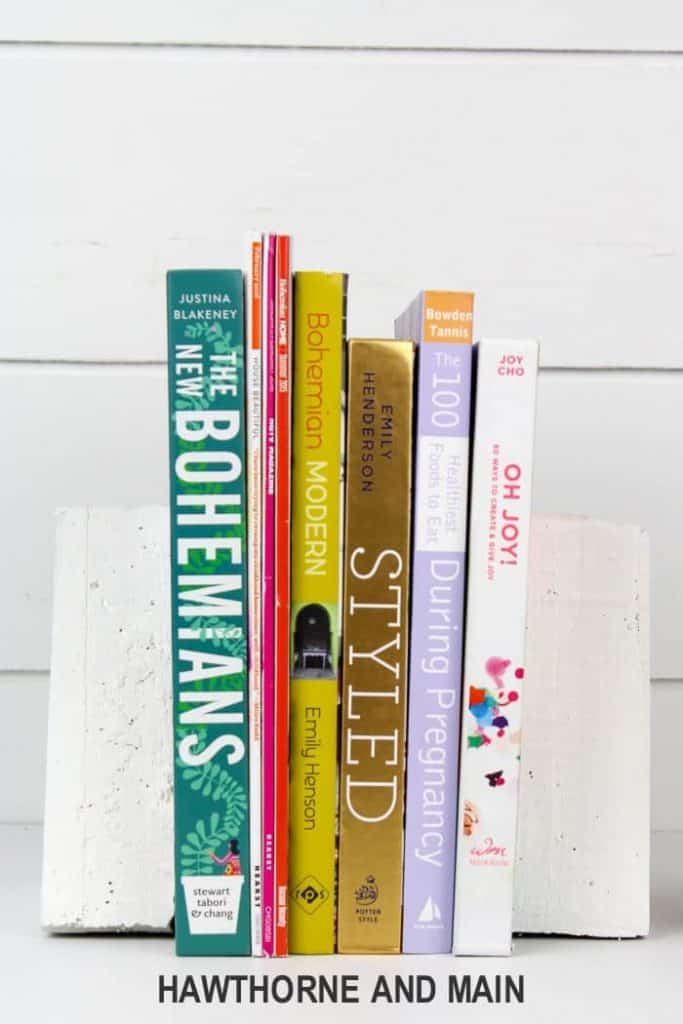 Anyone looking for straight, clean lines and a project that requires a little more oomph than some of the other bookends will love the challenge of making these simple cement bookends. This is the perfect way to ease into the cement crafting medium.
You'll need Portland cement, duct tape, cardboard, cooking spray, tape, and a mixing bowl. You don't need anything fancy to make them, just a little time and the willingness to learn.
Lovely Letter Bookends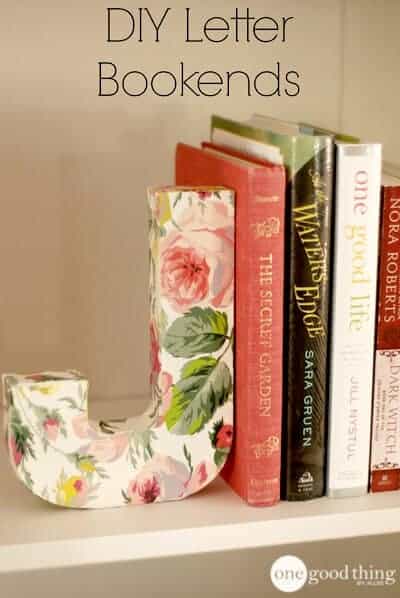 What's better than a DIY project that's beautiful and useful? Pretty much nothing. These gorgeous letter bookends are perfect for any home decorating style. You can choose whatever pattern you like – floral, Fleur-de-lis, stripes, polka dots, plaid, whatever you find – to craft your own perfect bookends.
These easy to make bookends cost less than $10 to make and just take a few hours to craft. And since they're so customizable, you might even want to make a few sets.
Via One Good Thing
A to Z Bookends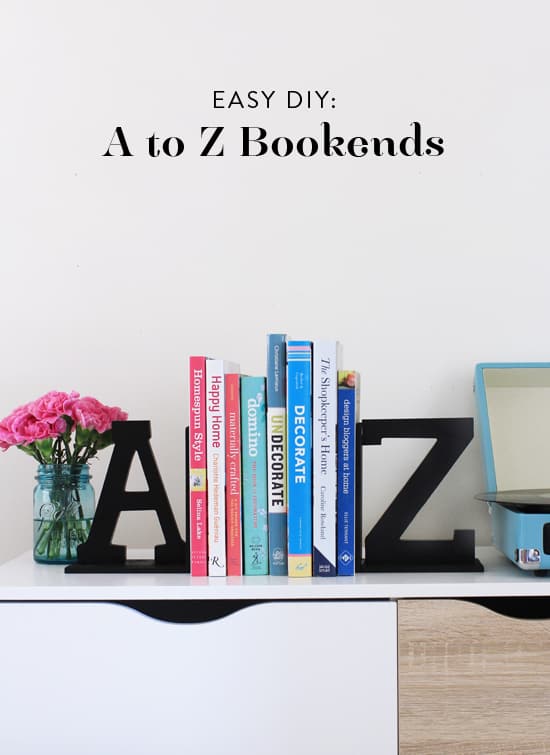 These bookends were birthed from the Michaels Makers challenge "Alphabet Soup" products from Make Market. The collection is pretty and fun – letters in every style and finish you can imagine – and made from any material you can find.
So the folks from At Home in Love decided that they'd use some simple black letters to give an alphabetical theme to their reading section. They'd be perfect for a classroom, bedroom, or office – really, anywhere that books live.
Via At Home in Love
Woodland Diorama Bookends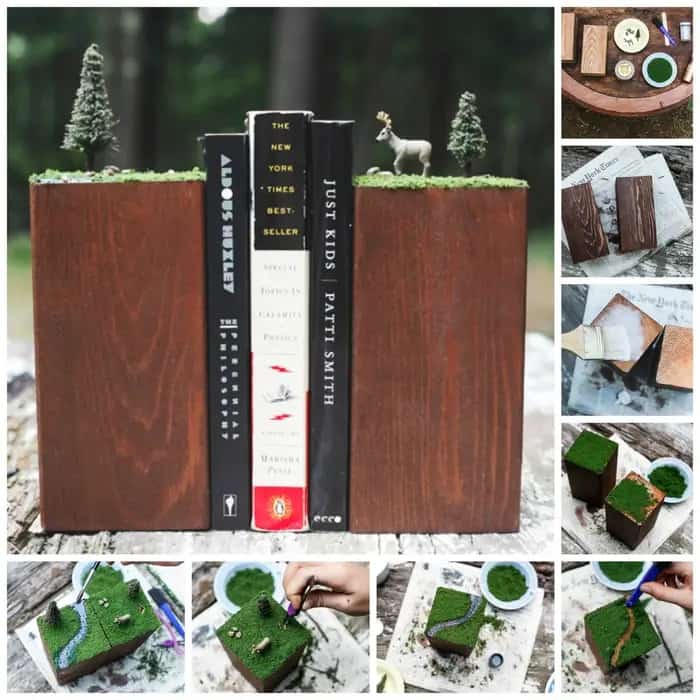 These were inspired by the Anthropologie bookends of a similar style, just without the whopping $160+ price tag. Visit a hardware store and Hobby Lobby to grab supplies, and sit down with the instructions, your tacky glue, and some woodland creatures.
The instructions are pretty easy to follow along. Just go through step-by-step and let everything dry completely before moving on. It'll take a while – though still less than a day – but they're well worth it for bringing in a little of the outdoors.
NOTE: original source just links to a page of photos, not the DIY instructions
Via Buzzfeed
Polka Dot Geo Bookends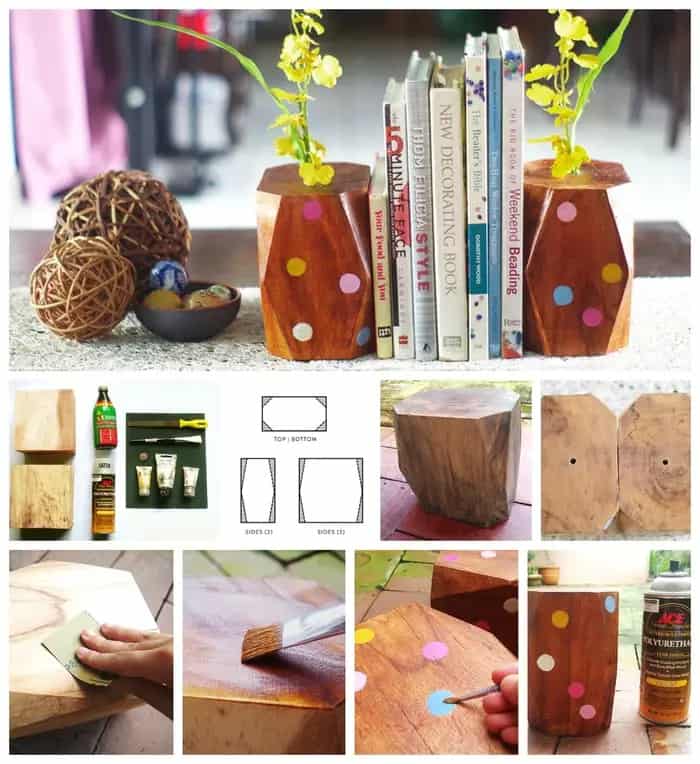 These bookends look like something only a skilled craftsman could make. But they're actually pretty easy if you follow along with the simple instructions. You'll need some wood blocks, fine sandpaper, paint, a file, and a handsaw to make them.
These bookends are not only adorable, but they're uber functional, too. If you drill in some holes, you've got bookend flower vases or pencil holders, to boot.
They even provide tips on how to get those perfectly round dots.
Also: original source not working
Via Buzzfeed
Halligan's Alchemy Bookends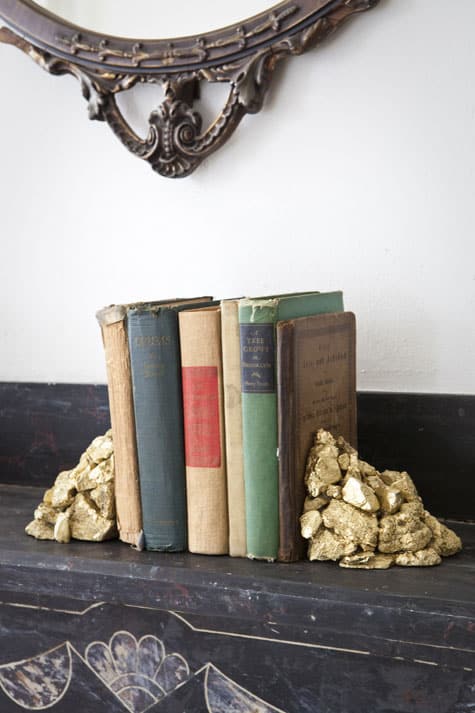 Remember being a kid and finding some pyrite, but thinking you were now magically rich? Well, these bookends can bring back some of those good memories. They're not actually fool's gold, but they sure look it. They're naturally weighty, too, so you can use them for those heavier books on the shelf.
You can find some old rocks in the neighborhood or garden and whip up these shining bookends in no time. Follow Halligan's instructions and give everything enough time to dry between steps.
Via Design Sponge
Direction Signs Bookends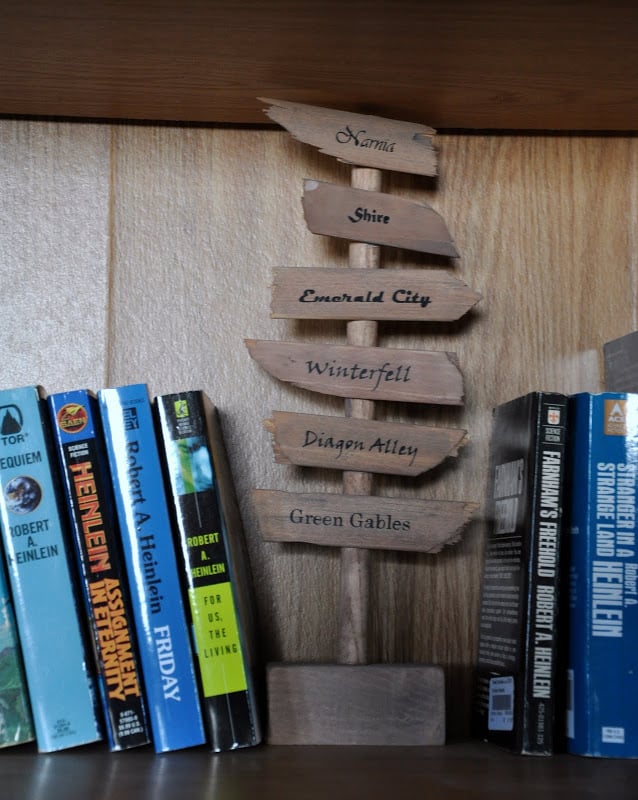 This project combines the elements of travel, reading, and simple crafter skills to create super fun bookends every bibliophile can appreciate.
You only need a few simple supplies to make these fantastically fun bookends. Paint stir sticks are the "signs," a simple dowel the stand, and stickers or cut letters let visitors know where your books will take them.
Now, the fun part: Choosing your favorite book locations for the sign.
Via Indigo Amethyst
Faux Zinc Punctuation Mark Bookends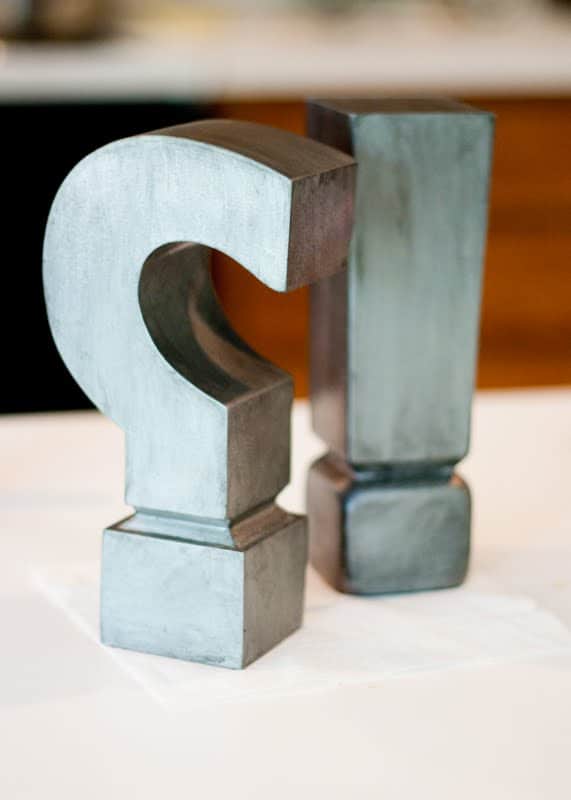 There are tons of faux zinc letters around the internet. So the folks at Head Above Water decided to apply that concept to these adorable punctuation mark bookends. And they're pretty easy for anyone to do.
You'll need to scavenge some thrift stores to find your supplies – and if you can't find punctuation marks, you can use letters, animals, or anything else you'd like instead – and grab some hammered aluminum spray paint from the hardware store to make these.
Via Head Above Water
Starry Tea Light Votive Bookends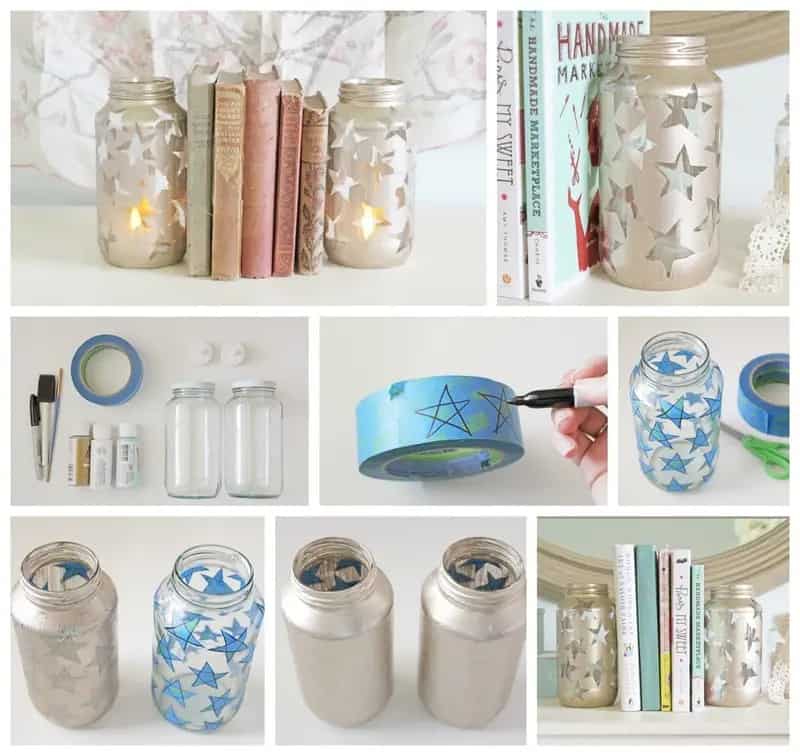 Candle addicts will love this one. You just need a couple of glass jars, glass or ceramic paint, tape, brushes, and a few of those battery-operated tea lights – to avoid catching your books on fire.
The full instructions show you how to make the stars, apply the paint, etc. to create these beautiful, easy, quick bookends. They'll be perfect for the office, living room, bedroom, or even the kids' room since they're not using real flames.
Original source link doesn't work
Via Buzzfeed
Baseball Bookends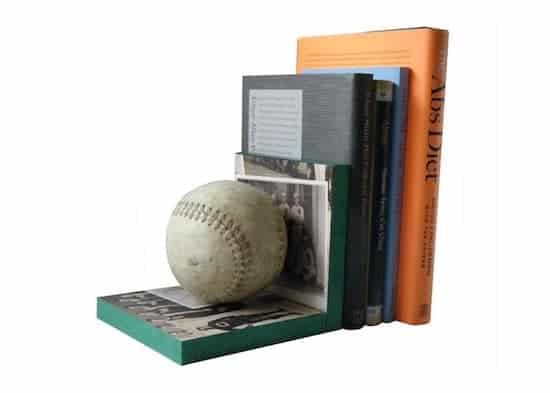 Sports lovers will love this simple, fun decoupage DIY baseball bookends. You just need some wood, mod podge, and old baseballs to create them.
Follow the easy, illustrated directions to create these fun bookends, and take cues from the images to add in some special touches of your own – like adding in old baseball photo images. Or, if you can get your hand on some, grab some old baseball cards and use them as additional décor.
Via Mod Podge Rocks
Cloth Covered Brick Bookends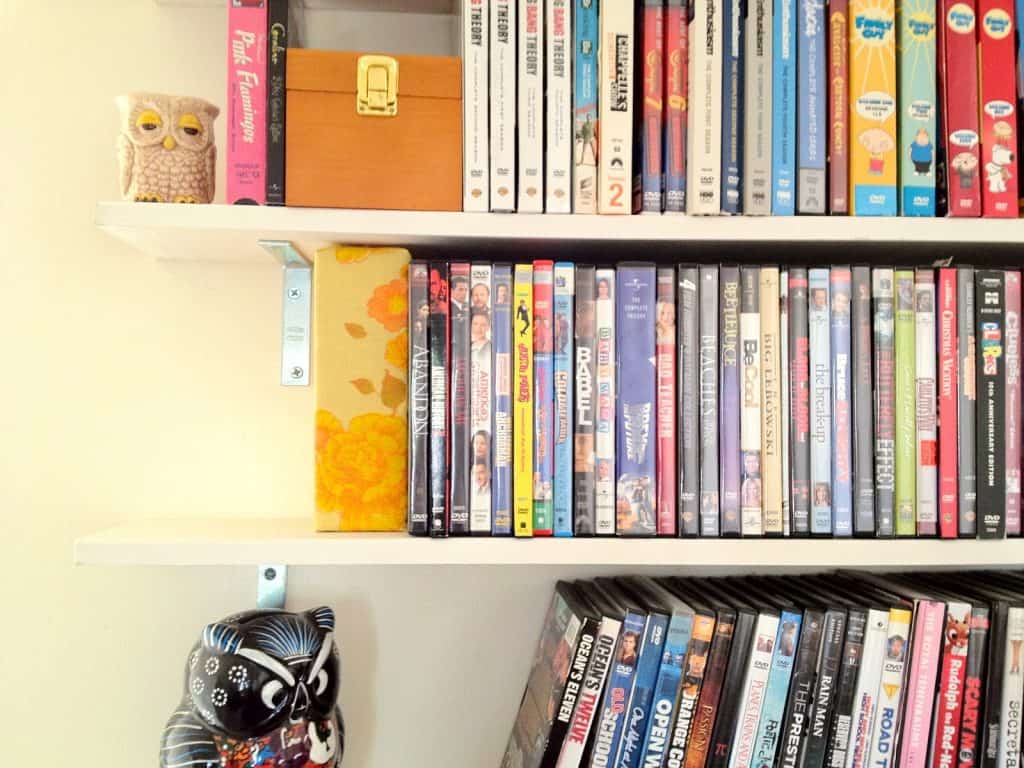 If you stock a lot of books, you need really good, solid bookends. Big books, especially, need heavy bookends to keep them upright. So, for those who have a lot of textbooks or old classics, these cloth-covered bricks are a great option.
The DIY instructions are super easy – they take less than an hour to make. And the supplies are inexpensive and easy to come by. You just need a couple of bricks, some attractive fabric – fat quarters are great for this – and a hot glue gun.
Simple DIY Bookends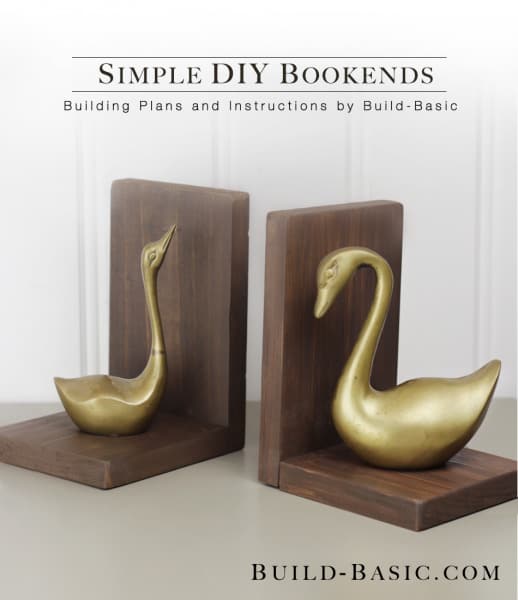 If you've got a saw and a little imagination, you can build these inexpensive, super simple DIY bookends. And when you place them on your shelves, no one will be able to tell that you didn't buy them at some high-end home goods store.
Find some scrap wood that you can stain your favorite shade, pick out some decorative items to attach to the wood – animals, etc. are great – and prepare to finish in just about half an hour.
Via Build-Basic
Gold-Painted Agate Bookends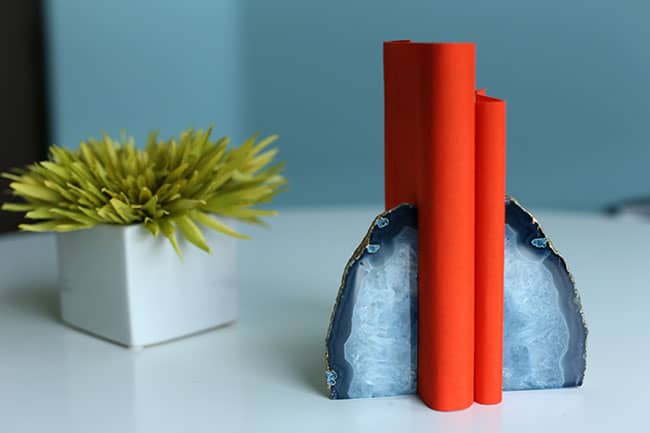 One of the biggest trends in all aspects of fashion and design in recent years has been geodes, agate, and other beautiful, polished, colorful rocks. But who has the money – or desire – to pay out four times what the stone is worth?
Instead, you can purchase some unfinished chunks of agate and turn them into your own gold-painted agate bookends. Find a local rock shop to find some you love before starting these simple instructions.
Gold Pineapple Bookends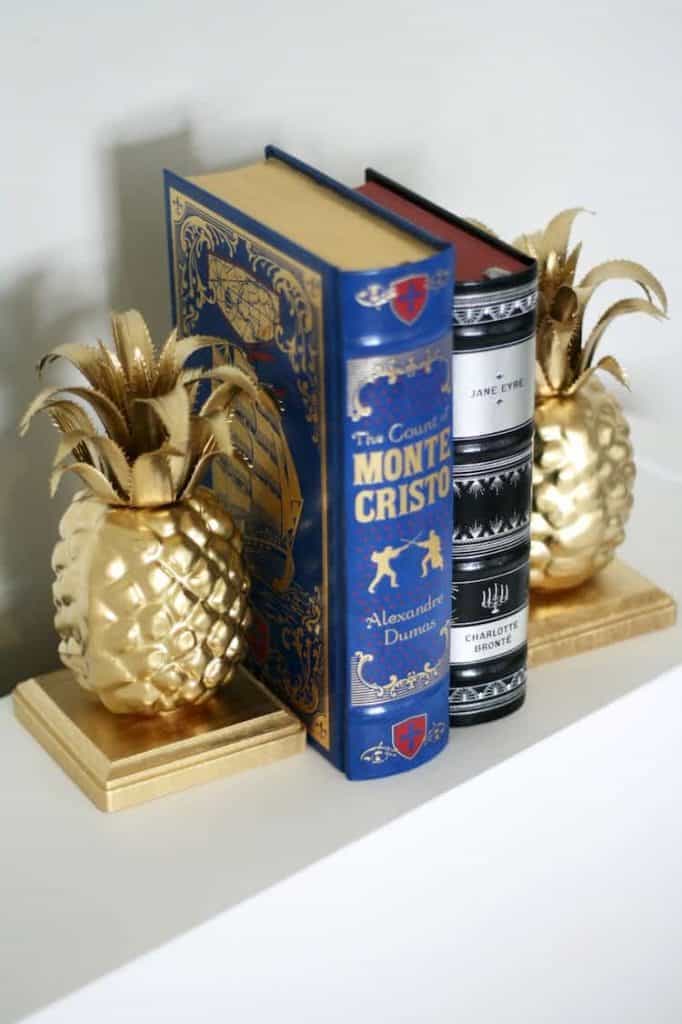 These bookends are great for both attractive complements around the home or for actual, functional bookends. You need some faux pineapples that you can add some filler to or that come solid – i.e. hardwood or hollow plastic you can fill – so that they can keep your books upright.
You'll need some wood pieces and some spray paint the color you want the pineapples. Plus, a glue gun.
The instructions are super simple. The supply list super cheap. And they look amazing. Win-win-win.
Via DIY Candy
Vinyl Record Bookends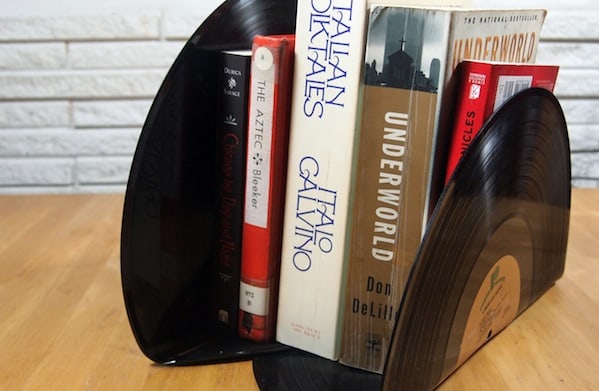 These adorable vinyl record bookends allow music lovers to merge their passion with the amazing music they adore. They're pretty simple to make, too, which is always amazing.
Group provides these instructions on how to make them, and specifically how to make them without burning yourself handling the hot vinyl. And they're so easy that non-crafters can make them.
All you need is two vinyl records, a flat bottomed heat-resistant pan, a flat wood surface, some oven mitts, and boiling water.
Via Groupon
Coral Bookends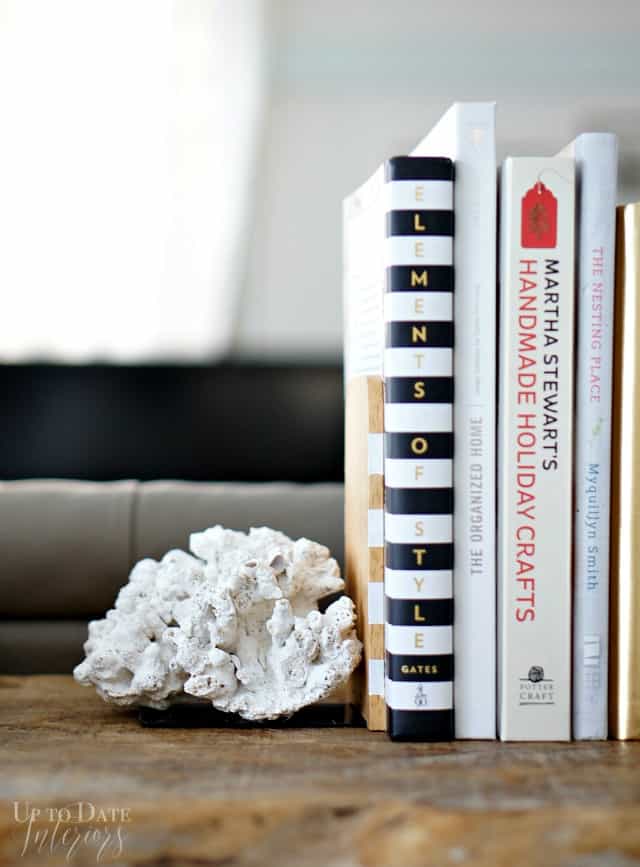 These bookends cost more in gas to find supplies than the supplies themselves. And they only take 10 minutes to construct. If you live near the beach, you'll probably already have some coral on hand that you can use for this one. If not, though, you can easily find some pieces online or at the local craft store.
You just need some dollar store bookends and some hot glue for the rest.
Felt Rhino Bookends

If you can sew, these incredibly adorable little felt rhino bookends are going to be a breeze. They're made from a few different colors felt, some thread, a needle, cotton pellets, wire, dry lentils or beans, embroidery floss, and some little black pearl beads for the eyes.
Follow the visual tutorial for the step-by-step actions, and in one afternoon you'll have these adorable stuffies keeping your books in hand. They'll be great for the kids' room, classroom, office, or anywhere else.
Via Hot DIY Tutorial
Picture Frame Bookends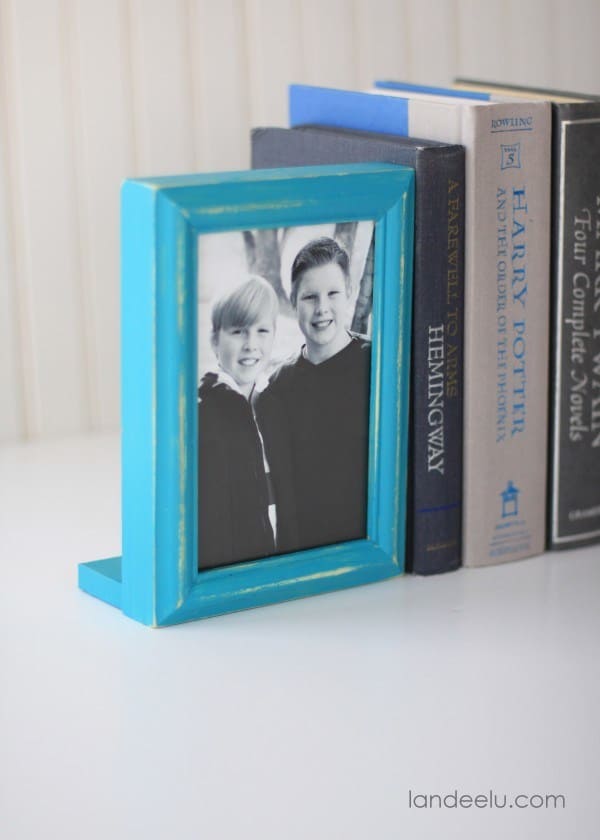 If you're a photo lover, then these picture frame bookends are going to be your top pick. They're practical and decorative, plus they're more solid than some other bookends and actually keep the books in place on a shelf, piano top, or anywhere.
Snag some shadow box style picture frames to get started, then follow the step-by-step tutorial to figure out the whole process. It won't take long, and they don't cost much. And they're super easy, so pretty much anyone can make them.
Via Landeelu
Bookends For All
From woodblocks to old books or toy horses to shadowboxes, the supplies on these bookends crafting lists are easy to find and inexpensive, but they result in some really cool bookends.
Be sure to choose an option that will be heavy enough for the books you're planning to keep upright with them – i.e. don't go for the uber decorative lightweight ones if you're planning to keep those med school textbooks under control. And always have with experimentation as you work with the plans.
Your DIY bookends will probably look just a little different from those in the photos, and that's a good thing.