24 DIY Shadow Box Ideas in 2023
Whether you're collecting memorabilia for a family event like a wedding or you want to add some interesting décor to your home, a shadow box is a fabulous way to show your character and values.
For that reason, we've gathered a bunch of different options for doing this. Some are bright and cheery. Others are whimsical and wispy. Some vintage and elegant. But all make for a brilliant way to display things that mean a lot to you, your kids, or your friends.
Easy Access Wood Frame Shadow Box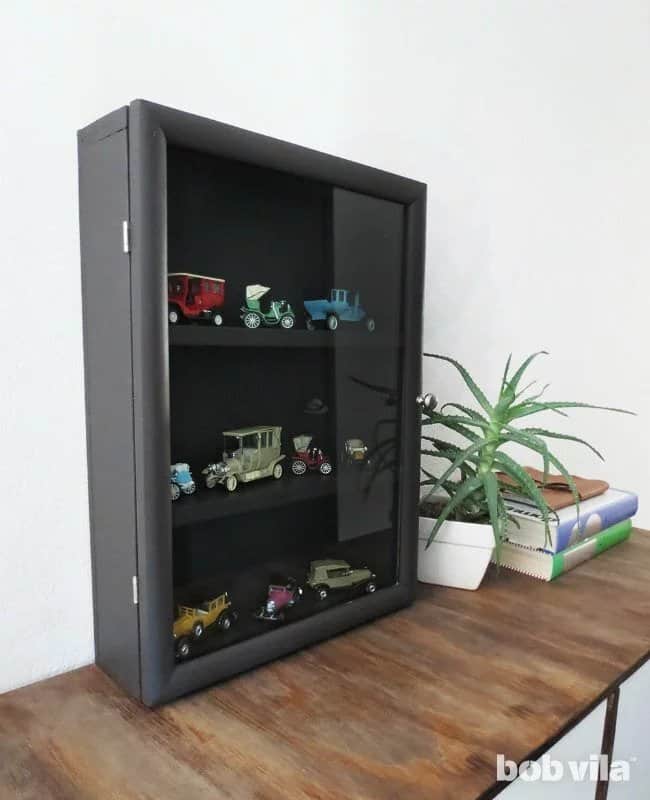 This easy access wood frame shadow box is a lovely way to add some rotating décor to your home. After you build it, you can fill it with items you've collected, unique knick-knacks, memorabilia from travels, or anything else.
And then, because of the easy access point – i.e. a hinged door – you can easily rotate items out for any season. You may want to make this a feature point in the family room and work your way through holidays, birthdays, and other special events.
Via Bob Vila
Rustic Graphic Shadow Box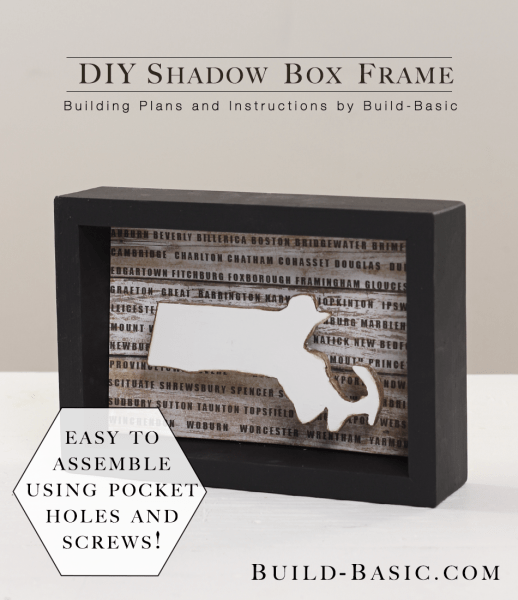 This one's for the folks who love a unique, interesting design with a vintage rustic look to it. You'll just need a few boards, some graphic paper from your local Hobby Lobby or Michael's, and a jigsaw.
As-is, this is an intermediate project, thanks to the cutting. Assembly's easy but cutting out that state is a bit difficult. So, if you can find a state cut-out already – or some similar object as your focal point – anyone can do it, really.
Via Build-Basic
Wide Frame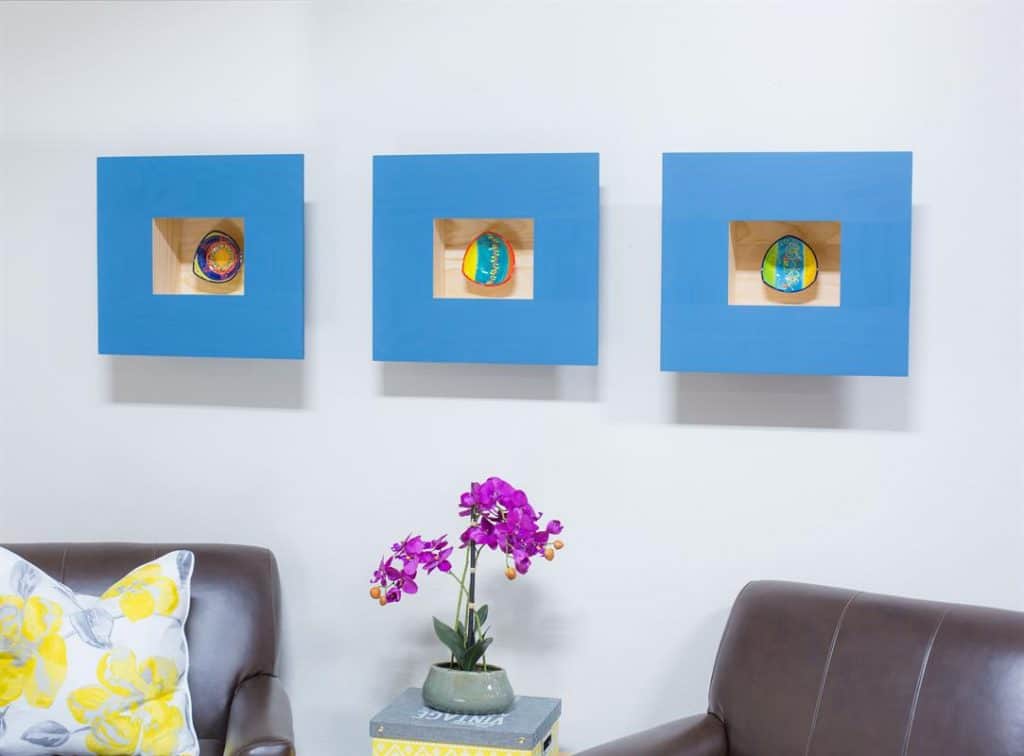 A collection of three shadow boxes with a wide wooden frame comes from this project instructions. They're a super stylish, reasonably easy to make option that adds some color and unique décor to any room.
The tutorial gives you all the steps for creating these stylish boxes to dress up that wall. You can easily collect together a few small mementos for the boxes, construct them in an hour or two, and then, voila – perfect memorabilia boxes with a twist.
Via Build Something
Large Frame Custom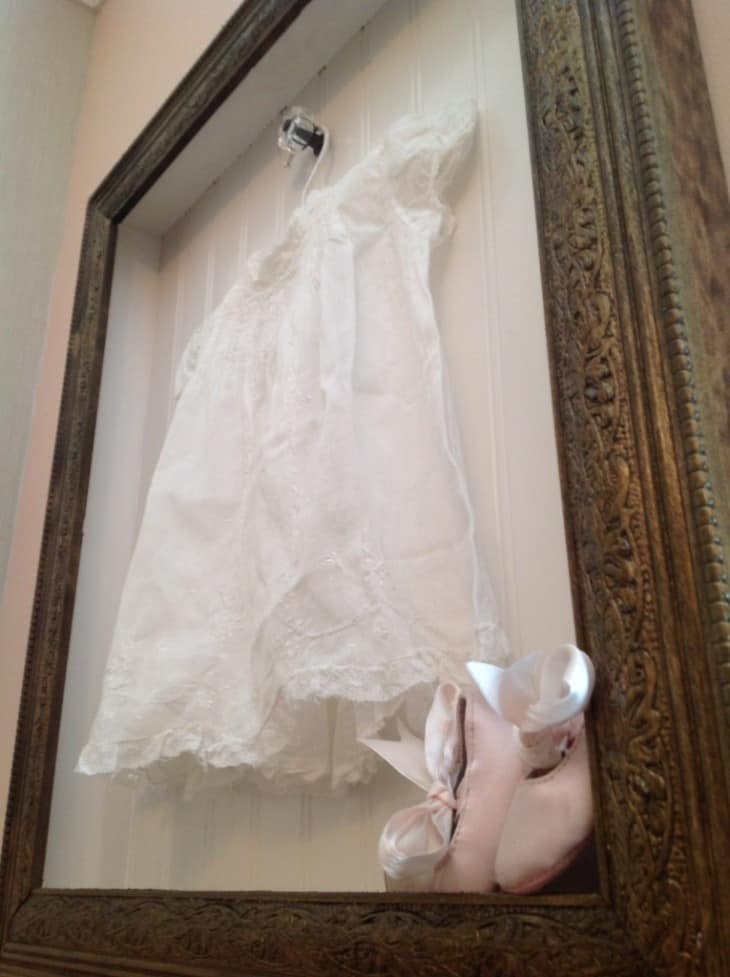 This unique project is a large-frame custom built shadow box that takes old decorative trim to bring to life a safe, attractive spot for your larger memorabilia and mementos. It's perfect for jerseys, christening gowns, uniforms, costumes, or anything else on the larger size that you just can't bear to keep in a closet.
You'll need some power tools – a jigsaw, drill, and circular saw – and some decorative trim and basic supplies to pull it off.
Via Rogue Engineer
Multi-Cubby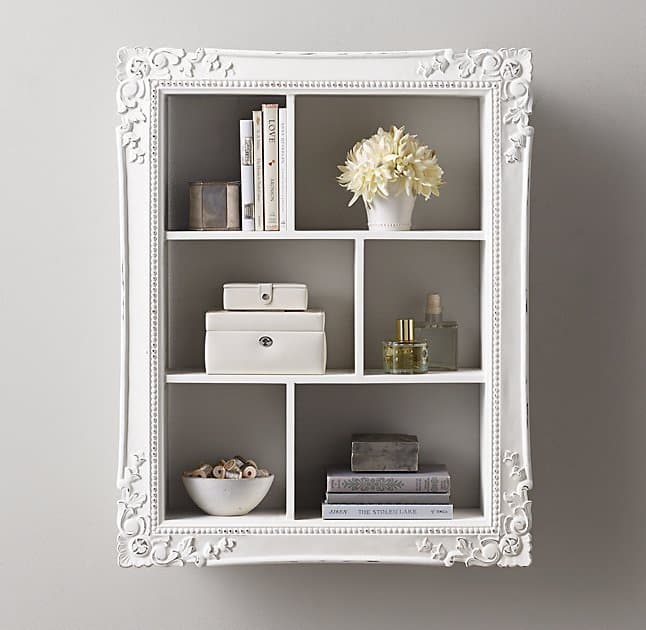 This is the perfect project for anyone looking for a mid-sized to large shadow project with an open feel. It's got four cubbies in the design and uses an old frame to create this decorative space for your knick-knacks, small houseplants, or favorite memorabilia.
It's a fairly simple project, so almost anyone can make it, if you've got a saw and hammer. You'll need that frame, some pine boards, wood blue, and a sander, as well.
Via Making Joy and Pretty Things
$3 Dollar Store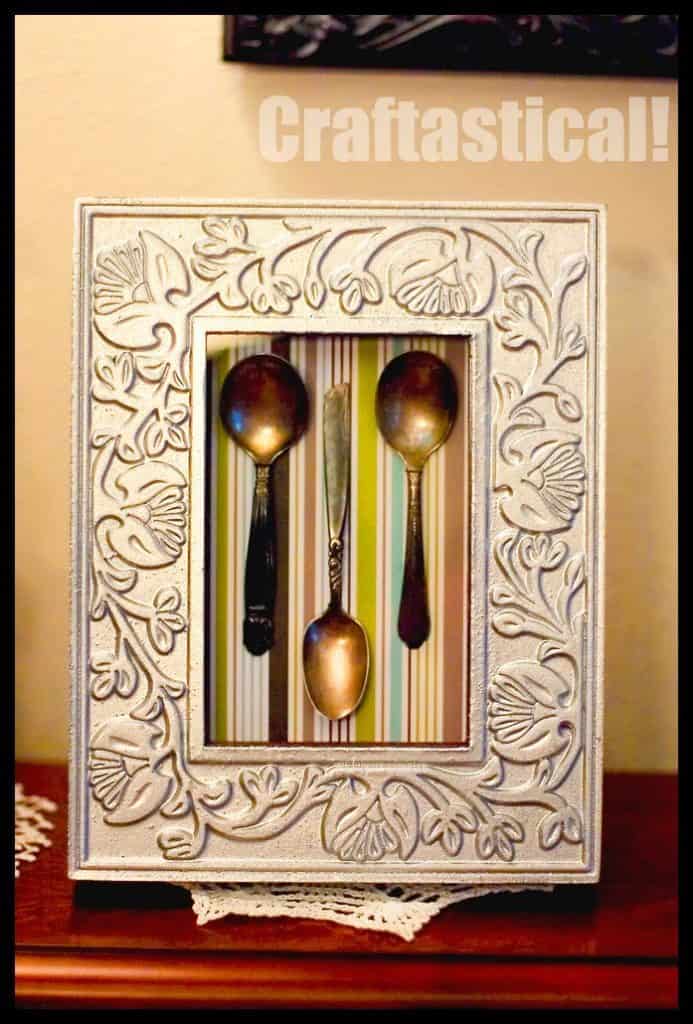 The super thrifty will love this one. You just need some dollar store frames, some wood glue and wood filler, spray paint, scrapbook paper, and your choice of objects to frame. You're likely to already have several of the supplies on hand, so it might not even cost you the whole $3 to build.
So, grab those $1 frames and get to work to create as many of these beautiful, easy shadow boxes as you could possibly want.
Via Craftastical
Cottage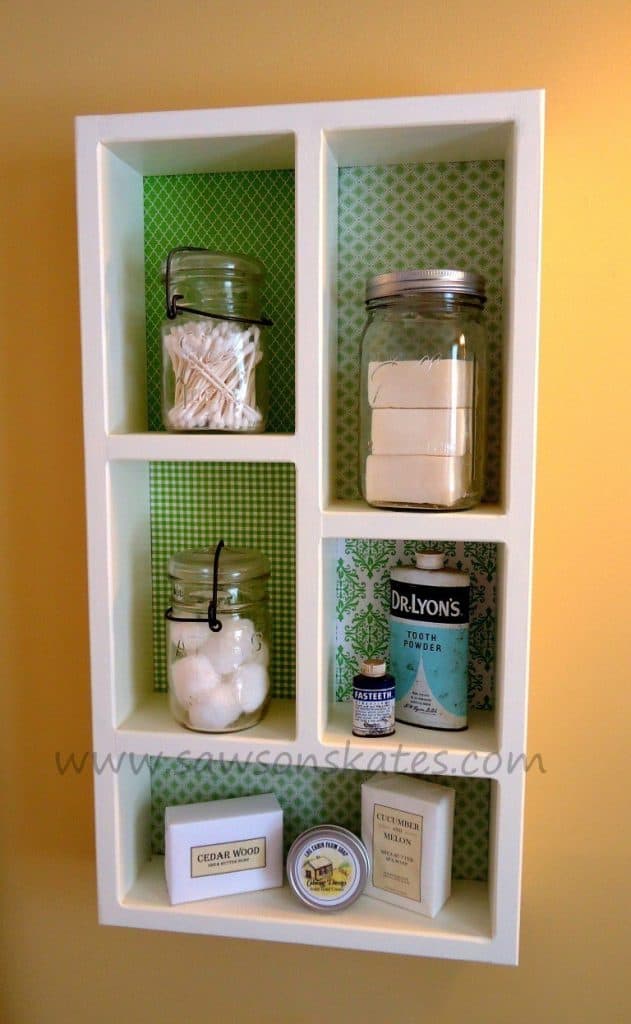 This simple, modern yet old-fashioned feeling shadow box is easy enough to build in an afternoon. It's tall, so it's perfect for things like hiding electrical outlets in awkward places or including loads of goodies to display. Plus, it's super easy to build.
One extra nice thing about this one is that there's no back, so you can line the back with double-sided tape to insert in seasonal scrapbooking papers to change up the look for holidays, seasons, or as you change the colors of the room it's hanging in.
Via Saws on Skates
Grid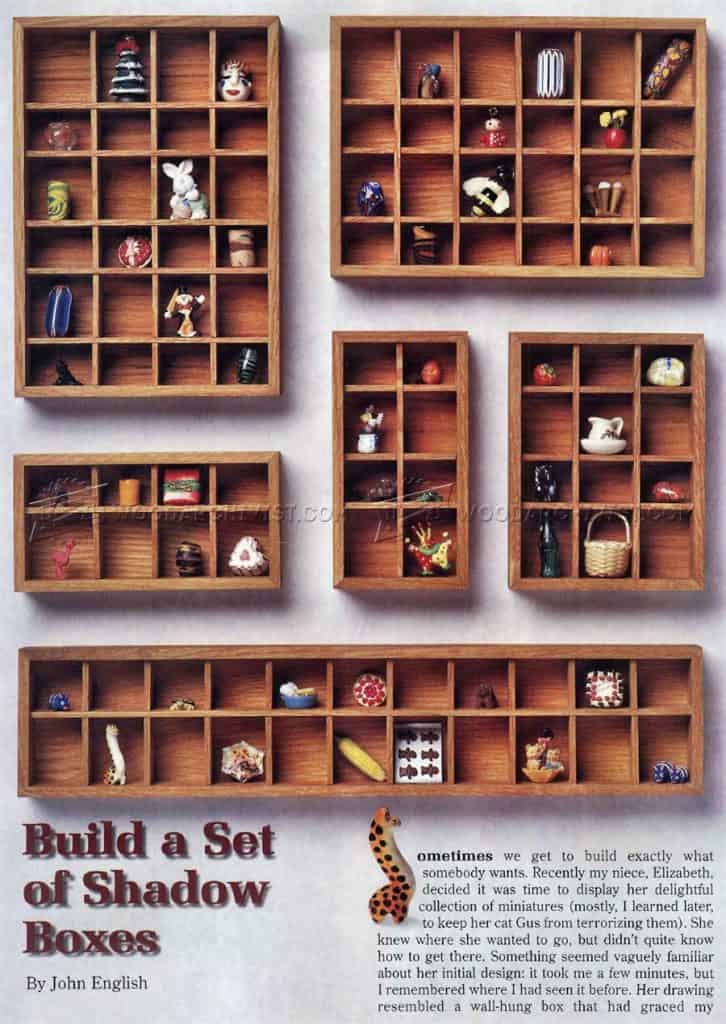 This one's great for anybody with a collection of many items that should be displayed together. This design can be used to create giant grids, mid-sized grids, or even small ones to hold as many – or as few – items as you need them to.
The instructions are fairly easy to follow, but you'll need to keep your computer handy as they're actually part of an old archived magazine.
Via Wood Archivist
Light Up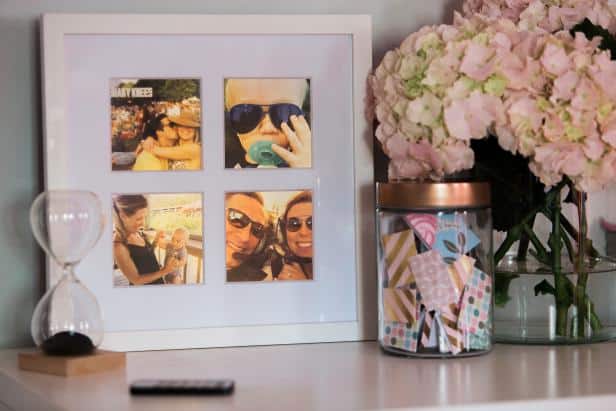 Have something that needs to be lit up while on display? Then this one is for you.
You'll use an existing shadow box frame – take your pick from the many on this page or just buy a pre-made one – some photos you love, clear tape, and battery-operated LED lights with a remote to create this fun addition to your home décor.
Just follow the easy instructions and in less than an hour or so, you'll have those memories all lit up.
Via HGTV
Shadow Box Wall Art Pieces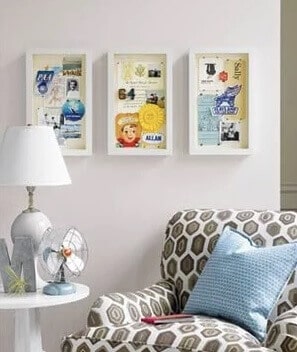 This particular design for shadow boxes is more about helping you decide what to put into your shadow boxes. Follow the slide show for all the steps and details for this simple craft project that's perfect for capturing your childhood memories or wedding artifacts.
You'll simply need some pieces that you cherish, a pre-made shadow box, some glue or double-sided tape, and an hour to take this idea and let it run away with your imagination.
Via Real Simple
Shadow Box Bank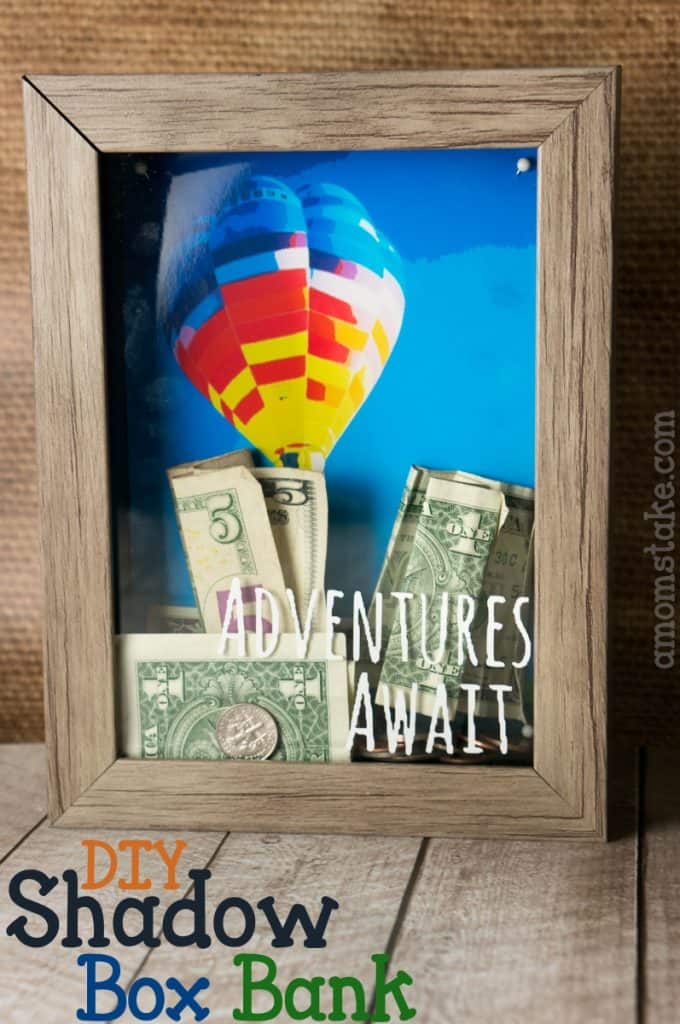 For a custom twist on the shadow box concept, you can turn this into a piggy bank for the kids, a special project you want to save for, or anything else, really. You'll just need to gather a few basic items after creating a shadow box frame from one of the other tutorials – or buying one.
This tutorial gives clear, distinct ideas on how to decorate and how to convert a shadow box into a bank in just a few simple steps.
Via A Mom's Take
Cardboard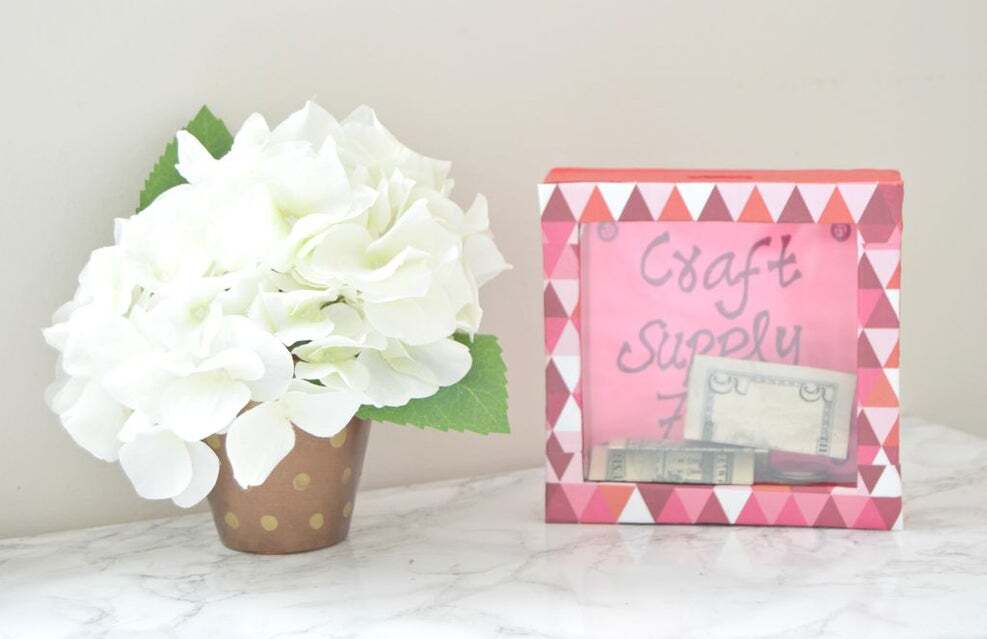 When you can't find a shadow box the right size for your project, this tutorial is perfect. In fact, it was designed specifically by someone who simply couldn't find the right size and shape for her own goals. So, she's sharing her simple, easy-to-make design with you.
Anyone can make this shadow box, even the least handy of us. You just need some tissue paper, a cardboard box, scrapbook paper, Mod podge, and a glue gun.
Via Instructables
Holiday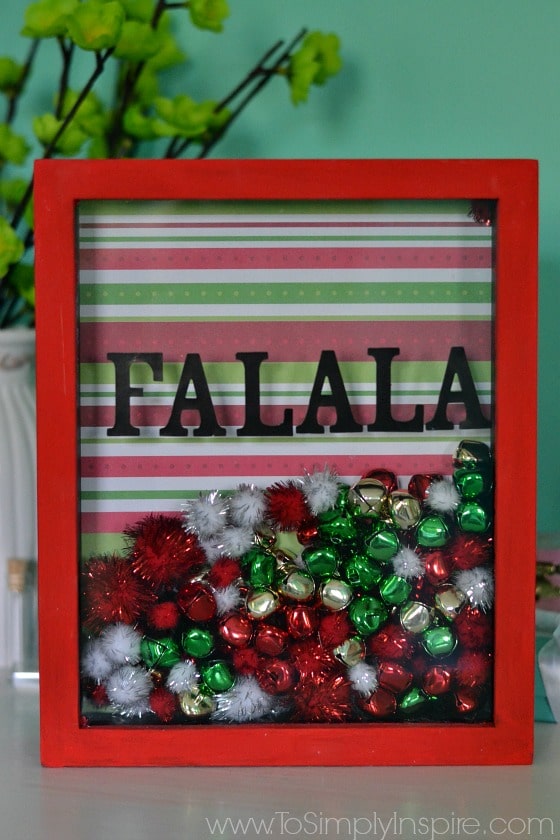 It's time to decorate for the holidays! So grab a pre-made shadow box frame, or make one for yourself from one of the many tutorials above, and get out those paints, Holiday cardstock, and fun ornaments you want to display.
This holiday-themed shadow box is super easy, by the way, and makes for the perfect holiday project to do with the kids, at a party, or just on a snowy afternoon.
Simple Travel-Themed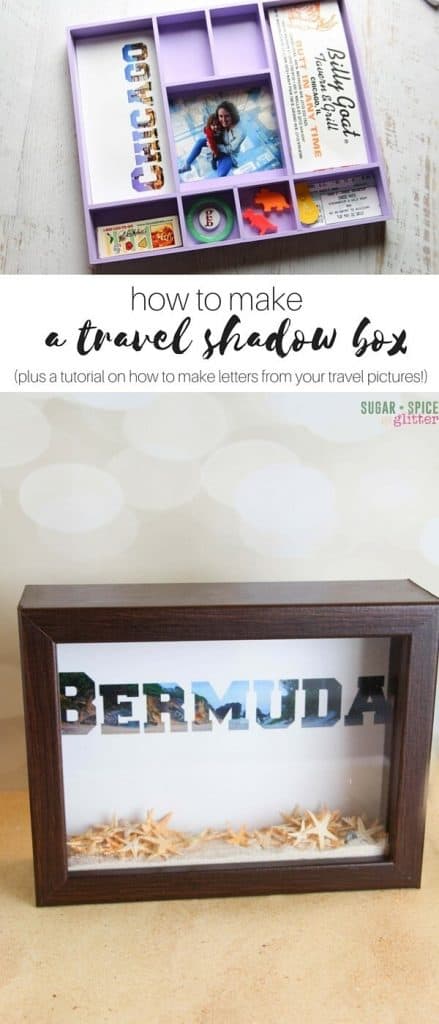 The world-traveler will love this one, especially the busy one who wants to display her travels but is super busy doing the traveling. It's simple, easy, and super quick, and turns out a gorgeous display of your best traveling mementos.
Gather up your favorite postcards, photos, keychains, and other knick-knacks, and pull out your double-sided tape, utility knife, mountain squares, and that gorgeous shadow box frame you love. In an hour, you'll have the perfect memory box on the wall.
Wintertime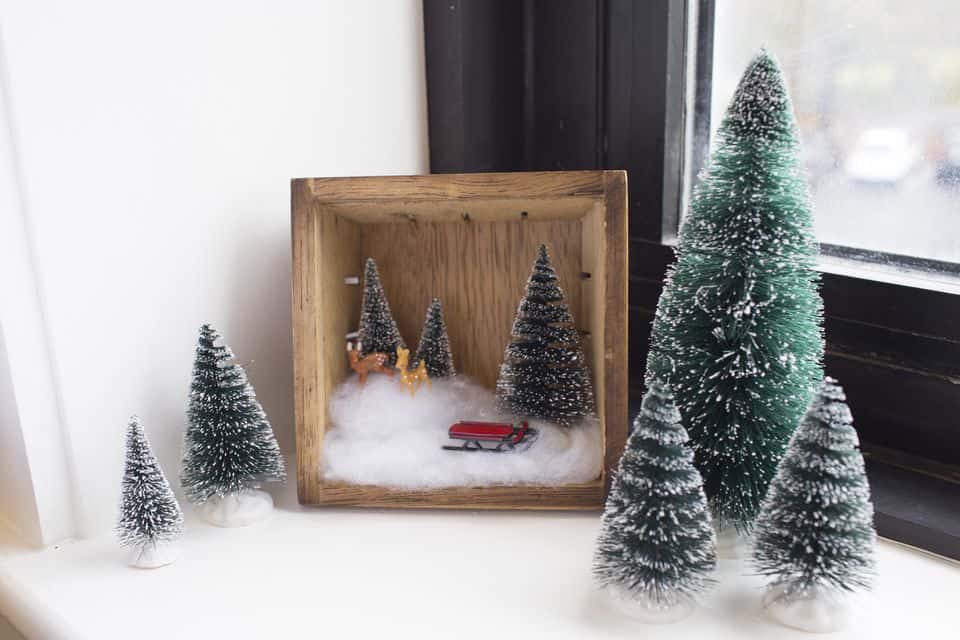 This beautiful shadow box display is a bit like those dioramas you used to make in school, only way prettier. You'll want to grab up some cute holiday décor items from your local dollar store, along with a pre-made shadow box from one of the tutorials or the Hobby Lobby.
Next, you'll follow these simple instructions on creating a wintertime scene that will look like you snagged the box from some fancy catalog.
Via Spruce Crafts
Military Display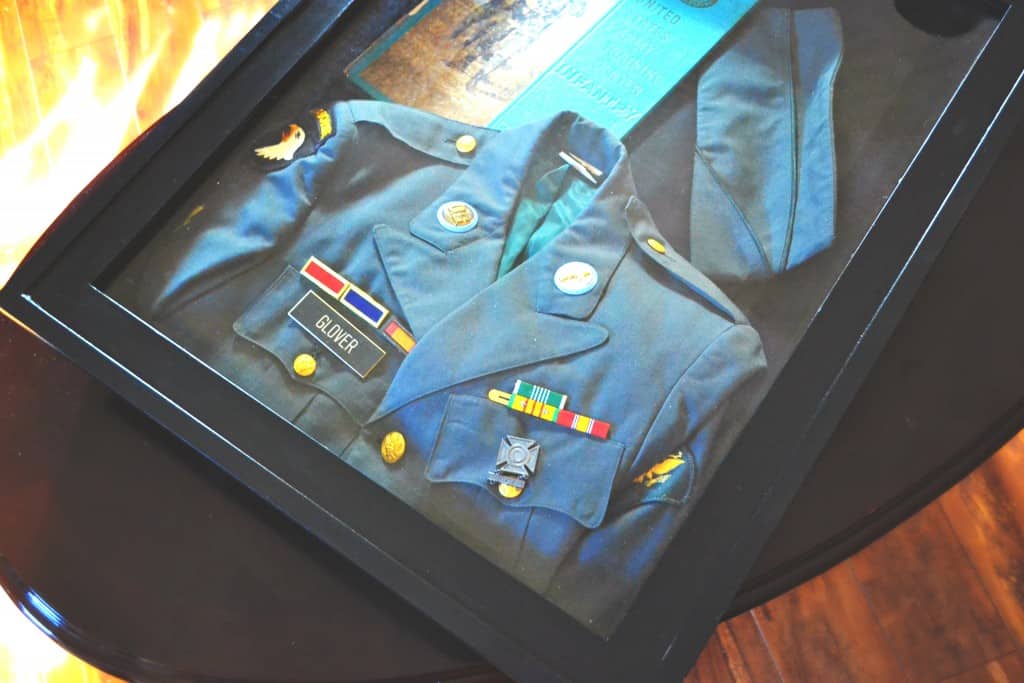 If you're looking for the perfect way to safely display and keep your military memorabilia, then this shadow box is well worth considering. The display is not only gorgeous, but it allows you to customize the size to include everything you plan to display.
You just need an old picture frame, wood, and other supplies you can find at the Home Depot and Michael's – even replacement glass if needed. Soon, you'll have a stunning memory box to keep those cherished items safe and secure.
Home Key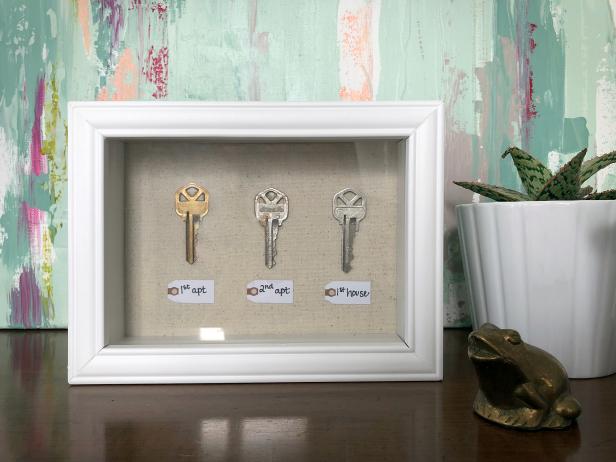 A sweet way to keep your memories over the years is by collecting some old "junk" items that you've never quite known what to do with. Like those old keys from cars, apartments, etc.
This tutorial takes you through a simple, step-by-step plan for turning those old keys into a beautiful way to display and remember your life as an adult or as a couple. Just find those old photos with addresses on them, grab some spray adhesive, and you're all sent for a sentimental treasure box.
Via HGTV
Lace, Flowers, and Music Shadow Box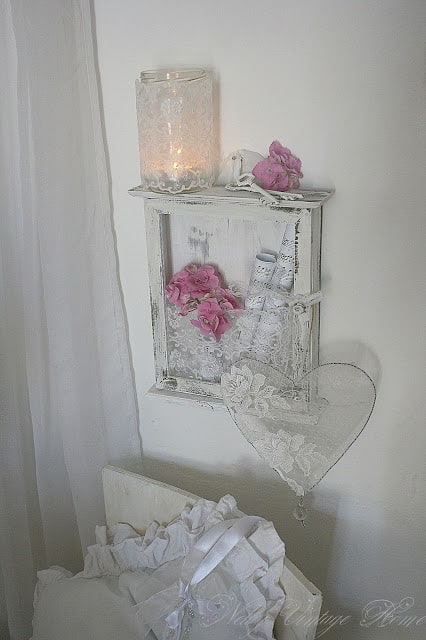 This one is a super easy, elegant option made from a few simple supplies and filled with beautiful décor and memorabilia items, depending on your taste. The instructions are more photo than written – and for us English speakers, that works well, since it's a Russian site.
You'll want to follow instructions for a simple DIY construction tutorial – or buy a pre-made shadow box – and let the photos guide you to the perfect vintage look for music lovers. Just skip the glass and use lace as your "screen" instead.
Vintage Shadow Box Décor Ideas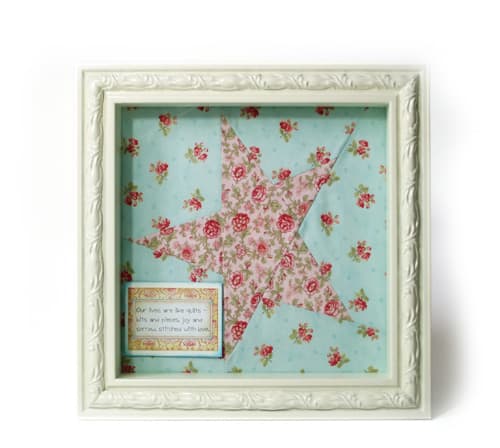 This one's not so much a singular tutorial, but rather a collection of images from a crafter to give inspiration for your own creative endeavors with shadow boxes. They list the kits they use, supplies you may need, and offer a variety of photos to seek ideas from.
The shadow boxes work with everything from vintage quilt squares to old purses and jewelry, those old family heirloom doilies you don't know what to do with, and more.
Via She's Smart
Paper Silhouette Shadow Box And Insert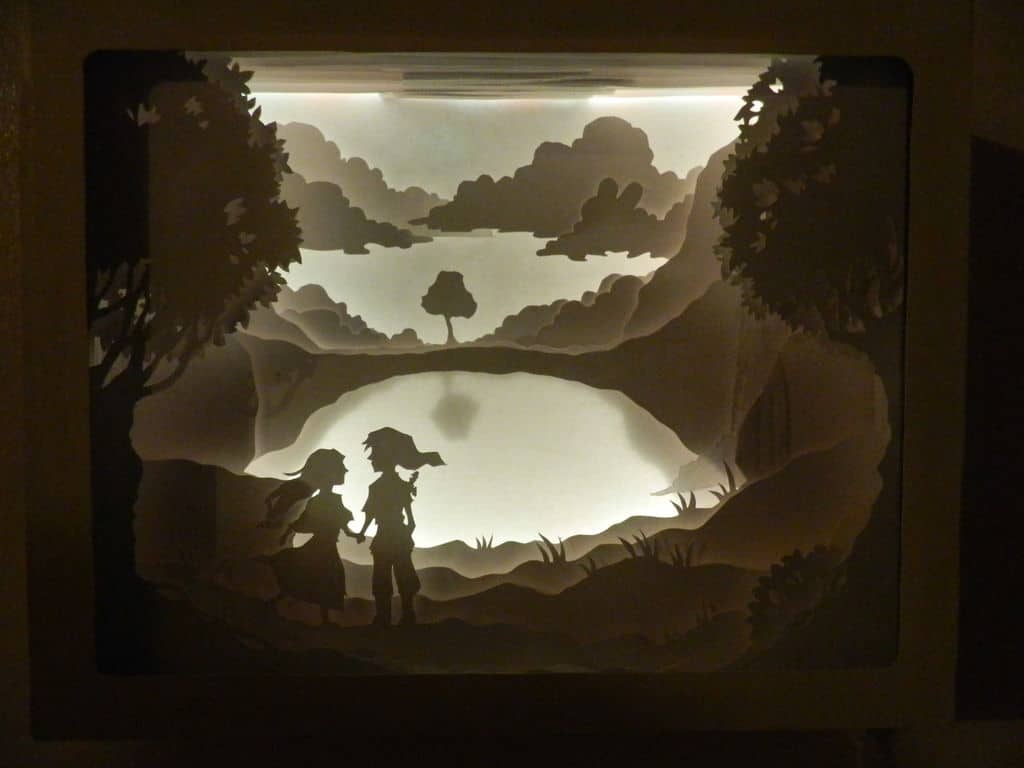 This stunningly beautiful shadow box insert is well worth the crafter's time. The instructions tell you not only how to make the shadow box itself, but also how to make this exquisite scene that you'll light up and enjoy for years to come.
The instructions are simple and clear, but they are probably more geared towards the somewhat experienced crafter. The shadow box construction, however, isn't too crazy, so patient novices can put it together.
Via Instructables
5-Layer Kitty Cat Silhouette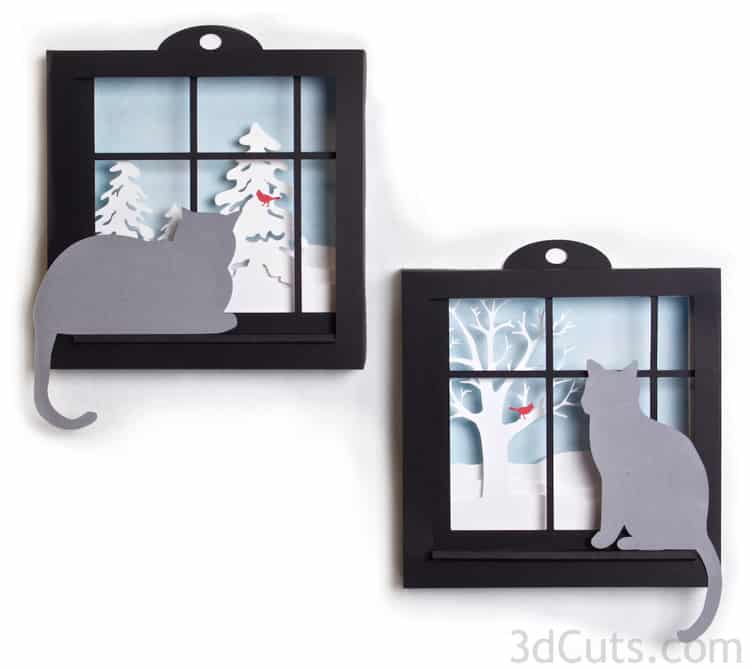 If you love cats, you'll love this adorable little kitty display shadow box. The intriguing five layers add some truly unique aspects to the design, giving it a professional artistic look, while still being easy enough that almost anyone can make it.
The tutorial works for two different designs, as displayed on the page, so choose your favorite kitty, print out the provided designs, and get started. It will take you a couple hours, tops, to create these adorable displays.
Via 3D Cuts
4-Layer Bird Silhouette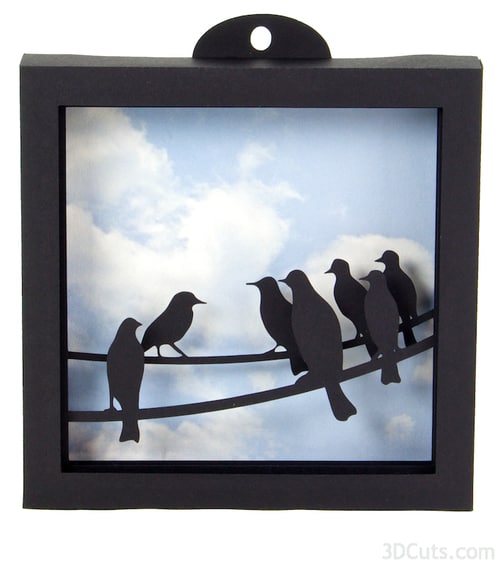 Similar in concept to the 5-layer kitty shadow box is the 4-layer bird silhouette shadow box from 3D Cuts. This is another unique cut-out design that can easily be constructed into two different shadow boxes by just about anyone.
You'll need the shadow box already made, but then with just a few simple supplies and maybe an hour or so, you'll have one – or both – shadow box ready to mount on your wall.
Via 3D Cuts
Shadow Box Coffee Table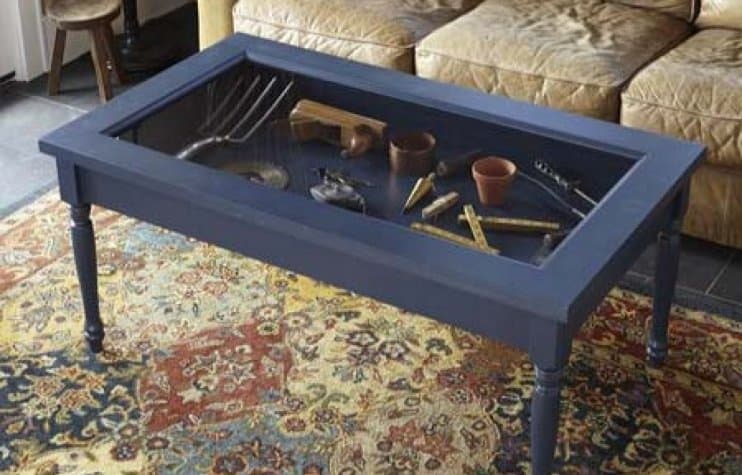 If you want something more substantial than a wall-mounted shadow box, then you'll want to look into this coffee table shadow box option. It's a large enough – and practical enough – option that you can get those old hand tools of Grandpa out of the shed or special mementos from your wedding or other special event out of the closet.
You'll need a sheet of glass along with the wood pieces and basic supplies from the hardware store. Then follow the step-by-step plan – complete with fantastic illustrations for you visual learners.
Via This Old House
Repurposed Drawer Into Shadow Box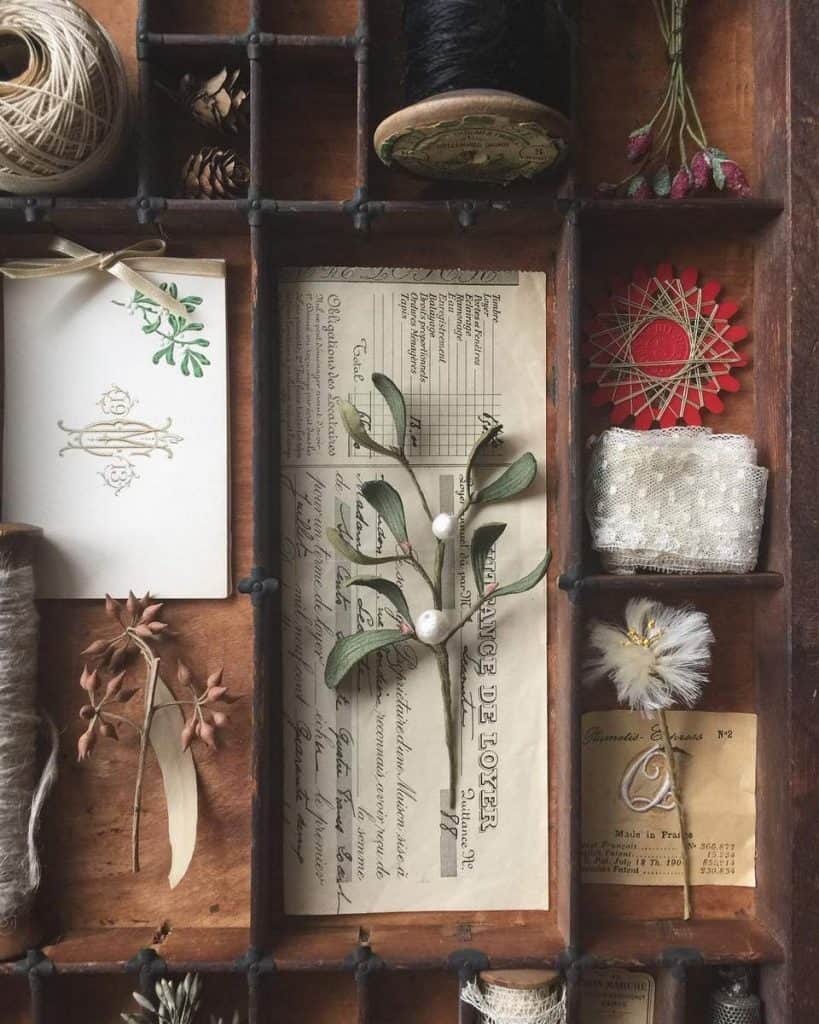 This great upcycle project is one of our favorites since it uses one of those things that so often we wind up with after cleaning out the attic: an old drawer that goes to nothing.
So, grab that drawer, some screws, burlap, corrugated cardboard, glue gun, and other basic supplies. Anybody can help with the making of it, even the kids or the less craftily inclined. And it's seriously a fantastically attractive way to display those mementos and knick-knacks without putting out much money or time.
Via Schnarr's Blog
The Perfect Way to Display Your Memories
One thing we love about these various shadow box designs is that there really is something for everyone. If you're handy with a saw, you've got some beautiful construction options you can make from scratch. If you're less handy but have an artistic eye, then the many design plans are perfect for you.
From the selection, everyone should be able to find the perfect choice for your home. We've been inspired ourselves and look forward to putting together some great Christmas gifts this week using old photos, postcards, and even a few knick-knacks from travel adventures.