30 DIY Shoe Rack Ideas To Organize Your Space
The average person owns around 20 pairs of shoes, and has to find a place to store them in their home! So, unless you have a closet like a celebrity, organization is key for maximizing your space (and making sure there's room for new shoes).
If you're not interested in buying a cheap shoe rack that will fall apart, or dropping too much money on a quality one, there are plenty of DIY options!
Big & Budget Friendly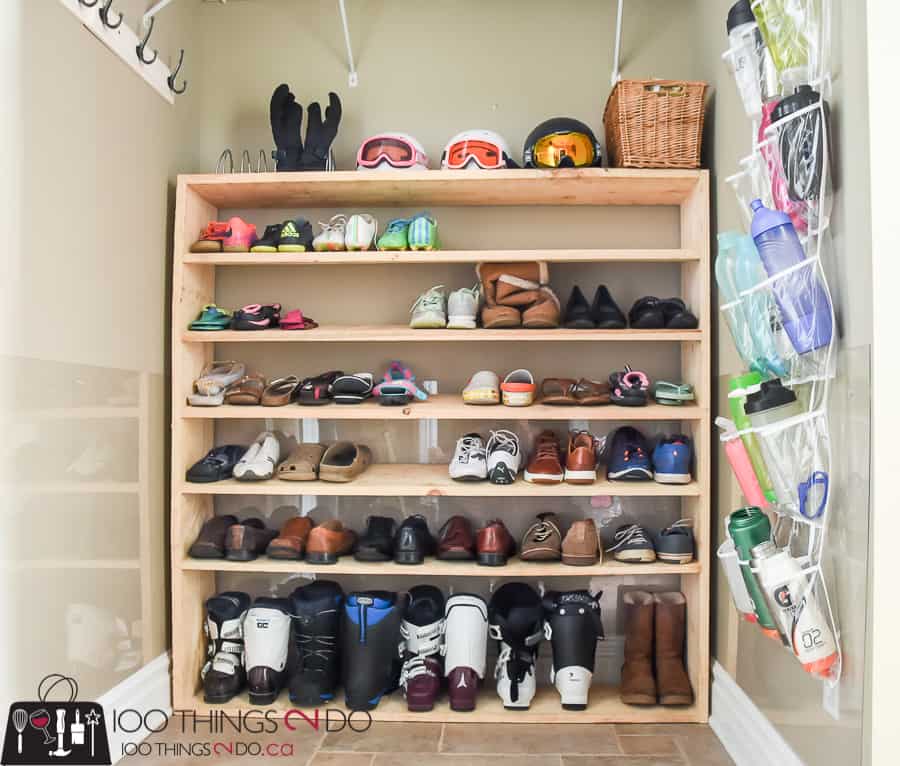 If you have more shoes than you need, but have no intention of scaling back, you'll want a big shoe rack.
This rack has all the space you need to store and showcase all of your shoes. Plus, it's easy to make! 
Super-Size Shoe Rack on a Budget by Jen Woodhouse
Colorful Shoe Rack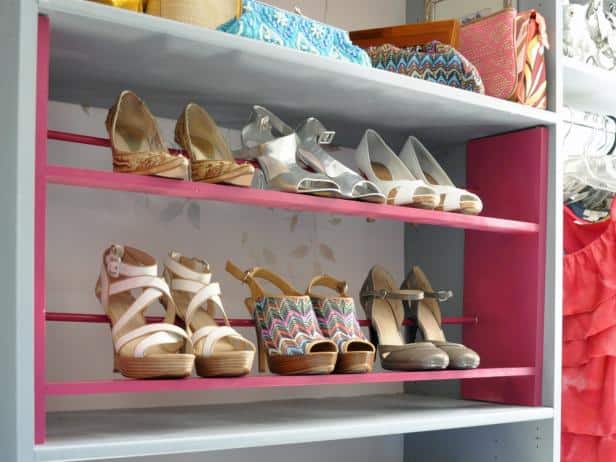 Colorful, functional, and DIY never looked so good!
This shoe rack by HGTV is perfect for anyone who loves high heels or just wants to brighten up an otherwise boring closet.
How to Build a Shoe Rack for Your Closet by HGTV
Entryway Shoe Rack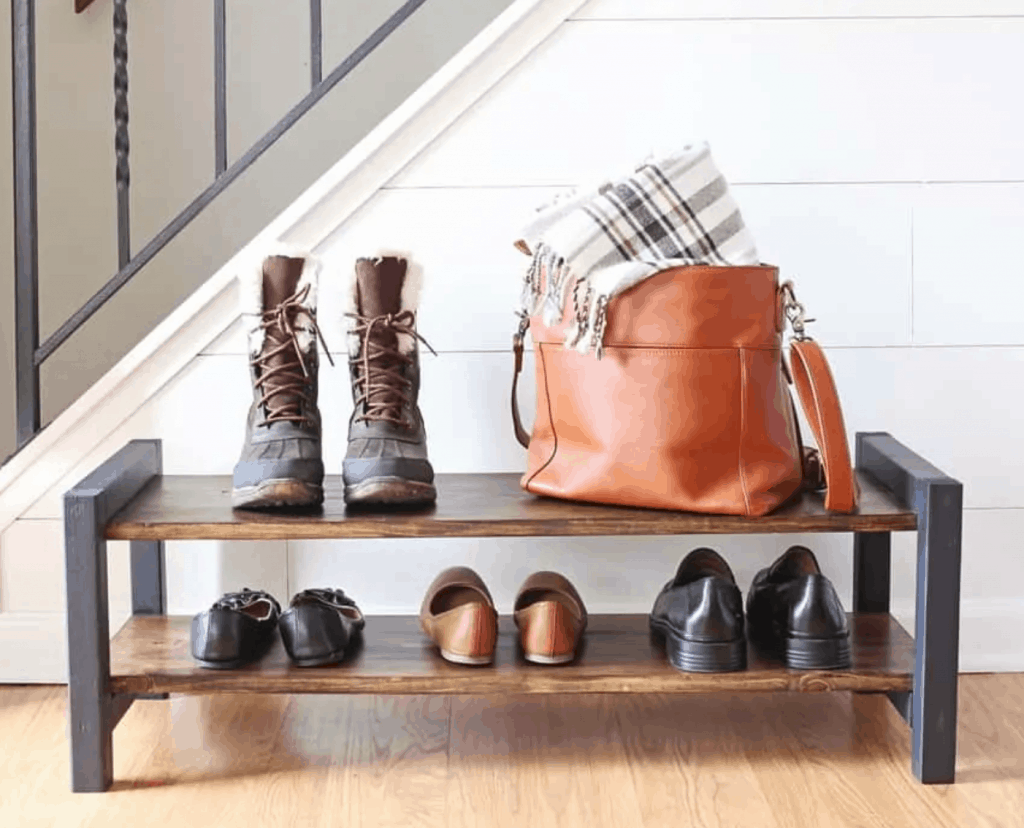 Let's face it, there's nothing as frustrating as walking in your door only to be greeted by a giant pile of shoes.
You can ease this pain by building an entryway shoe rack like this one. It's pretty, functional, and makes for a much more welcoming entrance.
Entryway DIY Shoe Rack by Angela Marie Made
Mudroom Shoe Rack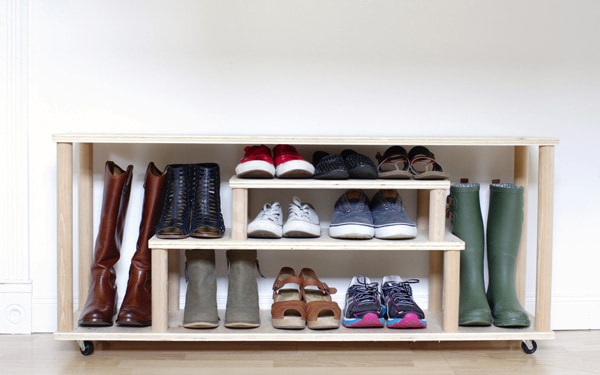 A lot of shoe racks have one problem: they don't account for all sizes and shapes.
If you're someone who has a lot of boots or high tops, this mudroom shoe rack will let you store them right alongside the rest of your shoes.
DIY Shoe Rack by Home Depot
Hexagon Rack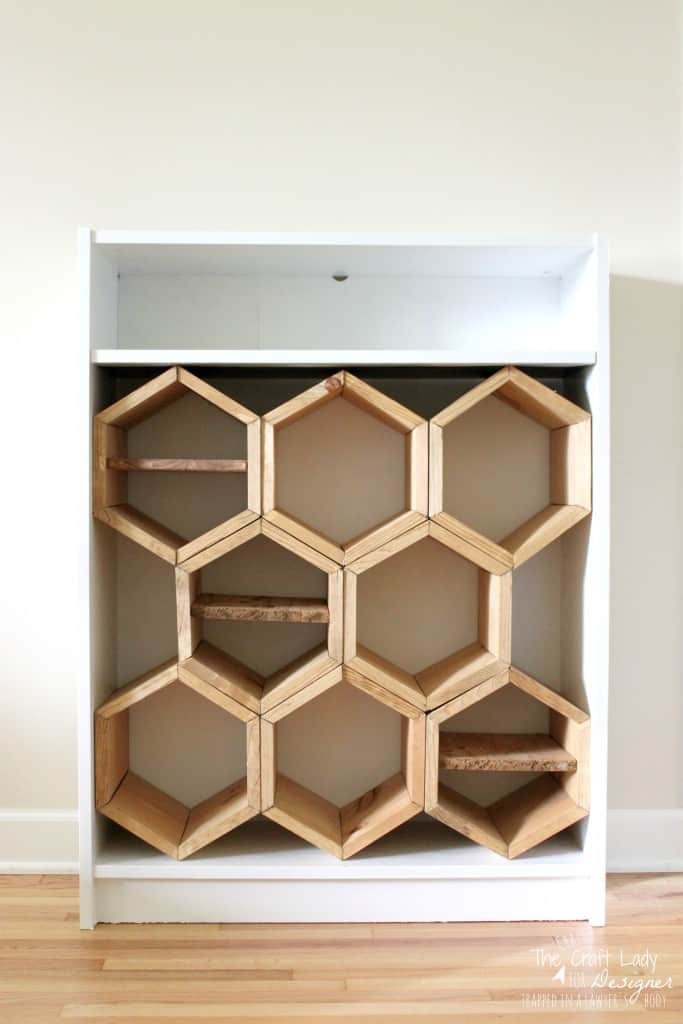 If you're not into basic straight lines, this hexagonal shoe rack is both visually appealing and functional.
You can learn how to make this unique shoe rack through the blogger's website.
Hexagon DIY Shoe Rack by Kalidescope Living
Simple Shoe Rack
A basic shoe rack is a great option for anyone who has a few pairs of shoes, and doesn't need anything fancy.
This shoe rack is super easy to make, and perfect for someone just geting into DIY projects.
5-Step Shoe Rack by Instructables
Space & Money Saving Shoe Rack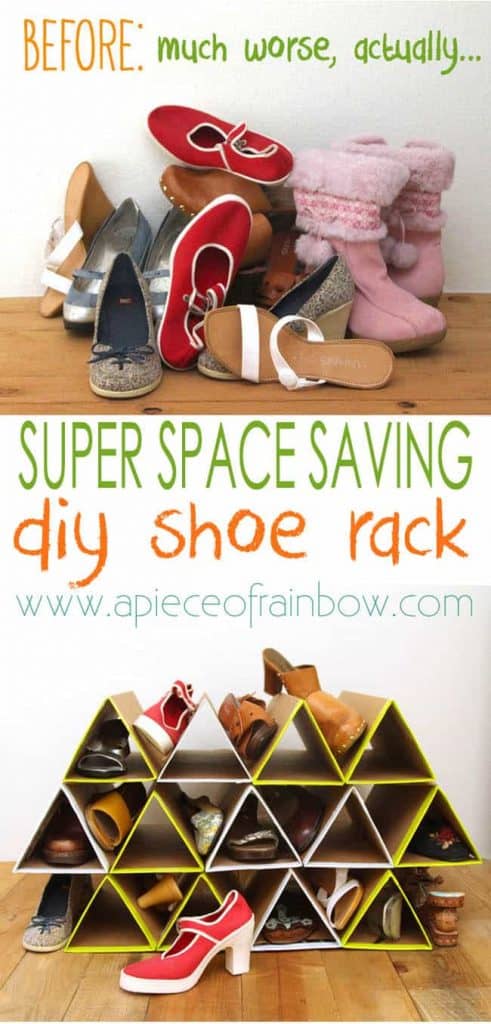 If you don't have a lot of space in your home, a compact shoe rack will store a lot of shoes without taking much storage real estate.
This rack does all of those things, and all you need is some cardboard to make it happen!
Super Space Saving DIY Shoe Rack by A Piece of Rainbow
Scrap Wood Shoe Rack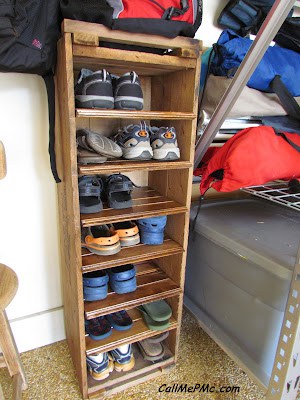 For small spaces, it's always best to use height to your advantage when it comes to storage.
This tall and skinny shoe rack does just that, and it was made completely by scrap wood!
DIY Shoe Rack from Scrap Wood by Call Me PMC
Three-Tiered Rack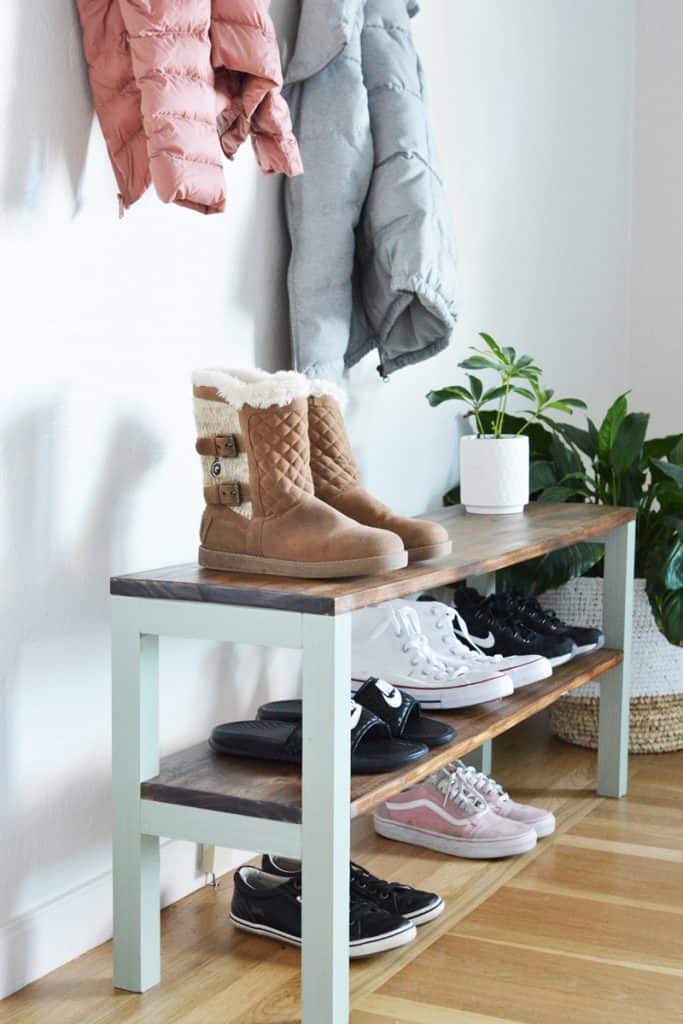 Whether you put this in the entryway or mudroom is up to you, but it's too pretty to just go in a closet!
This three-tiered rack is great for storing your go-to shoes so you can get out the door in a flash.
DIY Shoe Rack by Centsational Style
Tight Space Shoe Rack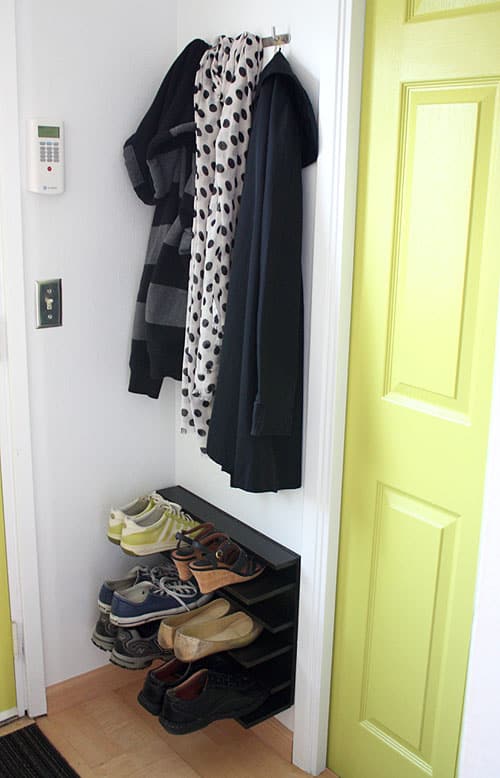 If you have a small closet, or space in your home, you can add a "floating" shelf to create a shoe rack!
This blogger created a make-shift coat closet in an otherwise unusable space in her home, and it turned out great!
DIY Shoe Rack For Tight Spaces by Not Martha
Minimalist Shoe Rack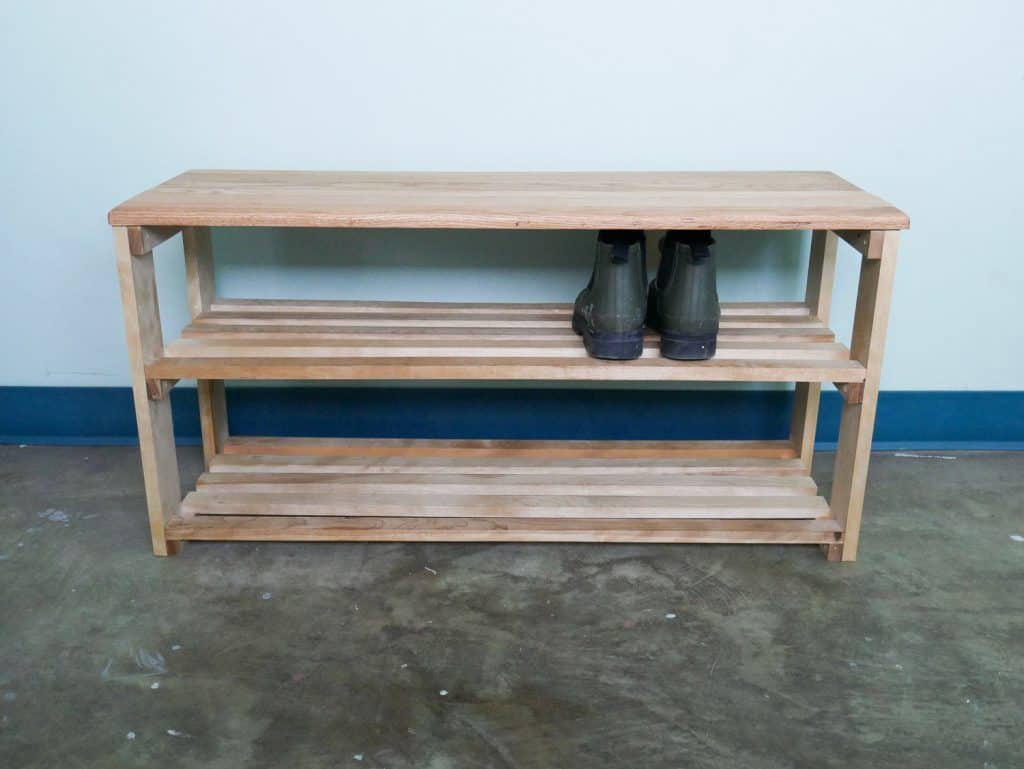 Shoes are muddy (or at the very least, dirty) so they don't really need a fancy spot to be stored.
You can make this simple, minimalist shoe rack for that purpose. It's not fancy, but it does the job.
DIY Shoe Rack by The Green Project
Shoe Rack Made From Hangers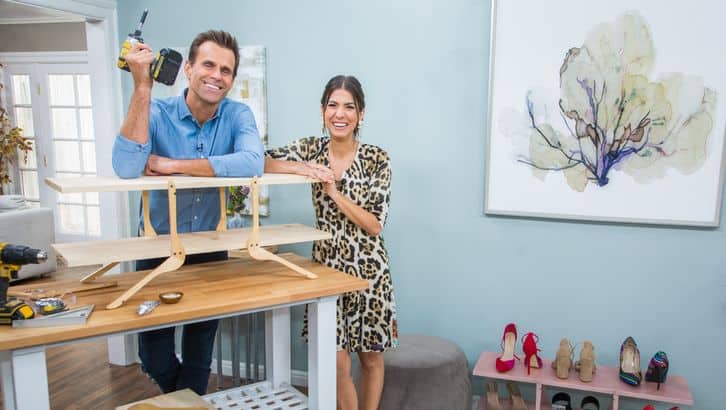 It's always fun to find creative ways to use everyday objects – like clothes hangers!
If you have some wood hangers laying around, you can use them to make a unique, but fun shoe rack!
DIY Clothes Hanger Shoe Rack by Hallmark Channel
Hanging Shoe Rack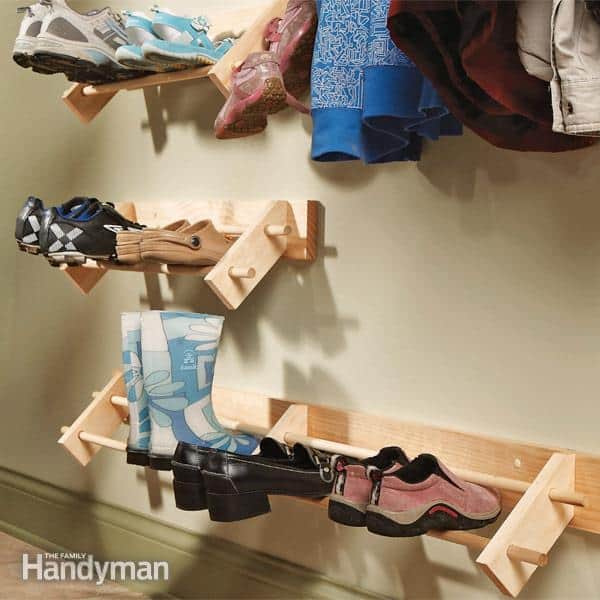 Closets are designed for clothing storage, which often doesn't leave much room for shoes.
If you have a bare wall in your closet, use it to mount these DIY hanging shoe racks! It's a great use of space and will keep your shoes off the floor.
Build a Shoe Organizer by Family Handyman
PVC Pipe Rack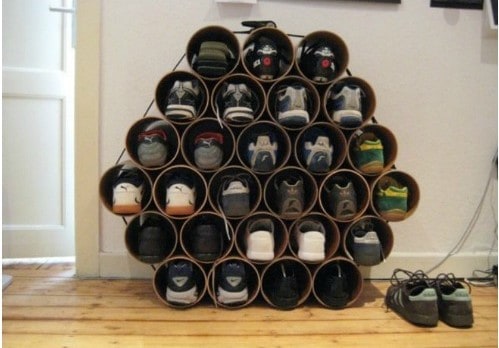 This shoe rack will give you a dedicated spot for each shoe, and will look good doing it.
You can recreate this shoe rack using PVC and a few other materials. Easy and aesthetically pleasing!
DIY Shoe Rack by PVC Fittings Online
Wire Rack Shoe Storage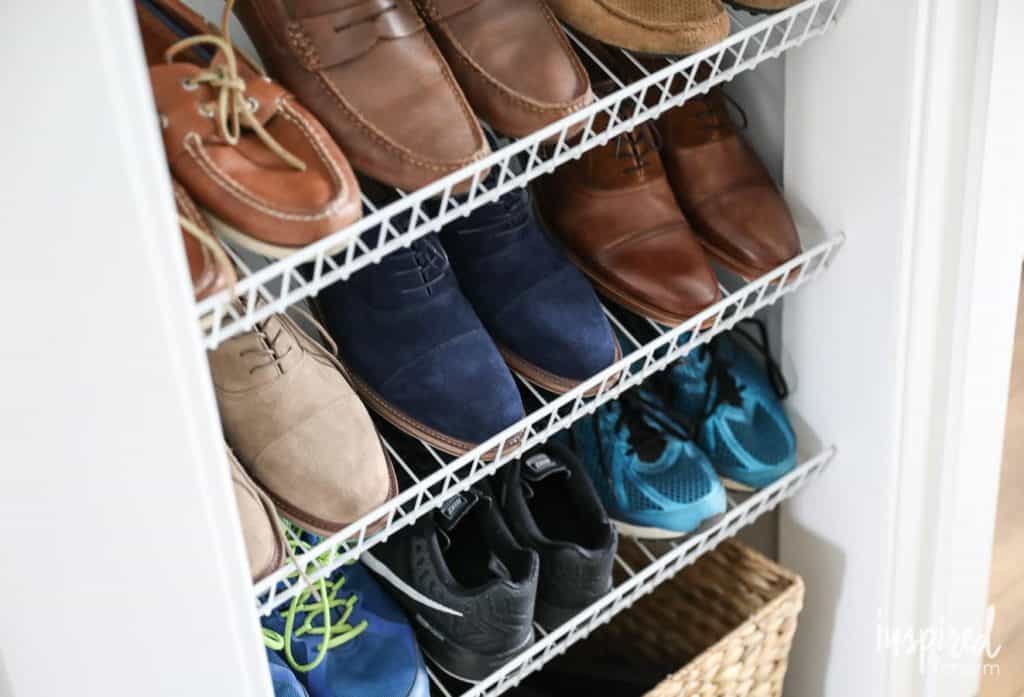 For anyone who isn't into woodworking, DIY projects can sometimes feel overwhelming. But this shoe rack requires no woodworking skill!
Head to your local hardware store and pick up some wire racks that will fit your closet, and you have just about all you need to make this shoe rack.
DIY Shoe Storage by Inspired by Charm
Wall Mounted Shoe Rack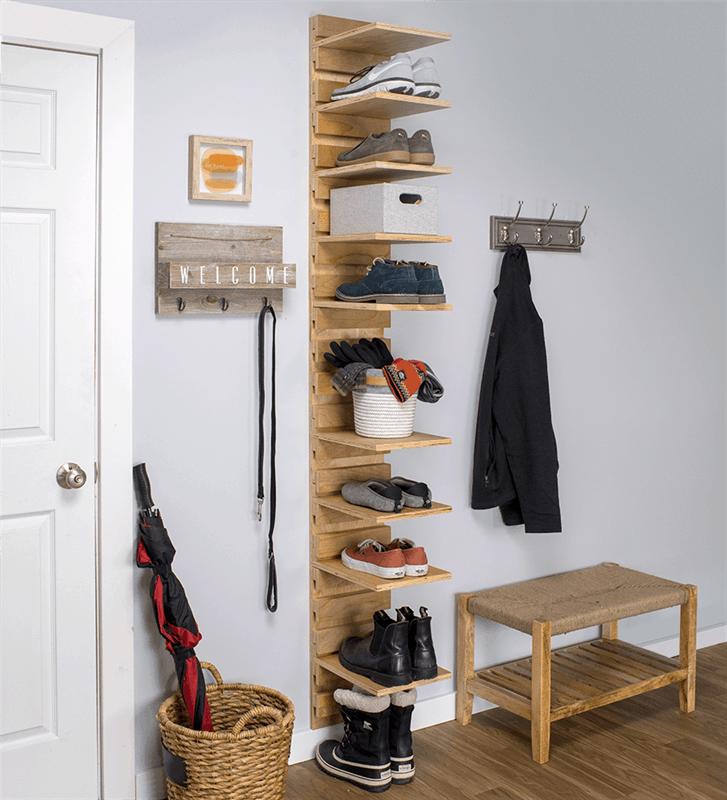 You can easily double this shoe rack as an accessory rack as well (assuming you don't fill it up with all of your shoes, of course).
A wall-mounted shoe rack is a great way to keep things organized and maximize space. Plus, this one looks really cool.
Wall-Mounted Shoe Rack by Build Something
Funky Shoe Rack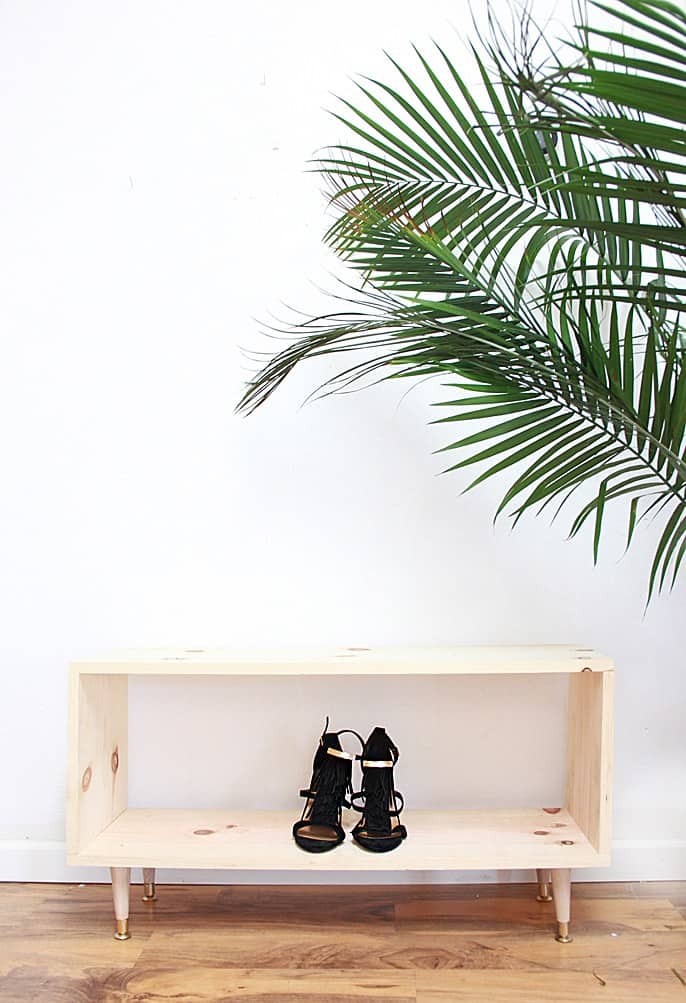 Who says a shoe rack has to be boring?
This rack is made to mimic mid-century modern furniture, and it looks great while doing it! This is one of those racks you definitely don't want to hide away.
DIY Wooden Shoe Rack by A Bubbly Life
Shoe Storage Bench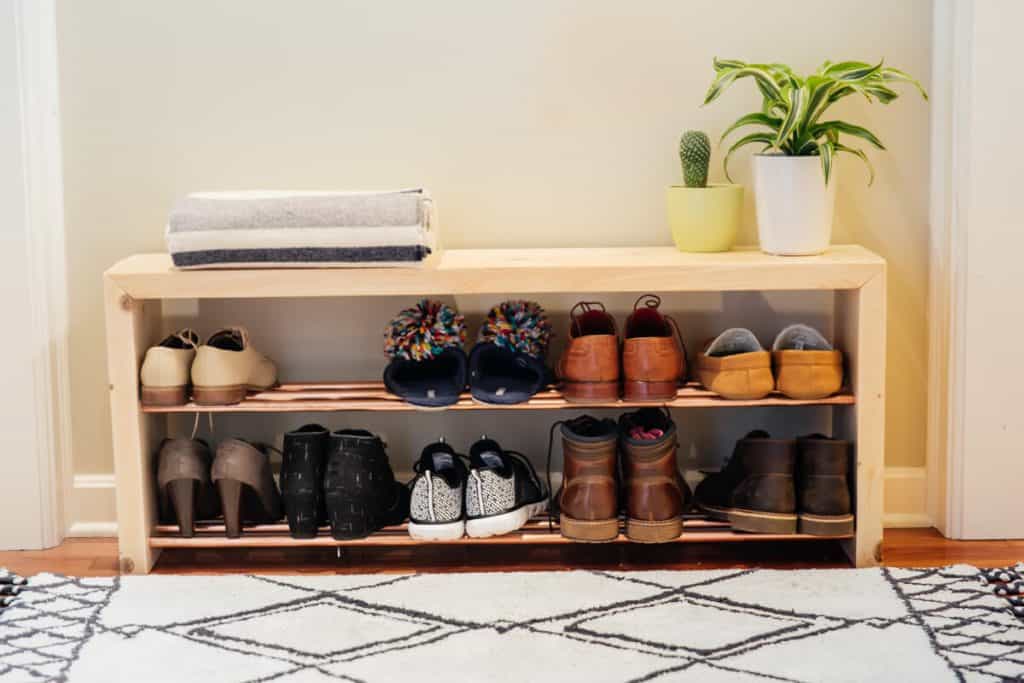 Perfect for an entryway or mudroom, this shoe storage bench not only holds your shoes, but gives you a place to sit and take them off/put them on.
It's a simple design that doesn't require complicated cuts, so it's a great DIY project for a beginner.
How To Make A Shoe Storage Bench by Dunn Lumber
Copper Pipe Shoe Rack
If you like the industrial look, but also have a thing for metallics, this is the shoe rack for you!
It looks like it would be really expensive (and probably would be if you got it at a high-end retailer), but its made from simple materials you can find at just about any hardware store.
DIY Copper Shoe Rack How-To by Fresh Crush
Rack on Wheels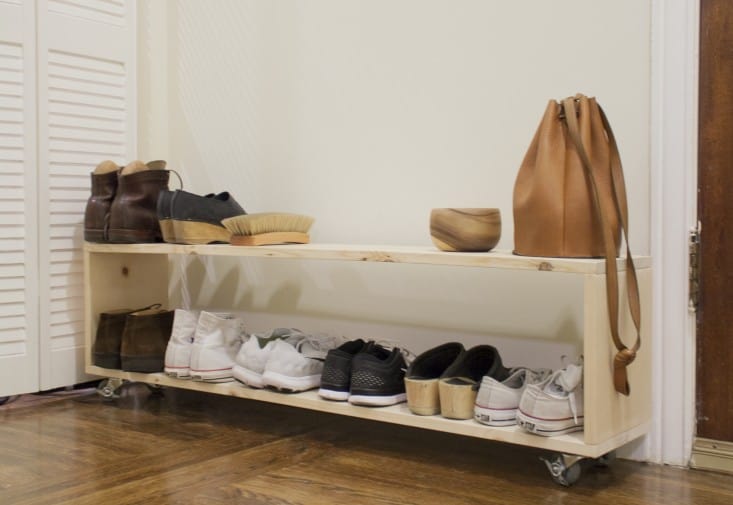 If you don't always need a shoe rack right by the door, but often entertain guests, having one that is on wheels may work well for you.
You can recreate this simple design with just a few cuts, some nails, and wheels.
Small Space DIY: A Perfect Shoe Rack for a Narrow Entryway by The Organized Home
Pallet Shoe Rack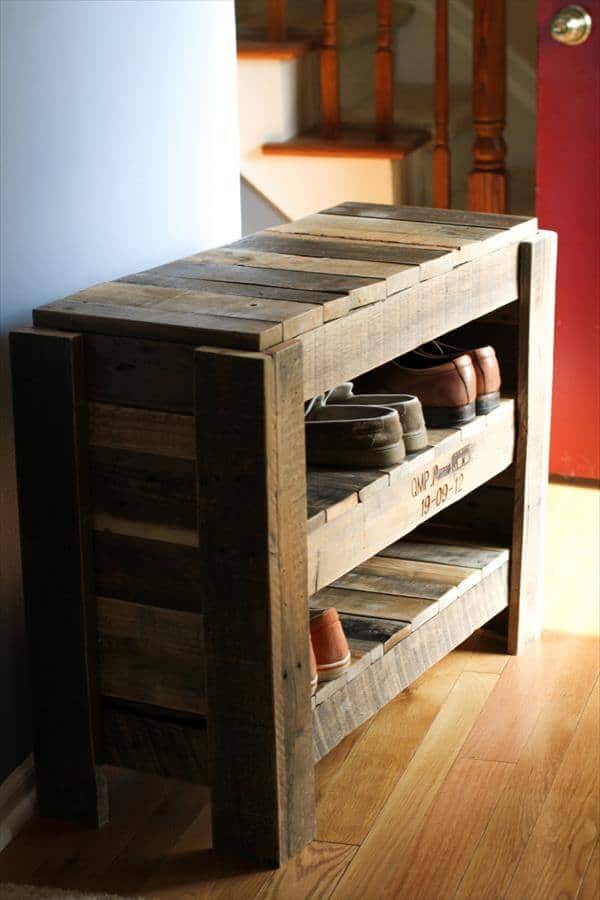 You can't call something a DIY project if there isn't some way to make it out of pallets, right?
Recreate this shoe rack using only pallet wood. You can get that rustic look and a great piece of furniture for next to nothing!
Pallet Shoe Rack by 101 Pallets
Polished & Clean Shoe Storage Bench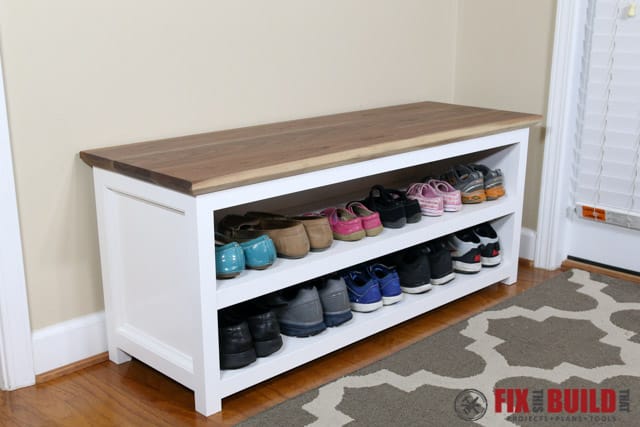 This shoe rack is absolutely perfect for your entryway, because it's too pretty to be stored away in a closet.
It's built as a bench with storage and has sides so the shoes are mostly hidden from every angle, making it very aesthetically pleasing.
DIY Entryway Shoe Storage Bench by Fix This Build That
Gold & "Marble" Shoe Rack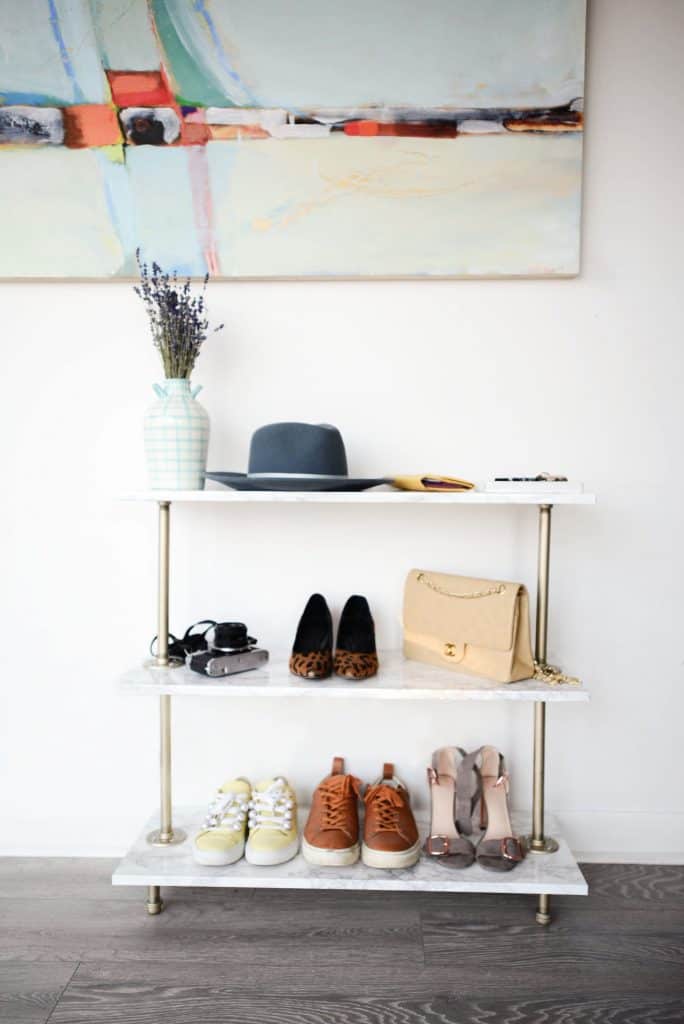 For anyone who likes a little glam in their home, this shoe rack is an absolute must!
All you need is some marble contact paper and some gold rods to make this shoe rack. It comes out looking super high end, but is actually very cost-efficient.
DIY Shoe Rack by Threads and Blooms
Industrial Chic Shoe Rack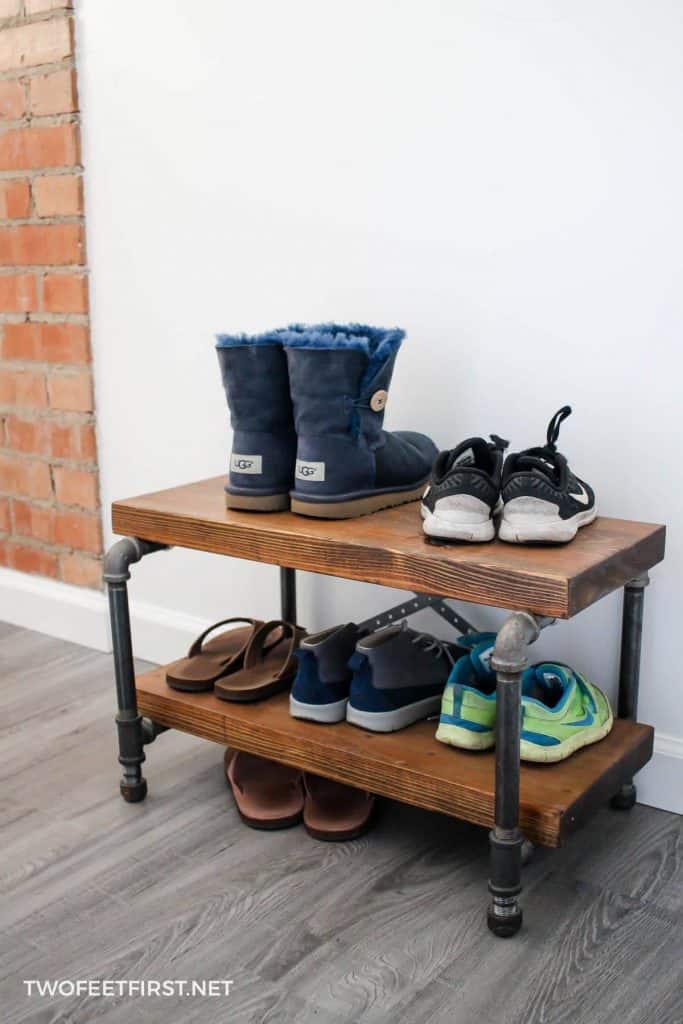 Much like farmhouse chic, industrial-chic isn't going anywhere anytime soon!
If you're leaning into the trend, this shoe rack has everything you could want. It's gorgeous, has a little bit of a rustic feel, and, of course, does its job.
DIY Industrial Shoe Rack With Pipe and Wood by Two Feet First
Crown Molding Shoe Rack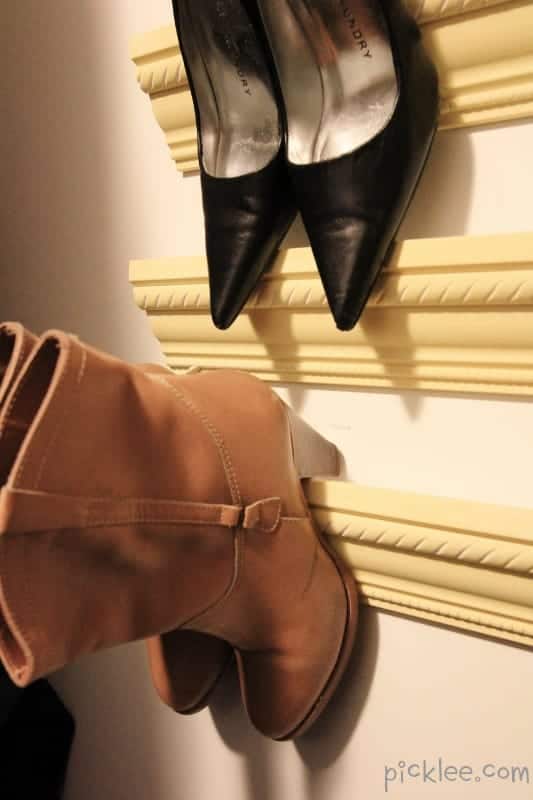 This may be the easiest shoe rack, ever.
All you need to accomplish this is some molding, a saw, and a level to hang it up straight. It's great for any shoes with heels and will save a lot of space.
Crown Molding Shoe Rack by Picklee
Large Shoe Rack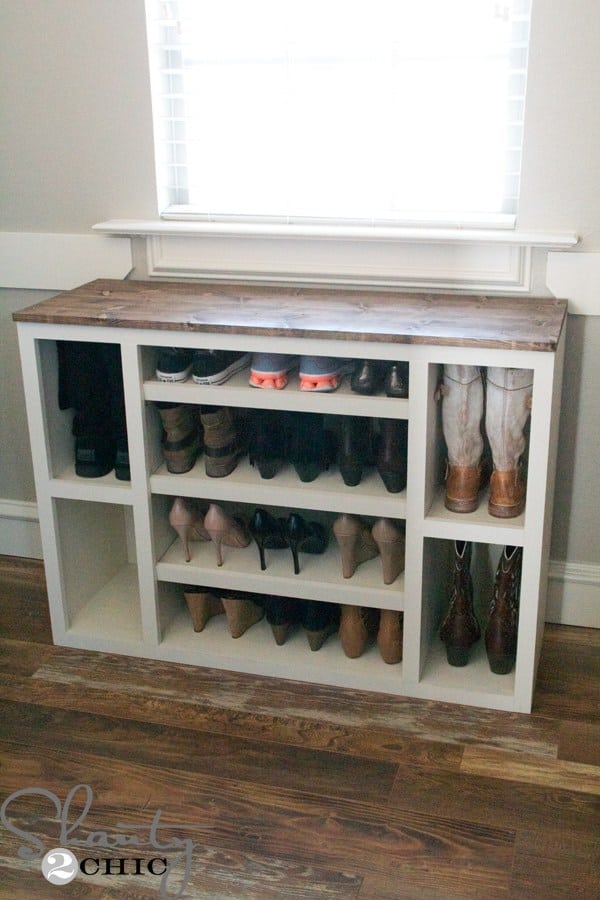 If you need a lot of storage, but want it to look pretty, this DIY project may be the one for you.
This blogger designed the rack to fit various size/height shoes and with a style that can be out in the open without looking out of place.
DIY Shoe Storage Cabinet by Shanty 2 Chic
Trendy Shoe Rack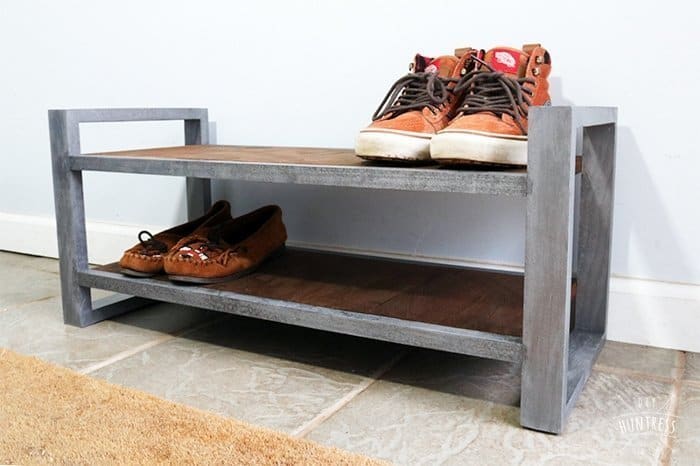 This blogger's mix of wood and grey makes this a very on-trend shoe rack.
You can recreate this by following the instructions in the blog.
DIY Industrial Shoe Rack by DIY Huntress
Modern Shoe Rack With Colorful Flair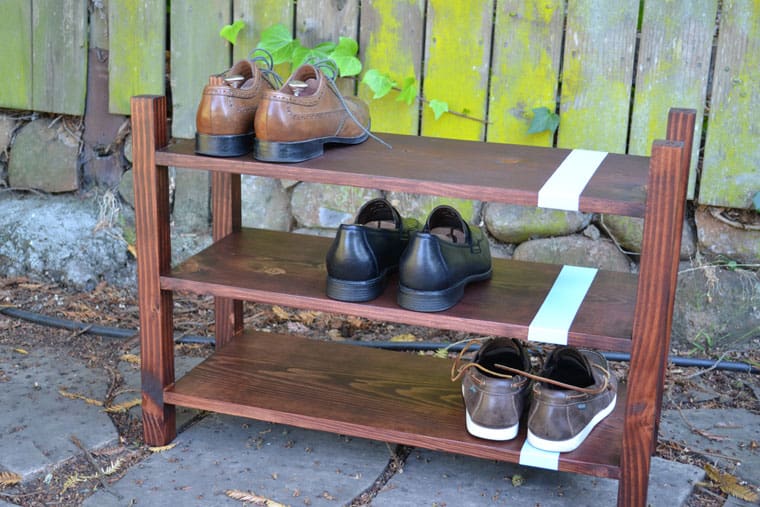 There isn't much that's stand out about this shoe rack, except that it has the gorgeous splash of color!
This is a great inspiration for anyone who wants something functional but wants to add a little bit of flair to it as well.
Making A Shoe Rack by Fox and Hammer
Cardboard Shoe Rack
If you have no intention of putting your shoe rack out in the open, then collect your amazon boxes because you can make one out of them!
This blogger teaches you how to make a functional shoe rack using cardboard. It's not exactly the prettiest thing, but it does the job!
Super Cool DIY Cardboard Shoe Rack by DIY Projects For Teens
Multi-Level Corner Shoe Rack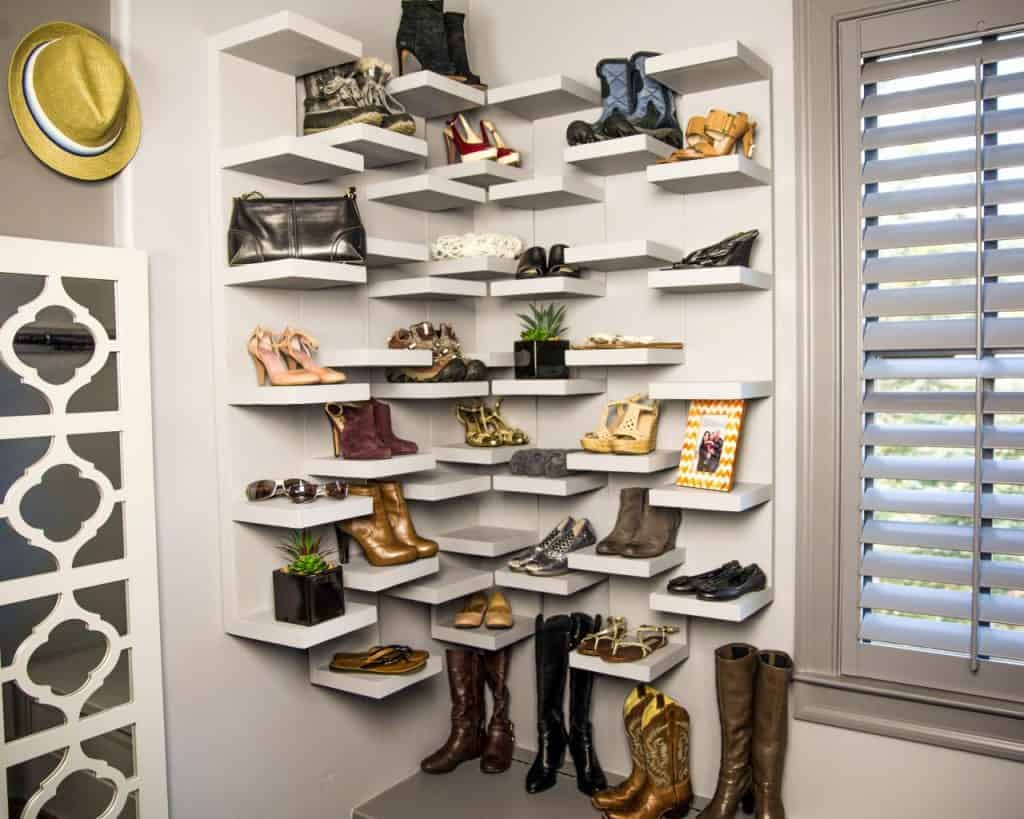 You can make use of corner space using this shoe rack/display design.
As beautiful as it is, you don't need a ton of DIY skills to accomplish it! Just some simple cuts, securing the pieces to the wall, and an eye for design.
How to Make Shoe Storage Display Shelves by DIY Network
Conclusion
When you think shoe rack, something pretty probably doesn't come to mind. But, you can have something that works with your decor and serves a purpose in your home at the same time. By adding a little color, thinking outside the box, or throwing in a touch of gold, you can turn an otherwise boring piece of furniture into something that's all your own.
No matter how you end up making it, the best part will be finally getting that pile of shoes by your door organized and put away!