27 Creative DIY Entertainment Center Ideas in 2023
The center point of any family room or living room is the entertainment center. We just live in that era. TV may not be everything, but it is pretty important for relaxing after a hard day at the office or a long day on the farm.
If you're ready for a new one that fits your family's needs then this list of the 27 most interesting DIY entertainment centers and TV stands will give you some amazing options to consider.
Rustic Wood TV Stand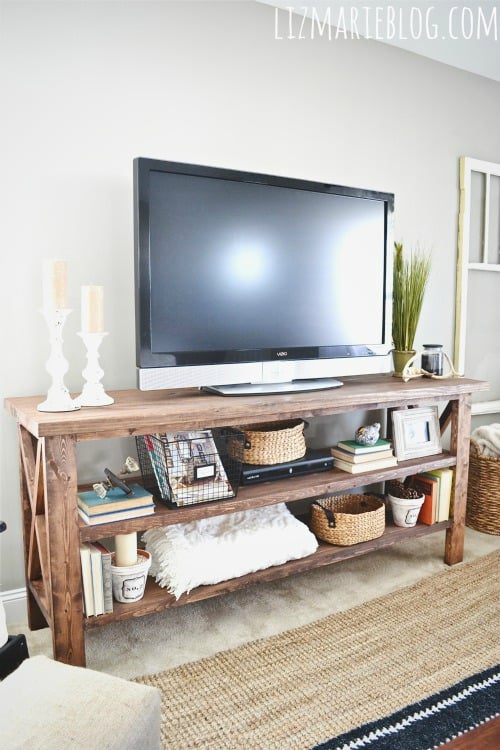 If you love the look and feel of rustic and simple wood furniture, then you'll love this rustic wood TV stand. It's a simple, reasonably easy how-to plan that provides plenty of storage for your regular TV watching needs, while being attractive and practical.
The step-by-step instructions are all laid out with plenty of illustrations and direct notes that help you each step of the way. Even if you're not experienced, you can build this with a little patience.
Via Craftsman Drive
Barn Door Built-In Entertainment Center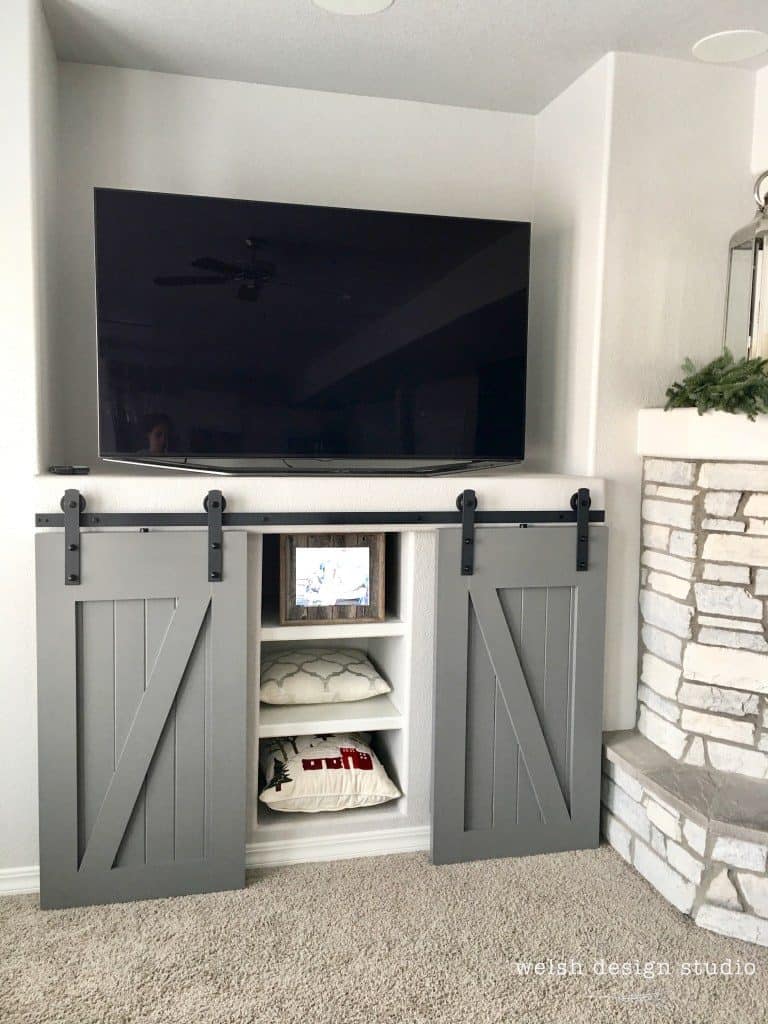 This is a specific model that folks who have a built-in space will love. The custom doors add loads of character to an otherwise plain space. Plus, with the doors, you can hide all those unsightly electronics and cables that a built-in shows off so well.
Construction of the doors themselves is pretty simple. You just need some plywood and cutting ability. Mounting the slide is going to be the most complicated part – but even that isn't hard.
Open Design TV Stand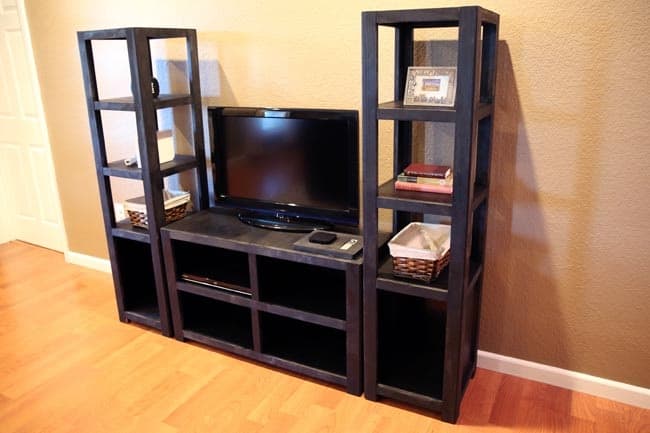 Coming from the pros at Black and Decker, this smart, stylish, and ruggedly modern design is not only attractive but not that hard to make. And if you tell your friends you made it, they'll be uber impressed.
The system has several pieces, but the instructions are direct. Be sure to read the how-to multiple times before you start to guarantee you've got all the supplies, tools, and time needed to finish the construction.
Via Black and Decker
Corner Media Center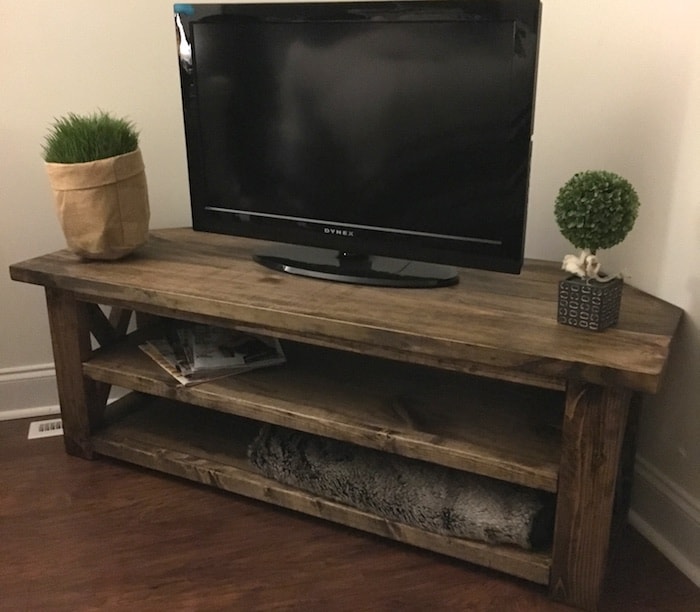 If you've got an awkwardly shaped room or setup, then a corner cabinet for your media center might just be the thing. And this one is perfect for supplying you with plenty of storage and surface area without sucking up space in the room.
You'll need some basic knowledge with power tools – pocket hole jig, drill, miter saw – but if you can follow instructions, you should be good to go.
Via Rogue Engineer
Ammo Crate Entertainment Center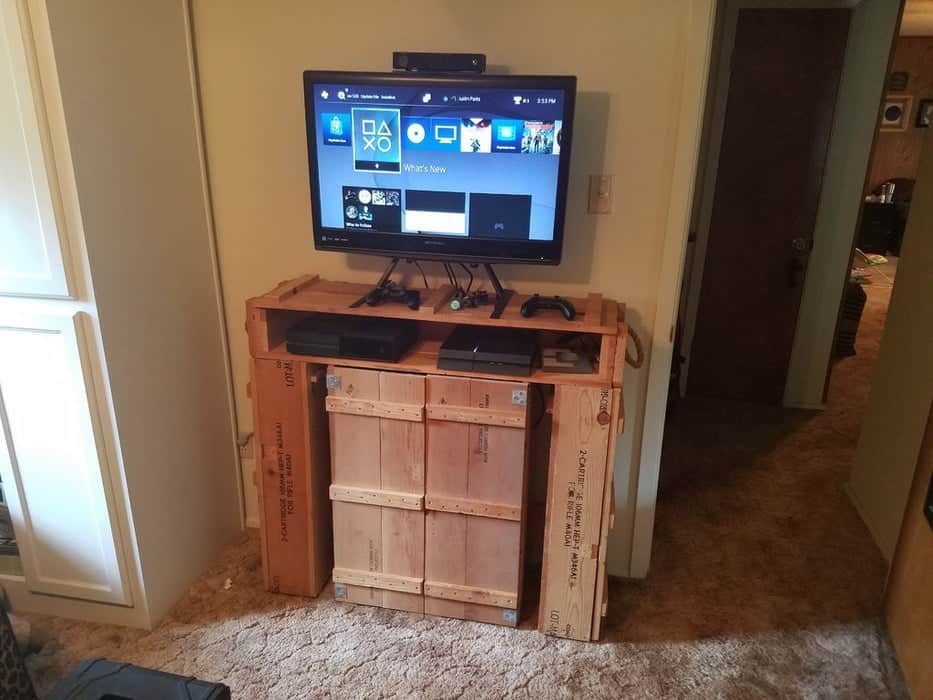 For the folks who love repurposing items, this Ammo Crate entertainment center is a great option. You still have to do some building, but it's definitely not a "from scratch" project. It's also a unique way of using Army surplus supplies in a beneficial way.
The entertainment center provides you with loads of storage as well as an interesting talking point when folks come for a visit. Ammo boxes, you ask? Why, yes. They are.
Via Instructables
Office Cabinet TV Console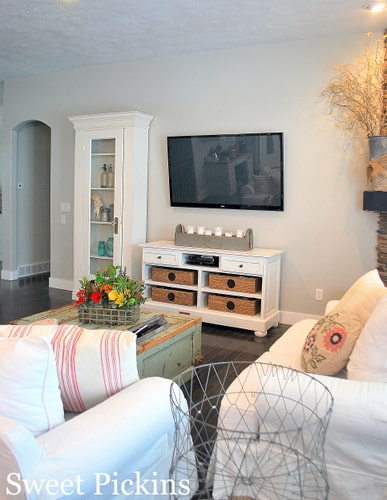 Here's another great upcycling option for old office furniture into amazing media centers. Find an old cabinet or multi-drawer desk with a long enough top shelf to house the TV and other stuff you'd like.
Then follow these simple instructions on how to take that old, chipped cabinet into a unique, attractive, and fun TV console you'll be proud to show off.
And if the cabinet isn't high enough for you – which likely it won't be – the tutorial shows you how to raise the feet, too.
Mounted Plywood Entertainment Center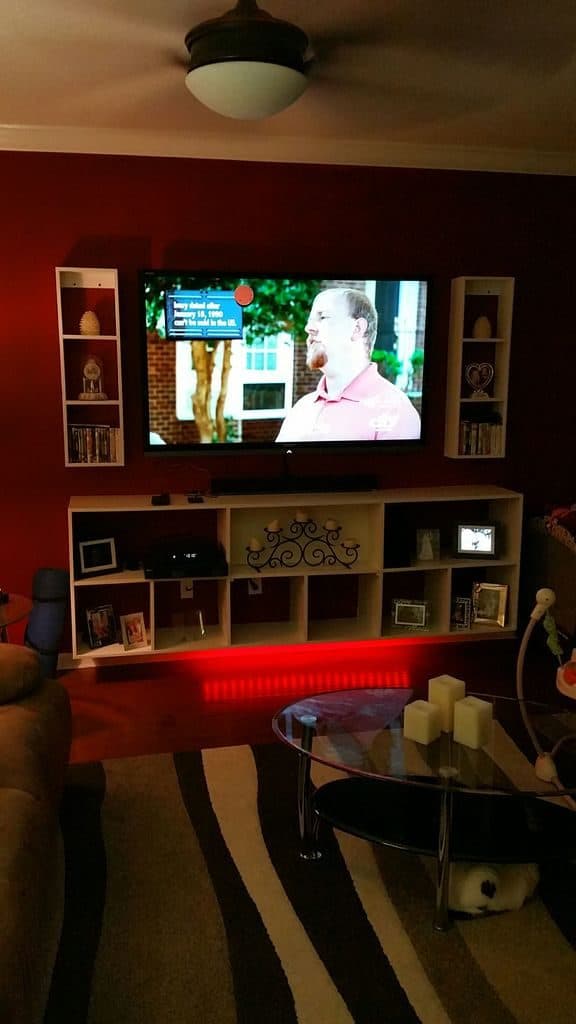 This three-piece wall mounted DIY entertainment center is a simple and attractive option for someone needing a large but not so heavy media center. Unlike the big, enclosed ones, the pieces individually are manageable by one person.
You'll need to have some experience with DIY to build this, though, or at least already have a handle on how to use a miter saw, drill, and countersink. Though you can always get someone at Lowes to do the cuts for you ahead of time.
Via Instructables
A-Frame Entertainment Center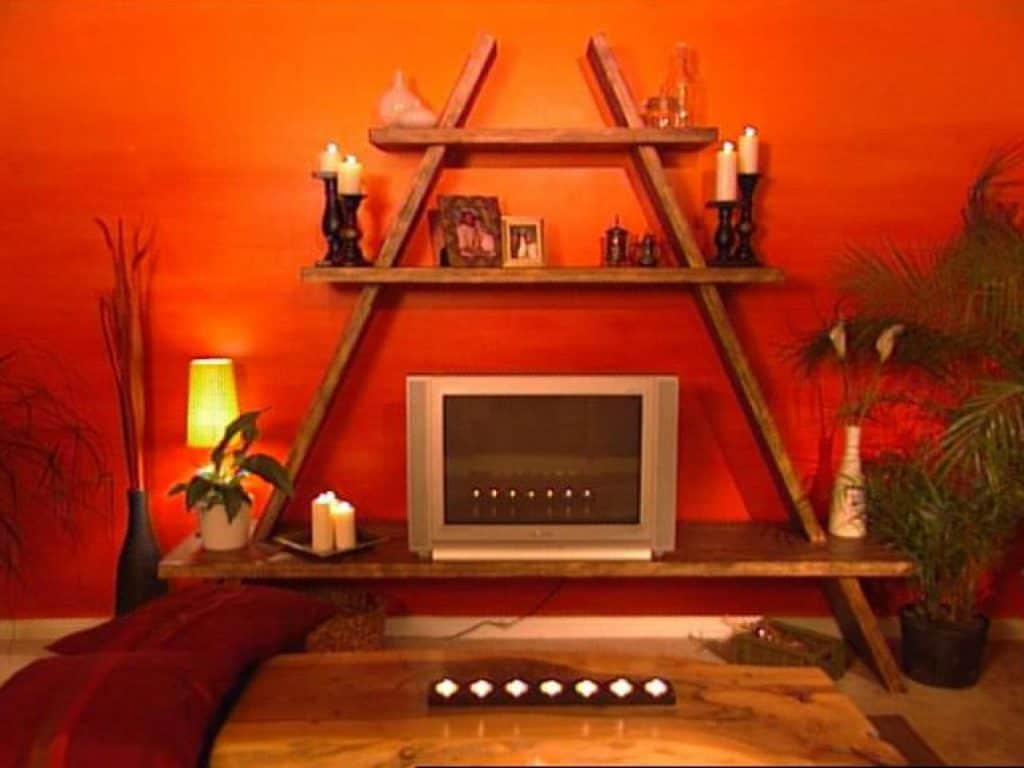 If you want a super fun, uniquely designed entertainment center, then check out this A-frame option. The style has a rustic, almost camping cabin feel to it that would blend into any home that features wood and country themes.
It's great for the TV, some media, and even has some specially designed spaces that are perfect for adding some decorative touches to the living room. Just grab some laminated veneer lumber, a circular saw, and your rubber mallet.
Via HGTV
Bamboo Plywood Entertainment Center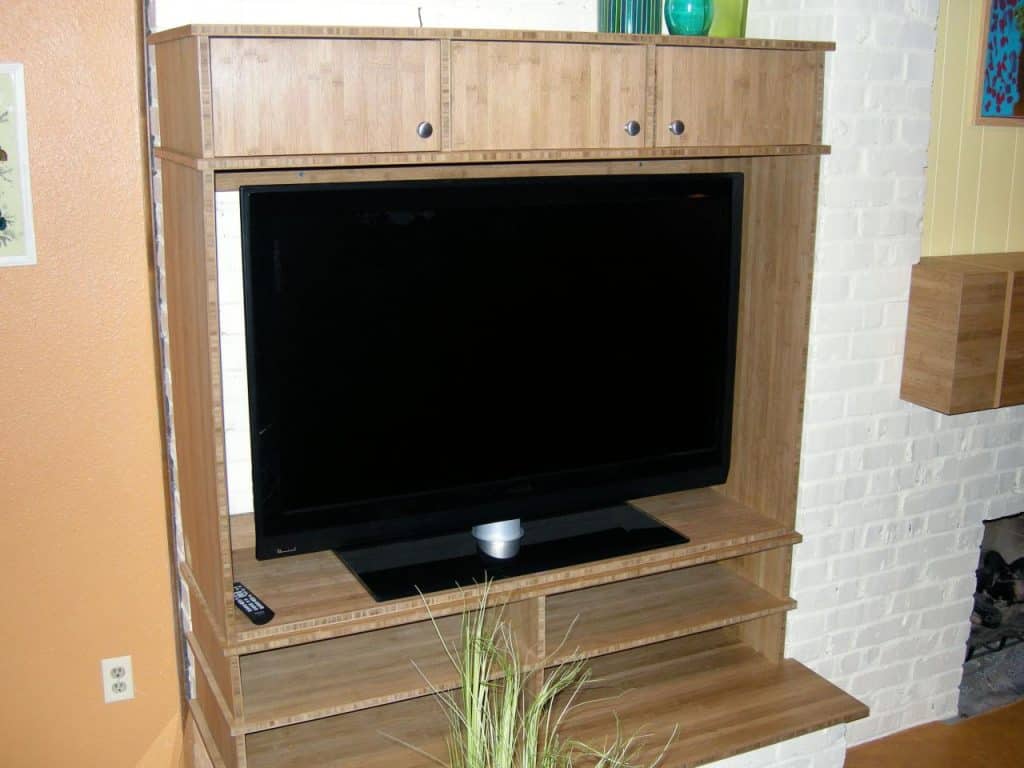 This gorgeous bamboo plywood DIY entertainment center stands out against the rest, thanks to the sheer elegance of the material used to create it. It's a fairly easy step-by-step to follow, and anyone with a little experience can put it together in half a day.
One thing that's great about this besides the looks is the fact that it's an eco-friendly option. Bamboo plywood is a renewable hardwood that looks gorgeous without staining or painting.
Via HGTV
TARDIS Entertainment Center or Shelves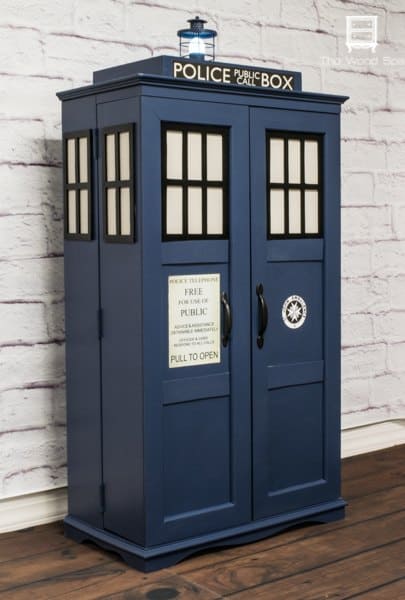 If you've got some Whovians in the house, then you'll love this uber fun, eye-catching, blue box: The TARDIS. You can easily adapt the shelving spacing to accommodate your television, Playstation4, movie collection, or, you know, time travel gear. Whatever you need.
You'll need some craft supplies to do it: Mod Podge, foamboard, wood glue, a wood tray, candle holder, flashlight, blue paint, bar pulls, and some other odds and ends.
Via Home Talk
Rustic Media Console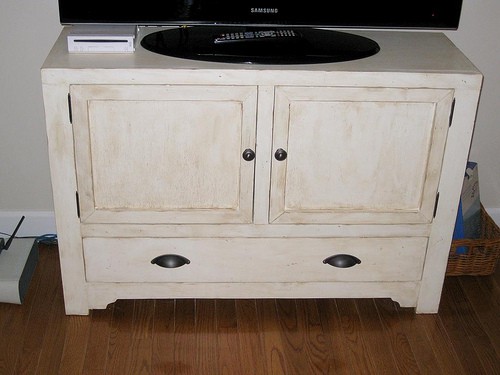 This is another simple, rustic console that's uber attractive and versatile. You can follow the instructions to create the full piece with three sections or knock it down to one. You can make it with or without drawers, as well.
This beautiful console is really just perfect for about any home – whatever the theme. It's especially a great option for bedrooms and smaller family rooms where you want all that function but don't need a monster center.
Via Ana-White
Pallet Wood Entertainment Center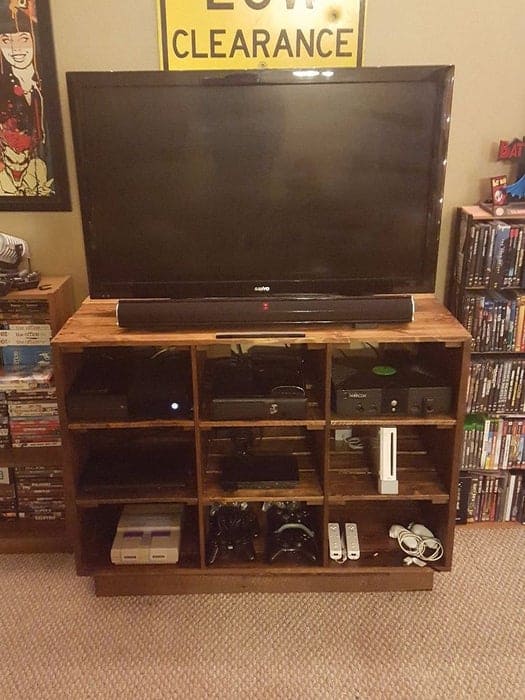 This one is designed specifically with the gamer in mind. The pallet wood compartments on the entertainment center are shaped perfectly to hold any and all of the various gaming consoles out there.
In fact, the cubbies were designed specially to accommodate the widest console – the Xbox One – and the tallest – the Wii. And since the pallet wood is in play, the spaces between the panels give those machines extra breathability.
You'll just need to find some old pallets and follow the easy guide to build this amazing DIY entertainment center.
Via Instructables
Easy Farmhouse Style Entertainment Console Makeover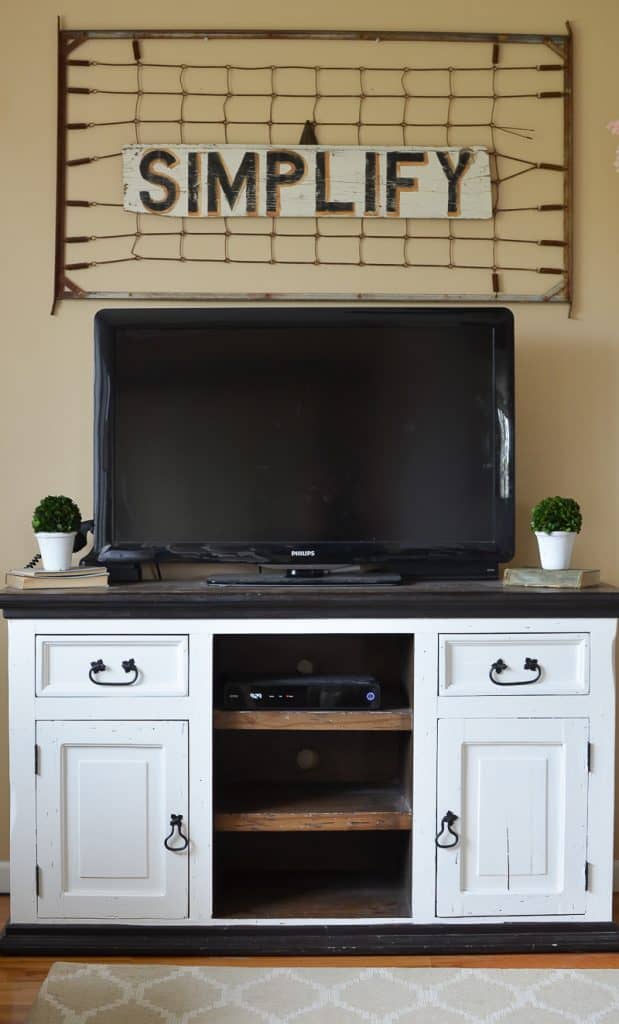 If you already have an entertainment center that needs some love – or just love a good yard sale find – this is a great tutorial. The plan takes you through the step-by-step "Blah to beautiful" with some simple ideas and directions that anyone can follow.
In the end, you'll wind up with a functional but attractive rustic, Farmhouse style entertainment console that everyone will think you bought from a high-end, expensive store.
Via Sarah Joy Blog
Toy Storage Entertainment Center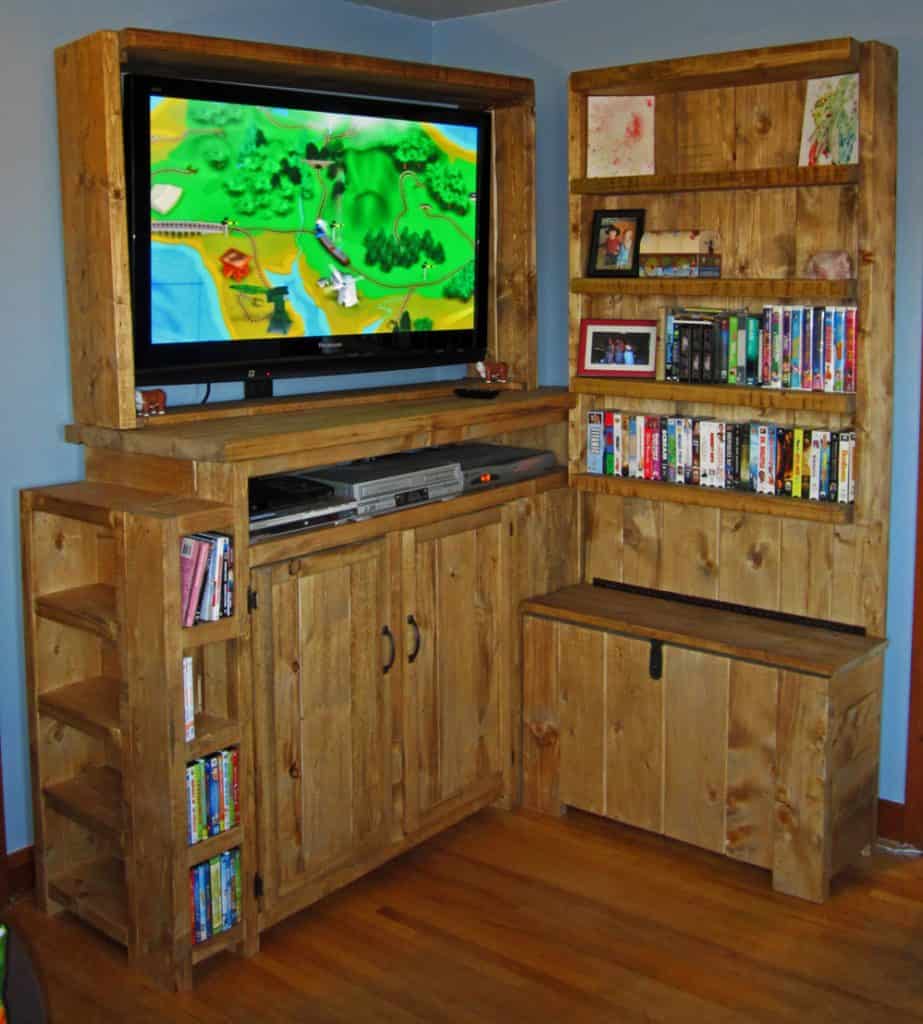 If you've got an entertainment room or playroom, you'll love this one. It's a toy storage and entertainment center that will literally hold everything you've got that the kids play with. Shelves for books and DVDs, a toy chest for dolls and action figures, a platform for the TV – this has it all.
All you need to do is find some planed rough lumber, some screws, sandpaper, and wood filler, and you're all set to go.
Via Ana-White
Tall Corner Media Console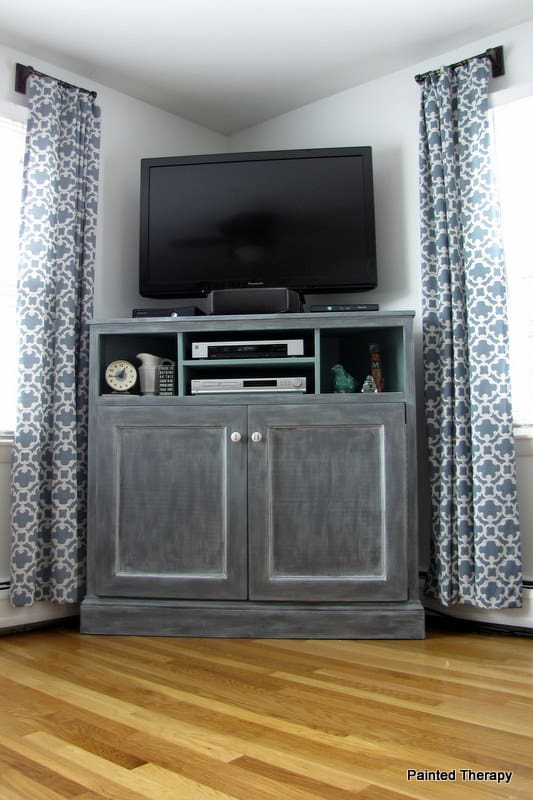 This is a beautifully organized rustic, tall media console that will fit in just about anywhere. The console was designed by a stay-at-home mom with a special needs child. So, it's perfect for environments where there needs to be a lot of flow and purpose and order.
The tutorial is easy to follow, simple, and lots of illustrations showing exactly how to measure, cut, etc. for this fantastic built-from-scratch media console.
Via Ana-White
Cube Entertainment Center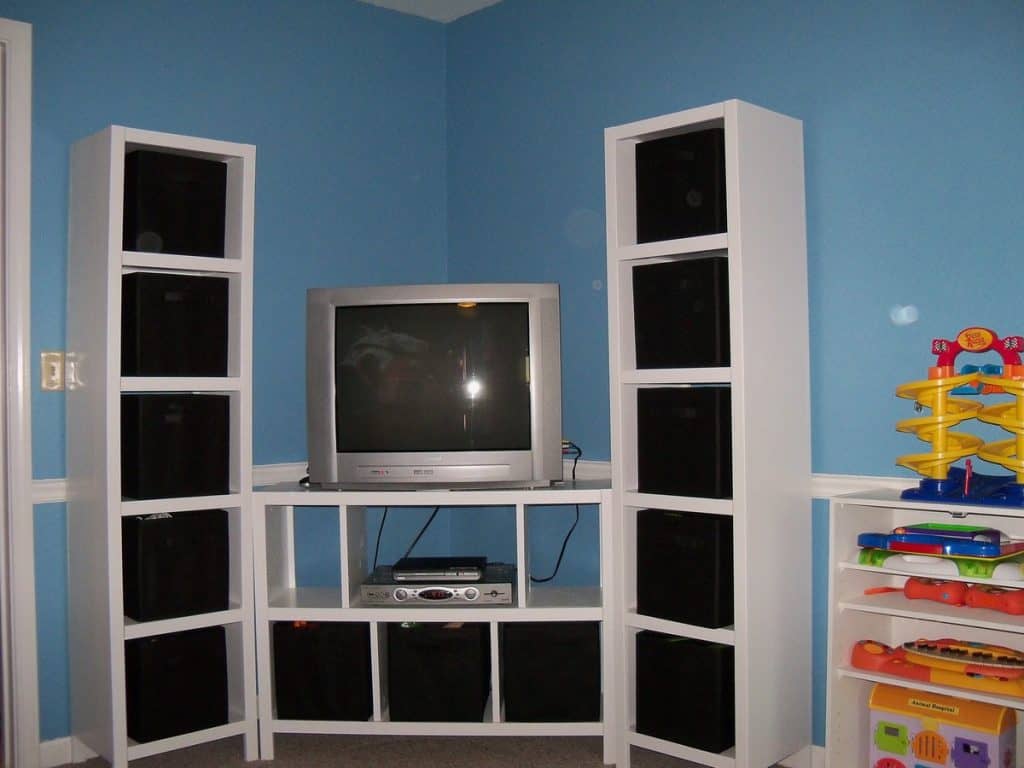 Combining two designs – the 5 Cube Tower bookshelf and the 6 Cube bookshelf combo – you come up with this amazing, extremely functional entertainment center.
Two sections of the design include the 5 Cube towers – you can, of course, choose to only build one if you don't have the space or need for both – and then the 6 Cube section that functions as the TV and DVD stand.
It's fairly simple to build and as versatile as you need it to be for your space.
Via Ana-White
Farmhouse Media Cabinet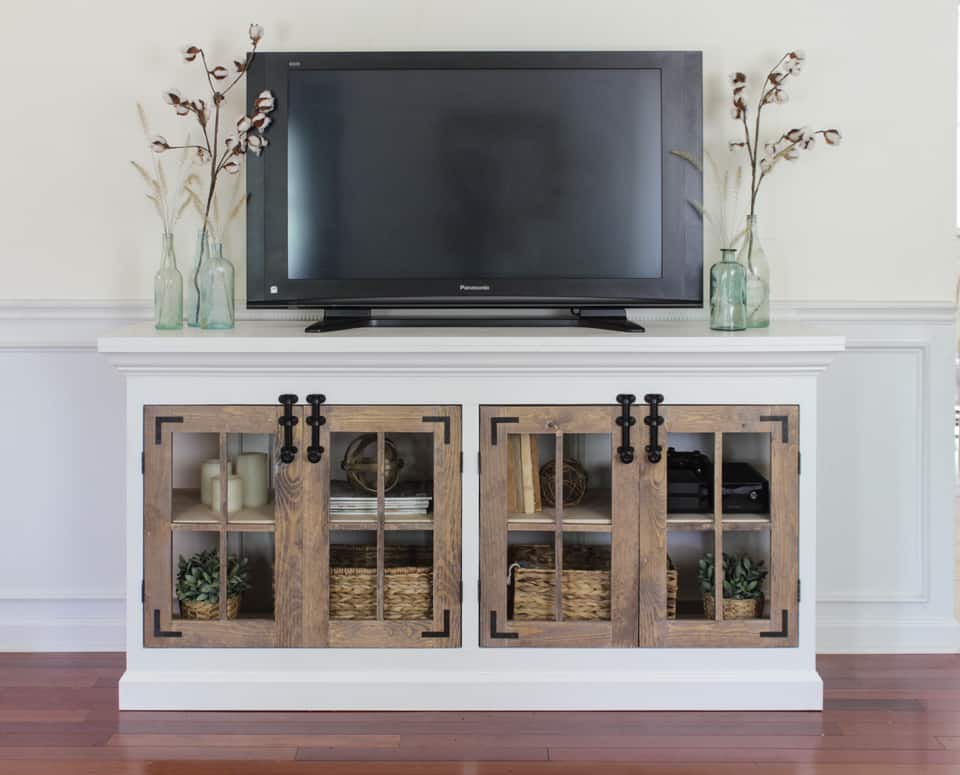 This is another charming Farmhouse style media cabinet that you'll love. It has loads of storage behind sparkling glass windows and beautiful hardware that help it to stand out from the rest of the Farmhouse décor in the world.
The step-by-step plans show everything you need to do, with illustrations and instructions, making this an easy-to-build project, as long as you've got some basic building knowledge and the right tools. And don't let the idea of working with glass intimidate you – it's completely optional.
Via Build Something
Reclaimed Wood Barn Door Console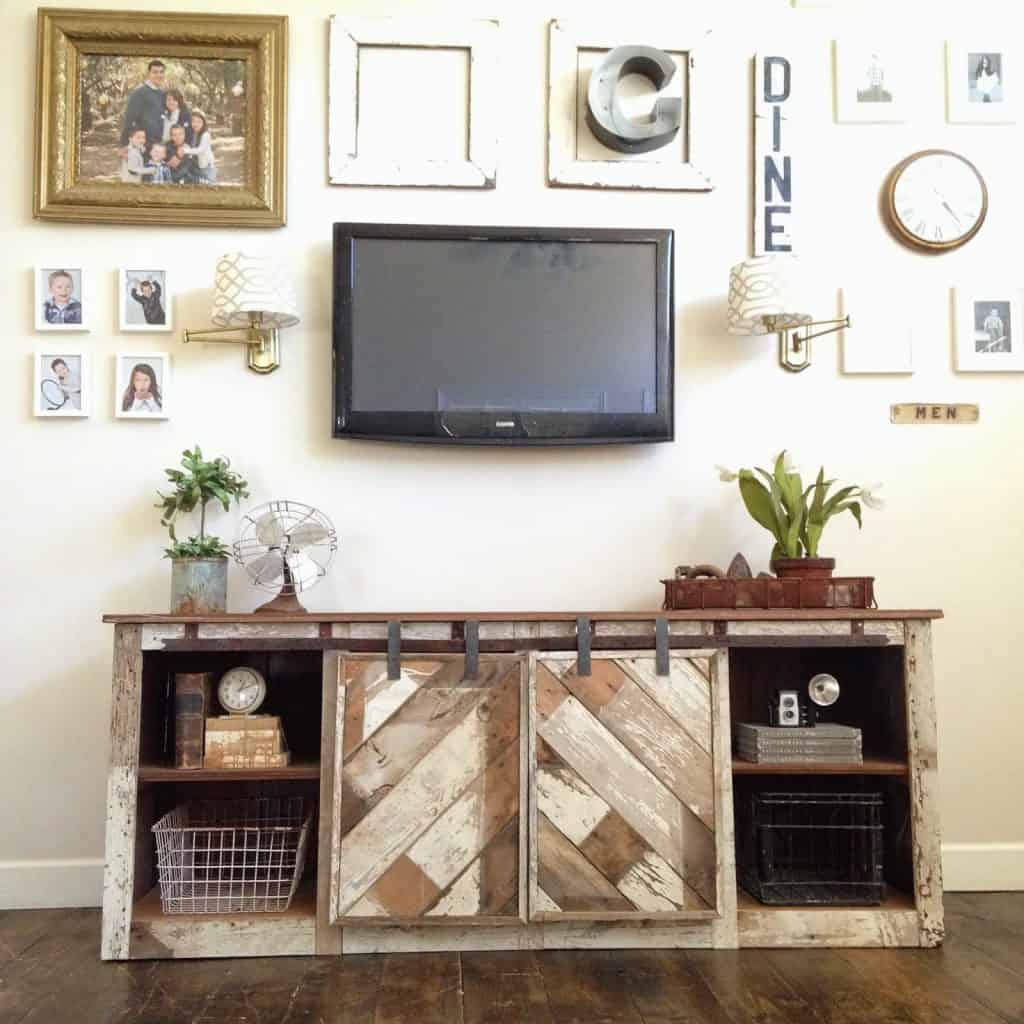 The reclaimed barn wood trend is an amazing one. You can find all kinds of stunning designs that recycle and reuse these old pieces of wood so that nothing goes to waste. And this reclaimed wood barn door console is one of the finest examples of recycling there is.
You'll see photos of both a painted and a carefully curated reclaimed wood version here. Whichever style suits your needs is stunning, so you really can't go wrong with this one.
Via Ana-White
X-Leg TV Stand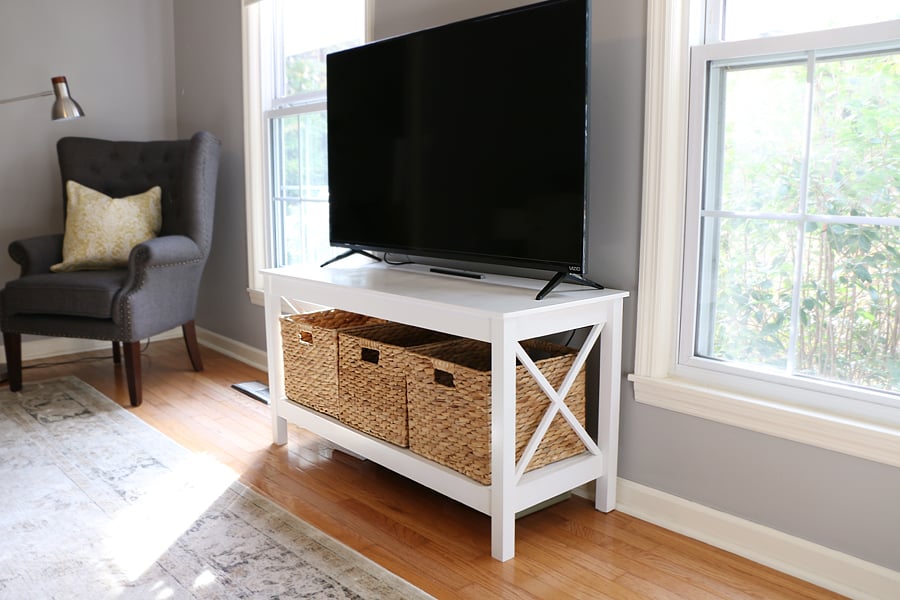 For a simple but attractive TV stand, consider this X-Leg model. It's really low-cost and easy to build, so it's perfect for the DIYer who's just getting started with full-on construction projects.
One of the best parts about this – besides the ease of build – is that nobody will know you built it yourself. It looks like something you'd find at Wayfair. Only this one is way sturdier than the ones you find online.
Via Build Something
Pallet TV Stand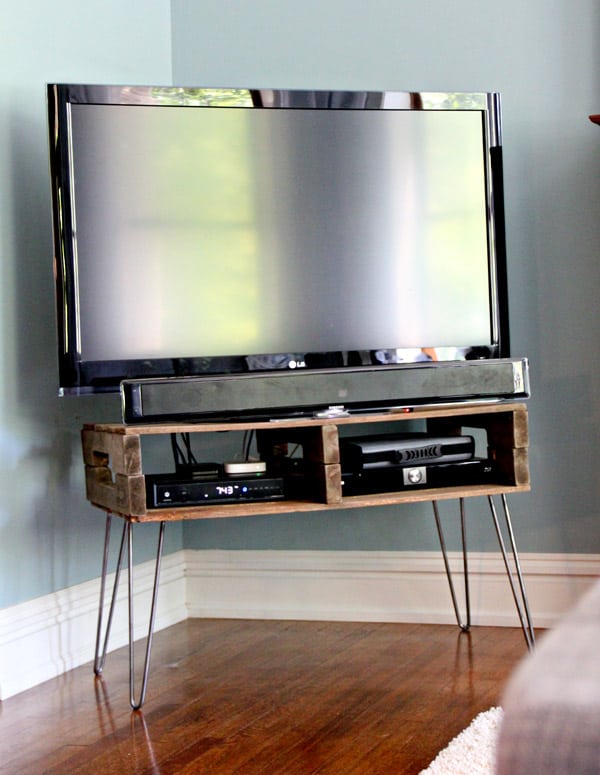 Upcycling is always a great way to bring new furniture into the world. And this pallet TV stand is one of the simplest and most attractive ways we've found for doing just that.
It's a super cheap project – you just need to go find some old pallets somewhere – and super easy and quick to build. The only real "time consumer" is waiting for the stain to dry if you choose to use some stain on the old wood.
Underlit TV Stand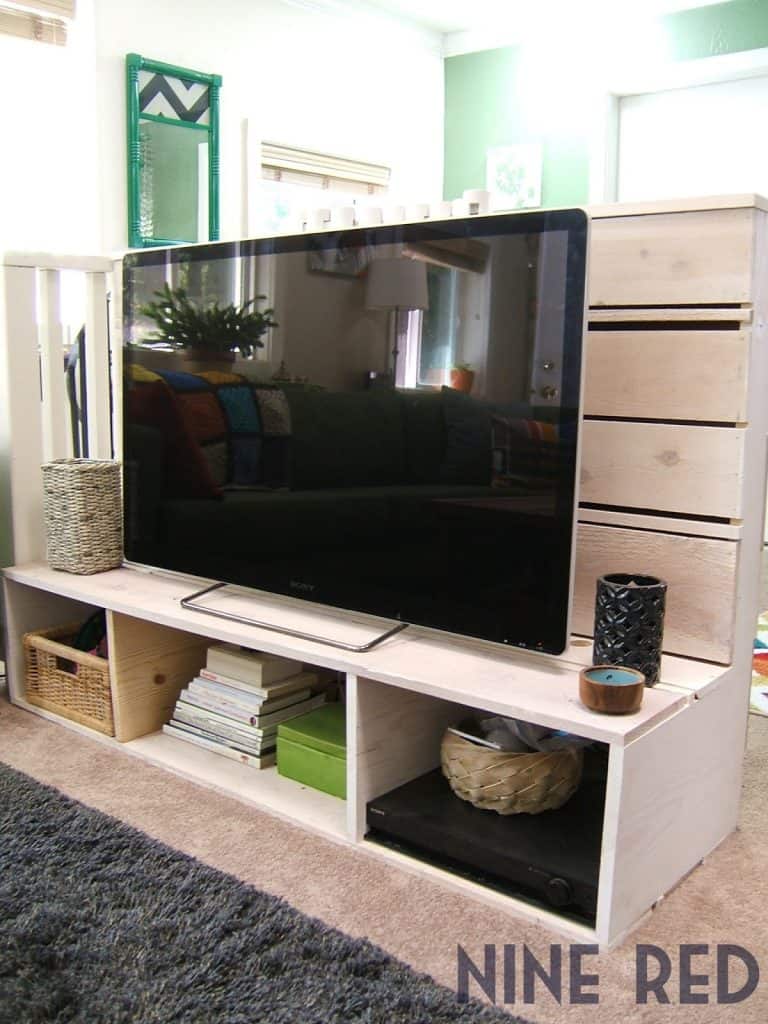 For those who love colored lights or mood lighting via unique methods, you'll love this underlit TV stand. It's a bit more of an involved design – meaning you should probably have a bit more experience than handcrafts – but it's well worth it.
The TV stand is also extremely sturdy and stable, so it's great for a space with kids and pets who like to bounce around. Plus, again, colored mood lights.
Via Nine Red
Faux Fireplace TV Stand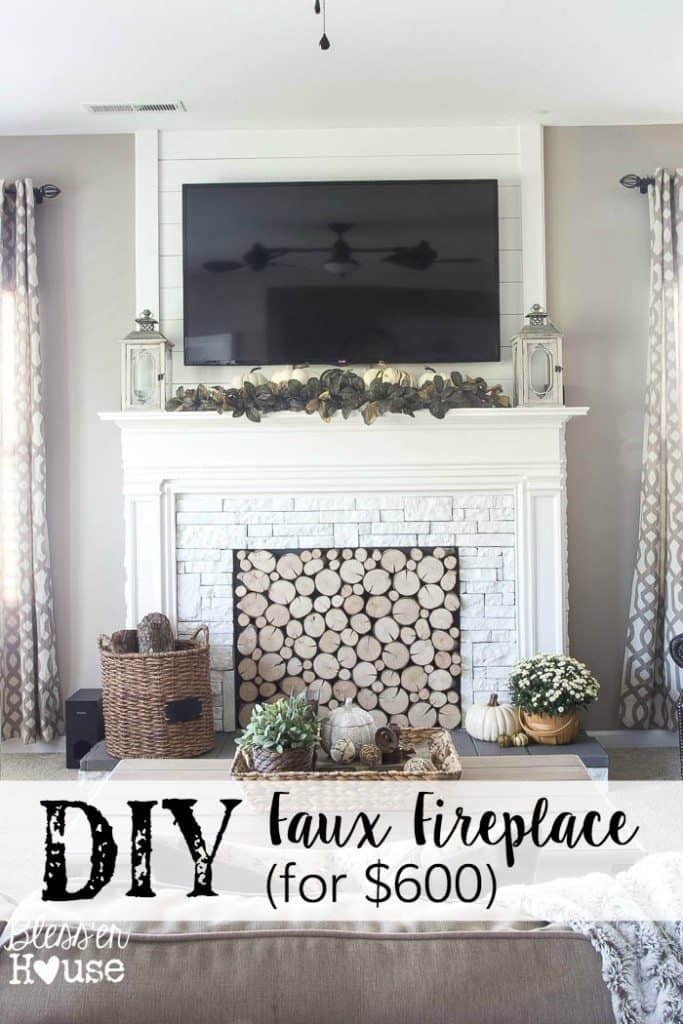 Now if you love a gorgeous fireplace but live somewhere that it's just not safe to have one – we're looking at you toddlers and puppies – this is a great alternative. The faux fireplace stand is tall, sturdy, and gives the impression of a warm, welcoming fireplace with an over the mantle TV.
The project is pretty hefty, though, so have some patience with yourself as you build. And be sure to go through all four posts showing the step-by-step process before you get started.
Via Blesser House
Modular Bookcase and Entertainment Center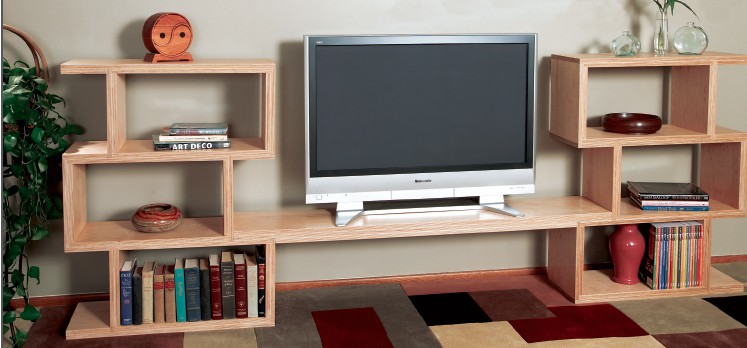 If you love unique shapes and patterns and clean, straight lines within those geometric designs, you'll love this uncommonly beautiful entertainment center. The modular design lends some intrigue to the space while still providing you with plenty of storage and a perfectly shaped space.
This one is for the more advanced DIYers, though. It's not terribly complicated, but it requires a bit of skill and a lot of concentration, or you'll have to do segments over again.
Via Rockler
Slide-Out Home Media Center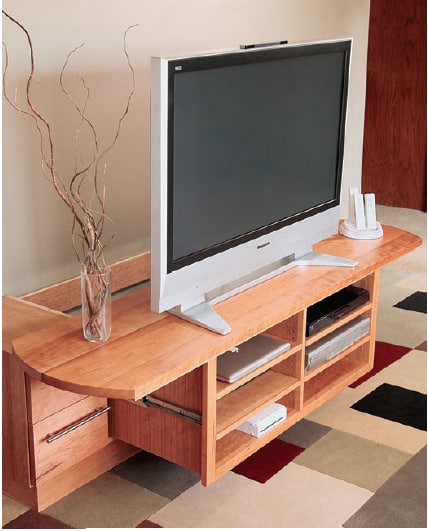 This media center is a functionally attractive addition to any room. It uses a sliding top to keep the entertainment media close to the wall during off-hours, but accessible and easy to view when you're ready to get your movie on.
Plus, with the slide-out, the cables and plugs are really easy to work with and don't add ugly lines to your walls. Instead, you connect beneath and just slide out the top when you need access.
Via Rockler
Simple TV Stand with Fireplace Insert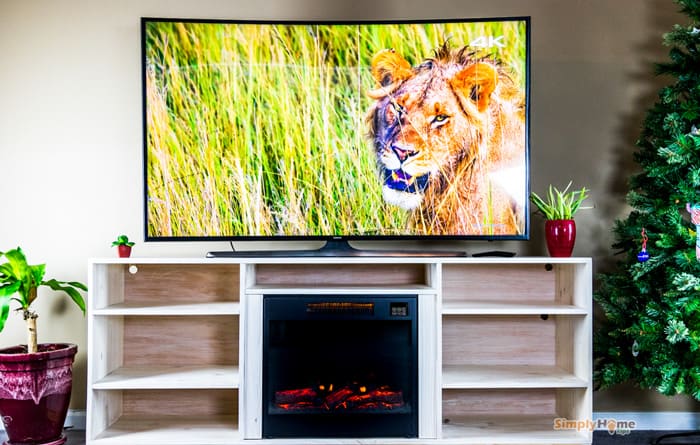 If you can install an electric fireplace, then this one might just be the one for you. It's a simple stand that incorporates an electric fireplace insert with the rest of your entertainment needs to create a beautiful mantle/fireplace/TV center in one.
It's admittedly not the cheapest option out there – thanks to that insert – but it's much cheaper than having someone custom make one for you. Plus, you get the satisfaction of tweaking it to fit exactly your needs.
Via Simply Home Tips
Wood Crate TV Stand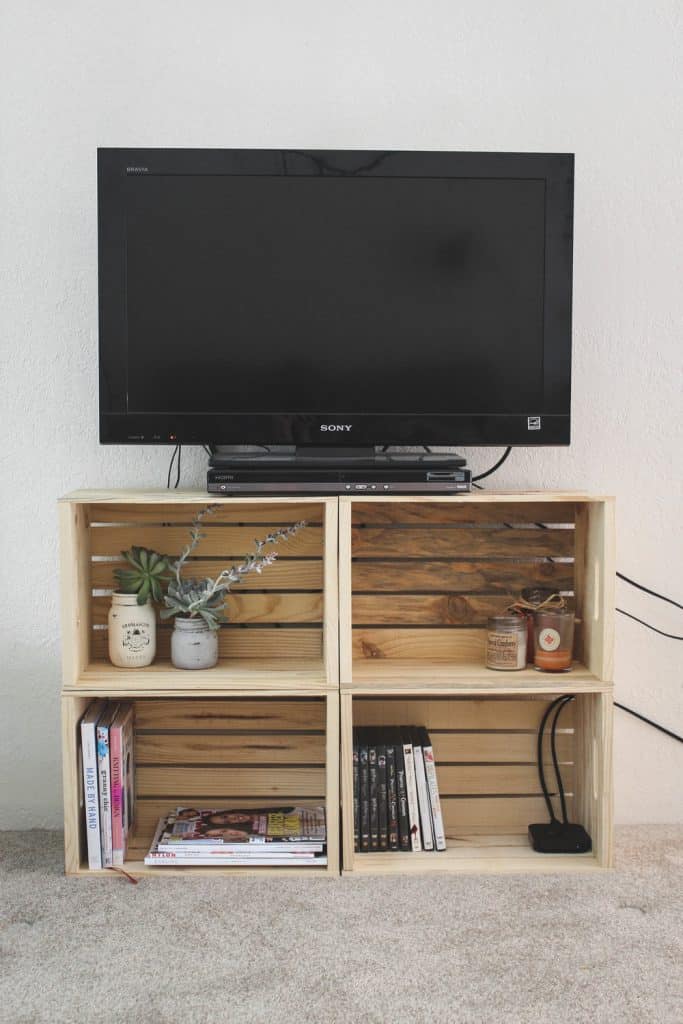 If you're not terribly handy but still want to have a go at a TV stand, this is your ticket. The Wood crate stand is totally customizable and doesn't require a lot of knowledge or previous experience.
You just need some wood crates – Michaels sells them for not too much – some screws, and a drill. That's it. Just follow the simple instructions, and in just an hour or so, you'll have a gorgeous TV stand.
The No-Build Wall Unit TV Stand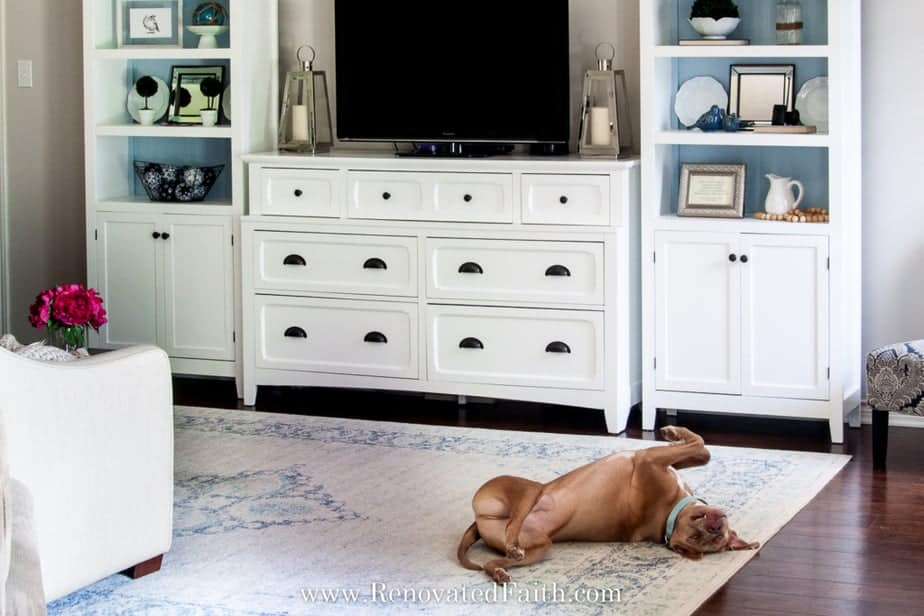 This one is another option for the less crafty. It takes two existing pieces of furniture – a dresser and some bookshelves – to create a beautiful home entertainment center that's just to your liking.
You may want to hit up some yard sales and flea markets to find just the right dresser and shelves. After that, grab some paint and carefully read the instructions a few times before starting out on this easy, fun project that even the kids can help with.
Via Renovated Faith
Deciding On the Best DIY Entertainment Center For You
Long lists of project possibilities can get overwhelming sometimes. And though we've provided lots of choices so that you can find your own ideal DIY entertainment center, we still think it's good to take a step back and give yourself some space.
Some of the projects will involve a lot of time, labor, and somewhat expensive supplies. Others are quick and easy, and anyone can do them for very little money. But one or the other isn't necessarily the ideal for all.
Don't rush into anything. You may regret it later. Instead, give yourself a little time to think. Review the images multiple times. The perfect choice will come to eventually.