33 Easy DIY TV Stand Ideas in 2023
It's wintertime and that means it's time to snuggle down on the couch with that special someone, good friends, and the kids to get some relaxing entertainment in.
Of course, that could be a problem if you don't have a good TV stand on which to perch the ol' television though.
So, if you're in need, this is a great list of the most interesting and attractive DIY TV stand plans that you can make for yourself.
Easy Pallet TV Stand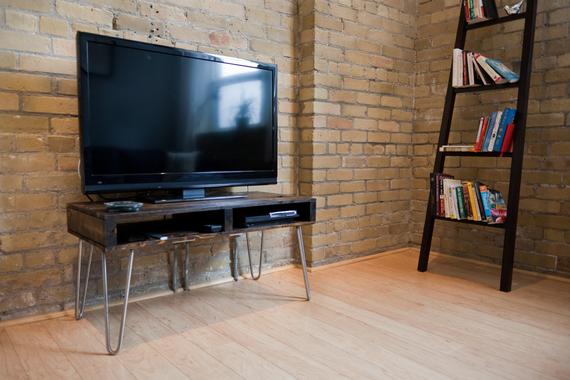 This super easy how to build a TV stand plan is a great way to recycle old pallet wood while creating something attractive and useful for the home. It's great for storing away the DVD or Blu-Ray player, remotes, a few DVDs or games, without the messy appearance of cables.
It's a quick, easy, and inexpensive option for anyone needing a low-budget project. Just grab some pallets and simple hairpin legs – which can easily be found on Amazon – and get started.
Repurposed Pallet Stand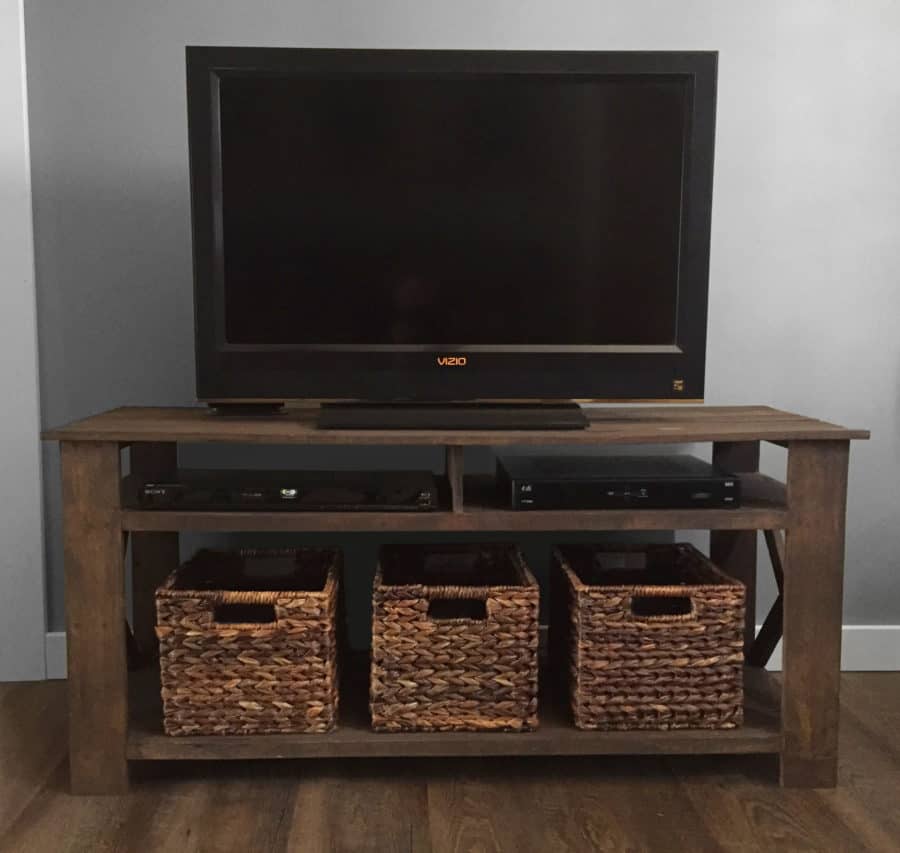 Here's another one for those of us who love repurposing old things, specifically pallet wood. Download the PDF TV stand plans for everything from the cut list to the tutorial and get started whenever you want. It won't take long, it doesn't cost much, and it looks fantastic.
One great thing with this set of plans is that they're on Etsy so you can expect great customer support and help along the way if you're new to building such things.
Via Cahills Creative
X-Leg TV Stand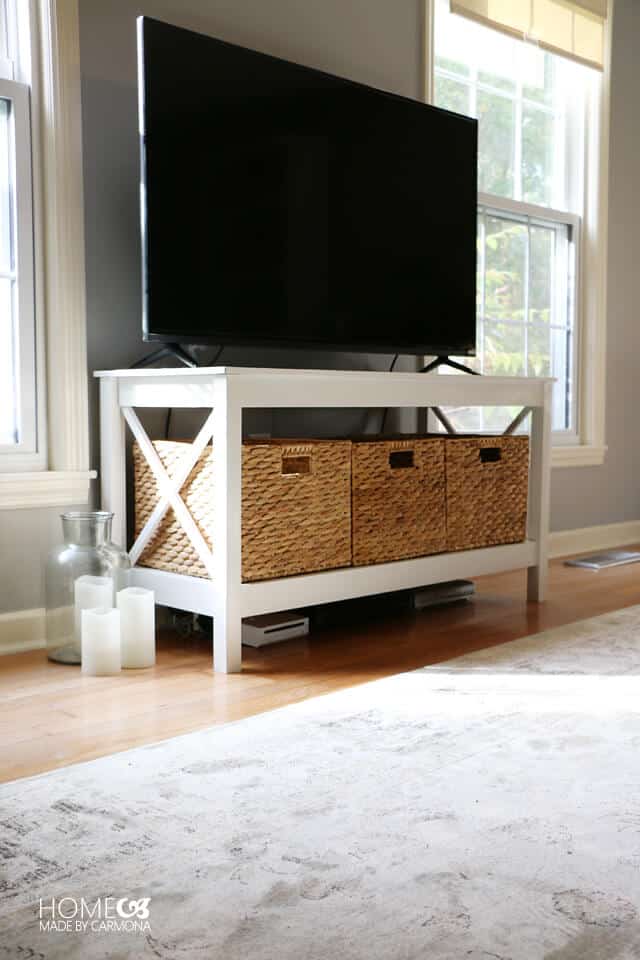 Here's a simple and beautiful DIY TV stand project that you'll love in your country chic, Farmhouse, or casual modern style home. You can use the natural wood to add some rustic coloring or paint on a coat of the best shade that matches the rest of the room – and voila, the perfect accessory for the family room.
To make this fairly simple TV stand, you'll need to download the plans from Homemade By Carmona posted on Build Something and gather up your supplies.
Easel TV Stand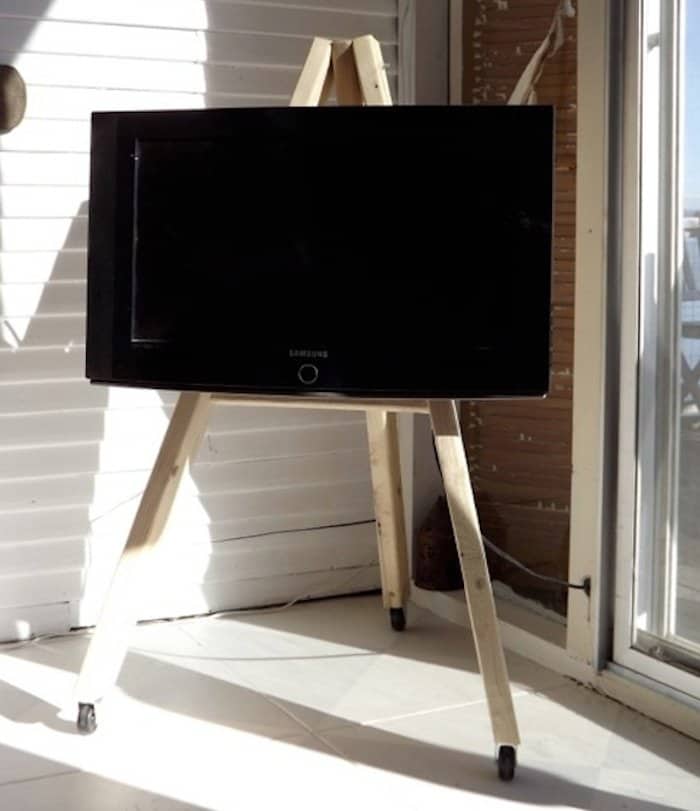 This is a beautiful, easy-to-build, "flexible location" DIY TV stand that's perfect for the home, the office, the classroom, or anywhere else that you might need or want to have a flexible TV viewing space in. The simple wood easel has casters for easy movement.
To make this fantastically simple stand, you'll need some 2x4s, castors, and long bolts. It's pretty easy, very inexpensive, and uniquely attractive. Bonus: Anyone can make it – if you just have a saw to cut the right angles with.
Via Remodelista
Repurposed Crate Stand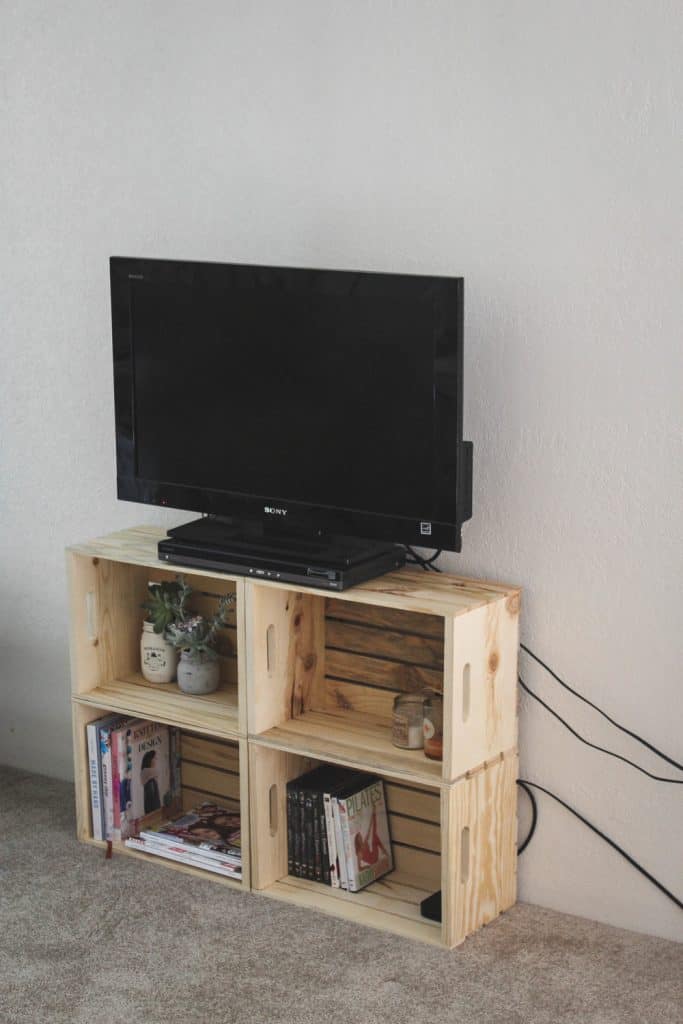 If you love storage and rustic design, you'll love this repurposed crate TV stand plan. It's super simple, anyone can build it – seriously, if you can use a drill, you can make this. You just need some very simple tools and supplies, and about half an hour later, you'll have this gorgeous stand.
The instructions are so simple, they don't need to spell them out beyond a sentence or so per step. So, grab some crates from Michael's or an old factory or such.
Floating TV Stand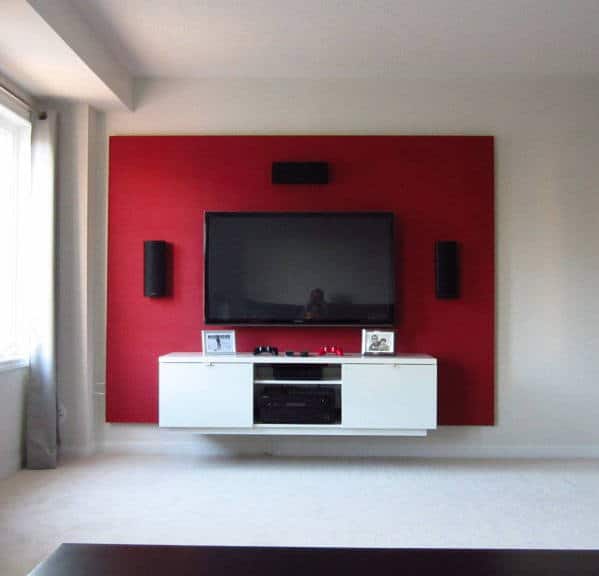 This unique DIY TV stand offers you the beauty of a traditional stand with storage but an easier to clean around piece of furniture because, well, it floats. Not literally, of course, but it doesn't have legs. Super easy to send the robot vacuum to chase under or at least the sweeper.
This is a visual how-to more than an actual step-by-step tutorial. But it's a fairly easy to build option, as long as you have the right tools on hand.
Via Next Luxury
Elegant Easel TV Stand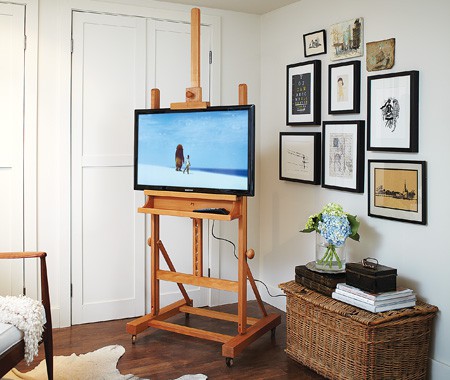 If you like the idea of the TV easel stand above, but it doesn't quite meet your aesthetic expectations, check out this elegant option instead. You'll use a pre-built easel – read, also good for the less handy – some simple finishing stain, and casters to build this beautiful mobile option for your home.
One nice thing is that you can find easels for a wide range of prices, so you can easily build from your ideal budget. If you're going bargain-friendly, check out the free pages on Craigslist or shop at thrift stores to find the right one.
Via House and Home
TV Wall Panel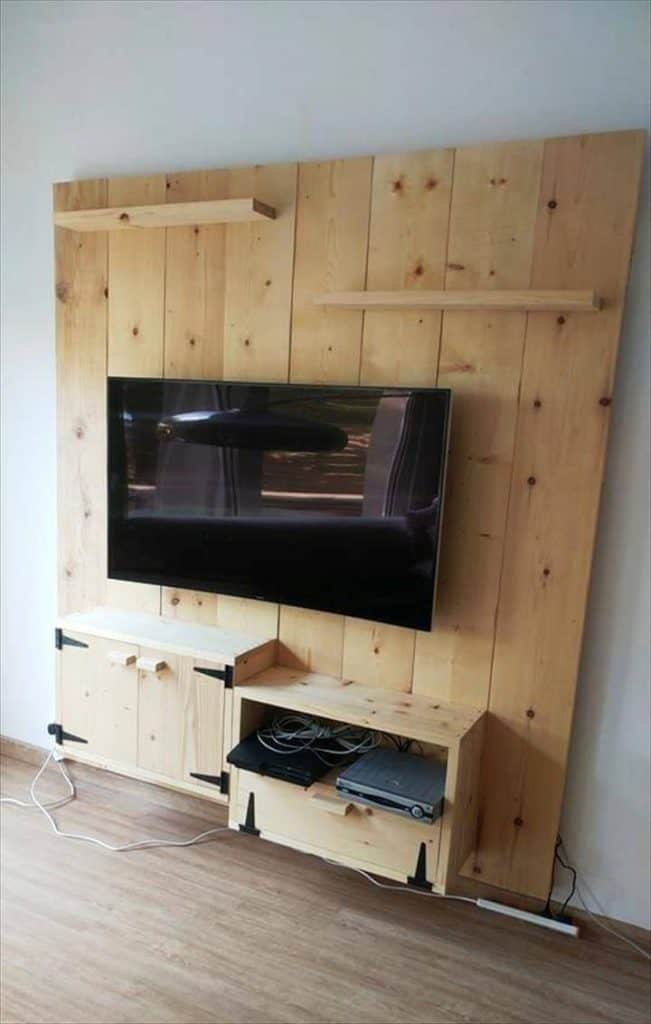 If you're looking for a piece that will pretty much do the work of giving your home a makeover without actually doing a makeover, this is the TV stand for you. Well, wall panel. It's big, it's gorgeous, and it not only gives a great place to put the TV but adds some minor storage and huge aesthetic quality.
This is more something to model from than an actual tutorial, though, so you'll need to already be reasonably handy to pull this off. But, if you happen to be, it won't take much effort to figure it out.
Via DIY Crafts 1
Farmhouse Style TV Stand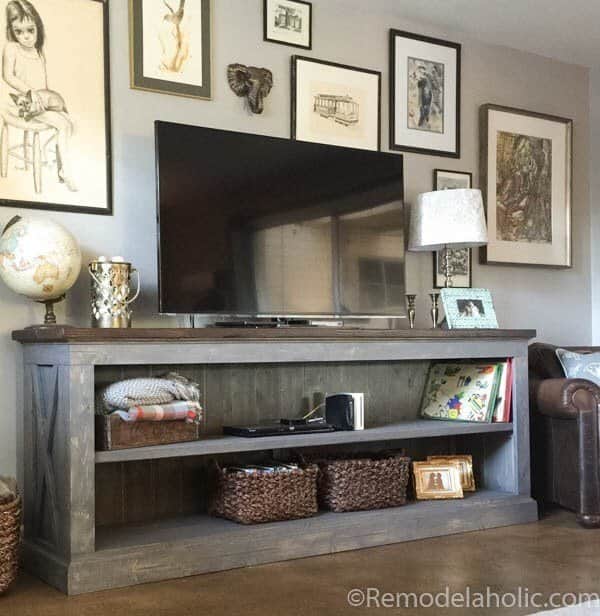 For those who love a beautiful, farmhouse style décor item that's functional, this is your best bet for DIY plans for TV stand. It's an absolutely gorgeous, heavy-duty tv console that will warm up any room with rustic delight and practicality.
You will need a circular saw, table saw, miter saw, and pocket hole jig to create it, along with basic tools like a rubber mallet and sander. As to supplies, you'll need lumber, tongue and groove boards, screws, wood glue, and some brad nails.
Via Remodelaholic
Pallet Wood Curved TV Stand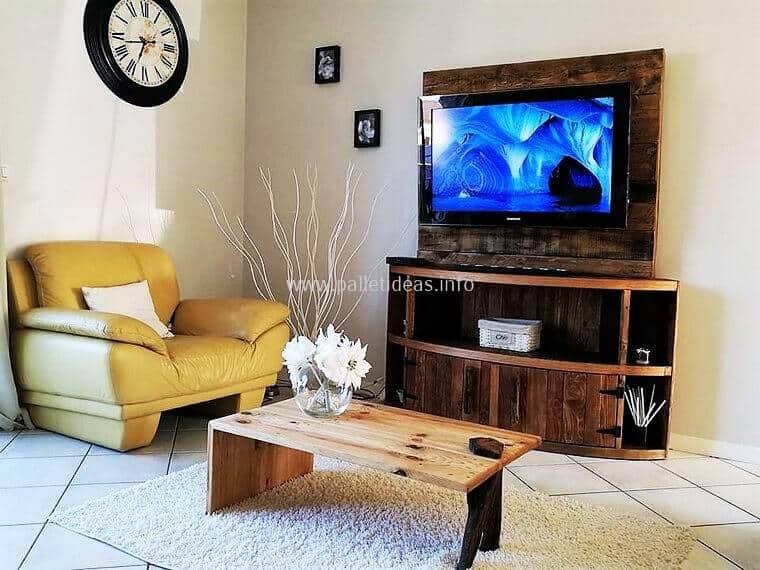 If you've got the right imagination and woodworking skills in hand, you can replicate this beautiful and unique pallet wood curved TV stand for your home. The "DIY" isn't so much a tutorial, unfortunately, but it does show some photos to follow along with.
And the result is perfect for anyone who lives in a home where you don't want to mount a TV on the wall but still want that kind of feel.
Via Pallet Ideas
Pottery Barn Inspired TV Stand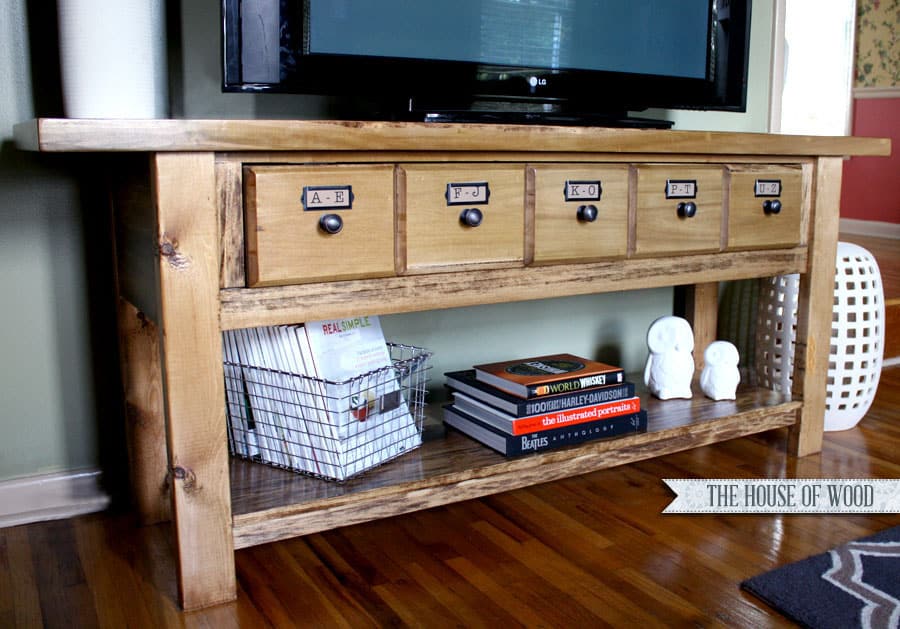 This beautiful TV stand was inspired by one of the amazing designs at Pottery Barn. The design comes from Ana White with the love and tweaks of Jen Woodhouse, the poster for this how to build a TV stand.
You'll need to follow the instructions for this super sturdy, super roomy, giant TV stand and collect together the supplies ahead of time. It's perfect for a large entertaining space, a large, older TV or loads of consoles and tech.
Via Jen Woodhouse
Floating Concrete TV Stand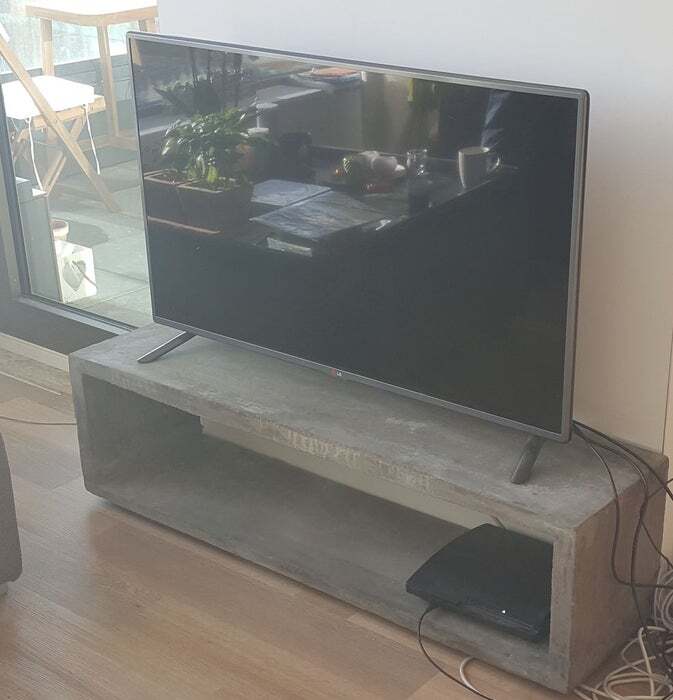 This Instructable gives you all you need to know for building a beautiful, polished concrete floating TV stand. The basic design is supplied, along with, of course, a supplies list, and, bonus – add-on feature ideas and instructions.
You'll need to get some MDF panels, cement mix, screws and kit for working with cement, metal mesh frame – which can be found at most hardware stores – a tub for mixing, paint mixer, leveling cement, and sanding paper. It'll take several hours for everything, but when you're finished, you'll be amazed.
Via Instructables
Easy Rustic Corner TV Stand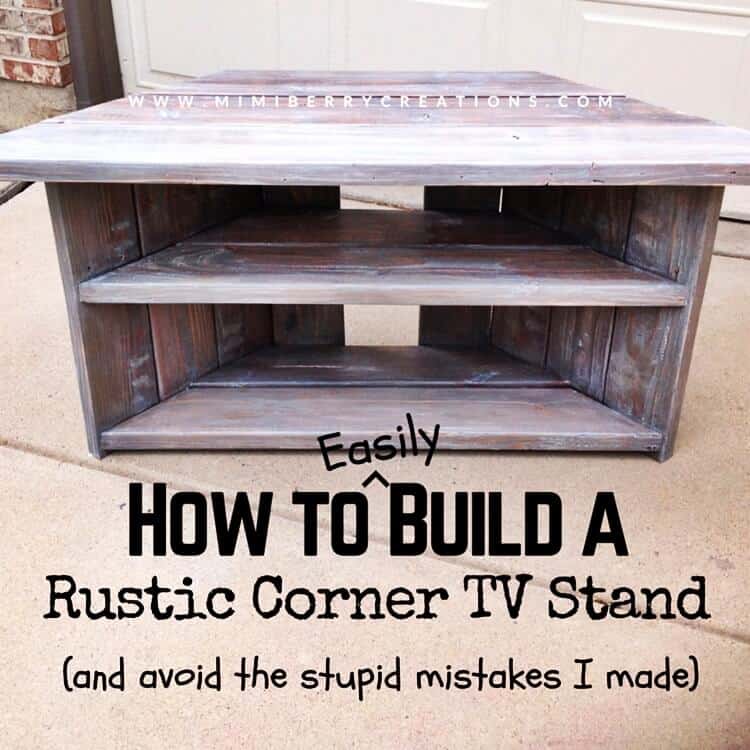 For those in need of a corner TV stand, this is a great, simple, and incredibly attractive option. It's a rustic TV stand design with plenty of function and beauty and just happens to be easy enough almost anyone with a little bit of woodworking knowledge can make.
The original poster used a K5 Kreg Jig for the whole stand, which is perfect for someone looking to start out with one or two power tools but not a lot.
Apothecary TV Console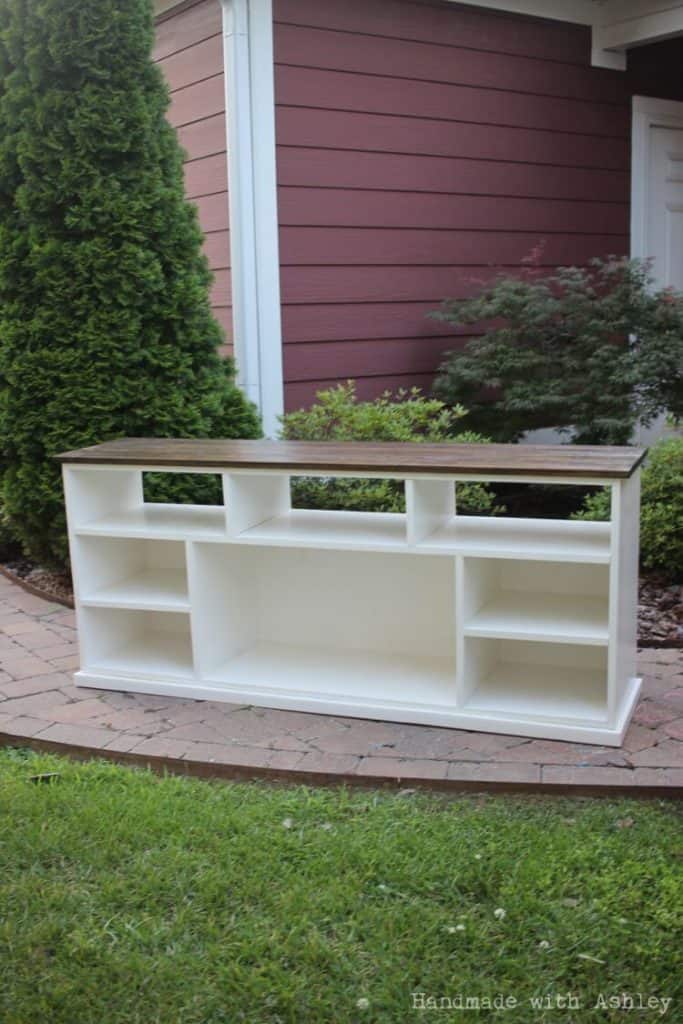 This fantastic apothecary TV console is perfect for the classic vintage lover who needs a bit of storage. The design features three open cubbies for storing things like controllers and games, four drawers, and two cabinets. The best part, they're all concealed by doors that make it appear as an apothecary cabinet.
To make this stunning piece, you'll need some plywood, MDF or Lauan, some boards, and some basics like Elmer's wood glue and wood filler, sandpaper, and paint.
Via Ana-White
Pallet Wood TV Cabinet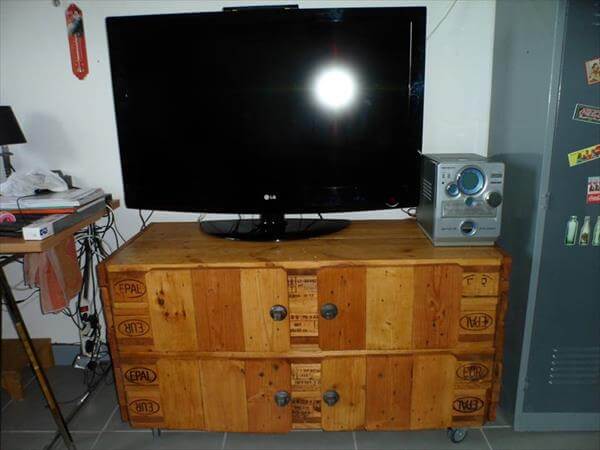 This beautiful rolling pallet TV cabinet is definitely a fantastic-looking option for a casual space. It's large enough to hold everything you'd need for entertainment and pretty enough that you will be more than proud to show it off as something you built from old pallet wood.
You'll need some pallets, of course, some casters, some metal braces, handles, and some stain to create it. Once you've gathered your supplies, you'll need to follow through the photos for the to-do list, but beware that this is more for the advanced woodworker, not the casual beginner.
Via 99 Pallet Ideas
Modern Industrial TV Stand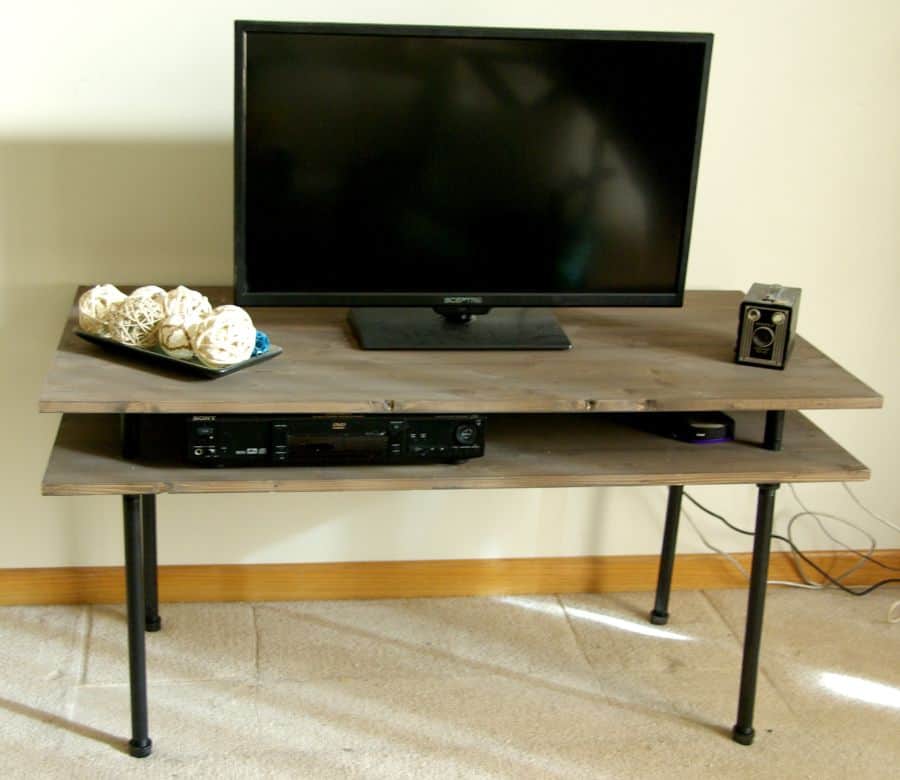 Another unique but simply built TV stand is the modern industrial rustic model. It's made from some large pine boards and pipes to create that rustic industrial look, but the square edges and style make it a modern beauty you'll love showing off.
You'll also find that it has a little bit of storage underneath, perfectly fitted for most DVD players, game consoles, and similar devices for your entertainment pleasure.
Via Homedit
Easy Floating TV Shelf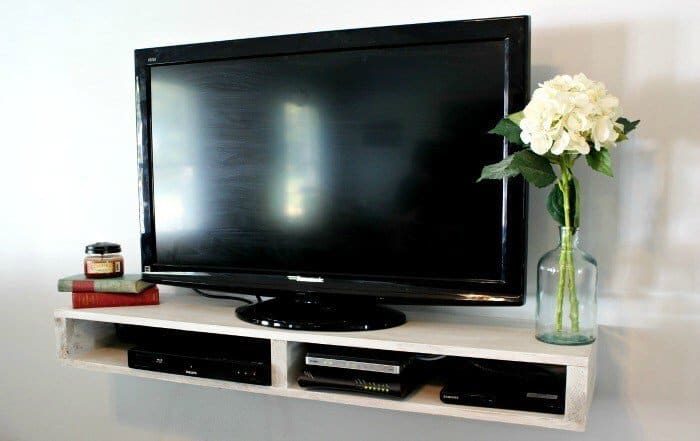 If you simply want a simple TV shelf/stand that will serve its purpose and not really anything else, then this easy, simple floating TV shelf is a great option to consider. It doesn't have any frills, limited storage, and just does what it says while still being attractive.
Just about anyone can build this, too, which is great. It doesn't take much space, doesn't require expensive anything, and will be put together quickly in just an hour or so, plus drying time.
Via Woodshop Diaries
Rustic Corner Media Stand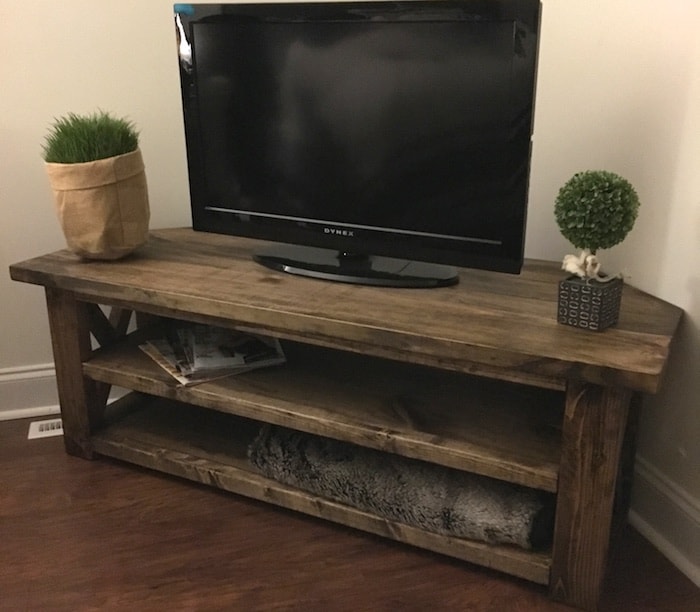 This is another easy, attractive, rustic corner stand for your TV and media equipment. You'll need some power tools to build it and some basic woodworking skills, but nothing too crazy.
To make it, you'll need a pocket hole jig, a drill, miter saw, and basic tools, along with kiln-dried lumber, studs, some 2x4s, 2x2s, pocket hole screws, wood screws, and some wood glue. In just about a day's work, you'll have this fabulous TV stand ready to go.
Via Rogue Engineer
Concrete and Plywood TV Stand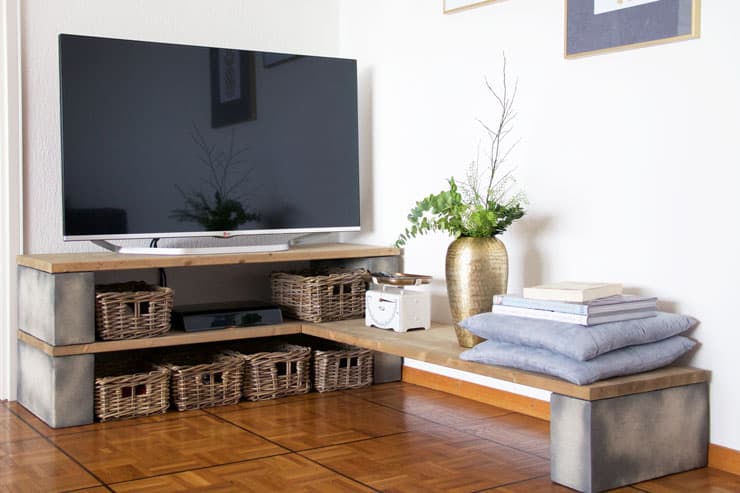 The original designer of this TV stand mentions right off the bat that it wasn't an easy thing for her to build – but take note that it's because of her location. In most places, it should be fairly easy to come across the necessary supplies for not a whole lot of money.
This is a perfect option for a small TV stand, combining the beautiful elegance of gorgeous wood and the easy, directness of concrete. Just follow her instructions and learn how to make it – hopefully far more easily – for your own home.
Via Sofia Clara
DIY Door to TV Stand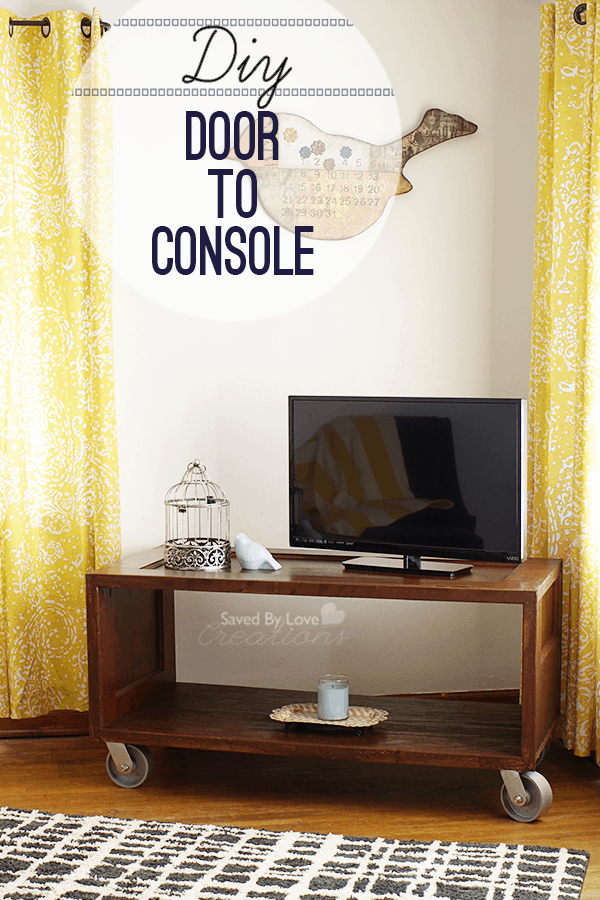 We love this project because it's beautiful and it repurposes old supplies that otherwise would end up in a landfill. So, it's a cheap solution to an otherwise expensive problem, assuming you've got access to some old door that's no longer needed.
The directions are more of an "I did this" than a precise tutorial, but if you've got a saw and a little creativity, you shouldn't have too much difficulty figuring out how to do it for yourself.
Rescued TV Console DIY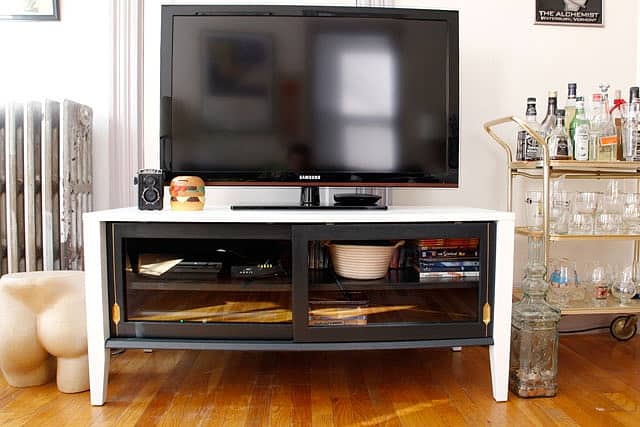 This is the absolute perfect project for the less-than-handy dumpster diver who's ready to rebirth something wonderful from, well, someone else's trash. It's the rescued furniture option that you can do from almost any old furniture you can find in an alley somewhere.
You'll need to bring home the old piece and be prepared to give is some love. From there, follow the "how to make a TV stand" plans from this gal at Idle Hands Awake, and make the tweaks you need to turn one man's trash into your very own TV stand treasure.
Via Idle Hands Awake
Easy Build TV Stand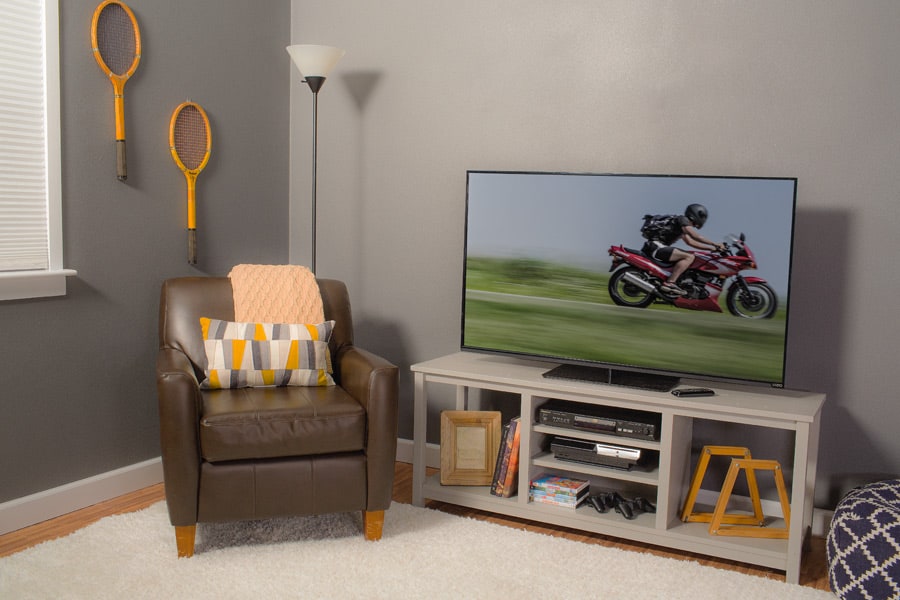 If you're looking for an easy to build project that you can make from scratch, then this simple option is a great choice. You'll need several long boards, some plywood, brad nails, pocket hole screws, and some shelf pins.
In just a few hours, you'll have this put together and ready for some paint – whatever paint contents your house-makeover desire. Just be sure to read the instructions a few times through before getting started, to make sure you know exactly what you need.
Via Build Something
Turned Leg Media Table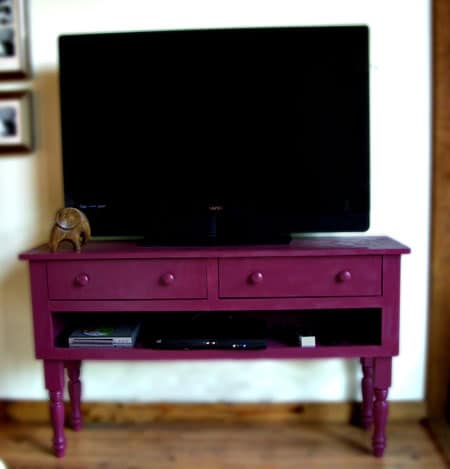 This one reminds us of an old family chest of some kind, turned into a media table for current use. You can, of course, go dumpster diving for something new-to-you to paint, or, if you like working from scratch, you can build this beauty from some simple supplies.
You'll need some 1x12s, 1x2s, a 1×3, plywood, farmhouse style turned legs, screws, finish nails, wood glue, wood filler, paint, primer, and conditioner, and some other basic supplies. Soon, you'll have this beautiful tv stand with storage and style.
Via Ana-White
Rustic X Console Table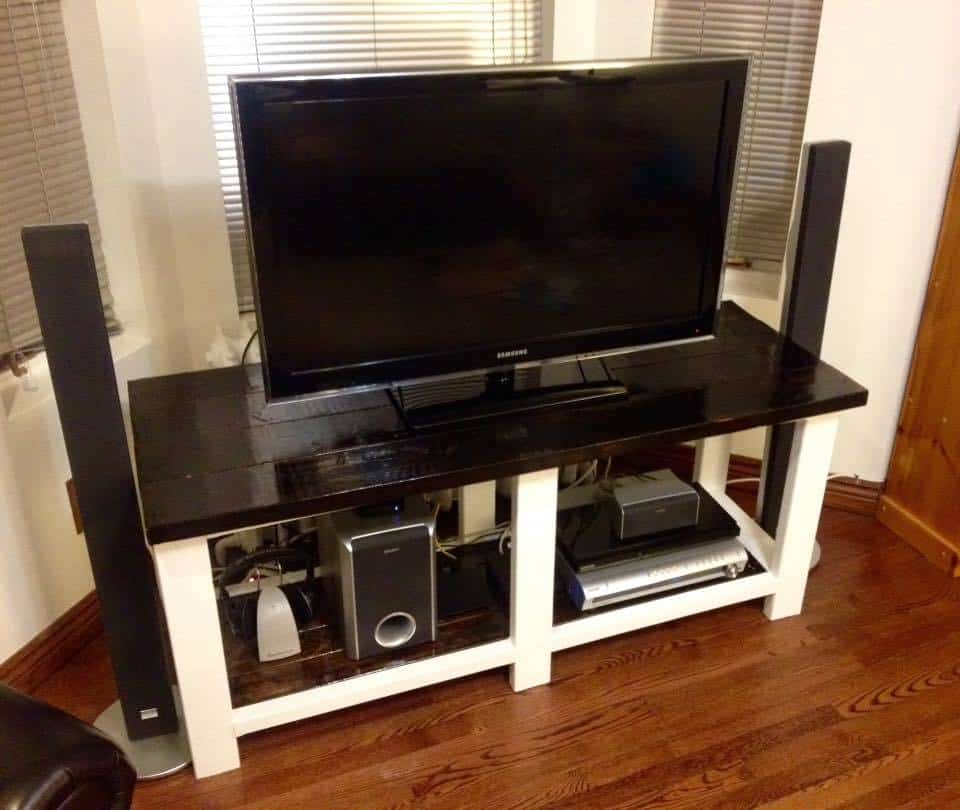 Anyone with a lot of devices and a hefty sound system attached to their TV will be able to appreciate this beautiful and highly practical TV console table designed to house it all. The best part is you can use just about any kind of wood to create the exact style to match your decorating style.
You'll spend about $150 on it, getting 2x4s, 2x2s, stain, plywood, and other supplies. It will take about a weekend to put together – including drying time – and anyone can do it if they have the right tools on hand.
Via Ana-White
Super Simple TV Stand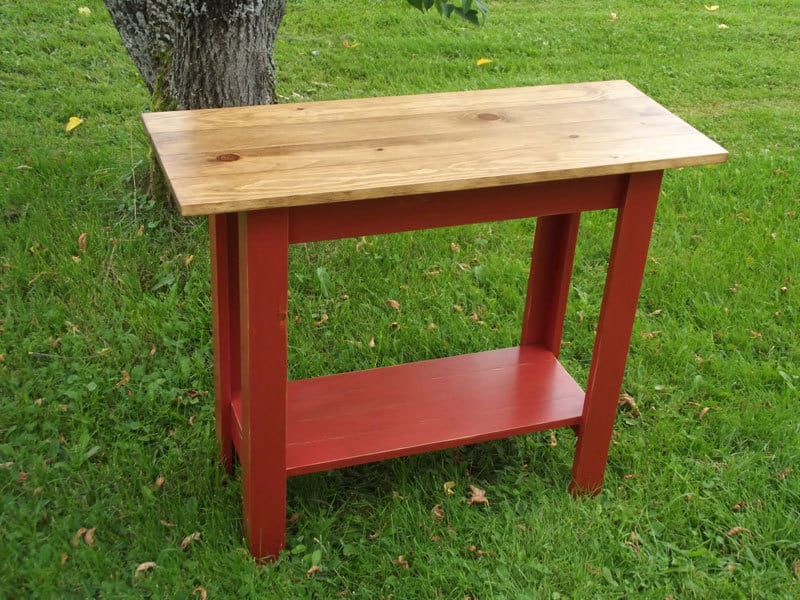 Another super simple, straightforward, no-nonsense kind of TV stand from Ana White offers you flexibility and ease – especially if you're not that skilled yet in woodworking. You'll just need some wood and basic supplies and a weekend to put it together and let it dry.
The stand is based on old plans from Ana White, but they're still just as good now as they were originally. And the table is beautiful.
Via Ana-White
Grandy Sliding Door Media Console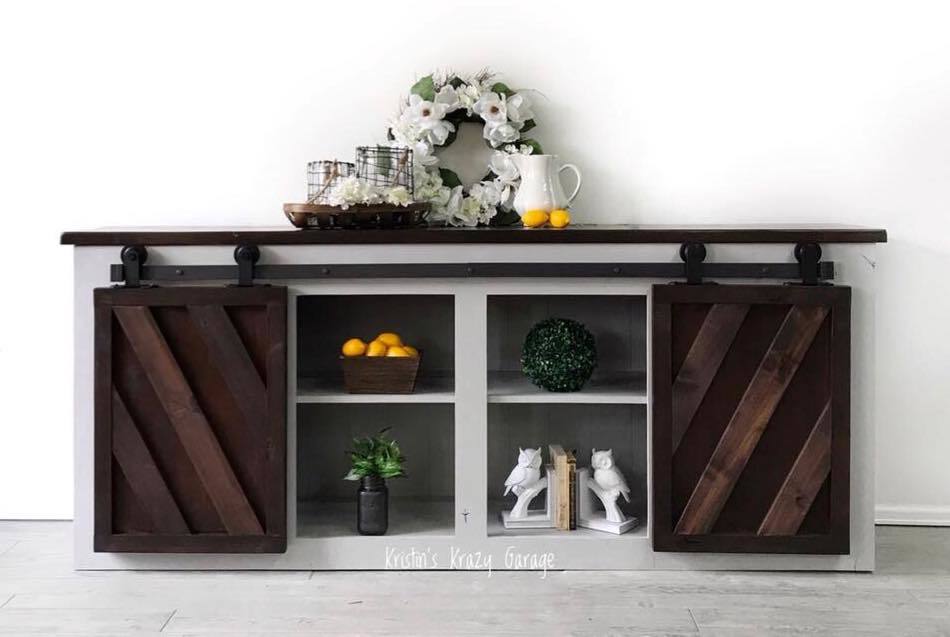 This beautiful sliding door media console is a combination of rustic, farmhouse, and modern, with some beautiful details you'll love. You'll need some special supplies and power tools to make it all work perfectly, and once you build it, it's perfect.
You'll need some 2x10s, 1x8s, 1x10s, plywood, 1x2s, 1x4s, 2x3s, project panel pieces, sliding door hardware, and common materials like screws and wood glue. It is a fairly advanced project, so make sure you've got some experience before you attempt.
Via Ana-White
Pottery Barn Inspired Simple TV Console Stand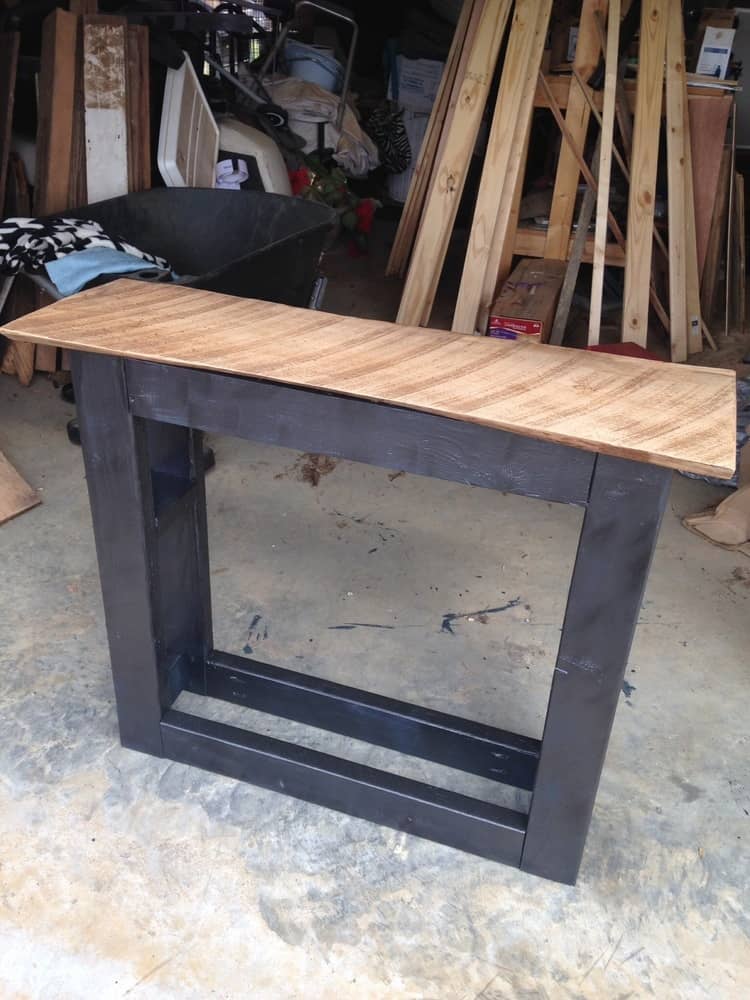 This super simple, inexpensive TV stand is built from a plan for an end table, but it's got all the size and style you need for a small, simple stand for smaller spaces. And it's completely gorgeous and chic while being easy enough to build that practically anyone can do it.
For this afternoon project, you'll need some reclaimed wood, paint or polyurethane finish, wood glue, pocket hole screws, and some basic tools and supplies that most of us already have on hand.
Via Ana-White
Media Console with Side Shelves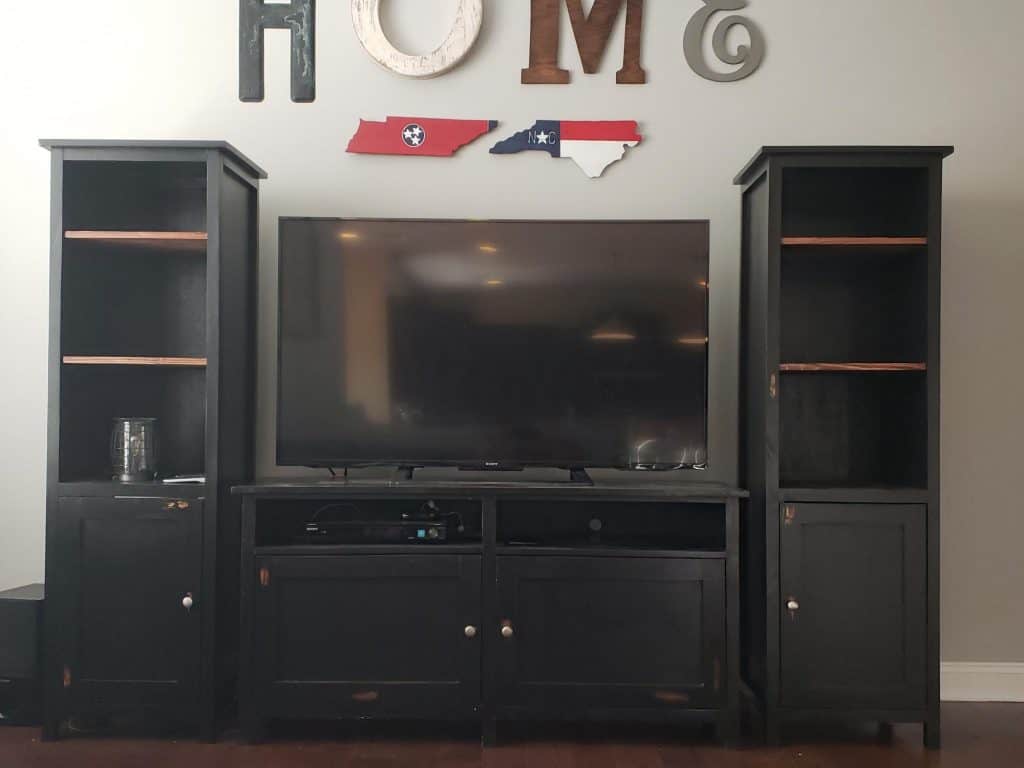 When you need a good bit of storage but don't want a single giant media storage and console piece, this is a great project. The console itself isn't so heavy and the shelves come separately, so you won't break your back moving the piece.
The design is perfect for anyone with unusually shaped spaces or narrow wall sections, as well as larger walls where the whole set can be situated comfortably.
Via Ana-White
Multi-Shelf Floating TV Stand Console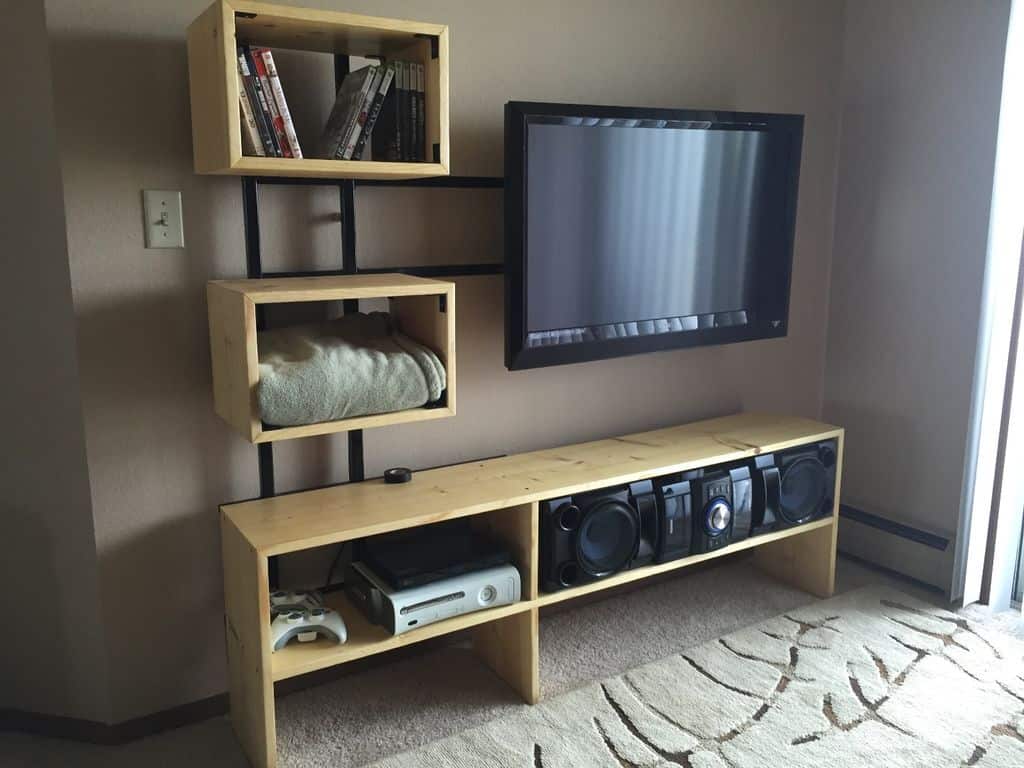 If you love the idea of the floating TV stands above but need more storage than they offer, this is a great alternative. You can piece it together with exactly the number of shelves you need or go with the straight-up design as is.
To build this, you'll need some boards, square tube, corner pieces – L supports for upper shelves – Metric bolts, screws, spray paint, and tools like a drill gun, miter saw, chop saw, and welder.
Via Instructables
Rustic Glass Top Pallet Wood TV Stand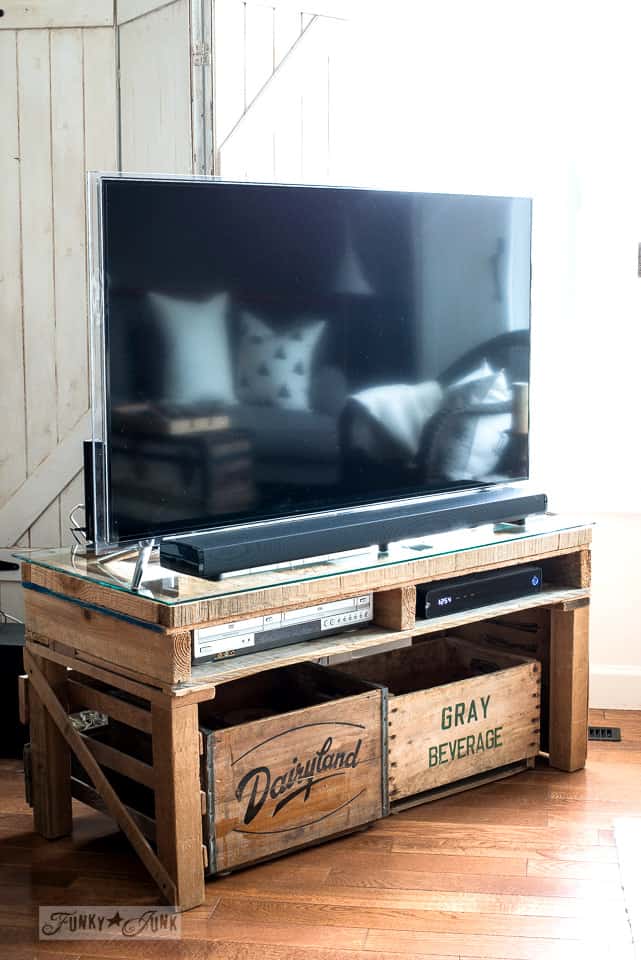 Reclaimed wood has a certain beauty that newer wood simply doesn't have. And this project embraces that beauty and employs old pallets to create a uniquely beautiful TV stand that fits in just about any space, large or small. It's not suitable for a giant TV, but most standard sizes will comfortably fit.
The tutorial takes you through the process, step-by-step, with photos showing how the TV stand is made. So, grab your old pallets, your tools, and your work gear, and get to making.
Pin Leg Crate TV Stand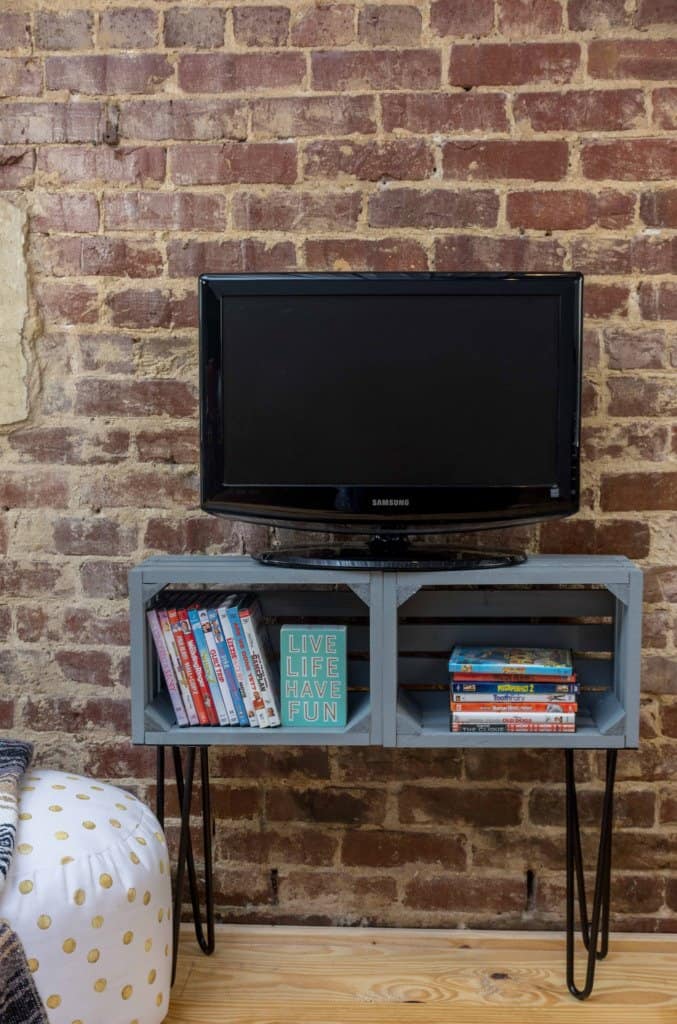 This hairpin leg crate TV stand is the perfect project for someone who needs a new TV stand with a little storage and doesn't happen to have a ton of woodworking skills or experience. It's super easy and turns out beautiful, so who could complain?
You'll need some sturdy crates – reclaimed are awesome, but Michael's sells them, too – some hairpin legs like you get on Amazon, and some screws and paint. In an afternoon, you'll have this beauty ready to use.
Via A Little Craft In Your Day
Totally Mobile Rolling TV Stand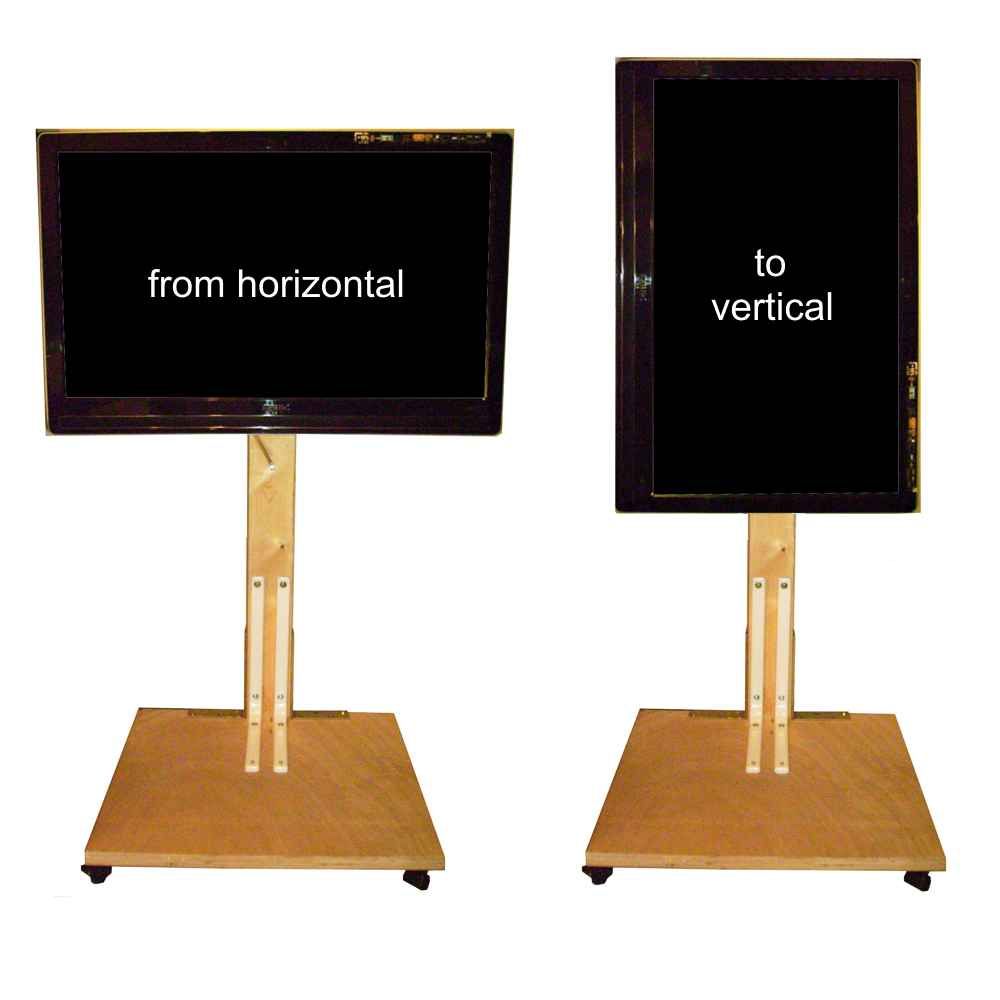 Any teachers in the house? This is a great option for making that TV at the school super mobile without spending a fortune on those expensive rolls stands from the electronics store. In fact, you just need some basic supplies and tools, and in no time your flat TV is ready to roll.
You'll just need a wall bracket that fits your TV of choice, some plywood, plumbing pipe, washers, screws, metal plates, metal corner connectors, and metal shelving corners.
Via Instructables
TV Monitor Stand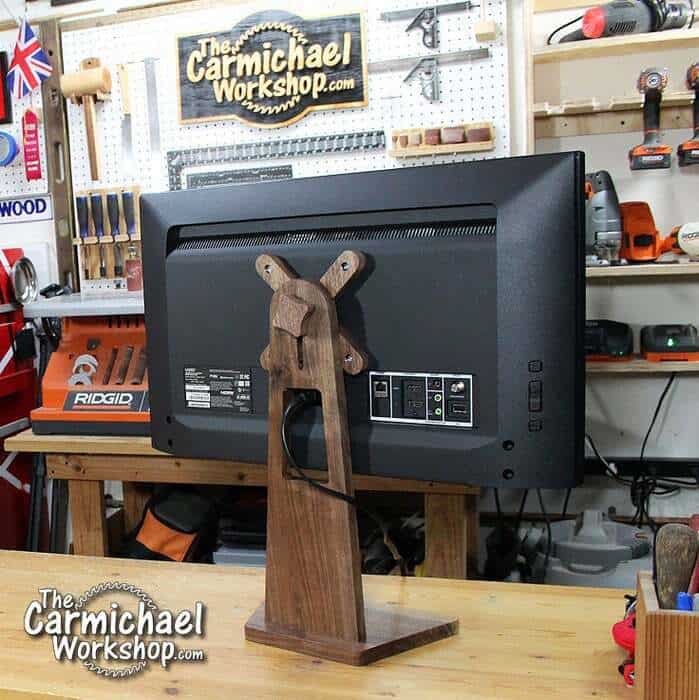 Having difficulty finding a stand/base that will fit your monitor? This is the perfect solution. You can build one. It's much more stable and secure than the plastic ones you find online, easy to mount to, and way more attractive than those metal pieces, too.
The tutorial shows you all the steps you need to take – photos included – to craft this beautiful and unique TV monitor stand. Just give yourself a little time and grab those tools. Soon, you'll have the prettiest stand around.
Via Instructables
Finding the Right TV Stand
TV stands come in many forms, as the above tutorials show repeatedly. If you need something simple, that's available. Something more elaborate and elegant? Also doable. And whatever your skill level, you'll find at least or two projects that you can make and love.
Just be sure to look through the supplies lists, read the instructions – or look at the photos and videos – and be prepared to build the one you actually choose. Some are far more complicated than others and require heftier skills and supplies. But you might be surprised at how easy some of the most complicated ones really are.