15 Amazing and Cheap DIY Console Table Plans & Ideas
By: Desert Domicile Team
|
Console tables are an excellent way to add storage space to any room in the home without using furniture with a large footprint. Console tables have a long and thin tabletop, and they typically stand at waist height.
Console tables make handy surfaces around the home. Place them behind your sofa, and use it to place the TV remote or a cup of coffee. They provide a new level of convenience for any room in your home.
However, you don't need to spend a lot money on buying a console table. Here are 15 DIY ideas you can make yourself, using reclaimed and affordable materials, and a few hours of your time.
Classic X-Frame DIY Console Table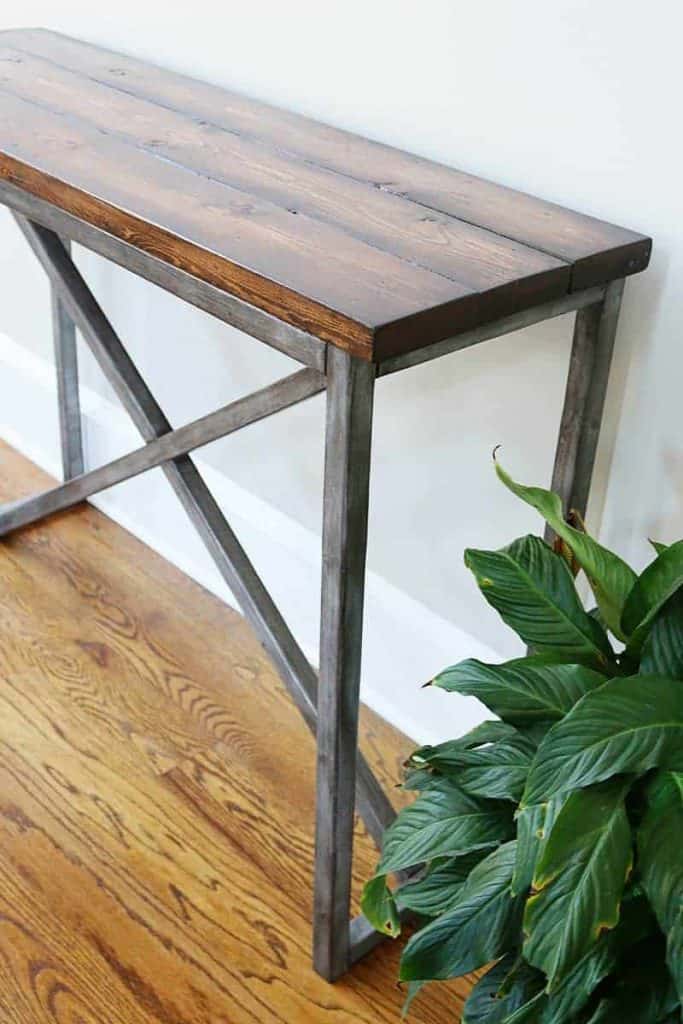 This entryway table is easy to put together in a few hours at home, using reclaimed materials. The table gets its strength from the x-frame that links all corners of the table.
It's ideal for the entrance to your home. Toss your car keys onto the counter when you get home, along with anything else that you need to remember to take with you when you're on your way out.
Classic W-Frame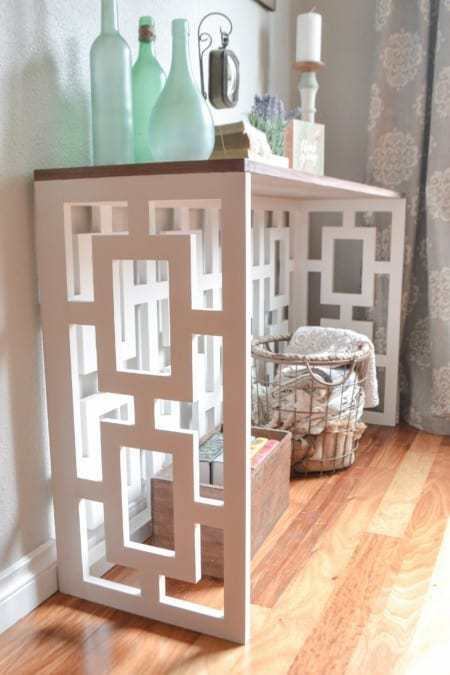 This classic W-frame console table features construction with reclaimed wood. Sanded, lightly stained and sealed, this console table provides a rustic feel to the room, and its best for entrances and kitchens where space is at a premium.
The table has an authentic farmhouse feel to it, and it's sturdy enough to support a decent amount of weight, thanks to the W-frame design.
Pattern-Design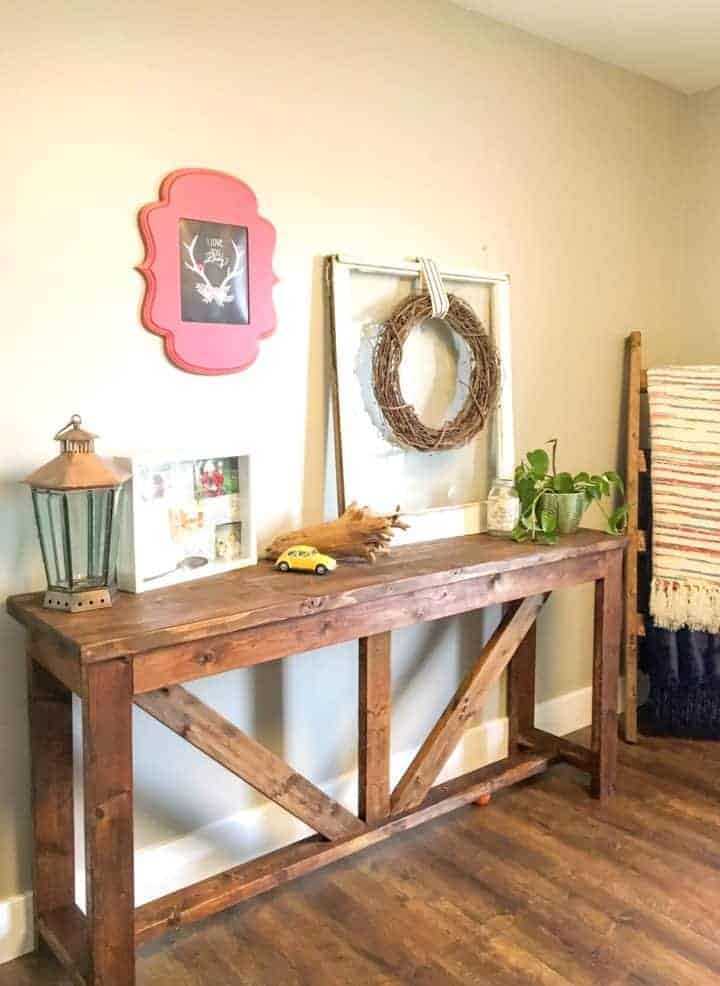 If you're feeling creative, then pull out your jigsaw and get to work on creating this stylish design. This table features a mosaic-style cut-out in the boards, bringing a new design dimension to the legs and back of this table.
Use a jigsaw to cut out the designs, and make sure you sand the edges to avoid splinters and burs. This one is ideal for the living room or the bedroom, and its eye-catching design looks both professional and exquisite.
Simple Wooden Console Table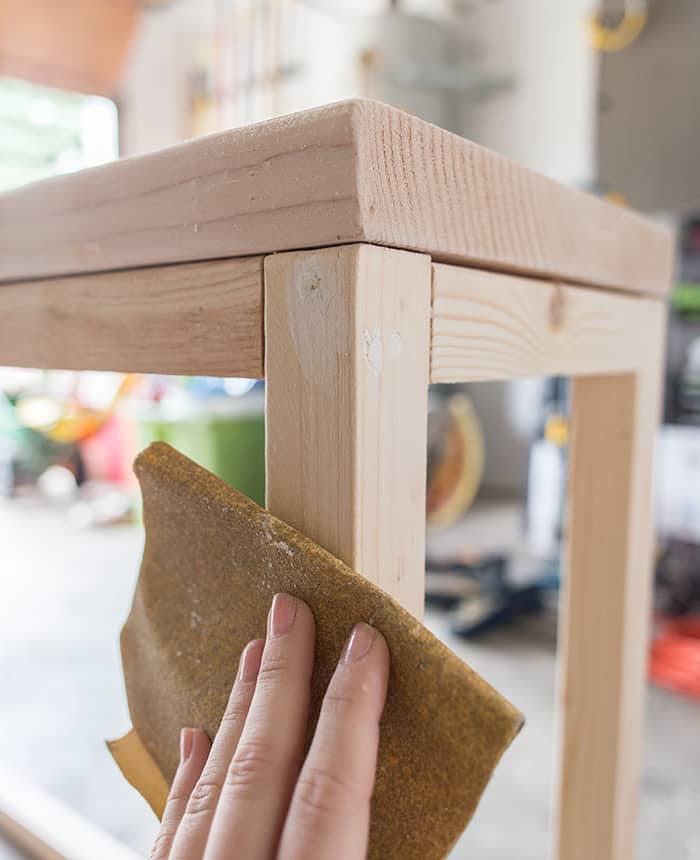 This simple wooden console table table is easy to put together in a few hours. You can use reclaimed wood or purchase pre-cut lengths from the hardware store.
Put it together with a few fasteners, and sand it before sealing. Use it anywhere you need placement space in your home.
Shelved Wooden Console Table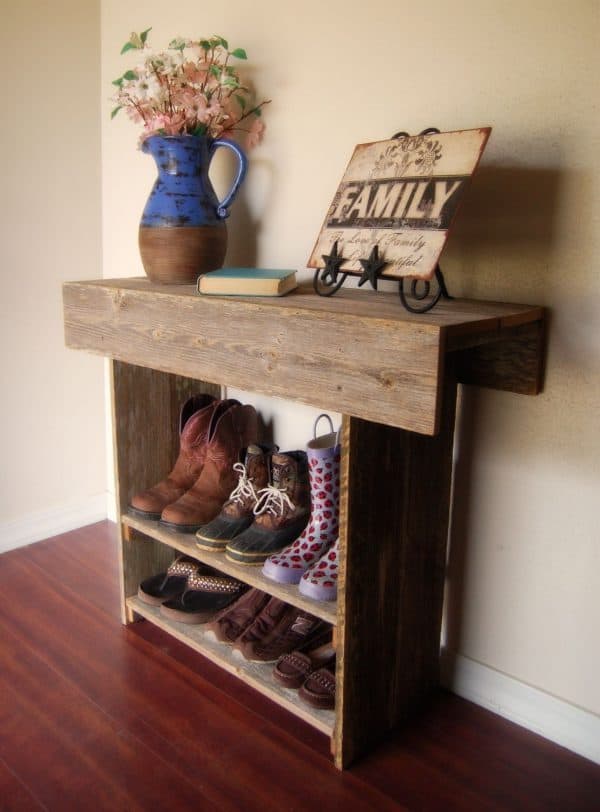 Add depth and functionality to your wood console table by adding shelves underneath the tabletop. This design features two shelves, supported by X-frames at either end of the table.
It can handle a significant amount of weight due to its sturdy construction. We love the dark-finish on the wood, and we think this table will look great in the living room or study.
Shoe-Rack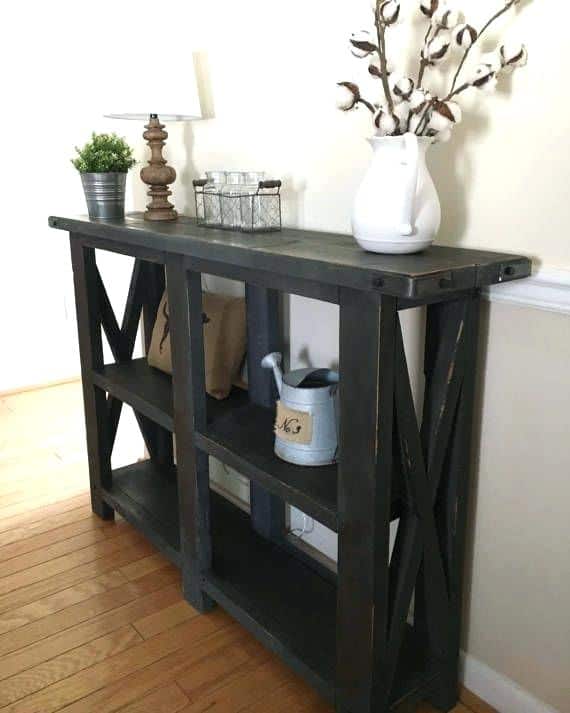 Are you tired of everyone dragging mud through the house after a snow day or heavy rain? This shoe-rack console table is the ideal addition to the entrance of your home.
Let your kids swap their shoes before they mess up your kitchen floors right after you finish mopping.
It looks outstanding in reclaimed wood left raw, with only a sealant applied to waterproof the shelves.
Modern Style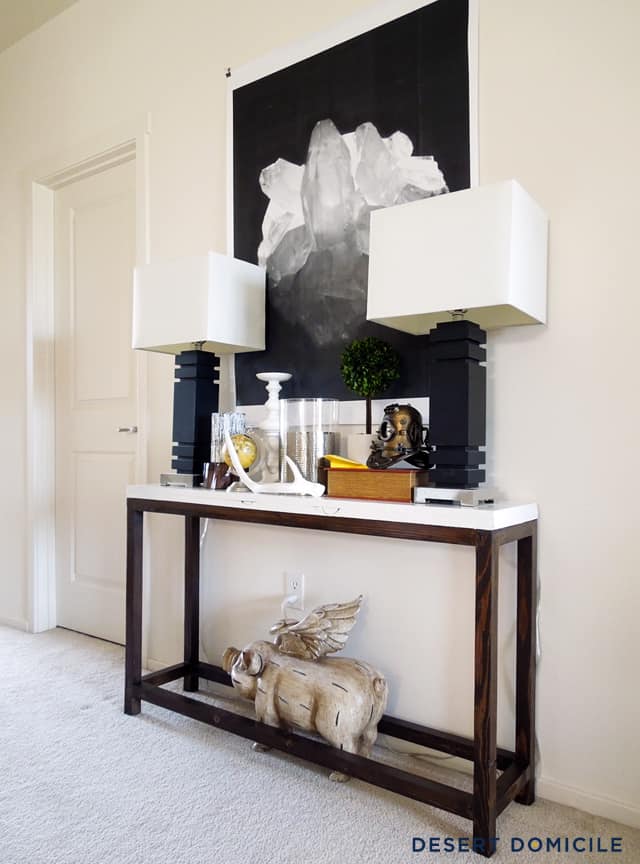 If you own a contemporary or modern apartment, then the chances are you won't want a reclaimed wood table.
This example of a chic and contemporary console table is an excellent choice for living rooms, entrances, or studies, and even the bedroom.
The classic, dark cherry wood frame complements the white tabletop for a fantastic contrasting effect.
Reclaimed Pallet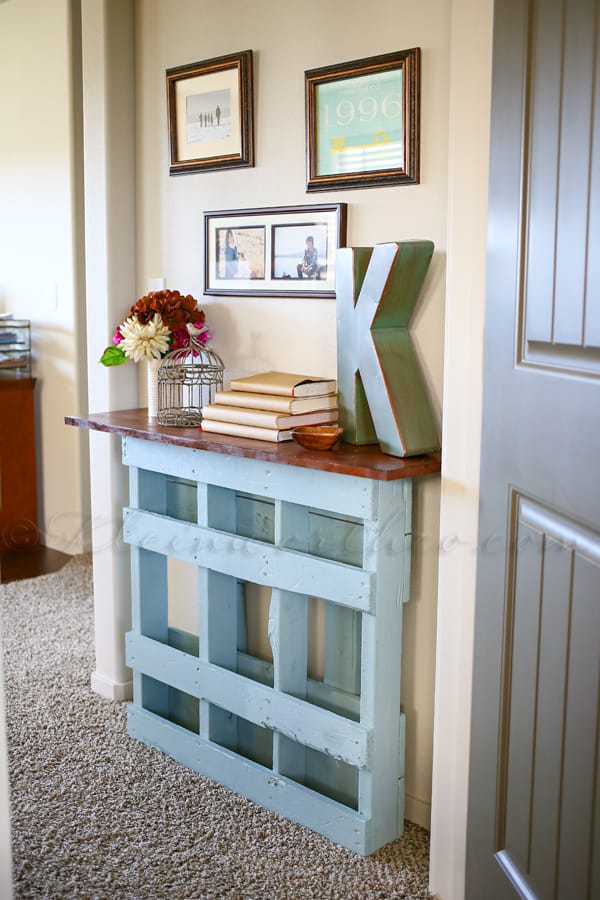 If you live somewhere close to a shipping yard, then head over and pick up a wooden pallet. In most cases, the yard should let you take any damaged pallets for free; you're doing them a favor.
Take the pallet home, sand it, add a tabletop, and paint it your favorite color. We love this lilac-blue pallet design for an entryway table. The thin and compact design of the pallet makes it the ideal table for entrances and corridors in the home.
DIY Console Table on Casters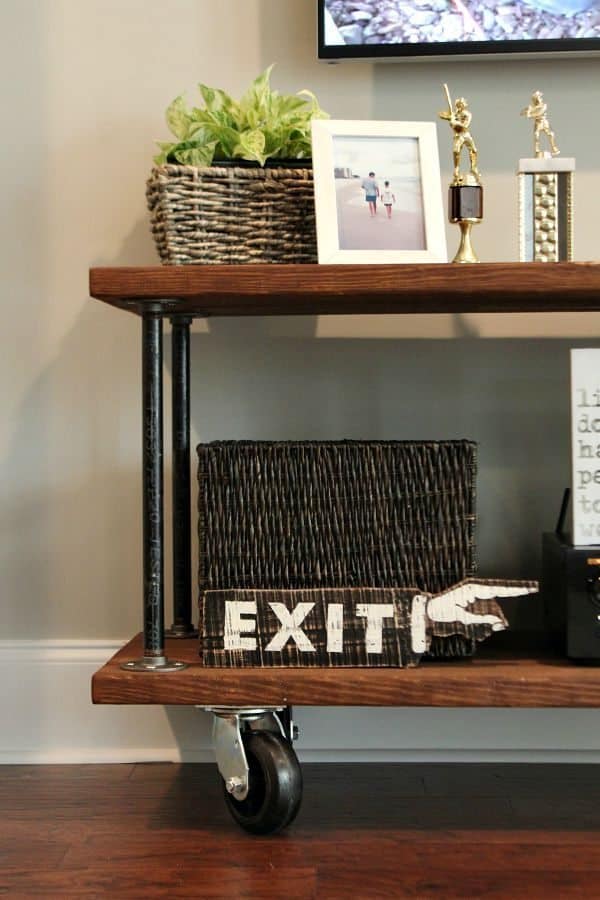 This genius idea lets you move your console table anywhere in the room. Pull the table over to the couch while you're watching TV, or use it as serving trolley when guests come over for a dinner party.
Simply attach some cheap casters to the underside of your table, and it turns into a mobile storage solution.
Doorway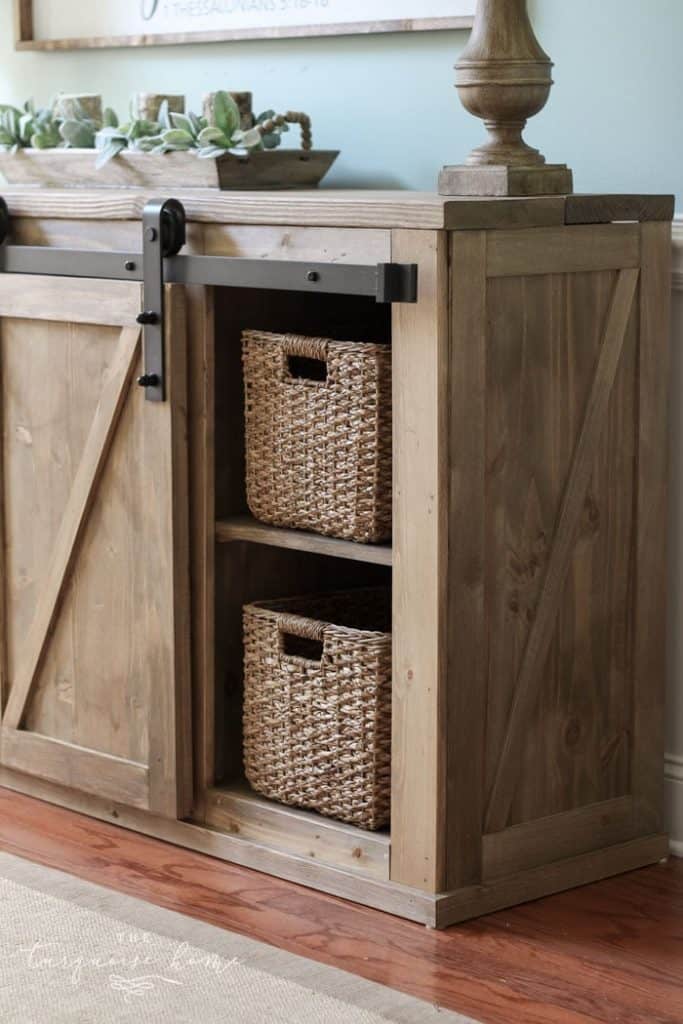 We love the slimline design and small footprint of this DIY console table. It's the ideal table for dropping your keys and wallet on as you arrive home from work.
The slimline fit allows the table to fill in the dead-space in doorways and walkways or passages between rooms. This light natural-wood finish adds color and light to the room, as well.
Farmhouse Storage Console Table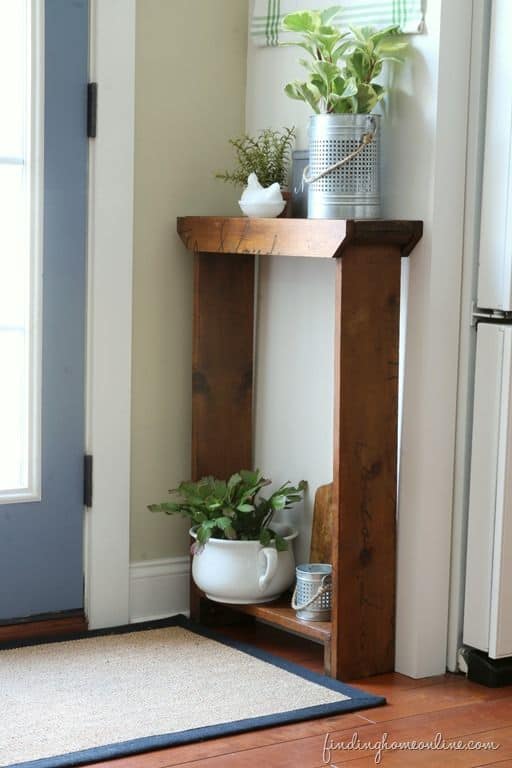 This farmhouse console table is ideal for the dining room. Use it to store your crockery and table-settings.
The handy baskets are easy to remove for further under-counter storage, and the swinging door with wrought fittings look rustic and rugged.
Shelved Storage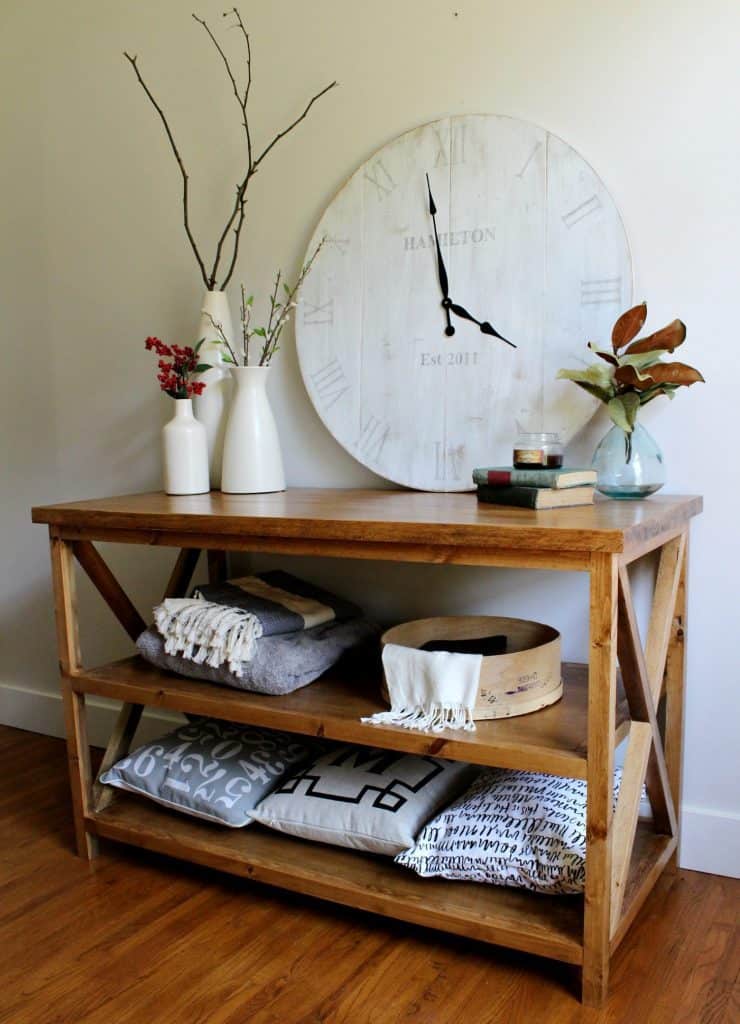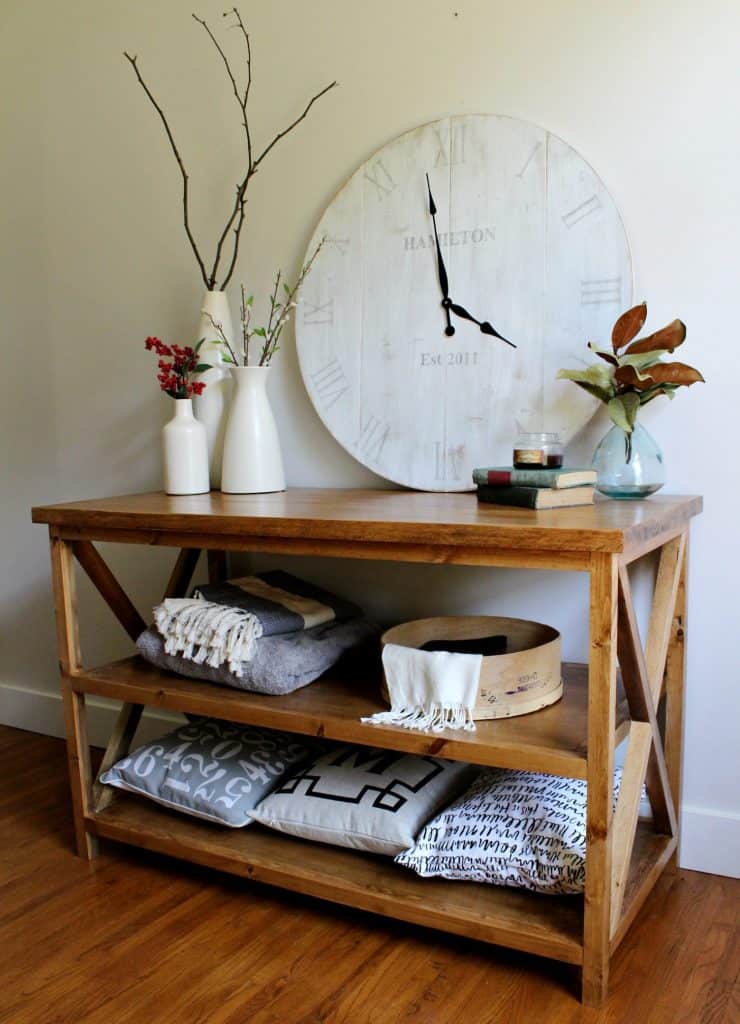 This natural-wood double-shelf console table compliments the natural wooden floorboards in this image.
With a wide surface area on the storage shelves, it's the ideal table for the dining room, living room, or the bedroom.
Behind the Couch Console Table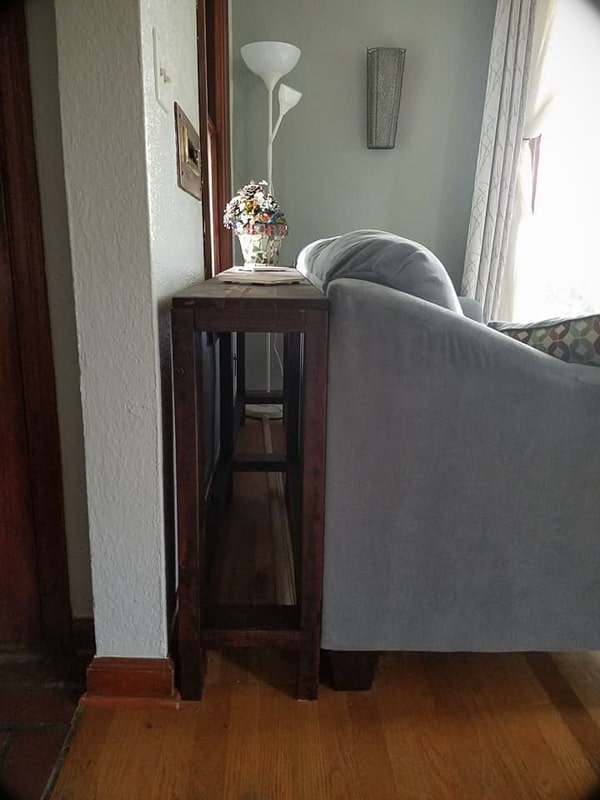 If you're tired of always losing the TV remote on the couch, then check out this behind the sofa table.
It's an excellent choice for the living room and keeps drinks off of the floor while providing you with slimline storage space.
Basket Storage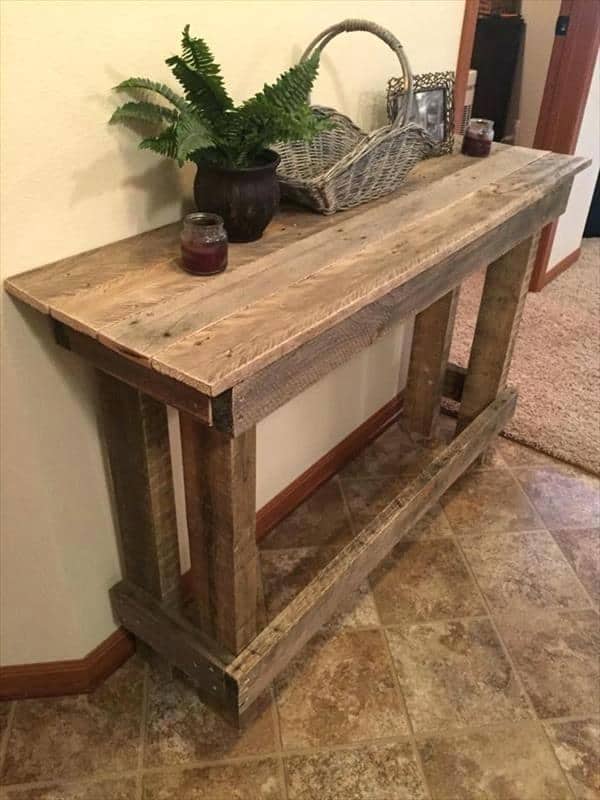 This DIY console table is an example of a high-storage unit that's suitable for the living room, study, or dining room.
There's plenty of shelf space, and the wire baskets give you easy storage access.
Rustic Wood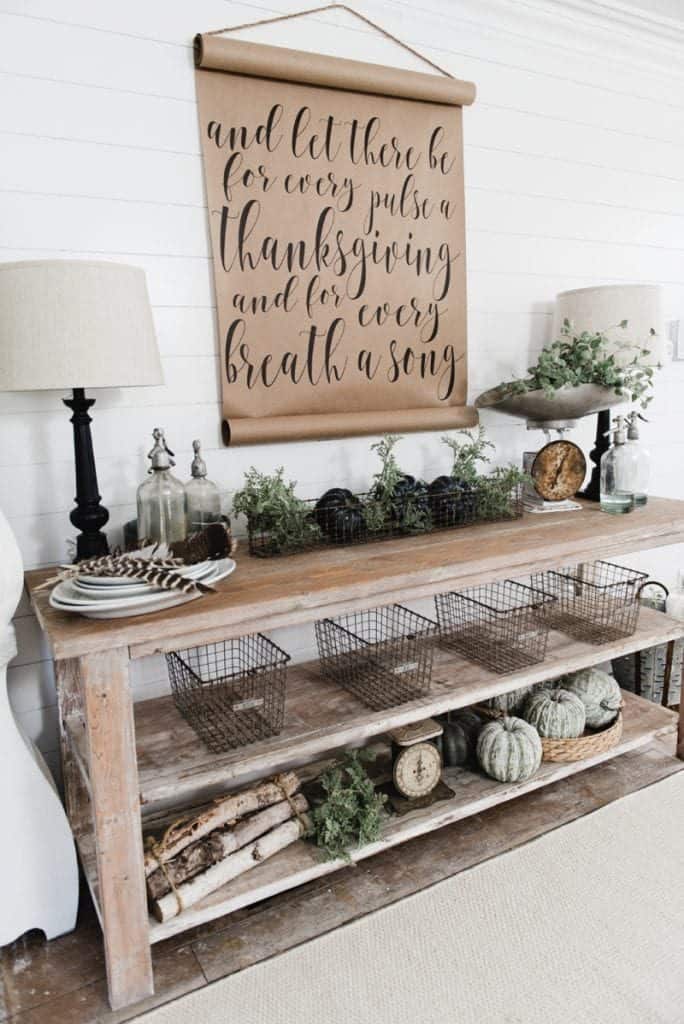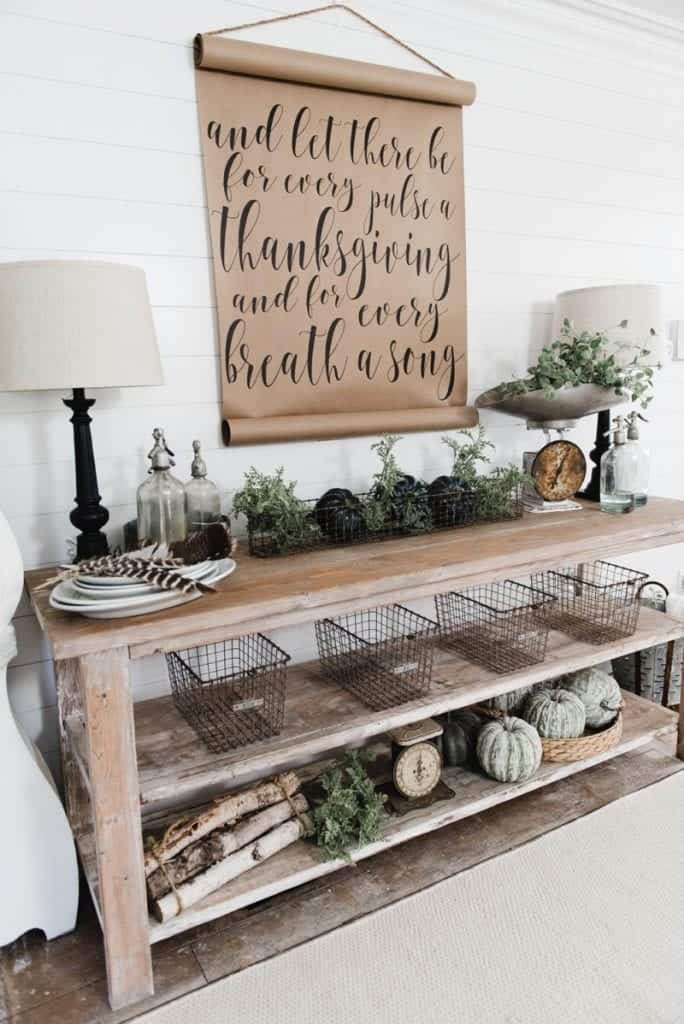 If you're looking for a rugged and rustic-looking wood console table, then this design is your best bet. We love the thick, wooden design and the sturdy support on offer from this table. Use it in entryways or between rooms in the passage.
Conclusion
Building a DIY console table isn't as challenging as you think. All you need are some basic tools and a splash of creative imagination.
Console tables make convenient storage spaces in every room of your home. If you're tired of spilling your tea in bed, then a behind-the-couch table is a fantastic idea for behind the bed as well.
Whichever table you choose to build, remember to measure twice and cut once!