30 DIY Gorgeous & Easy DIY Notebook Covers
Whether you're a journaling champ, teacher, parent, college student, or somebody who just knows the value of a good notebook, you'll find these attractive notebook covers way better than just about anything you can buy at the store.
Each design is created with aesthetics and ease of design in mind so that almost anybody can make them – with the right tools and a little handy know-how.
Be sure to scroll through the whole list before choosing your design, though, as there are some really fantastic ones you won't want to miss towards the bottom.
Easy Fabric Cover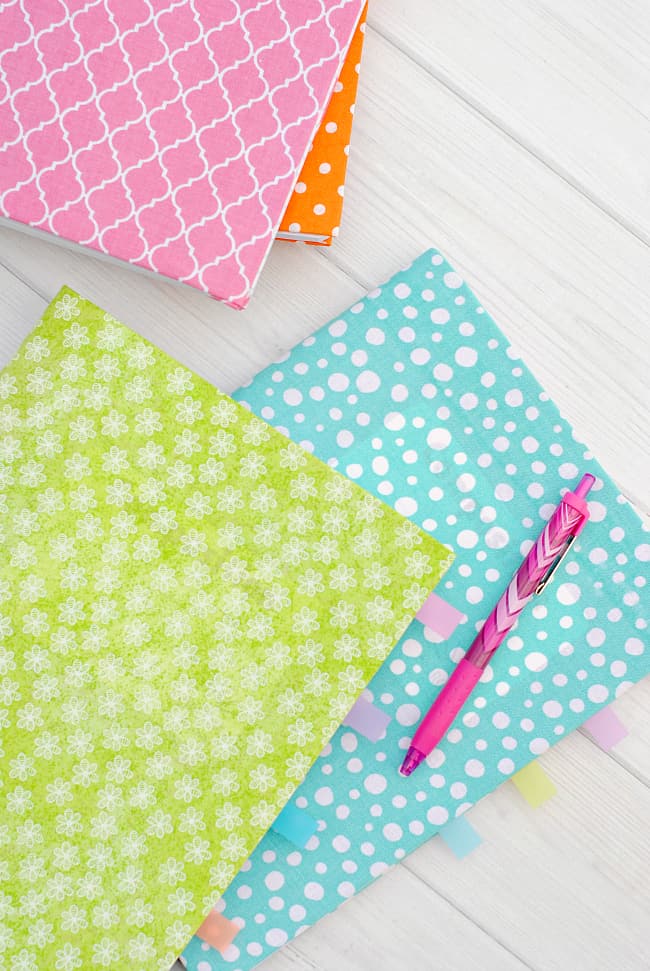 For anybody who loves the look of a fabric journal or notebook cover but sewing's not your game, this is the project for you. You just need some glue, fat quarters – i.e. fabric scraps – that perfect journal, and some scissors, and you're all set to go.
This is a great project to do with the kids, too, and may just help encourage them to take great care of their school supplies or take an interest in journaling themselves.
Reusable Sewn Fabric Notebook Cover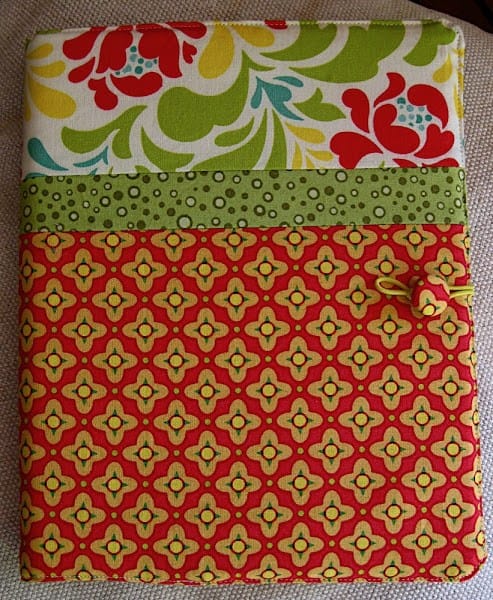 For the crafty seamstress or tailor, this reusable sewn fabric notebook cover is a great option. The design is especially for notebooks measuring 15 by 19 inches, but you should be able to tweak everything just a little if you have a different favorite standard.
The tutorial tells you how to adjust the pattern, how to do everything step-by-step, and even shows you how to add in a pocket for keeping those essentials close at hand.
Via My Patchwork
Easy Sewn Notebook Cover With Interior Pocket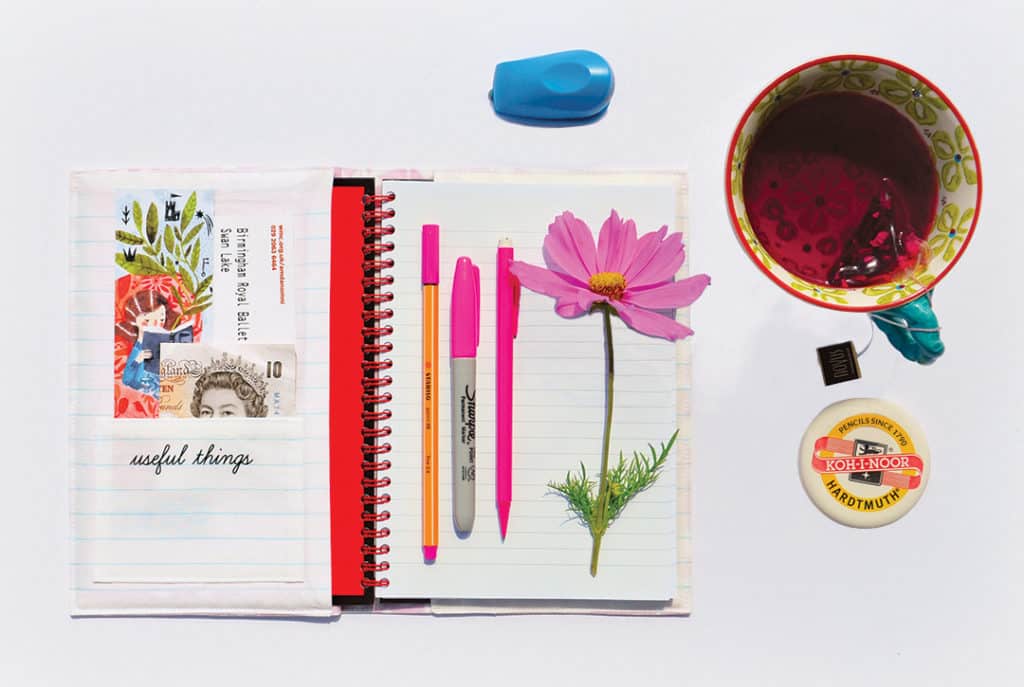 For an even easier notebook cover project, you've got this one with an interior pocket for all your writing needs. It's an especially great reusable option for the kids who can pick out the fabric they love and help with cutting out the pieces.
This pattern works with any fabric – whatever you love – and perfect for personalization.
This cover is also a great gift that keeps on giving, assuming you fit it to a standard notebook size that your friends and family can easily replace.
Via Spoon Flower
Sewn Notebook Cover With Latch And Pen Holder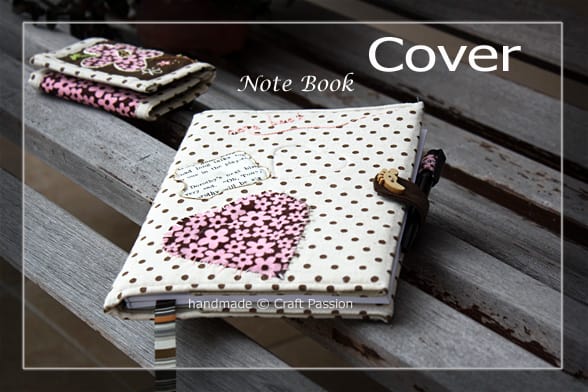 If you need to carry around your pen and keep that notebook close securely, this one's for you. This sewn cover is a super easy design with a personal touch that helps it stand apart from the rest.
Just grab some fabric scraps or fat quarters from your local craft store, your favorite style of notebook to build the cover around, and a water erasable pen.
The project is simple and quick and just about anyone with a sewing machine can make it in no time.
Via Craft Passion
Stylish Scrapbooking Notebook Cover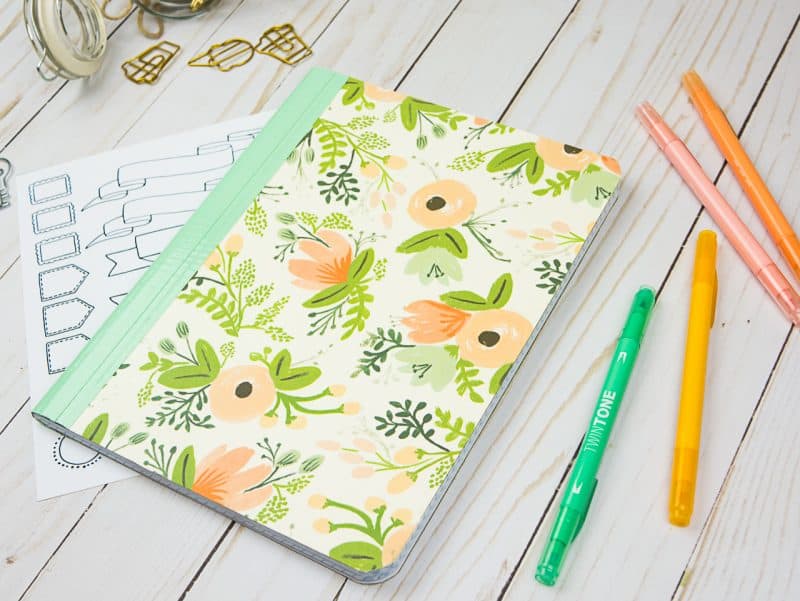 This project is for the composition book lover wanting distinct covers for each one you buy. You'll pull together some stylish designs, getting that custom look for each. And they're so pretty you won't want to ever get rid of them – perfect for those personal journals.
You'll need some decorative scrapbook paper – Michaels lovers, rejoice, it's time to go shopping! – Mod Podge, and some other basic supplies. The result? A super stylish, expensive-looking journal everybody else will envy.
Via Page Flutter
Ombre Journal Cover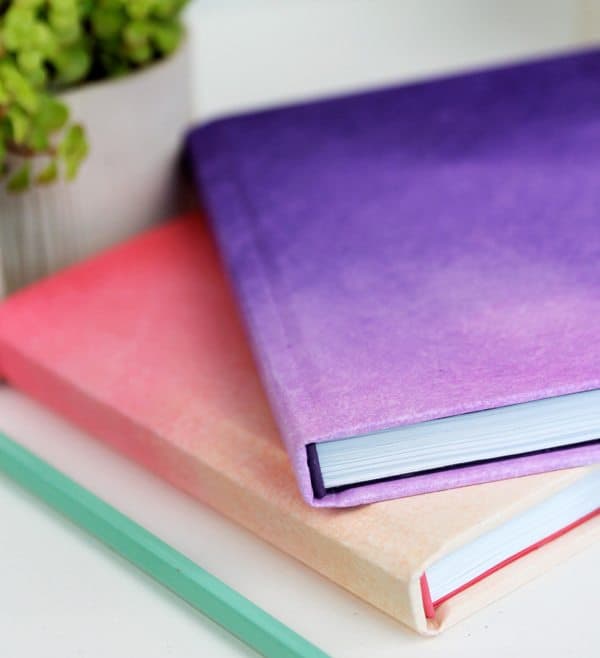 For this one, you'll need to combine the skills of option number 5 with the DIY steps of the Ombre Journal cover to get exactly what you're looking for. The instructions from number 5 are super easy and this one is also pretty easy.
And ultimately, you'll wind up with one of the prettiest notebook covers anywhere – in whatever color you love most. The instructions are easy and logical, while still being flexible enough for some creativity of your own. And amazingly, it's perfect for beginning crafters.
Via Damask Love
Printables Watercolor Notebook Cover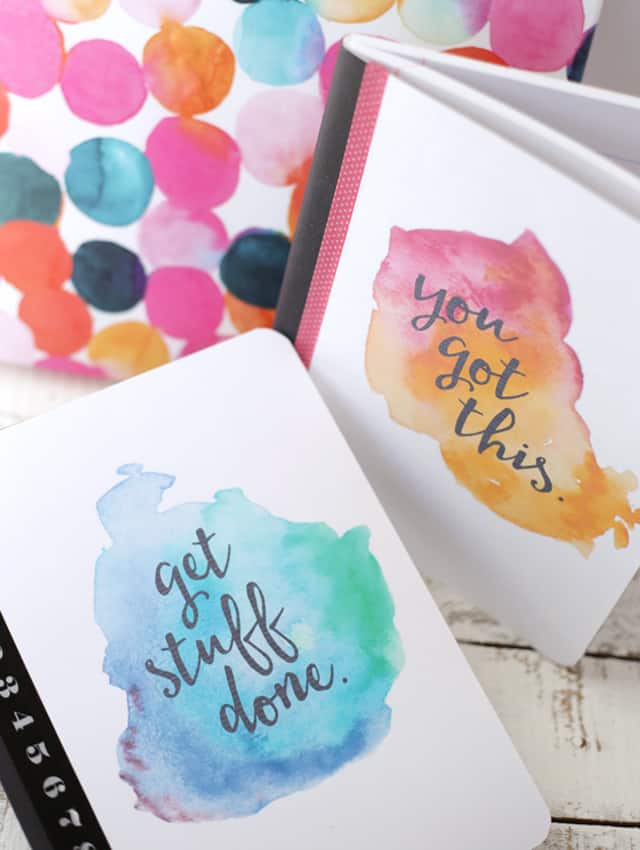 For another take on this "scrap paper" style, you've got this beautiful option. You'll either print out some beautiful watercolor designs – links included to these printables – or paint up some of your own.
Then, you'll follow the tutorial to apply the watercolor designs to your blank journal. Then, voila, for only about a buck, you've got a trendy, gorgeous journal that everyone will think you got from a fancy stationery store.
Via Eighteen 25
Sewn Secret Compartment Notebook Cover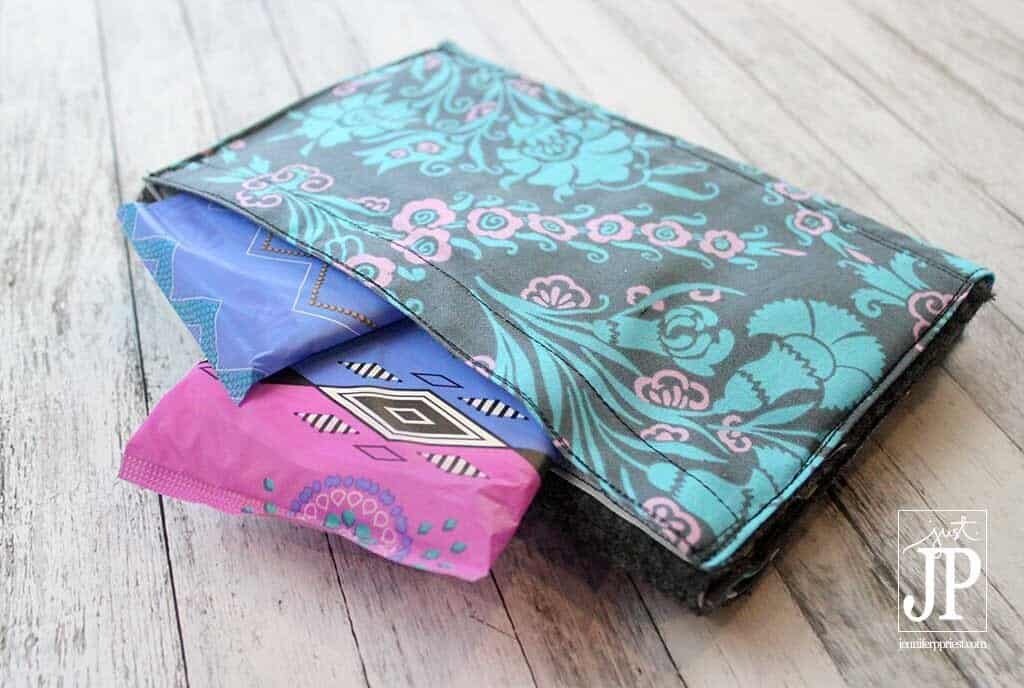 This is the perfect notebook cover for the woman on the go. Especially the gal who wants to remain discreet while carrying her personal items around campus. The slim sanitary napkins, pieces of chocolate, baggies of Ibuprofen – they all fit in this slim, secret compartment notebook cover.
The pattern is super easy to make for anyone who knows anything about sewing, even just a little bit. You really just need to be able to sew a mostly straight line to make it.
Via Smart Fun DIY
Sharpie Journal Cover Upgrades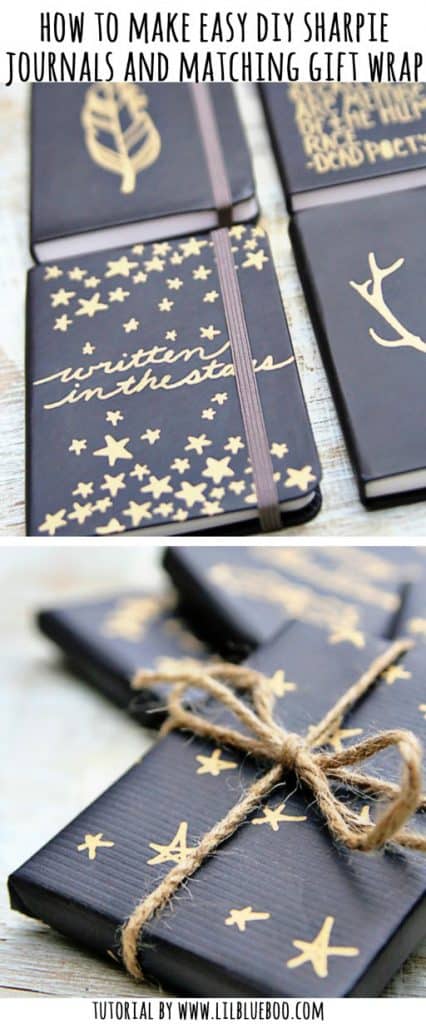 This one is great for the artist or doodler since you get to use those amazingly fun Sharpies to create a glamorous but simple Sharpie design for your blank notebooks.
The tutorial shows you the supplies you need to transfer or trace images or fancy handwriting onto your notebook, gives tips on where to find attractive blank books for the project, and way more.
Some other ideas you might use beyond their suggestions include quotes, transfers from other projects, sketches from stickers, or simple geometric shapes.
Via Lil Blue Boo
Initialed Fabric Notebook Cover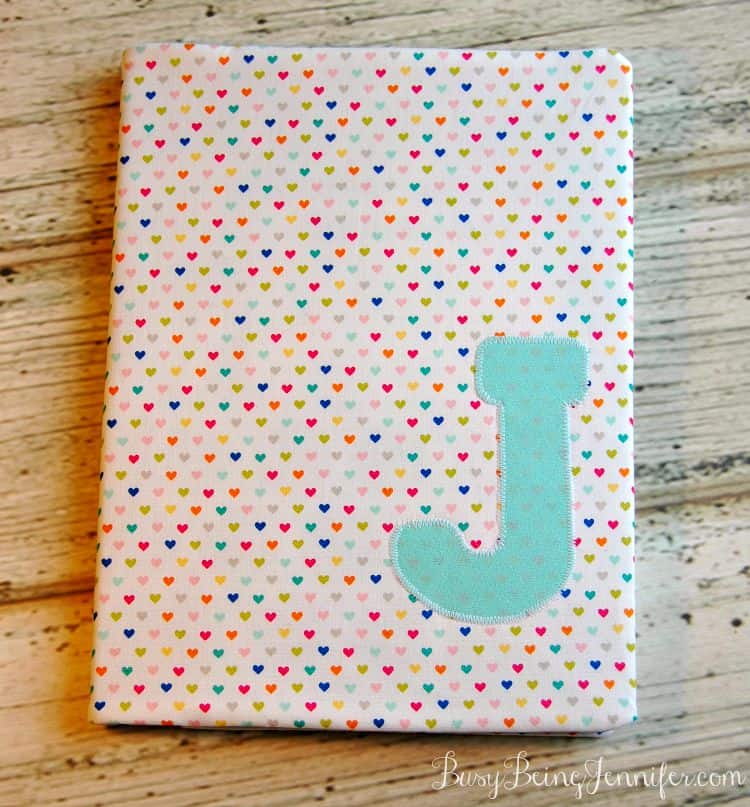 Another simple sewing project is the initialed fabric notebook cover. This design uses only 1/2 yard of fabric, plus contrasting or complementary scraps, a little bit of batting or felt, and some heat 'n bond adhesive.
The end result is an attractive, simple fabric cover with a personalized initial or short word on a classic cover.
The step-by-step instructions are thorough and easy for just about anyone to follow without issue.
DIY Patterned Notebooks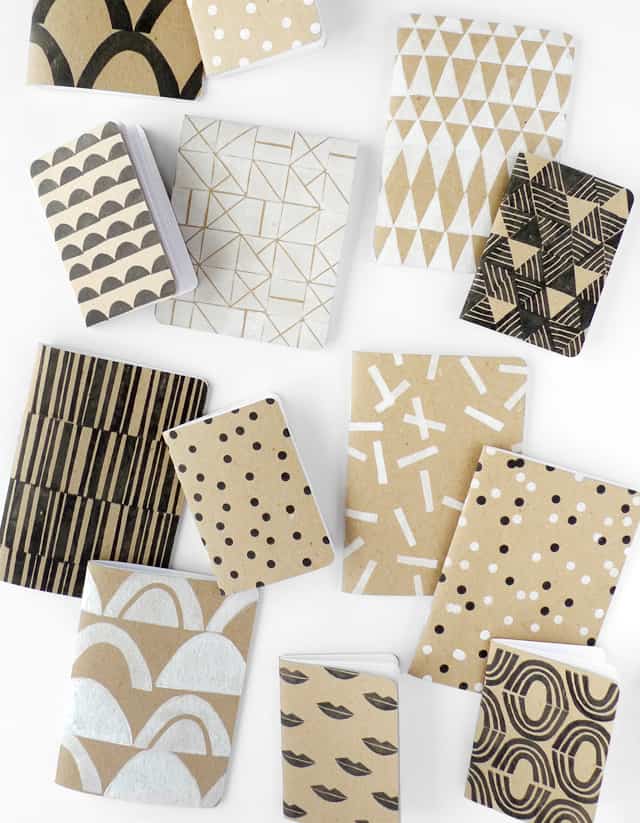 These are some of the most "professional" looking notebook covers out there in the DIY community. They look like those fancy store-bought options, but they're easy to make and not that expensive, especially after initial costs.
You'll need some stamps that have great pattern designs – or do like the original poster does with hand-carved stamps – some blank notebooks, and ink. You'll sketch out your designs and carve the stamps if that's your speed or find some pre-made stamps online.
Via Cotton and Flax
Super Easy Chalkboard Journal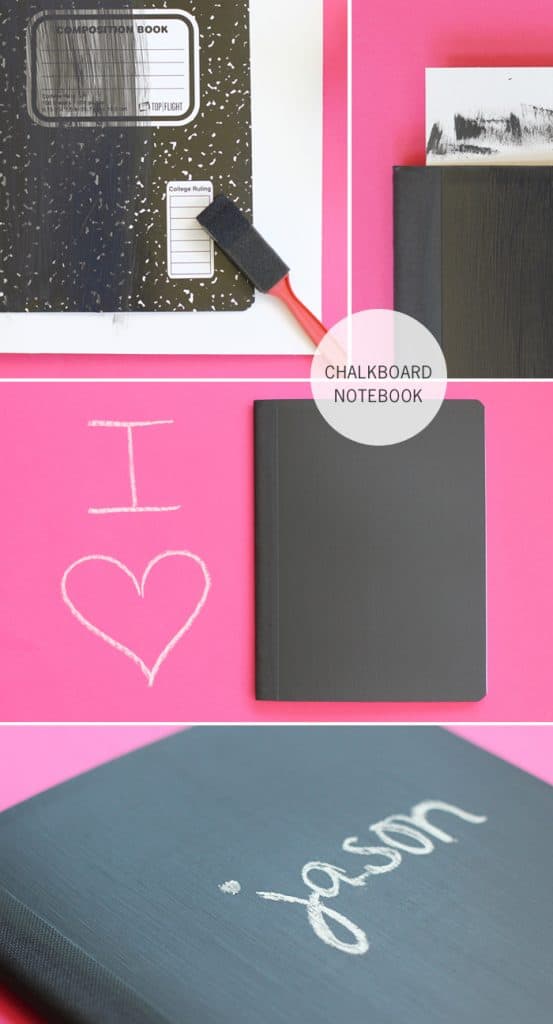 For the chalkboard paint lover, this one's for you. A simple, easy to do project to give that composition or notebook a special touch without a lot of hassle. This is a great one for the kids, too, as anyone who can hold a paintbrush can do it.
Just get some chalkboard paint and brushes and follow the very simple instructions.
They're great for specialized gifts for bachelorette parties, birthdays, back-to-school, and so much more.
Marble And Copper Notebook Cover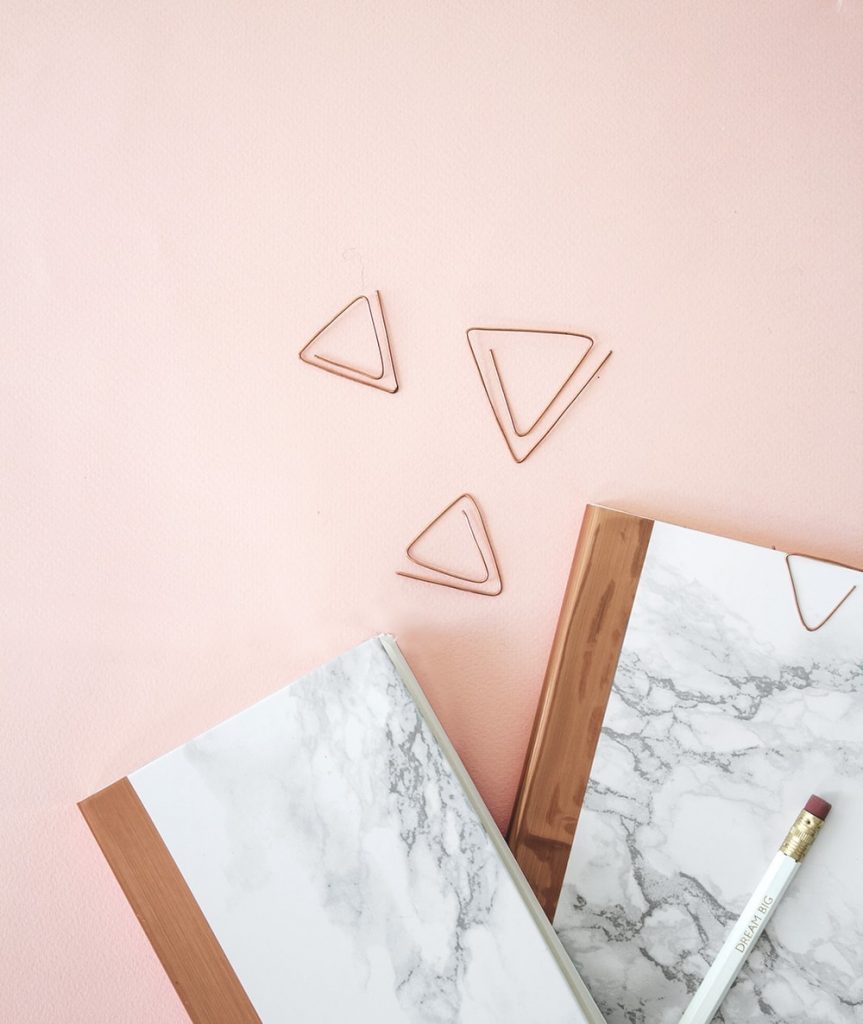 If you want a truly elegant looking notebook cover, look no further than this one. The stunning design makes your notebook appear as if it's carved out of marble and complemented with stunning copper trim.
The best part of this project is that it's incredibly simple and the supplies are pretty easy to come by. Just grab some scissors, copper wire, a plain notebook, and self-adhesive marble vinyl. Bam. You've got an expensive-looking marble notebook cover.
Duct Tape Covered Composition Books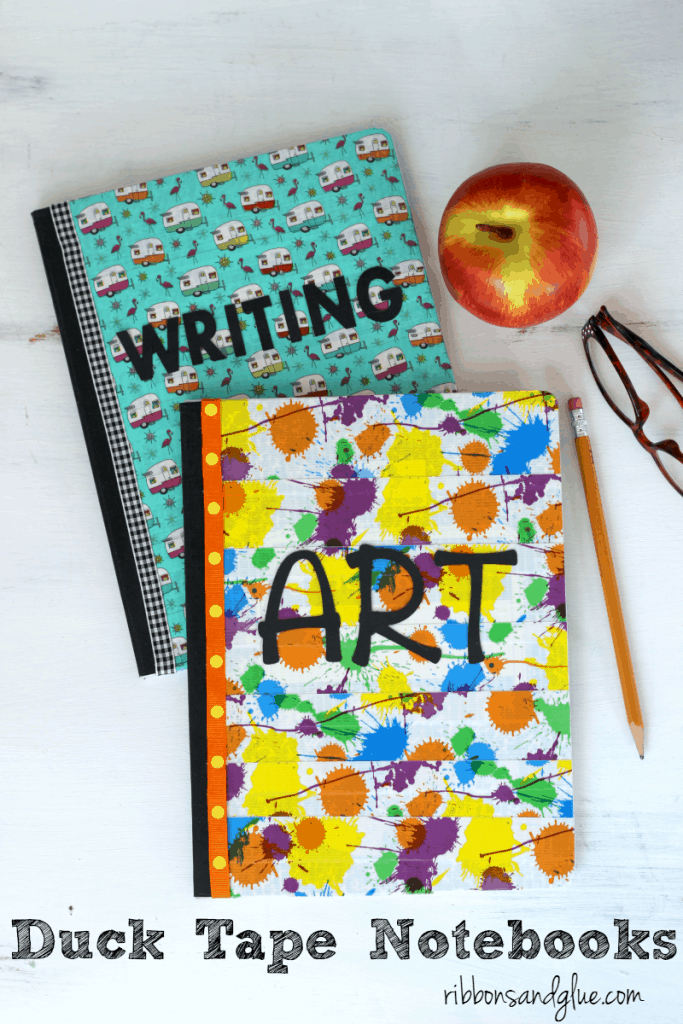 Need a project for the kids? Then this is your ticket. The duct tape covered composition books is one of the absolute easiest – and most fun – options out there.
You'll want to run by the craft store to find those fun duct tape designs – bonus tip: Dollar Tree often carries them for way less – and then some cheap composition notebooks from the stationery section. Follow the super simple instructions and 10 to 30 minutes later, you'll have a pile of awesome notebooks.
Via Ribbons and Glue
Mermaid Sequin Notebook Cover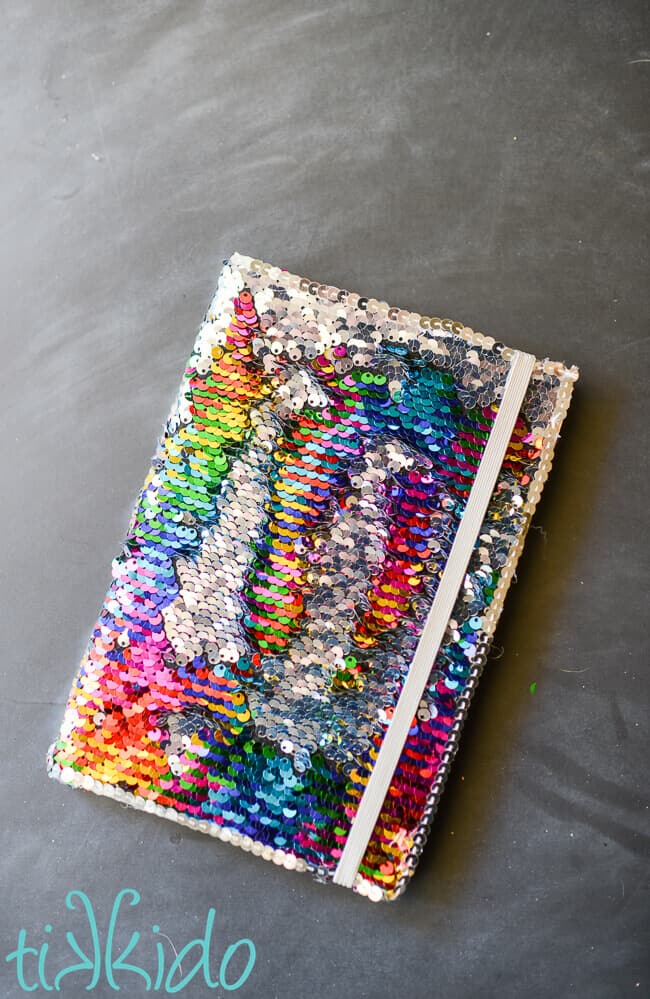 The sparkle and shine of reversible sequin mermaid fabric is so much fun on those pillows and blankets. So why not bring it to your bookbag in this easy DIY project for your notebook?
You'll need a blank notebook, some of that reversible sequin fabric, a low-temp hot glue gun, and some sequin string available at dollar stores and most craft sections. Follow the simple tutorial and you'll soon have the most fun notebook you've ever seen.
Via Tikkido
Superhero Notebooks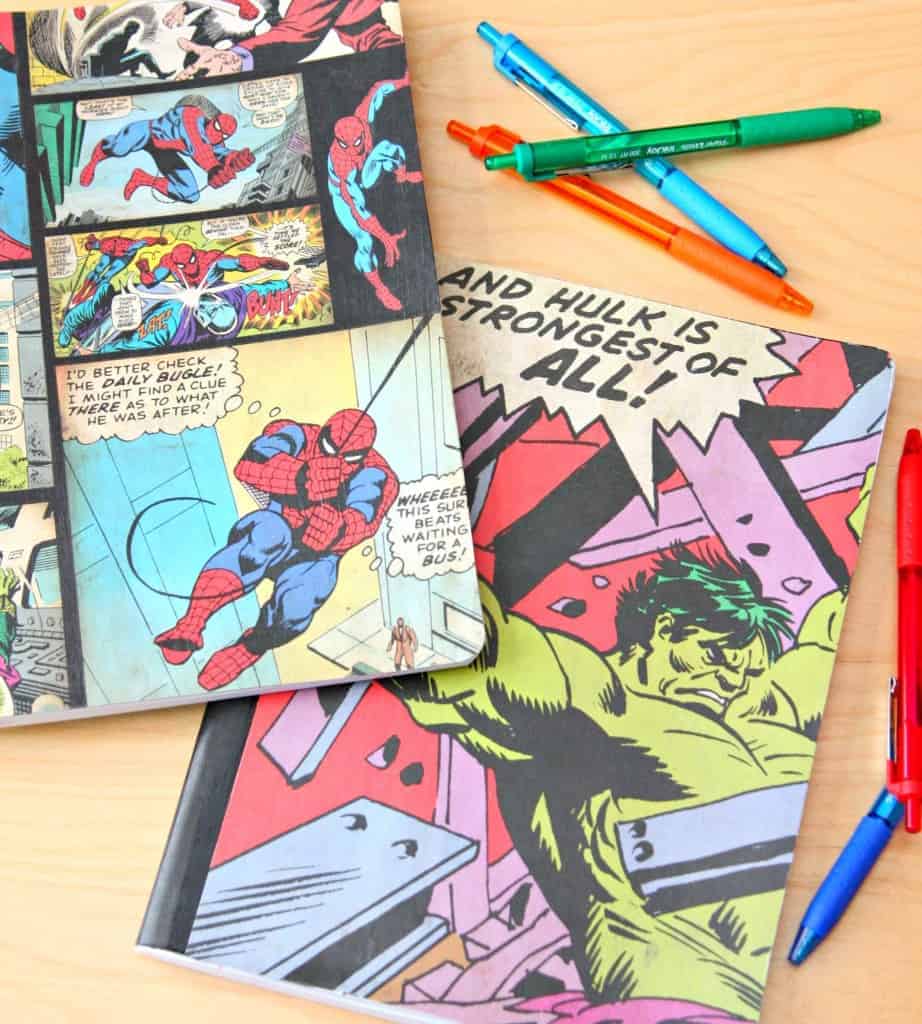 If you've got a superhero fan at home, this one's for you. You just use the same simple steps as any of the scrapbooking notebook cover tutorials to create them.
We'd recommend skipping the scrapbook paper, though, and going straight for the comic books themselves. They're glossy, they're clean, and they're pretty easy to come by. Just make sure they're a readily available comic and not something rare. They'll be even more fun straight from the pages of Superman or Batman.
DIY Foil Notebooks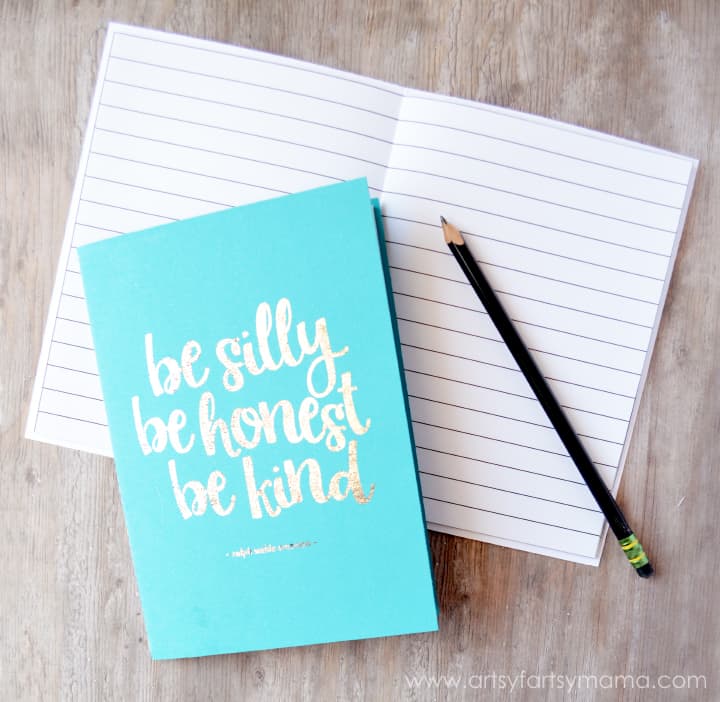 This tutorial not only shows you how to make simple, attractive foil lettering for your notebook cover, but for the industrious, it shows you how to make the whole notebook.
For decorating a cover, you'll need some foil, printables, and some paint or scrapbooking paper. Or if you want to do the whole notebook, grab some paper and a folder and a few tools and other supplies to make your very own, very stylish notebook.
Easy Personalized Notebook Covers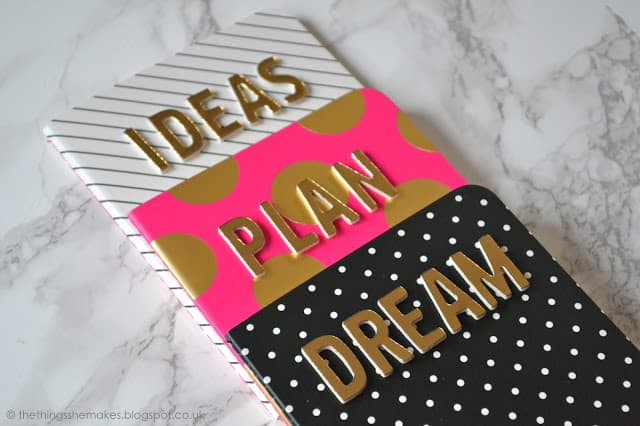 Want a five-minute project that results in ownership of some darling little notebook covers? Then this one is a must. They're super easy, super cheap, and, obviously, super-fast.
You just need some very simply decorate notebooks – or use some of the scrapbooking projects above – to start, along with some foam letters. Foil stickers and other add-ons are a fantastic option as well.
Follow the super easy tutorial and in minutes you'll have a gorgeous, simple notebook that'll catch the eye.
Woodgrain Love Themed Notebooks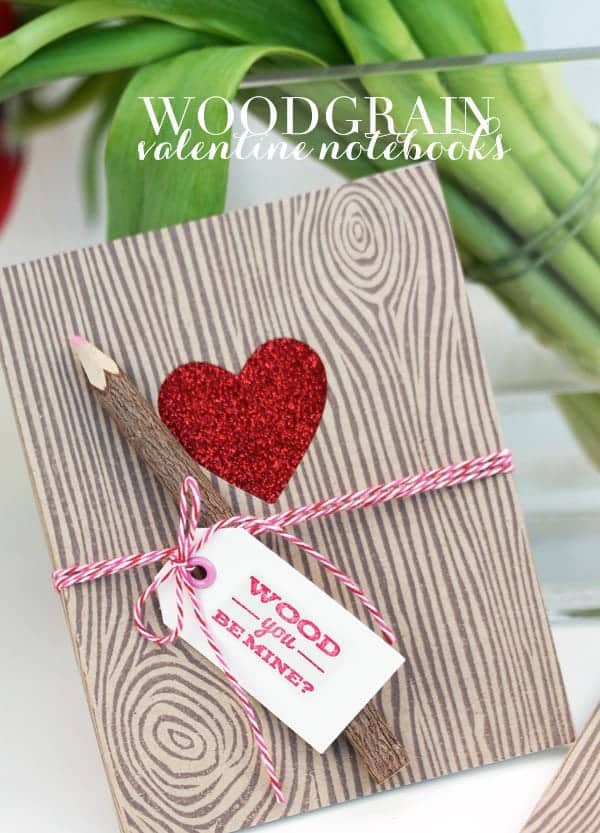 For this one, you'll need to get your stamping gear out. Follow the instructions to find exactly which ones you need – or do a Google search for an alternative option if you prefer another "grain" – and grab some card stock and a heart die cutter to get started.
In just a little while, you'll have the perfectly lovely romance-themed notebook cover to use yourself or give as a gift to somebody special.
Via Damask Love
2 Minute Valentine Notebooks
Another quick, love-themed notebook cover project is the 2-Minute Valentine notebook. This is just about the fastest and simplest project on the list, while still being gorgeous, fun, and stylish looking. Folks won't even know you made it yourself.
All you need is some notebooks, stickers, and a pencil and a ruler. That's it. You'll put together all those candy heart thoughts across the notebooks you've got in mind for your Valentine – whether it's December or February. It's always the season for romance.
Via The Crafted Life
Terrazzo Style Notebooks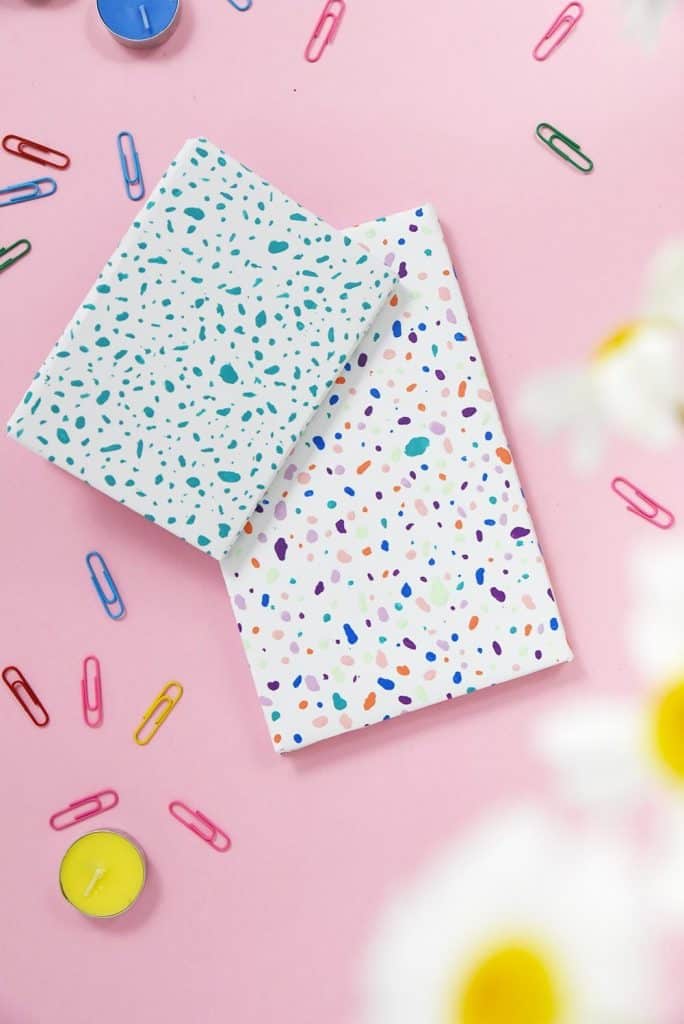 Grab that paint, a notebook, and some cardstock, and get ready to make a trendy, colorful new notebook cover for your favorite journal. With simple instructions, you can whip out one – or several – of these beauties in no time. And nobody will know you didn't buy the expensive ones from the store.
This Terrazzo style notebook cover is simple, gorgeous, trendy, and makes a super great gift for just about anyone, including yourself.
The Ribbon Upgrade Notebook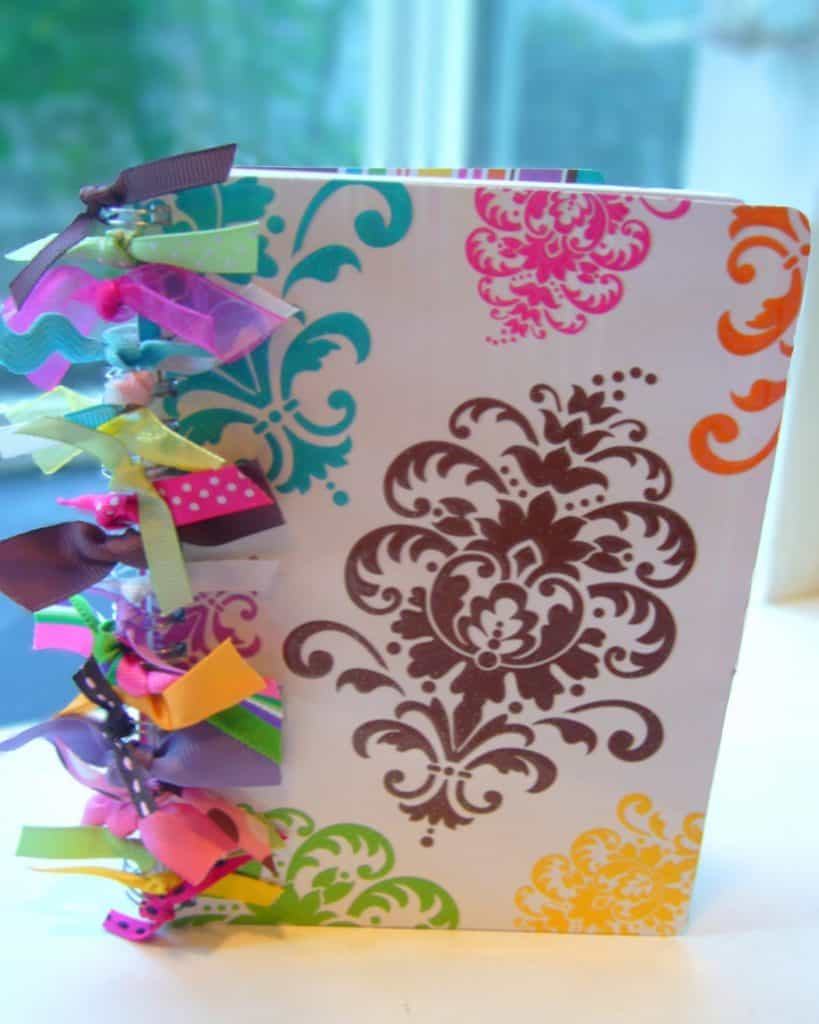 This isn't a full-on cover project, though, of course, you could combine this with any of the notebook cover projects above. But this is a super easy, fun, and unique way to give even the simplest of notebooks a giant boost in aesthetics.
The best part, you don't need to spend much time on the notebooks and the supplies are super cheap. You can find some great ribbons at the dollar store for completing this project.
The Ribbon Pencil Holder Notebook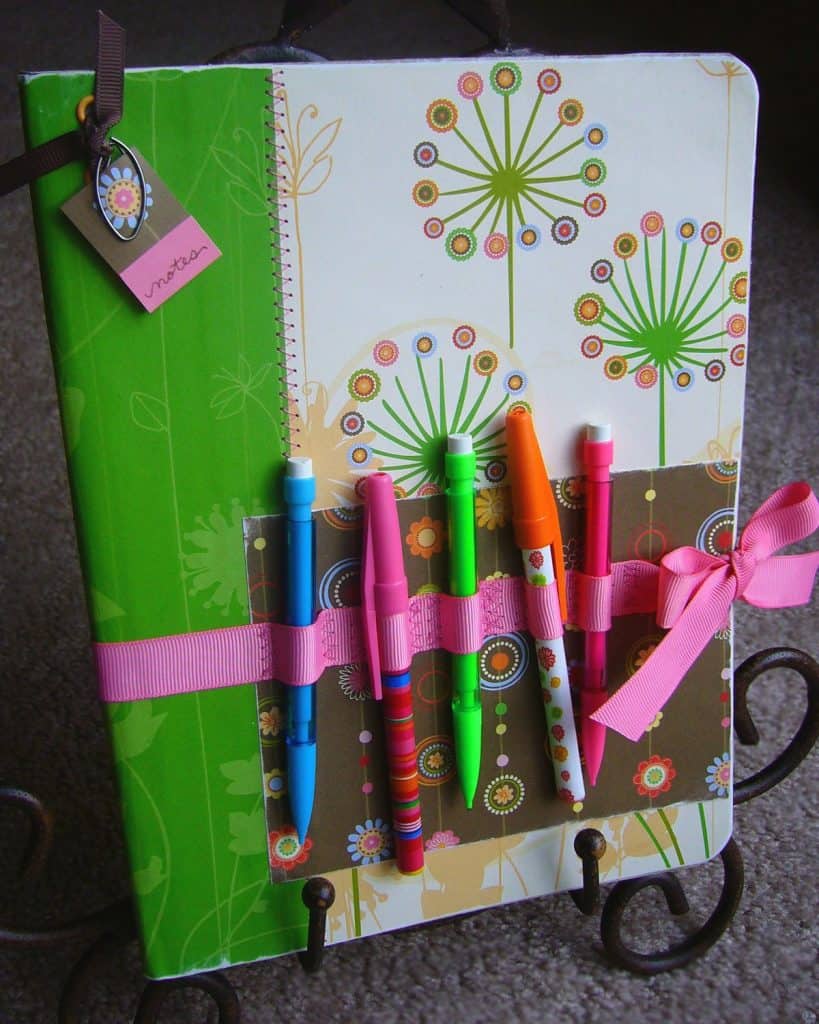 Staying on the tutorial above, if you scroll down just a little on the last project link, you'll see this second one, the simple, easy-to-make ribbon pencil holder notebook. It's another simple project anyone can do for a low-budget upgrade for their notebook covers.
You just need a composition book, a little patterned paper, and a little bit of ribbon. A few minutes later, you'll have an adorable little notebook with a built-in pencil holder.
Harry Potter Hogwarts House Notebooks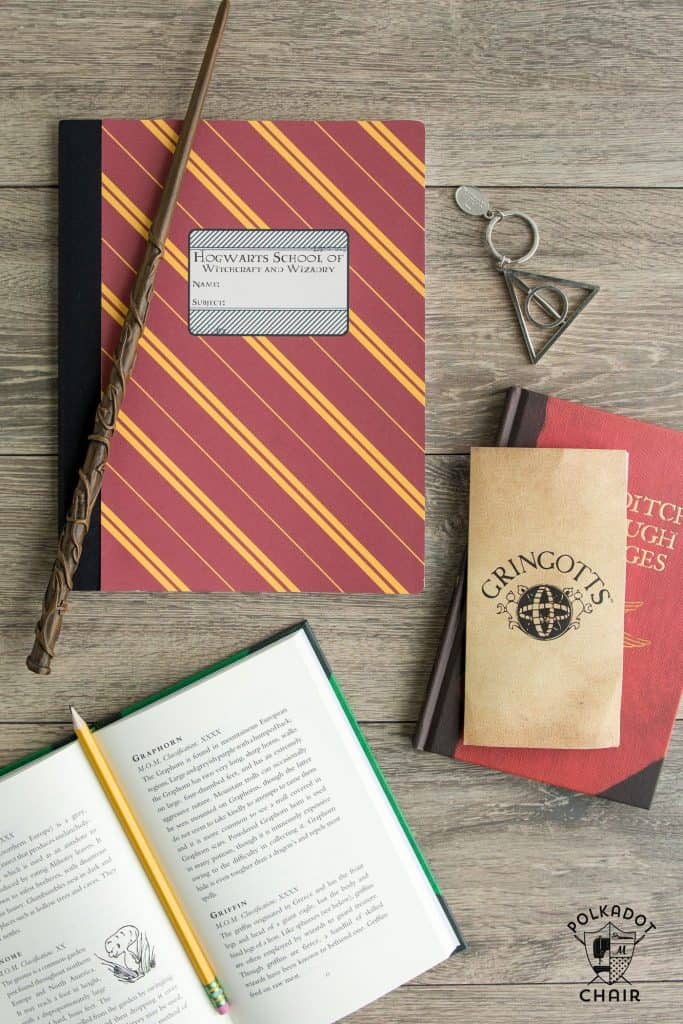 Fanboys and fangirls rejoice: the Hogwarts House Notebook covers are super easy. You just need to print out the printable covers and follow the easy instructions for putting these in place. Soon, you'll be walking down the halls of your own school, showing off your house pride.
They're simple to make and inexpensive, they look fantastic, and they make fantastic gifts for any Potterhead, no matter the age. Truly a win-win-win project.
Via Polka Dot Chair
Wood Effect Notebook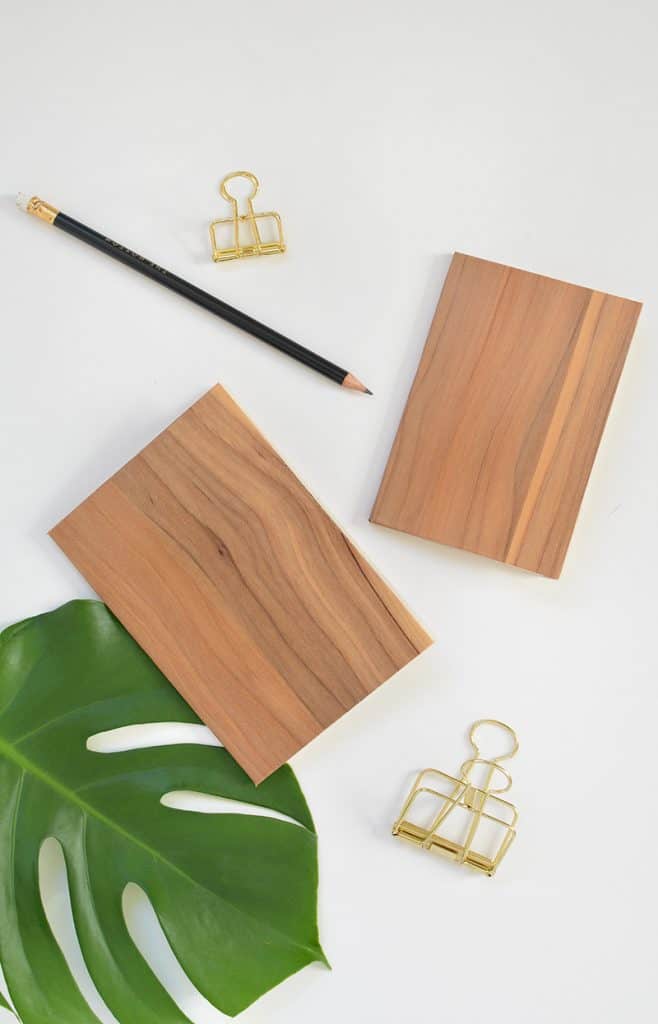 If you love all things natural and beautiful, you'll love these wood effect notebooks. Seriously – with the right woodsy self-adhesive vinyl, you'll have the most gorgeous notebook around without it costing you a fortune.
Grab some notebooks of different shapes and sizes, find the right wood effect self-adhesive vinyl, a craft knife, a ruler, and a cutting mat, and you're all set. The directions are super easy and no one will ever know you didn't buy the notebooks from an expensive store.
Via Burkatron
Washi Tape Notebooks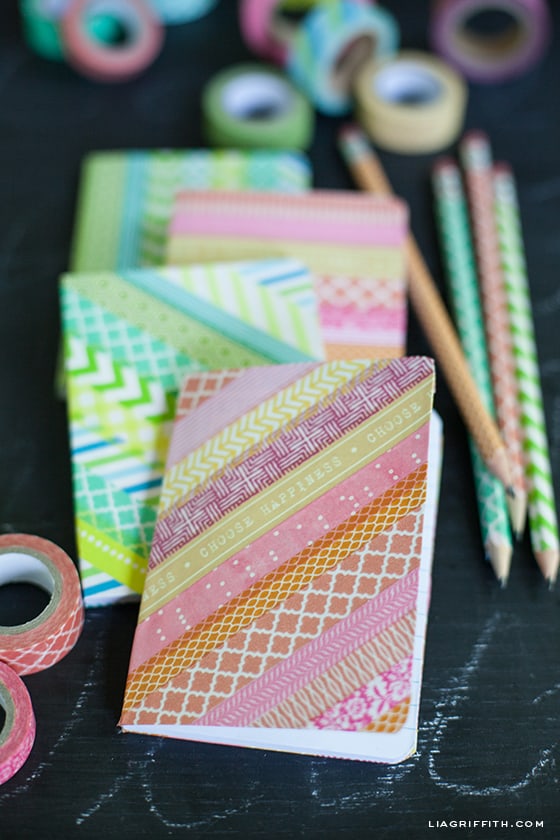 For another super simple project that anyone can do, especially the kids, try this Washi Tape notebook cover idea. The Japanese decorative tape is perfect for covering composition notebooks, blank notebooks from Michaels, or any other kind of journal or notebook you've got in mind.
Just pick your favorite patterns, grab some scissors for precision cutting, and follow the super easy instructions to create one of the easiest, most attractive notebook covers ever.
Via Lia Griffith
Summer Memories Notebooks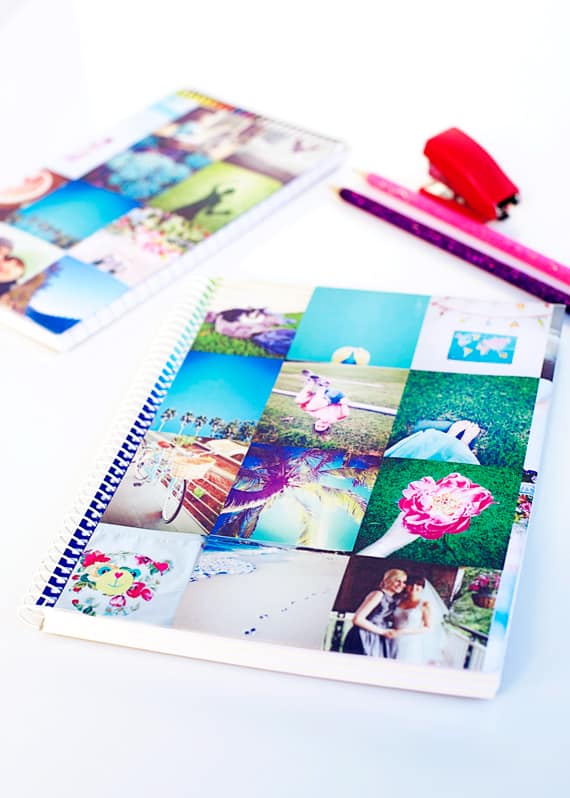 If you love photos, you'll love this one. Using similar techniques to some of the other super easy notebook cover projects, the Summer Memories Notebooks use photos and a couple forms of tape to create this uber personalized notebook cover.
The only thing that takes any real time on this one is choosing which photos to use. So, our suggestion is to make a bunch with several different photo themes so you can use them all!
Via Minted
Marbled Colors Notebook Covers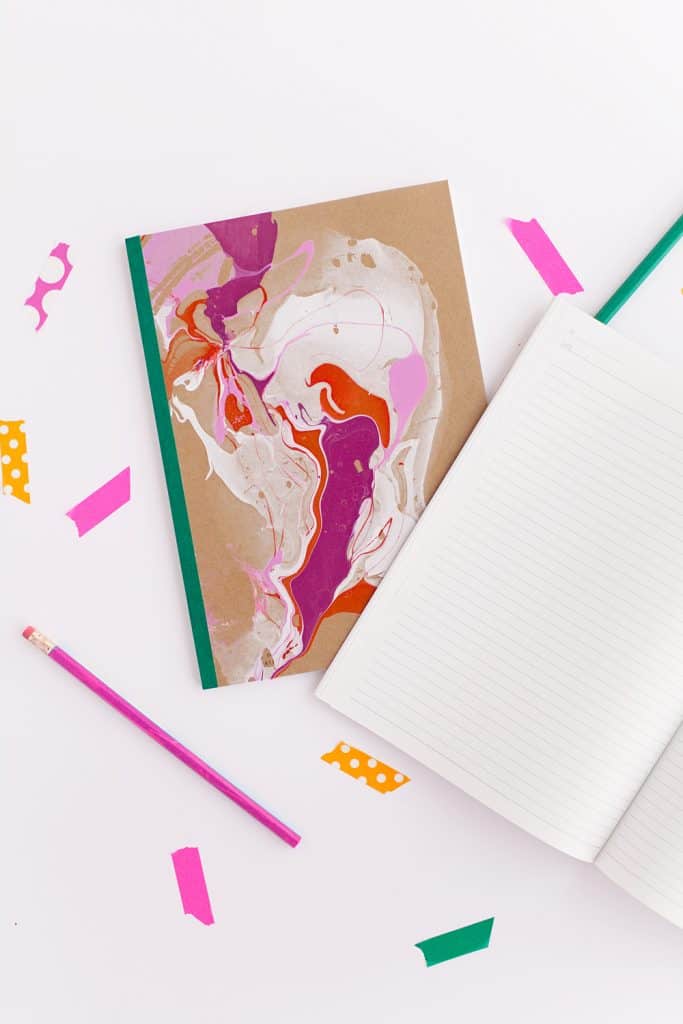 If you happen to have a thing for nail polish, you'll love this project. Instead of using paints or markers, you'll pull out all those pearly, sparkly, or matte shades of the nail stain you've got, and marbleize and swirl the colors for a stunning, vibrant design.
Just find some plain notebooks, gather that nail polish, and get out the X-acto knife for some creative fun and design work. You'll have a fabulous notebook in the time it takes to dry.
Sharpie Pointillism Notebook Covers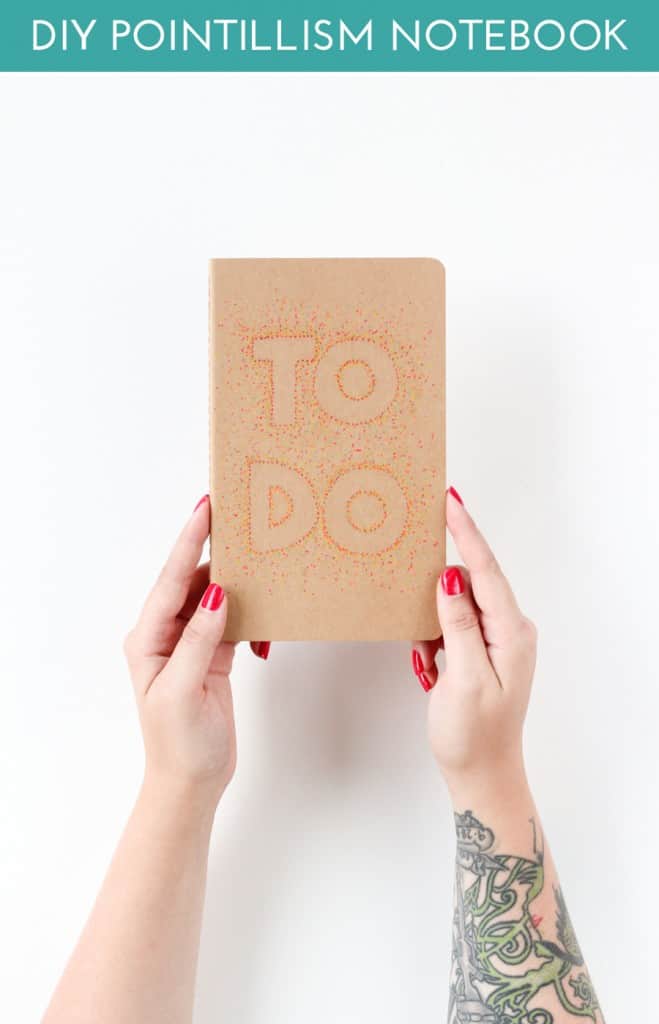 Love pointillism? Love notebooks? Then you'll love this 30-minute project using Sharpies to create a stunning notebook cover.
The tutorial takes you through some very simple steps to create this easy, fun, and gorgeous notebook cover design. Once you follow the original plan, you can branch out on your own and take that pointillism plan to whole new levels.
All you need is a collection of colored Sharpies, a blank notebook, some cut out letters – or other shapes to stencil with – and a little imagination.
Via The Crafted Life
Nature Journal And Cover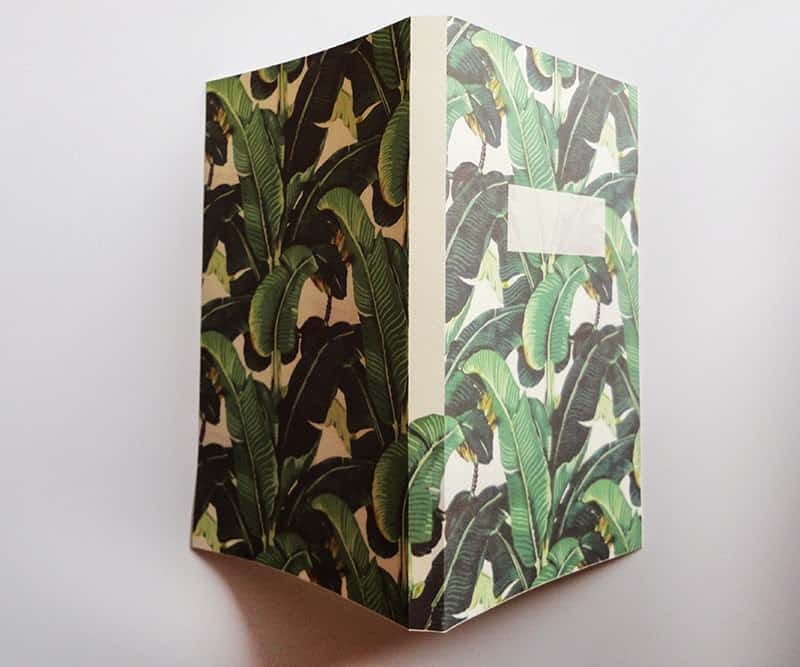 This is another one for the nature lovers. The original crafted used a printout of Don Loper's banana leaf pattern, "Martinique," designed for the Beverly Hills Hotel. But you can use any printout design of leaves, vines, or other natural scenery for your nature cover.
Then, just grab that notepaper, a cardstock printout of the design you've chosen, and a few other simple supplies to create this personally bound book of your own making.
Via The Forest Door
The Perfect Notebook, Whatever Your Taste
Thanks to this amazing collection of DIY notebook covers from talented creators around the web, you're sure to find a printed, sewn, painted, or Mod Podges notebook cover you'll love.
Make the notebooks for yourself, the kids, or as gifts for anyone in the family. But always let that imagination soar as you craft through the ideas of these folks. Let their ideas be your jumping-off points once you get a handle on it. Or, if you just love one of the ideas, stick with those exactly. You can't go wrong.