30 DIY Outdoor Privacy Screen Ideas
The other day, I was rewatching The Middle. The mom finally gets her Lanai and plops down to relax in the backyard. Suddenly, there's screaming and yelling coming from the house next door that's been empty for years.
Thankfully, she's got a privacy screen blocking the view. It made me flash back to some of the yards I've had where all I could see was the neighbor's house or – worse, into their windows.
Without privacy, it's difficult to feel comfortable in our own yards. So, if you're in that awkward position, here are some ideas for crafting the right privacy atmosphere for you space to regain that relaxation spot you're craving.
Go Green with Some Vines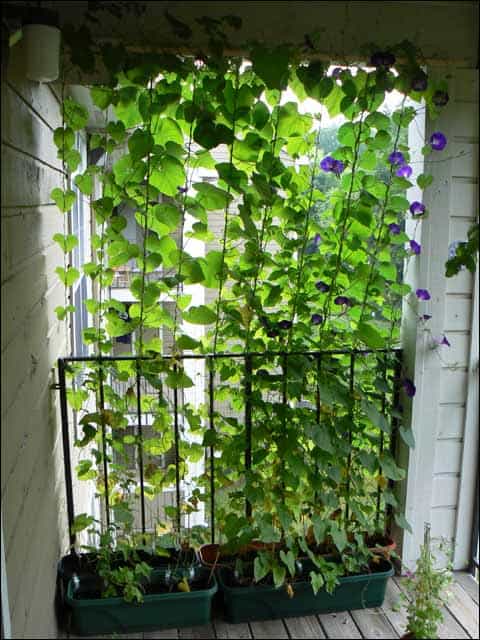 This idea is perfect for apartment dwellers with balcony or stairwell windows peering out over the neighborhood. You'll just need to choose which vines you'd like to grow – morning glories, wisteria, and ivy are fast and beautiful! – and find a few planter boxes.
Be sure to plant the vines in season and check on them regularly to make sure they're training upward instead of along other features nearby, like walls.
Via Garden Cams
Plant an Evergreen Wall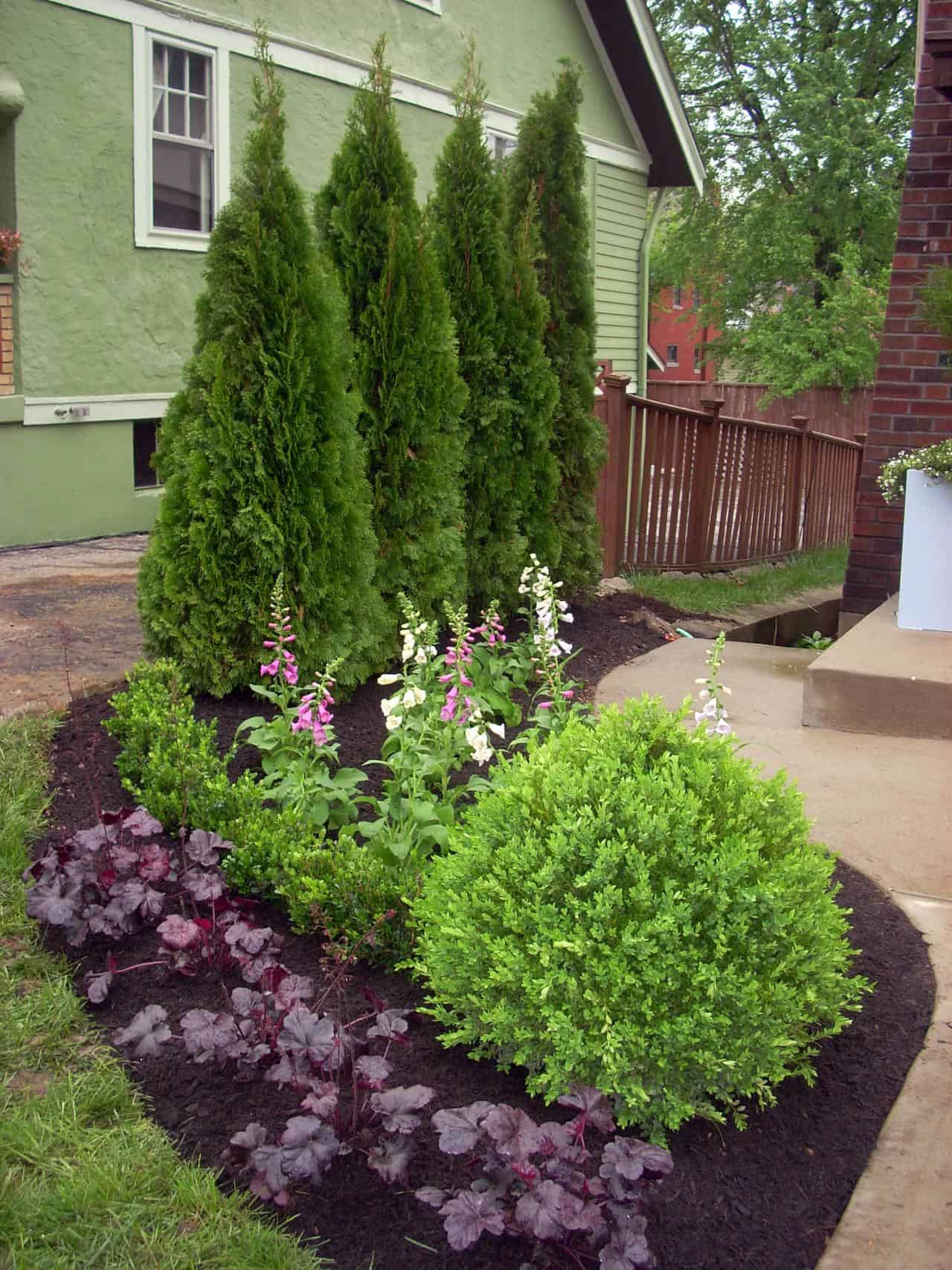 Not sure vines would do the trick? You could plant some nice evergreen shrubs and trees to create that outdoor privacy screen anywhere that you've got some dirt. The nice thing about this kind of privacy wall, too, is that you can still see outside, even if others can't see in. We've got some privacy evergreen hedges around our windows and love them for this.
Plus, they attract birds and small animals that are fun to watch from the comfort of your warm, cozy house.
Via HGTV
Install a Thick Mesh Hot Tub Screen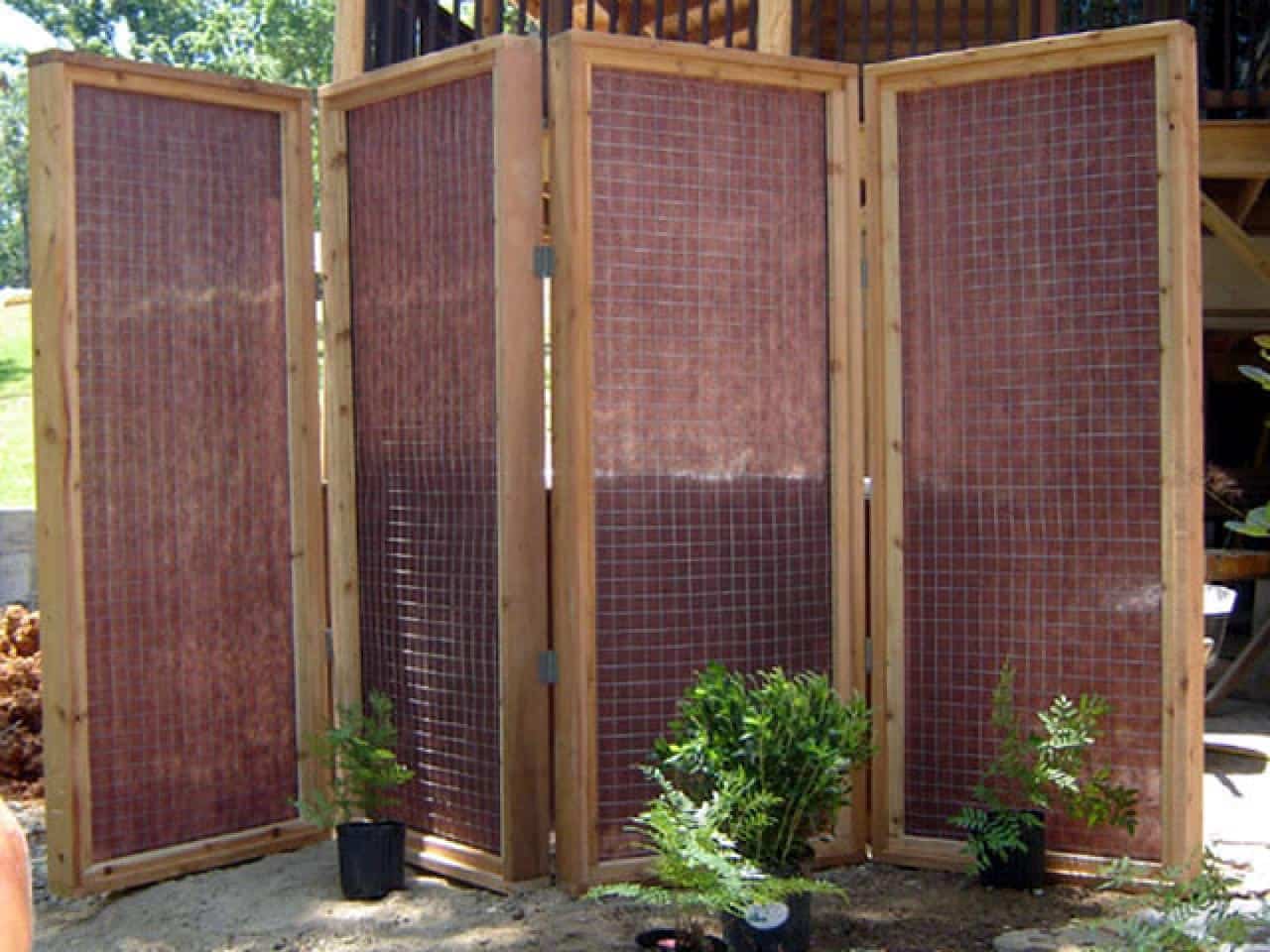 If you've got a hot tub you're looking to keep a bit more private, this "breathable" screen is a great solution. The thick mesh keeps the peepers out while not blocking the airflow around your perfectly planned space.
The screen folds, meaning it's also portable, and can be stored in the garage off season, used for privacy around other spots on other occasions, or simply be resituated as needed.
Via DIY Network
Boost Your Nighttime Light with a Tin Privacy Screen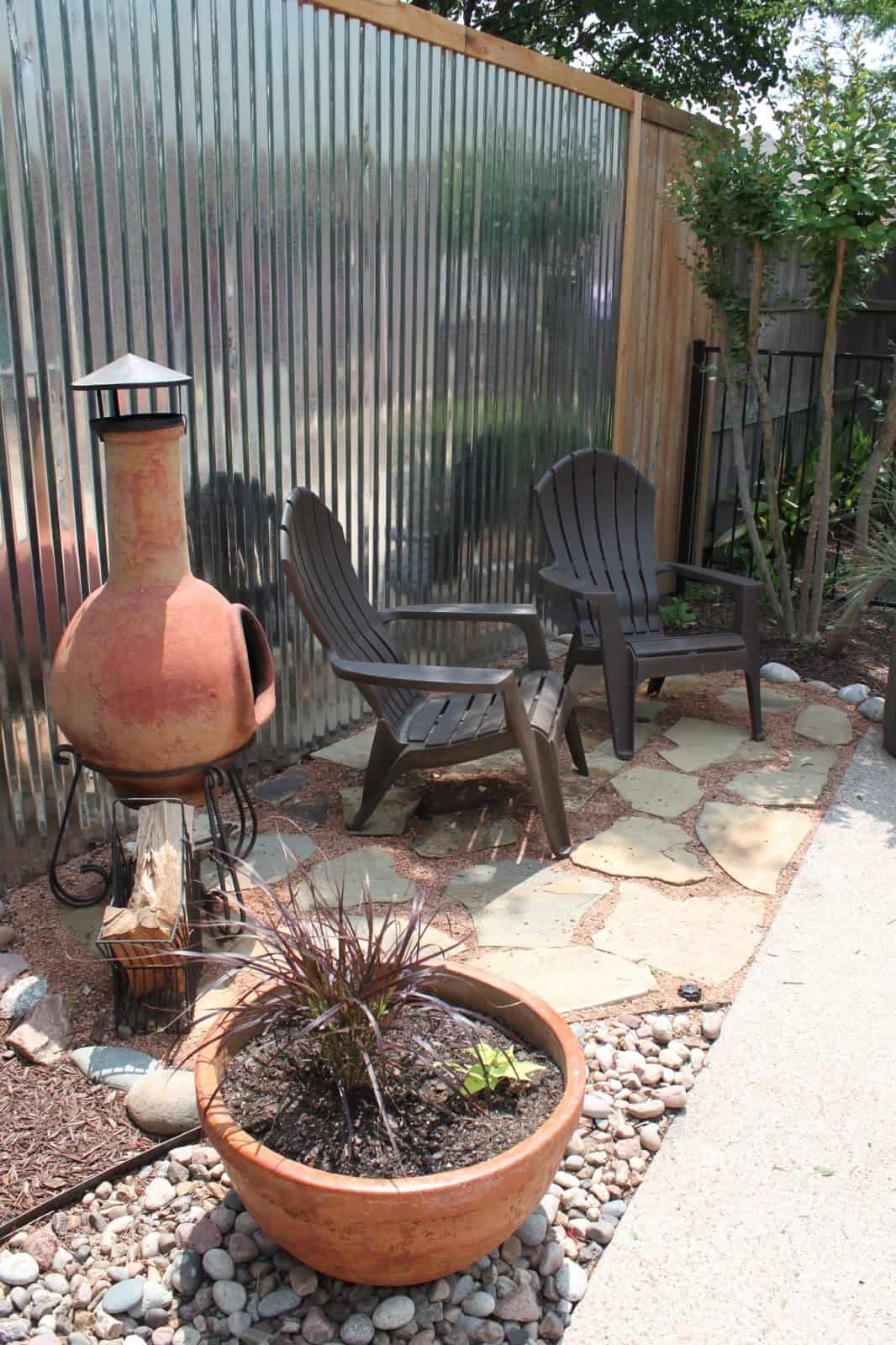 If you plan to use your space a fair bit in the evenings, a great option for your privacy wall is a corrugated tin wall. The materials are fairly inexpensive and reasonably easy to work with – just make sure you have the right screws! – and give all the privacy you could want.
Plus, the shiny metal finish adds a boost to your lighting scheme. This is perfect for a low-key party with mood lighting or festive colored lights, a chill place to read in the evenings, or just about anything else. And it looks great no matter what time of day it is.
Grow A Living Bamboo Wall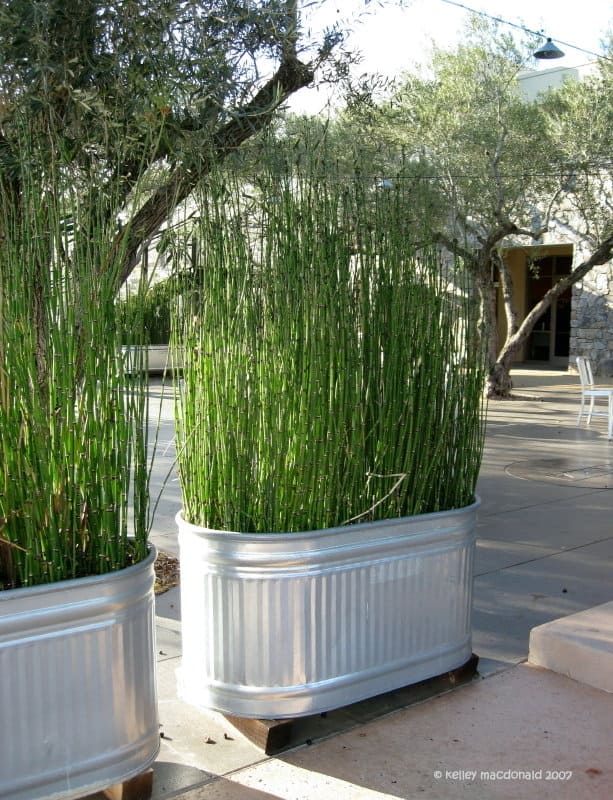 One of my first experiences with a bamboo thicket was when I was ten years old and headed to the local theater for rehearsals. I came across a thicket on the back side of the theater. The plants kept out the prying eyes of the neighbors while adding a unique touch to the atmosphere of the yard.
Bamboo makes a great privacy wall year round, assuming you have them planted properly and live in a warm enough climate. You can use a grow tub like this picture, if you need to move it around, or you can simply plant the bamboo along the line where you'd like to find some privacy. The plants will continue growing for years and ultimately become trees with thick trunks.
Via Decorated Life
Go Classic with a Lattice Privacy Screen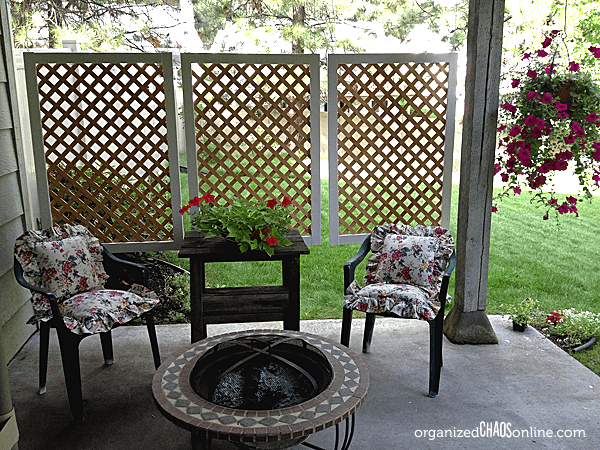 If you just need some privacy for your patio, this simple tutorial for a lattice privacy screen is a great option. You just need some basic supplies and standard tools for creating this beautiful, simple screen, and it won't take that long to do it.
Ideally, you'll use contrasting colors for the lattice and frame to add some color variation, but you can just paint the whole thing white, blue, or whatever color you like. Keep in mind that light shades open a space more than dark shades.
Go Vintage Style with Upcycle Old Wooden Doors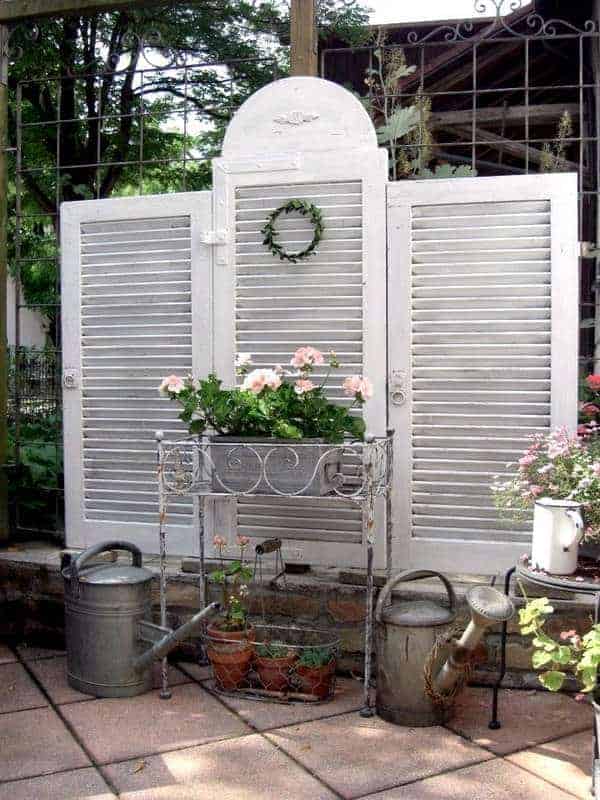 If you can get your hands on some old wooden doors like these, you'll just need some paint and hinges to connect them to create this gorgeous, rustic patio privacy screen. There's no specific tutorial for it that I can find, but really, just a little common sense can tell you how to do it.
Find the doors you want to use, make sure they connect size-wise, grab some hinges from your local hardware store, and brush on whatever shade of paint best suits your yard. Once the paint has dried, attach the hinges, and set up. You'll have this gorgeous, vintage style screen in place in a few hours.
Via Decorate Life
Craft a Portable Wattle Privacy Screen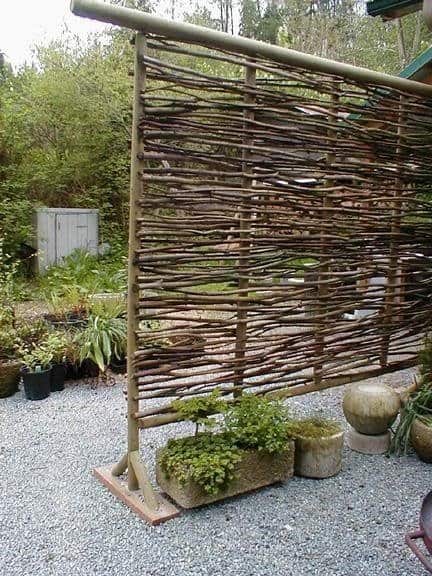 This DIY deck privacy screen is great for a tighter budget and someone looking for a fairly easy weekend project. The rustic looks of the screen keep that natural, outdoorsy feel wherever you place it, while still giving you solid visible privacy.
This particular one is portable, too, so you can move it from your deck to your patio, to the poolside, or wherever else you might need some extra privacy.
Via Homestead Lady
Design a Colored Glass Bottle Screen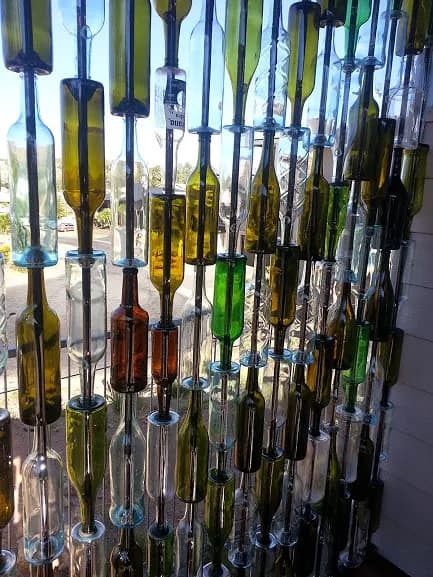 Love upcycling and colored glass? Then consider making a new privacy wall out of recycled colorful glass bottles. You can use up those Moscato bottles – and give yourself the excuse for a few of those bottles you'd only buy because they're pretty! – for this stunning piece of privacy wall.
You'll need to be comfortable working with a diamond drill bit for this, but if you are, you're in luck. You don't need anything fancy otherwise – just some basic supplies like shower curtain fittings, rubber washers, and lightweight metal tubing.
Via Home Talk
Make Your Own Bamboo Privacy Panels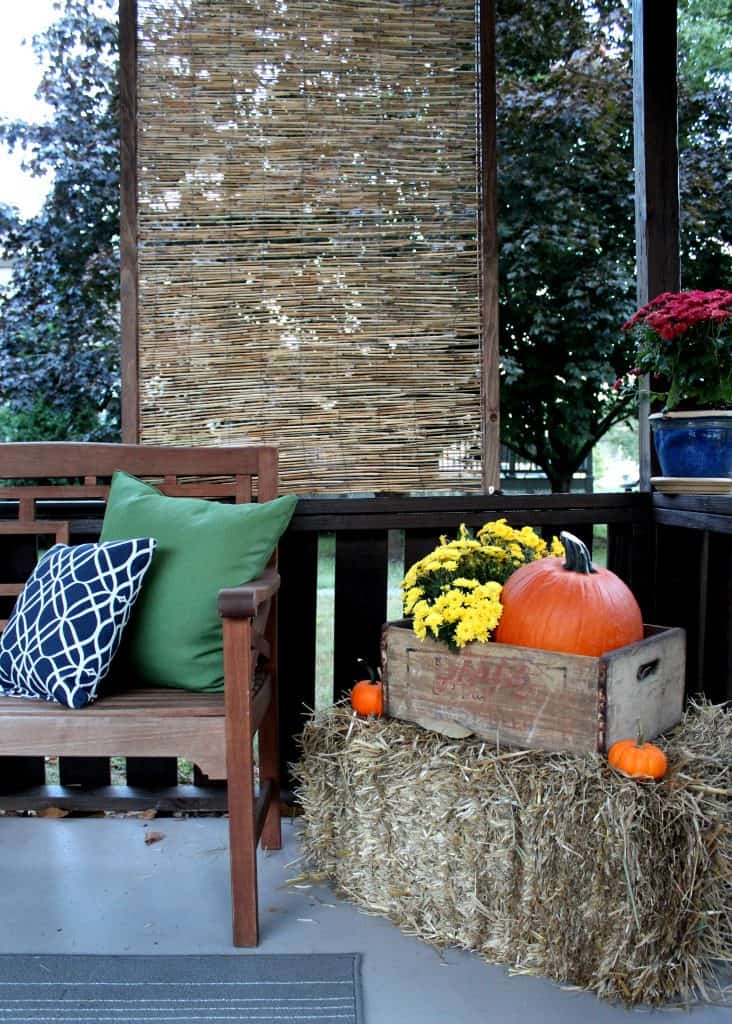 For an uncomplicated screen that looks like you had to have bought it somewhere, this bamboo diy privacy screen will do it. It's great for porches, decks, or anywhere else with an overhang where you can attach it, plus it not only gives some privacy, but it offers a bit of mellow shade for your relaxing afternoons in the sun.
Via Christina Maria
Up the Lattice with Some Hanging Pots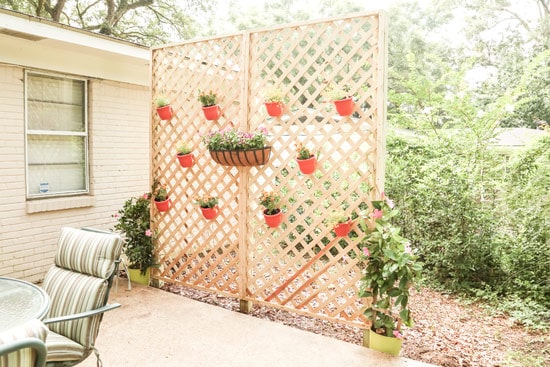 If you like the lattice work idea for a privacy screen but think it's just missing that special touch, you can do a simple upgrade with some hanging pots. Attach them like this image here, or use actual hanging pots around the edges and let some vines run wild for even more privacy.
The tutorial gives the rundown on how to do it all, including what supplies to find for the "on fence" pots as shown.
Cover Those Cans with a Modern Stylized Screen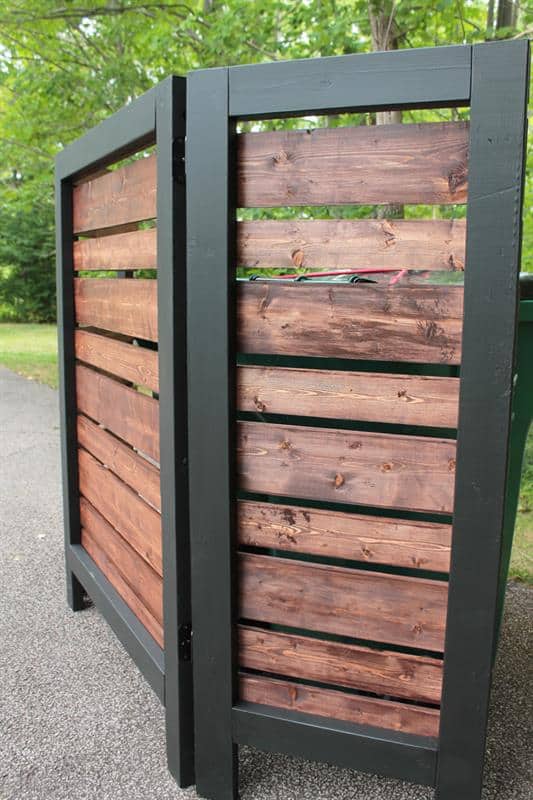 If you've got those unsightly trash cans sitting in your yard or drive and just don't want to look at them, you can use this tutorial on Build Something to create this fantastic privacy screen. Homemade by Carmona goes into detail on the making of the screen and the hows and whys of it, providing great pictures and inspiration for the project.
Repurpose Old Wood for a Garden Wall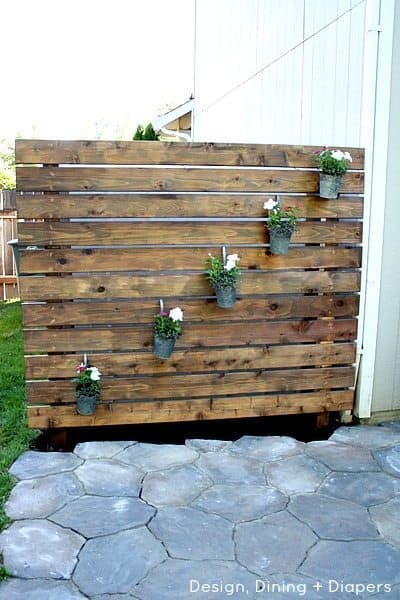 For truly gorgeous outdoor privacy screen panels, consider using this simple wood design for your garden space. The slatted wall uses thick planks – you can easily use pallet wood – to create a simple, straightforward piece.
You'll create a frame and then mount a series of planks horizontally across them with small gaps between each. For the gorgeous look, just re-stain the wood whatever shade you love, and then attach a few simple steel flower pails diagonally.
Via Taryn Whiteaker
Make an Upcycled Shutter Privacy Wall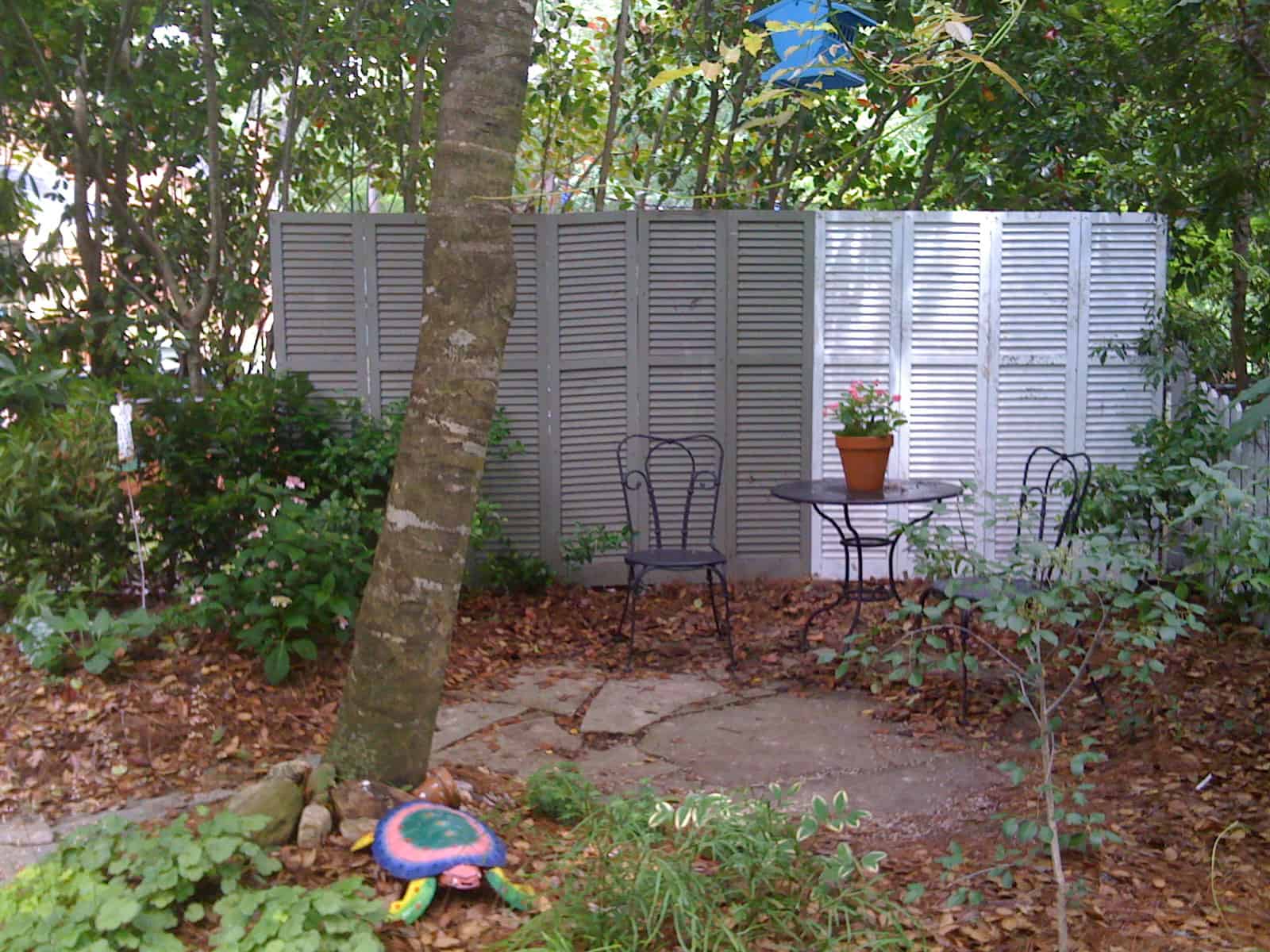 This beautiful, vintage feel garden privacy screens option is an easy, fun way to add some privacy while keeping that fairy garden feel to the space. You can paint the panels all white for a basic, versatile scheme, or get fancy and fun with painting each panel a different shade or painting all of them a bold blue, green, red, or other color.
Create a Hanging Pot Garden Wall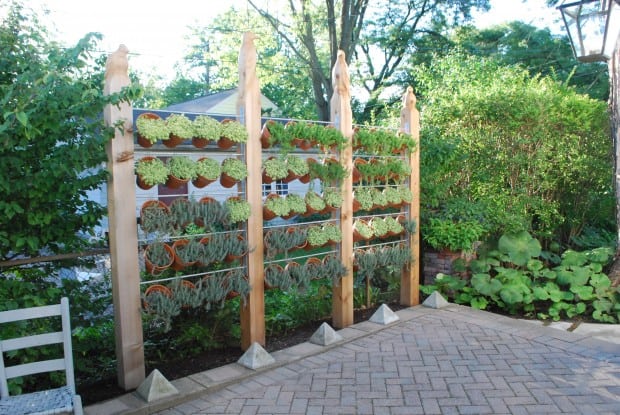 This easy privacy wall is a great option for gardeners. You'll simply install a few fence posts and hang metal rods horizontally between them. Then, hang a series of baskets or buckets all along the rods, and voila, you've got a hanging garden wall.
This is an especially great design because it's great for practically any size space. You can combine it with other designs for a large area that needs privacy or simply install two posts for a single, small panel.
Via Deborah Silver
Hang Floating Curtains for Some Porch Privacy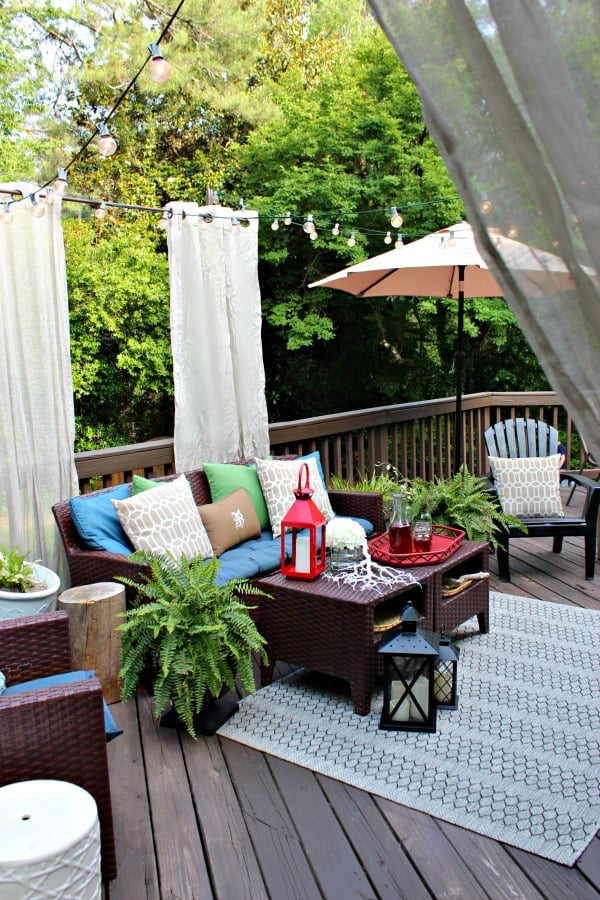 One of the absolute simplest and most attractive ways to add a porch privacy screen is by hanging curtains. They add a nice breezy aesthetic in summer months, help keep in warmth in the winter, and generally just look amazing while giving you solid privacy in your outdoor space.
This is also one of the least expensive ways to add that privacy. All you need is some good curtains – you can buy these brand new or find some on second hand sites like Offer Up or at your local thrift store – someplace to mount them, and a few hooks and screws.
Via Southern State of Mind Blog
Turn Your Privacy Wall Into a Full on Garden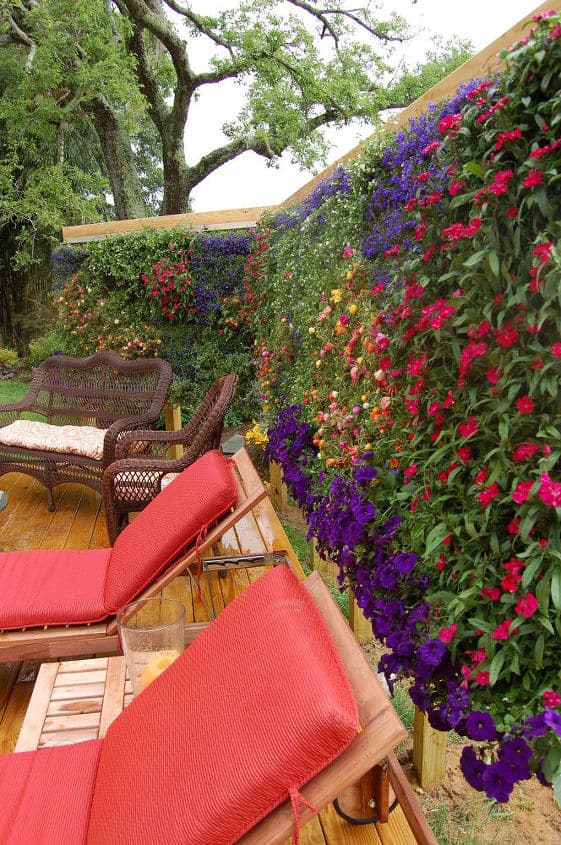 For some beautiful yard privacy panels, consider this style garden wall. The beautiful plants give complete coverage for absolute privacy, while improving the air quality and overall aesthetic of your home.
This doesn't give a tutorial on how to do it, but you can see behind the plants that some metal frames and wires were used to train the vines. You can install hanging pots or trellis, as well, if you can't find the right metal pieces. You could probably recycle old bed frames or similar for this affect. Just be sure to use the proper drill bits and screws to attach metal to a wood frame or fence.
Via Home Talk
Go Herbal with a Hanging Herb Garden Wall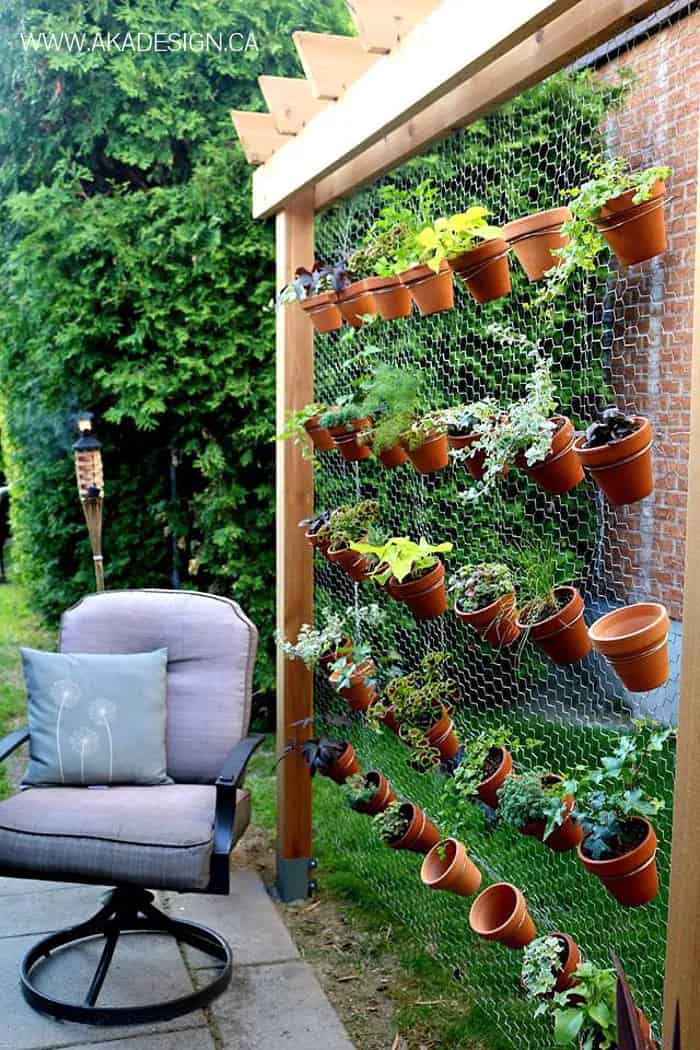 Another great garden wall type privacy screen is a hanging herb garden wall. This style works great with a pergola, porch, or any edifice with an overhang. You can plant whatever herbs you like or, as pictured, small potted plants that do well in the kind of sun they'll receive in the screen's position.
The design simply requires the framework of a pergola or porch end, some chicken wire, heavy duty-stapler and staples, and the pots and their hangers. The tutorial offers a full step-by-step process for those without a pergola, as well.
Via Homemade Lovely
Use Wine Barrels Planters for a Tall Grass Wall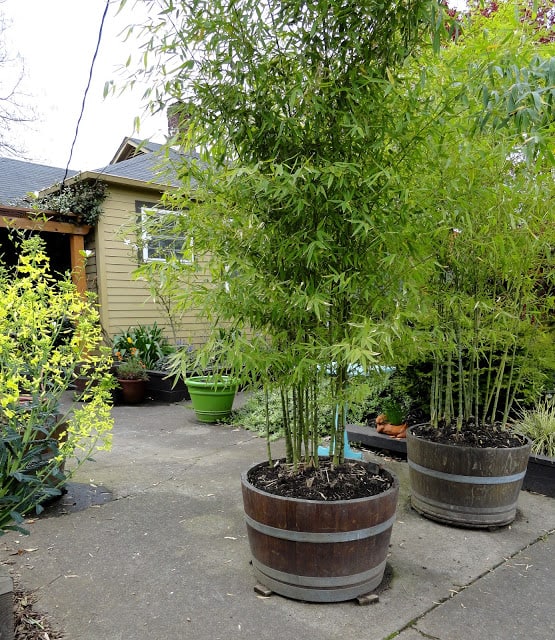 If you can get a hold of some old wooden wine barrels, these make excellent planters for tall grasses, bamboos, and similar large plants, as they allow enough room for solid root growth. In turn, you can position your tall grass barrels into a wall surrounding the area where you wish to have some privacy.
Repurpose Old Doors for an Easy Eclectic Privacy Wall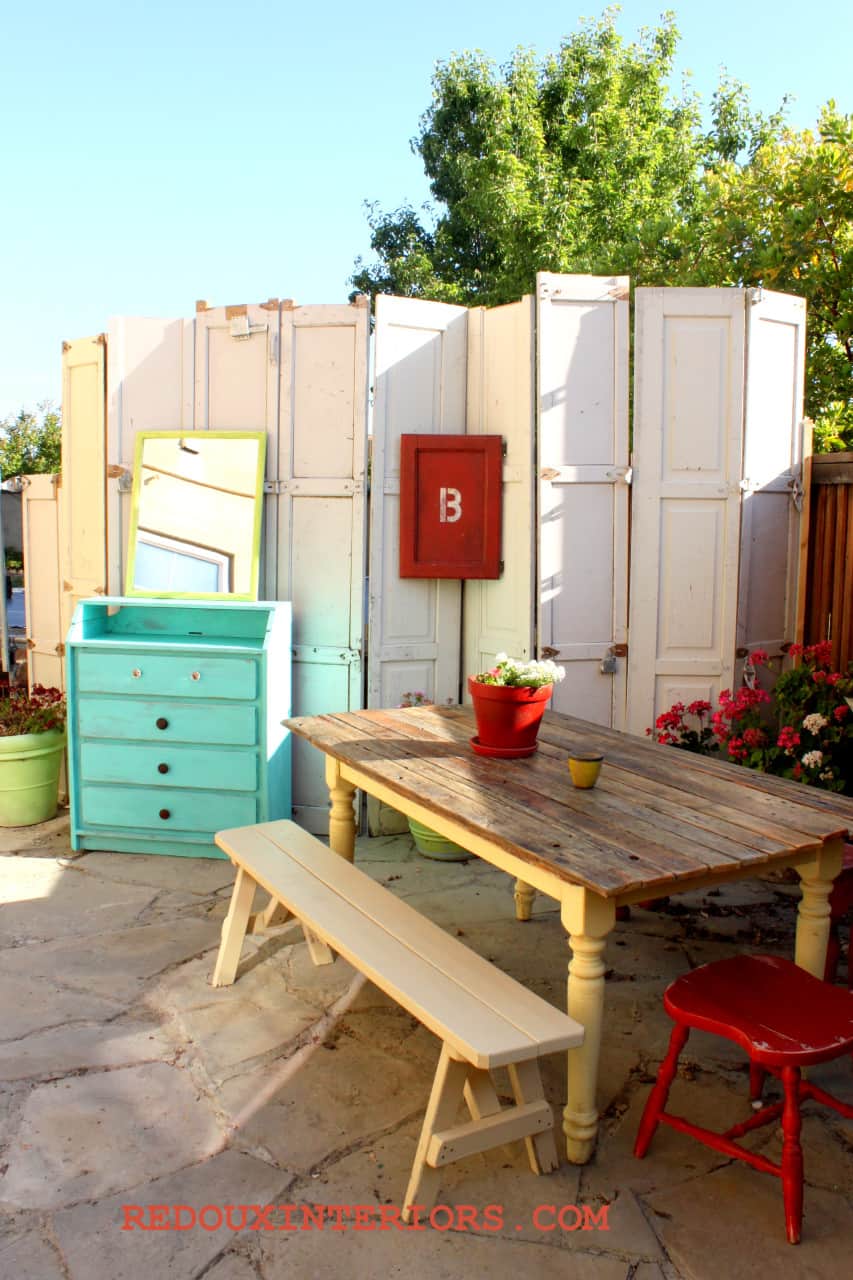 For a small small privacy screen or large one, this cheap privacy screen option is perfect. It might take you a little while to find all the right doors, but once you do, you'll just need some basic supplies to make them stand upright and secure for a fun, vintage, rather rustic look for your favorite space.
Via Redoux Interiors
Construct a Decorative Wood Fence Privacy Screen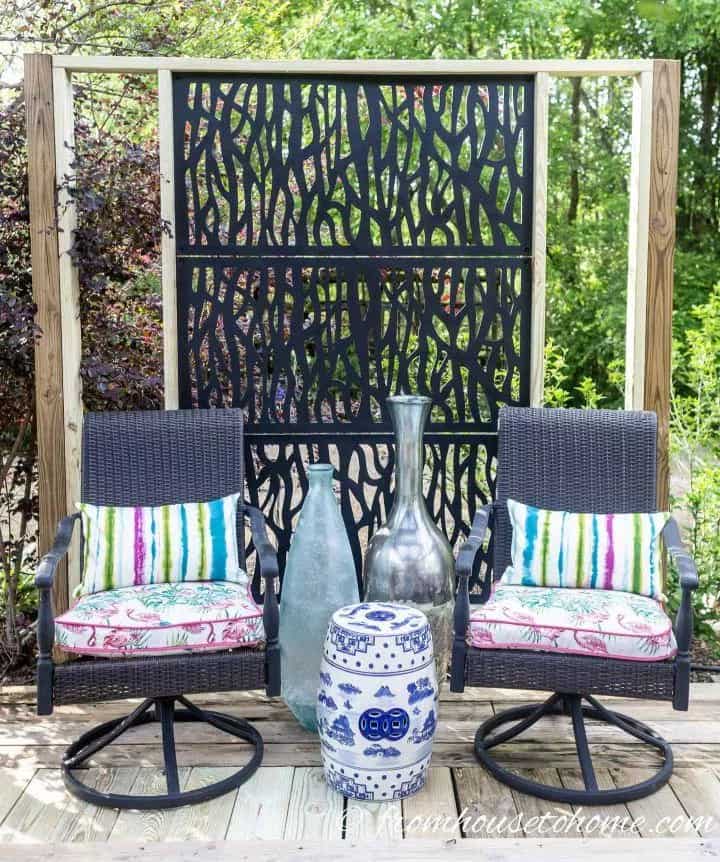 An idea for a wooden fence privacy screen is this decorative style option you can build from scratch, if you have the tools and skills in possession. It's not terribly complicated, despite its looks, and the DIY tutorial is pretty straightforward on how to do every stage.
Even if you don't have tons of experience, the tutorial can still work for you, as long as you have a little patience and time to learn as you go along.
Use Pre-Made Fence Panels for Unique Layouts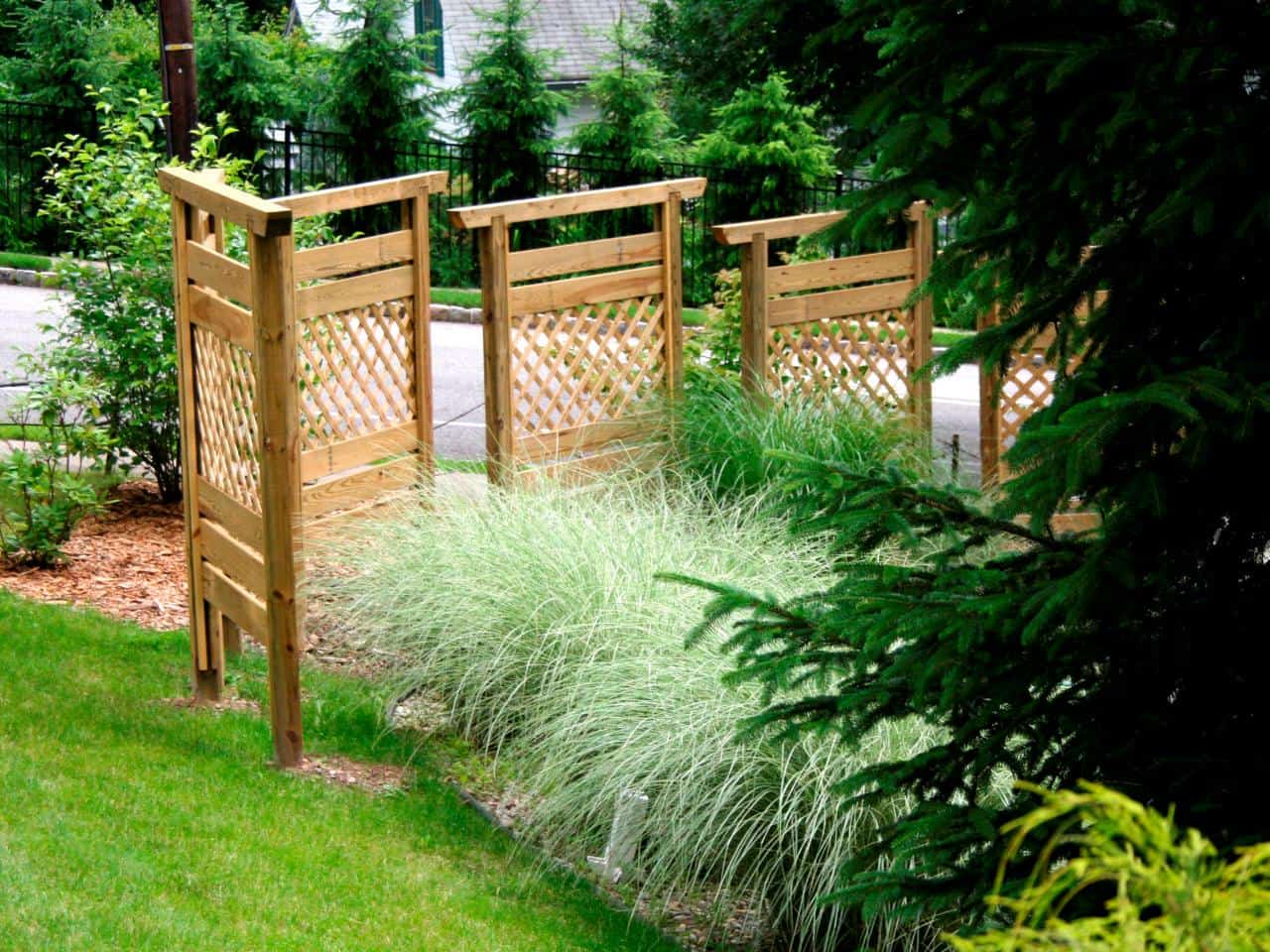 One of our favorite backyard screening ideas is this premade panel setup. You'll have to find the right pieces for your taste, then simply install them as instructed, but with a little twist.
Instead of lining up the panels in a straight line, creating a fence, pace out the area and install them in a broken pattern for a depth and texture that can actually add more privacy while also adding more intrigue to the design.
Ideally, plant some tall grasses and other plants between to turn the whole space into a rustic garden, as well, for the ultimate in beautiful privacy screens.
Via HGTV
Repurpose Old Wooden Gates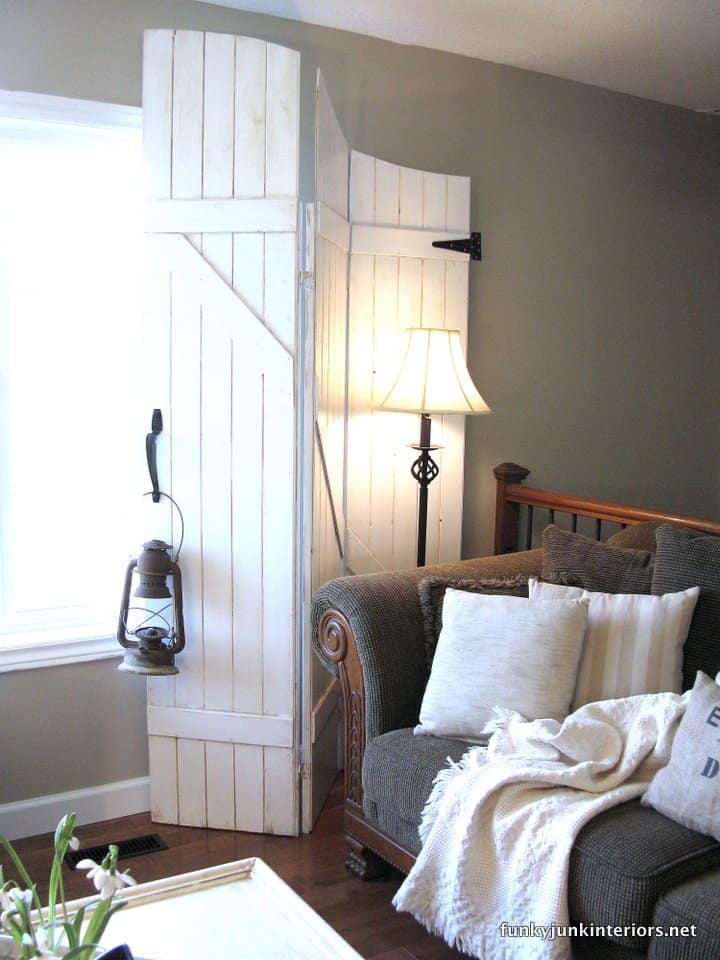 While this blog uses the wooden gates for an interior privacy screen, the concept easily translates to your outdoor spaces. The difference for making this indoor privacy screen into an outdoor wood privacy screen is using waterproof paint instead of standard interior paint on the wooden gates. You'll also want to rustproof the hinges before setting these portable privacy panels outdoors.
Fit a Fancy Fairy Ribbon Wall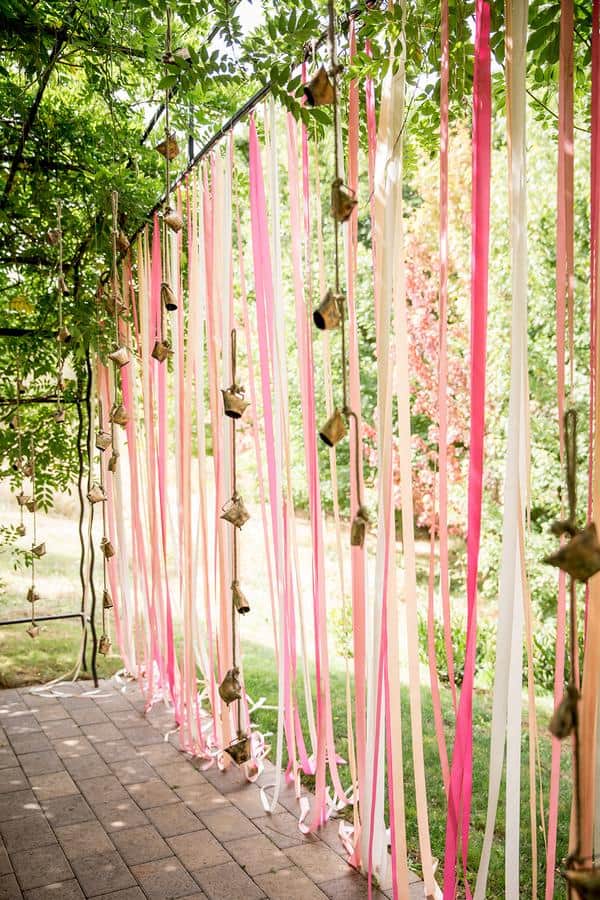 If you're looking for something a little more whimsical, you can consider this wedding decor idea for your standard setup. And, instead of all pink, you can choose whatever color ribbons you like.
Just be sure that the ribbons you use are weatherproof, and find a way to secure them solidly to the overhang, pergola, or gazebo where you hang them.
Via Homeshetics
Hang a Stained Glass Screen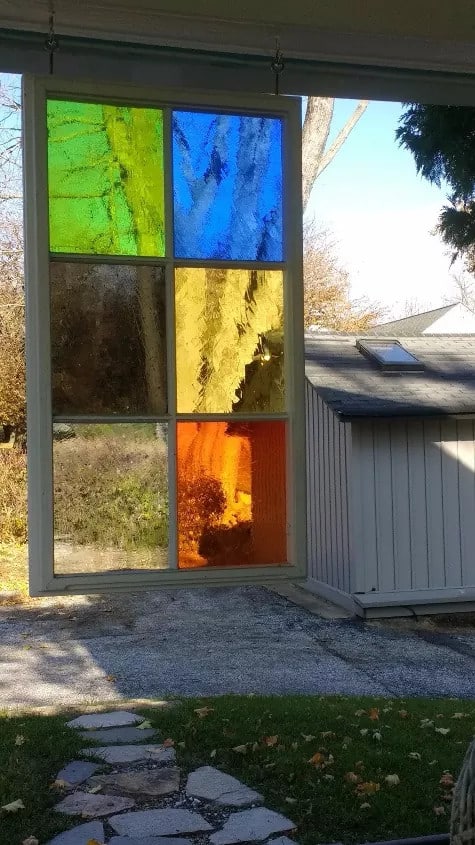 While stained glass doesn't necessarily add a ton of privacy – being glass and all – the concept certainly adds a depth of privacy that an open air space doesn't. Plus, the concept adds some unique beauty to your space, whether you're looking to spruce up your patio, porch, gazebo, or a mid-yard screen for that touch of privacy.
You'll need to find a large enough panel – or if you're skilled in the art of stained glass work, make your own. You can commission panels like these on a number of sites, including Etsy and your own local stained glass studios. There are more around than you'd probably think.
Via Home Talk
Upcycled Pallet Mini Wall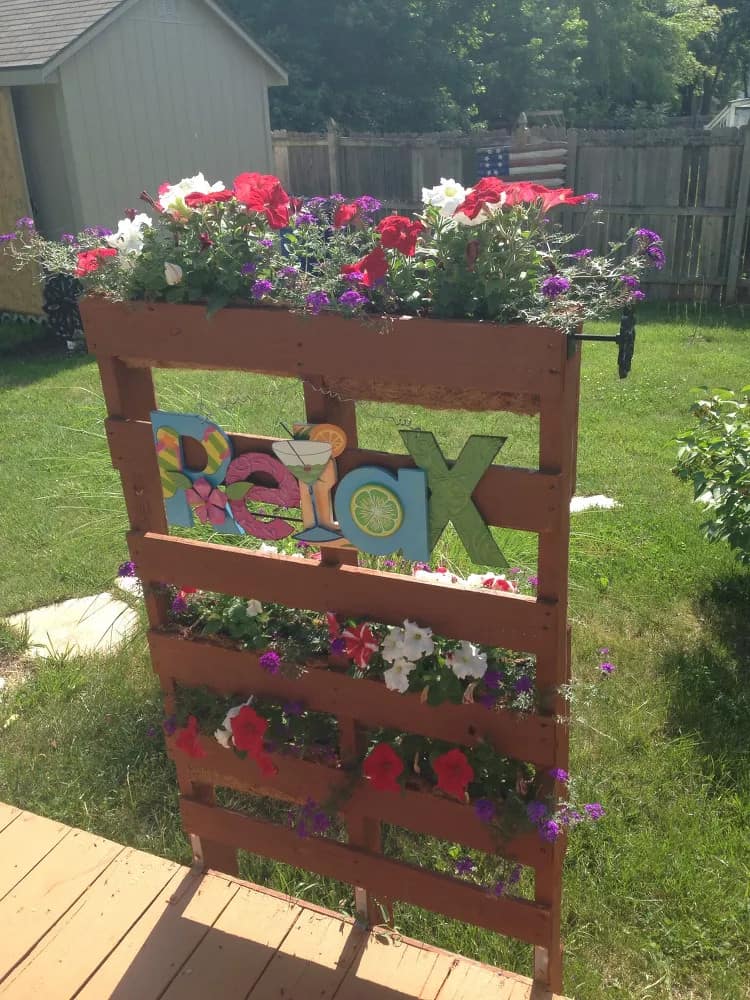 If you love upcycling pallets, then you'll love this super simple project. This little mini wall can easily combine with other panels to create a series – and therefore a longer privacy screen – or stand alone as one small screen for a singular space.
You'll need to make some minor adjustments to the pallet (creating posts, for one) and install the pallet in the ground, then you'll be able to add touches like floral vines, potted plants, wooden signs, or anything else you like.
Via Home Talk
Create a Simple Stenciled Wall Panel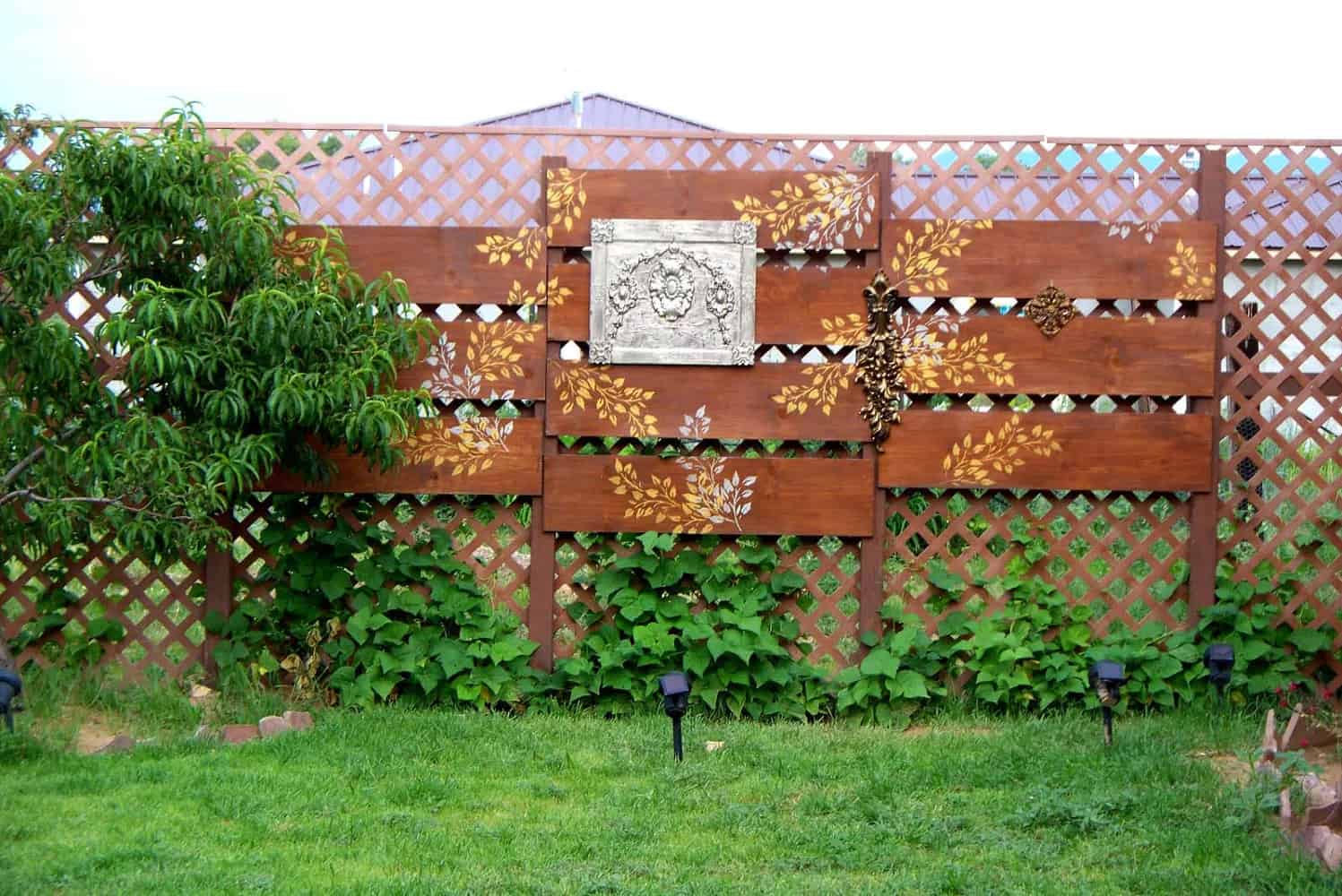 When you need true privacy, you need solid wood panels instead of lattice or garden panels. But who wants a boring wood slab? Instead, try a simple stenciled wall panel like this to add some pop and aesthetic beauty for your privacy wall.
This isn't a tutorial, per se, but gives some great ideas on how to do this project and touches to add for that extra splash of something. You can find actual stenciling tutorials online for specific tips.
Via Home Talk
Build a Hanging Rain Gutter Garden Wall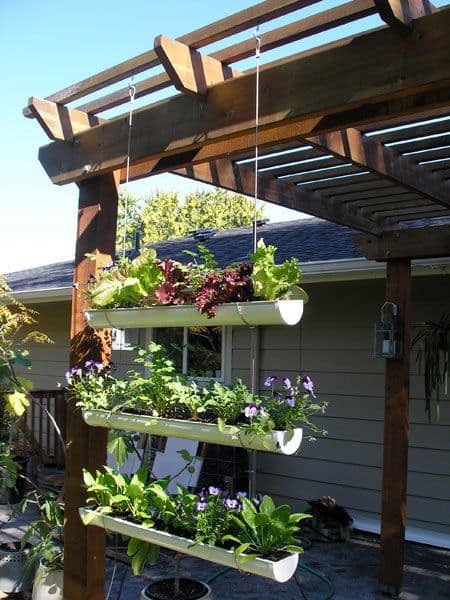 Whether you've already got a pergola in place or not, you can upgrade your space with a hanging garden wall. If you don't have a pergola, you can find a simple tutorial for creating a frame out of wood. Then, follow this tutorial for a beautiful hanging garden that uses that rain water that falls while adding gorgeous aesthetics and privacy to your space.
Via Good Home Design
Vintage Glass Door Garden Corner Screen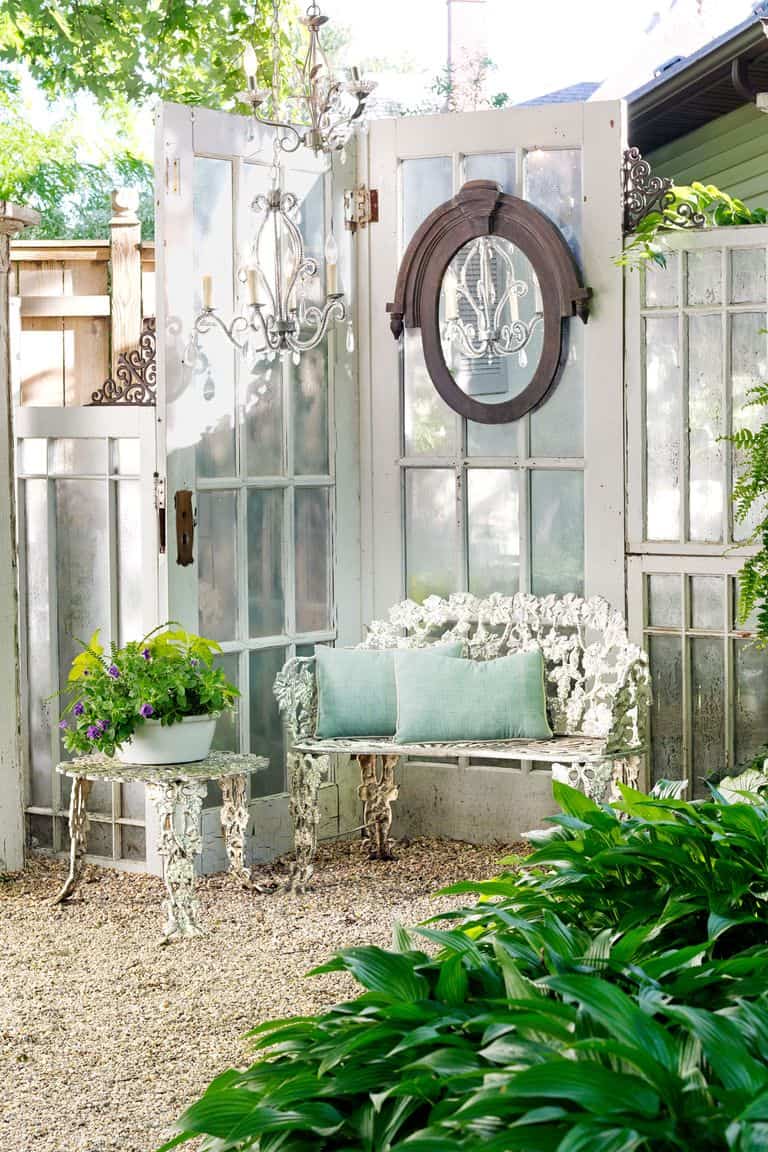 Earlier, we talked about using old doors to create a privacy fence. But here's a twist on that. Instead of creating a flat wall, this design offers a stunning, elegant outdoor corner space that's perfect for just about any kind of outdoor setting.
I think this would particularly be great for venues where weddings are held (hello backyard wedding!), fairy gardens, tea gardens, and similar spots where you'd like a bit of extra elegance and beauty beyond "just" plants and antique furnishings.
Via Country Living
Build a Wooden Chevron Pattern Screen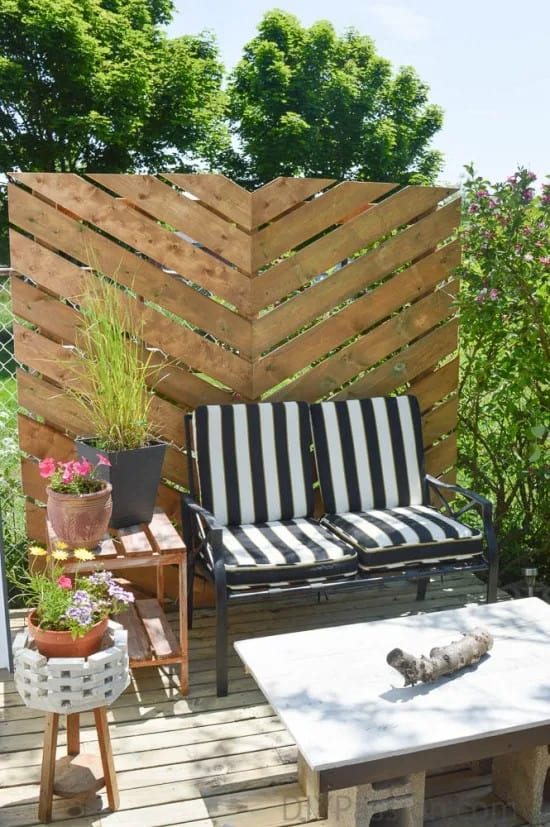 This last suggestion is a great design made from wood for a solid privacy fence to block out awkwardness from the neighborhood kids. The Chevron pattern adds some unique elegance and modern trendiness, with a nice subtlety.
The best part is, you can make this gorgeous panel for under $100, making it a fantastic budget-friendly weekend project.
Via DIY Passion
For Best Results, Mix Them Up!
When you're ready to build a privacy screen for your home, there are so many ideas out there that you can't possibly use them all. But, for a really great space that fits your every need, you just might want to mix up a few of them.
For small yards, combine mini pallet walls and lattice walls for a tower garden equivalent. For elegant spaces, consider using a few vintage designs to create the perfect look. You might find a little paradise right here and right now.