20 DIY Doormats & Outdoor Rugs in 2023
Doormats and outdoor rugs are some of those items that you didn't realize cost so much until you started living on your own. It's crazy how much retailers ask you to spend on something people are just going to wipe their dirty shoes on!
Rather than dropping $30+ on a welcome mat or outdoor rug, consider making one yourself. You'll spend half of the money and get a custom product that works for your home.
Stencil Hand-Lettered Mat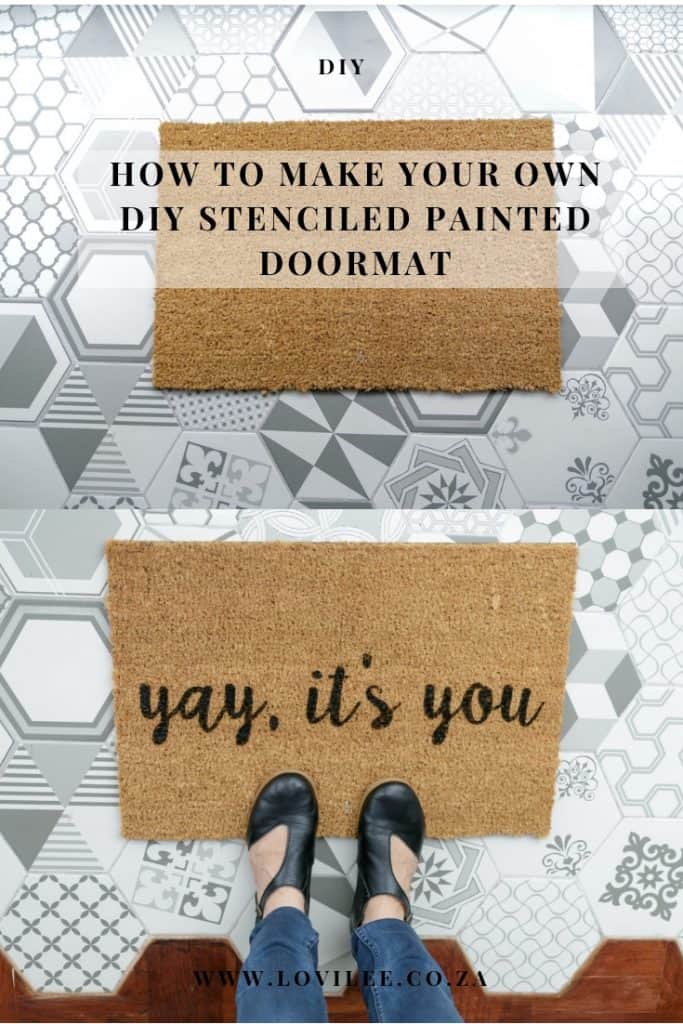 Want a custom quote on your doormat? You can DIY for super cheap, and it will look great!
All you need is a plain mat, a stencil, and some black paint and you can create an on-trend welcome mat with whatever saying you want.
Make This Quirky Painted DIY Doormat In Under 1 Hour by Lovilee
Cardboard Cutout and Spray Painted Mat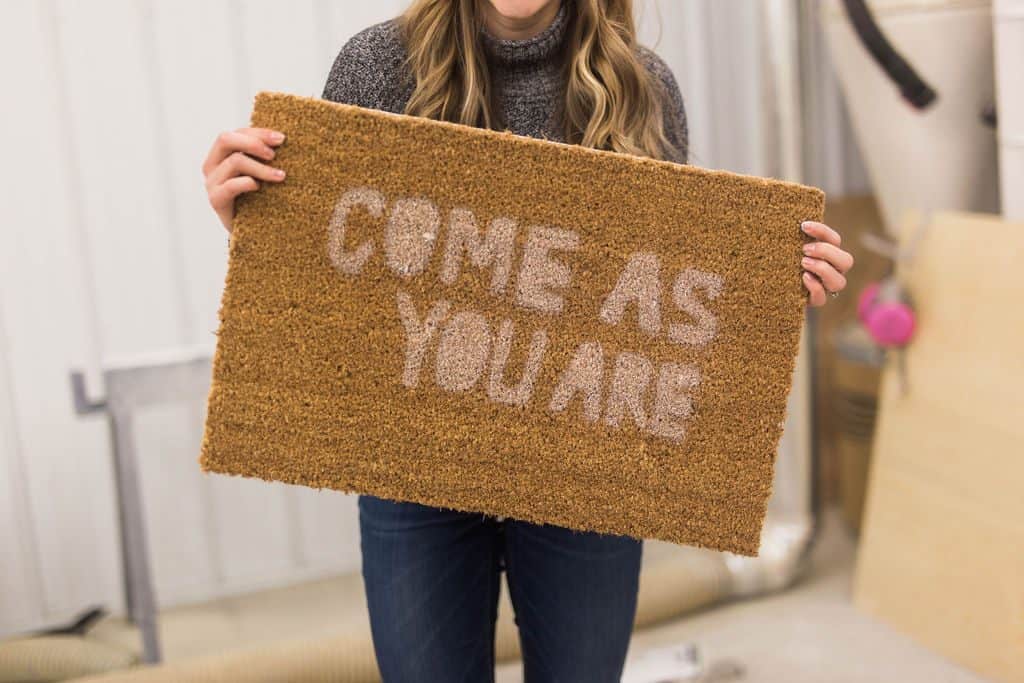 The end result of this mat is similar to the stenciled one, but she used cardboard and spray paint to get the look rather than hand-lettering it herself.
You can make this say anything you want, in whatever color you choose! It's super quick and very inexpensive.
DIY Outdoor Rug by Construction 2 Style
Buffalo Check Faux Mat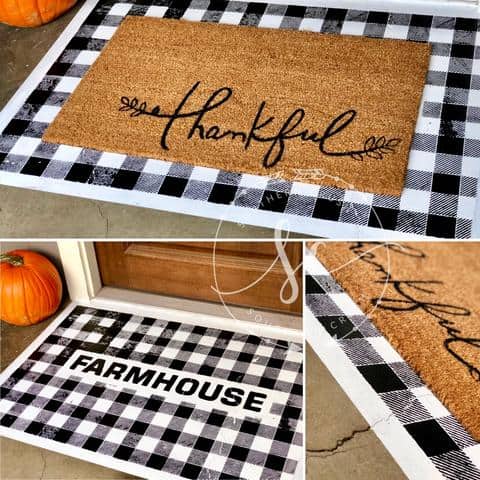 Laying a large buffalo check rug under a welcome mat to create a layered look is huge right now. But, what's not huge is when the rug starts to curl up or look a little tattered.
This faux mat will give you the layered look without the hassle because it's painted right on the cement.
DIY Painted Buffalo Check Doormat by Southern Crush at Home
Quote Bubble Mat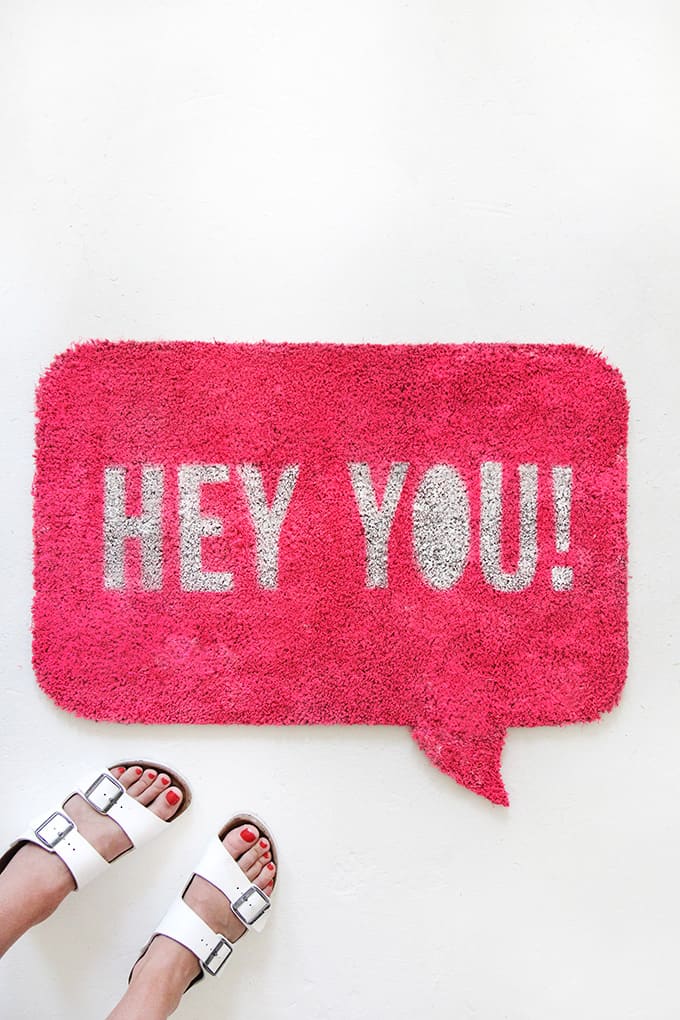 Who says a welcome mat has to be a rectangle, anyway?
This quote bubble welcome mat is just a standard one that was cut into the bubble shape, spray painted, then finished off with some hand-painted letters. The options for this canvas are endless.
Quote Bubble Welcome Mat by I Spy DIY
Wood Slate Mat
Mid-century modern is a huge trend right now, but even if it weren't, this wood slate doormat would still be a top DIY contender.
This project will take a bit more time than some of the others, but the end result is worth it. Choose whatever colors work best with your home and style and you'll have a doormat and conversation starter.
Wood Doormat With Mid-Century Style by DIY Candy
Colorful Doormat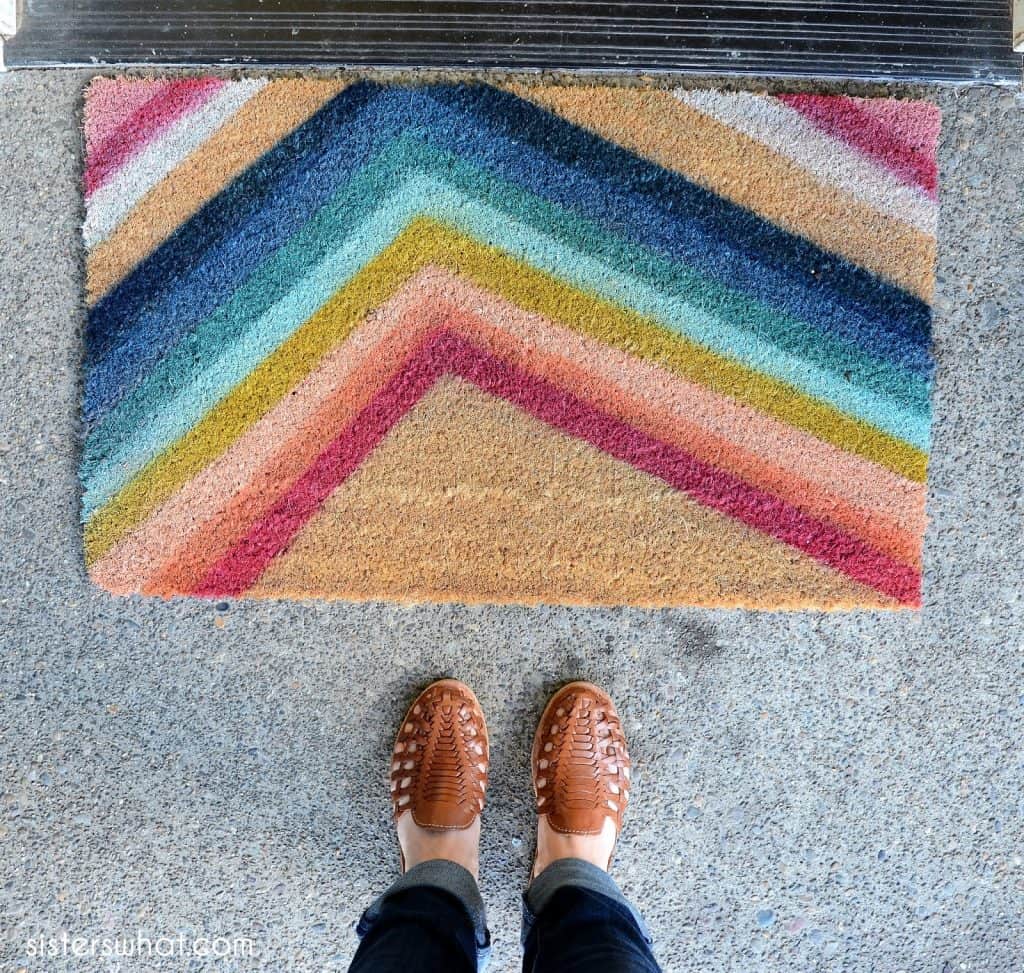 All you need to make this beauty is some spray paint, and either a stencil or painters tape (whichever method you prefer).
You can create this, or any other pattern, really easily and pick whatever colors you'd like. It's a great, colorful, way to welcome guests into your home.
DIY Colorful Striped Doormat by Sisters, What!
Upcycled Rug & Shower Curtain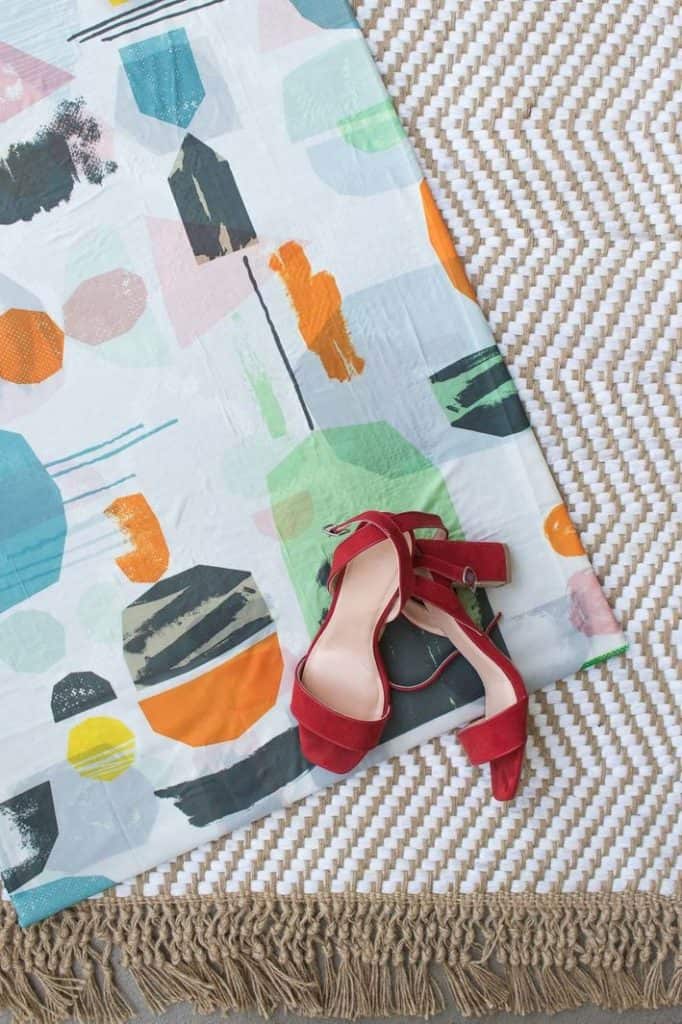 If you already have a welcome mat or outdoor rug, but just want a new style, this shower curtain hack is a great, inexpensive way to get an update.
All you need to do is find a water-proof shower curtain with a style you like, cover the rug with it, and you now have a brand new, water resistant rug!
IKEA Hack! Turn a Shower Curtain Into an Outdoor Rug by Curbly
No-Sew Braided Rug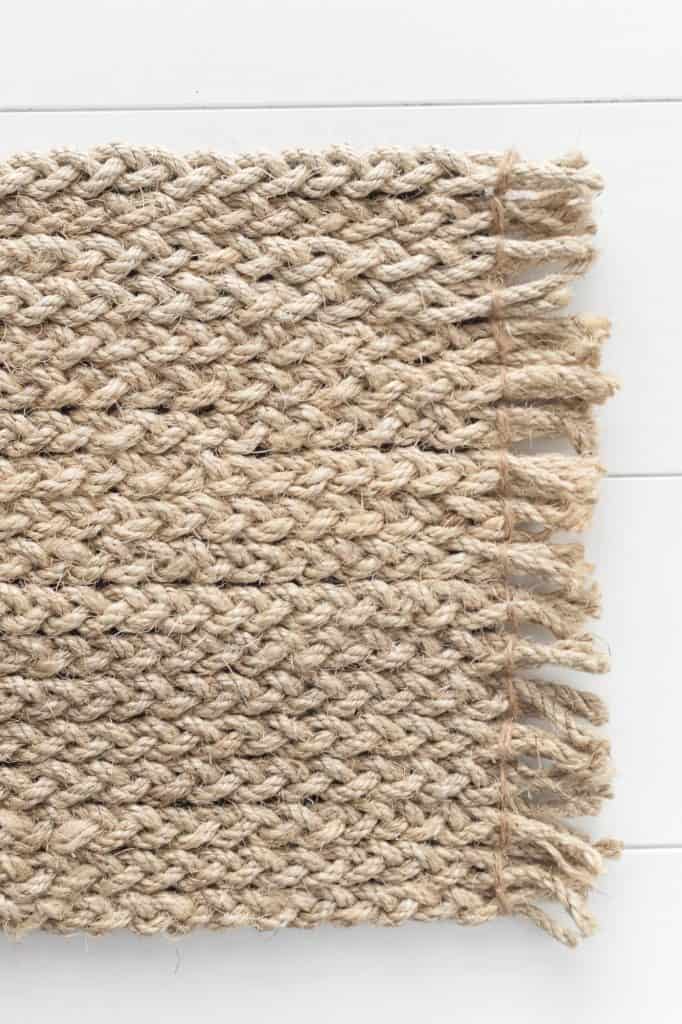 You could find something like this at Anthropologie for no less than $50, or you could create it yourself for a fraction of the cost, and get to enjoy the creativity in the process.
This rug is really easy to make, but it does take some time. If you enjoy the journey of a DIY project as much as the end result, this is a great option.
DIY No-Sew Braided Rope Rug by Wildflowers in Autumn
Easy Stenciled Rug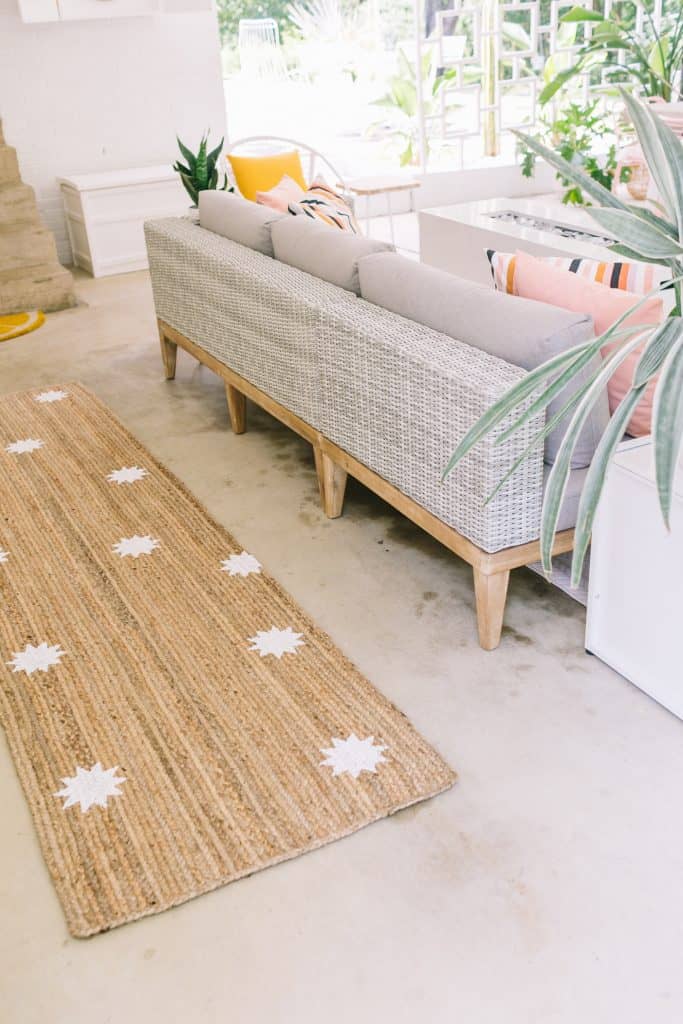 For this DIY outdoor rug, you'll first need to buy a plain rug but then you can easily add your own touch and style with a stencil and some paint.
This will give you a beautiful end result that will look great with your overall design and decor style, something you usually can't find in a pre-printed rug.
Easy Stenciled Outdoor Rug by A Beautiful Mess
Hand Painted Rug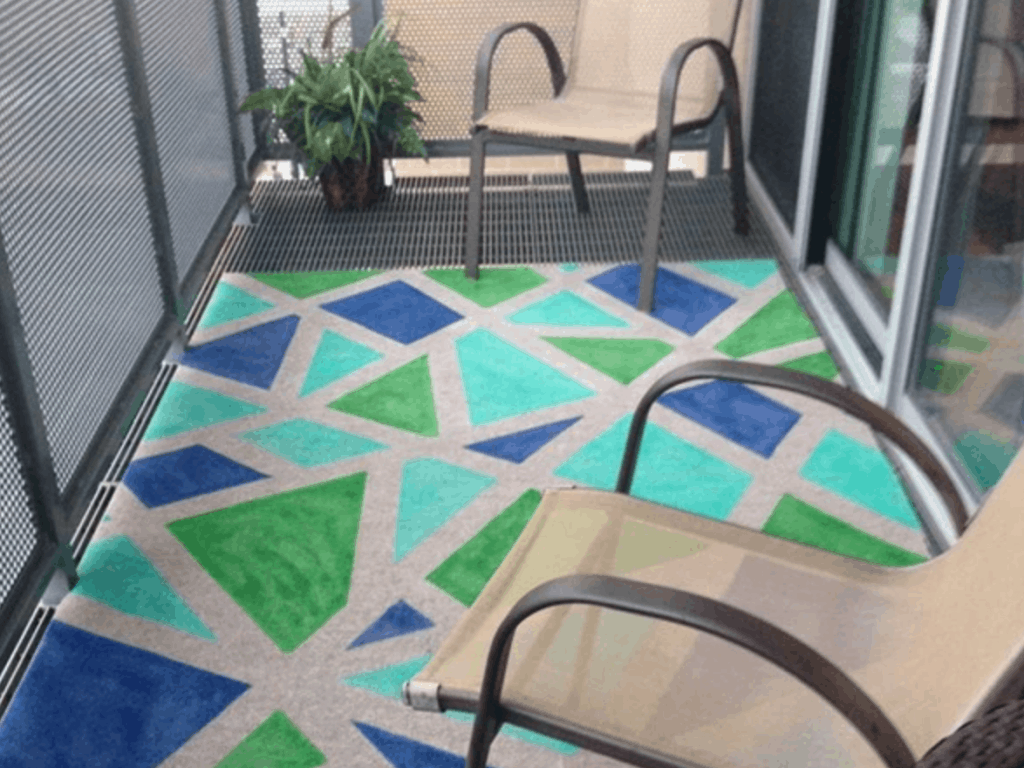 For this project, all you need is a basic/plain rug, painters tape, acrylic paint, and some sponges.
There's no experience necessary for this project, you just put tape all over it to create a funky design, and fill in the spaces with different colors using the sponge. The final product is gorgeous, custom made, and way better than anything you'd find in a store.
DIY: A Colorful Outdoor Rug Made In 90 Minutes by Femmo Fashion
Hose Rug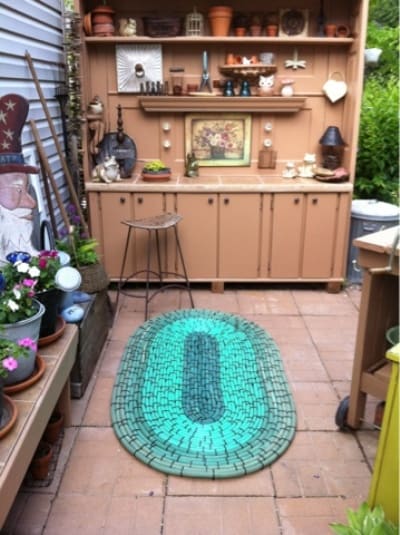 Yep, you can even upcycle some old hoses to create an awesome outdoor rug.
This how-to article will give you a step-by-step guide to recreate this water hose rug that is perfect for an outdoor area, or for by the front door (a great choice for some wet rain or snow boots to dry off).
Ann's Garden 'Rug' From Hoses by Flea Market Gardening
DIY Rope Rug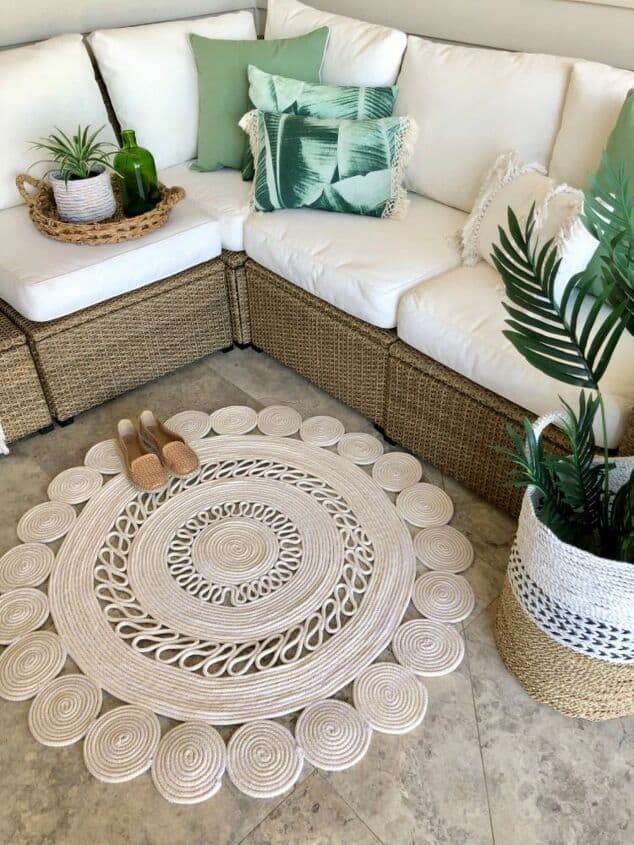 This rug seriously looks like it could be sold (probably for a ridiculously high price) at any trendy boho-chic store, but it's handmade and super easy to do.
All you need to recreate this is some rope, glue, and patience. It will take a bit of time to ultimately get this rug finished, but its totally worth it.
DIY Rope Rug by Home Talk
Drop Cloth & Paint Rug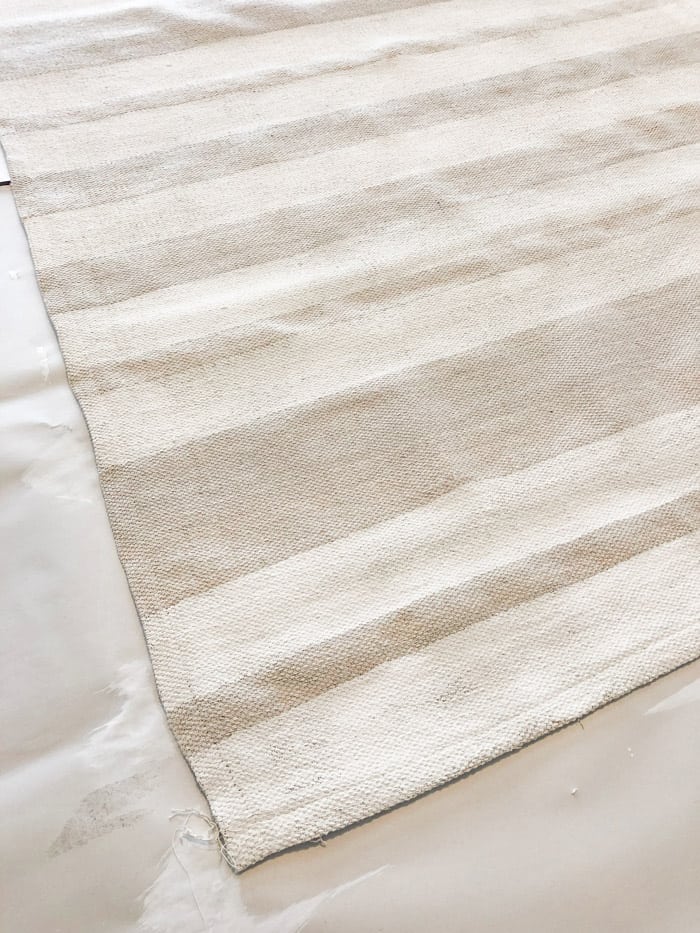 Grab a drop cloth and some chalkboard paint and you have just about everything you need to create a subtle but beautiful outdoor rug.
The only caveat to this project is that you do have to do a little sewing to get the dimensions you want. Still, whether you use a machine or hand stitch, it's a gorgeous custom rug that you won't be able to find anywhere else.
How to Make an Easy DIY Rug Out of a Drop Cloth and Chalk Paint by Life on Summerhill
Dollar Store Rug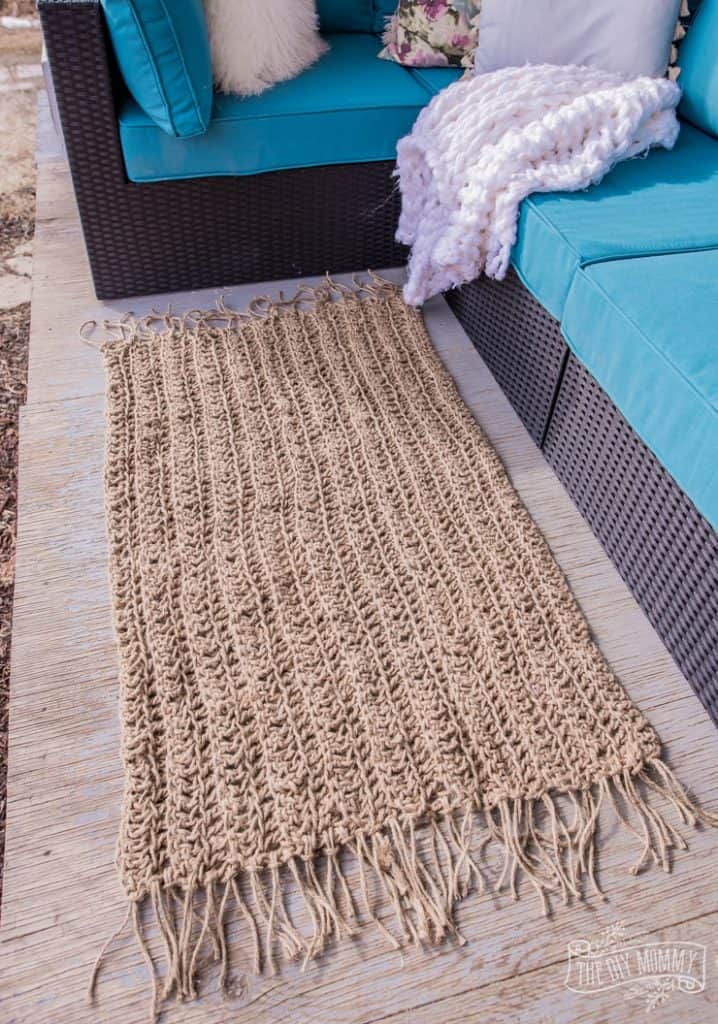 To make this rug, you need to know how to crochet – or at least be willing to learn how to crochet.
Once that part is done, all you need is some dollar store twine and you're on your way to a gorgeous outdoor rug. You may have to learn how to crochet, but you really can't beat the price of this finished product.
Make a Jute Rug with Dollar Store Twine by The DIY Mommy
Painted-On Faux Rug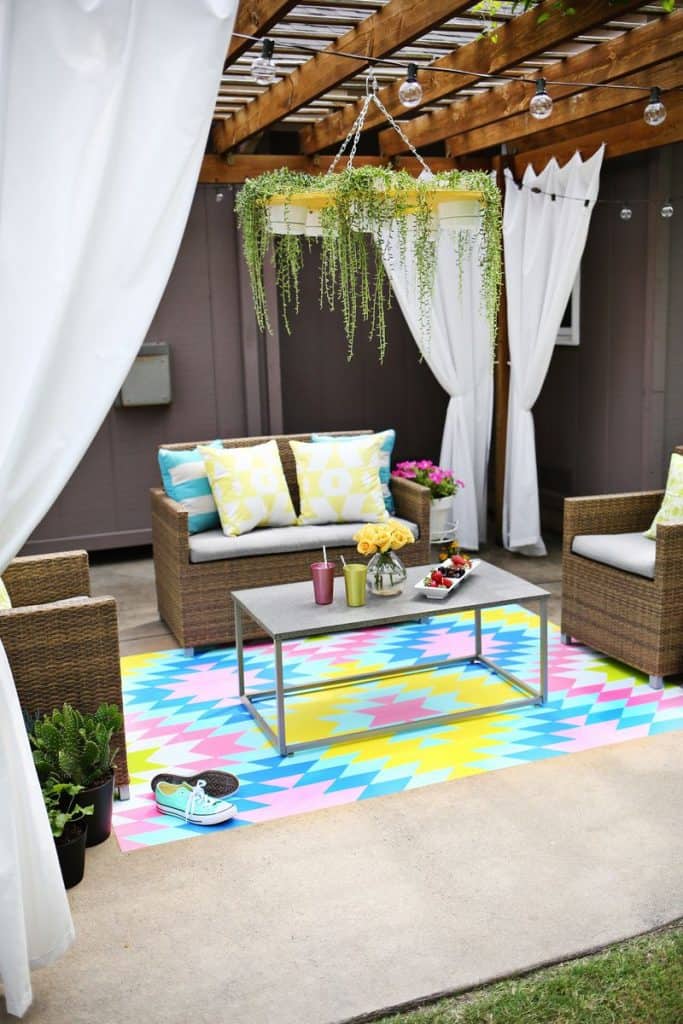 Much like the buffalo check welcome mat shown earlier, this outdoor rug isn't a rug at all, it's painted right on to concrete.
This blogger made a stencil to create this eccentric and colorful pattern, but you don't have to get that detailed (unless you want to of course). Just a few easy stripes in some bold paint will give you a similar impact.
Paint Your Own Outdoor Rug by A Beautiful Mess
Colorful Scrappy Rope Rug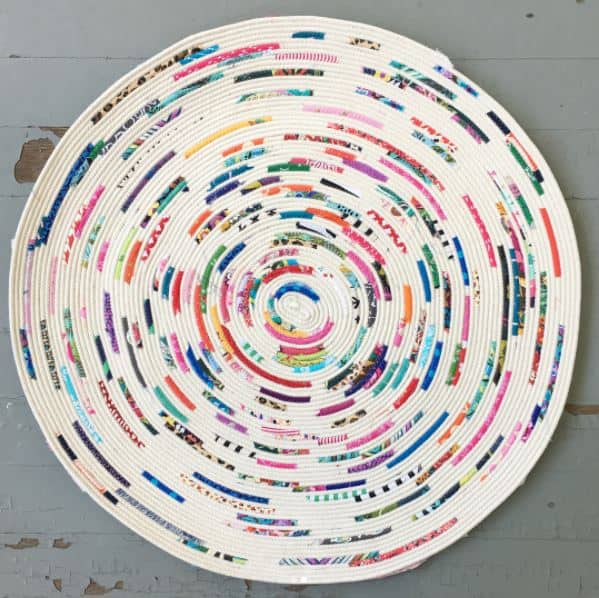 If you know how to sew and have some scrap fabric lying around, grab some rope and get started on this beauty.
This rug would be best for a spot that's covered (so it doesn't get hit with direct rain), but aside from that it makes a gorgeous statement and is really easy to create.
Make a Scrappy Rope Rug by Sew Hungry Hippie
Red, White, & Blue Mat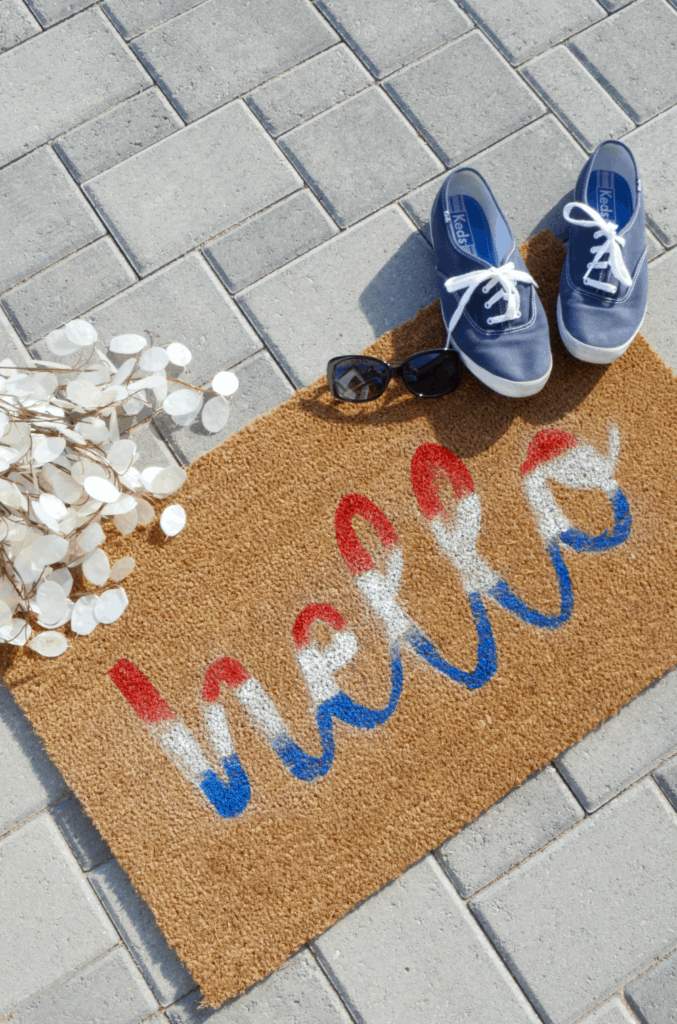 This inspo was created with red, white, and blue paint, but what's great about it is that you can do any colors (and any script) you'd like with the same effects as this one.
She used a Cricut to create her "hello" stencil, but you can also create one by hand (or freehand!). The possibilities are endless here, and no matter what, the finished product will certainly catch people's eye.
How to Make a DIY Doormat by The Idea Room
Inexpensive IKEA Doormat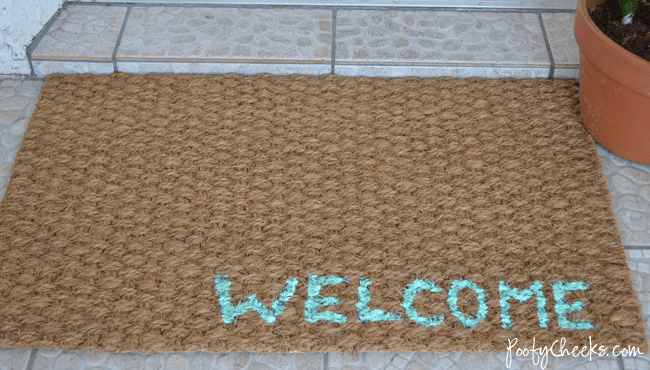 If your style is more minimalist – this IKEA doormat hack is perfect for you.
All she did was purchase a super inexpensive, blank welcome mat from IKEA and then picked her favorite paint to freehand "welcome" in the bottom right corner. You can recreate this mat with whatever shade of paint you'd like and any statement that fits your personality.
DIY Welcome Mat by Poofy Cheeks
DIY Stone Mat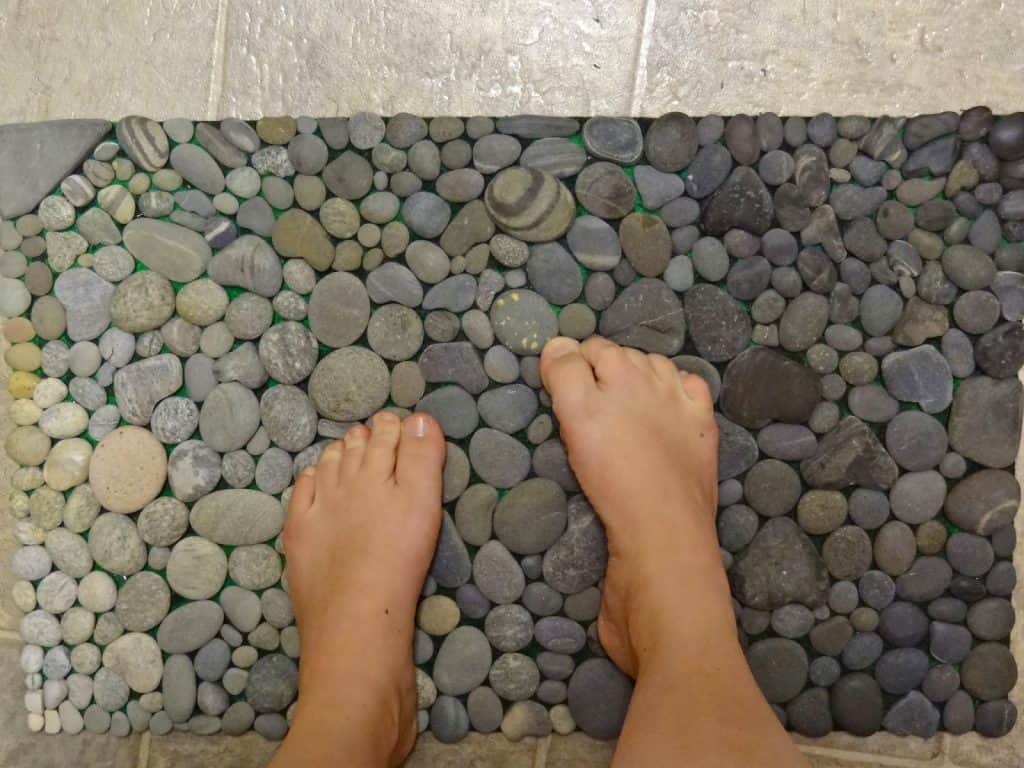 Have you ever stepped out of a shower onto a soft stone mat? It's surprisingly comfortable and the water gets soaked up so the stones don't get slippery.
To create a similar product, grab an old welcome mat, flip it over, and glue enough stones on it to cover the surface. It will look high-end and no one will know that you just found some stones in your backyard to make it.
DIY Stone Mat by The Little Gunnell Family
Round Rope Rug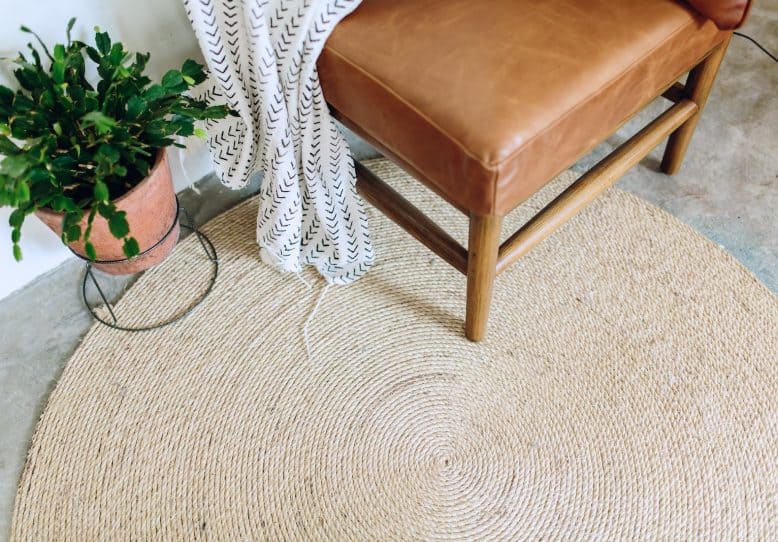 This rope rug is basic, easy, and packs a huge decor punch.
All you need to recreate this is a (lot of) rope, some glue, and a good podcast (okay, that's not a necessary material, but it'll help pass the time it takes to create this beauty). It can be used as a welcome mat, or as an outdoor rug for your patio or deck. No matter where you use it, it will become a beautiful statement piece.
DIY Round Rope Rug by Collective Gen
Conclusion
The best thing about DIY projects is that you can get a customized version of a high-end piece for a fraction of the cost, and you know that it will work perfectly with your home and decor style.
Whether you like a boho, farmhouse, minimalist, or mid-century modern look, there is a way to incorporate your style into every aspect of your space – right down to the outdoor areas. A DIY rug will tie everything together, and give you a fun story to tell your guests as they stand in awe of your creation.