30 DIY Makeup Organizer Ideas in 2022
Over the course of their lifetime, the average makeup wearer will spend around $300,000 on makeup products. That kind of investment shouldn't just be thrown into a drawer to be damaged or forgotten.
However, makeup organizers can be expensive or just kind of boring. So, rather than buying one that will break the bank or that doesn't go with your decor style, consider a DIY project instead!
A Faux Wood Organizer Made From Cardboard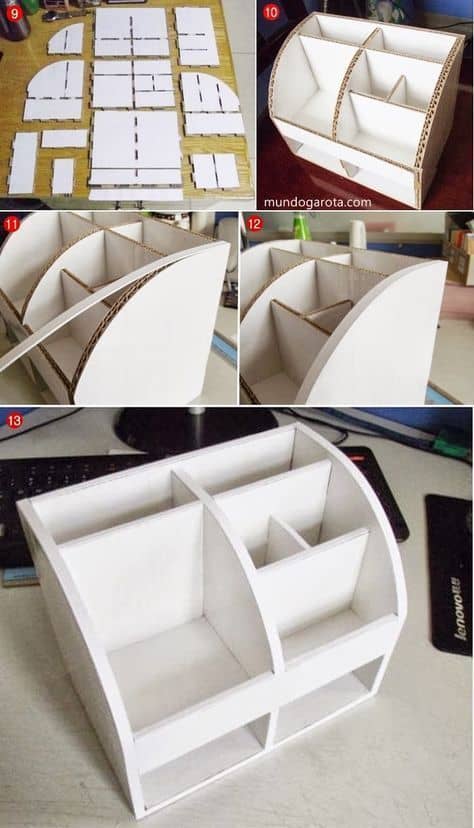 Who knew you could make cardboard look like wood?! This organizer requires very little (inexpensive) materials and has a well-made finished look.
This tutorial provides you with everything you need to know to recreate the organizer, and what you spend in time you will save two-fold in money for the same product.
DIY: Create Your Own Makeup Organizer by WORLD GIRL
An Old Tea Set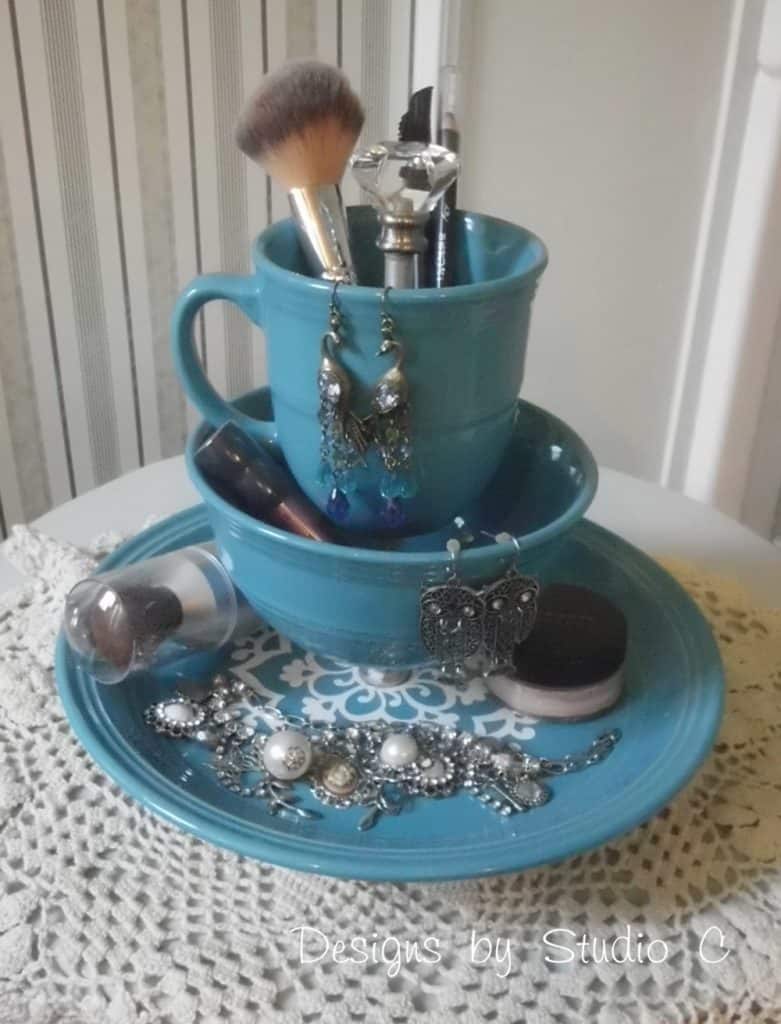 If you have a tea set that's collecting dust, or want an excuse to go to the thrift store, consider making this organizer.
The different dishes allows the organizer to be tiered and hold a variety of small to medium-sized products.
How To Make A Jewelry & Makeup Holder With Dinnerware by Designs By Studio C
Easy Makeup Tower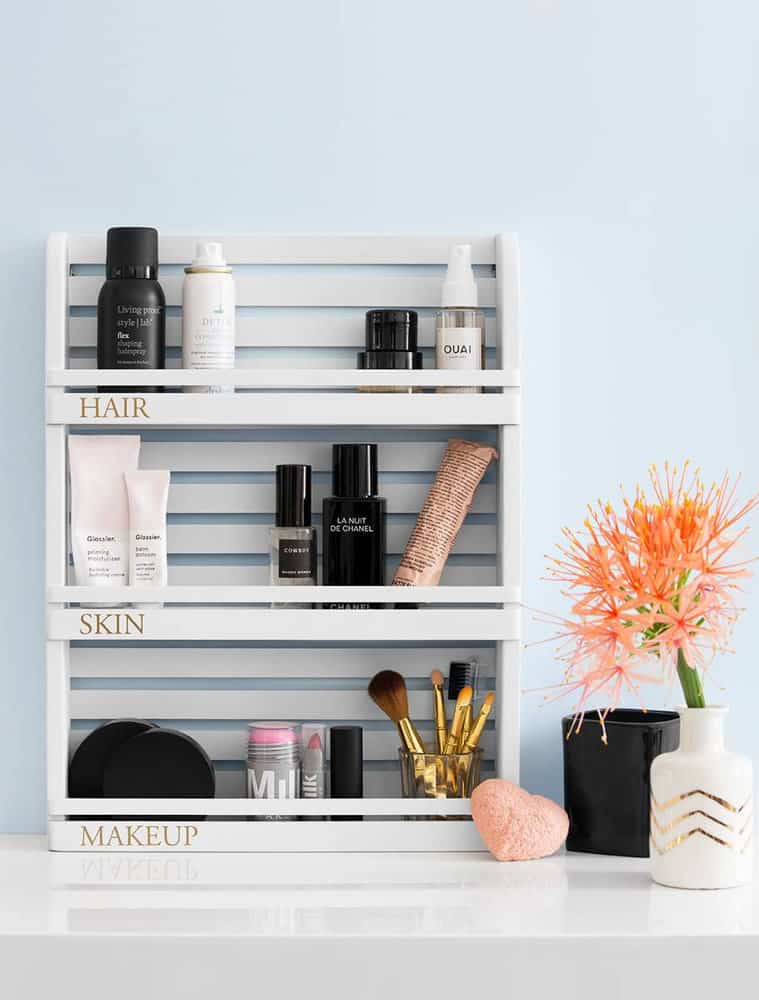 If you don't want to dig through a drawer, this spice rack turned makeup organizer is for you.
The rack is already made, so all you have to do is spray paint and label it however you like.
Target Hack! Stop Storing Makeup In A Drawer by Domino
Magnetic Makeup Board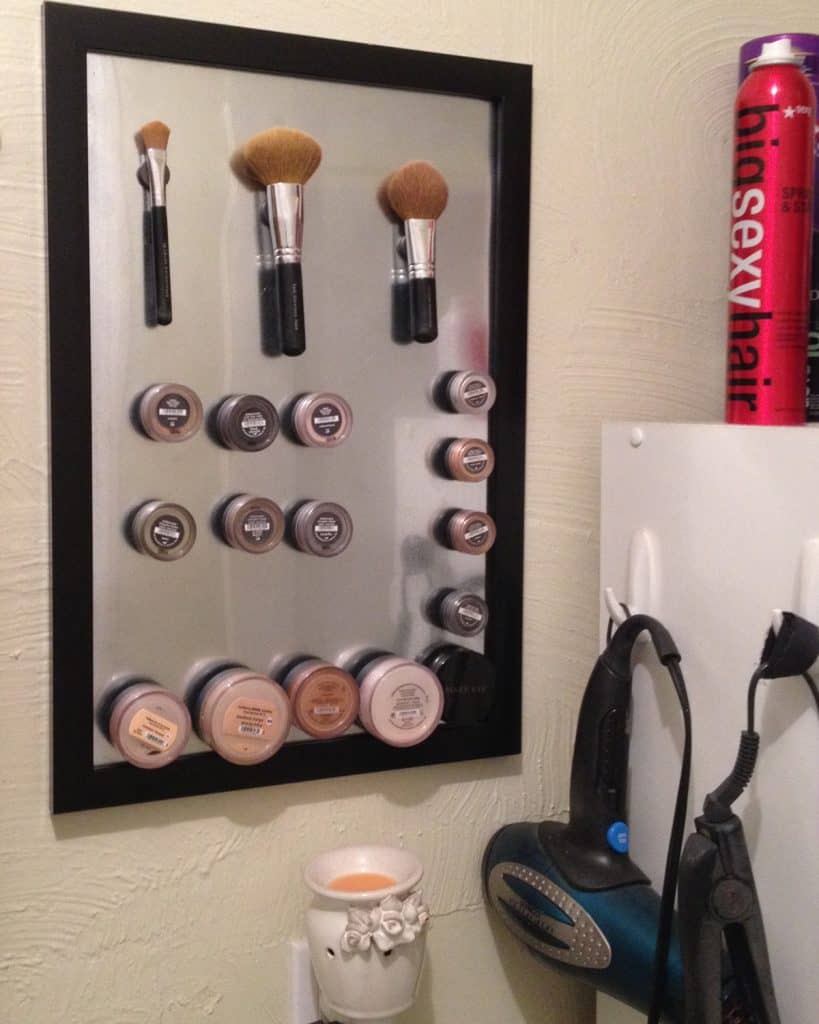 A magnetic board is another creative way to store your makeup if you hate digging through drawers or having clutter on your counter.
This board is really easy to make and you don't need many materials to make it.
DIY Magnetic Makeup Board by Splendry
Children's Book Shelf Hack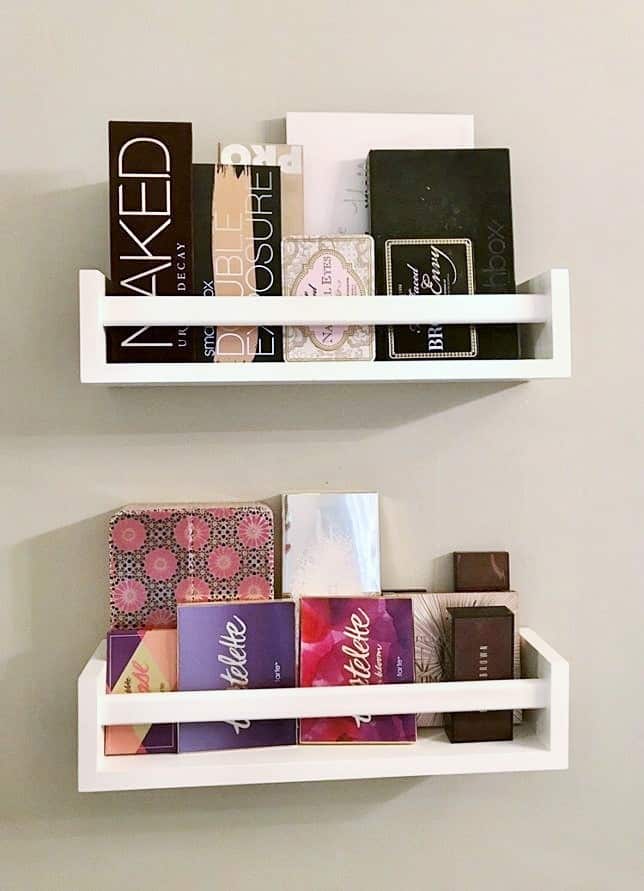 This IKEA shelf is meant to hold kids books facing out, but this blogger converted it into a beautiful makeup organizer instead.
All you need for this is a few of the inexpensive shelves and some pallets that can be stacked in them. Super Easy!
Organized Makeup Palettes by Savoring Saturdays
Upcycled Glass Jars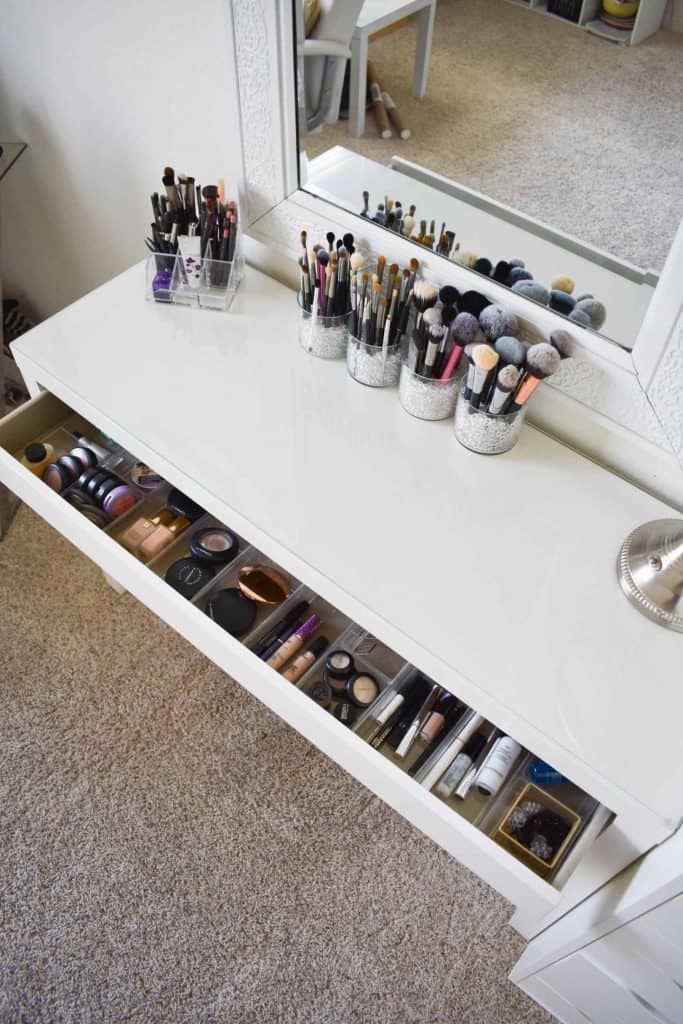 If you have more makeup brushes than you can count, you should definitely find a way to keep them organized.
This blogger found some glass jars that she would have otherwise thrown out and poured some clear beads in them to help hold her brushes upright. It created a functional brush holder with a minimalist look.
Makeup Storage and Organization: Tips and Ideas by Beauty and the Benchpress
DIY Glitter Brush Holder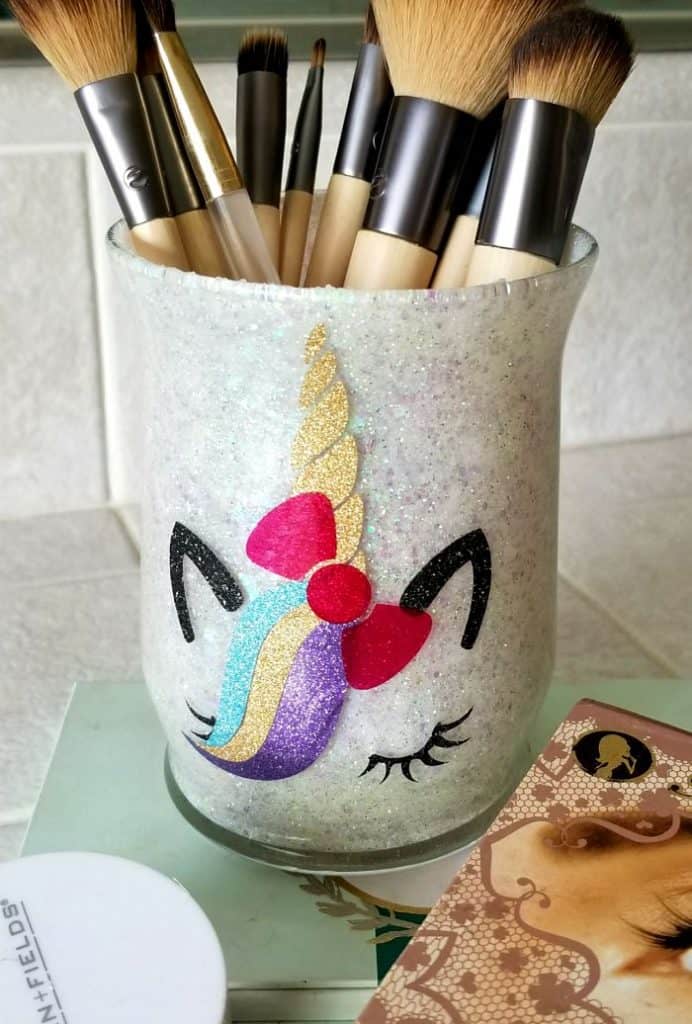 What's more glam than glitter? Nothing.
This tutorial for a DIY glitter brush holder has everything you need to create the sparkly organizer of your dreams. In addition to the tutorial, she provides several inspo pictures to help you find a vision for when you make your own.
Makeup Glitter Brush Holder by Leap of Faith Crafting
Old Candle Jar Made New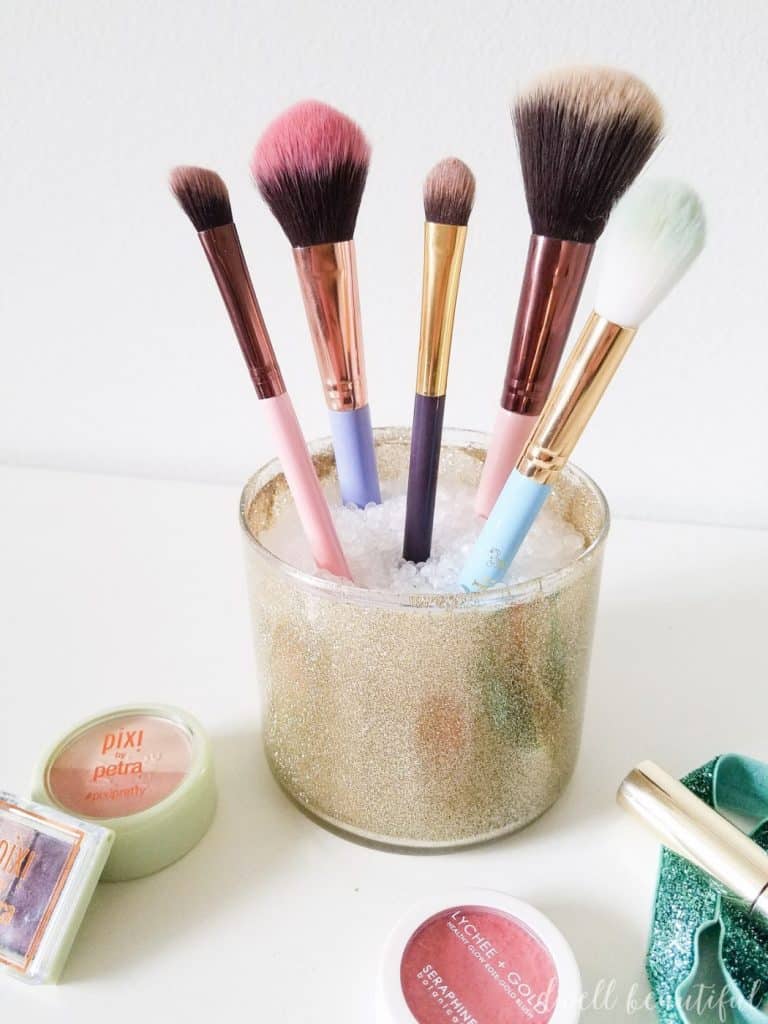 If you have a love for seasonal scented candles, you've probably thrown out a few glass jars.
Instead of tossing them to be recycled, upcycle them and turn them into brush holders or containers to store small makeup products.
How To Create A DIY Makeup Brush Holder From an Old Candle Jar by Dwell Beautiful
Glitter & Glue DIY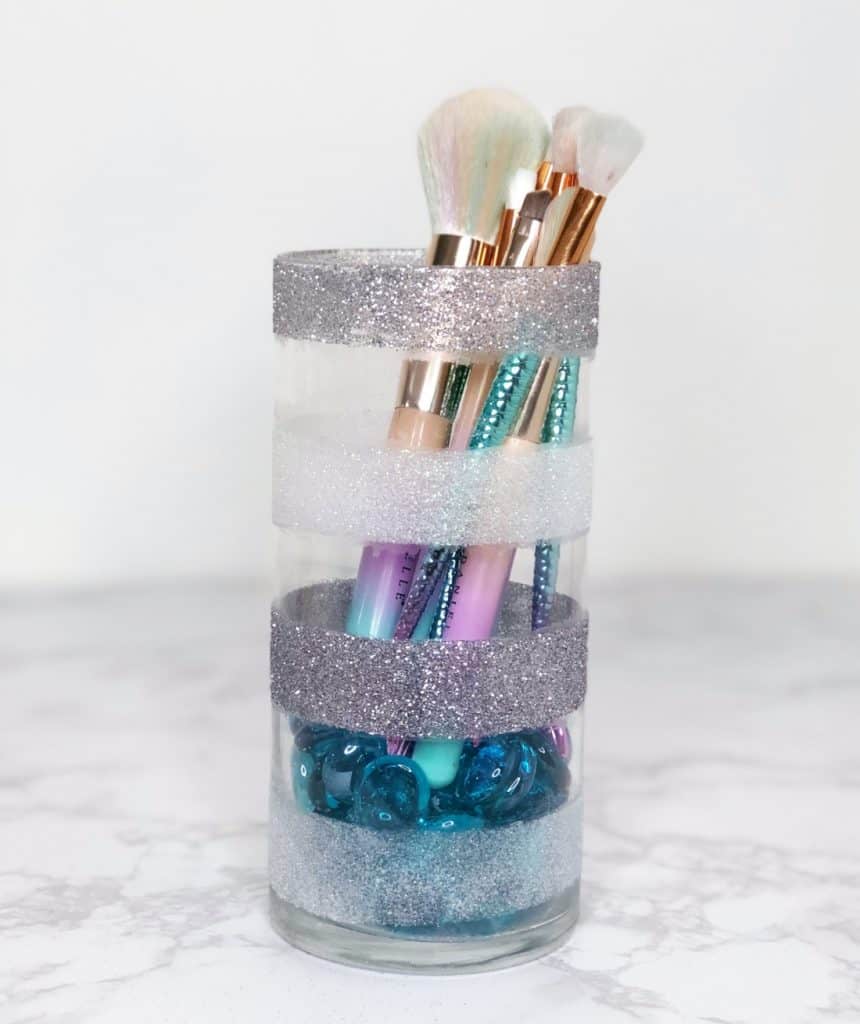 This makeup brush holder was made out of materials that were found at the dollar store!
All you need to create this look is a glass container, some glue, and your favorite shades of glitter! The end result will look like it was professionally custom made with colors that perfectly match your aesthetic.
DIY Glitter Makeup Brush Holder by The Life She Has
Lacey Brush Holder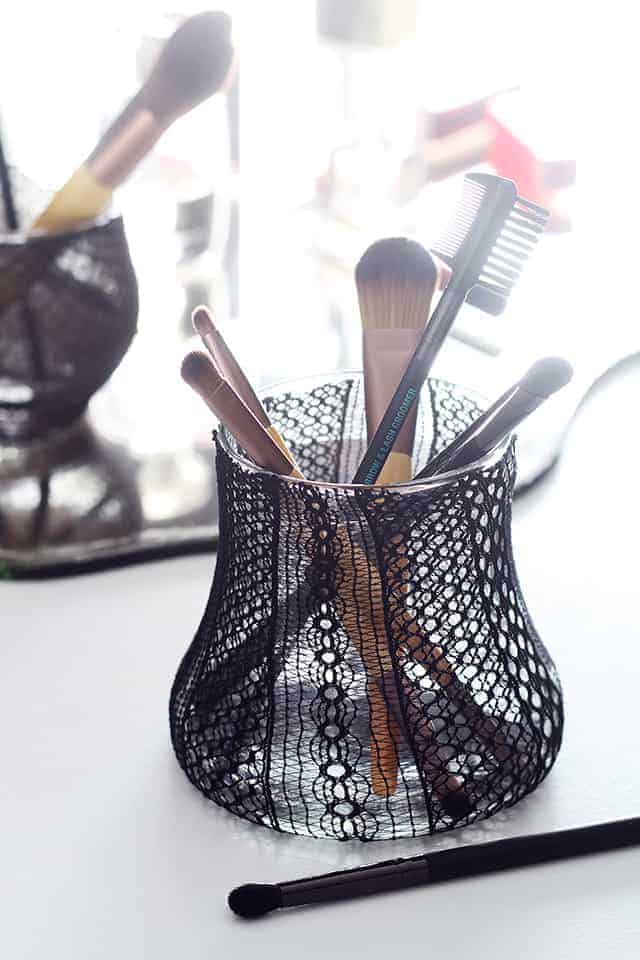 If glitter isn't your thing, consider creating a makeup brush holder with a glass jar and some lace!
All you need to create this look is a pair of old tights (or any lace, really), a glass jar, some scissors, and double-sided tape!
Pretty Up Your Vanity With A Recycled DIY Makeup Brush Holder by Hello Glow
Glittered Makeup Organizer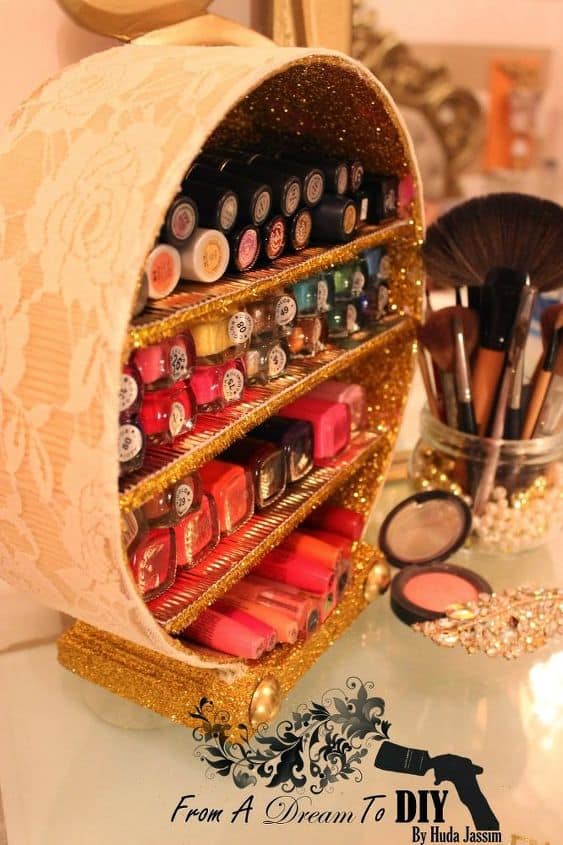 Stores like Victoria's Secret love to hand out freebies to shoppers that ultimately end up just collecting dust in the closet.
This blogger found a creative way to turn one of those freebies into a glittery, custom makeup organizer. She was able to use materials she already at in her house and didn't have to spend a penny on the organizer!
Glittered Makeup Organizer by Hometalk
Wood Block Brush Holder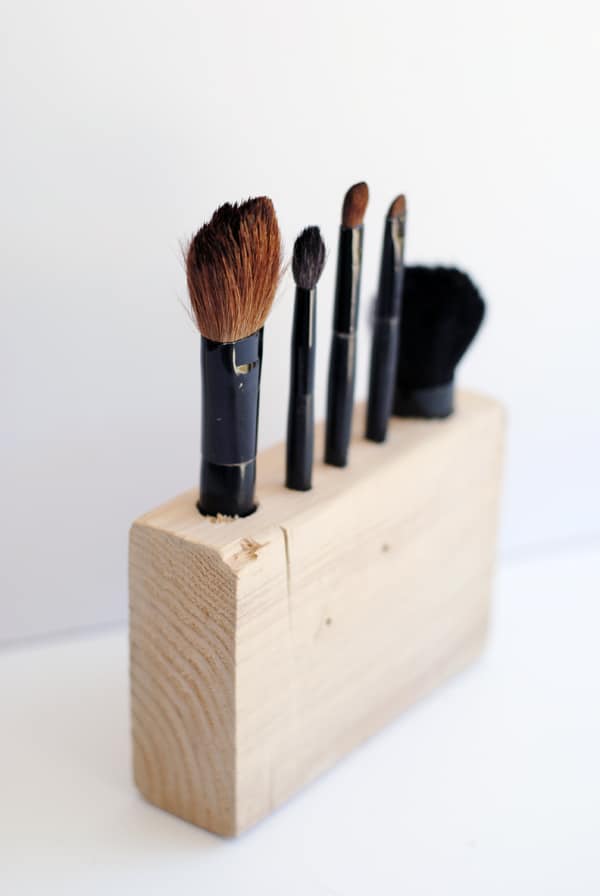 Do you have some scrap wood? Do you have a drill?
That's literally all you need to create this simple, minimalist makeup brush holder. Just drill some holes that are large enough for your brushes to fit and you're done!
DIY Makeup Brush Holder by DIY Candy
Wood Makeup Caddy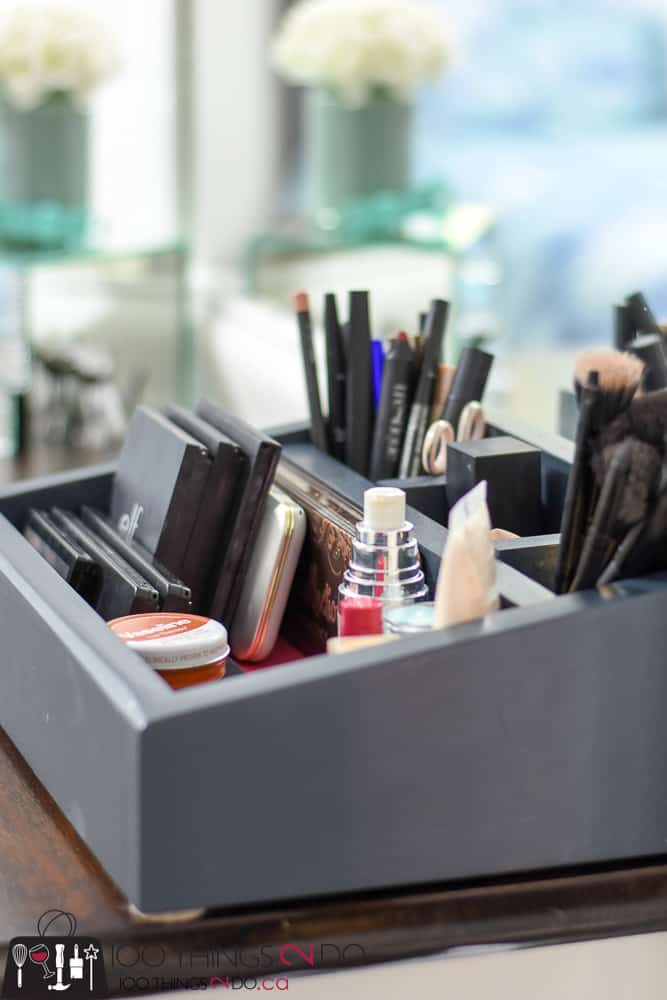 This makeup caddy requires a little bit of work and know-how, but it's worth the extra effort.
You can find the tutorial to make this caddy on their blog, or you can use this as inspiration for a caddy of your own that will meet your needs.
DIY Makeup Caddy by 100 Things 2 Do
Bright & Fun Organization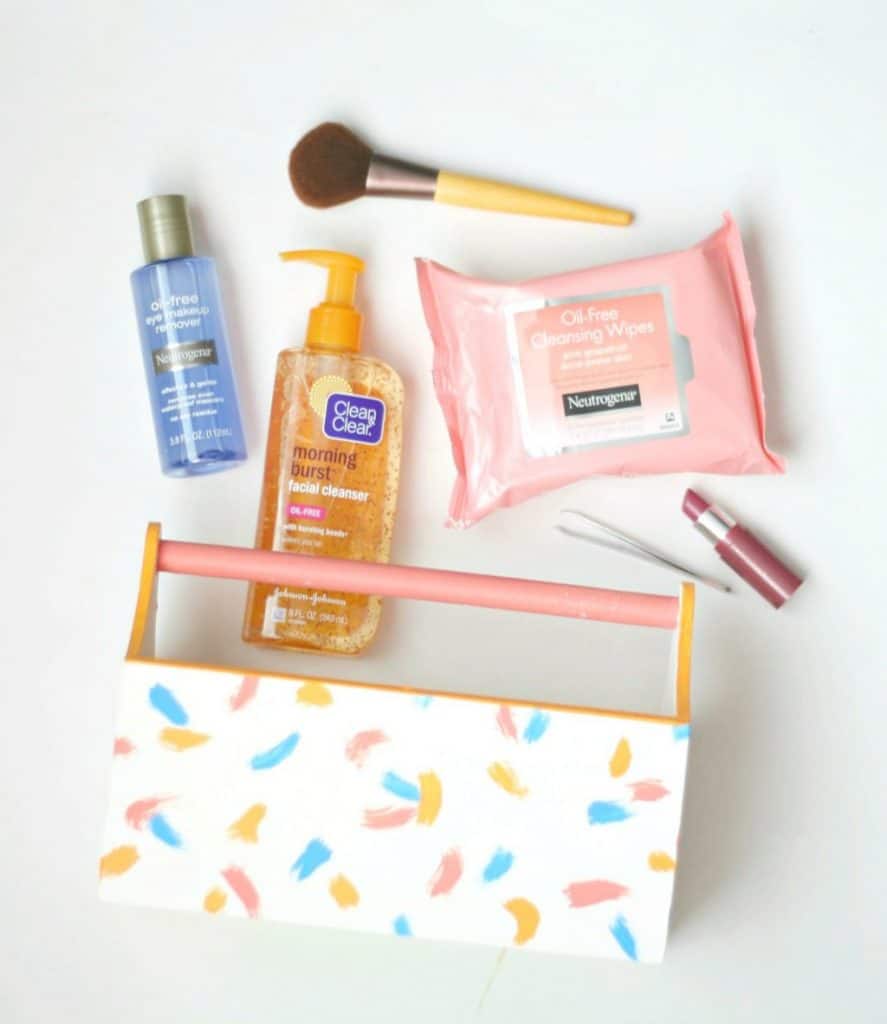 DIY Brush Stroke Makeup Caddy by The Pretty Life Girls
Craft Caddy Turned Makeup Storage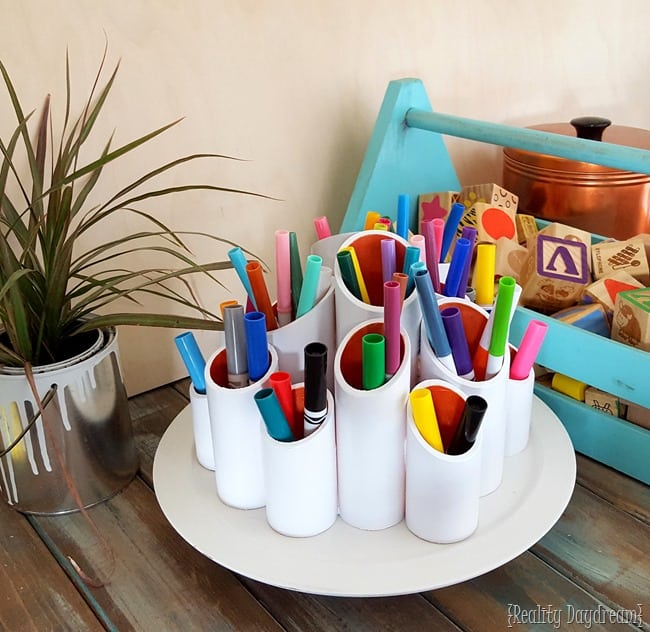 This caddy may be one of the easiest DIY projects, ever.
The bloggers found the caddy itself in the dollar section at target, then they picked up a few tubes of acrylic paint in their favorite colors and decorated it with brush strokes. It works perfectly for organization and it's really cute!
Rotating Craft Caddy by Reality Daydream
Upcycled Cans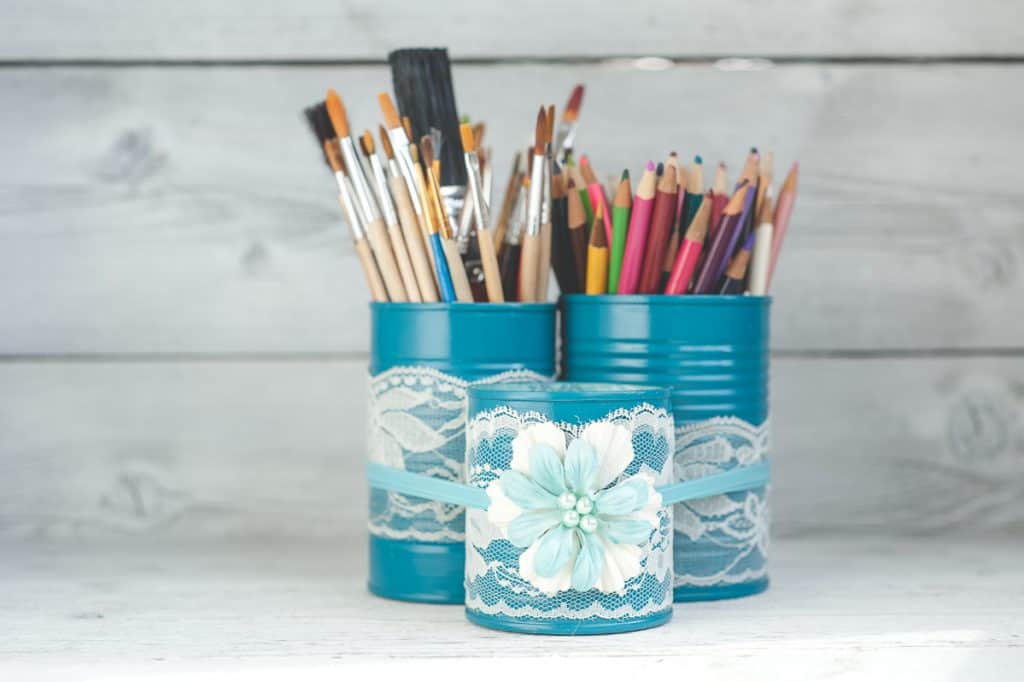 If you eat anything that comes in a can, you can recreate this organizer.
All this blogger did was paint some upcycled soup cans and tied them together with lace and an artificial flower. You can do the same thing using twine or another kind of ribbon, with or without the flower. No matter what, chances are good you have everything you need for this project right in your own home.
DIY Painted Can Organizer by Sprinkled & Painted
Paper Towel Holder Organizer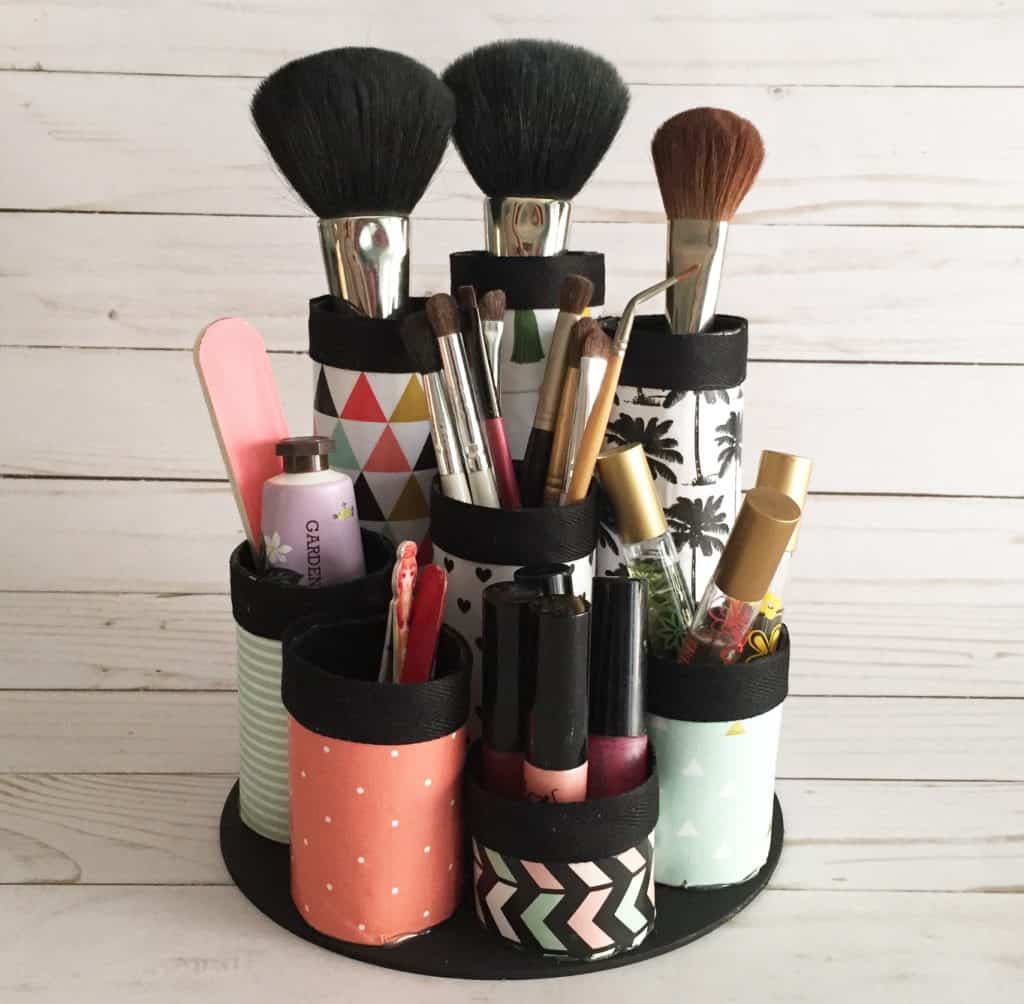 This little organizer is the physical definition of "one man's trash is another man's treasure".
To create this, all you need is the cardboard tube from the inside of a paper towel roll, some scrapbook paper, and Modge Podge. It's super easy and a fantastic way to upcycle.
3 Organizing Hacks Using Recycled Materials by Cathie Filian & Steve Piacenza
Three-Tiered Organizer Using Cake Pans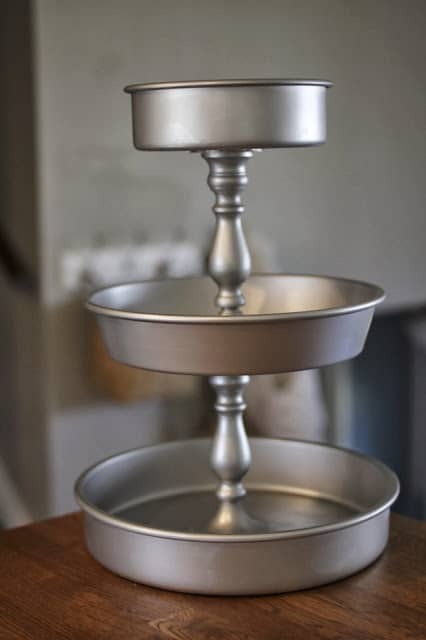 When you think tiered cake pans, a tiered cake probably also comes to mind, right?
Instead of using cake pans to make dessert, check out this three-tiered makeup organizer. All you need are some inexpensive pans, something decorative to serve as a stand, and some spray paint!
DIY 3 Tiered Kitchen Stand by Golden Boys & Me
Ikea Hack Organizer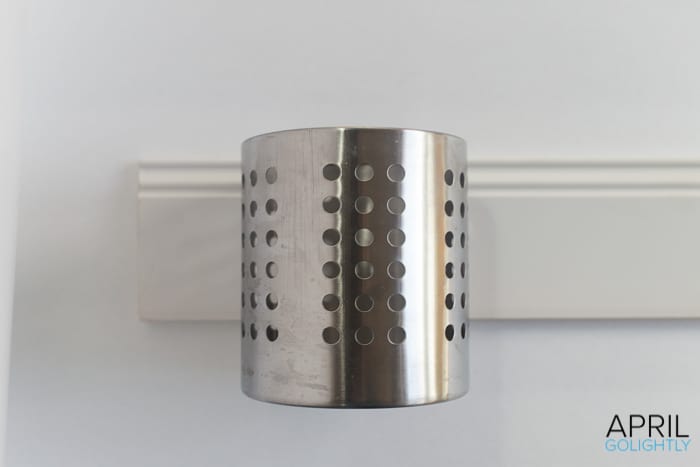 This blogger created a unique makeup organizer using a piece of baseboard and some Ikea utensil caddies.
You will need to know your way around a saw and drill to get this look, but everything she does is super easy and requires only basic knowledge.
DIY Bathroom Organizer by April Golightly
Soup Can Tiered Organizer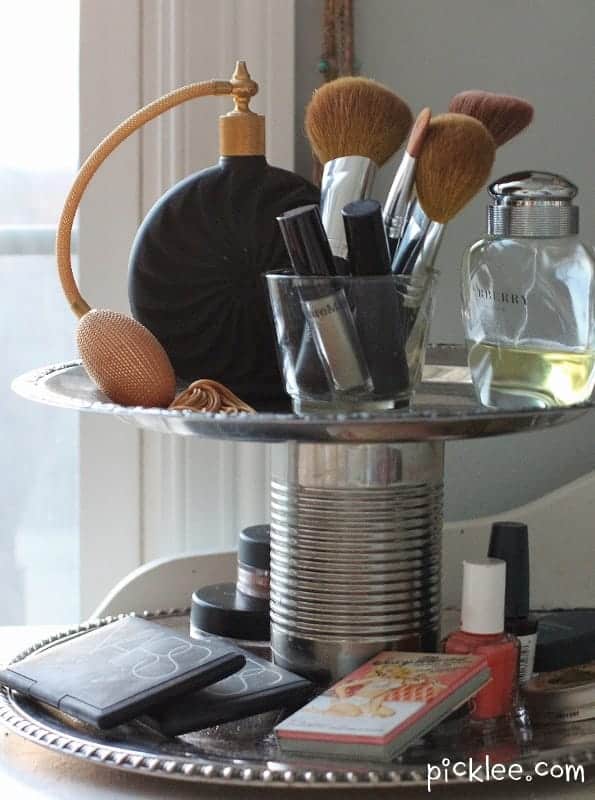 Another upcycled soup can for the win! Who knew they could be so chic?
This blogger used two plates (one larger than the other), a soup can, and a hot glue gun to create this rustic but stylish two-tier organizer.
The Swanky Two-Tier Organizer by Picklee
Custom Drawer Organizer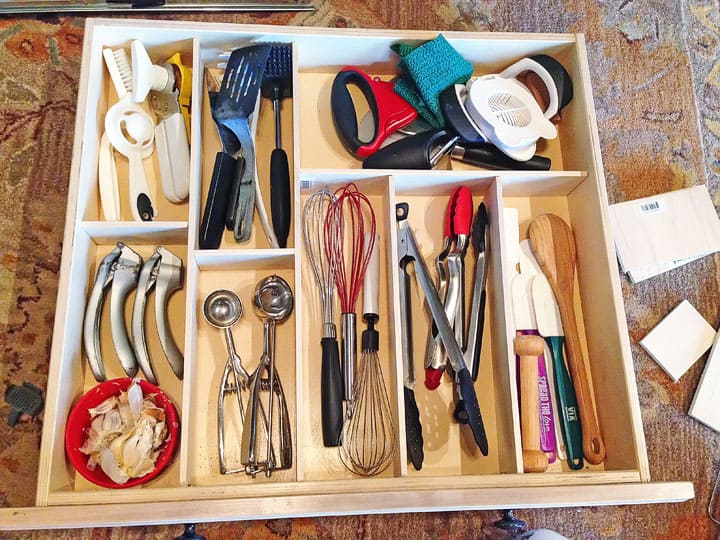 If you hate having clutter all over your countertops and have some drawer space, consider creating a custom organization system in your drawer.
These bloggers have all the information you may need to create your own drawer divider that you can customize to meet your makeup organization needs.
DIY Kitchen Utensil Drawer Organizer by Kevin & Amanda
Scrapbook Paper Organization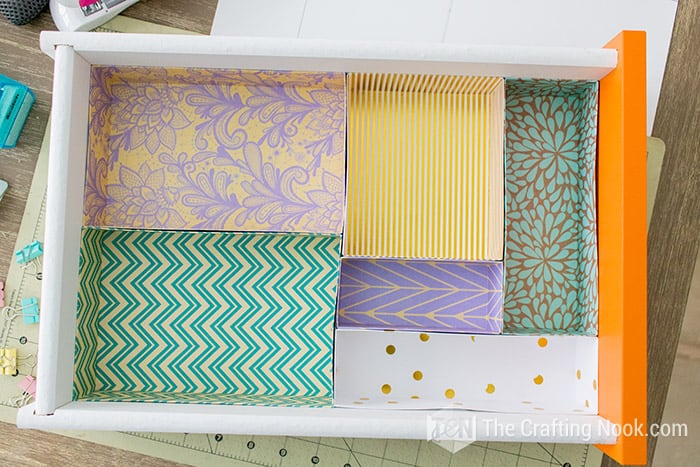 If you like the idea of a drawer organizer, but not so much the idea of using a saw, you can get a similar system using scrapbook paper.
This blogger simply folded up thick scrapbook paper into little boxes to create a divided organization system in her drawer.
DIY Drawer Dividers for Desk Organizing by The Crafting Nook
Divided Hanging Box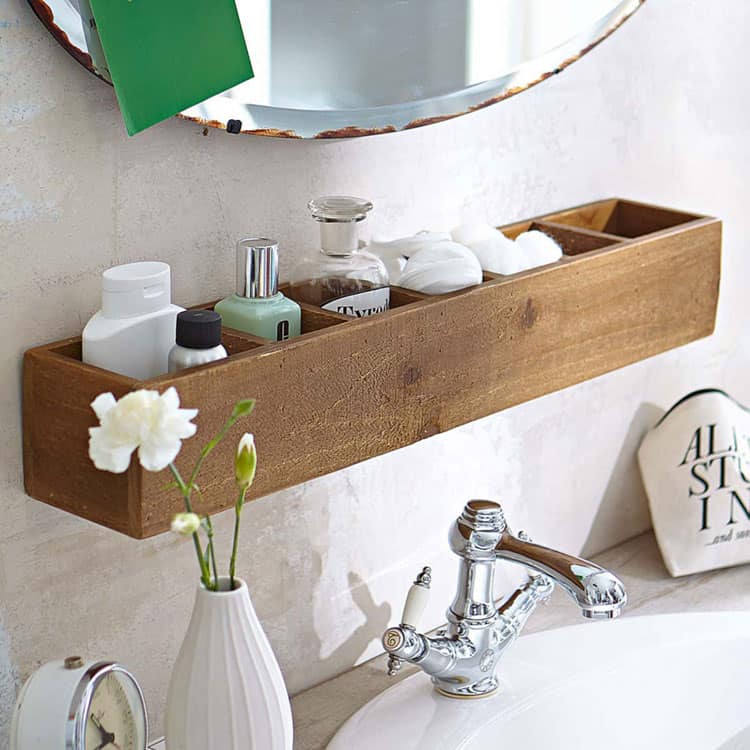 This is one of those ideas that is so simple you'll kick yourself for not thinking of it first.
Essentially, you just need to build something similar to a window flower box, and put some pieces in as dividers. You can store makeup brushes, lipsticks, nail polishes, or whatever else you'd like in it without sacrificing style.
Best Small Bathroom Storage Ideas by Home Ideas Review
Dollar Store Organization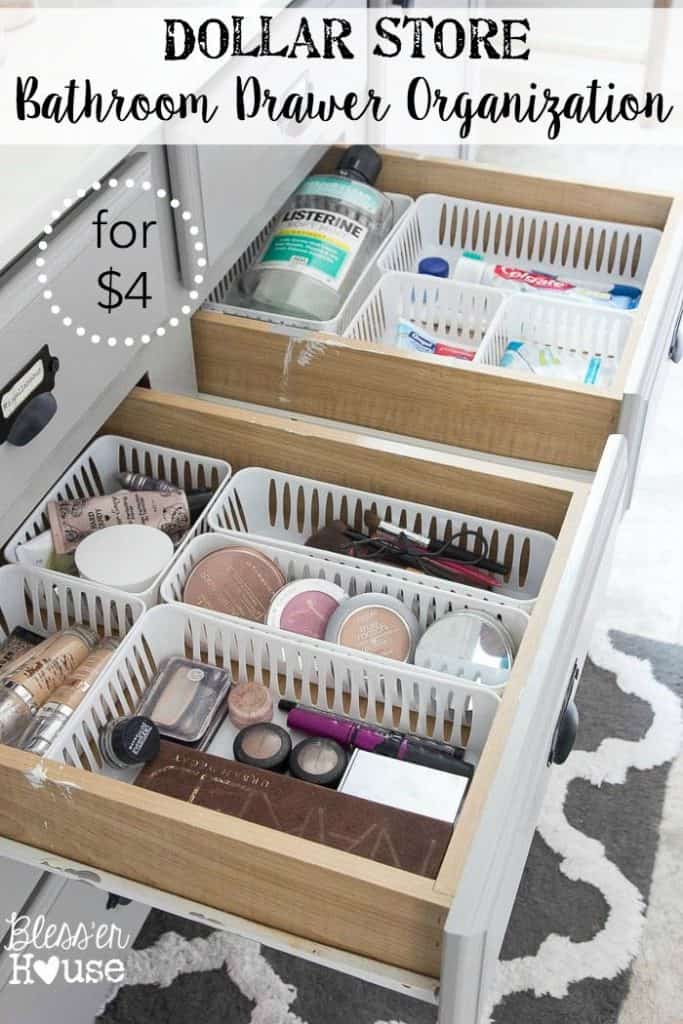 If you want some organization, want to save some money, but don't want to get crafty head to your local dollar store.
The dollar store has tons of shallow plastic baskets in varying sizes that you can use as dividers in your drawer. If you want to put just a *little* effort into the project, you can spray paint the baskets your favorite metallic shade to give them a little bit of glam.
Dollar Store Bathroom Drawer Organizer by Bless'er House
DIY Drawer Dividers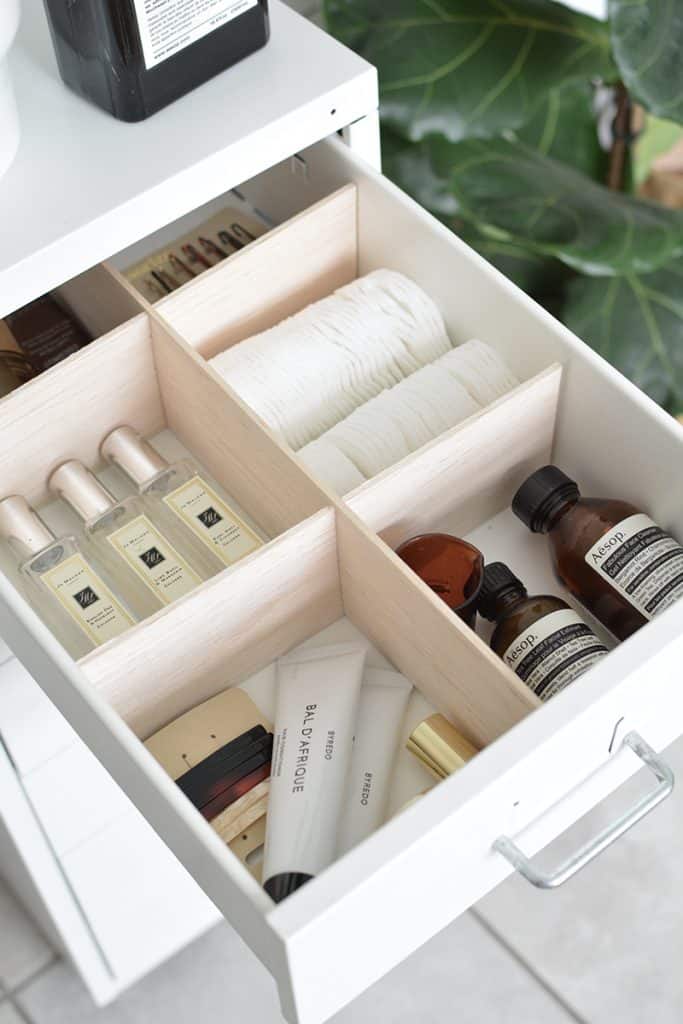 If you like clean lines, and uniform style, this divider is for you!
You don't need much skill at all to make this divider. All you have to do is make a few measurements and some simple cuts and you'll have a beautifully symmetric system.
DIY Drawer Dividers by burkatron
Under The Mirror Rod & Buckets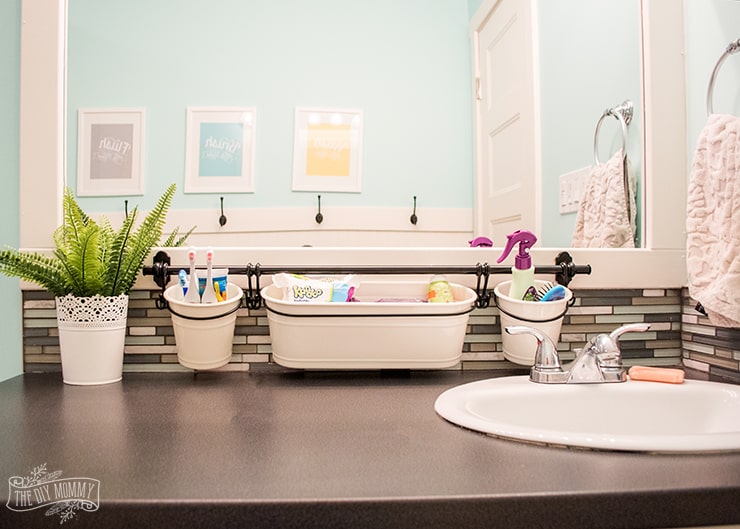 This is an even easier DIY way to utilize space under the bathroom mirror for organization.
All you need are some small buckets, an inexpensive rod, and some hooks. The DIY Mommy blog has all the details (and materials) she needed to create this brilliant organizer.
Kids Bathroom Organization Ideas by The DIY Mommy
DIY Lazy Susan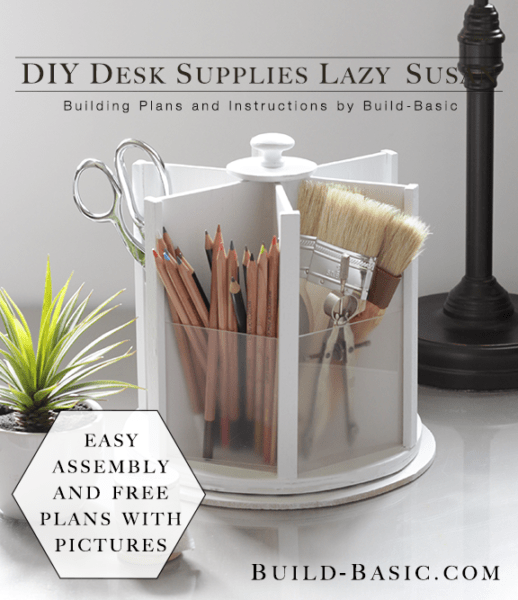 How convenient would it be to have a makeup organizer that not only holds everything but also spins around for easy access to every product?
You can build this Lazy Susan to do just that. Fair warning, this project is a little more advanced than the others, but if you're up for the challenge, the results will be worth it!
DIY Lazy Susan by Build Basic
Upcycled Jar Organizer
This organizer was inspired by a similar pencil holder these bloggers found at Anthropologie (for $48!).
They used a piece of wood, gold spray paint, a can, some glass jars, and other circular containers to create a dupe that cost a fraction of the price. The end result is gorgeous enough to put on your vanity – and no one would ever know it wasn't the real thing.
Gold Pencil Holder by View From The Fridge
Washi Tape Organizers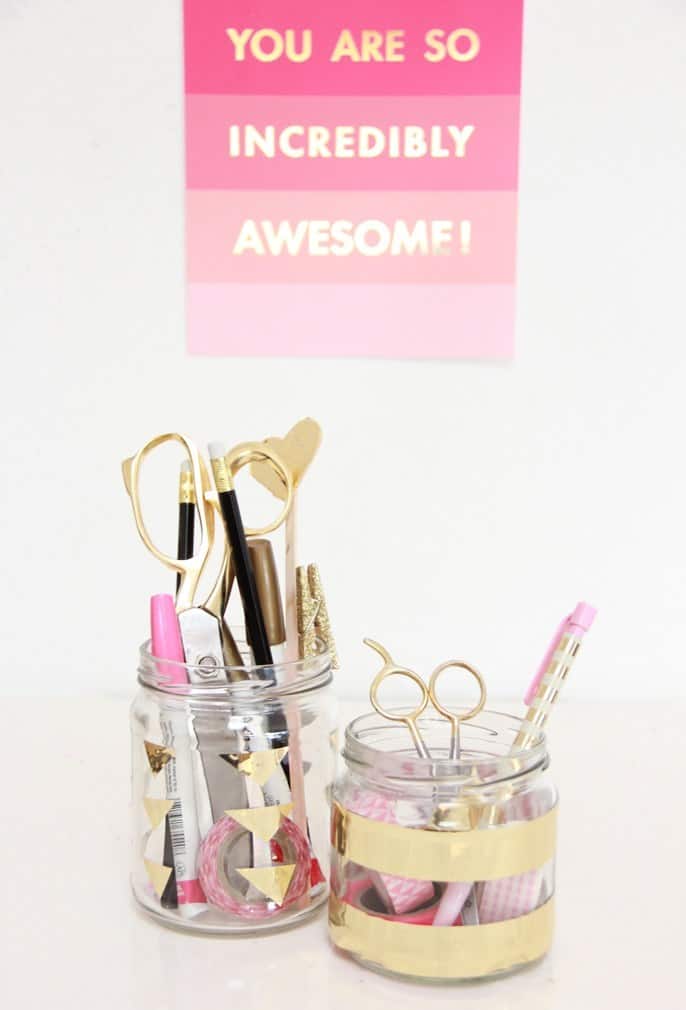 Washi Tape is basically the easiest and most fun way to glam things up with very little effort.
All you need to make these organizers are some glass jars and your favorite Washi Tape patterns! It's cute, easy, fast, and will serve its organizational purpose perfectly.
DIY Upcycled Glass Washi Tape Organizers by A Bubbly Life
DIY Cube Storage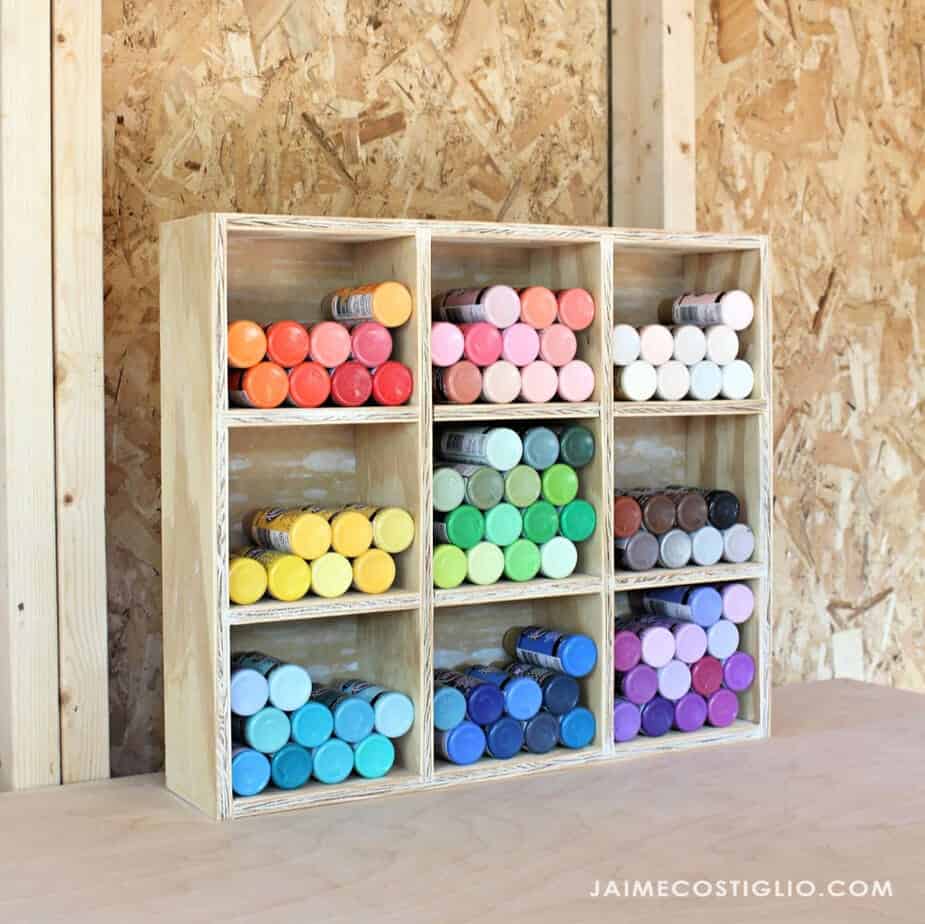 This blogger created this miniature cube storage system as a way to organize her acrylic paints, but it can definitely be used for makeup, too.
You can stack lipsticks, concealers, and other products that come in tubes into the cubes, or you can go a step further and add something (like chicken wire) halfway up each cube to keep products from falling out, but still giving you easy access.
DIY Craft Paint Storage by Jaime Costiglio
Conclusion
Whether you invest in drugstore makeup, high-end makeup, or a mixture of both, your investment should be well organized and protected. Makeup contents can easily spread and blend into each other, leaving you with blush covered in a concealer that leaked, or an eyebrow brush with mascara all over it.
Organizing these products doesn't have to cost a lot of money or time thanks to DIY ideas. Not to mention, you can modify these ideas to best fit your needs (and favorite color scheme).