27 DIY Side Table Ideas & Designs for 2023
It used to be that there were wooden side tables that all looked the same – and that was what you had in your home. But during the 1960s and 1970s, that trend seemed to change and ever since, we've had some amazing options out there.
But there's something rewarding (and money-saving) about doing your side table DIY style, whether you're super handy with a saw or not. So, if you're into that kind of fulfillment and love some gorgeous tables, these side table ideas will inspire you to create some amazing things.
Small X-End Side Table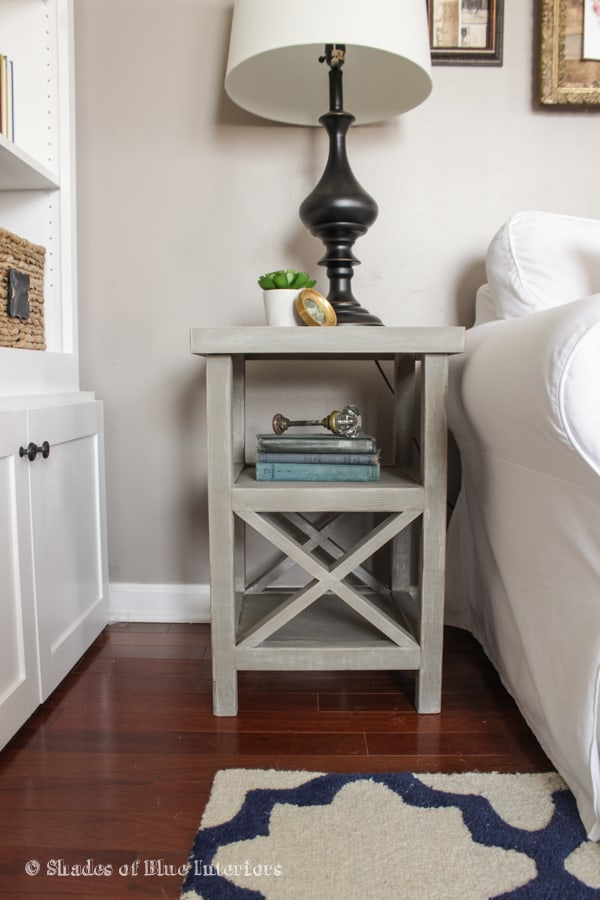 If you have a smaller living space, this small end table is a great option for you. The tutorial is pretty straightforward. The tables themselves will take a few hours to build, and that's it. The best part is that the tables look amazing but only cost you about $20 each in materials.
The project is easy, but unless you've already got some specific power tools on hand, you may have to wait. You'll need some plywood, 2x2s, 1x2s, pocket hole screws, brad nails, wood glue, and some stain, and a few tools like a pocket hole jig system, miter saw, and drill.
Industrial Style Side Table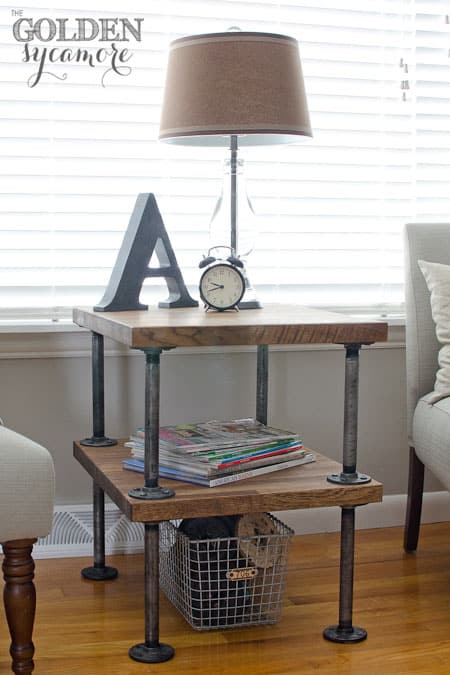 If you love industrial chic, you'll love this gorgeous little side table idea. It's reasonably easy to build (if you know what you're doing), extremely sturdy and looks like you bought it from a West Elm or Crate and Barrel. Better yet, you won't spend much money or time creating it.
To build this beauty, you'll need some skills with a gas torch, and have some specific tools on hand – like said gas torch. You'll also need some galvanized pipe and floor flanges, some wood, and other supplies.
Himmeli Base Copper Pipe Side Table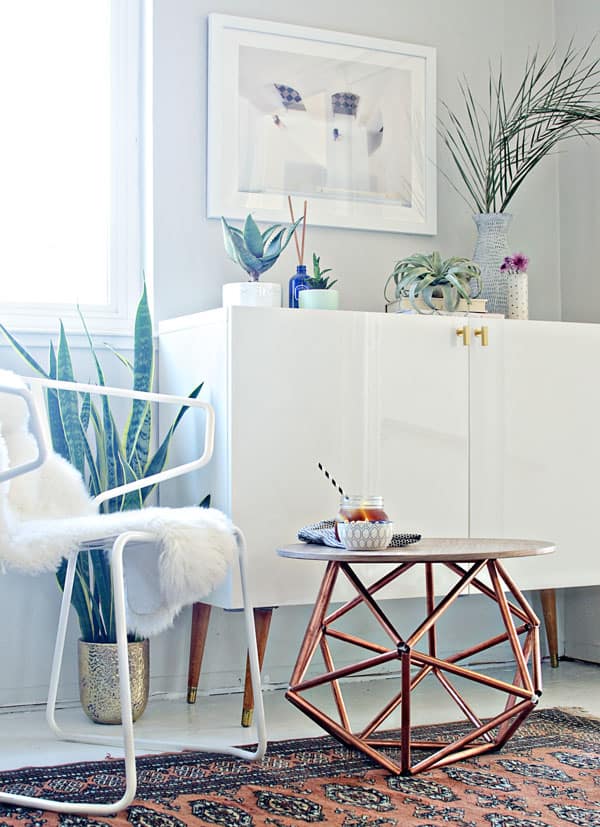 This idea is perfect for a small coffee table!
Brass tubing and straw are the materials typically used in this Nordic technique, Himmeli. And these intriguing tables with a Himmeli base made from copper piping is nothing short of stunning. You'll want to follow the DIY carefully to craft them as shown.
Technically, you can use any kind of pipes for the DIY – galvanized, copper, or even PVC – so you can choose based on your skill level, budget, and interests. Just be sure to gather supplies ahead of time and give yourself some creative space along the way.
Via Home Depot
Crate and Pipe Industrial Side Table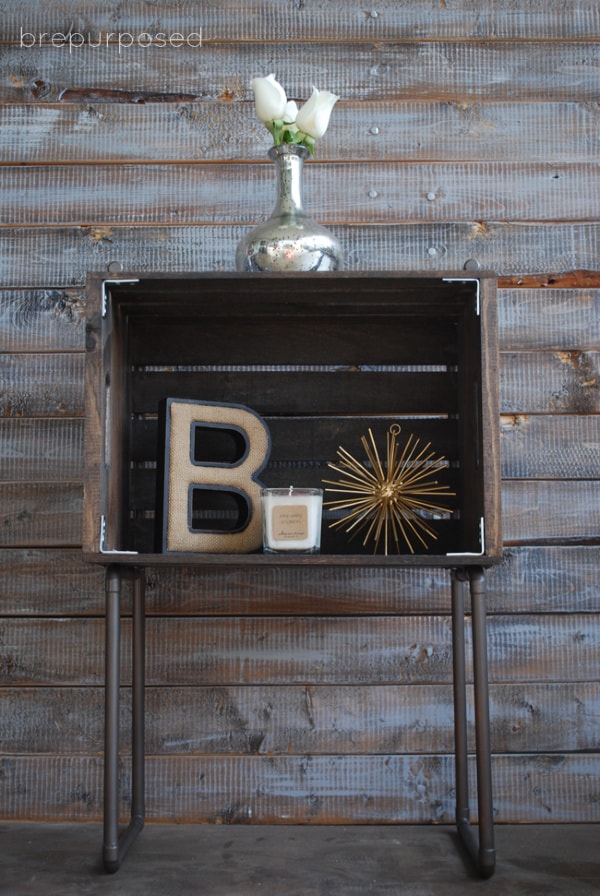 This is another stunning project that almost anyone can make. It looks like only pros could do it – thanks to the copper piping – but it's extremely easy to do, as long as you can handle a pipe cutter.
You'll need copper piping, a nice wooden crate, some copper tube straps, T bars, elbow, street elbows, tube caps, liquid nails, and spray paint. Beyond that, just a pipe cutter, safety goggles, and gloves. In no time flat, you'll have this beautiful side table ready for the den.
Via Brepurposed
French Poem Side Table Upgrade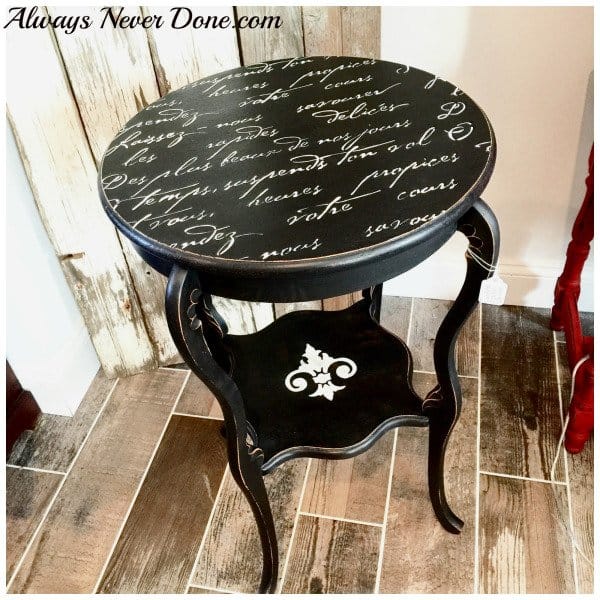 This project is perfect for someone who's got a decently built side table on hand but wants to give it a makeover with some unique and easy upgrades. It's a beautifully stenciled table updated with some beautiful new paint and stencils. And that's it.
So, go into the attic, find a piece at a yard sale, or just redo something in your house already. You'll just need to do a little sanding, find the right stencil(s), and some paint. A few hours later and you're done.
Clock Top Side Table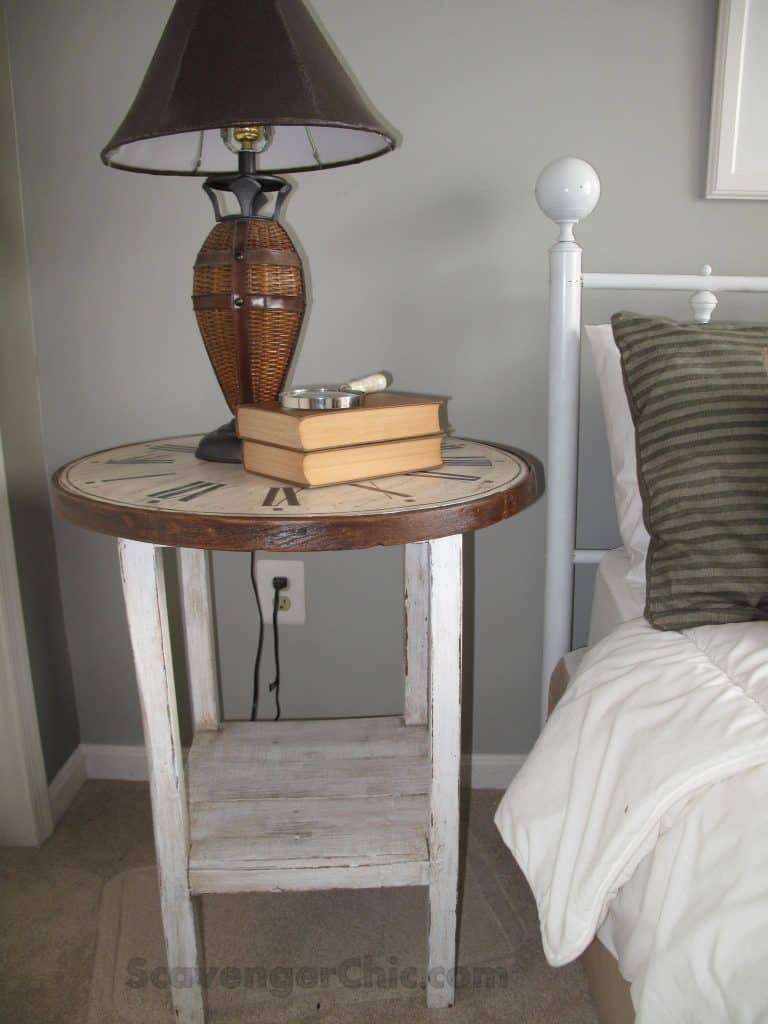 If you love the trend of big wooden clocks but don't need another timepiece, you'll love this clock top side table project. You'll need to find an old table you don't need anymore – or, if you're into it, dumpster diving or yard sale treasure hunting.
Plus you'll need a wooden dartboard, or such if the existing one's not round. It won't take long to paint and distress the wood and create the clock image. And it won't cost you much of anything.
Via Scavenger Chic
DIY Marble Table Upgrade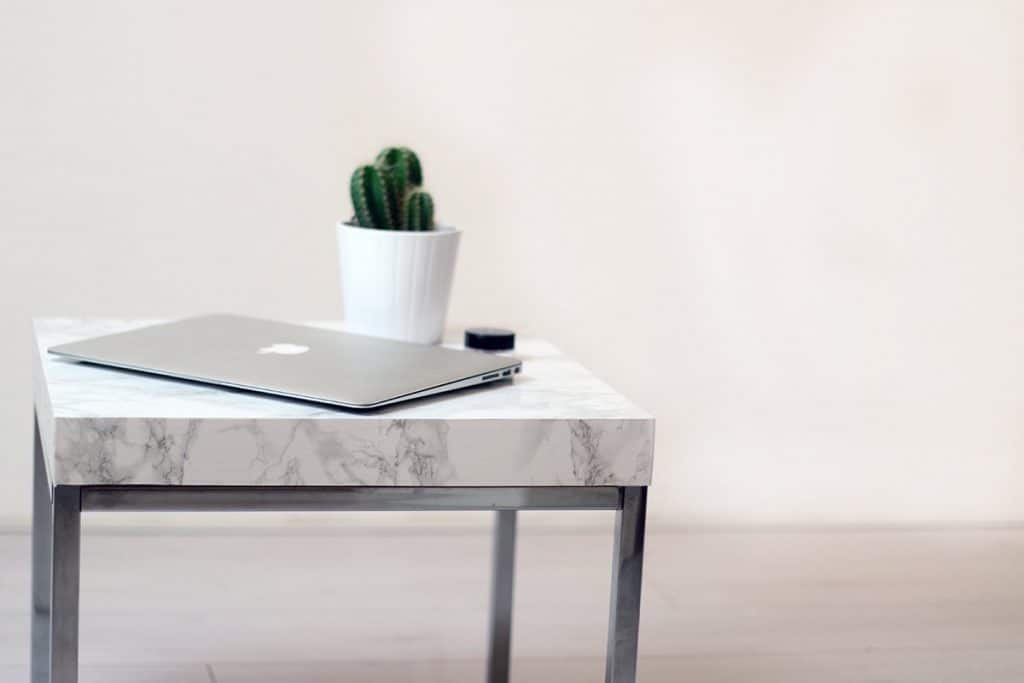 Another great idea that can work as a small coffee table or end table is this beautiful marble DIY project.
You'll need some marble-looking design foil, some scissors, a level, measuring tape, and some Windex for thorough cleaning and setup.
This tutorial is written in Dutch, but the pictures and concepts are pretty straightforward. If you have any knowledge of crafting and a little bit of basic skill, you'll be fine to follow the photo step by step through the tutorial.
Via Follow Fashion
Drum Table Makeover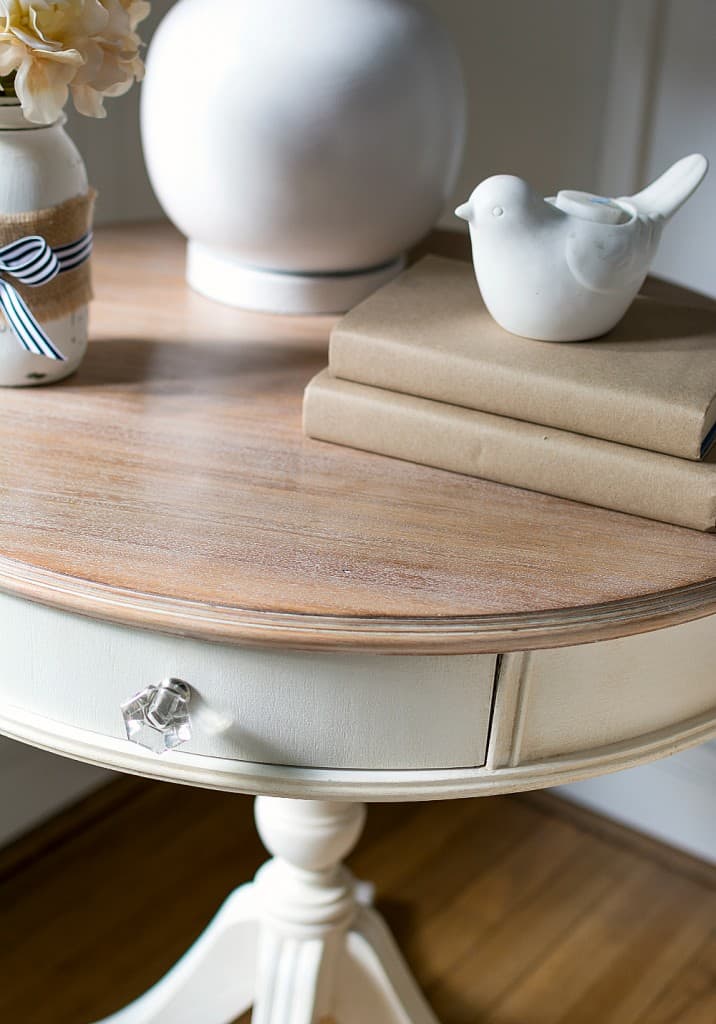 This is the perfect way to give that old side table a makeover. You know, the one you thought you should chuck last winter but just couldn't quite bring yourself to do so? Yeah. That one.
This tutorial takes you through the full process of refinishing with lime waxing and it's stunning. You'll just need to grab some sandpaper, paint, a wire brush, Simple Green Cleaner, and tack cloths. And in no time at all, you'll have this so-easy-anyone-can-do-it project completed and ready for use.
Mid-Century Modern Hidden Compartment Side Table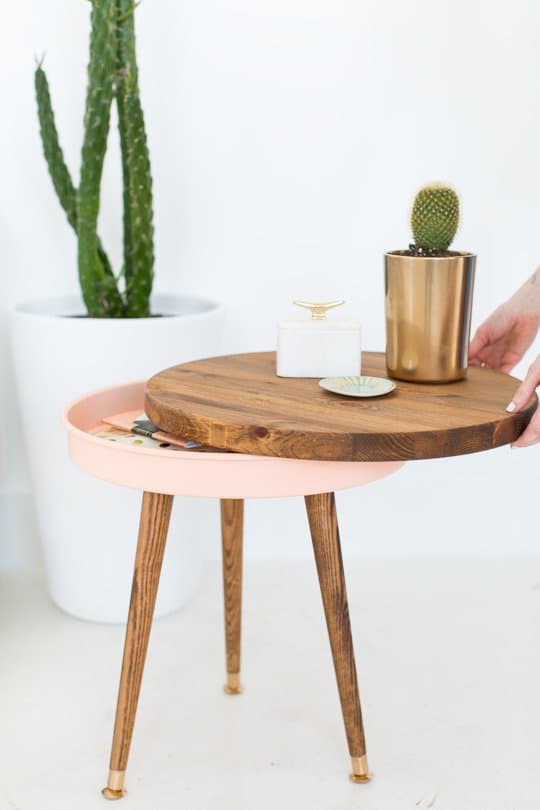 This imaginative DIY side table project uses a wood disc and metal cake pan to create a stunningly beautiful work of art for the hallway or family room. Yes, you read that right. A cake pan into a table. This beautiful wooden side table idea is reasonably easy to make, too, if you just get the right supplies.
Make sure the wooden disc is at least two inches larger around the cake pan. Otherwise, just grab the supplies and follow the simple tutorial. Even beginners can do this if you're willing to do a little drilling.
This one is perfect if you like the mid century modern home decor style!
Via Sugar and Cloth
Gold and White Stenciled Table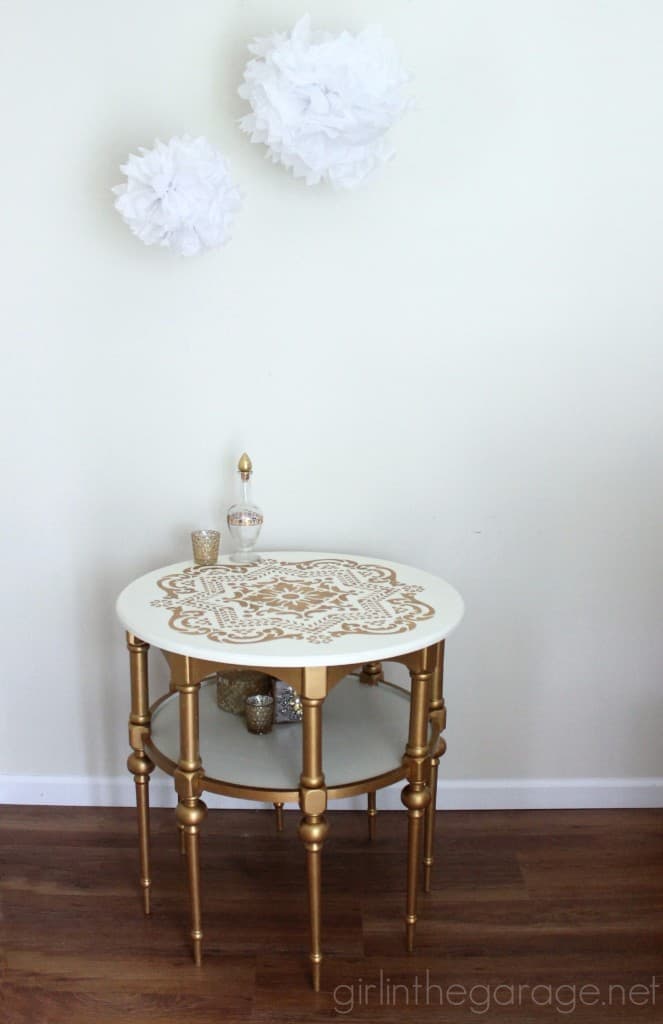 Here's another simple yet gorgeous DIY side table makeover project. The title, admittedly, isn't so exciting, but the end product sure is. You only need a few simple supplies and a couple of hours. Anyone can do it and practically everyone will love the result.
You'll need to find a side table that you love the shape on to make it. You'll also then need some white paint, gold metallic paint, a stencil in an attractive design, and a sponge brush for the stencil work.
DIY Round Pedestal Side Table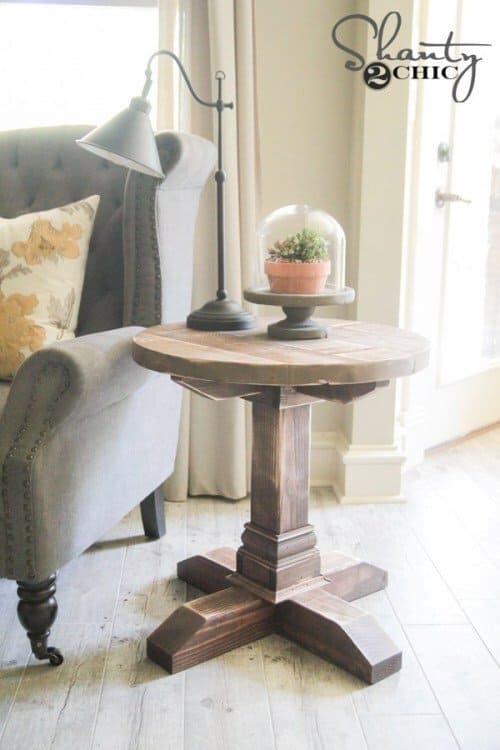 If you want to build a beautiful side table from scratch, this is a simple tutorial that will show you everything, from the cuts to the way to measure for even placement of the table top. The visual instructions are easy to read.
The walkthrough is simple enough that most people can do it without any previous woodworking experience. So, just grab some wood boards and some power tools, and get going.
Via Shanty 2 Chic
Upcycled Old Windows Side Table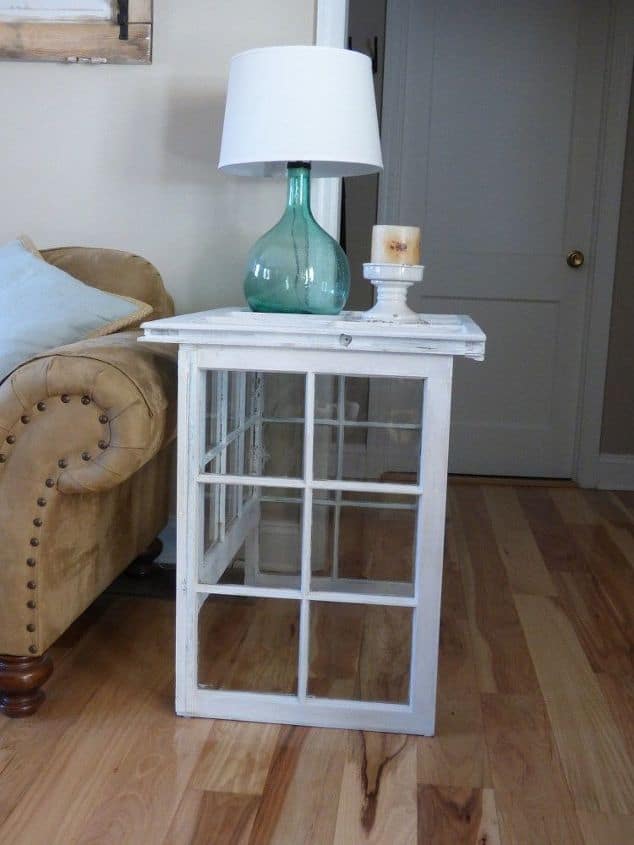 Now this one is very unique. You'll use some old Farmhouse style windows – or any older windows you can find – to craft a glass side table that is unlike any other you've seen at your friends' houses.
You'll need a drill, some sandpaper, paint, and the old windows, and you're all set. So that means that practically anyone can make this table, even someone brand new to DIYing and power tools.
Via Home Talk
Repurposed Acrylic Side Table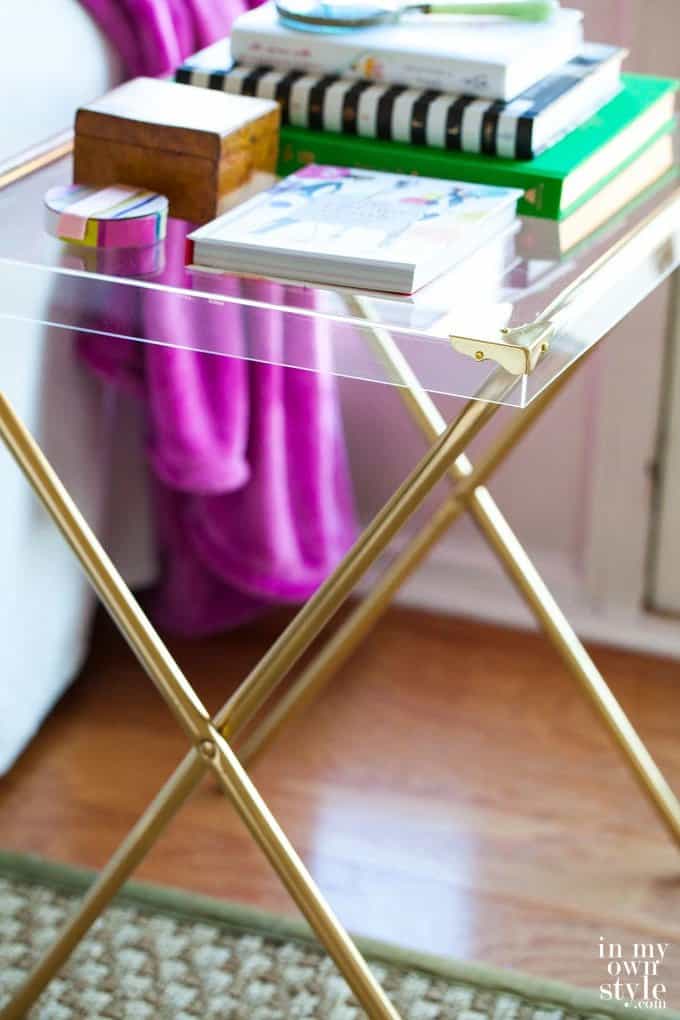 There's a trend in clear "glass" tables and other plexiglass and acrylic furniture items for the home. This tutorial lines right up with that using some creative ideas and uses for craft store projects – so super cheap and easy things quickly become something super trendy and beautiful.
You'll need some acrylic craft store frames for the table top and the legs from an old TV tray, along with some clear glue, decorative brass corners, some metallic gold spray paint, and some sandpaper. $10 and 10 minutes later, you've got this brilliant table.
Via In My Own Style
DIY Brass Nesting Tables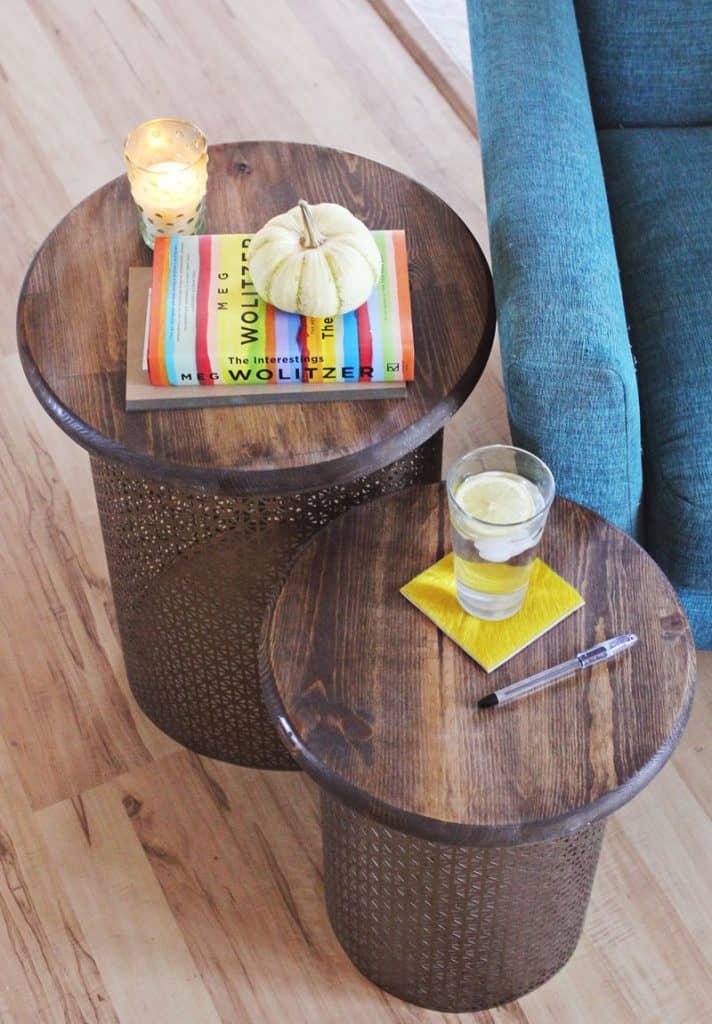 Here's another trendy-looking option for your living room side table project. You won't need many supplies or time to make them, either. You just need some aluminum sheet metal, some wood rounds, wood stain, heavy-duty flue, and polyurethane, along with some basic supplies and a saw.
The directions are so easy you don't even need to give them much thought. Just make sure you're comfortable working with gloves on – those metal edges get sharp otherwise! – and with a saw.
Via A Beautiful Mess
Nautical Spool Side Table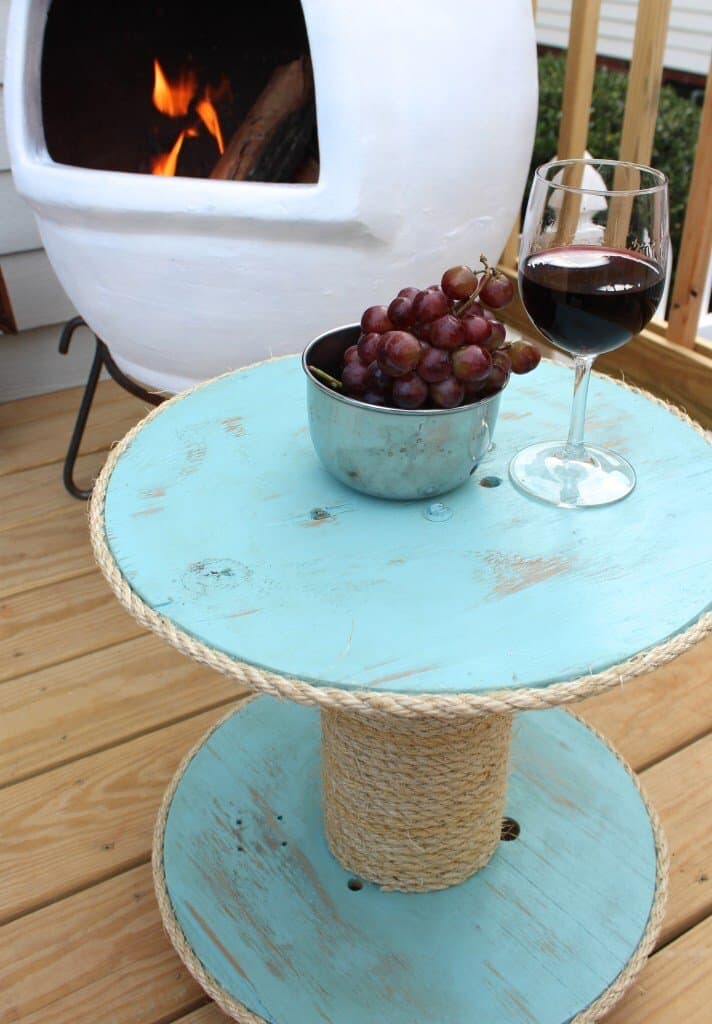 Here's a super easy DIY project for an electric wire spool. You can find them anywhere there's construction going on. So, not only do you get some cheap supplies, but you save the spool from a landfill – something we always strive to do.
You'll need a wrench to tighten any loose bolts, you'll need some paint, some rope, and some basic toolshed supplies to craft this beautiful little nautical themed table. It's so easy, the kids can help.
Via Simple Stylings
Sheet Music Upgrade Side Table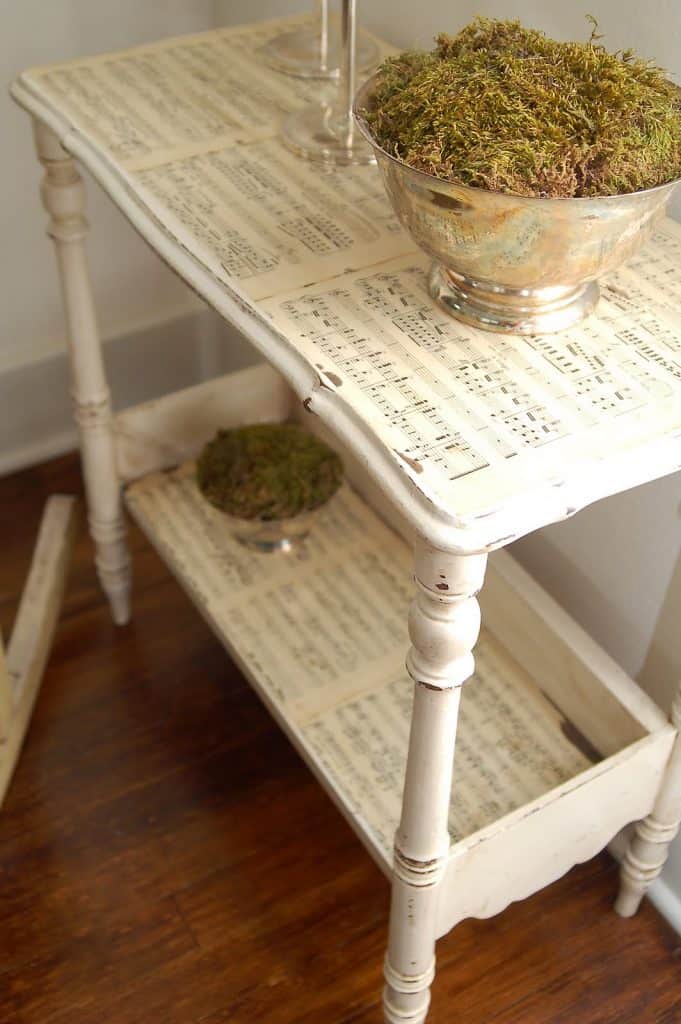 If you're a lover of music and Mod Podge, you'll love this DIY side table project. It's a great way to rescue old sheet music that isn't fit for playing anymore but still looks good.
Just find a boring wood table, grab or make some Mod Podge, and find some paint. This isn't exactly a tutorial, but more of an "idea of how" to do it. But decoupaging wood furniture is super easy and you should be able to figure it out just by looking at this other simple tutorial.
Easy Wire Basket Side Table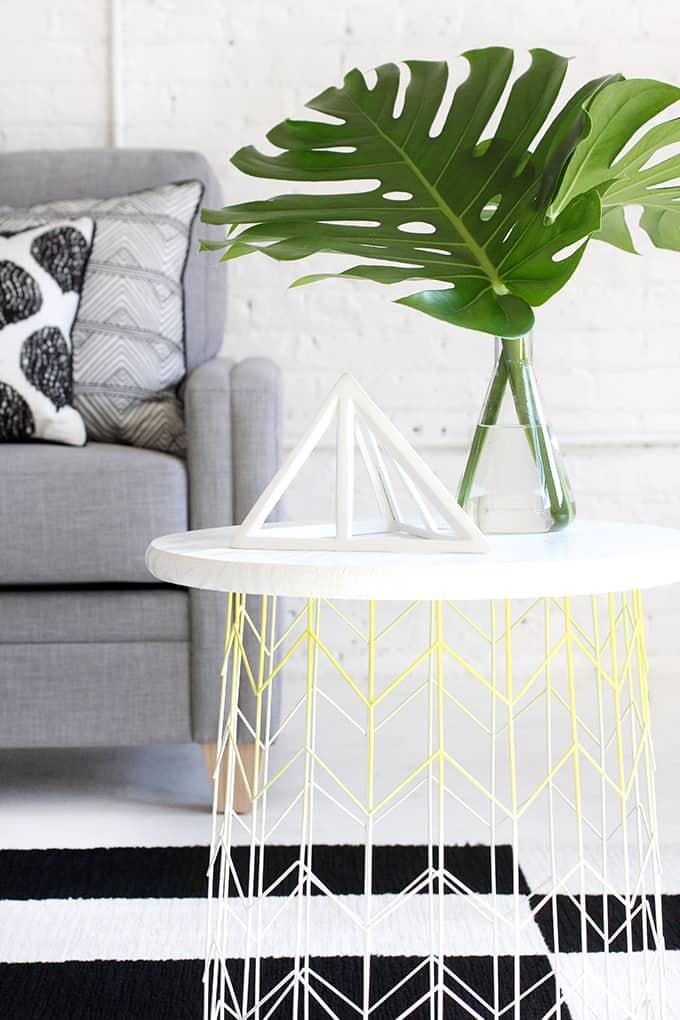 If you need a super simple DIY side table tutorial and like the looks of wire and wood side tables, you're in luck. Plus, this project is perfect if you want to add some elements of modern interior design to your living room.
This one only requires a wire basket, a round wood piece for the table top – easy to find online – some spray paint, and a whitewash stain.
The tutorial is super simple and only takes a few minutes for each of the few steps plus dry time between coats of paint. Super, super simple, and absolutely attractive.
Via I Spy DIY
Rustic Wood Side Table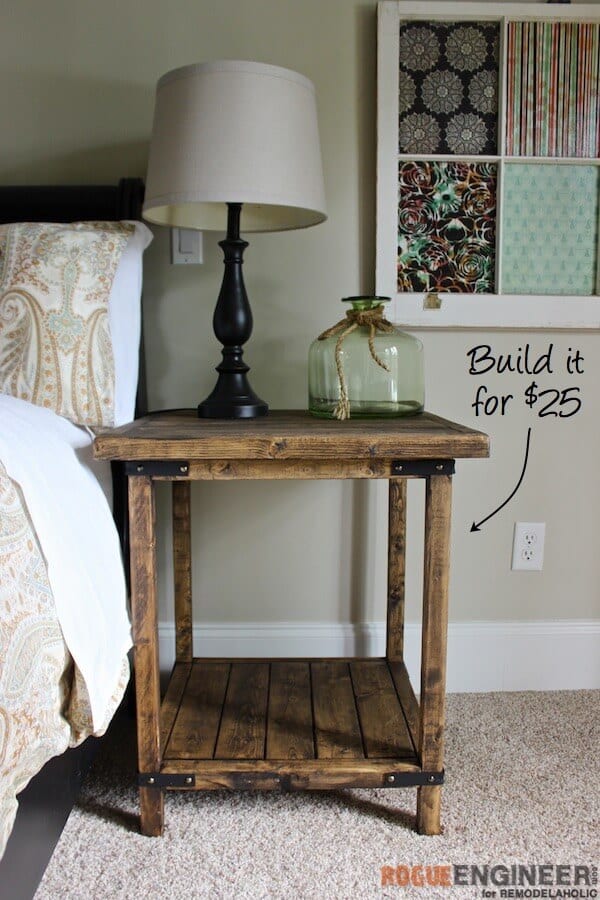 This is a great project for newbie woodcrafters looking for a cheap, practical, and attractive foot into the door of woodworking.
You'll need a few tools on hand, though, so be prepared to shell out some cash for that if you haven't already. You'll need a Pocket Hole Jig, a Drill, and a Miter Saw.
If you already have those, you're pretty much set. The supplies should be under $30 for the most part, and it won't take much time to build. It's basically your perfect first project.
Via Rogue Engineer
Terra Cotta Pot Side Table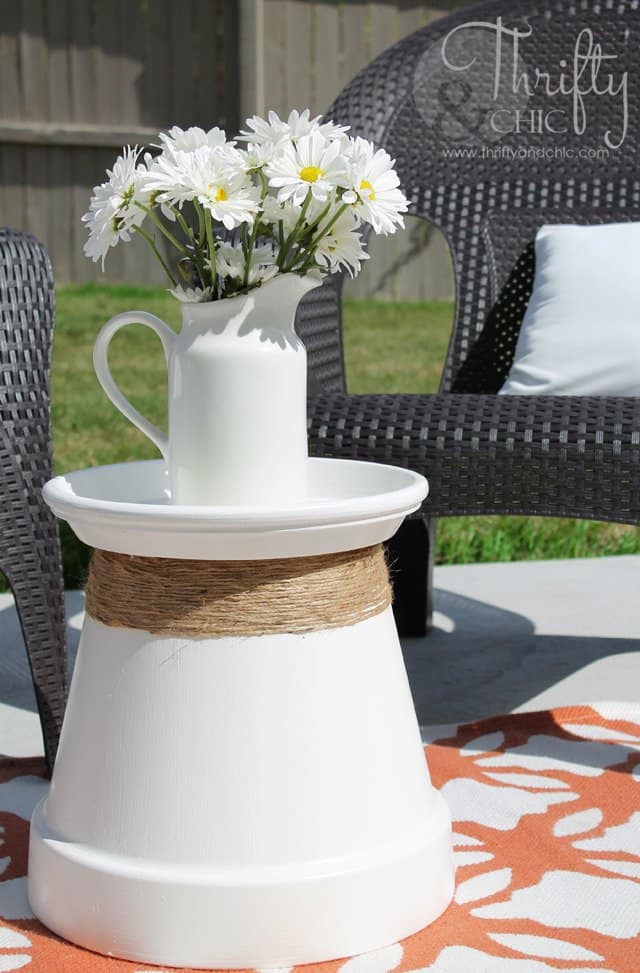 If you're looking for an outdoor DIY side table for your patio or gazebo situation, you'll love this repurposed terra cotta pot table. You basically just need a $20 pot and base, some semi-gloss latex paint, a hot glue gun, and a few hours to craft this beauty.
There are two really great aspects of this project. First, even if you're not particularly skilled with your hands, you can still make this one. Second, if you're on a tight budget, you'll make this for next to nothing.
Via Thrifty and Chic
One-Board Twisted Table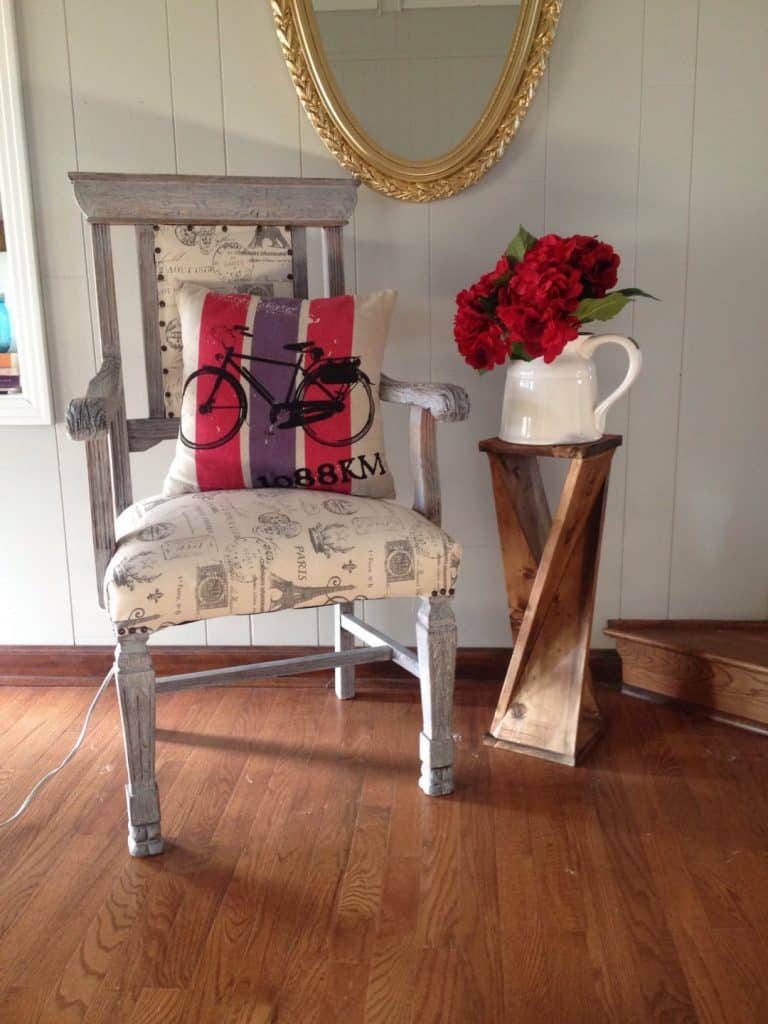 This side table has a very unique design created by the crafter as a part of a "one-board challenge." That means she built this amazing piece from a single board cut in multiple ways. Likely, this does mean the beginning woodworker isn't quite up to the task yet.
But for those who are, you'll find the building plans extremely thorough and the visual aids vivid and easy to see what's going on. And guess what? You just need one board.
Ombre Stump Side Table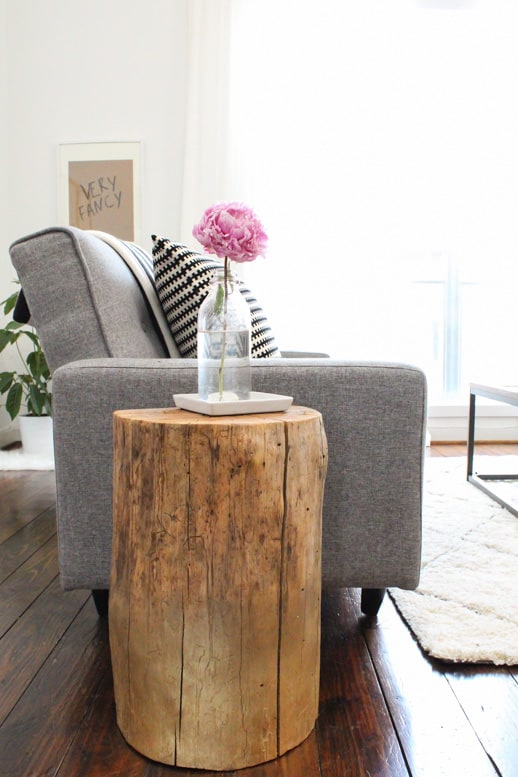 In recent years, reclaimed wood and natural wood furniture projects have been all the rage. And you can tell by the price tags affixed to a stump of wood at the nearest department store.
But if you're not into paying $100s for a piece of wood, but still love the looks, you'll thoroughly appreciate this DIY that tells you how to create your own ombre stump side table for about $15.
Via Sugar and Cloth
DIY Dog Bed Table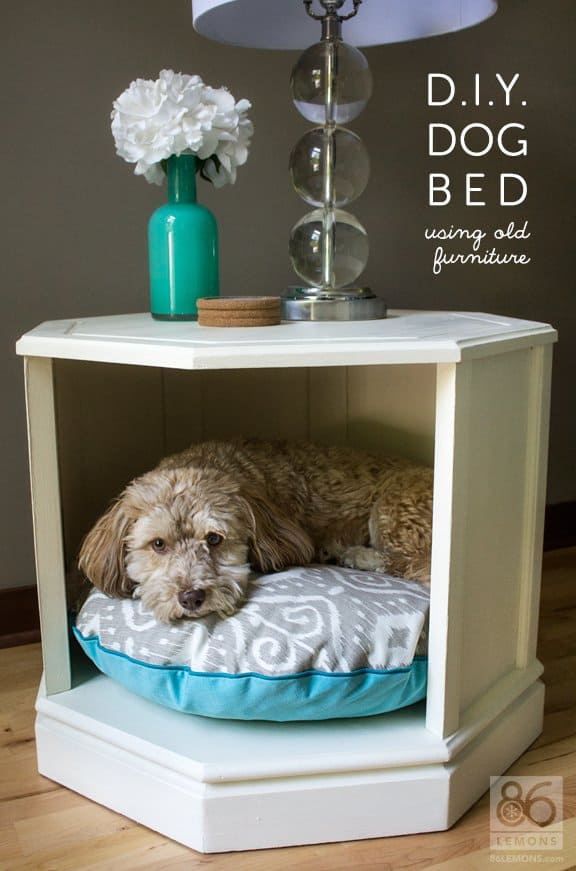 This hexagon side table is for the dog lover who reads a ton in the living room. It's the perfect blend of dog bed and side table where your mid-sized to smaller dogs can hang out comfortably while you sip wine or pile your study materials for an evening.
You'll take an old piece of furniture and craft it into this amazing dog bedside table in a few easy-to-follow steps, all while saving money on both aspects of the project. Win-win.
Via 86 Lemons
Rolling Crate Side Table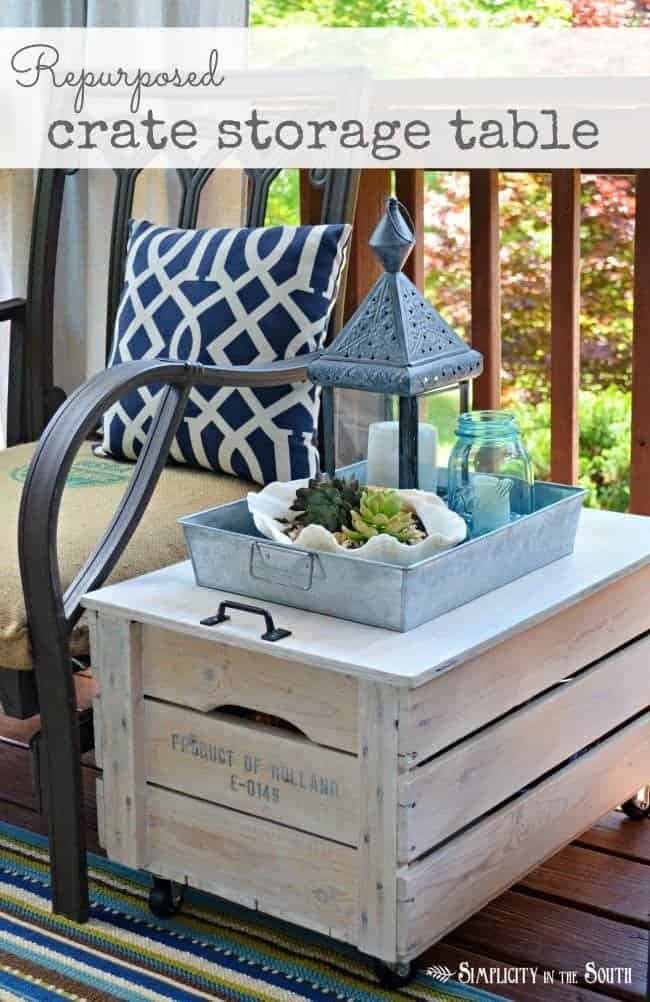 This is the perfect table for your outdoor kitchen or patio not just because it's mobile and attractive, but because it also gives you loads of extra storage space, for whatever you need.
You'll need some casters, a couple of hinges, some plywood, a handle for the lid, and some basic tools like sandpaper and a drill. Once you've gathered your supplies, it should take you less than an hour to put this one together and have it ready for use.
Caribbean Drum Style Side Table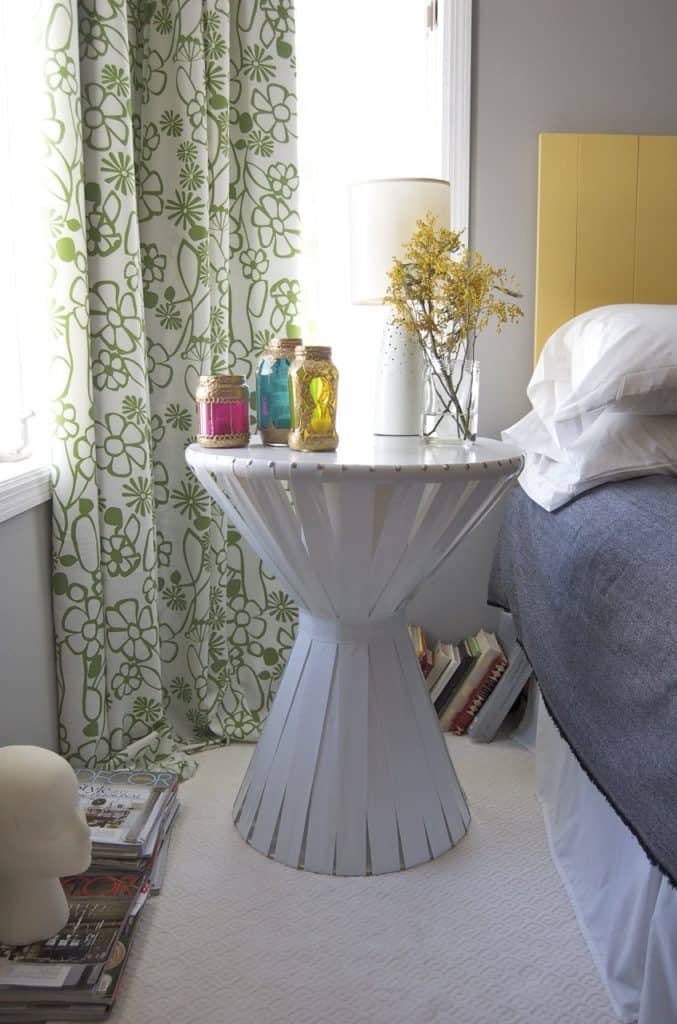 If you're looking for a taller side table that's truly unique, attractive, and fun, you've got to check out this tutorial. This Caribbean Drum style table is pretty easy to make and won't cost much in the way of supplies.
The tutorial offers some really good photos for seeing each step along the way. Plus, the supplies should cost you less than about $30. Just follow along, and in no time, you'll have a custom table you're sure to love.
Via Matsutakeblog
Copper and Leather Weave Side Table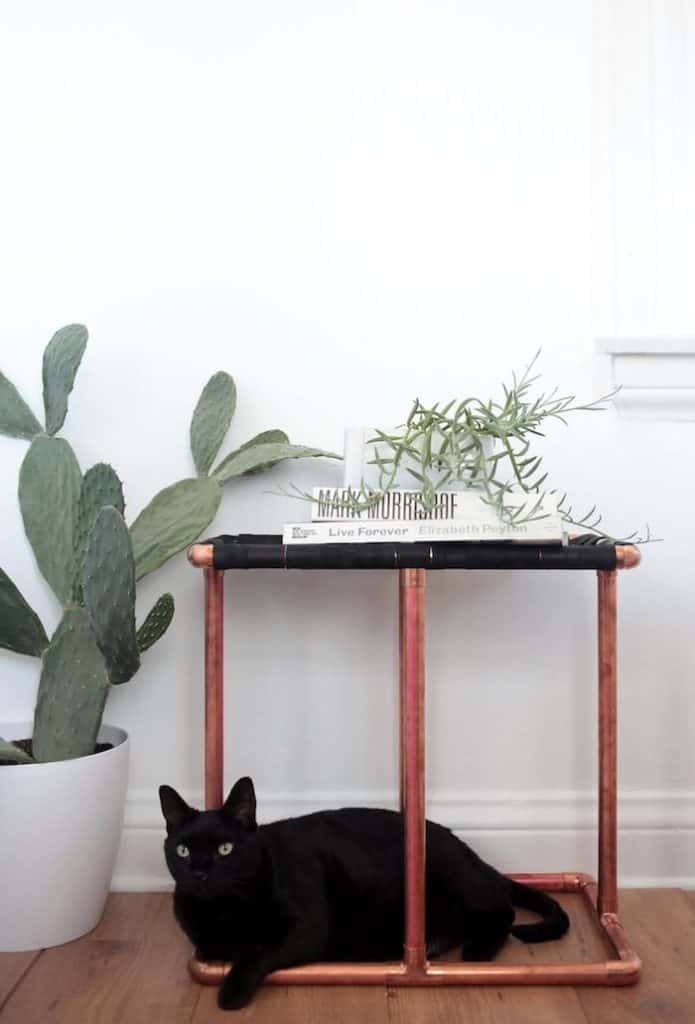 This uniquely beautiful side table is unlike anything else we've seen as we've hunted for the best tutorials to recommend. It's absolutely gorgeous, unique, and surprisingly not that hard to make. So, if you love leather and copper, you should definitely give this one a go.
You'll need 3 to 4 yards of leather, some grommets, copper piping, copper crossbar connection pieces and corner pieces, a tube cutter, Gorilla glue, and some other basic supplies and tools.
DIY Mid-Century Wood Box Stand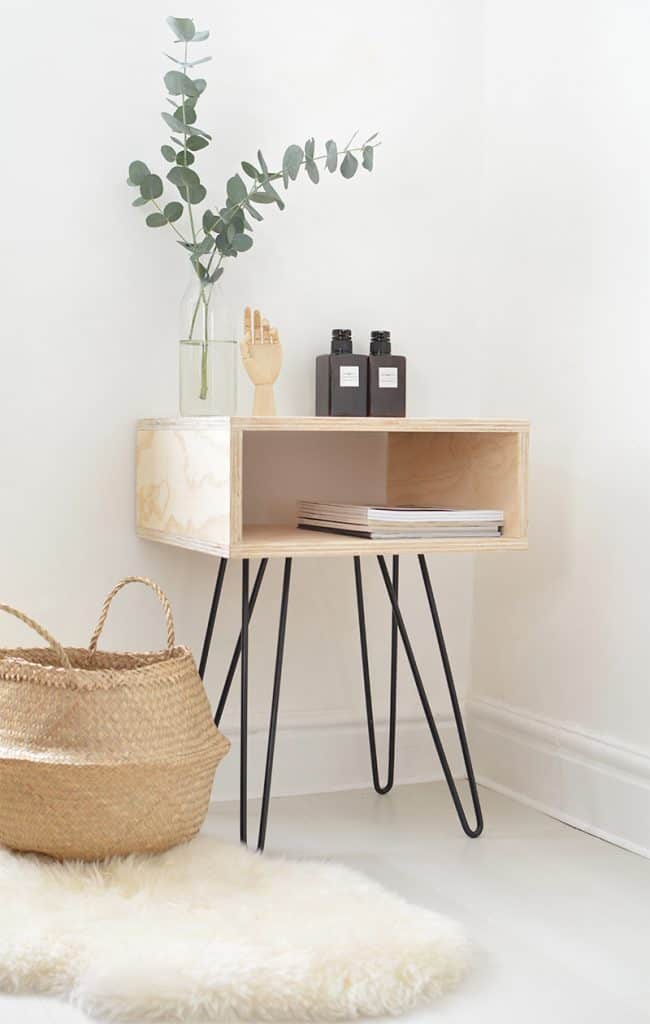 This is a very simple, Mid-Century wood box stand that works as a bedside table, living room side table, mini desk, or, well, pretty much anything you need. It's pretty simple to make, looks amazing, and won't cost you much, either.
You'll need a sheet of plywood, some hairpin legs – which you can get from Amazon in a variety of colors for not much money – and some wood glue, nails, and a screwdriver.
Via Burkatron
Faux Malachite Side Table Makeover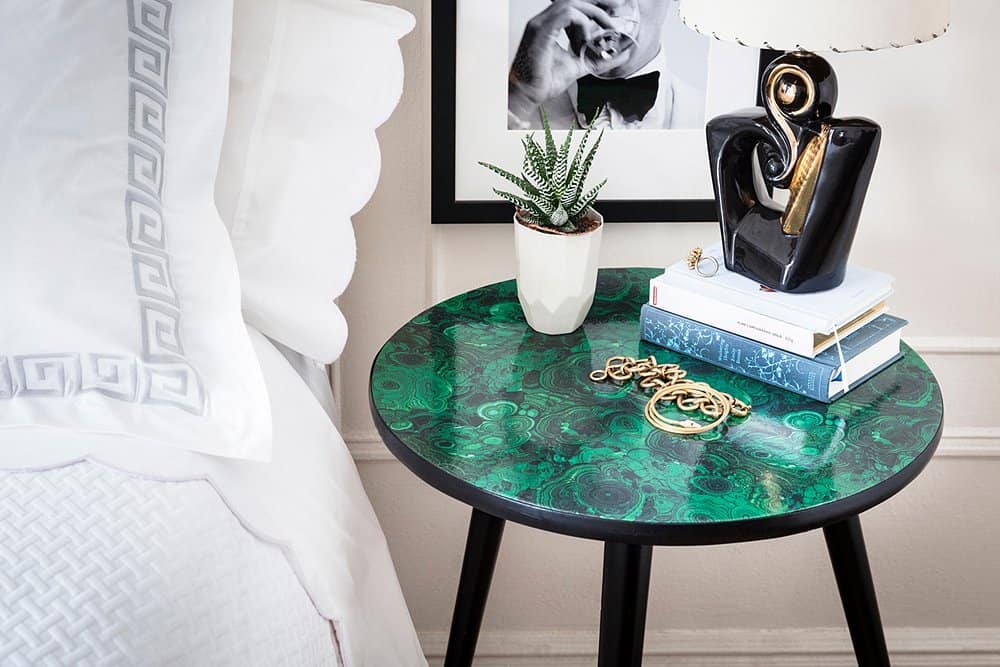 This decoupage project is one of the most gorgeous ones you'll find out there. But instead of layering on scrapbook paper in pretty designs, this project calls for fabric as your design piece. And that'll be the hardest thing you do – finding the right fabric for your Malachite look.
From there, you'll just use some Mod Podge, that beautiful fabric, some clear water-based polyurethane, and some tools to craft this stunning side table makeover that no one will know isn't real.
Via One Kings Lane
Choosing the Right Side Table For Your Space
Now, the one problem with a list like this is narrowing down the options to the ideal perfect one for your home.
You might have to eliminate a few automatically if you haven't got the right power tools or experience working with them. Others might automatically filter out because you don't like the style material.
So, at this point, just think through how much time you're willing to dedicate to the project, which space(s) you're planning to position the table in, and how much money you're up for putting into the project. Anything that's recycled or upcycled is going to be the cheapest, of course.